After earning his Canine Good Citizen (CGC) certification a couple months back, our little wiggle butt puppy expressed some serious interest in taking an agility class.
How do I know, you ask?
Well, we have always been amused that Charlie watches TV. One night we queued up a video of a dog completing an agility course and he watched in complete amazement (nipping at the screen when the dogs ran in and out of the picture, ears at full alert). We just knew we had to get him involved!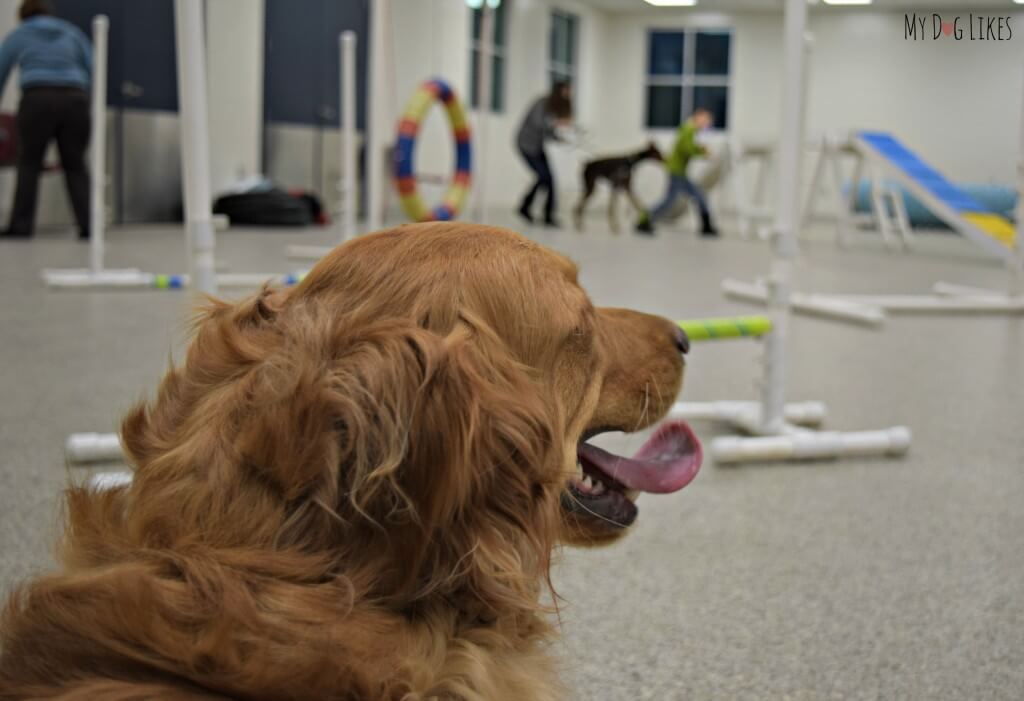 We're not in Kansas Anymore
When the time approached for his first class, we both were excited! Walking in, Charlie was immediately blown away; these weren't his classmates from CGC and he thought it was playtime! One of the things our trainer stressed right from the beginning, was that this was NOT a dog socialization class. Charlie was going to have to adjust!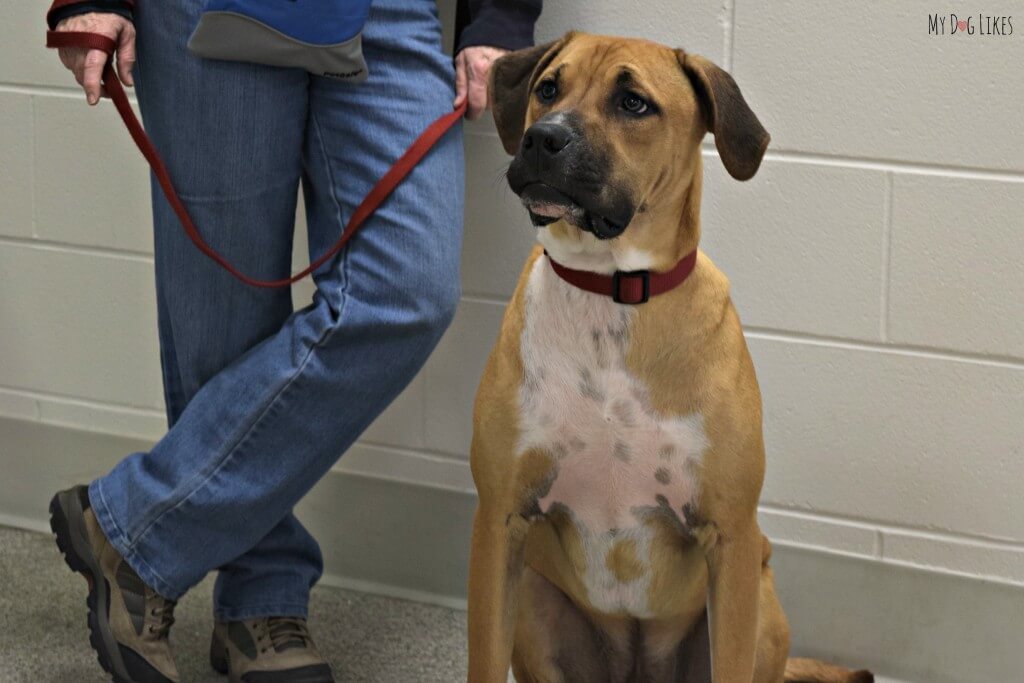 But Mommm….he looks so friendly!
Our First Class
I would love to say that our first class was a smashing success but if I'm being real with you, it was a DISASTER! (I even thought about withdrawing him from the class!)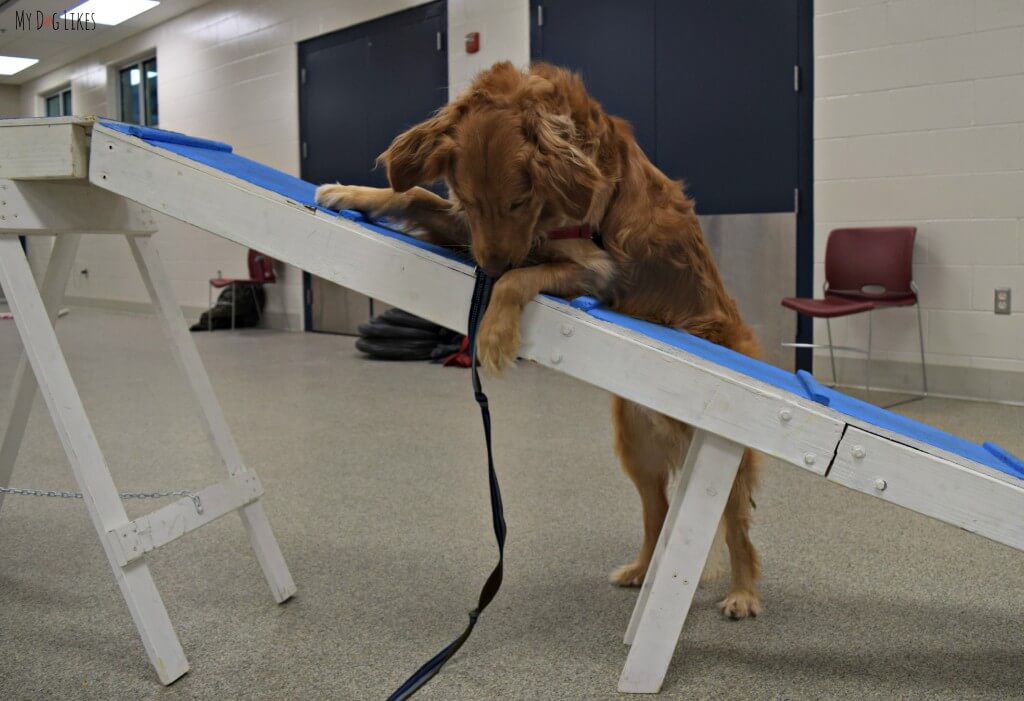 He was afraid of everything and most importantly, didn't seem to be enjoying himself at all. I ultimately decided to give it one more class, just to see how Charlie adjusted. The next week, it was completely different! Charlie was focused, attentive, interested, and (with some cajoling) a little more brave! We BOTH had fun exercising together! 
A Slow Roll
The class was a slow introduction to the sport, designed for beginners who had never run agility. Before tackling any of the equipment, we learned to stretch and warm-up our dogs and worked on basic obedience to focus their attention on us. Over the course of the next several weeks, we learned and practiced each of the apparatus below. Slowly, carefully, and always with supervision!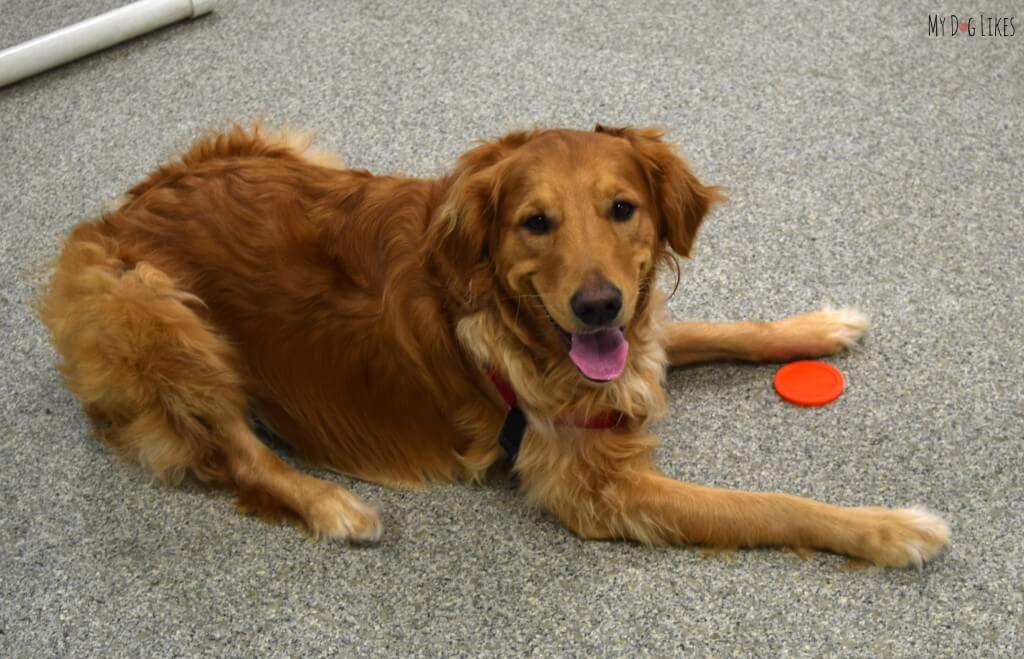 A Rundown of Dog Agility Equipment
Dog Walk – Three 8 to 12 ft planks each 9 to 12 inches wide. The center plank is elevated about 4 feet off the ground, so that the two end planks form ramps leading up to and down from it.
Tire/Hoop – A wrapped tire/hoop suspended in a frame. The dog must jump through the opening of the "tire"; which is adjusted for the dog's height.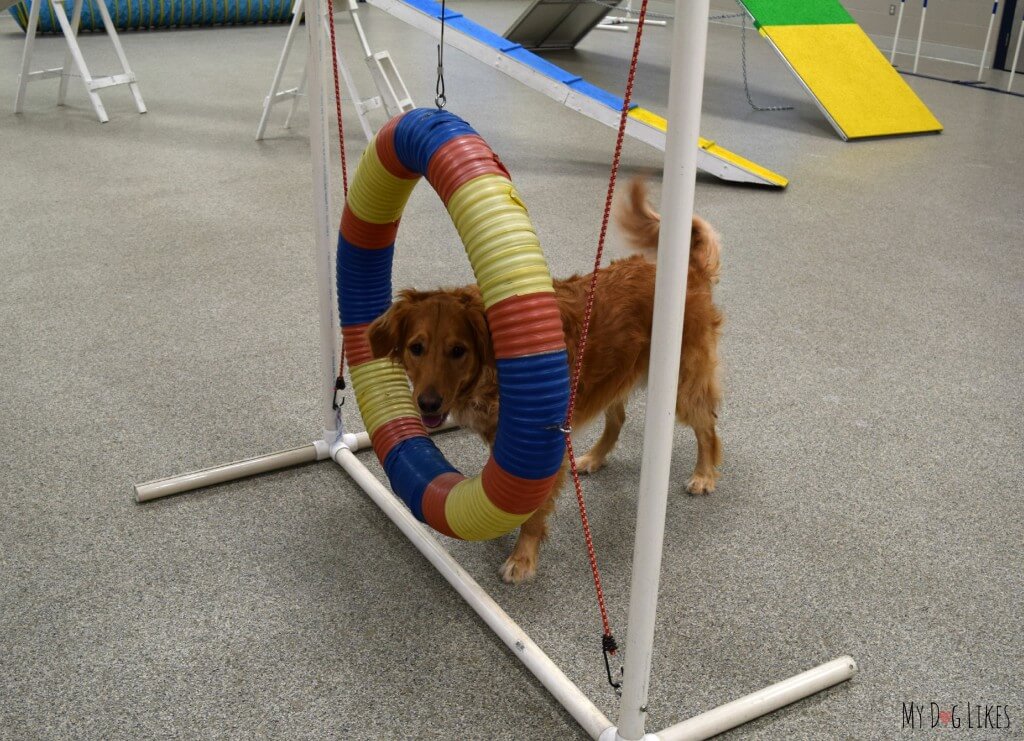 Weave Poles – 5 to 12 upright poles,spaced about 24 inches apart, through which the dog weaves.
Jumps – Two uprights supporting a horizontal bar over which the dog jumps.
A-Frame – Two broad ramps, usually about 3 feet wide by 8 to 9 feet long, hinged together and raised so that it forms a peak that is between five and six-and-a-quarter feet above the ground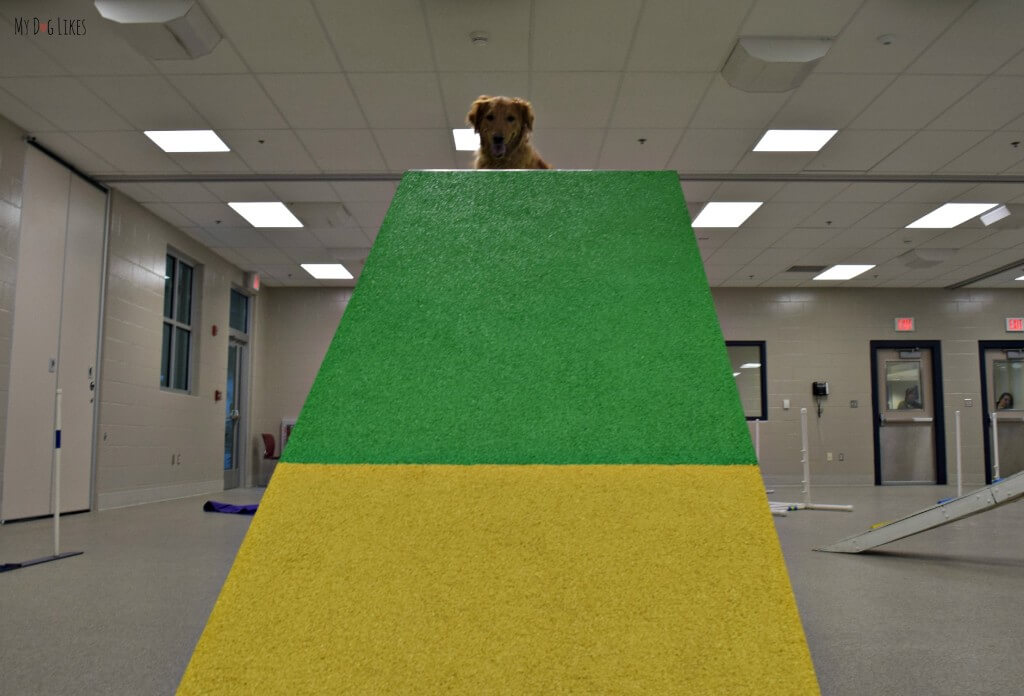 Chute – A barrel-like cylinder with a tube of fabric attached around one end. The fabric extends about 8 to 12 feet and is closed until the dog runs into the open end of the chute and pushes his way out through the fabric tunnel.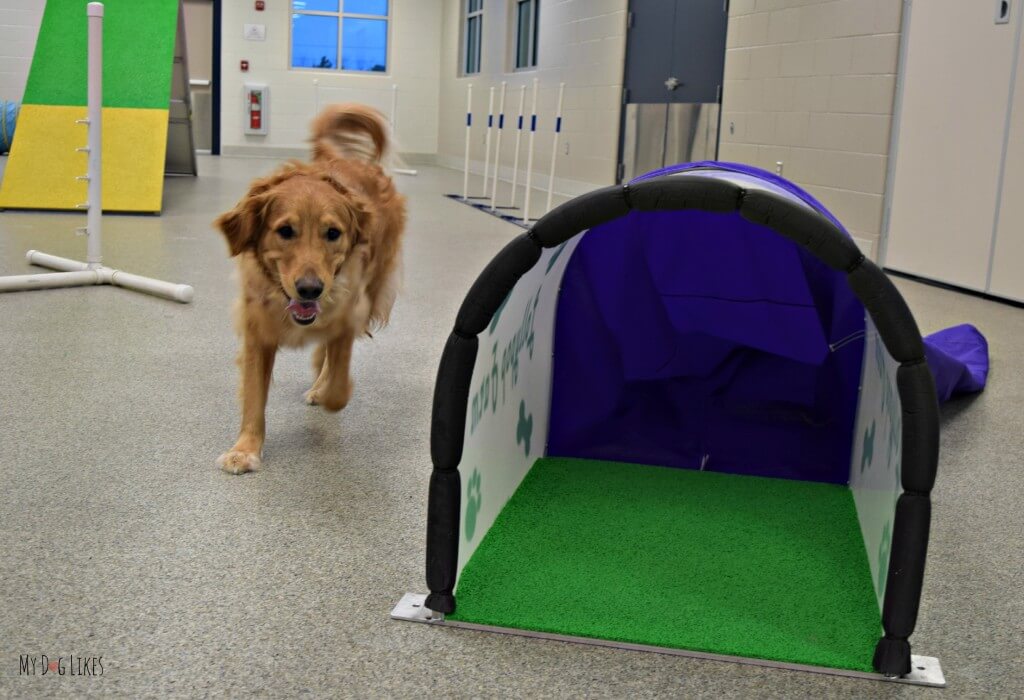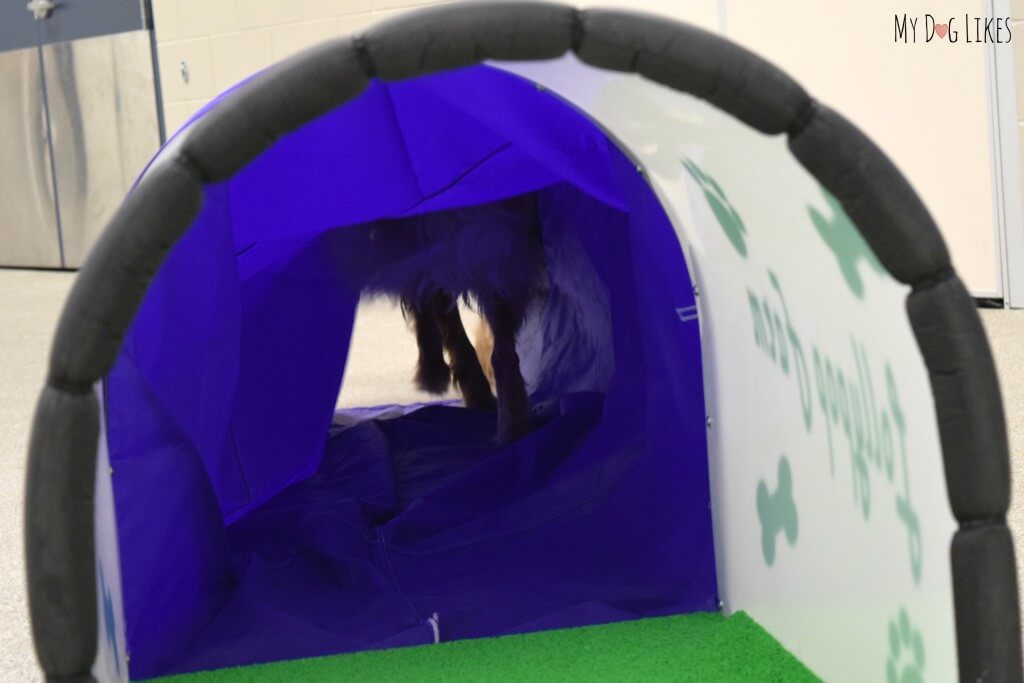 Tunnel – A vinyl tube, than can be extended from 10ft-20ft, through which the dog runs.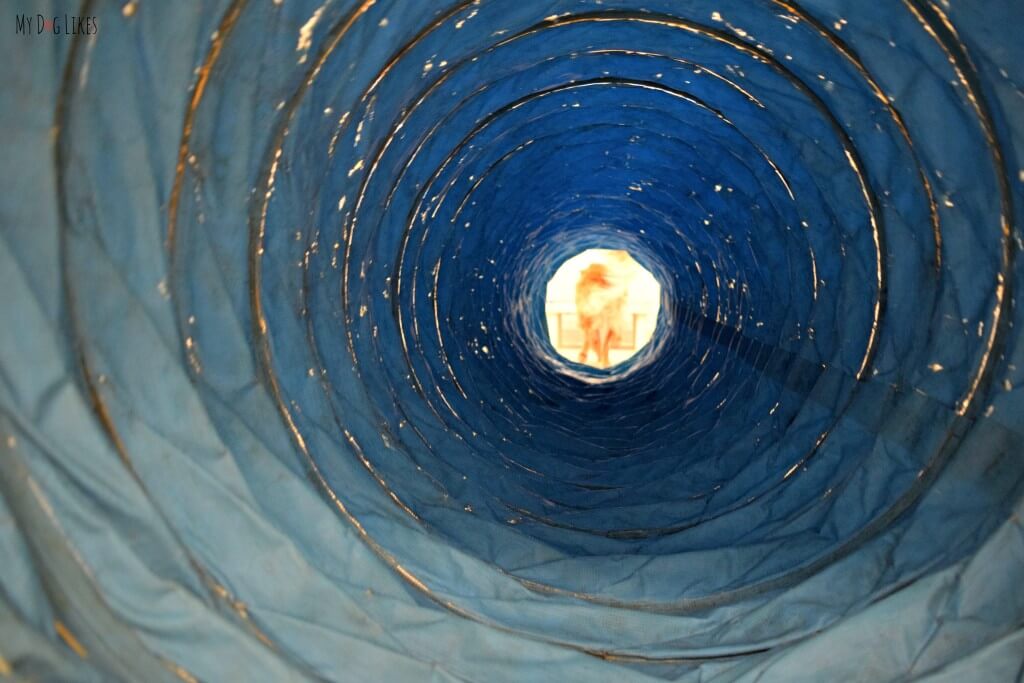 Table – An elevated square platform onto which the dog must jump and pause, either sitting or in a down position, for a designated period of time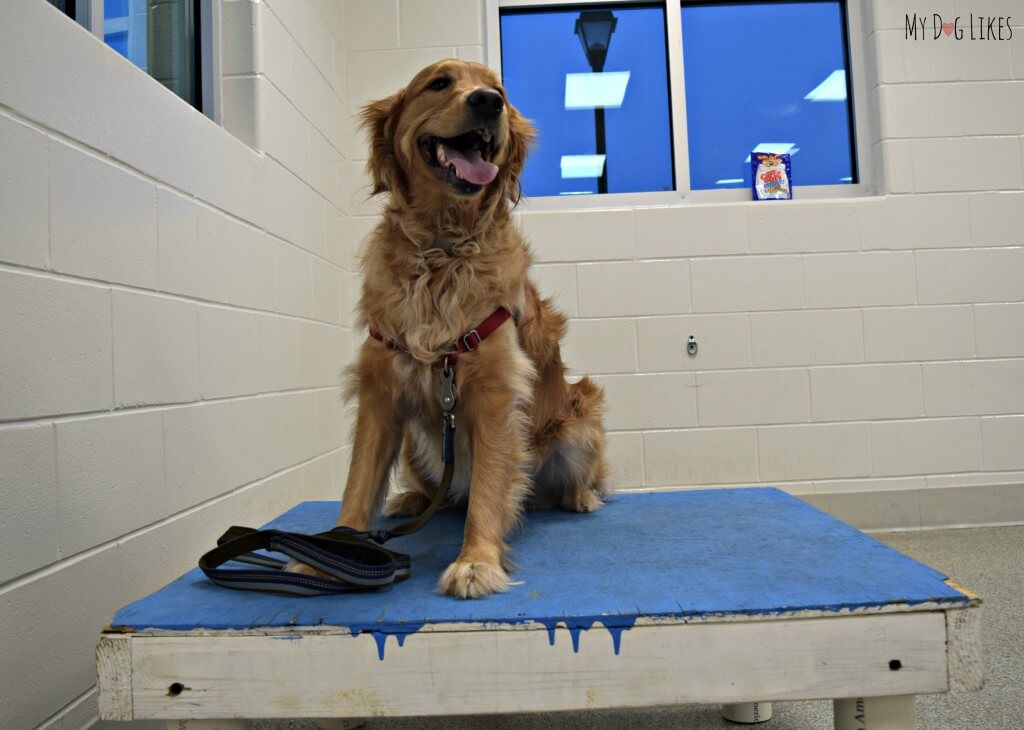 If you are wondering whether agility is right for you and your dog, consider the top 5 benefits that we have identified below: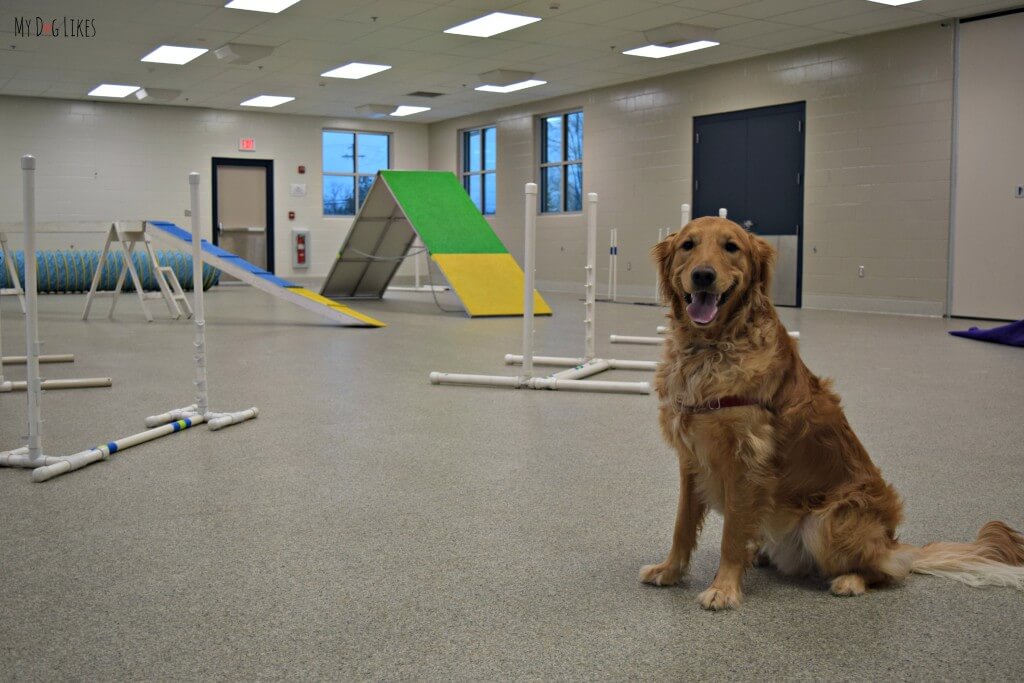 Top 5 Reasons You Should Do Agility with your dog:
Fun For All! – Agility is fun for the dog and the handler. I have a smile on my face from the moment I arrive to the moment that we leave. It is a joy to watch as Charlie problem solves, pushes himself, and has a silly, goofy time. I don't have human kids, but I think its similar, you watch what they and the other dogs in the class are able to do and you can't help but smile and have a Proud Momma Moment!!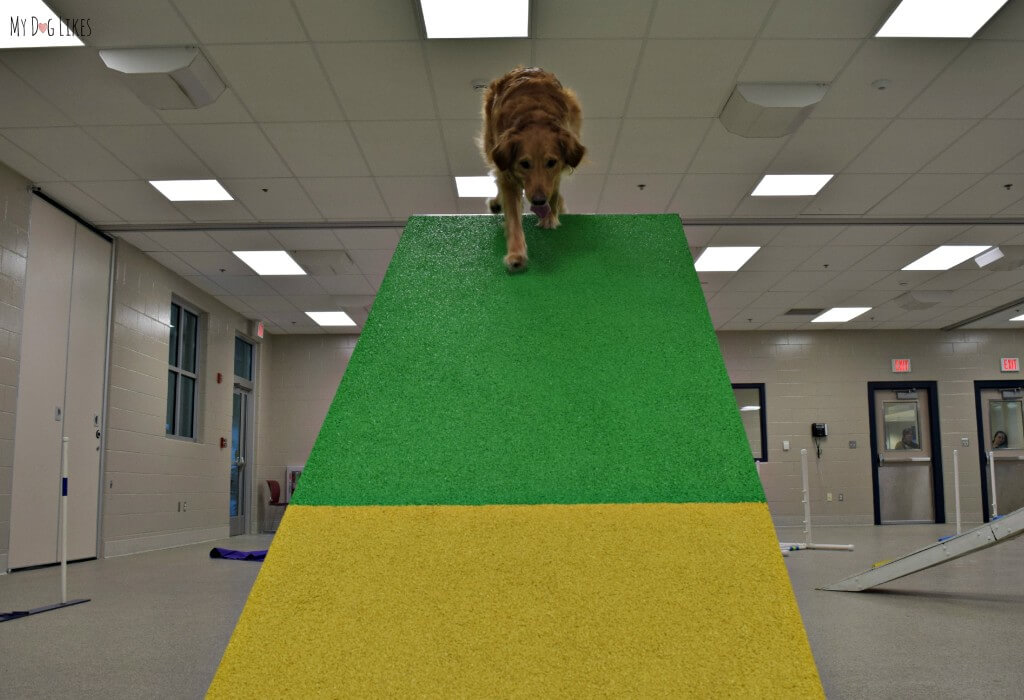 Courage Booster – When Charlie first came to live with us, he was afraid of everything outside of our home (cars parked on the street, leaves blowing, garbage cans, loud or sudden sounds). Since doing agility I have used positive reinforcement and behavioral shaping to introduce him to things that were initially really scary for him. Charlie has conquered his fear of the (wobbly) table as well as the dog walk! We are seeing a happier (I didn't think this was possible) more courageous pup emerge daily!
Communication – Since starting agility our non-verbal communication has improved tremendously! One piece of wisdom our trainer imparted on us in the beginning was that "the dog doesn't know the course, only you do". If the dog makes a mistake, they shouldn't be admonished for it. Our errors are because I have not communicated what I wanted from him. I have come to understand Charlie better since running agility. I see little changes in his behavior or mannerisms that might indicate he is losing focus or needing a direction/prompt. I feel like I understand his little puppy brain so much better!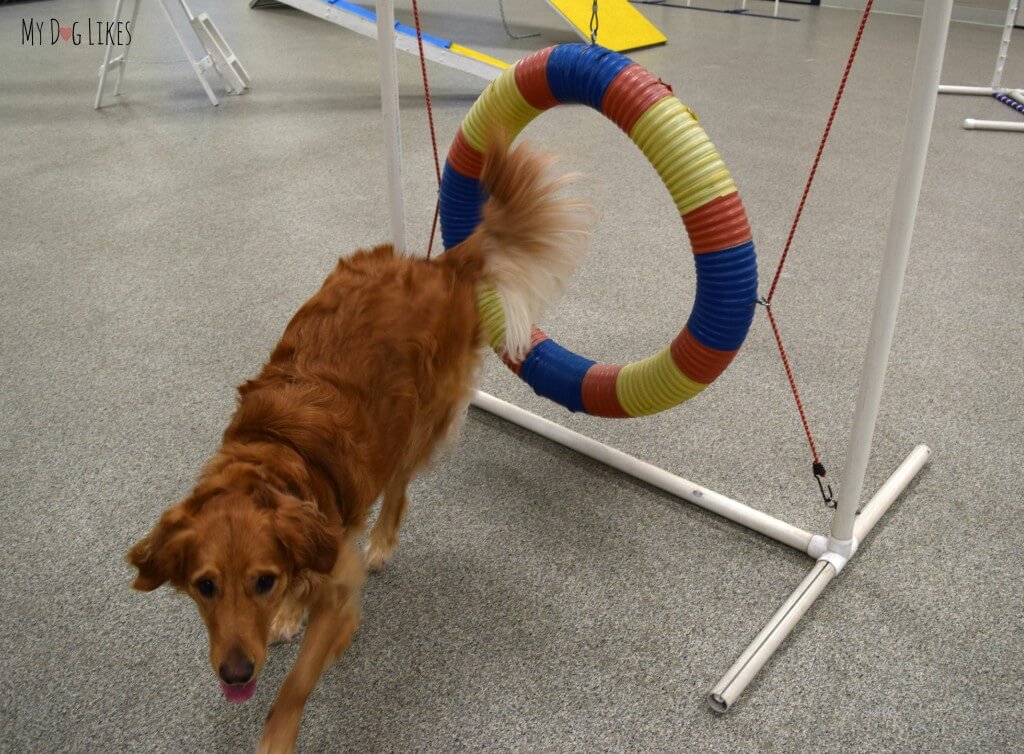 Physical/Mental Activity – Charlie is an active and energetic little pup who requires daily walks (and still would be up for more activity). When we leave agility, he is completely zonked out! He lays down in the back of the car and only gets up once to walk in the house, get a drink, and then sleep the rest of the night away! He is mentally and physically exhausted!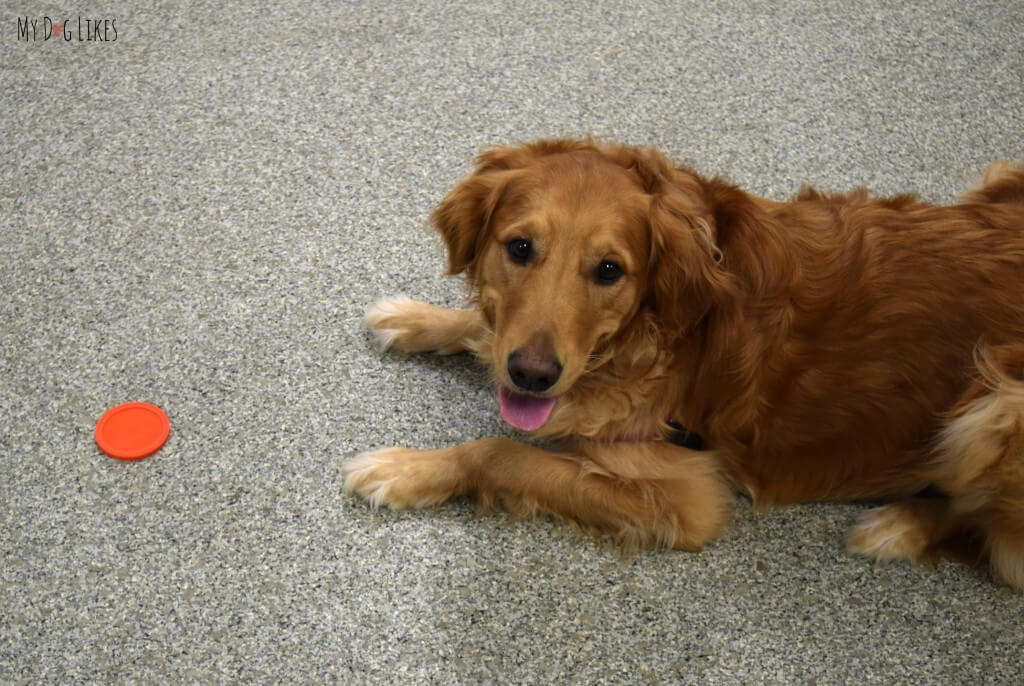 Focus – Day 1 was a disaster because Charlie was overstimulated and couldn't pay attention to me with so many other distractions around. Weekly, I have seen improvement in Charlie's ability to tune out external stimuli and focus on me and the work we are about to do. It's amazing to see him grow and though we are not directly working on obedience, it is helping to improve his ability to focus on my words and actions in all settings.
So How Did Little Charlie Do?
By the end of our 6 week schedule, Charlie was able to run a few different routes (without me messing him up too much)! Needless to say, he ended up loving class! Proud Momma Moment!
Here is Charlie posing with his beginner agility certificate!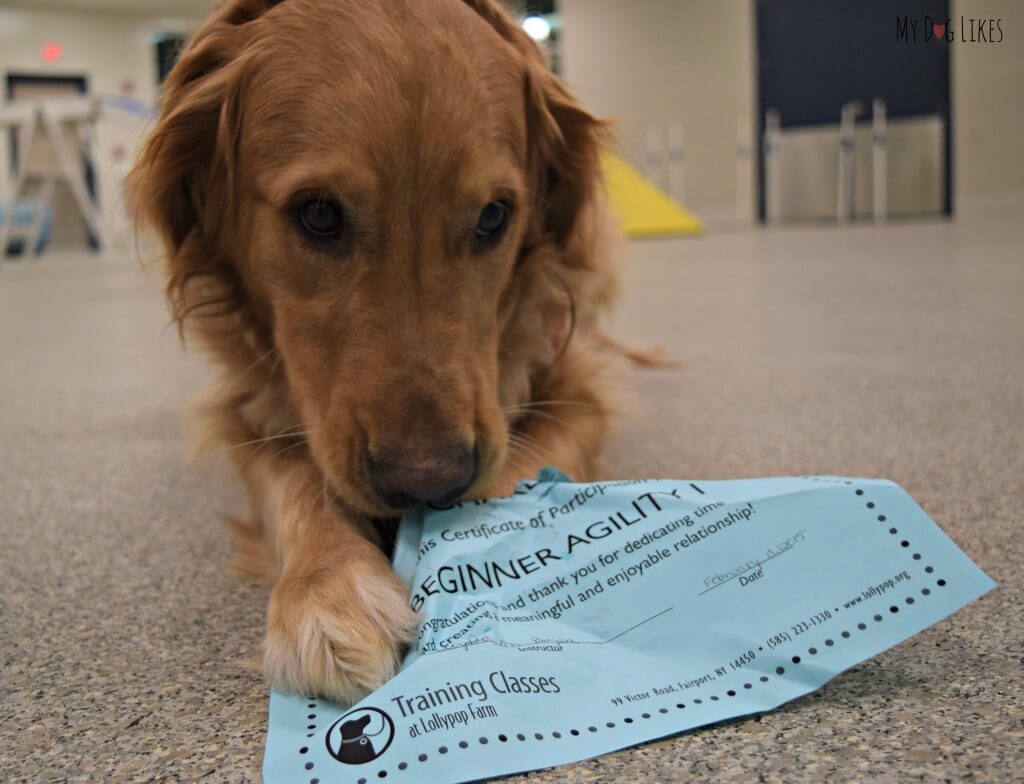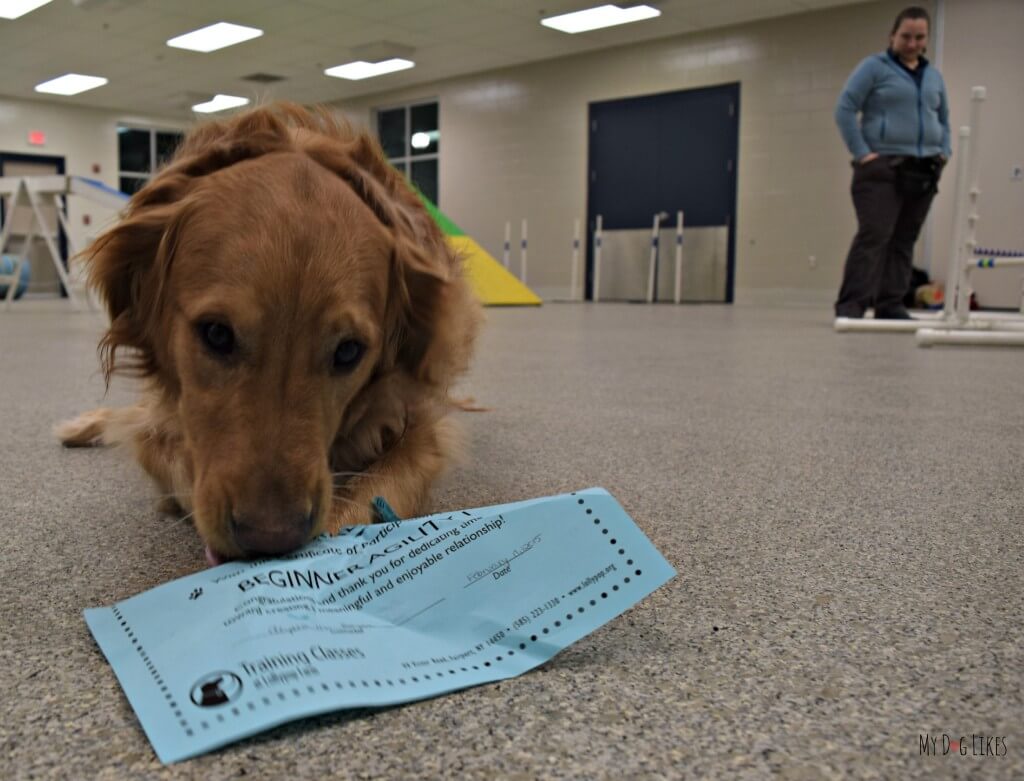 Uh oh! Trainer Alyssa is always watching!
So, what's next for us?
Beginner Agility 2! Look for more updates as Charlie tries to master more advanced agility skills! It is sure to be hilarious and goofy, just like our sweet little Chuckie Ducky!
Don't worry – We haven't forgotten about Harley – our sweet senior boy is going to be trying his sniffer in a nose work course coming up!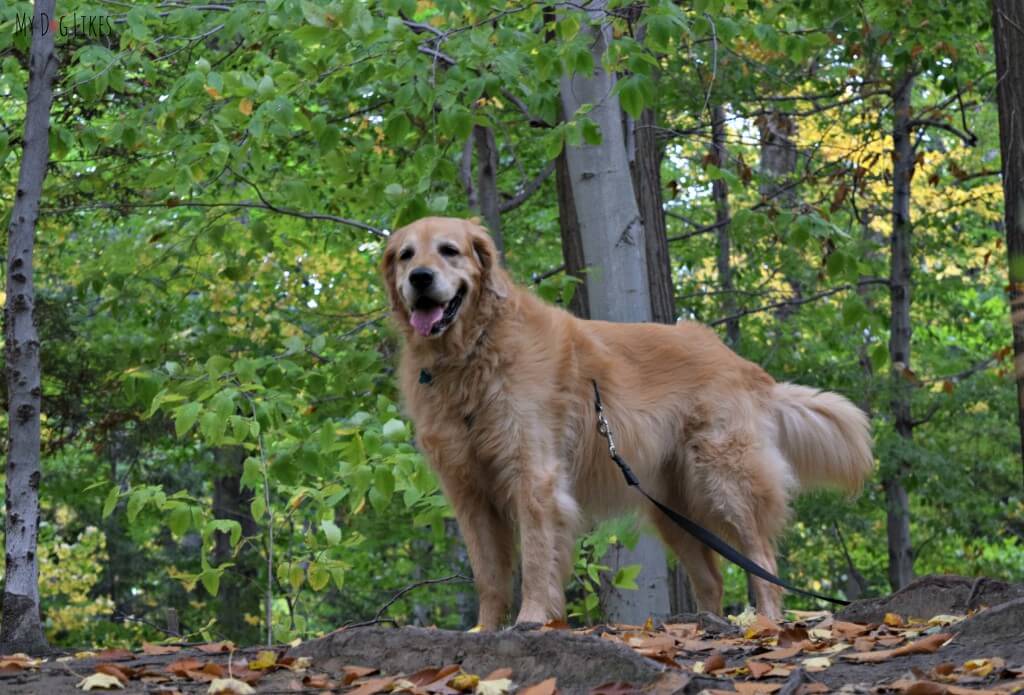 If you are interested in trying agility check out Lollypop Farm or your local positive dog training facility!