We've already shared with you why we think Lollypop Farm's Barktober Fest is the most wonder-fall time of year! Well, this past weekend it was time for the big event: Harley, Charlie, (and the humans) could hardly wait!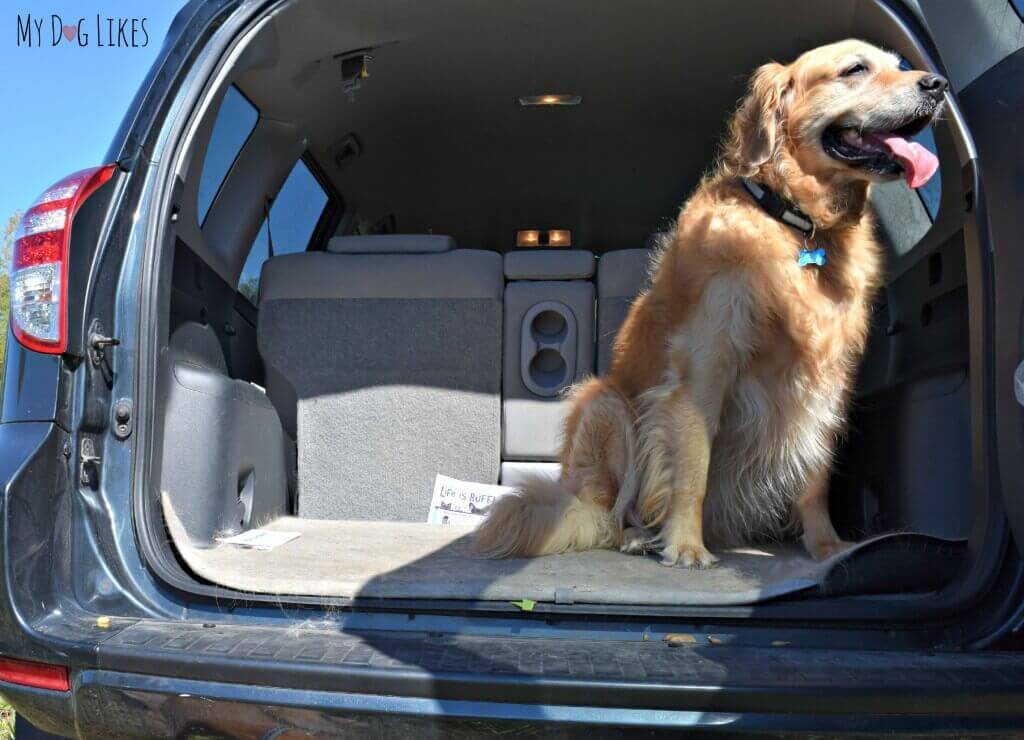 As we approached Lollypop, the boys' tails started thumping, there were dogs EVERYWHERE! We've said it before, and we'll say it again, pet lovers are some of our favorite people to be around and Barktober Fest is a happy, relaxing place to be! Simply knowing that someone really means it when they say "no big deal" in response to the smear of Golden slobber on their pants, is a good feeling. Surrounding yourself with pet-lovin people is just the best!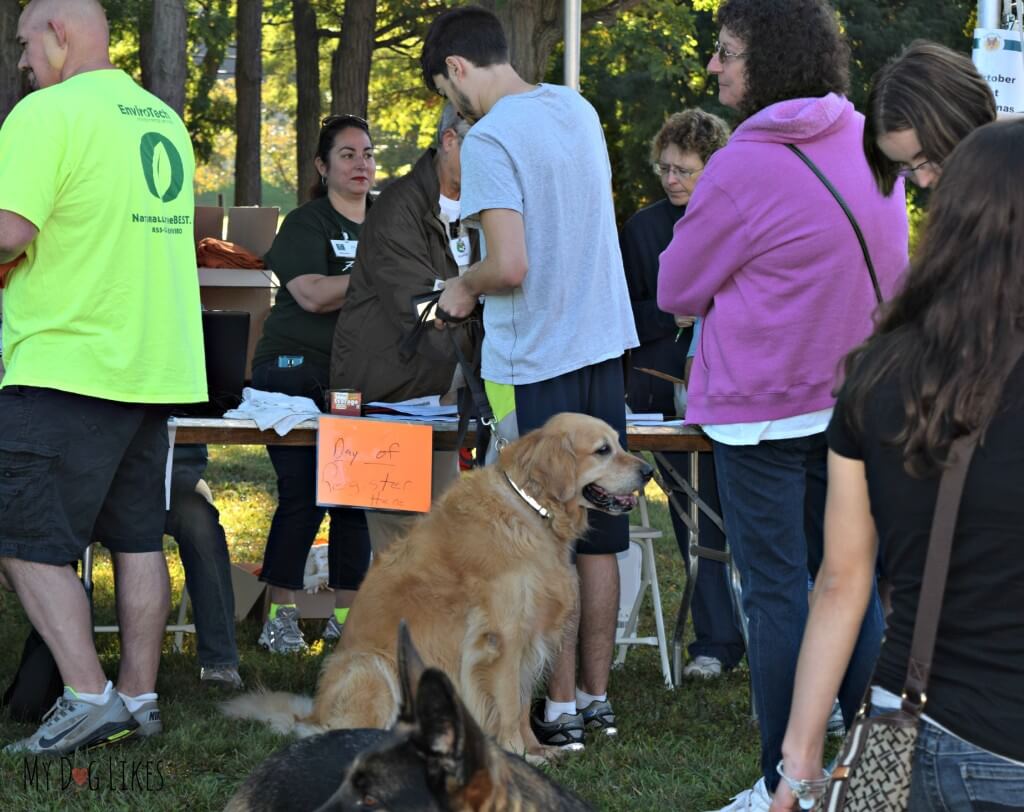 Some of us (Harley & Kevin), did not pre-register, and had to do it once we arrived. Oh well, better late than never! After registering, picking up our swag-bags, and adorning our pretty pups with bandannas, it was time for the Pet Walk!!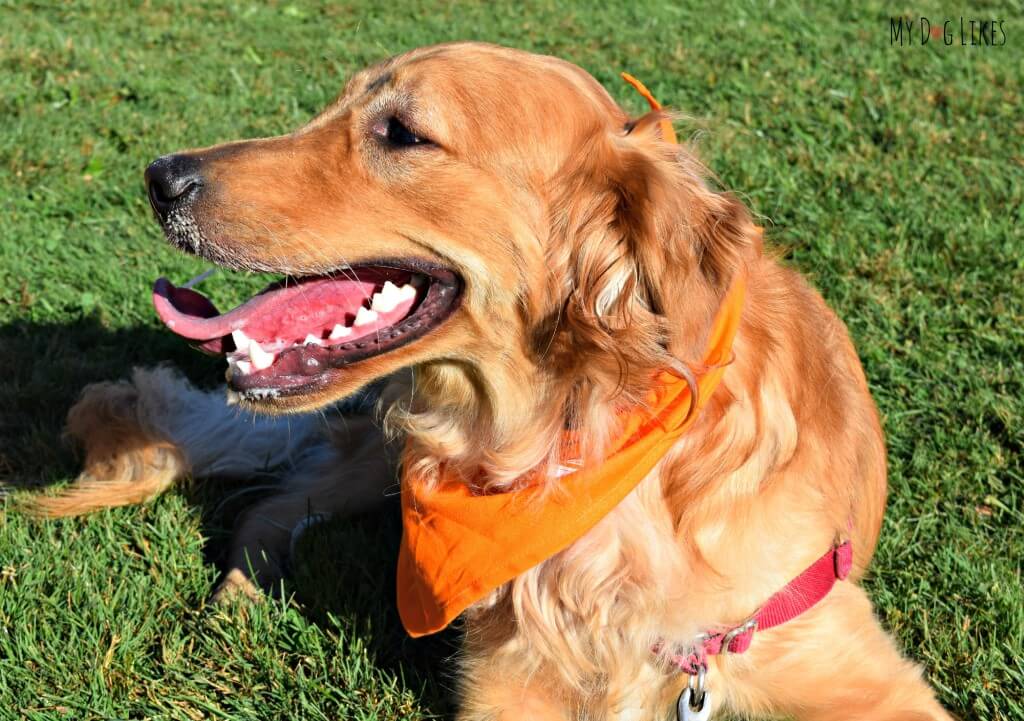 As we have shared before, one of the things that we LOVE about Lollypop is that it is such a staple in the community. People flock to Lollypop Farm for all sorts of reasons: training classes, field trips, adoption, camp/education programs, etc. When a community staple, like Lollypop Farm hosts an event, it's kind of a big deal! There were so many people there and we got to meet all sorts of new friends (human and dog).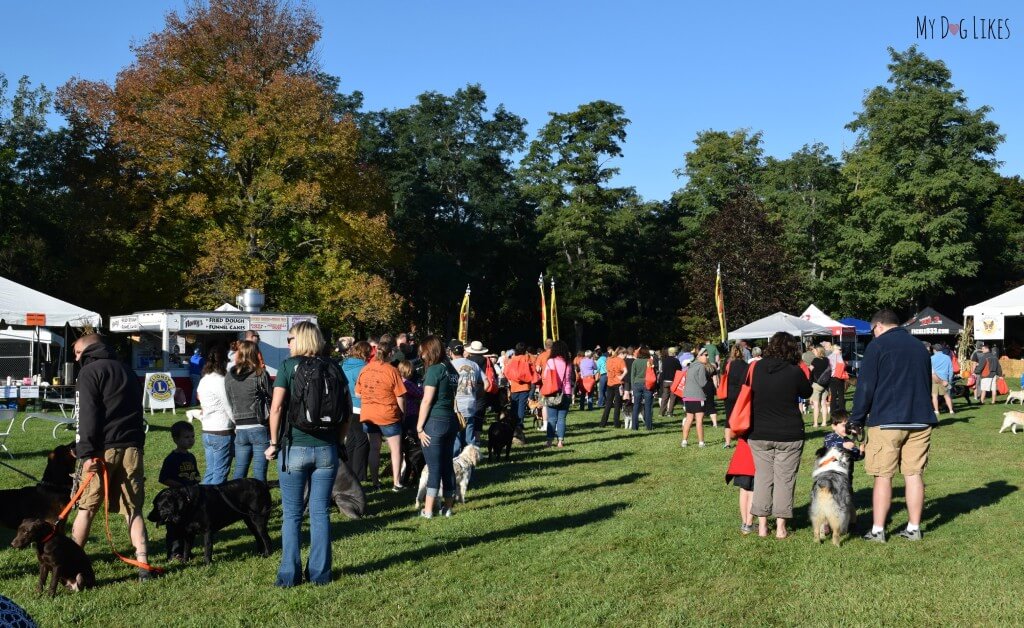 Lots of dogs and their people lined up for the official kick-off. The Pet Walk wound through the grounds of Lollypop Farm: walking past the shelter, on to trails, through the farm, and back to the festival! Some dogs were dressed up…all dogs were having fun!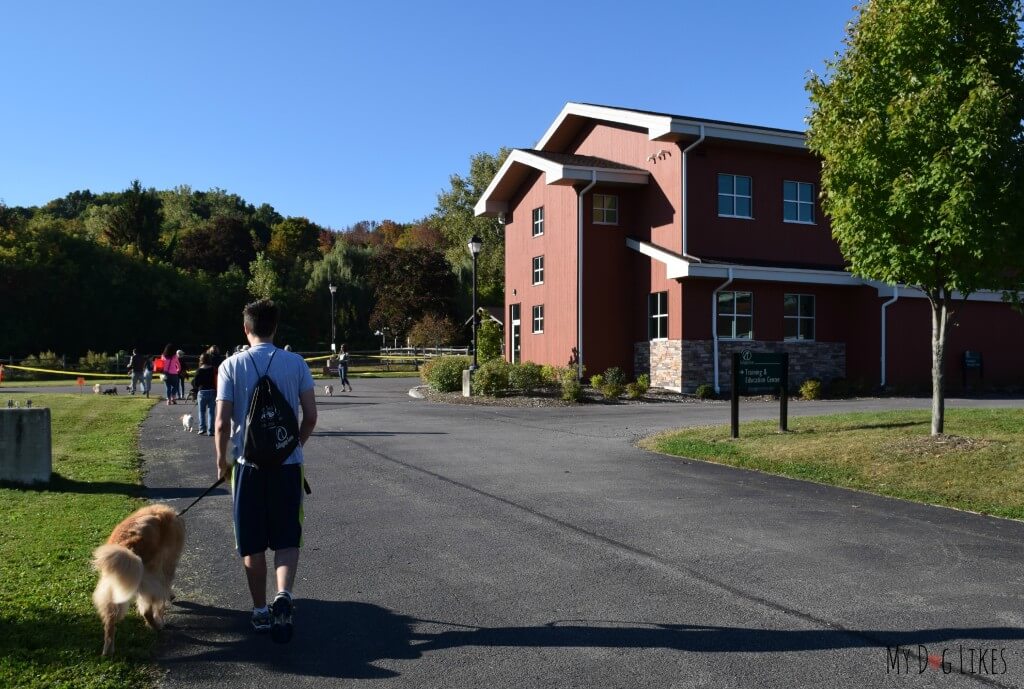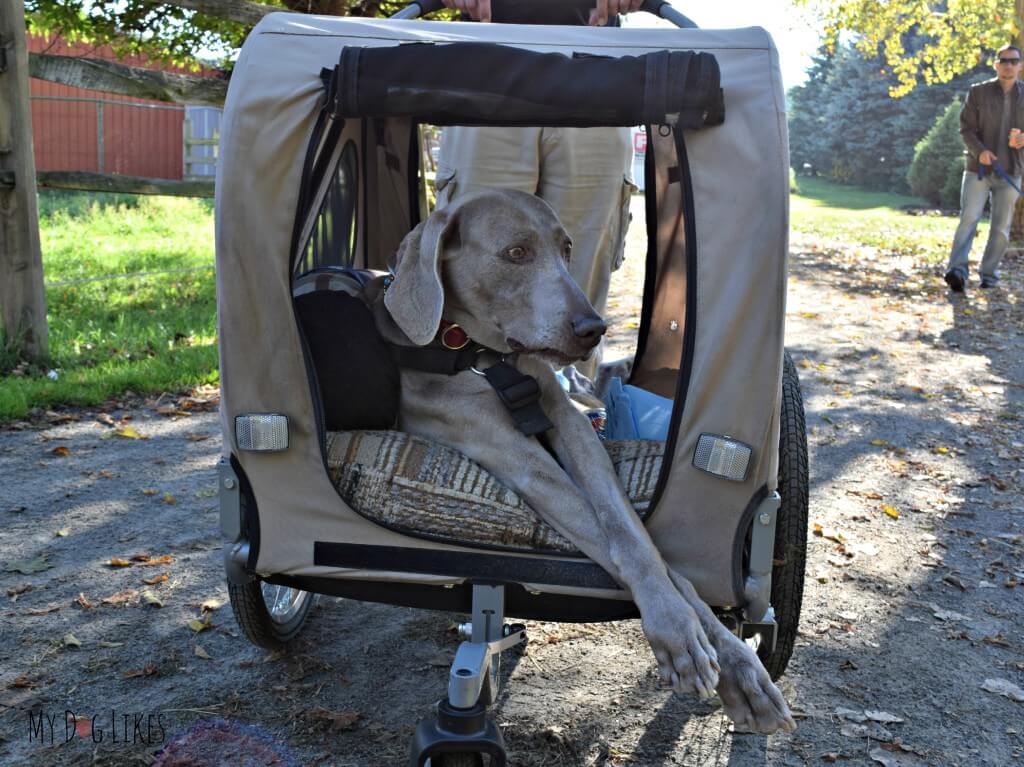 A physical disability isn't going to slow this pup down!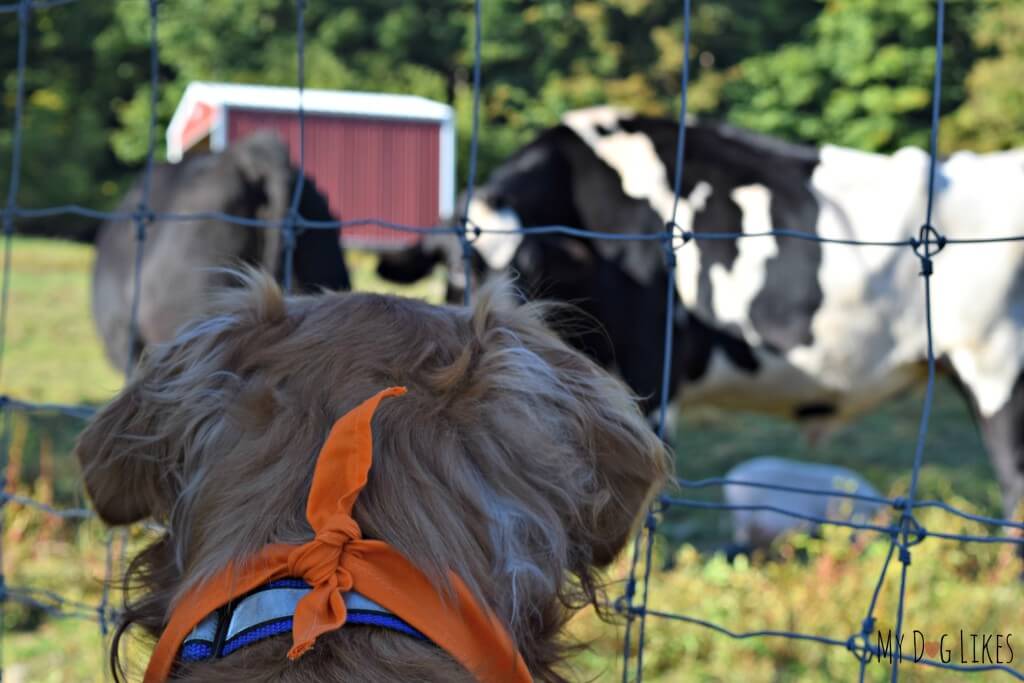 Charlie met some cows!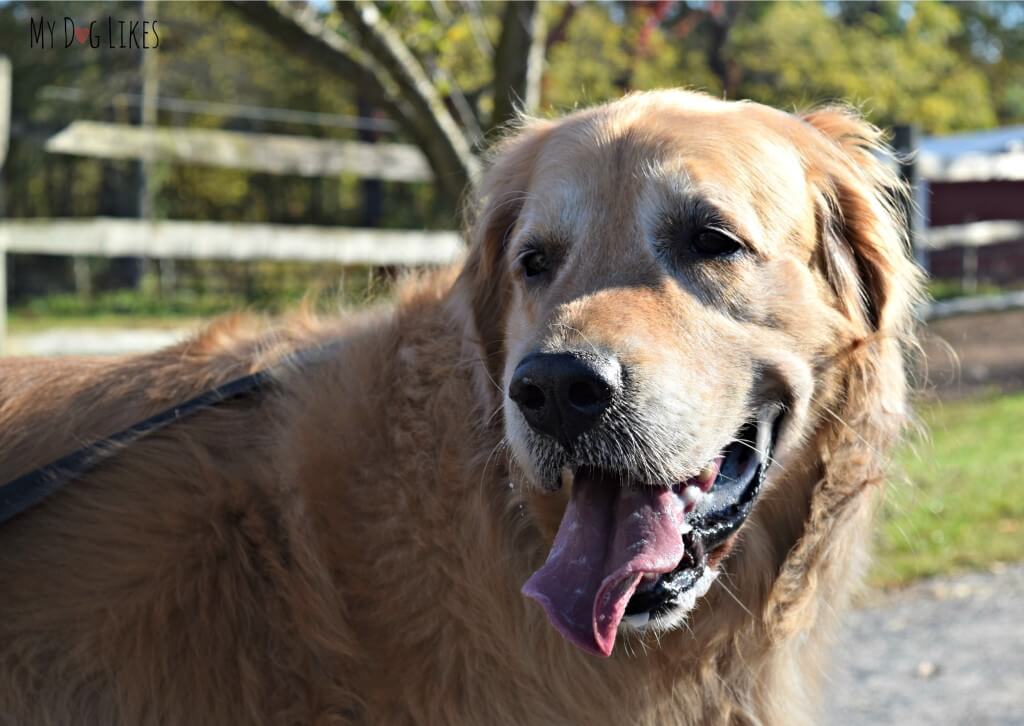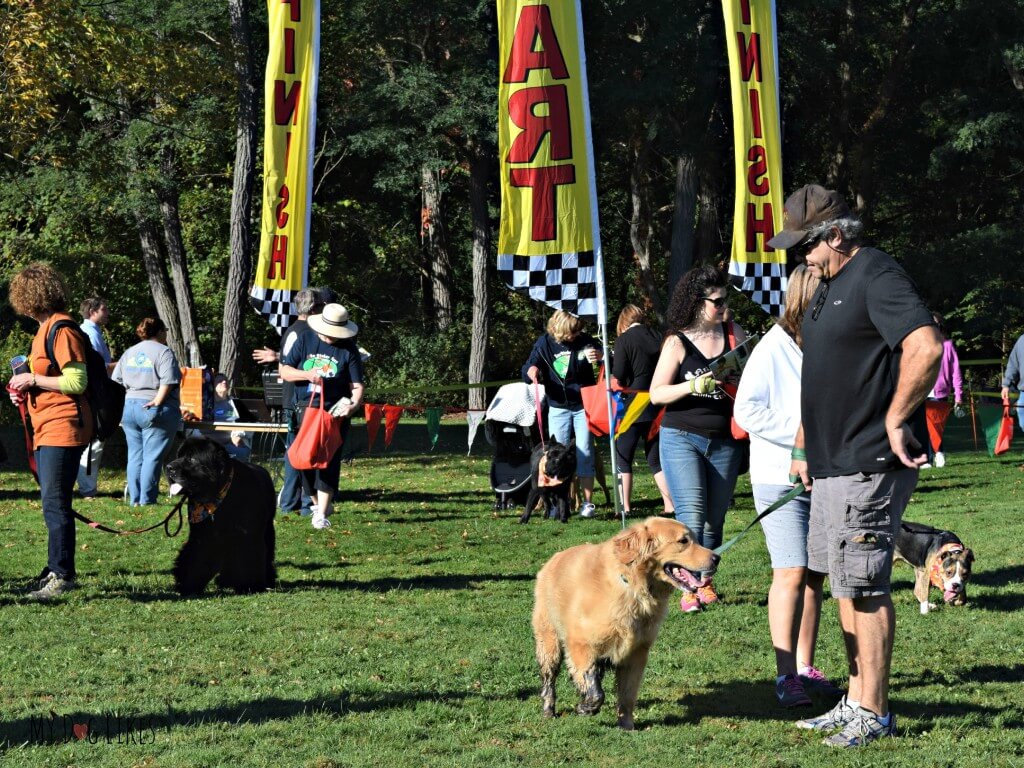 A golden trap, marsh water was calling for this golden friend!!
After the Pet Walk we stopped and found a shady spot to rest and prepare for the Ruff Rampage 5k-Obstacle Course. The boys provided some encouragement and their best advice before the race! Charlie suggested that I try climbing under things and doing his "wiggle butt" move if I got stuck. Harley suggested that I just enjoy the fresh air and walk around the obstacles…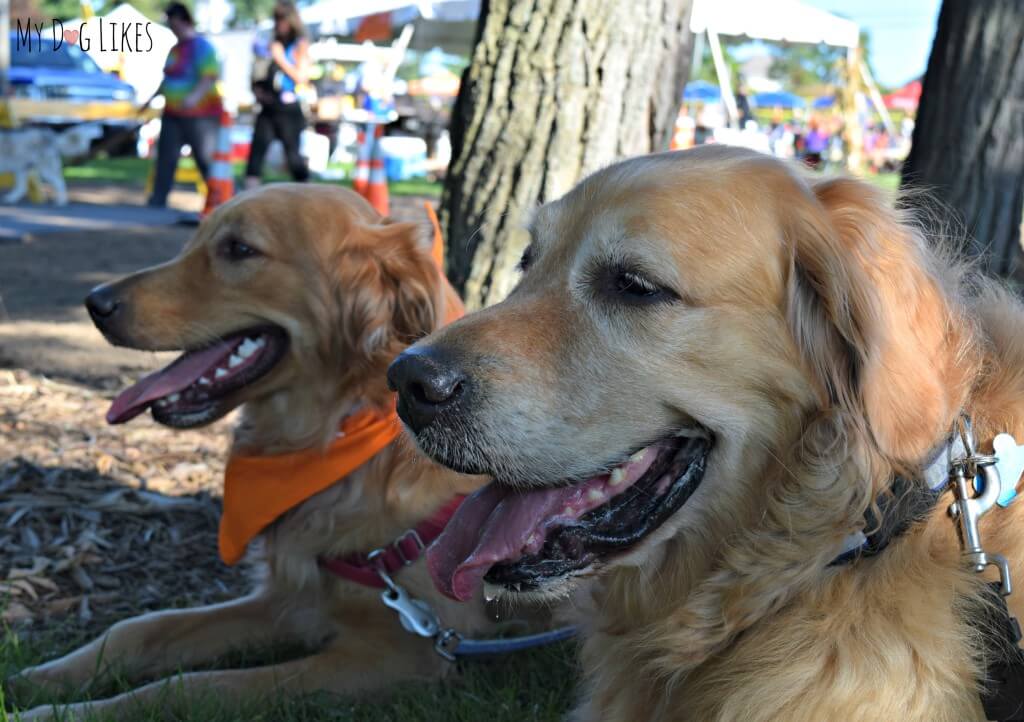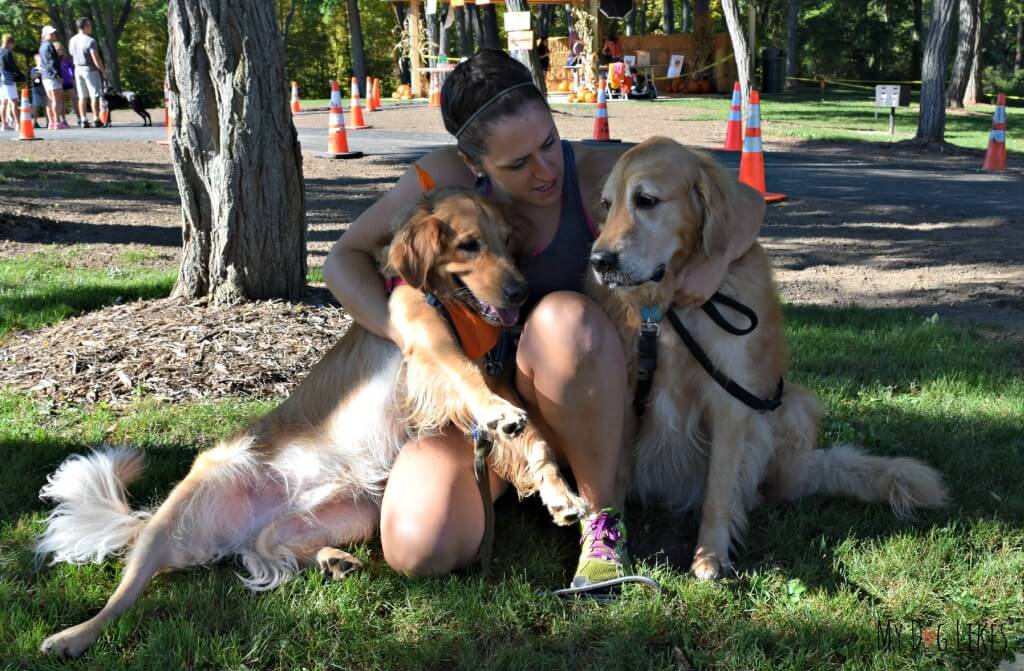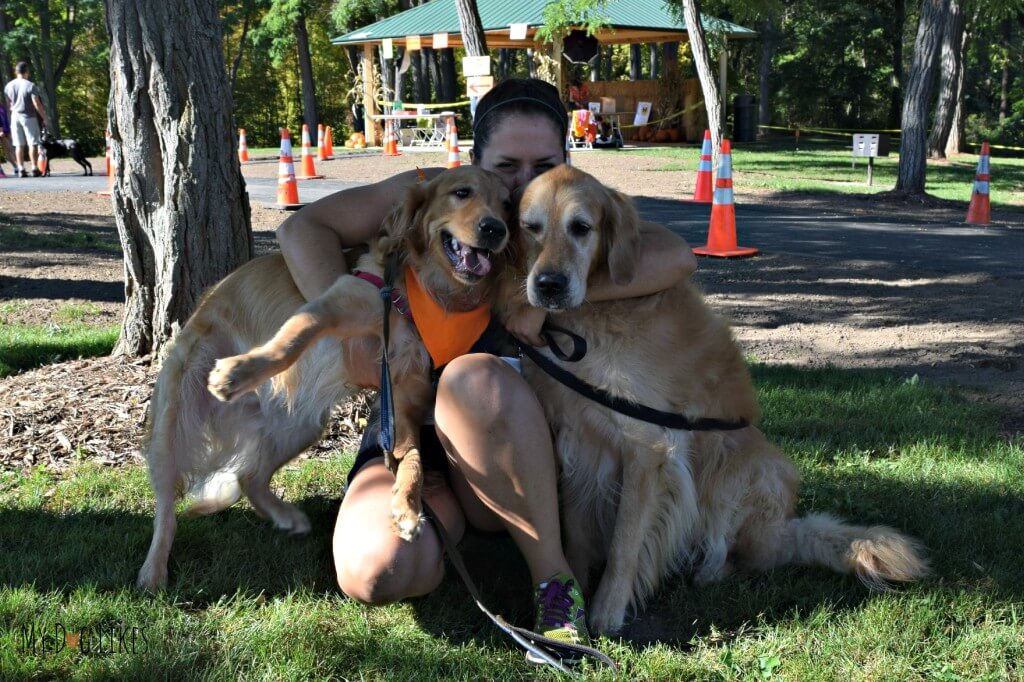 With a hug and kiss from my boys (all of them), it was time for the race!  While waiting for the official kick-off, I found Laura, my wonderful tour guide and Communications and Social Media Coordinator at Lollypop Farm. We both registered for one of the competitive heats and were slightly nervous that we would crash and burn on this course! Well friends, we made it! And…it was LOTS of fun!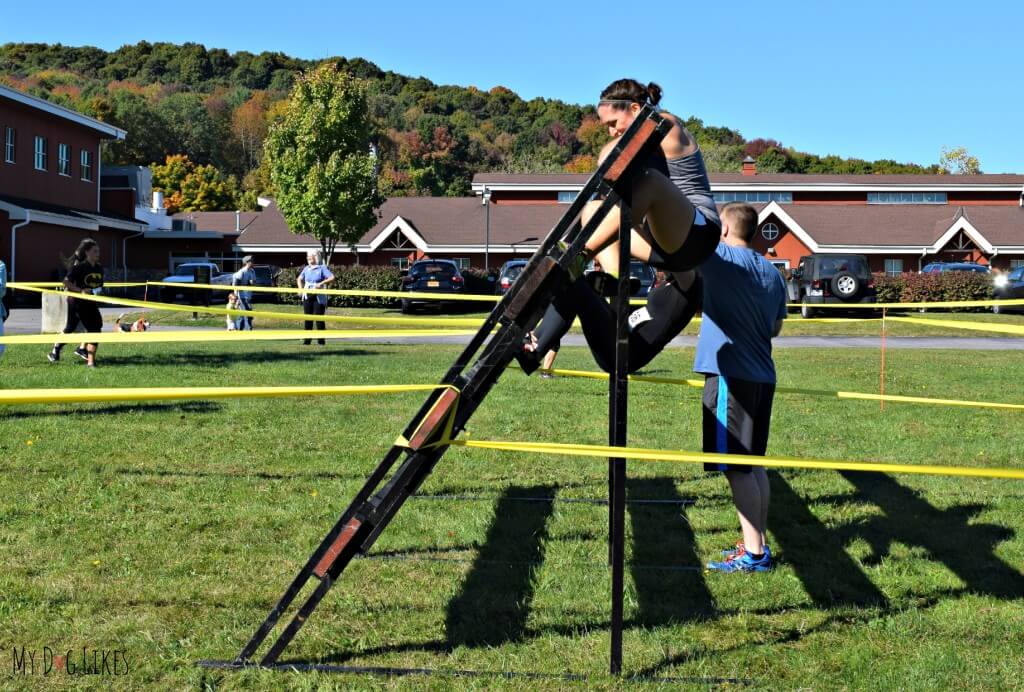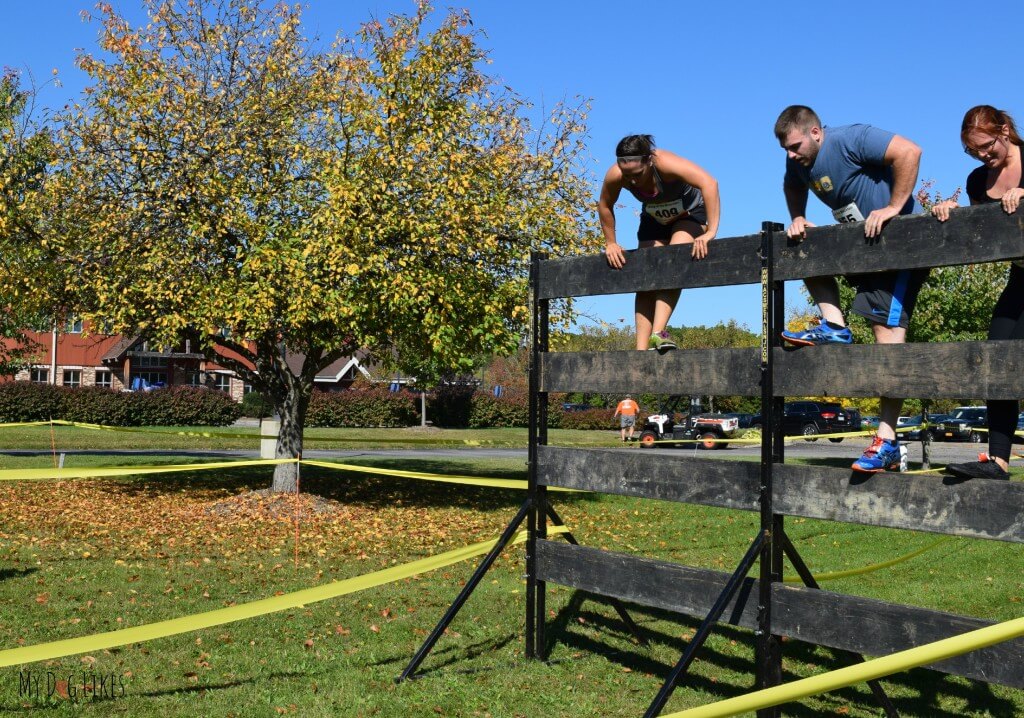 There were all sorts of obstacles involving climbing, crawling, swinging, and carrying. To balance it all out, scenic trail runs and more camaraderie and encouragement from other participants and volunteers than I have ever experienced in a race. It was easy going too, if someone couldn't do an obstacle, they just walked around it. Future Barktober Festers, don't let the idea of the obstacle course freak you out! Take a risk, you will have lots of fun, even if you aren't sure you can do it all!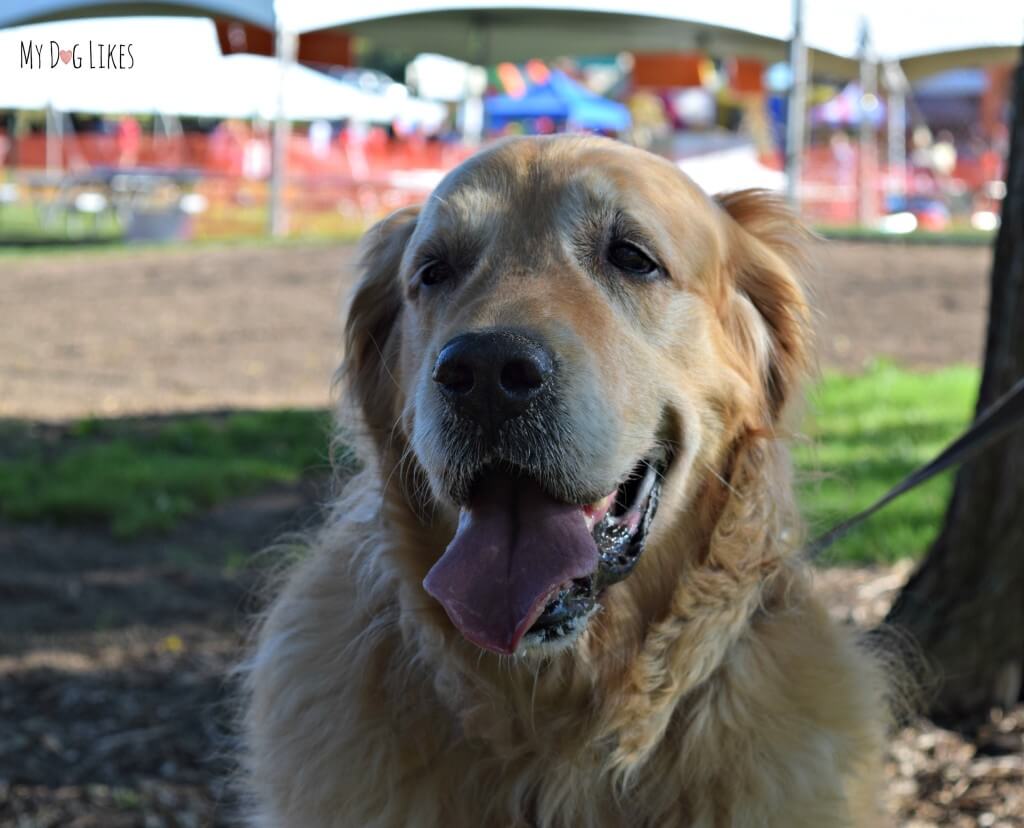 After the race, it was time to check out the rest of the festival. We stopped by some of our favorite vendors and got even more free stuff for the pups! Most exciting…another $5 off coupon to Pet$aver Superstore!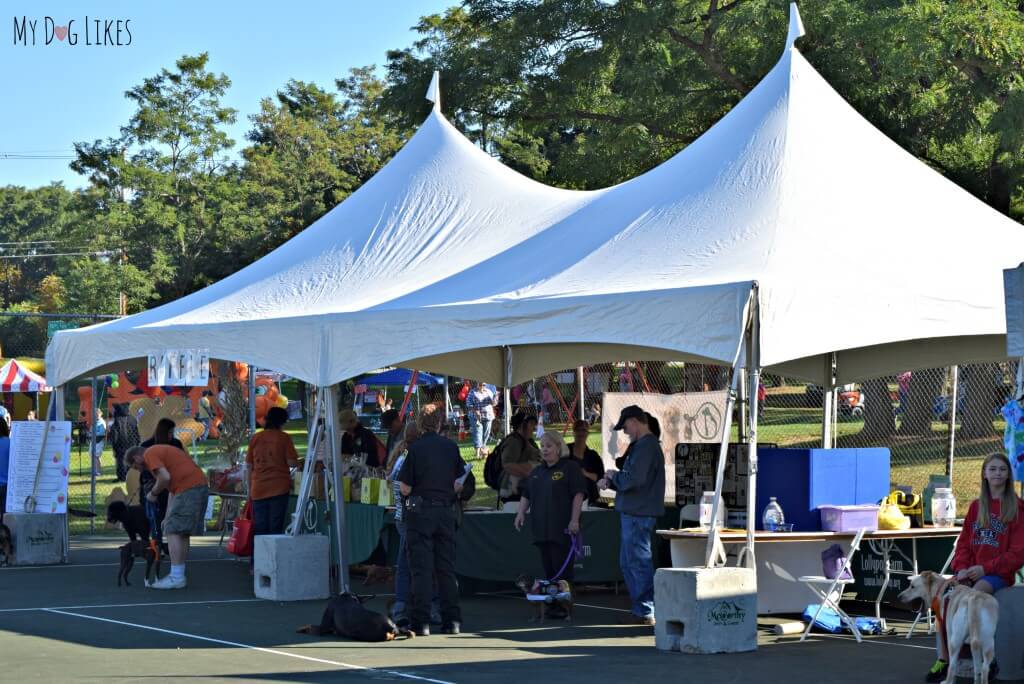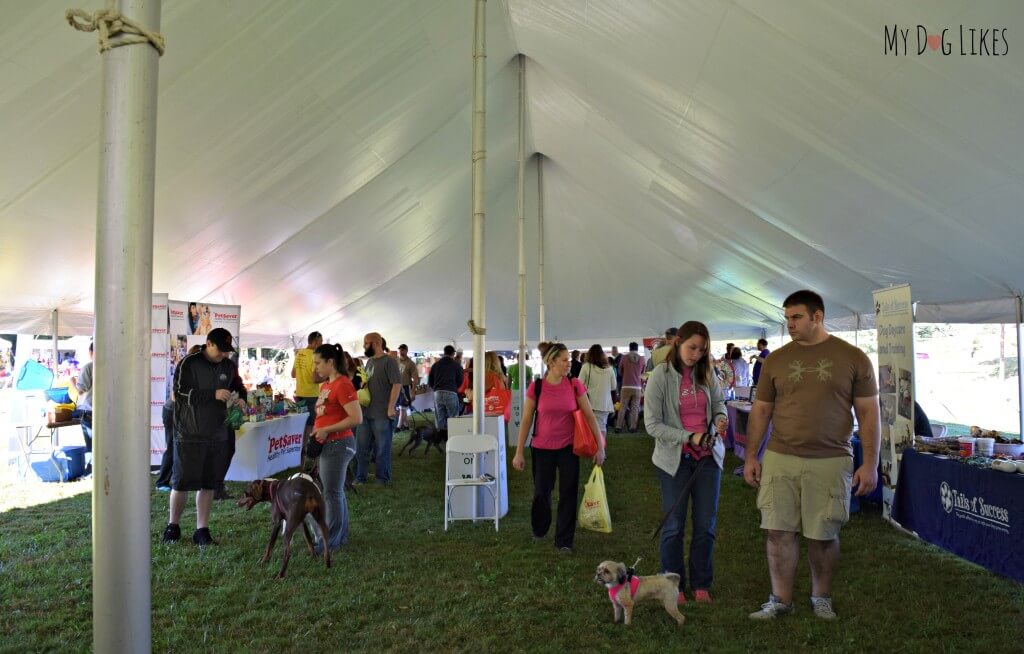 With only moments until the start of the Hot Dog Eating Contest, we headed over to take a look. I think I know what Harley and Charlie will be signing up for next year!!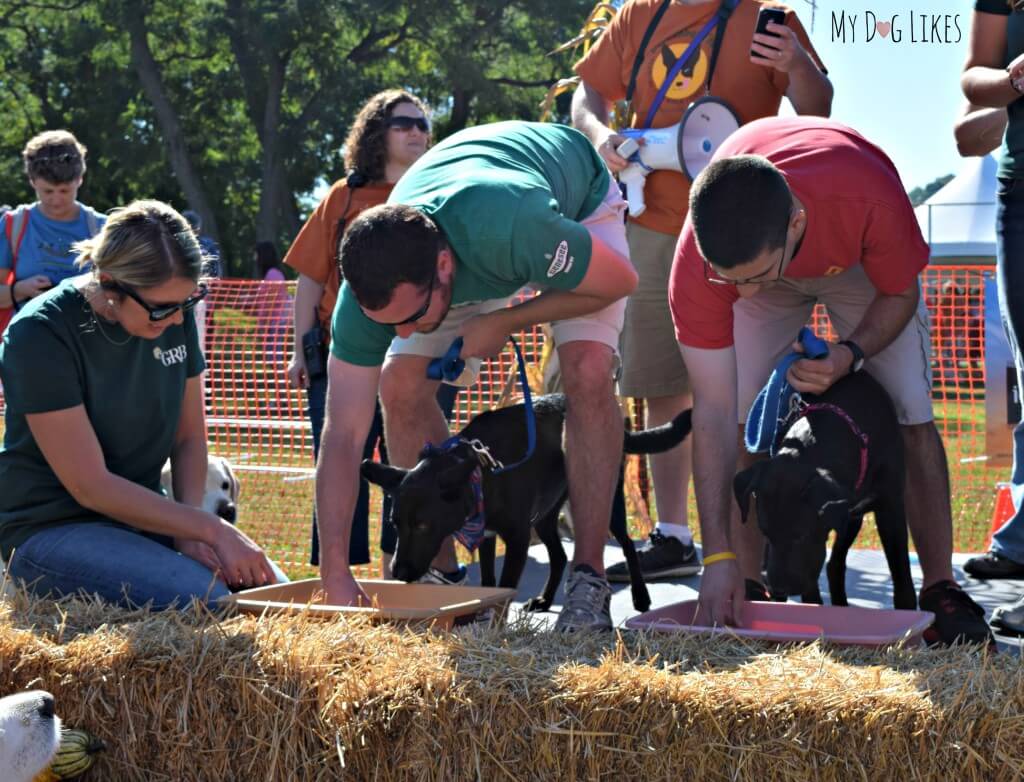 Next, we headed over to the Agility Fun Run area, where we saw Charlie's trainer, Alyssa, leading some dogs through the course. Designed as a fun and safe introduction to agility, I knew I wanted to take Charlie for a walk through.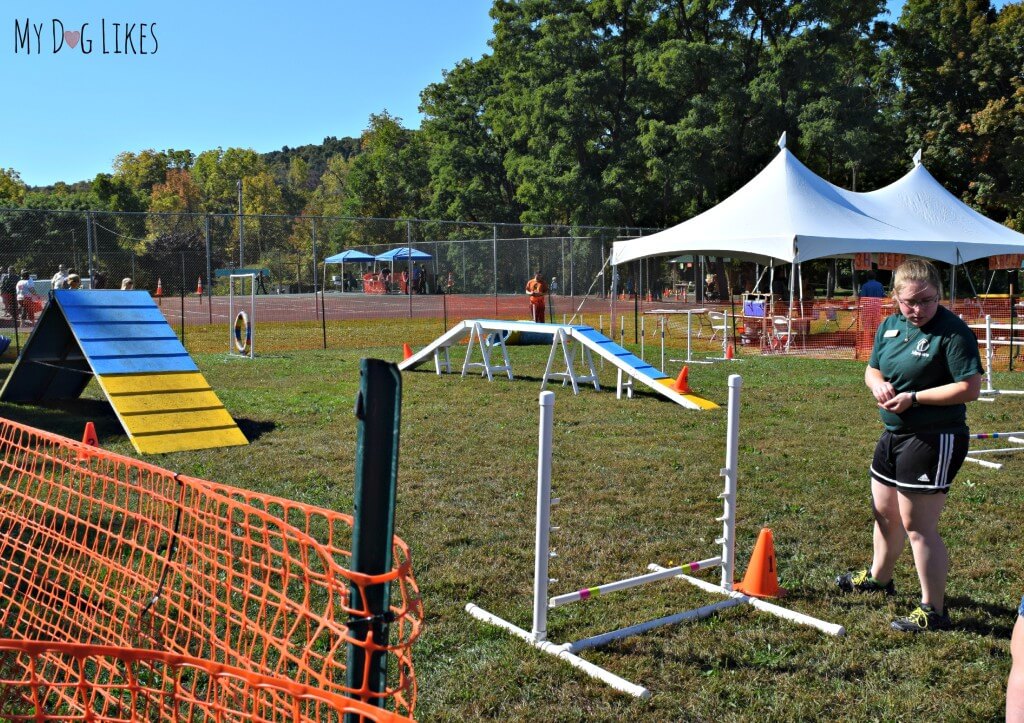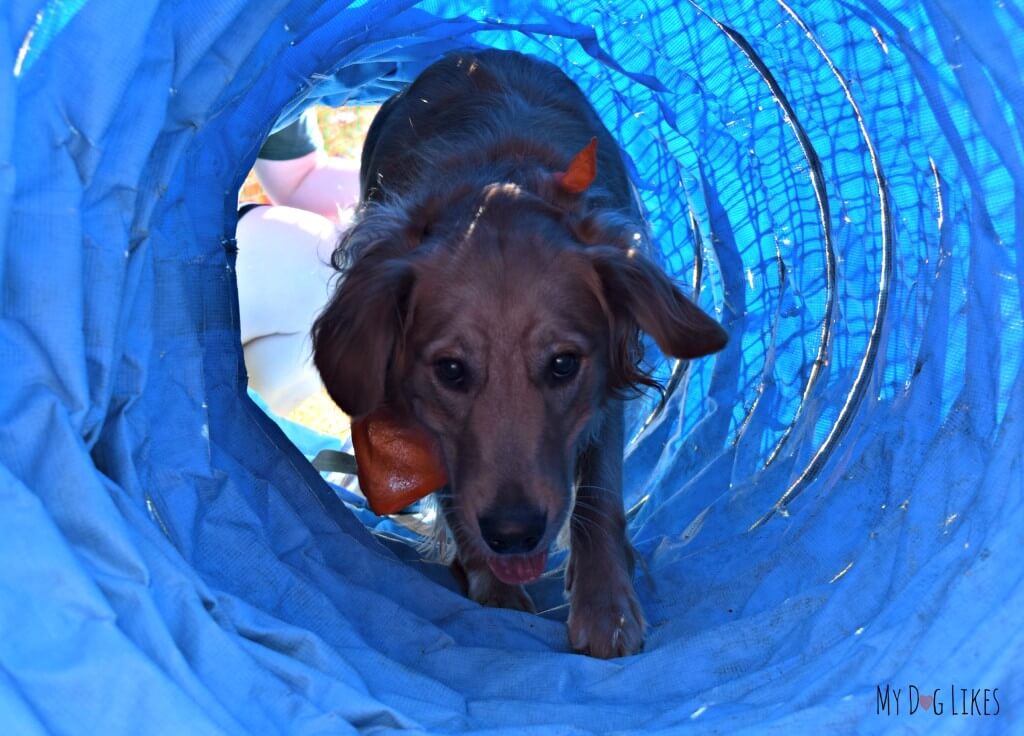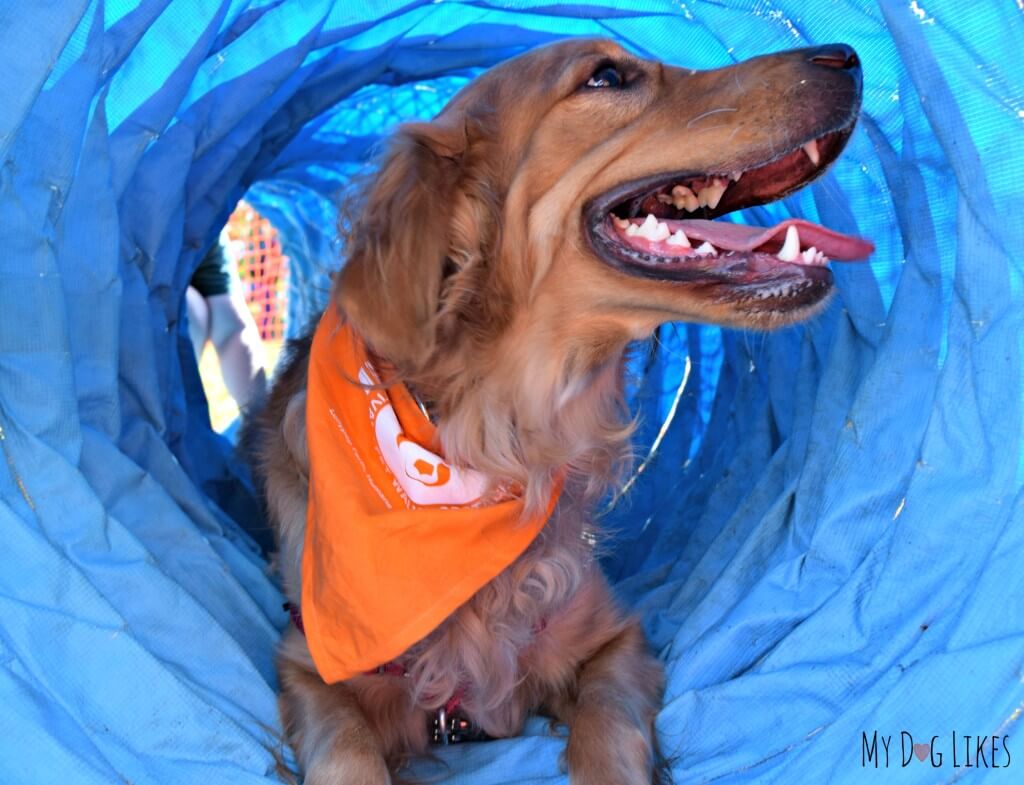 I was uncertain if Harley would be up for it, but I decided with his extensive background in playground climbing, we would give it a go.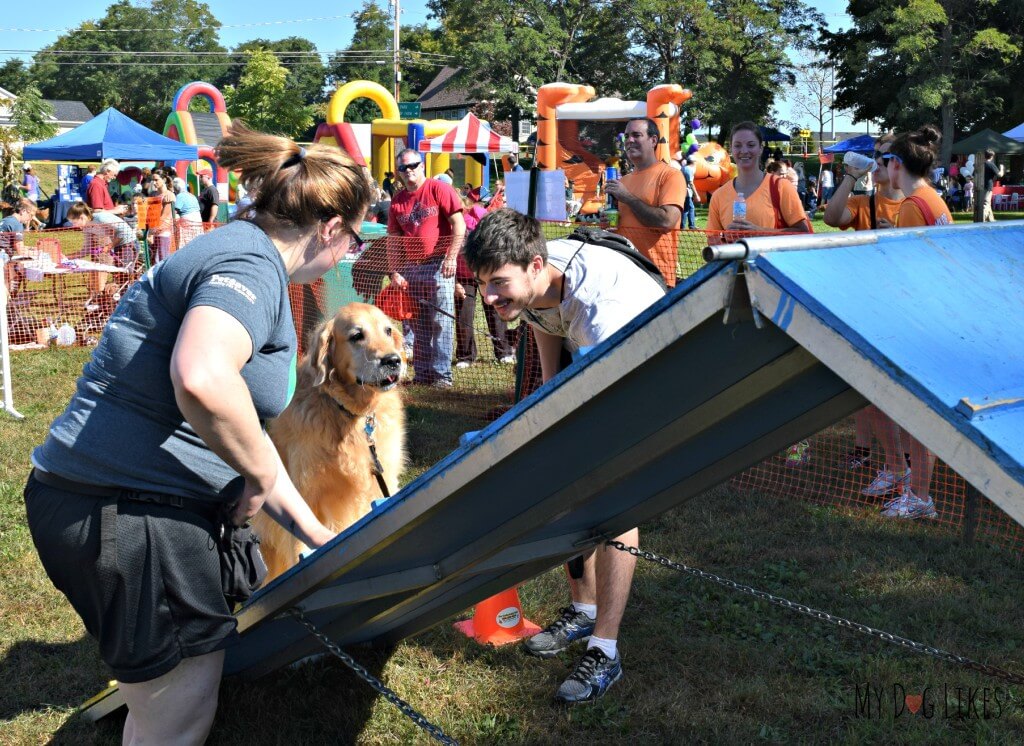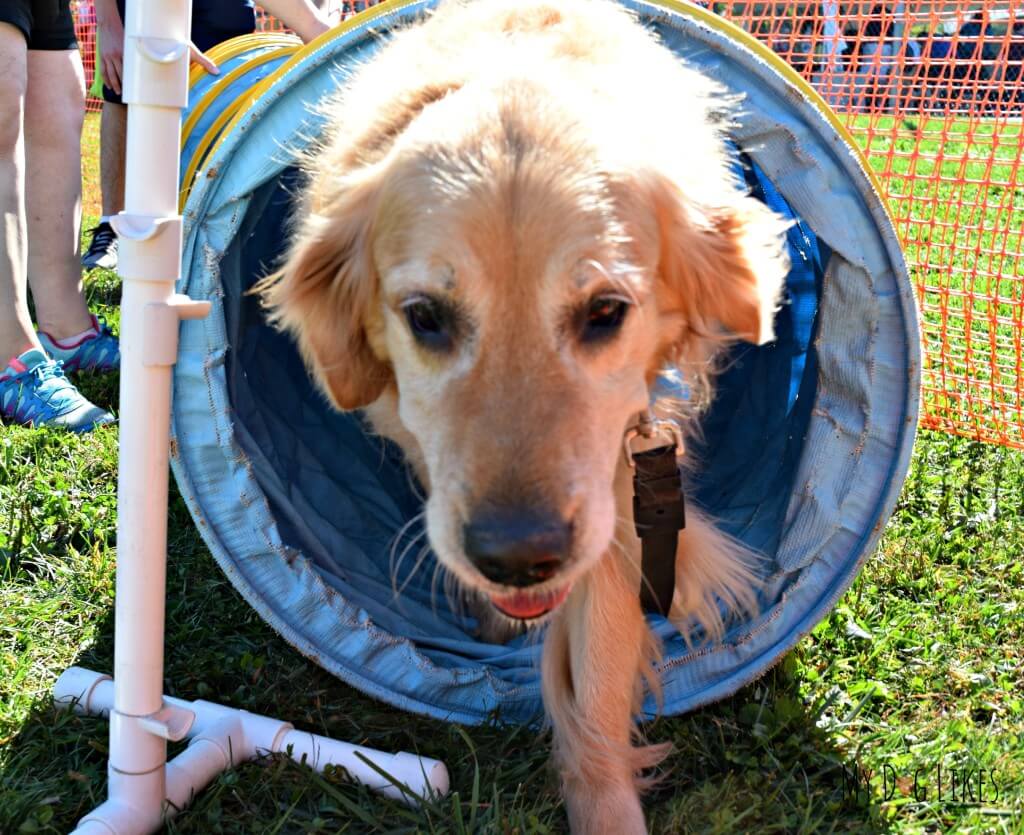 Well….they did so good!! Charlie needed a bit of encouragement to get started. Harley on the other hand was a fearless pro! The only thing he couldn't didn't complete was the "A frame". With more time and encouragement, I think he would have!! (Proud Momma Moment).
Before leaving, we walked around the park, met some friends, and got some belly rubs!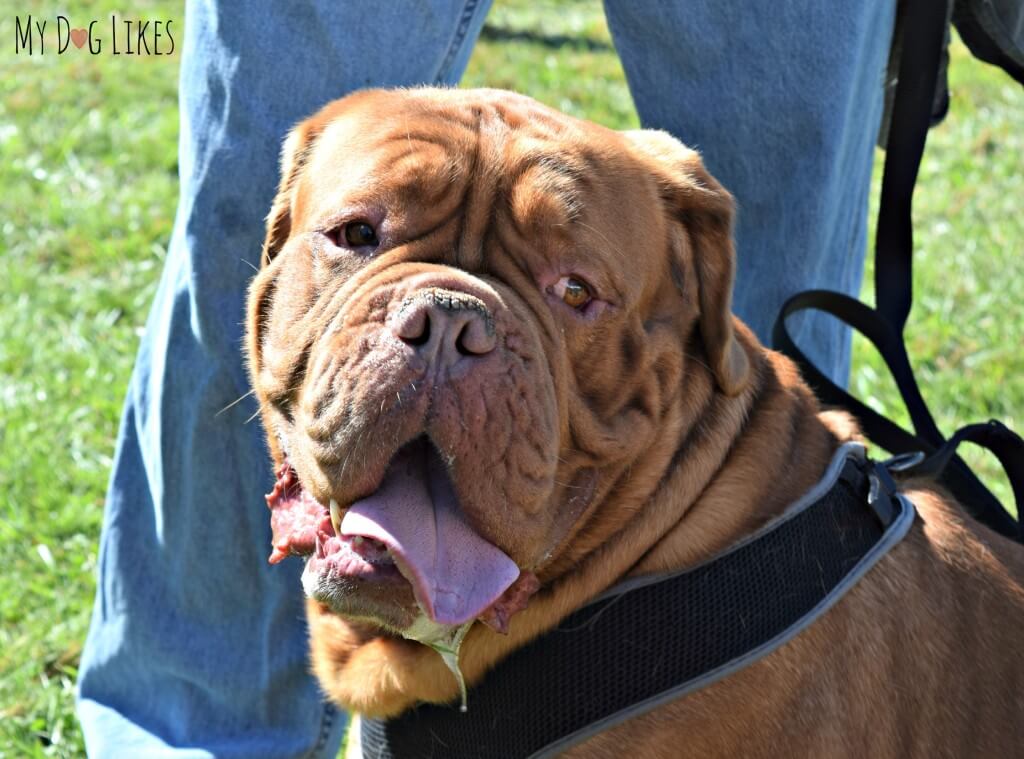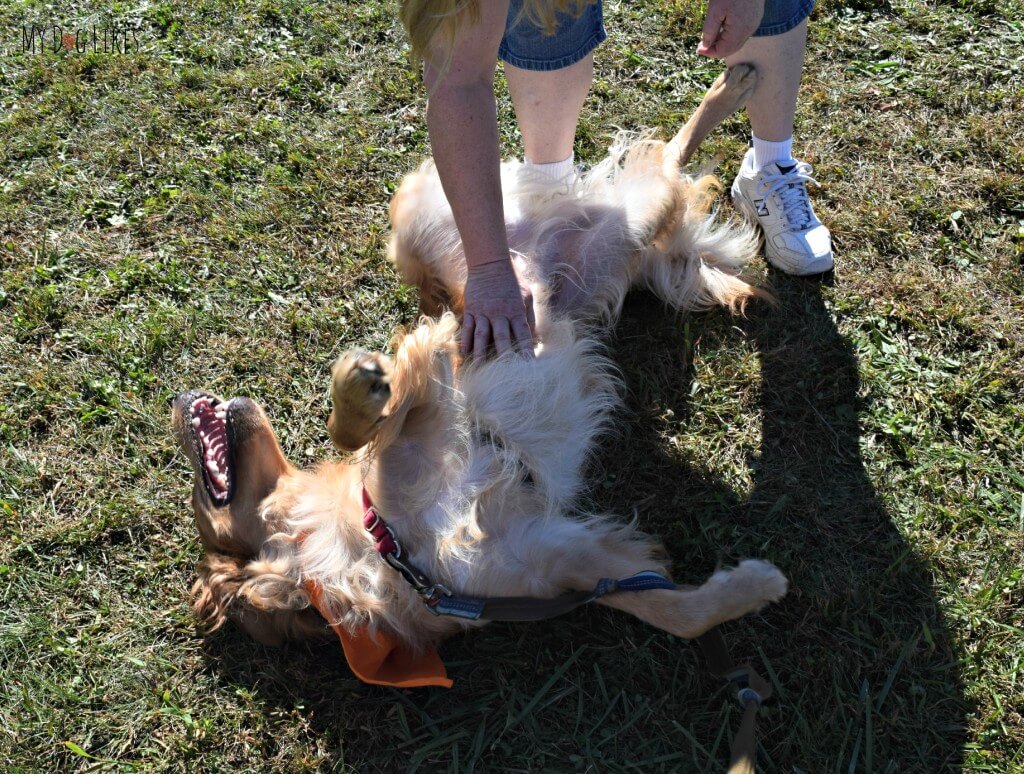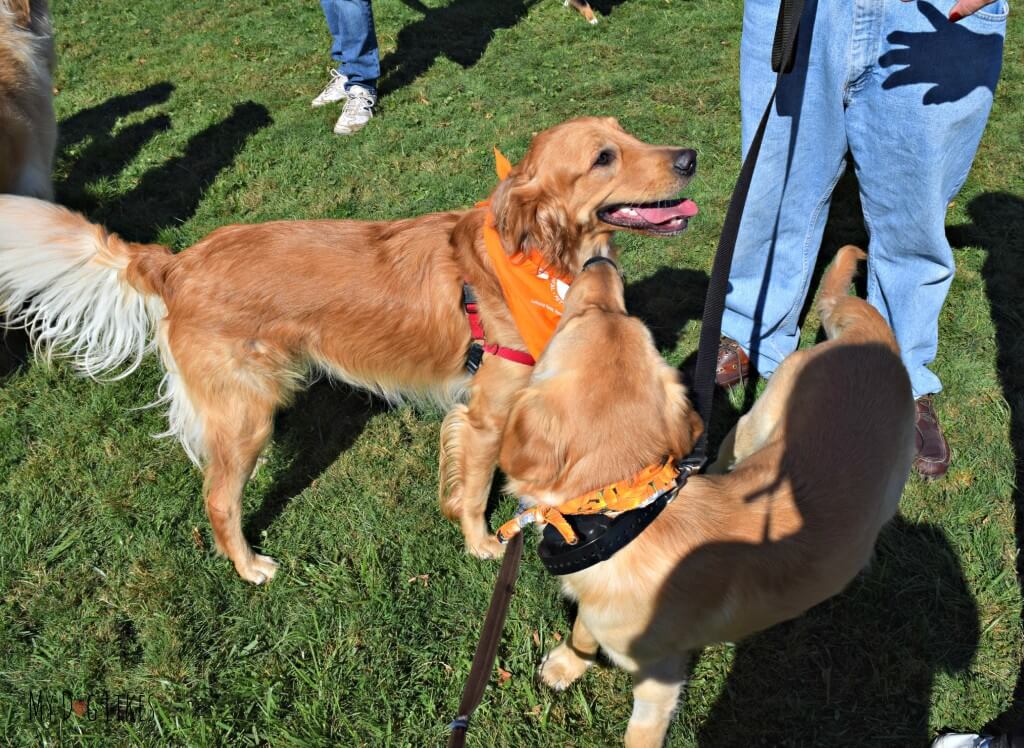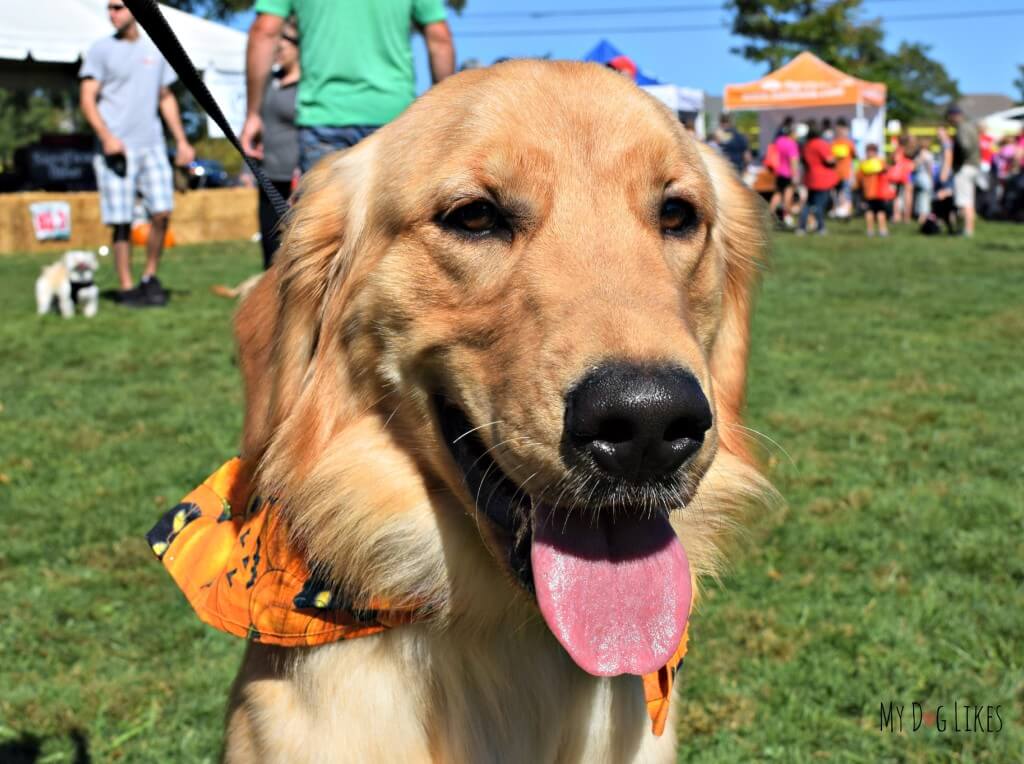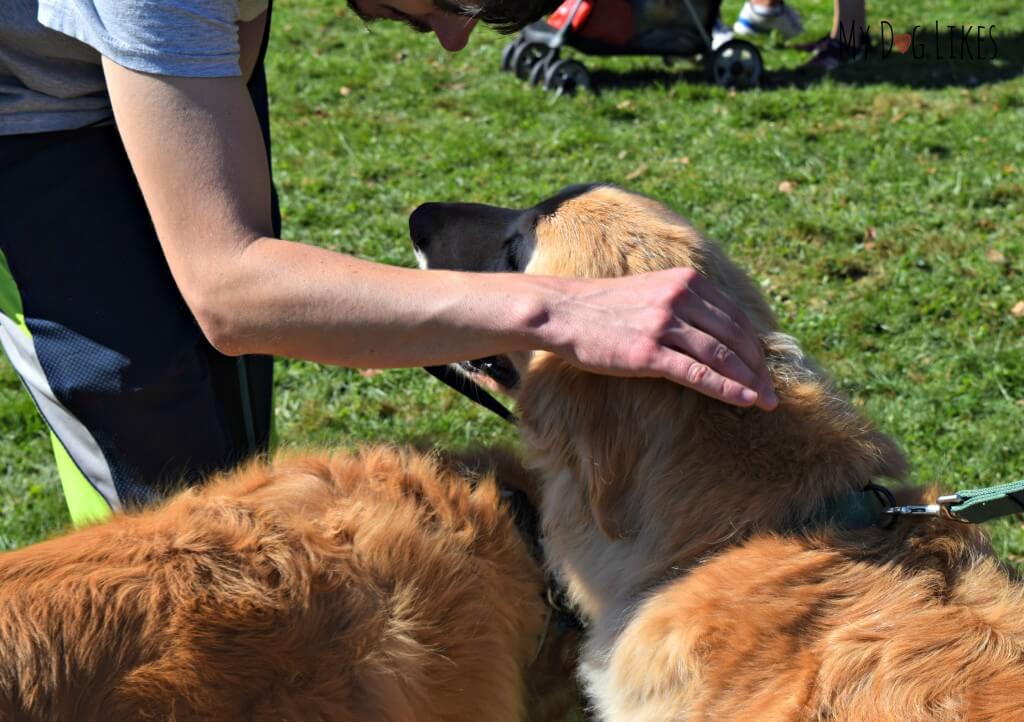 Naturally, Charlie was drawn to the Kid Zone…so many little people to play with!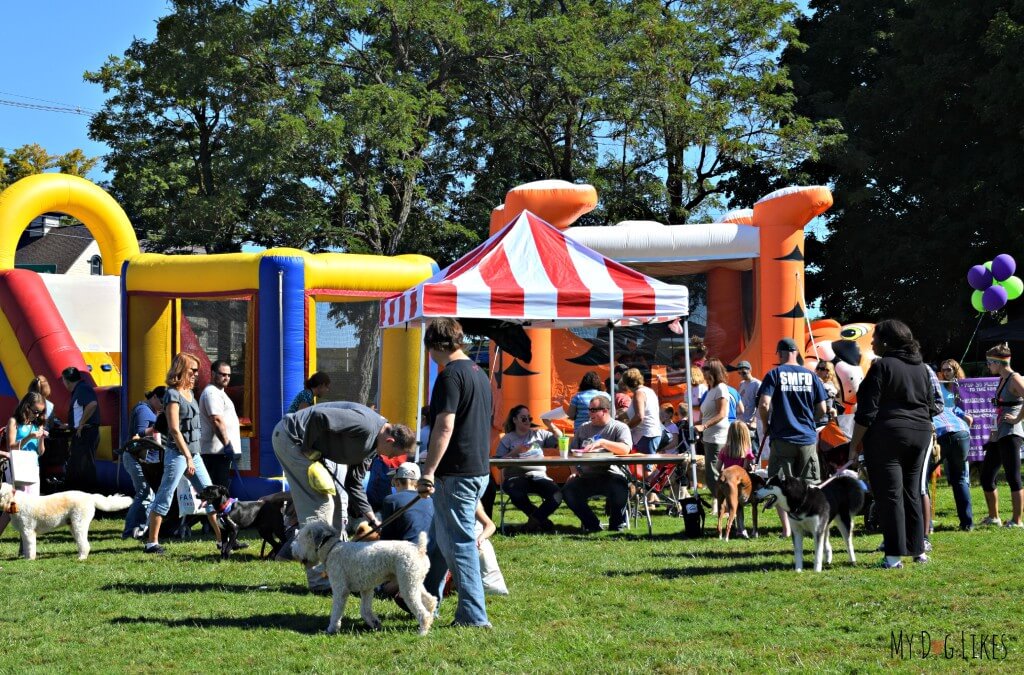 Harley was drawn to the beer garden and festival food!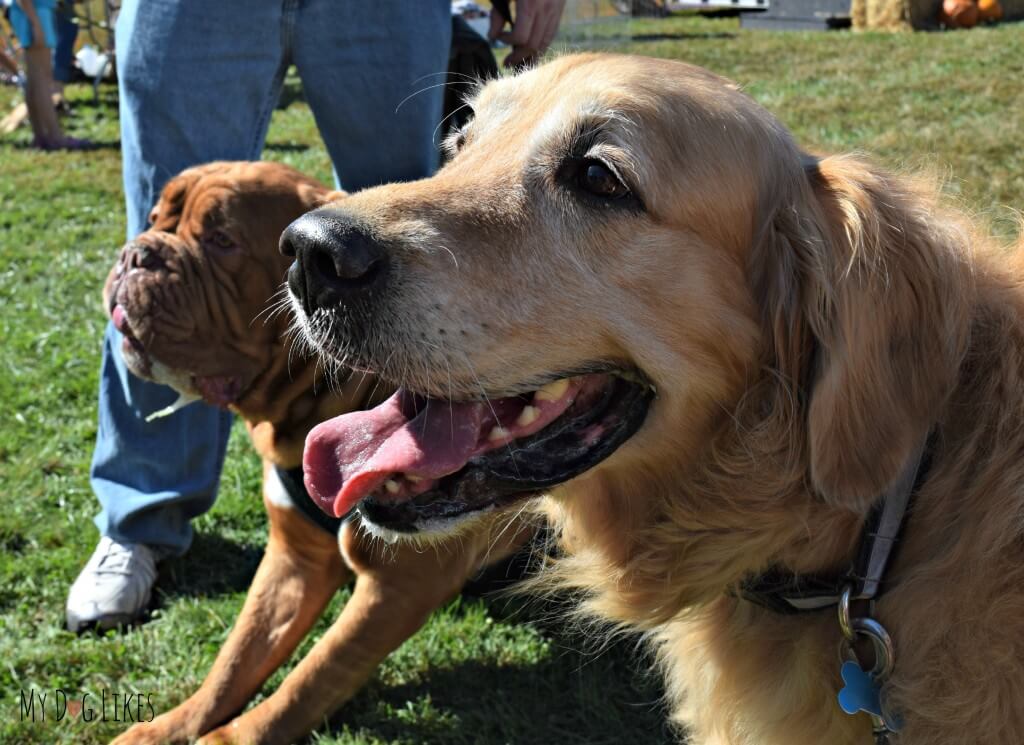 There truly is something for everyone at Lollypop Farm Barktober Fest. If the events, contests, and fun activities aren't enough to draw you in, the sweet faces of the animals that are supported by this wonderful event will be. Even with all of these fun events, our favorite part of Barktober Fest was simply being surrounded by a community, OUR community, of pet-lovers.
Lollypop has been such a tremendous resource to us over the years helping to make sure our adoptions of Max and Lucas (MyDogLikes – Kitties) were smooth, and helping our rescue pup Charlie learn the basics of obedience and begin work toward his Canine Good Citizen certificate!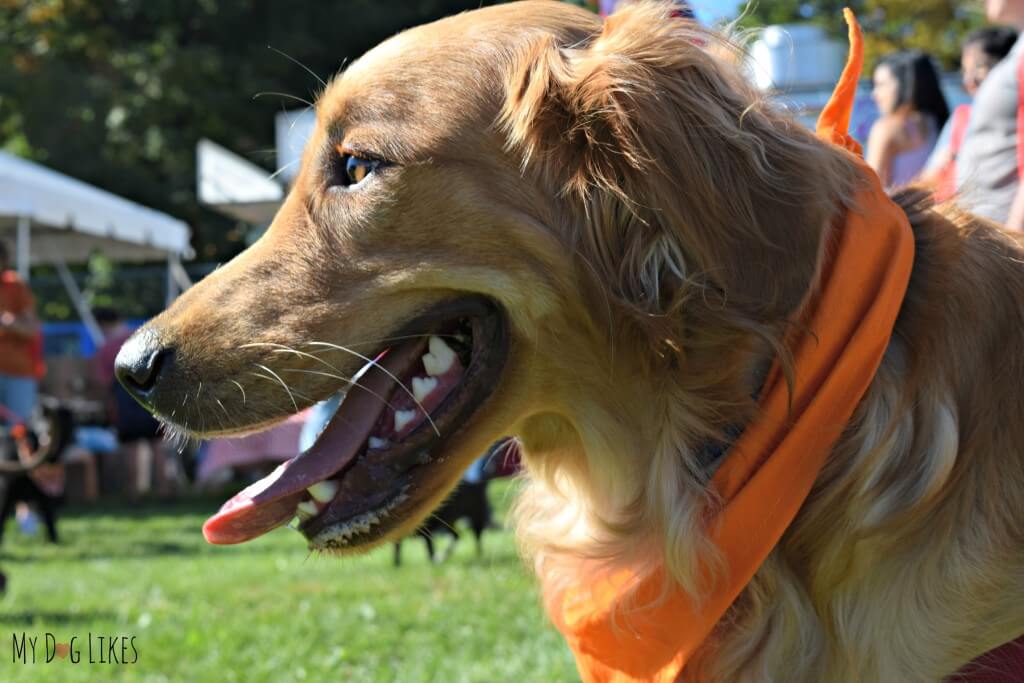 Though we only met 25% of our fundraising goal, our blog is growing, and with that our influence. If nothing else, we want to be one more voice that is advocating for homeless and abused animals . Though we are only one voice, our mission is clear, we want to share the exciting products that are out there that support healthy living and we want pet-owners to know all about the pet friendly events, towns, and parks around us. Our hope is that experiencing how pets fit into an active lifestyle will lead to fewer surrenders and more responsible pet ownership.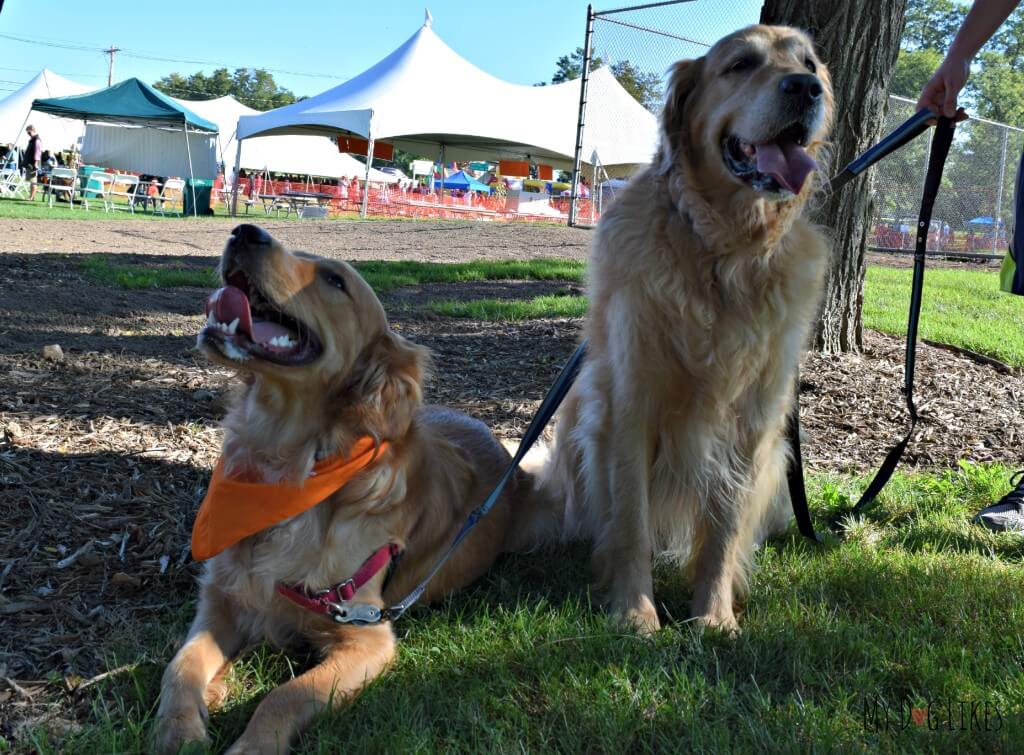 Its too late to donate for Barktober Fest, but don't let that stop you from reaching out to a local rescue or humane society and giving in any way that you can. The work that organizations such as the Rochester Humane Society performs is such an integral part of our communities. Time, love, and donation (monetary/supplies) are just some of the ways that you can support your local rescue organization!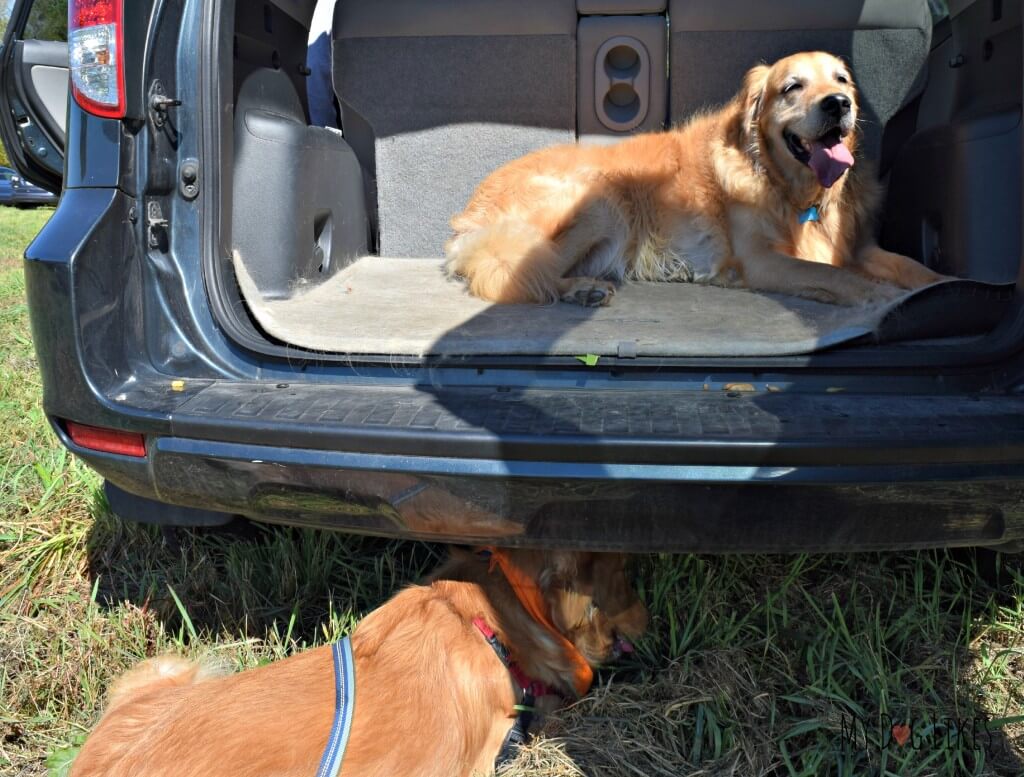 Think we'll be back next year, you betcha'!! Charlie was in no hurry to leave!!