We go through A LOT of training treats.
Seriously….A LOT!
Charlie has come a long way in the past year, but it seems that no matter how much training we complete, there is always more for our sweet little puppy brain to learn! We have resigned ourselves to the fact that if we really want him to break a few of his remaining bad habits (jumping on people and not dropping toys) we must commit to consistent practice and always bring our trusty treat belt (and maybe a clicker) wherever we go.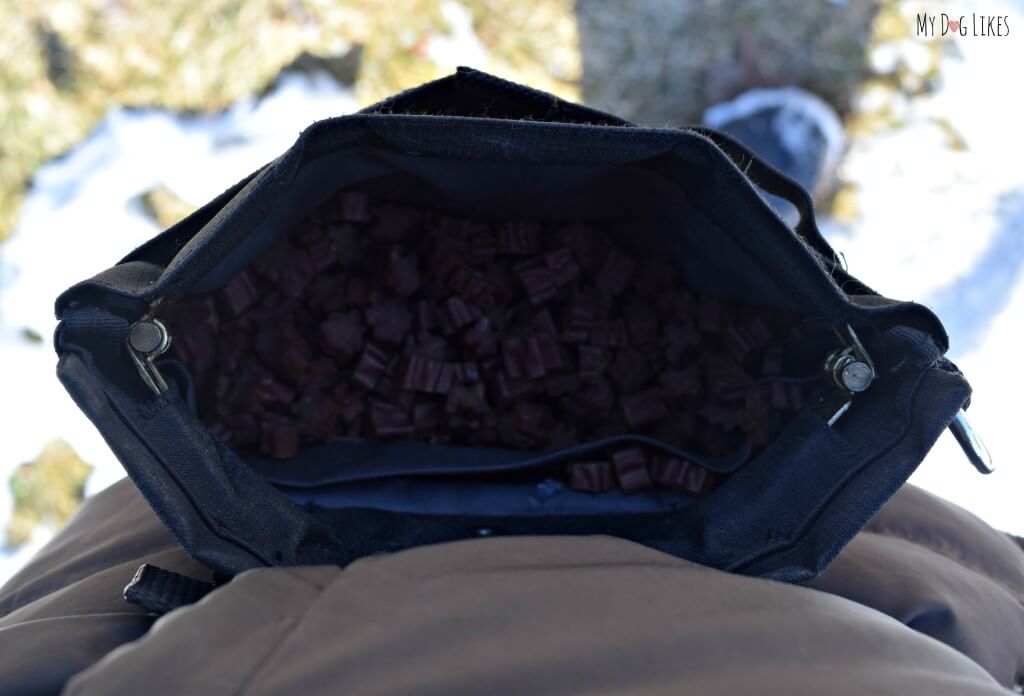 Cabin Fever
For a period of about 2 weeks, the snow was too deep to run in. That meant that our evening walks were for walking only; no off-leash romps in the athletic field of our local school.
Worst of all? No off-leash romps meant no frisbee throwing!
We have talked about Charlie's love of frisbee in the past but it can not be overstated. No frisbee time (and the resulting energy burn) leaves us with one very antsy boy!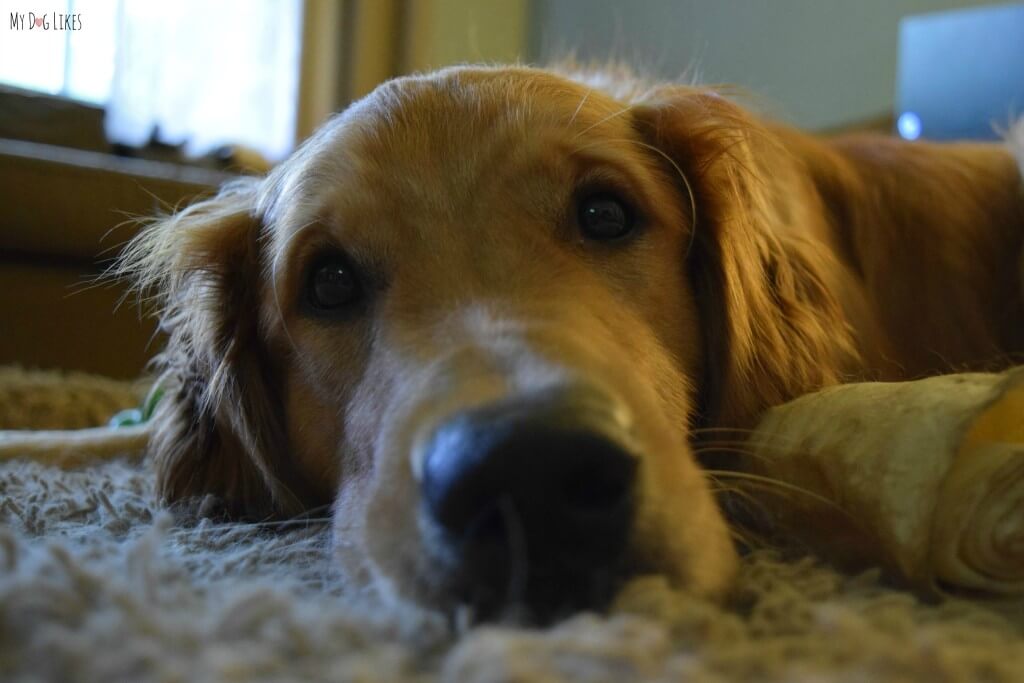 Down the Drain
Well, the temperature has finally risen, and it seems that it only takes a short period of time for our little man to forget his manners. His biggest behavior issues have come back in full force! It appeared as if our hard work and training had gone right down the sewer with the melting snow!
Reasoning is not a strong suit of puppies and Charlie has decided that there is little else in this world that is as rewarding as holding onto his frisbee; even when what he really wants is to chase after it.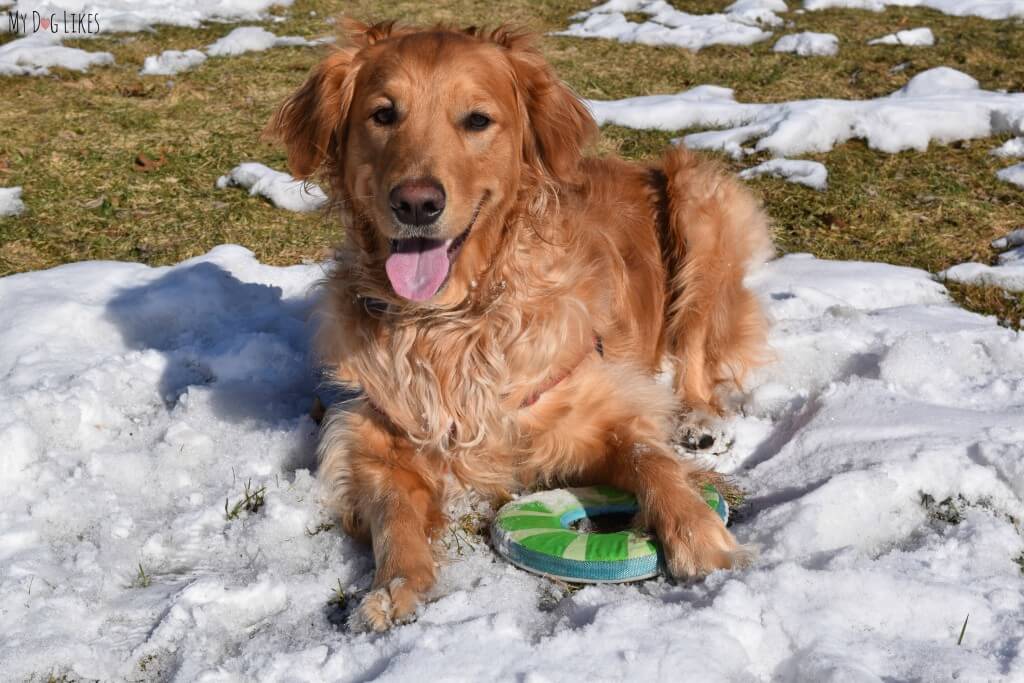 While he could simply release it and let me throw it, alas he does not. I have no interest in trying to tug it out of his mouth or from under his possessive paws!
As you can imagine, this is quite frustrating!
Up!
Lately we have been working on "Up, Up". A command for letting the frisbee out of his mouth and sitting up. The problem is that we have yet to find a treat that is more rewarding than the frisbee.
Well friends, I am happy to report that I think we have had a breakthrough!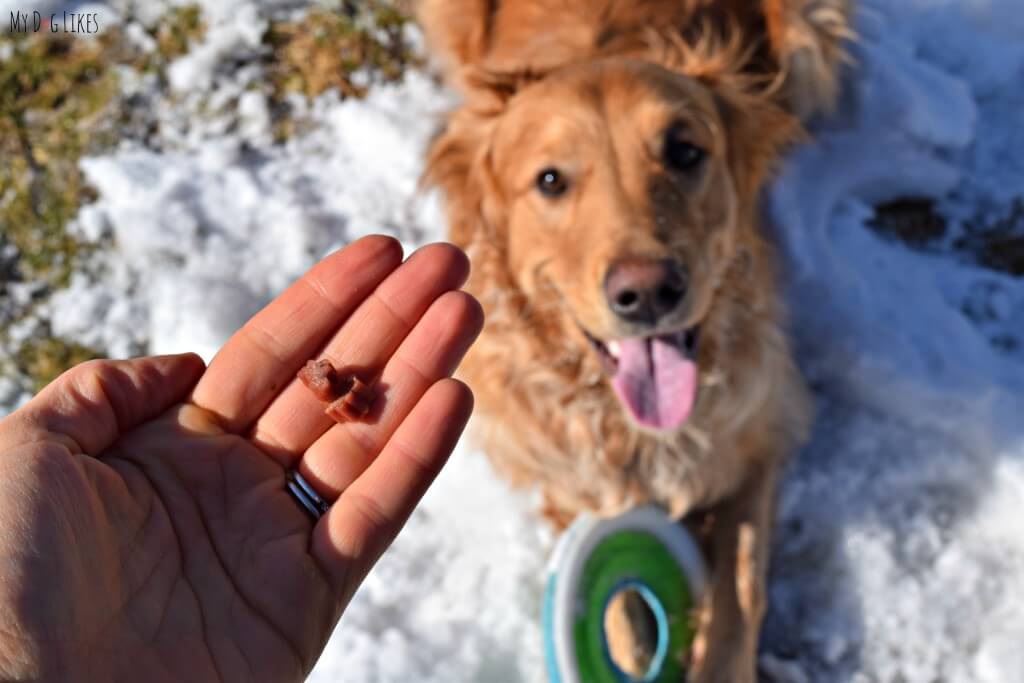 Introducing Primal Chicken Nibs
We first learned about Primal and their raw philosophy at Backer's Total Pet Expo. As advocates of the BARF dog food diet (Bones and Raw Food or Biologically Appropriate Raw Food), Primal believes that our pets should be eating a diet that mimics the eating habits of animals in their natural habitat. Simply put, the BARF dog food diet consists of muscle meat, organs, fresh fruit/vegetables and bones. Last month we shared the importance of raw recreational bones and today we are happy to share a little more about Jerky Chicken Nibs; part of Primal Pet's treat line!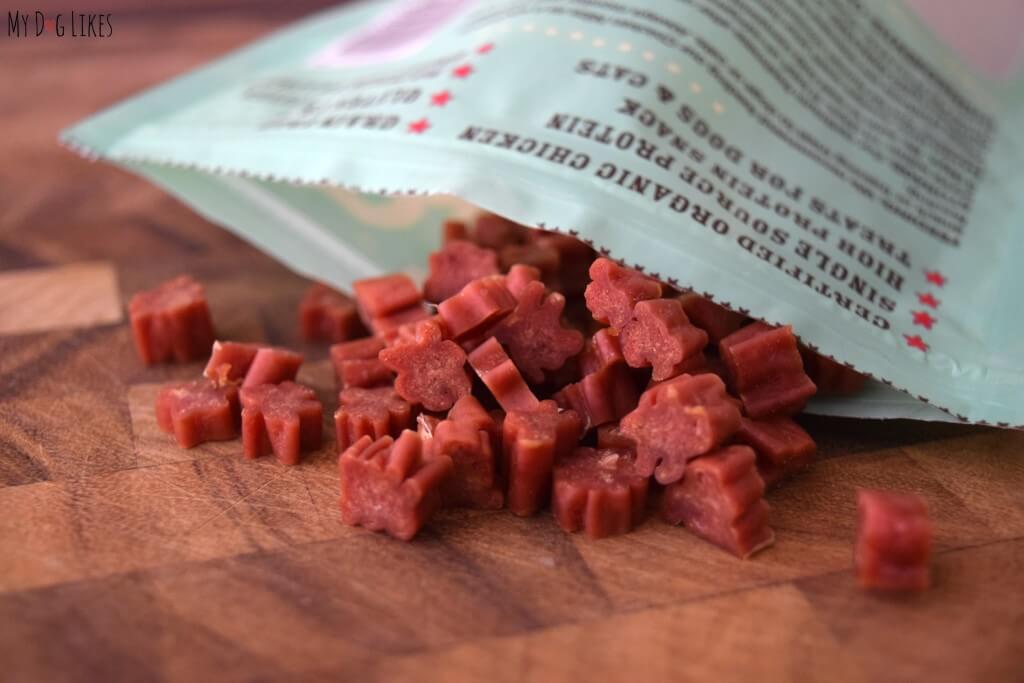 Raw dogs love Raw treats!
According to their website:
The Primal Pet Foods treat line was created for dogs and cats with the goal of providing wholesome, human-grade snacks containing no preservatives, gluten or grain. All Primal Treats are produced using USDA meats, poultry and game raised in the United States and New Zealand without antibiotics or added hormones.
You had us at grain-free!
Chicken Nibs are just one part of Primal's line of single protein treats produced using low-temperature, slow-cooking techniques such as freeze-drying and slow roasting. The end result? High-density, high protein nutrition in a shelf-stable product.
For our friends with allergies, Primal treats are a great snack option as they are always single protein venison, buffalo, turkey or chicken.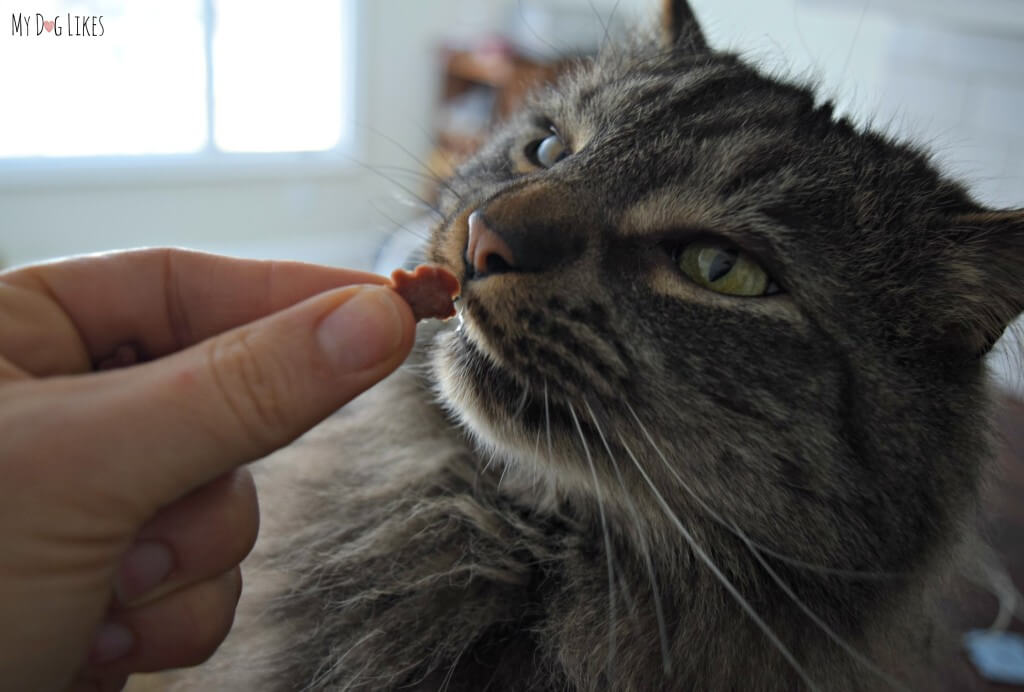 The Single Life
Primal Jerky Chicken Nibs are no different in quality from the rest of their line and make for a delightful, grain-free, gluten-free, USDA Organic training treat for dogs and bite sized treats for cats. Chicken is the only protein you will find in these treats and it is always raised in the USA (without hormones or antibiotics). Though we have found some training treats that are great quality, Primal Chicken Nibs blew us away! There is no baggage with this singleton chicken training treat because its only ingredients are organic chicken, organic honey, and sea salt.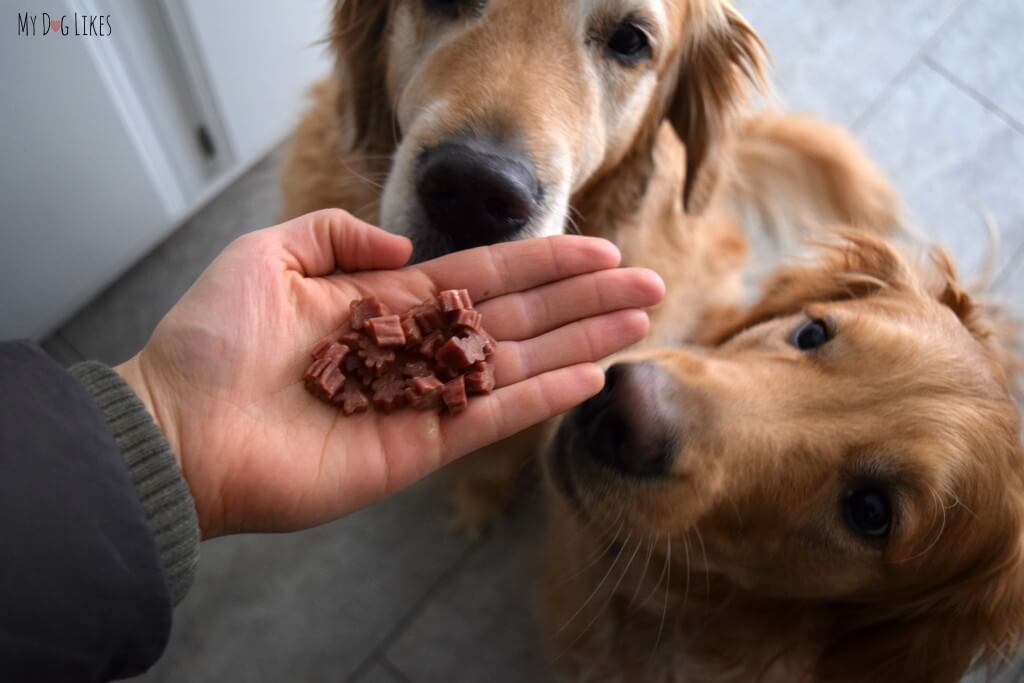 Use Me
These treats contain no preservatives. How often do you see on the label that treats should be stored in the refrigerator upon opening and consumed within 14 days!?  Not putting them in the refrigerator? Primal recommends using them up in 3 days in that case!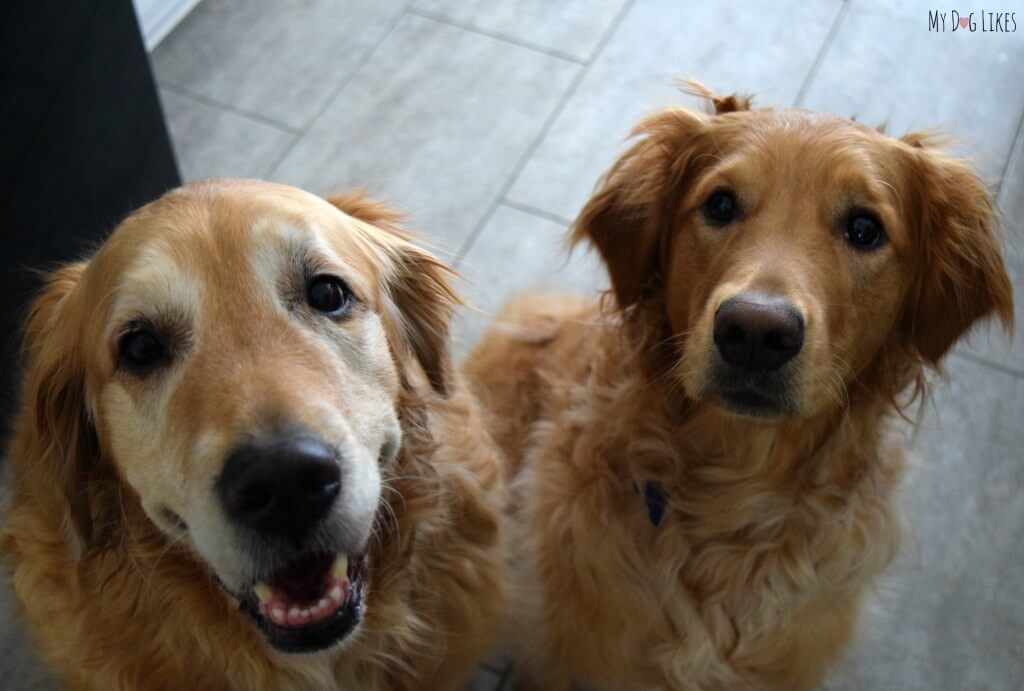 Our boys say: "3 days….Challenge Accepted!"
Scratch and Sniff
Upon opening the bag you are instantly reminded of the last time you roasted a chicken in your oven (seriously, I wish I could add a scratch and sniff to this post). The odor is strong, but not at all offensive. It smells like the REAL FOOD that it is!
Just what our dogs deserve!
Working 9-5 (and then a little more)
Back to the point, I said that we had made some progress in our training with Charlie. Keep in mind that it is slow, but our little Chuck E. Duck, let his Momma have the frisbee (a couple of times) without being a little stinker about it.
While there is certainly room for improvement, we have finally found a treat that smells and tastes great enough to distract our little guy…if only for a moment. A moment is really all that we need and it is helping to make our romps and frisbee throws way more enjoyable (for me)!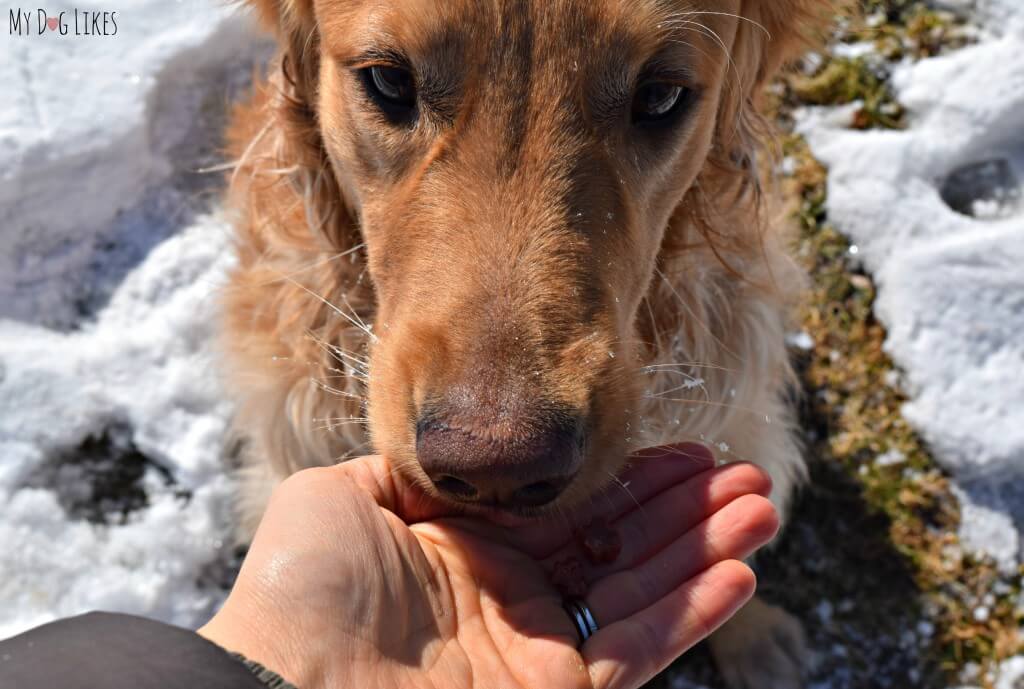 In the coming days, we are going to keep practicing with lower value items indoors (basically anything that is not a frisbee). Our next step will be to train with the frisbee in the house, then finally transition outdoors and "go for the gold"! We will certainly keep you apprised of our successes and setbacks!  
A Workout
This is going to be a busy week for our Primal Jerky Nibs as they join us in our adventures in agility class. Our poopy puppy has been having some trouble focusing in class, and I am hoping these Chicken Nibs are just the thing to keep his eyes on me!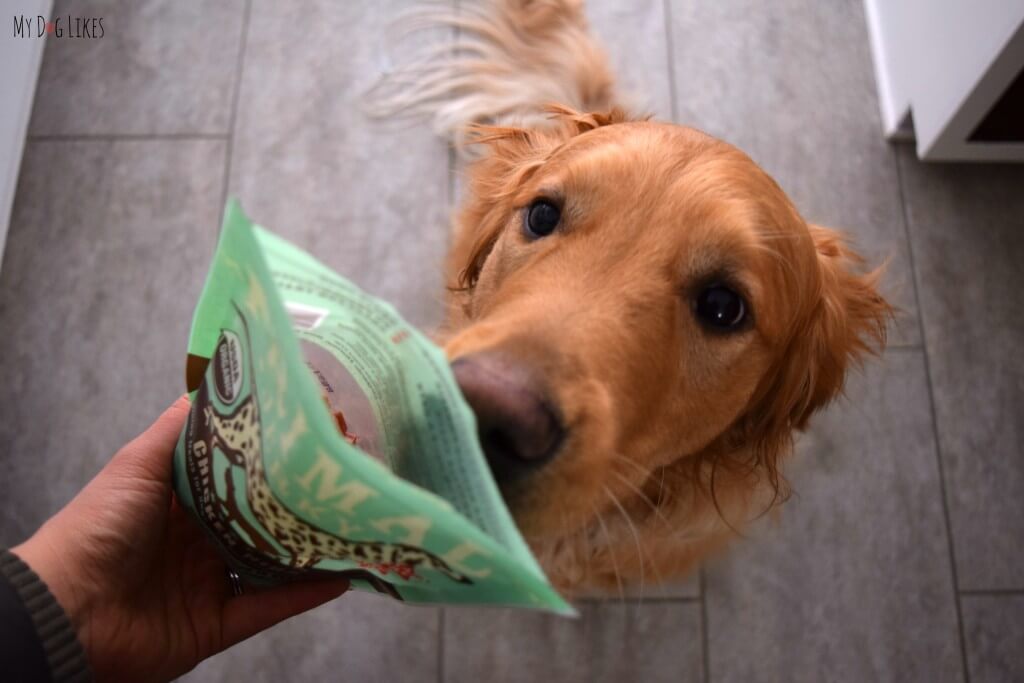 Why MyDogLikes Primal Jerky Nibs
I don't know what we love more…the no-nonsense ingredient list or how much the boys go crazy for these treats! We have found some training treats that we love, and the bar is set high, but we were truly blown away. Great as a training treat for dogs or a perfect bite sized treat for cats, we had unanimous approval throughout the house on their taste. The simple ingredient list consists of USDA Organic Chicken, Honey, and Sea Salt…THATS IT! Very often even high quality training treats require some kind of binder. Because these are more of the style of jerky, they don't require anything extra, just pure wholesome goodness.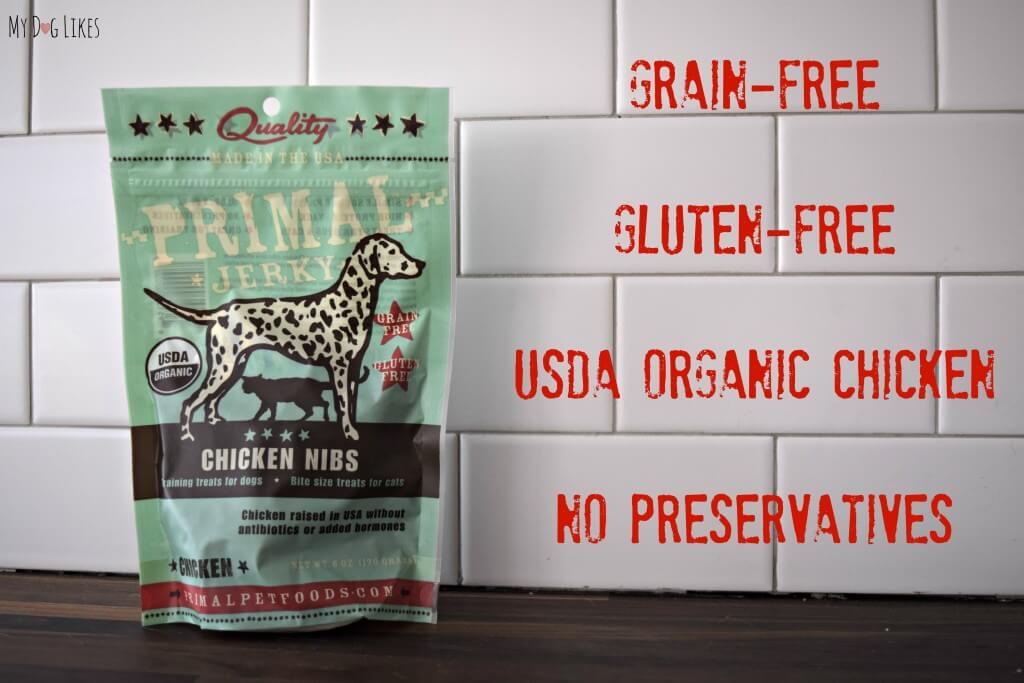 When picking out a treat for training, you want to make sure that it is high value. Very often soft, odorous treats are recommended for this reason. While that is the style that we are used to, these Chicken Nibs contain a slightly lower moisture content while retaining the strong scent that brings dogs barking! These treats would be great for any dog or cat, but especially well suited for dogs in training who need lots of high value rewards throughout the training period. We highly recommend!
Want to give Primal Jerky Nibs a try?