As homemade dog food diets surge in popularity, we know that many pet parents are feeling left behind.
Everyone wants to do what's best for their furry family members, but the knowledge and prep-time involved in creating balanced meals can be overwhelming.
Thankfully, there have been a number of whole food options hitting the market in recent years which are filling this void. Not only do they provide premium nutrition (in a non-kibble form) but they are also delivered straight to your door!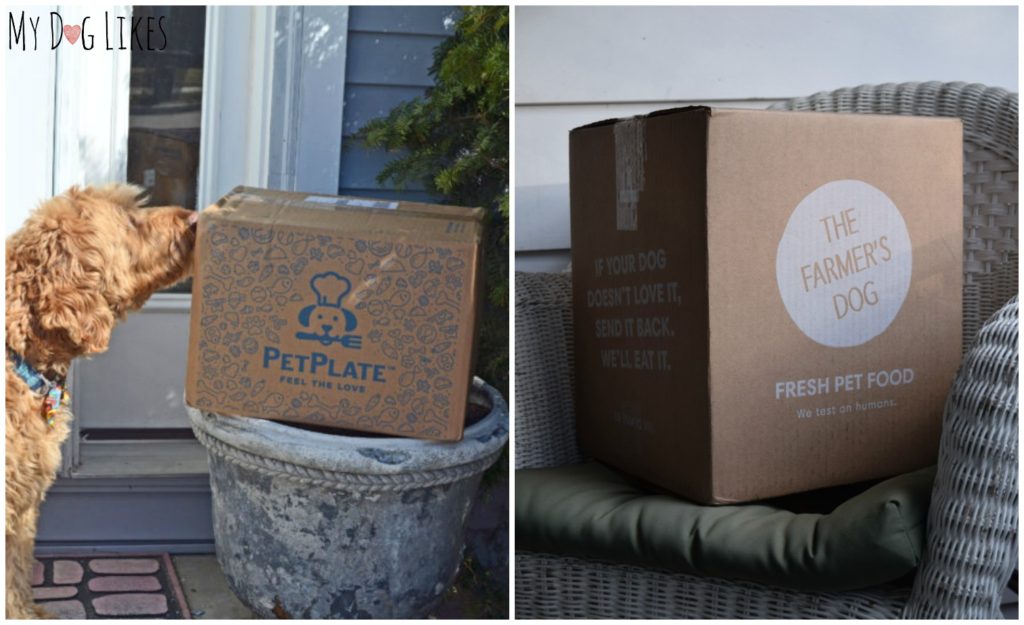 Today we are going to be taking a closer look at 2 of the most popular dog food delivery brands: PetPlate and The Farmer's Dog.
We know that changing foods is not a decision most pet parents take lightly, so we have broken down this comparison into several different categories to give you the most complete picture as possible.
If you're on the hunt for specific information use the links below to jump to a particular section.
If you would like to learn even more about our experience with each brand, check out our full reviews by clicking the links below:
PetPlate Review | The Farmer's Dog Review
Comparing Homemade Dog Food Delivery Services
First things first, we want you to know that the MyDogLikes team has personally tested both of these brands. 
While you'd this statement would be a given, there has been an explosion of "pet blogs" in recent years who base their reviews and comparisons from nothing more than a brief internet search.
As you may imagine, our work takes a significant amount of time, money, and effort – but nothing is more important to us than the trust of our readers.
We would never write about any product before trying it ourselves. On that note, we want to mention that we strongly recommend BOTH of these foods – So much so that we have signed on to be affiliate partners.This means that we may earn a commission if you choose to give either of these services a try. We feel confident that you will love either food, so read below to see which brand is right for you and your dog!
Ingredients
Starting with the important stuff – let's take a closer look at what's inside these 2 premium dog food brands:
| | | |
| --- | --- | --- |
| | PetPlate | The Farmer's Dog |
| Flavor Options | Chicken, Turkey, Beef, Lamb | Turkey, Beef, Pork |
| Preservatives | No | No |
| Human Grade | Yes | Yes |
| Formulated to AAFCO Standards | Yes | Yes |
| Made in America | Yes (New York) | Yes (New York) |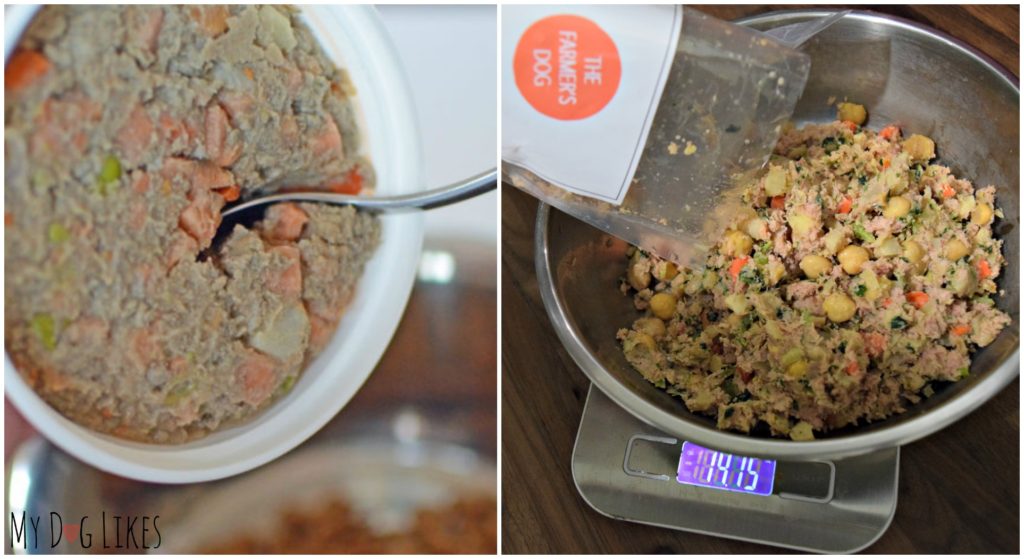 Winner: PetPlate
Both brands use top-notch ingredients and manufacturing processes, so we had to give the edge here to PetPlate simply for the wider variety of proteins available.
Ordering Process
Both PetPlate and The Farmer's dog utilize an online portal to handle ordering and subscription preferences. To start, you will be required to answer a few questions about your dog including their age, activity level, food preferences and health concerns.

Farmer's Dog Questionnaire
After this you will be able to chose from several different flavor options and a subscription plan. Understanding that they are a premium offering, both The Farmer's Dog and PetPlate offer partial plans so that their food can be used as a topper on your dog's current food. These plans ship the same quantity of food, half as often.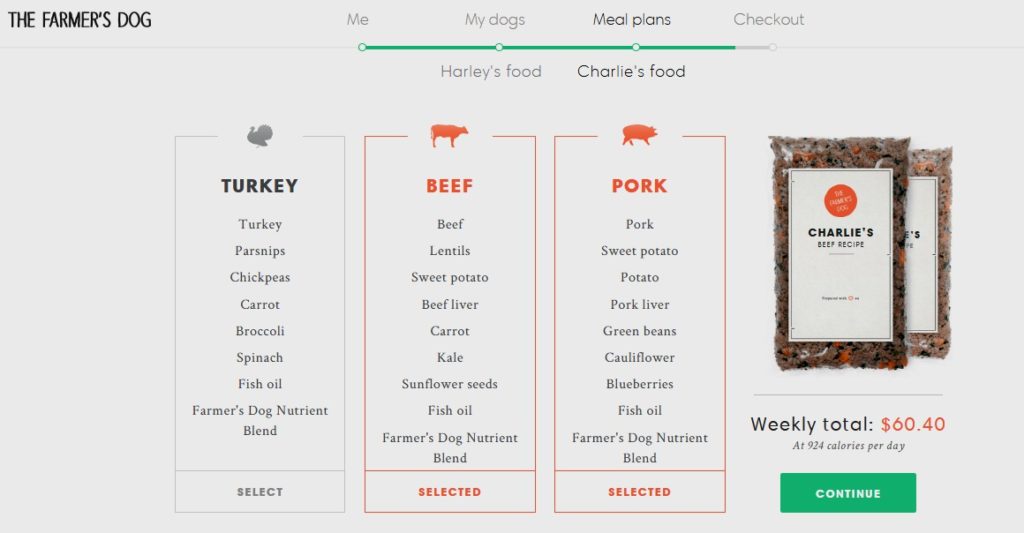 Ordering from The Farmer's Dog
Winner? TIE
We found both sites very simple to navigate, easy to understand, and the initial account setup took only about 5 minutes from start to finish.
Shipping and Packaging
We were very impressed with how quickly the first shipments arrived – PetPlate in 2 days and The Farmer's Dog within 3!
Shipments from both PetPlate and The Farmer's dog come frozen in an insulated cardboard box. Frequency depends upon your meal plan and the size of your dog – though in most cases you will be looking at weekly to monthly deliveries.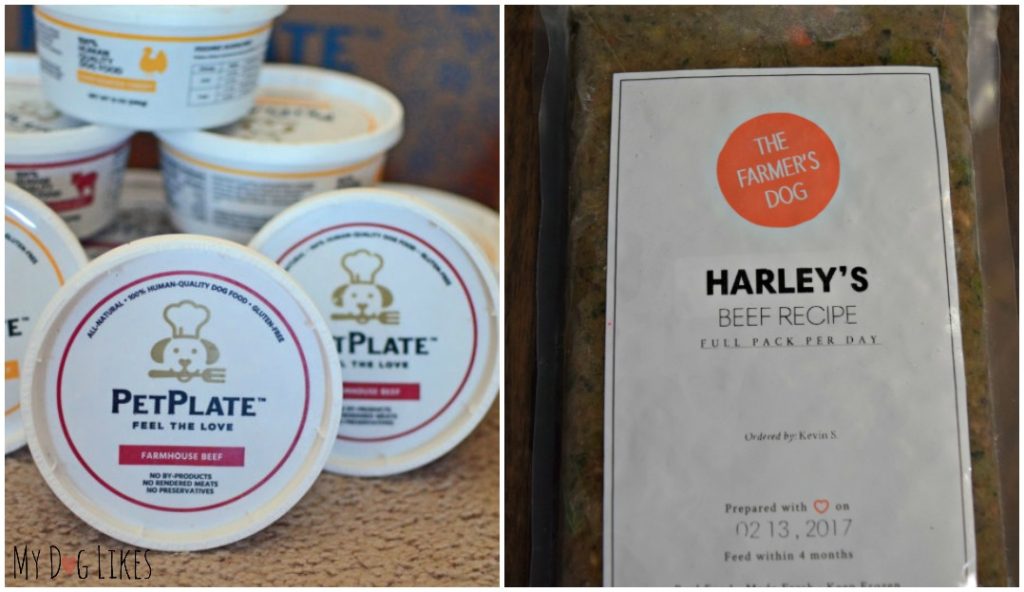 Inside is where you will start to see the difference between the two brands. If your dog is over 60 pounds, PetPlate's meals come in single serve plastic containers while The Farmer's Dog meals always come in 1-day portioned sleeves. The Farmer's Dog also prints your dog's name right on each sleeve which we thought was a really nice touch, especially if you have more than one dog!
After receiving your order, you should place the majority of the containers in the freezer, where they are good for well over a year. Pull them out 1-2 days ahead of time and place them in the refrigerator to thaw before feeding. The Farmer's Dog can also be quickly thawed in some warm water, which is a great option for forgetful dog parents, like us.
Winner: The Farmer's Dog
Based off of pure convenience, PetPlate would have the edge – since each meal is single serve. Just peel off the cover and you're ready to go. However, if you are eco-nuts like us, you may shudder a bit about the quantity of packaging contained in each shipment. Of course, it's all recyclable, but we know that this won't always happen, and that thought is hard for us to handle!
Aside from the fact that The Farmer's Dog packs are multi-serving, we also preferred their shape as well. We found the thin flat sleeves to be much easier to stack and store in the refrigerator or freezer – where space is always at a premium!
Price
Cost may vary a bit depending on your dogs size and meal preference, but we thought we'd give you a side-by-side comparison for our dog – a 75 lb Golden Retriever with no dietary restrictions (though he could stand to lose a few pounds).
Both companies offer significant discounts on your first order, with more bonus coupons rotating regularly. Since this will be a long-term decision however, it makes more sense to look at the non-sale price…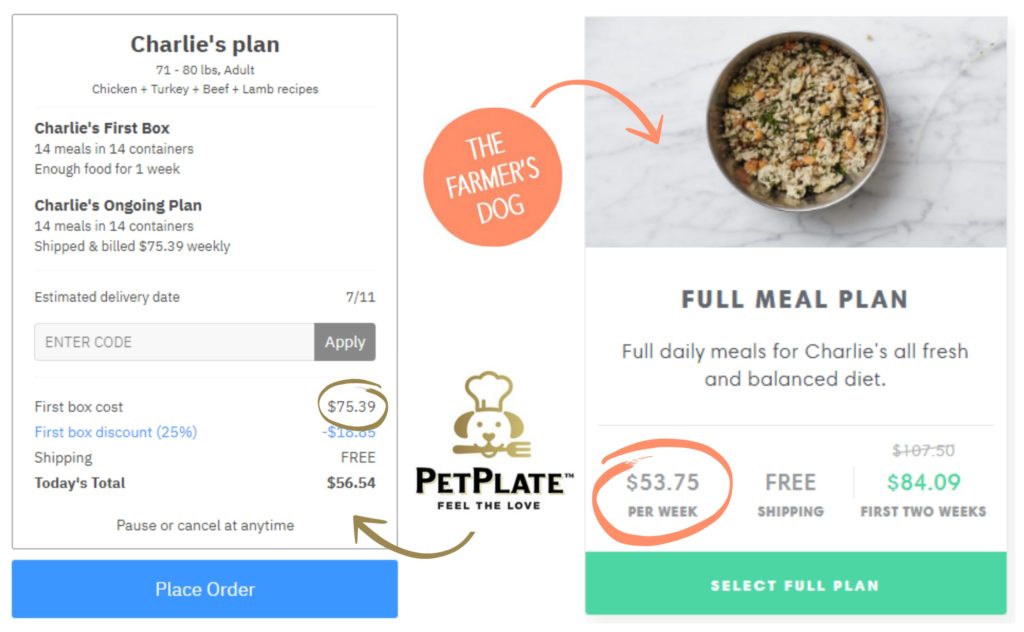 Winner: The Farmer's Dog
In terms of price, The Farmer's Dog is significantly more affordable. For Charlie this food would cost us $53.75 per week while PetPlate is sitting at $75.39 weekly.
Note: As we mentioned above, both brands offer regular discounts so make sure to click the buttons below to take advantage of any special deals!
 Check the Price of PetPlate  Check the Price of The Farmer's Dog
Terms
First things first, both brands offer FREE shipping. We know that just the thought of shipping costs scare many people away from dog food delivery, so this is a BIG DEAL!
Neither company offers "samples" but both will give you a heavy discount on the first order.
Both companies give you the option of pausing or skipping an order on their website – in case you will be out of town or get behind!
PetPlate and The Farmer's Dog both offer a 100% refund should your dog not like their food – so you really don't have anything to lose!
Winner: Tie
We didn't notice any significant differences between the terms of either service, and felt that they were both quite fair.
Taste
Admittedly this is a somewhat subjective measurement as we did not taste the foods ourselves – though we could have since they are both completely human grade!

Winner: Tie
Both foods smell great and our resident dogs dove in without hesitation. They also adjusted to the change in diet with no issues whatsoever.
Bottom Line – Which Delivery Service Did We Prefer?
While you really can't go wrong with either option, we have to give the edge to The Farmer's Dog mostly based upon affordability.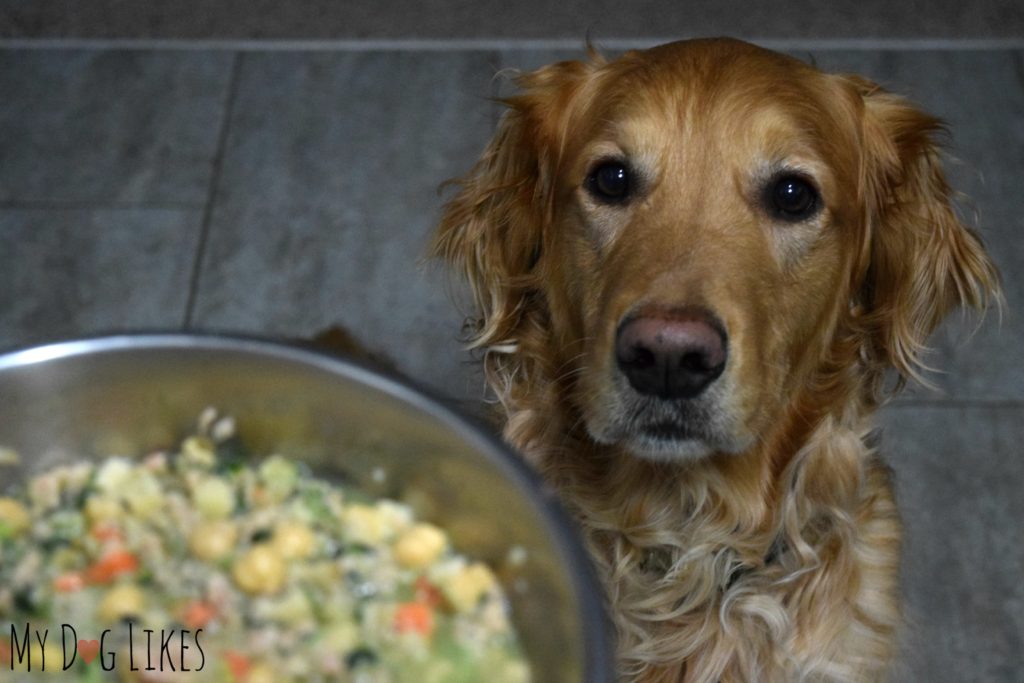 We know all pet parents want to give their pups the best nutrition possible and honestly feel that The Farmer's Dog has been able to achieve this for a very reasonable price. While it does cost more than most kibble, moving your dog to a whole food diet could save you big time in future vet bills.
No matter which brand sounds better to you, we highly recommend giving at least one a try. After all, they both have a 100% money back guarantee – so what do you have to lose?
Click Here to Save 50% on Pet Plate