As humans we know what it takes to be healthy (even if we don't always do it). For Kev and I, our healthy diet consists of tons of seasonal vegetables, some locally and ethically sourced eggs and meat, and as few prepared or processed foods as possible.
Our diet has evolved over the years, at one point choosing not to eat meat for over a year because of concerns with industrial farming practices and animal welfare. Over the past year we have begun to incorporate meat and eggs back into our diet after finding a farmer who practices ethical and humane farming practices in our area.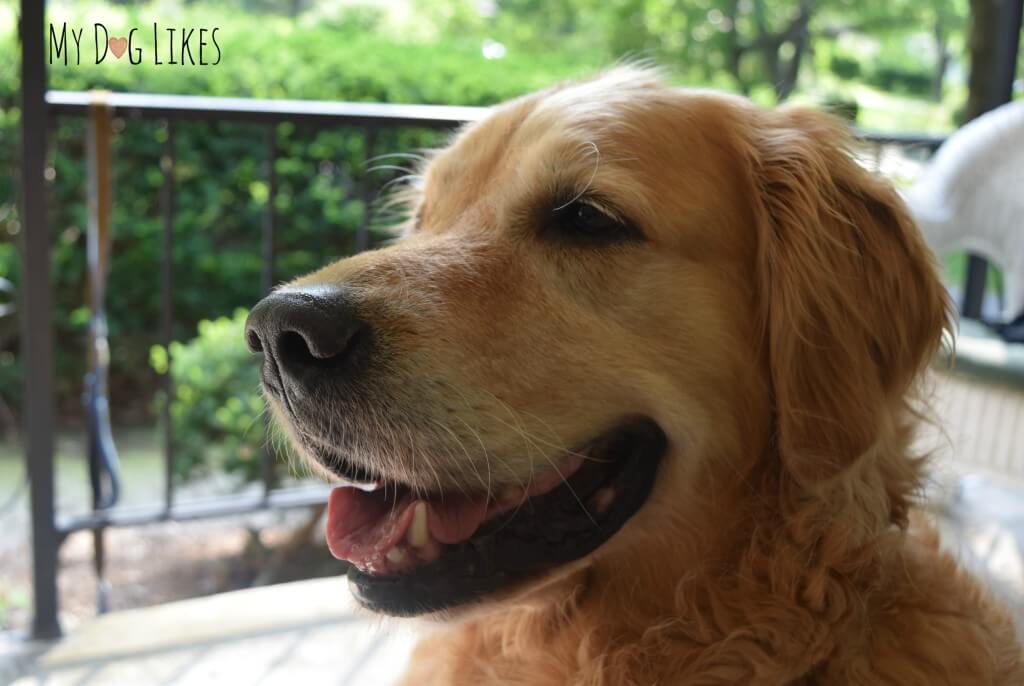 We've shared this before but when we first adopted Harley, our knowledge of healthy eating was limited. We fed a commercial food that we thought was healthy, we simply didn't know any better.
Just like our diet has evolved, as our knowledge has grown, so has the boys'; most recently switching to a grain free/raw diet with excellent results and healthier,happier, and more energetic pups!
What's Good for the Goose, is Good for the Gander…
If we demand healthy, whole foods for ourselves, shouldn't we expect the same for our dogs?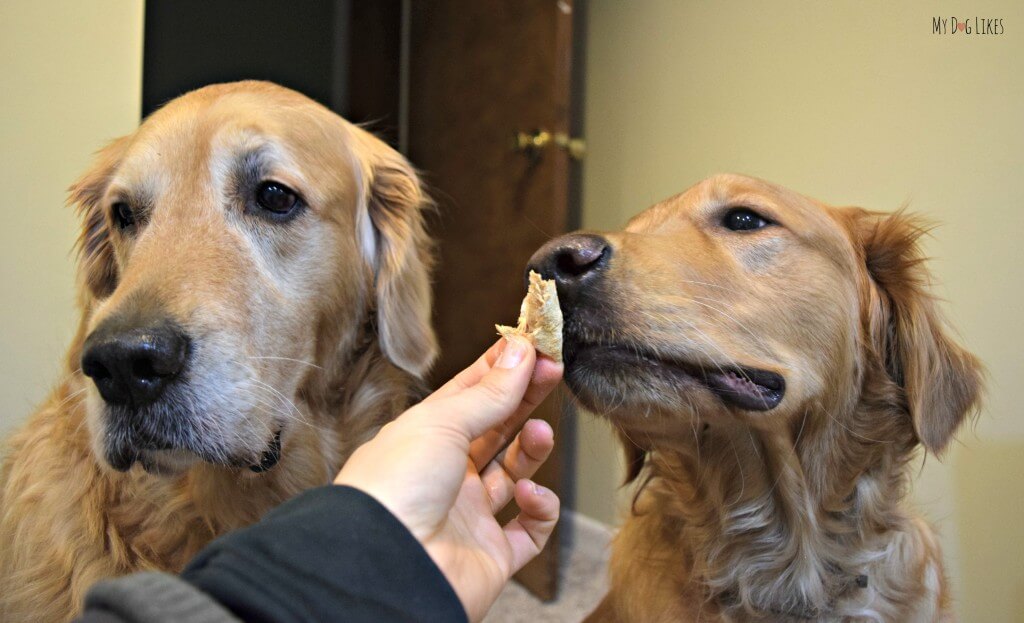 Having knowledge and having know how are two different things. We wanted to provide the dogs with the same quality of food that we were eating, but with two full time careers, we knew that we didn't have the time (or energy) to DIY it.
The Answer…
We were thrilled when we met John Gigliotti, the President and founder of Whole Life Pet Products, and had the opportunity to speak with him about his company at Backer's Total Pet Expo in Chicago. After just a few minutes, we were blown away by what we heard!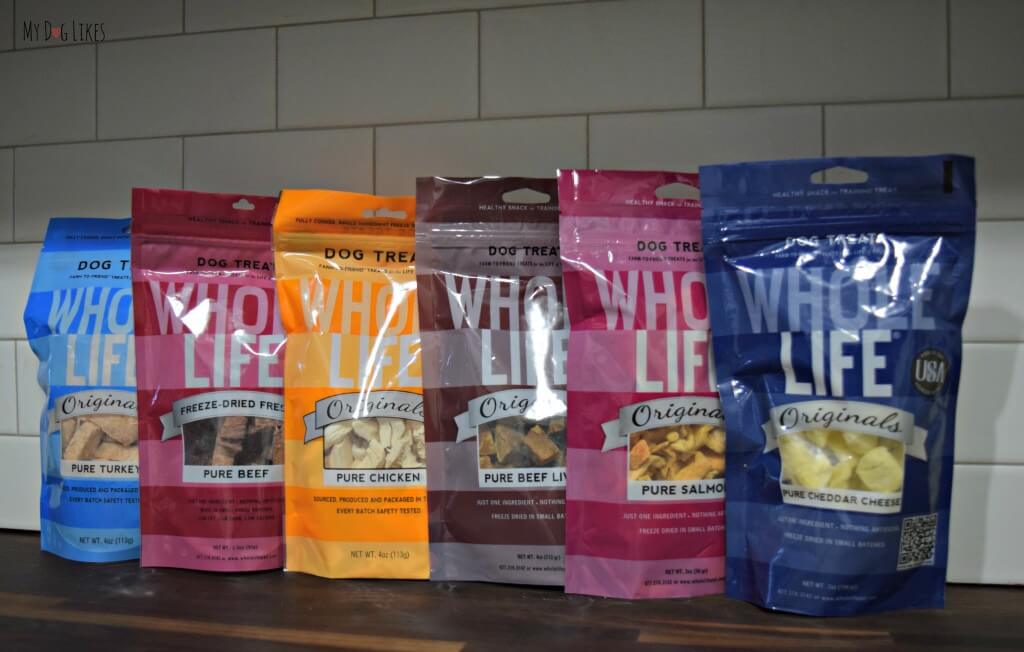 Like us, John felt strongly that our pets deserve healthy and high quality food just as much as humans do. Unsatisfied with the options currently on the market, he decided to start his own line of freeze dried and single ingredient dog treats.
Click here to Browse Whole Life on Amazon!
Whole Life Pet Products was founded in 2007 with a simple mission:  
To make the highest quality, best tasting, safest pet treats on

EARTH

.
Seems simple enough, right?
While many companies may tout a similar philosophy, we have yet to see any take it as far as Whole Life.
Farm to Friend
You've likely heard of the "Farm to Table" movement – a trend away from large scale industrial farming in lieu of more local sustainable sources.  One of the driving forces of this movement is the growing desire for consumers to know the specific origin of their food.  Whole Life has expanded upon this concept to form their "Farm to Friend" philosophy.  They have hand selected a network of ranchers, fishermen, and family farms from which they source all of their ingredients.  Whole Life has carefully vetted these relationships to assure that the beliefs of their suppliers align with their own.  That means that their ingredients are always human grade, free range, organic and hormone free.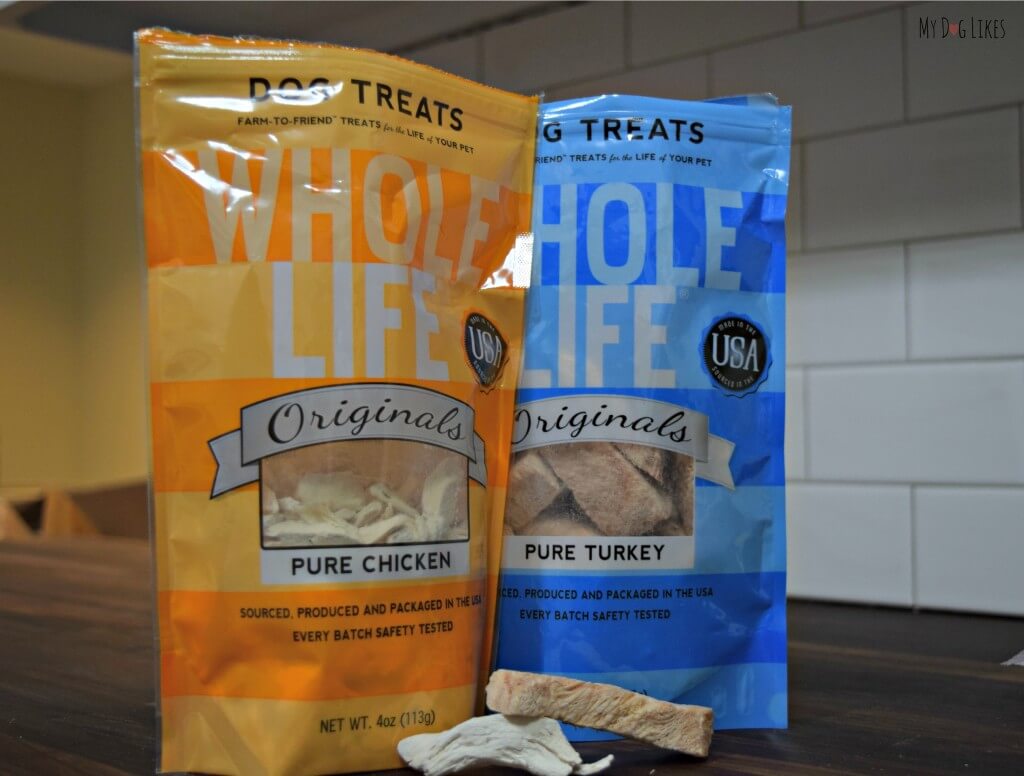 In House Manufacturing
Another difference between Whole Life and many other dog treat companies is that they manufacture in their own facilities.  This allows Whole Life to supervise the entire process – from freeze drying, to packaging to quality control.
Transparency Beyond Belief
Whole Life takes the safety of their pet treats very seriously.  Every batch is randomly sampled and tested (by an independent lab) for Salmonella, E. Coli, Staphylococcus aureus, and Listeria.  The products are then left in quarantine until the lab confirms that the dog treats are safe.  Believe it or not, you can even see the test results from ANY INDIVIDUAL BAG by typing in a code on their website.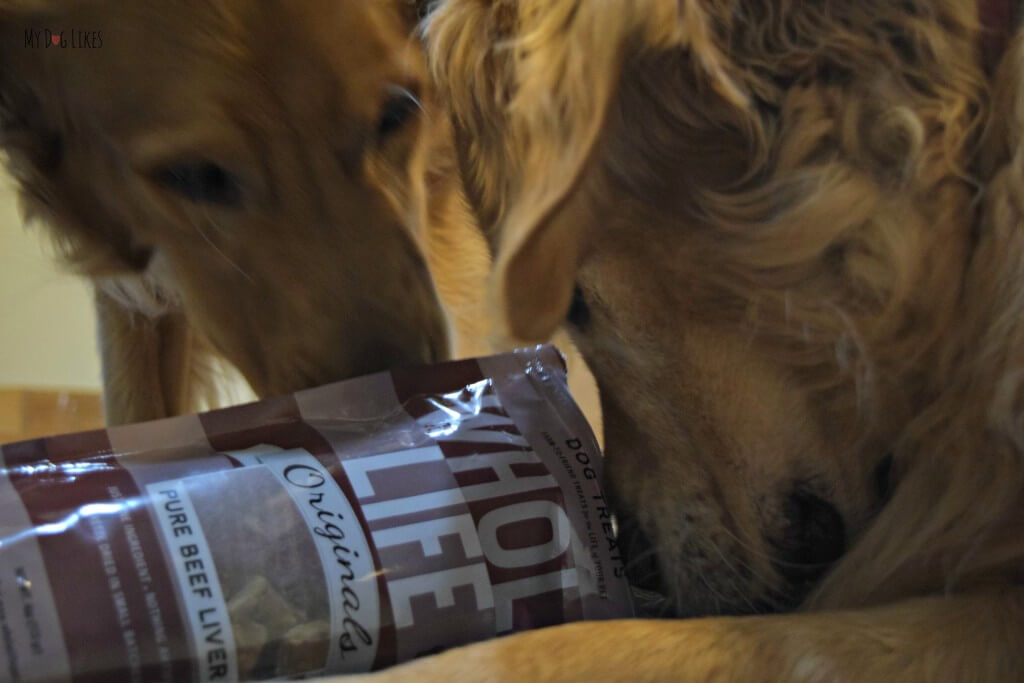 Harley performing his own "quality control" testing
So What are the Benefits of Freeze Dried Dog Treats?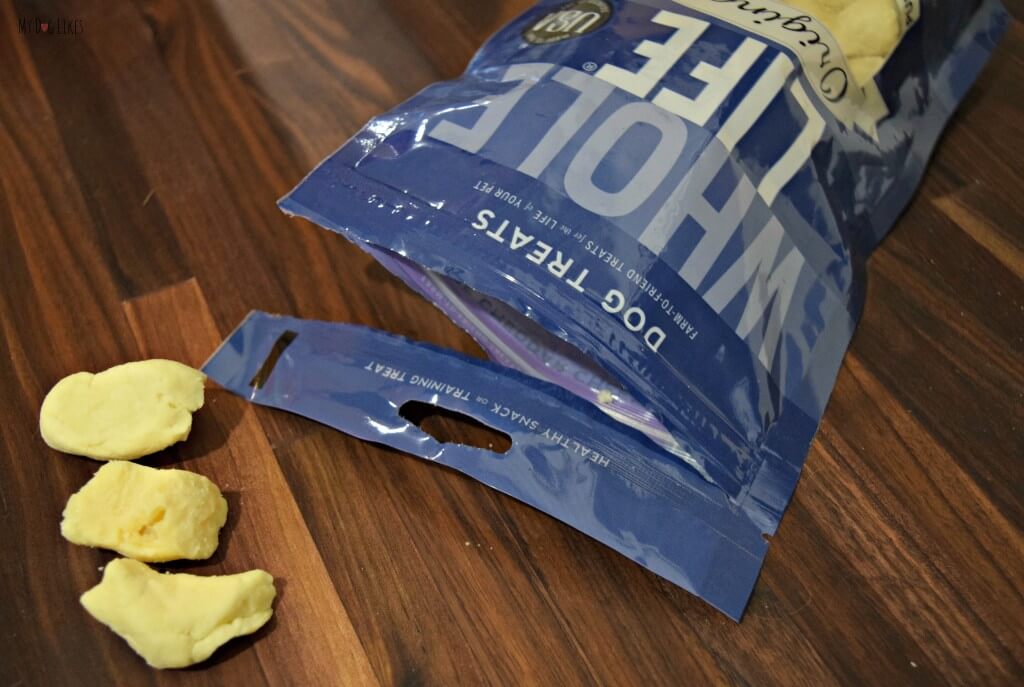 Freeze Drying is a method of removing moisture at a very low temperature.  This process has several unique advantages as compared to other processing methods.
Ingredients maintain their nutritional integrity:  They retain all vitamins minerals and fats

Locks in freshness, color, scent and shape

Results in a Shelf Stable product
So what do we think?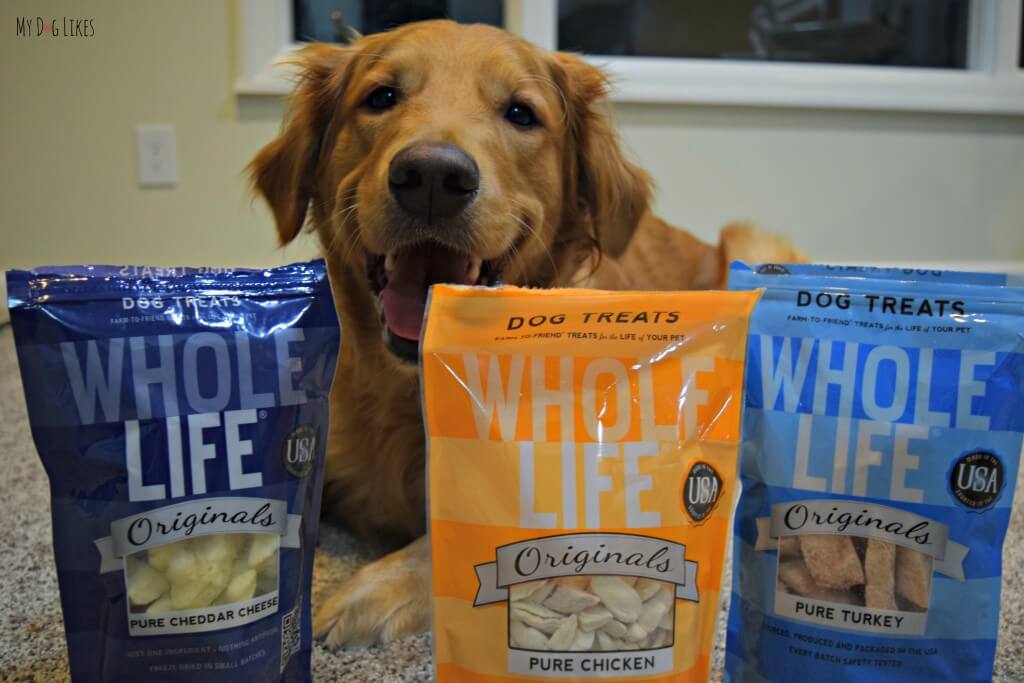 We were lucky enough to be provided with a sample of each of the Whole Life Originals line: Turkey, Chicken, Cheese, Salmon, Beef, and Beef Liver.
The Ingredients
Sorry, what? As in what ingredients….all Whole Life Originals contain one ingredient: farm to friend, ethically sourced meat/cheese. YAY!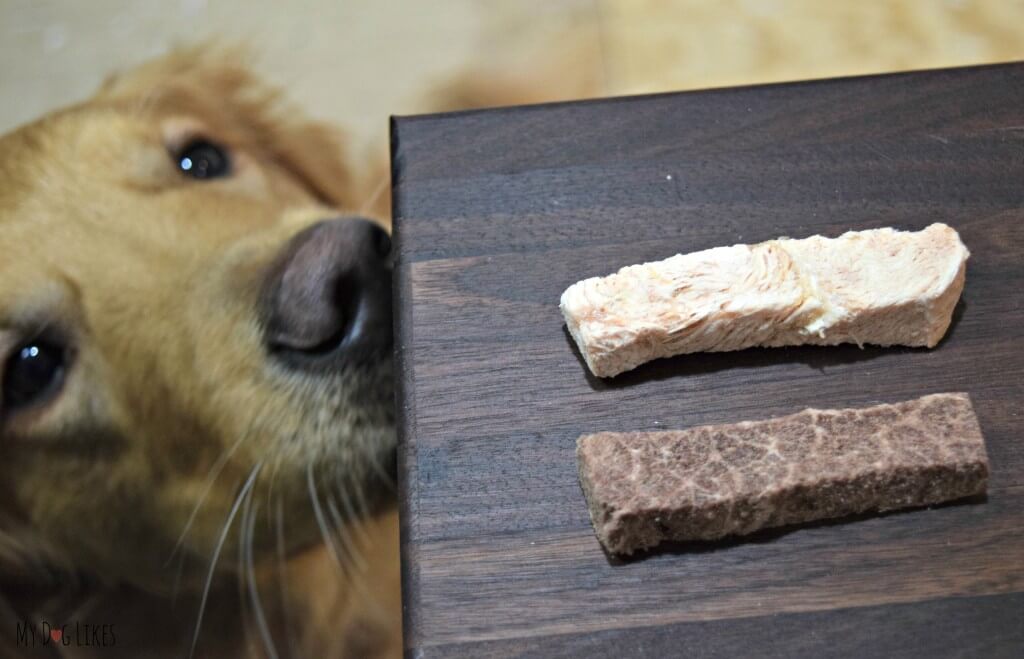 The Look
An up-close look at these treats and you really start to appreciate their simplicity. Love and care goes into producing each piece and they are thoroughly checked for safety. The final product looks like something that would show up on your dinner plate. (Striations at all).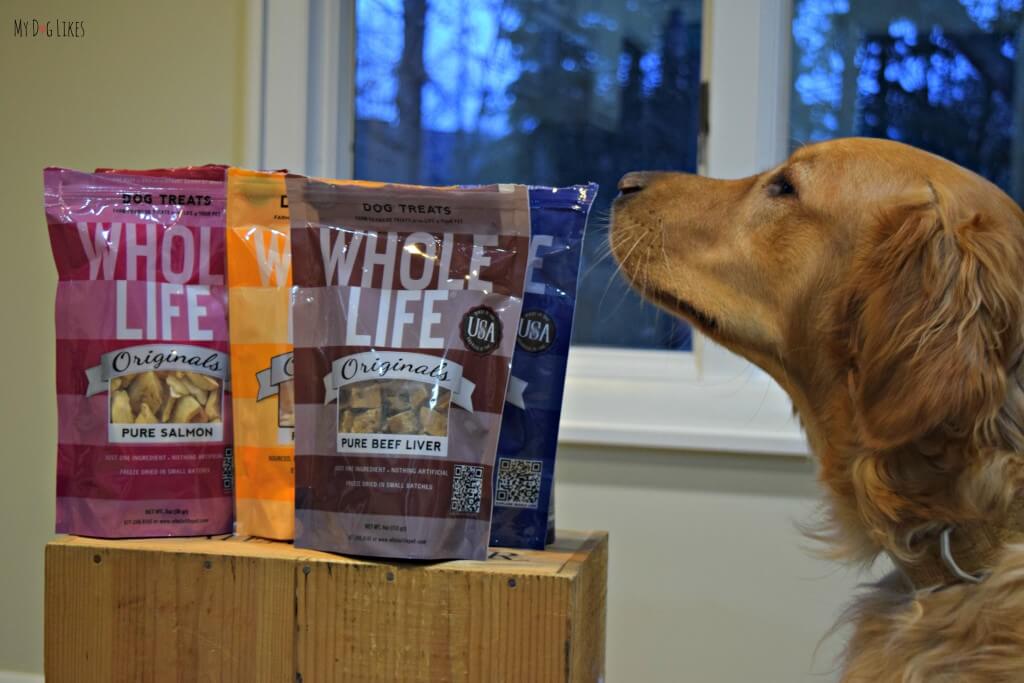 "I can smell it Mom…I know they are in there"
The Smell
Upon opening the bag (any of them), you are immediately overwhelmed, in the most delicious way possible, with the scent of the product inside. Everything smells exactly as it should; Turkey like turkey, cheese like cheese. No lies, I wanted to make a sandwich.
The boys have become accustomed to the crinkle of treat bags and typically know to come running when they hear it…when the cats come running from the scent alone, you know you have something special on your hands.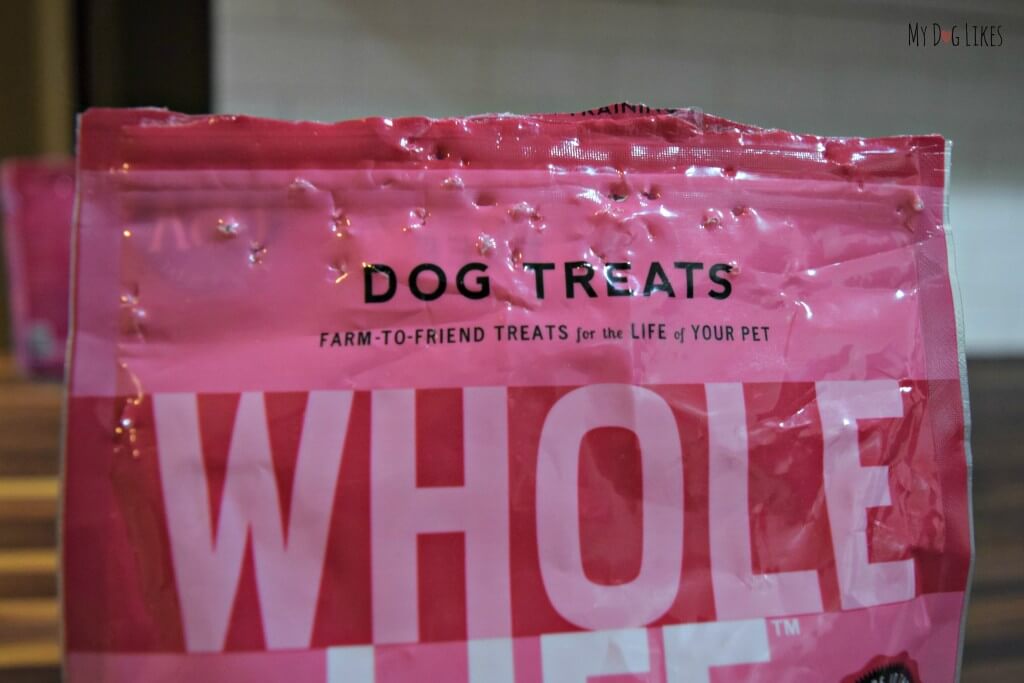 Left unsupervised on the counter, Max the cat, decided to help himself!
The Taste
Our boys are NOT picky eaters…I do however consider them Foodies in their own right. They may not be choosy, but they know what they like (and get crazy enthusiastic about it). As expected, the boys did the frantic "I will do any trick, as many times as you might like, until I figure out how to get all the treats" dance.  Max, the cat, was in on it too. After a single taste, he and Charlie went head to head for some Salmon treats.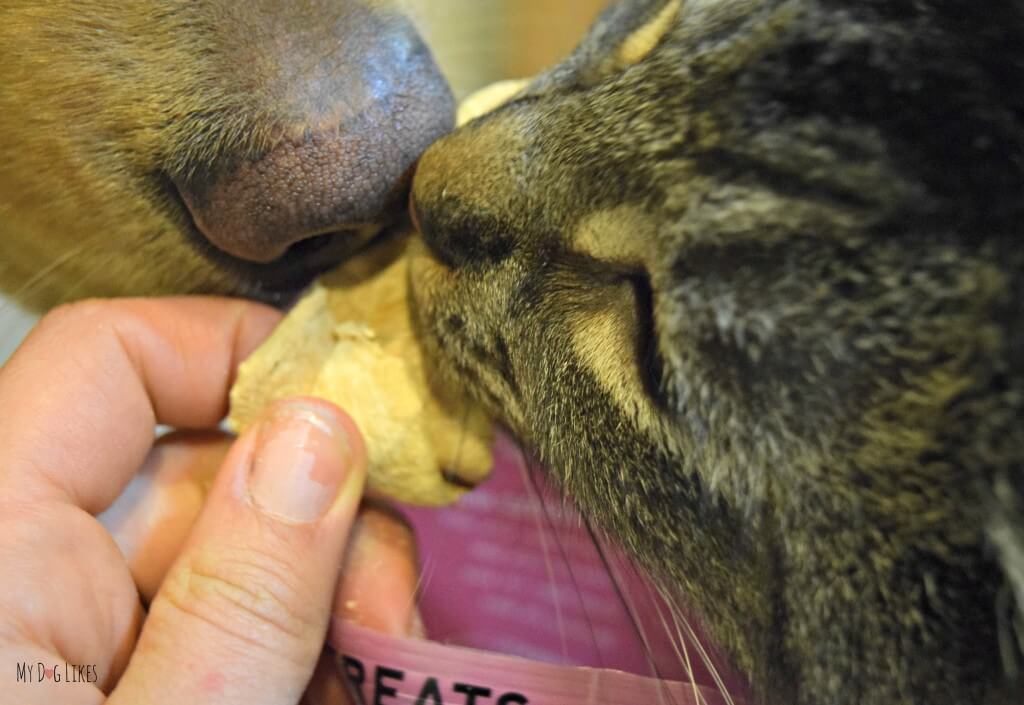 Kissy, Kissy….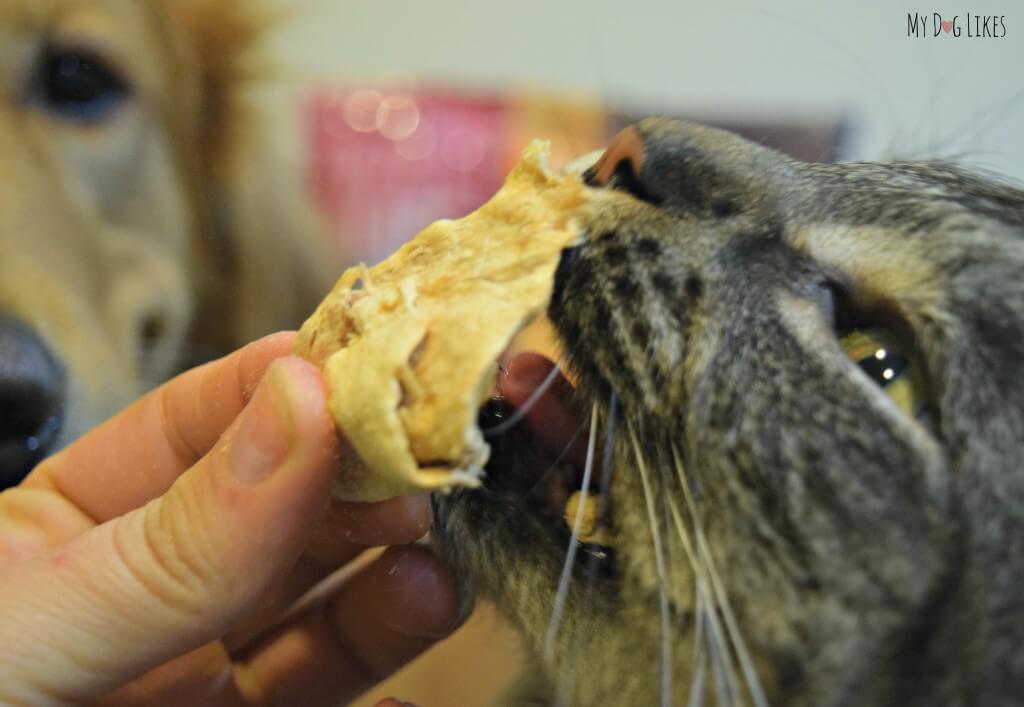 With the delicious aroma wafting in the air and all human grade ingredients…I had to try them.
Whatever, don't judge me… (or at least wait to judge me until you have opened a bag).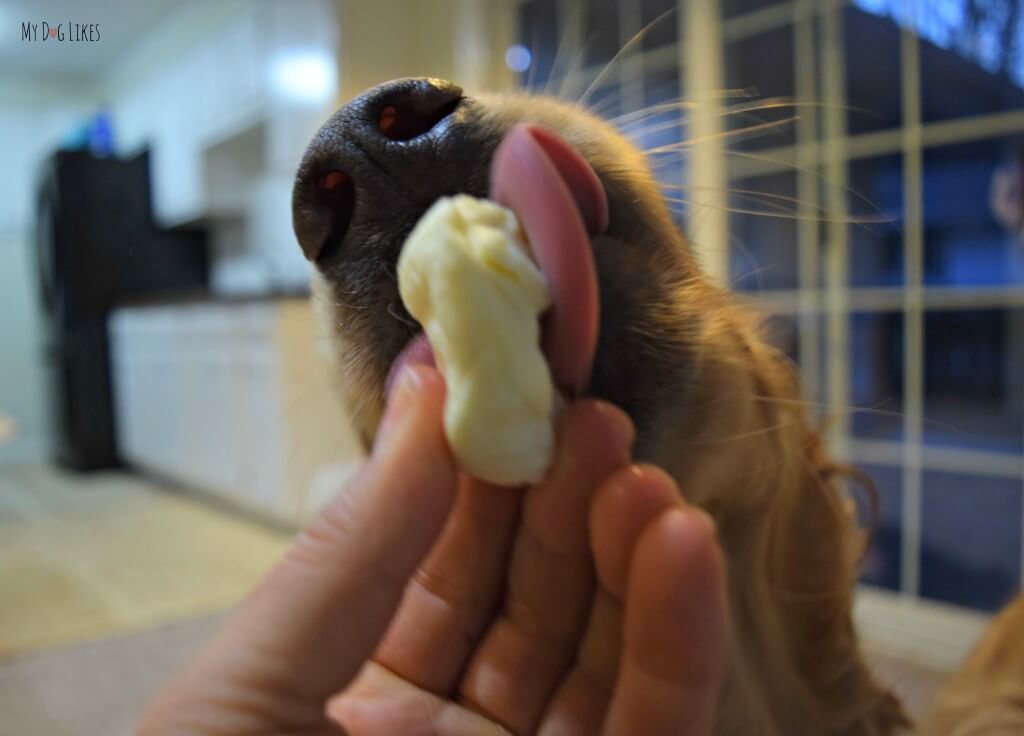 I tried the Cheese Curds – and OH EM GEEE, they tasted like cheese. Seriously tasty!

Why MyDogLikes Whole Life Dog Treats
To say that we LOVE these treats might be the understatement of 2014.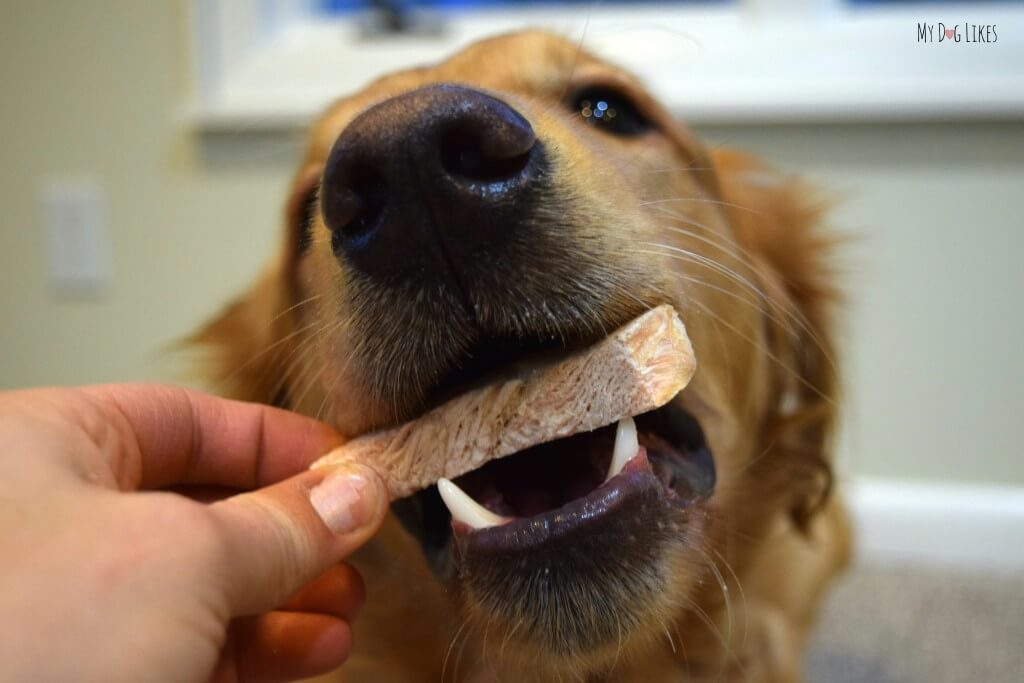 To say that the boys (cats included) LOVE them, might be the understatement of 2014 and 2015!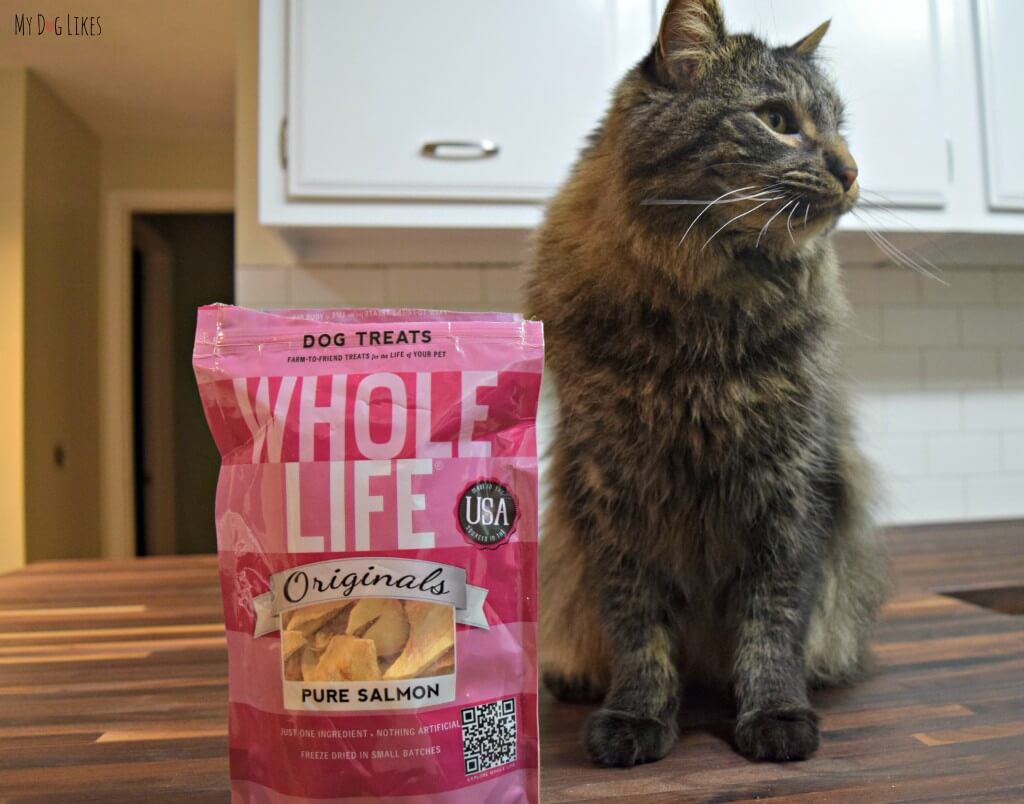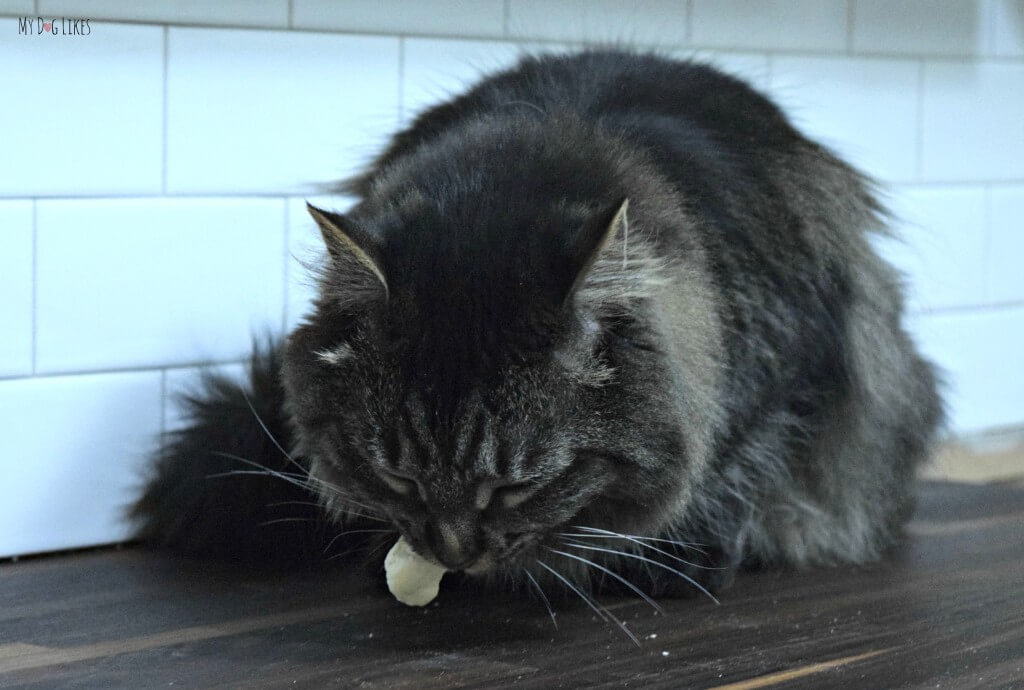 Whole Life Dog Treats give us the opportunity to treat our dogs in a healthy and humane way. With only whole, ethically sourced products, Whole Life should serve as an example to other companies… You don't need to cut corners in quality, transparency, and ingredients. Putting out a high quality, healthy, ethically sourced, yummy product will keep the dogs, cats, and their humans coming back for more (and more, and more).
Interested in trying Whole Life Originals?