Check out that smile. It really is one of a kind isn't it?
Well, now Charlie has found the perfect compliment to his own million dollar smile…. A Coconut Smile!

Dr. Harvey's Coconut Smiles
When it comes to dog treats, we are firm believers that simple is better.
Well, you can't get much simpler than 1 ingredient! Just like Dr. Harvey's Sweet Potate'r Chews, their Coconut Smiles dog treats consist of only a single ingredient:
You won't find any artificial dyes, preservatives or by-products here: only sliced up and dehydrated coconut. That's it.
Coconut Smiles are thin, semi-circular strips roughly ¼" wide and 1-4" long. They are available in bags of 4 or 8 oz.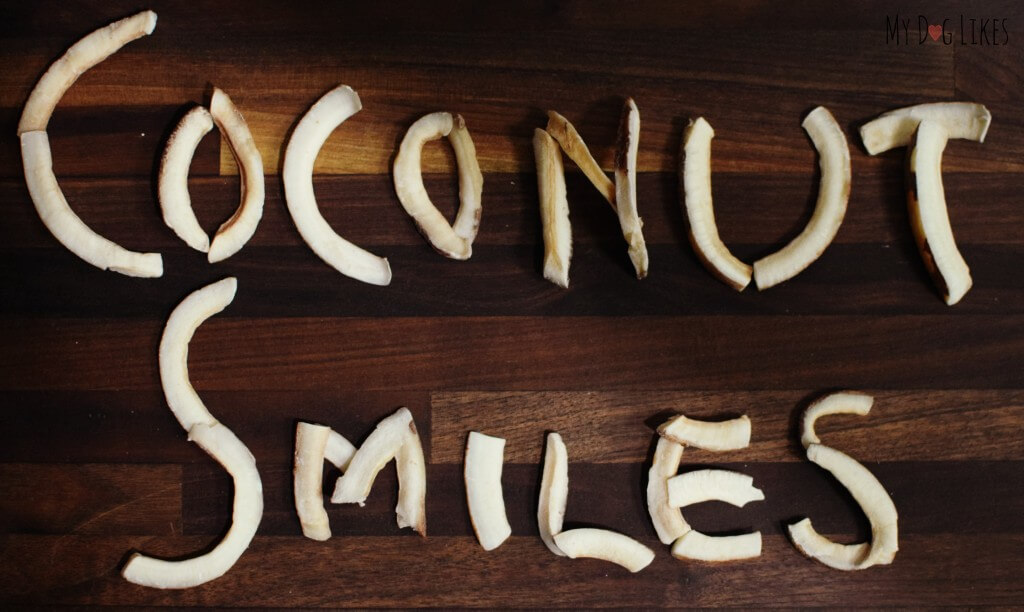 If the simplicity of these treats doesn't make you smile, this will: all of the coconuts that Dr. Harvey's uses to produce these treats are harvested sustainably and according to fair trade practices. That's the kind of production we can get behind!
 
About Dr. Harvey's
Dr. Harvey's is not your average dog food company. They are pioneers in the natural pet food space and have been promoting the benefits of a holistic diet for over 30 years. As firm believers that "health begins in the kitchen" they believe that a fresh natural diet is key to optimum health for our companion animals.

All of Dr. Harvey's products are manufactured in the USA with 100% human grade ingredients. They use no chemicals, preservatives, dyes or coloring agents in any of their products! We have been working closely with them over the past year and our boys are absolutely thriving on their new diet.
We strongly encourage all of our readers to learn more about Dr. Harvey's dog food options and consider making a change. You will not regret it!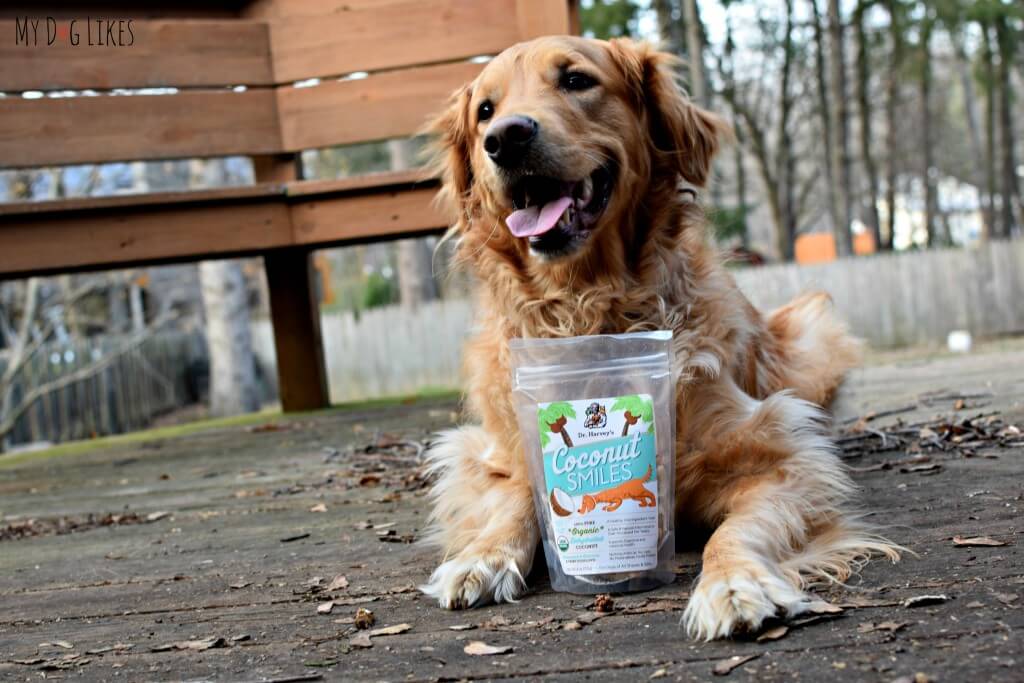 Back to the Treats… The Benefits of Coconut for Dogs
Like us, you have probably never heard of feeding dogs coconut before.
Whenever we are introducing a new ingredient into our dog's diet we like to learn all we can about the pros and cons. Thankfully the Dr. Harvey's website is a wealth of information on pet food ingredients, including this excellent article on what makes coconut so healthy.
Coconut is high in fiber and saturated fat (the good kind). It is particularly rich in medium chain triglycerides (MCT) which have been shown to provide a whole host of health benefits.

Coconut has been shown to:
Support digestive and intestinal health

Improve nutrient absorption

Promote healthy and glossy coats

Reduce the risk of cancer and other degenerative conditions

Improve cholesterol levels and help fight heart disease

Help relieve arthritis and ligament problems

Help prevent and treat yeast and fungal infections

Help prevent and treat viral infections

Help balance the body's metabolism and hormones

Help prevent or control diabetes

Reduce allergic reactions
Wow, it is easy to see why coconut is often referred to as a superfood!
Interested in learning more? Here is a link to another great article describing the health benefits of coconut oil for dogs.

Dr. Harvey's Coconut Smiles – Time for the taste test!
As with any time a treat bag is opened, we had Harley and Charlie's attention immediately. Coconut smiles have a mild (and pleasant) coconut aroma that piqued their interest.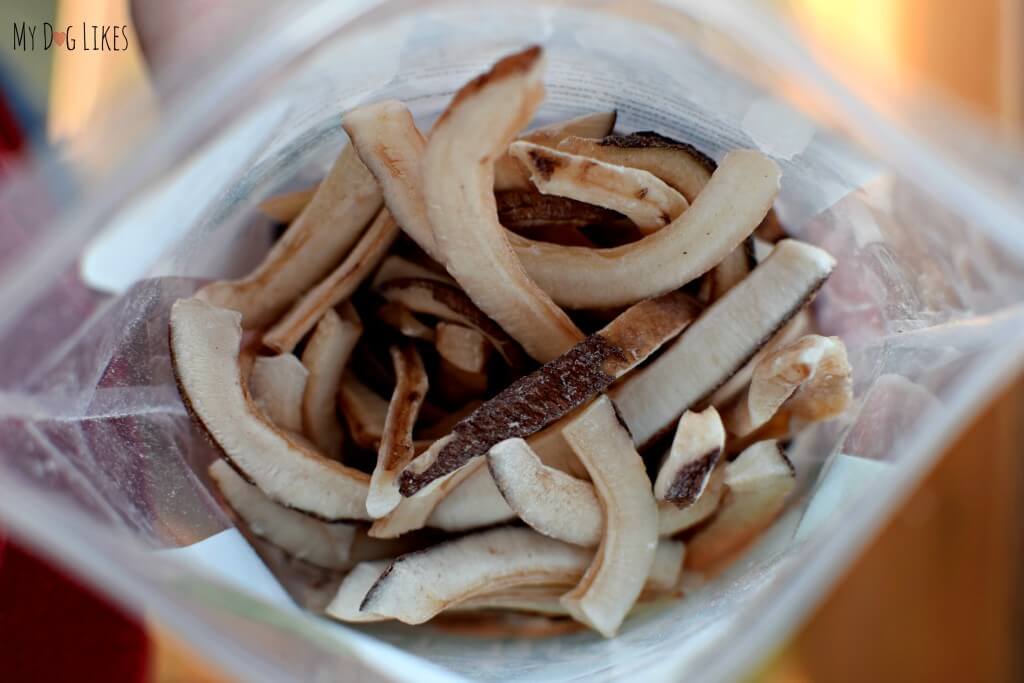 Each bag contains dozens of individual treats, a great value for the money. We also love that at first glance it is clear to see exactly what these treats consist of – sliced coconut. Nothing overly processed or hiding inside.
The smiles themselves range in size from roughly 1-4" long, and are easy to break into smaller pieces if desired. This is a great feature for smaller dogs or those pups who are on a diet!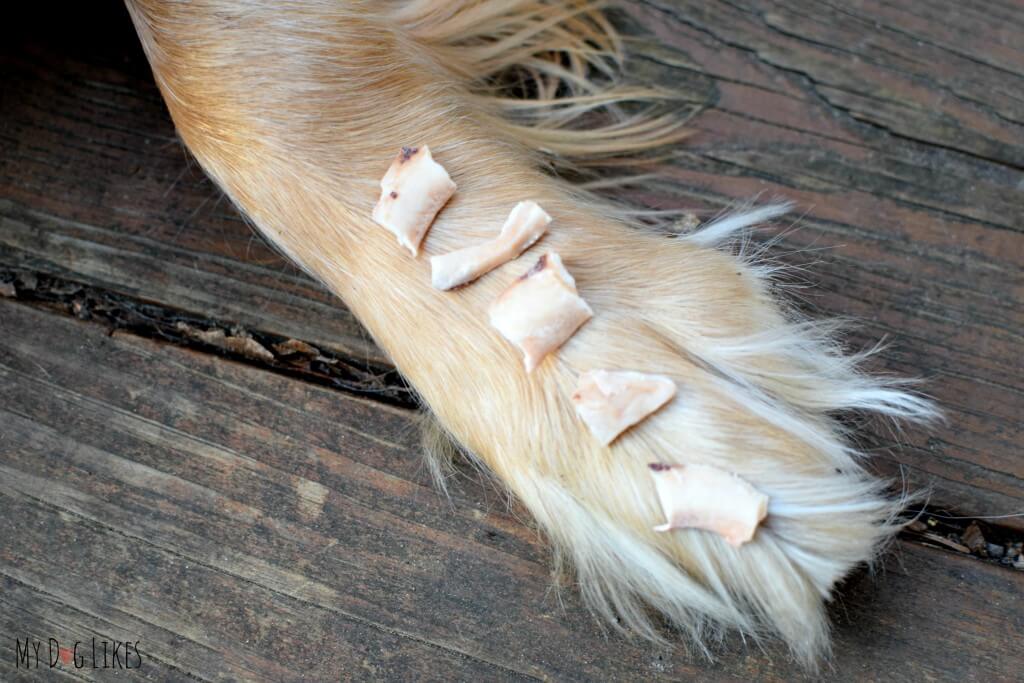 After waiting patiently through all of our examining and photographing, the boys were ready for a taste. One quick sniff and they were crunch-crunching away! Both Harley and Charlie really seemed to enjoy the crunch and the taste of these treats. Coconut Smiles are low in calories so we feel comfortable feeding them a few at a time.
It also felt great to learn about all the health benefits of Coconut and know that the treats are doing more than just make them smile!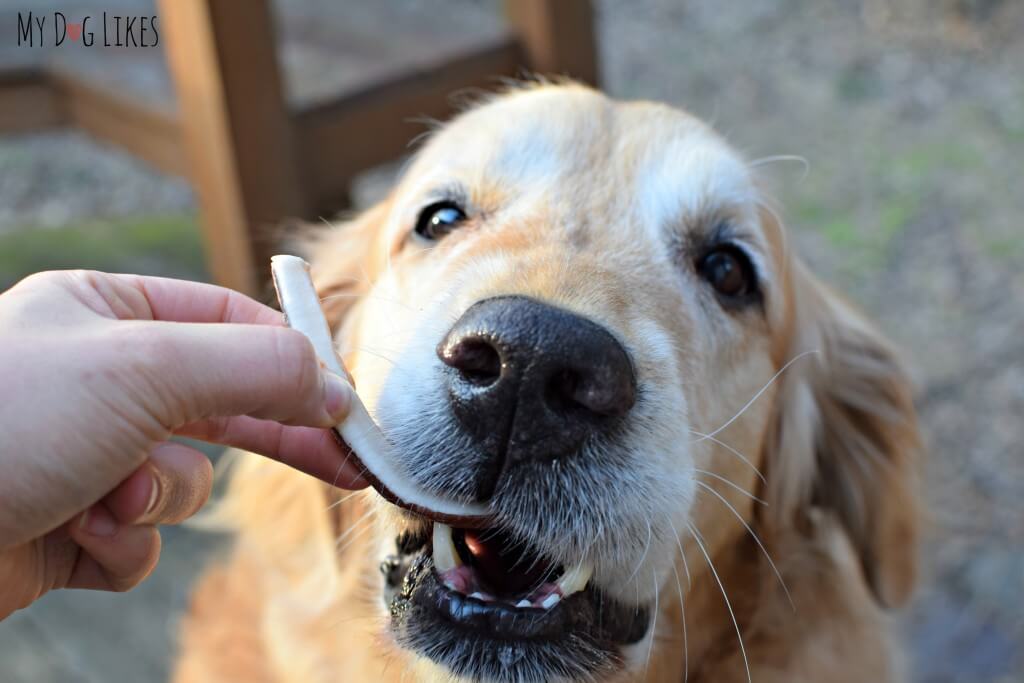 We may have even decided to sample the goods for ourselves! Hey – don't judge. Just like everything from Dr. Harvey's they are 100% human grade! The verdict….delicious, they taste just as yummy as the coconut shavings that end up in expensive granola!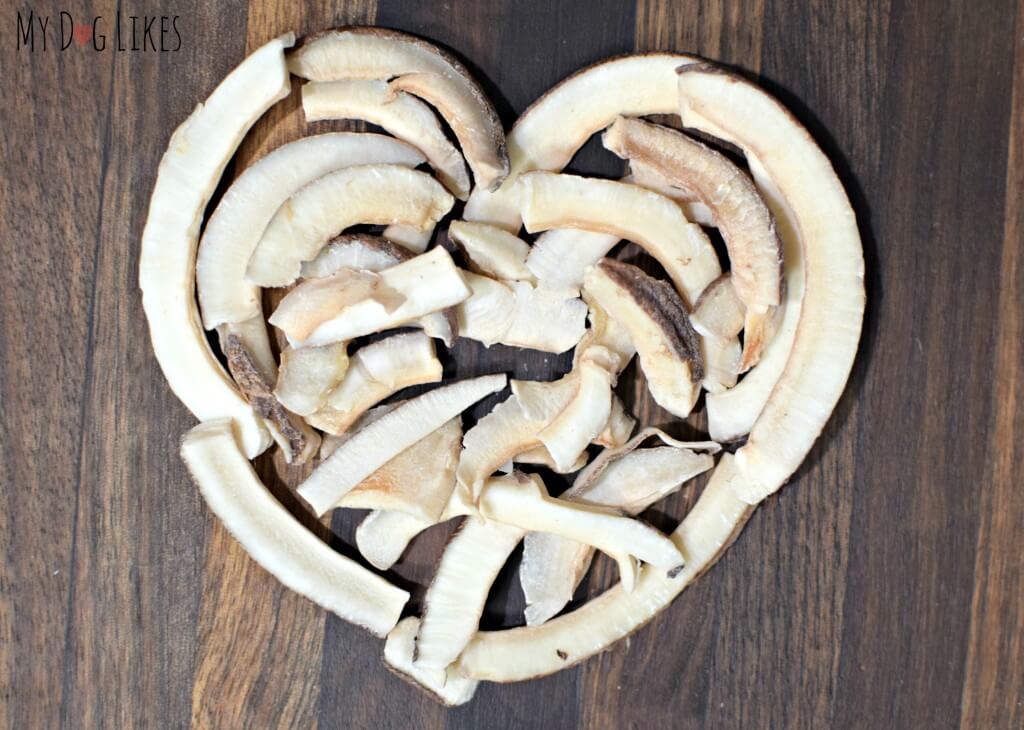 Why MyDogLikes Dr. Harvey's Coconut Smiles
It is no secret that we love Dr. Harvey's – and their Coconut smile dog treats are no exception. Not only are these treats free of artificial dyes, preservatives and by-products, but they provide a great deal of health benefits as well. Coconut is high in fiber which helps digestion and is also chock full of healthy fats.
Since they are small and low in calories, Coconut Smiles are a great option for training or anytime you need frequent rewarding. They are also easy to break apart even further to make a great treat for any size or breed of dog.
Just as important (in their opinion) Harley and Charlie loved the crunch and taste! Coconut Smiles have made it into the list of our favorite single ingredient dog treats!
Check out more of the Dr. Harvey's Line!