In the early 1980's natural pet food was a revolutionary concept. Seen by many as merely a means to an end, pet food was not given much thought by the majority of pet owners. Unfortunately, most commercially available pet foods at the time were full of chemicals, preservatives and synthetic additives.  Dr. Harvey Cohen, a nutritionist by trade, recognized the detrimental effects that these diets were having on our pets and decided to do something about it.

Click here to save 10% using code MDL1231
Over 30 years later, Dr. Harvey's continues to lead the way in the natural pet food space.
Introducing the Dr. Harvey's Dog Food Line
Fresher is Better
Dr. Harvey's believes that feeding a fresh, holistic, natural diet will lead to a healthier, longer life for our pets. As early advocates to this type of feeding, educating pet parents has been a critical component of their mission. Today their website provides a wealth of information on pet food ingredients and nutrition.
Dr. Harvey's has put these beliefs into practice through their expansive line of foods, treats and supplements. Though their line is wide ranging, some things that all of their products have in common include:
Made and manufactured in the USA

100% Human Grade

Free of Chemicals, Preservatives, Dyes and Coloring Agents
Something for Everyone
Whether you are just beginning your journey into all natural dog foods, or have been preparing your dog's food for years, Dr. Harvey's makes it easy to assure your dog is getting exactly what he/she needs. From nutritional supplements, meal add-ons and complete balanced diets, Dr. Harvey's has an option that will fit perfectly into your lifestyle and level of comfort. Simply put, they make feeding healthy, homemade meals accessible to the average pet parent.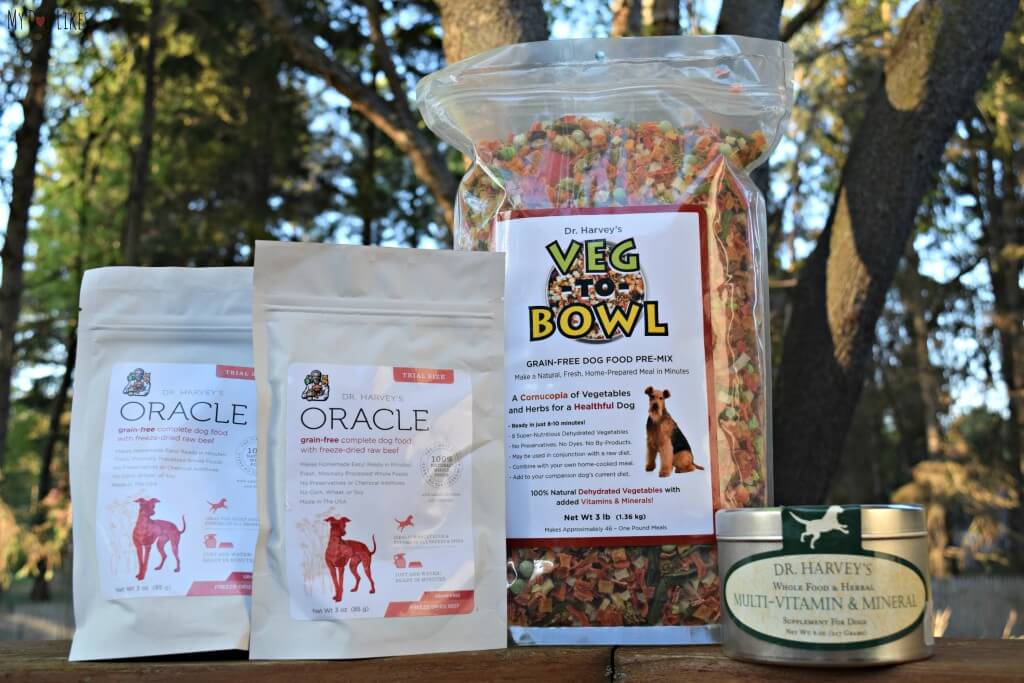 Dr. Harvey's was kind enough to send us a sampling of their food and supplement lines to try and share with our readers!
Dr. Harvey's Supplements
Dr. Harvey's all natural supplements are designed to optimize the health of our best friends. What makes them truly unique is that they contain no synthetic ingredients. Instead, the vitamins and minerals are all derived from natural foods and prepared in a base of bee pollen, spirulina, lecithin and other herbs.
Whole food supplements like these are easily absorbed by the body and therefore will maximize the benefits of the various ingredients. This differs from the more commonly used synthetic vitamins and minerals which can put a strain on the dog's body and are often poorly absorbed.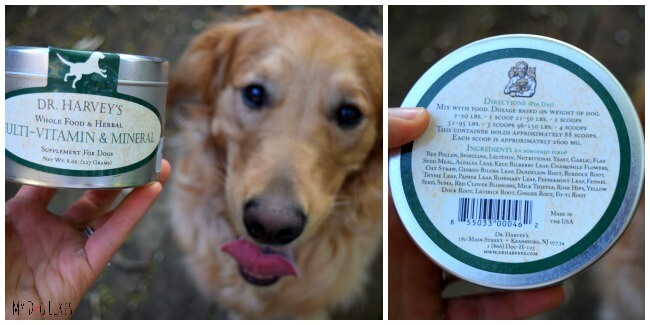 We tested out the Whole Food Herbal Multi-Vitamin and Mineral – an everyday powder supplement that makes a great addition to any diet. Just sprinkle on your dog's food and you are good to go! With Dr. Harvey's there is no arguing with the pups about taking their vitamins! The boys gobbled this supplement right up "as-is" but went into full out food frenzy when we added a little bit of water to make a paste. Try as I might, I cannot figure out the smell that it is releasing, but I will tell you this…it smells good! 

Take your Vitamins
A few scoops of powder on their grain-free kibble is all that is needed to provide the boys with the benefits of vitamins without all of the fillers or junk that is commonly found in them! Want to know more about the wholesome ingredients found in Dr. Harvey's supplements? Go no further than the back of the tin where you will find a complete list of ingredients, talk about transparency!  
Wondering how much your dog needs? Dr. Harvey's provides a simple dietary guide on the back of the container (and a little scoop) taking away all of the guess work. The container we received contains approximately 88 scoops, which for big dogs like ours which equates to a 1 month supply! If you have a smaller dog, these supplements will really stretch and give you a great bang for your buck!
Dr. Harvey's Dog Food Review
Dr. Harvey's Veg-to-Bowl Pre-Mix
Perhaps you want to get started preparing your dog's food but are concerned about providing a balanced diet?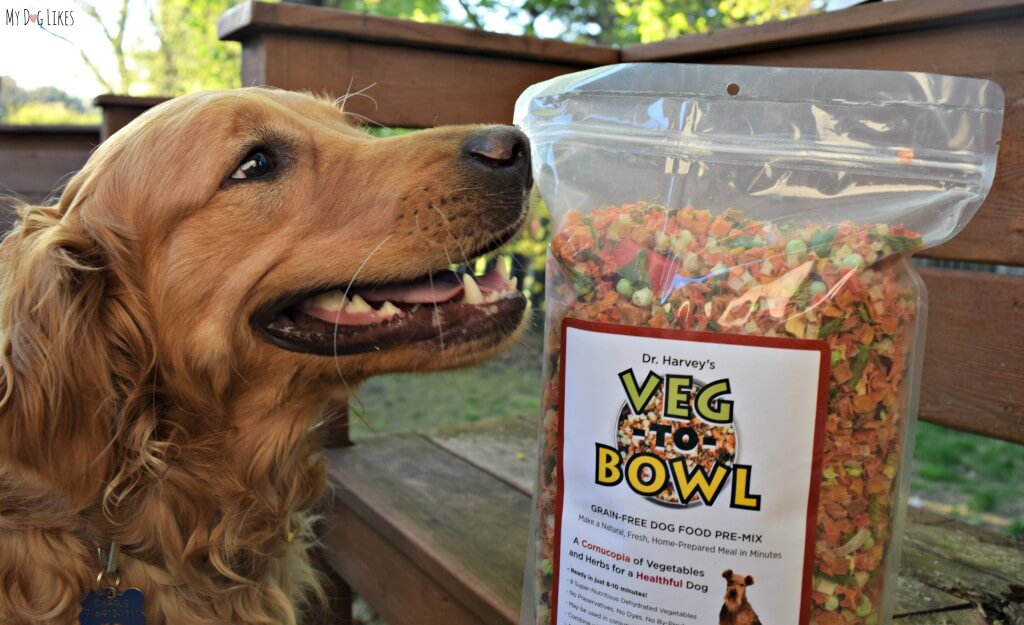 Dr. Harvey's can ease your mind with their Veg-to-Bowl pre-mix. This blend of 100% natural, dehydrated vegetables, vitamins and minerals makes a great addition to any homemade dog food diet. Veg-to-Bowl is grain free, and pairs very well with a raw diet or as a vegetable add-in to your dogs current food! 

Preparing Veg-to-Bowl
To prepare, simply add hot water and let soak for 8-10 minutes. We are busy, busy during the week so we followed Dr. Harvey's advice to make some Veg-To-Bowl in advance and store it in the refrigerator. When dinner time came, everything was ready to go and so convenient!
Dr. Harvey's suggests a few different options for feeding Veg-To-Bowl. If your dog is already eating raw, follow their easy to use feeding guide and jump right in. Simply add a lean, high quality, protein of your choice and some healthy oils to your Veg-To-Bowl and you have a complete and balanced meal!

Though most dogs tolerate Veg-To-Bowl very well, if you are at all uncertain, Dr. Harvey's suggests making a slow transition (over a week) gradually reducing kibble and increasing raw! Feeling unsure of how much to feed your dog? Dr. Harvey's wants your pups to be healthy and includes great tips for proper feeding and includes a handy scoop in each bag!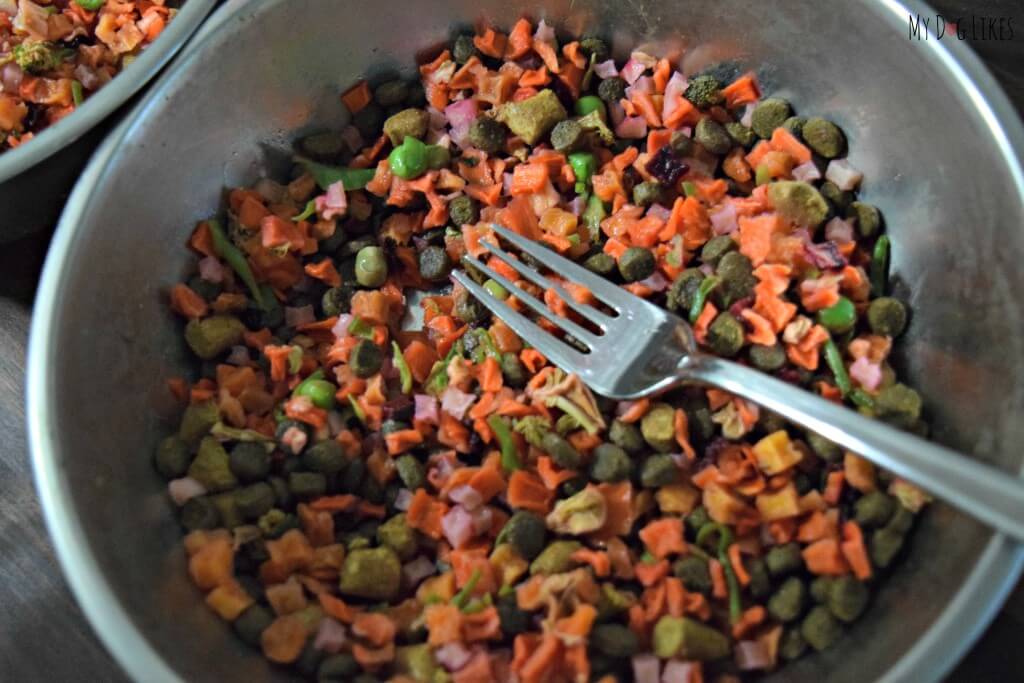 Veg-to-Bowl Review and Taste Test
Eating veggies is a common occurrence in the MyDogLikes household. Whether leftovers from our lunch prep, a purposeful snack, or the casualties that fall on the floor; the boys love the extra crunch!
If you currently feed a high protein and high quality kibble, Dr. Harvey's Veg-To-Bowl, may just be  the perfect supplement to your dog's diet. As our vet explained to us, the boys need very little (quantity wise) of their current kibble to meet daily nutritional needs. Very often, that does not physically fill their bellies, leaving them feeling hungry physically, despite the fact that they are nutritionally full. She shared that because veggies are a low calorie but high fiber food, adding them to the boy's current grain-free kibble would help them feel full after a meal.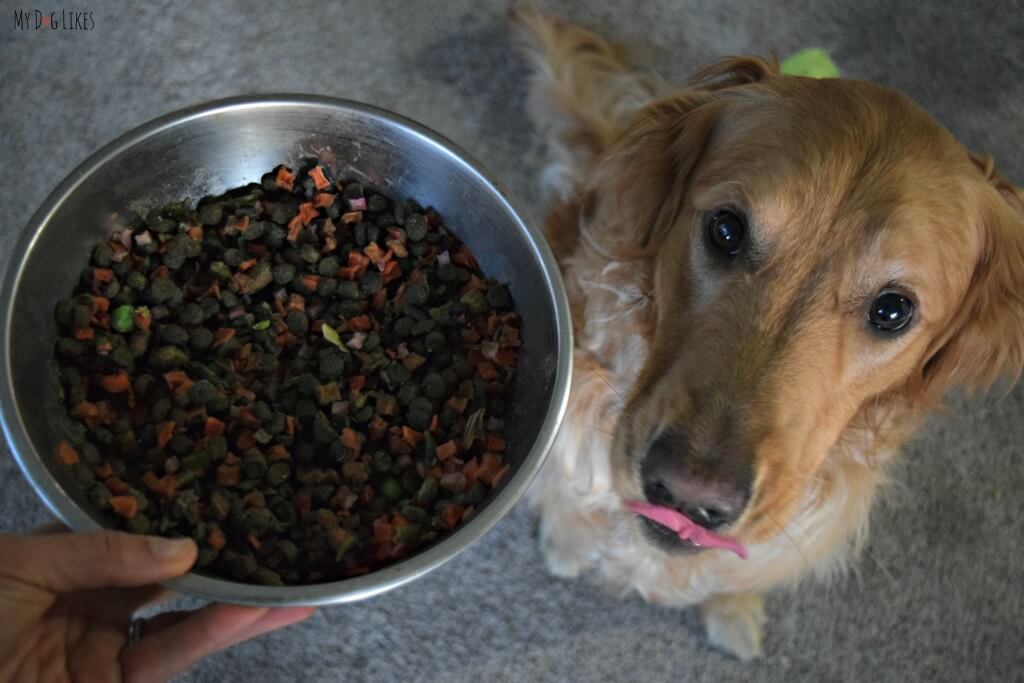 Did it work? Sure did! Other than the initial licks on the bowl right after meal time, the boys stopped heading back in to their bowls and licking hours later.  The boys loved the veggies and took their time savoring all of the natural goodness. In the days immediately following feeding the Veg-To-Bowl we noticed another unintended consequence, more pooping! I know this probably sounds like a bad thing, but it made me think that the increase in fiber was leading to better digestion, almost like a cleanse! Fear not, after a few days the boys were right back to normal!
Dr. Harvey's Oracle Dog Food
Perfect for those who would love to feed raw, but can't imagine the daily meal prep involved!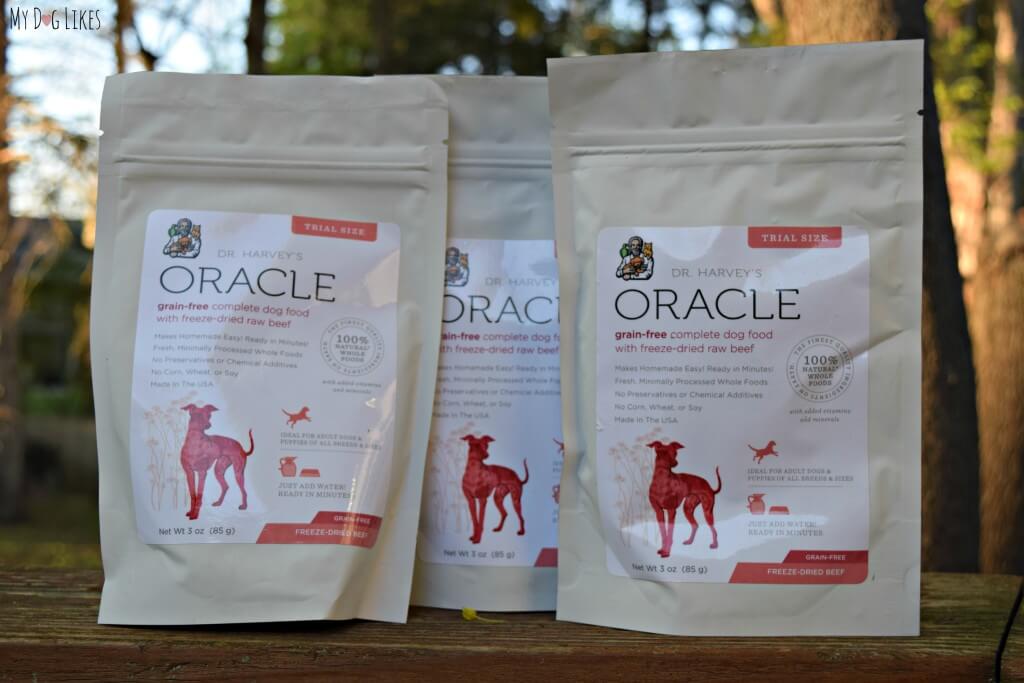 Oracle is a complete raw dog food with protein included. Available in freeze dried beef, chicken, tripe or grain-free formulas, Oracle represents the easiest way to feed the Raw Diet of you (and your dog's) dreams. Their no-nonsense ingredients are truly top notch. In fact, the ingredients read more like the shopping list at a local farmer's market, rather than an all in one meal for dogs! Just take a quick look, does anything seem out of place to you?!
Freeze-Dried Beef, Whole Egg, Chicken, Sweet Potatoes, Carrots, Calcium Citrate, Flax Seed Meal, Green Beans, Zucchini, Broccoli, Peas, Beets, Parsley, Dried Yeast, Lecithin, Alfalfa, Dried Kelp, Dried Ground Fenugreek, Dried Ground Fennel, Dried Ground Ginger, Dried Ground Peppermint, Zinc Proteinate, Iron Proteinate, Vitamin E Supplement, Manganese Proteinate, Vitamin A Acetate, d-Calcium Pantothenate, Thiamine Mononitrate Pyridoxine Hydrochloride, Riboflavin Supplement, Biotin, Vitamin B12 Supplement, Vitamin D3 Supplement, Folic Acid  
I didn't think so!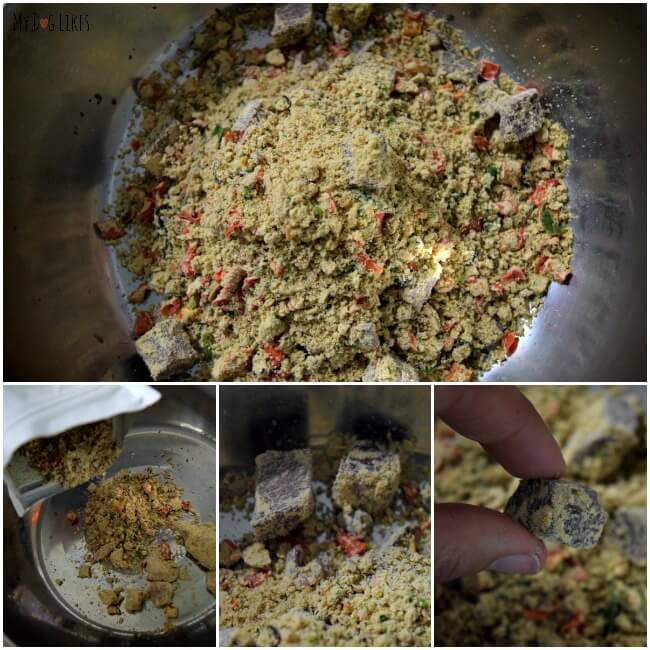 Preparing Dr. Harvey's Oracle Dog Food
Preparation couldn't be easier and (according to the pups) lead to a tastier result! Simply add warm water and let it sit, waiting approximately 10 minutes to soften everything up and serve to your pup. Just like the Veg-To-Bowl, Oracle can be made in advance and stored in the refrigerator for up to three days. Though it looks a little soupy in first photo, over time it thickens to the consistency of a stew as you can see in another photo.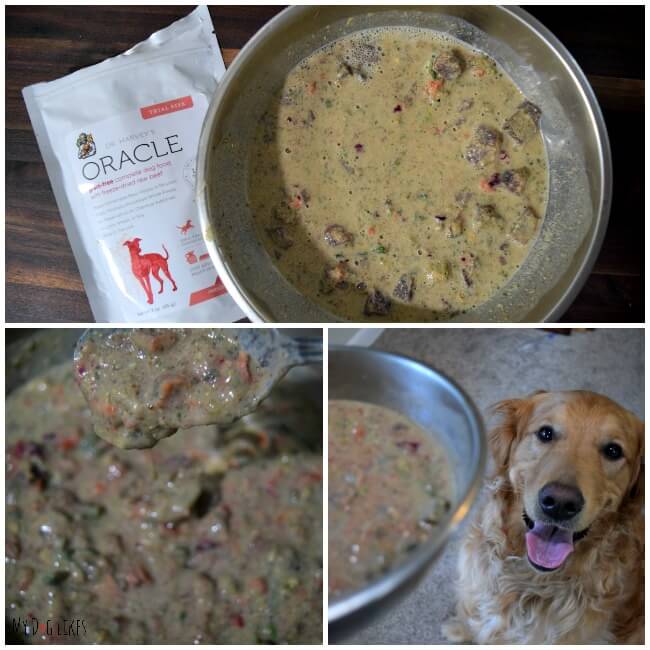 Oracle Review and Taste Test
To say that the boys loved Oracle would not do it justice. The boys kept looking at me while eating, secretly wondering if they were really supposed to be eating this delicacy. They slowly slurped and lapped up any liquid before going after the larger chunks. Meal time lasted for nearly 5 minutes as they took their time eating up the whole bowl of yum and licking up every last drop of gravy.
Oracle is head and shoulders the easiest and most convenient formula we have used. As we have talked about before, that convenience (and quality) also comes with a price tag. Though the boys loved Oracle and I would LOVE to feed it to them for every meal, we would quickly run through our monthly food budget with these big guys. We do think this food would be a great option however for smaller dogs!
UPDATE: Oracle is now available for 25% less!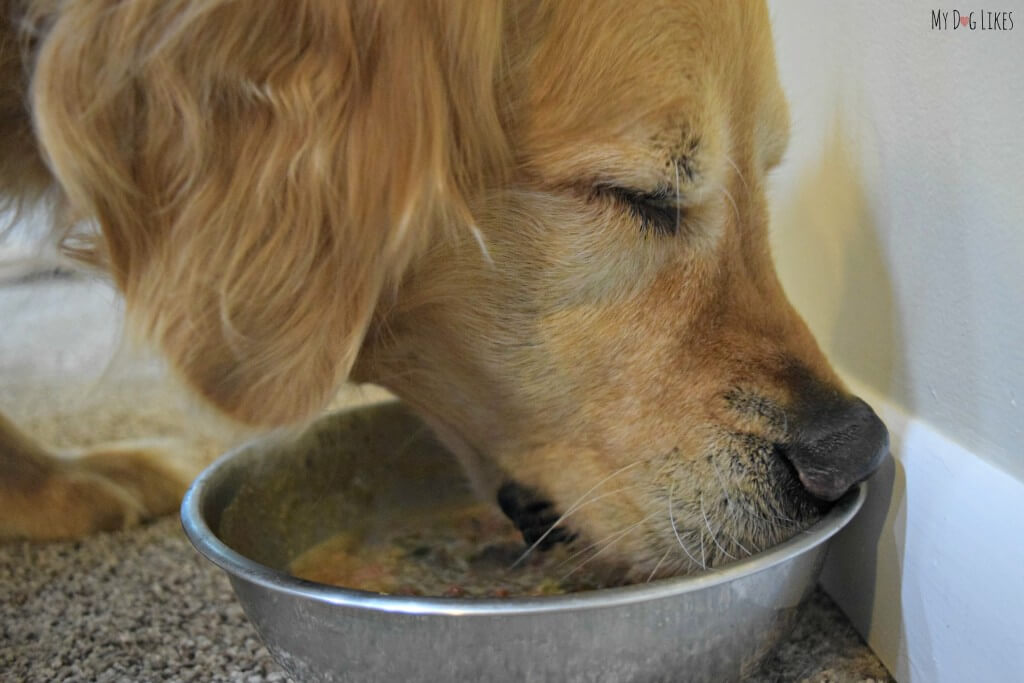 Why MyDogLikes Dr. Harvey's Dog Food
As a pioneer in the healthy pet food space, Dr. Harvey's puts the health and well-being of our pets first and foremost.
Their commitment to providing pets the absolute highest quality nutrition is inspiring. It is safe to say that they are changing the way pet parents look at food and the effect that it has on both quality and quantity of life. The impact they have made in improving the health of our beloved pets is further solidified through the countless testimonials available on their website. 
We are extremely excited about this food, and the more we learn, the more we love it. Everything from Dr. Harvey's is sourced and manufactured in the USA, free of chemicals preservatives or dyes, and 100% human grade. The ingredients are truly top notch and our dogs went nuts for it! We also love that whether you are looking to supplement or provide a complete balanced natural diet, Dr. Harvey's has a perfect product to help meet your needs. We were completely blown away by Dr. Harvey's and can't wait to try out more of their products in the future!
MyDogLikes readers SAVE 10% with our Dr. Harvey's coupon below!