The common perception of dogs is that they will eat just about anything.
While this is certainly true for our boys, it is not always the case. One of our closest dog friends has always been very picky about her food. So much so, that she must to be encouraged to eat on a daily basis and has struggled to keep up her weight for many years.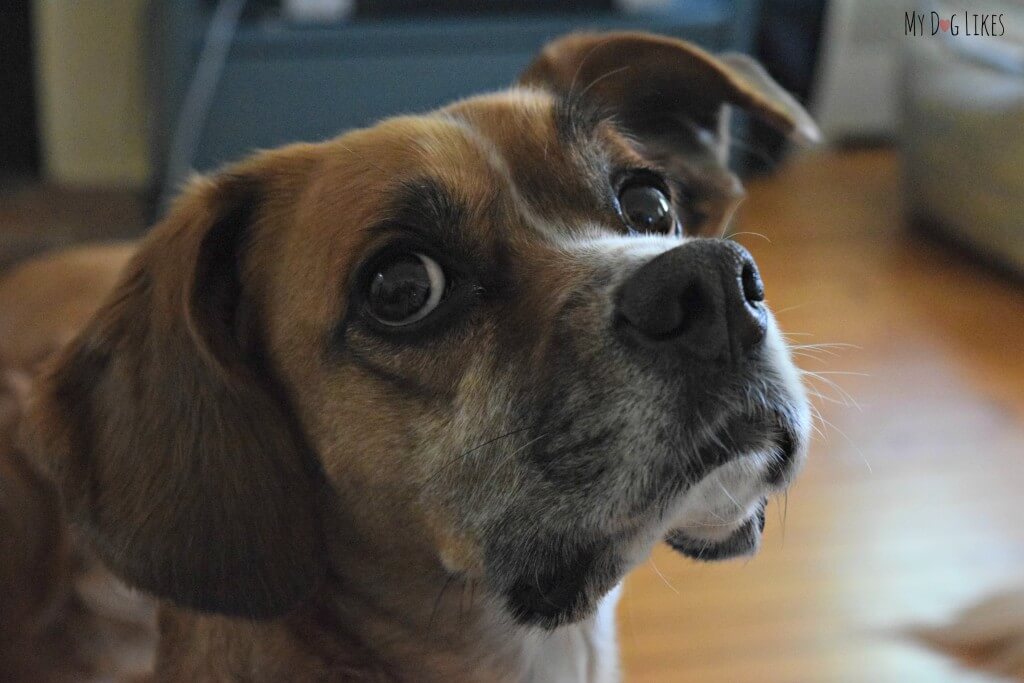 Just as important as proper nutrition is adequate hydration, and many dogs (Harley and Charlie included) struggle with this as well. Did you know that dogs should get 1 oz. of water per lb. of body weight daily?!
Making Sure your Dog Gets What they Need
It is a primary responsibility of ours, as pet parents, to assure that our animals are getting the nutrition and hydration that they require on a daily basis.
One of the simplest ways to achieve this goal is to add something especially enticing into their food or drink. From our experience, even a tiny bit is often enough to coax them into eating. The problem with this strategy is that many common mixing options are human foods and not the healthiest for our dogs – especially on a daily basis.
For that reason we are very excited to share with you a new product perfect for picky eaters – Basics FLAVORS food toppers!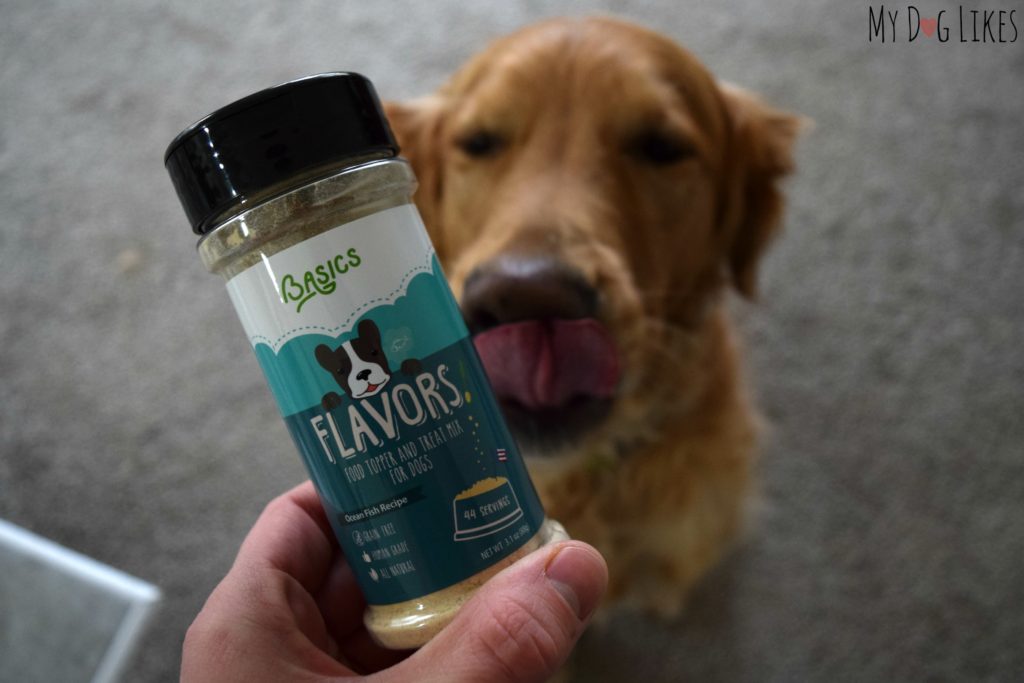 Introducing FLAVORS Food Toppers
FLAVORS are a powdered mix designed to encourage your dog to eat or drink, or give them a special treat. They come in several different flavors all of which are grain free, human grade, low calorie, and made in the USA.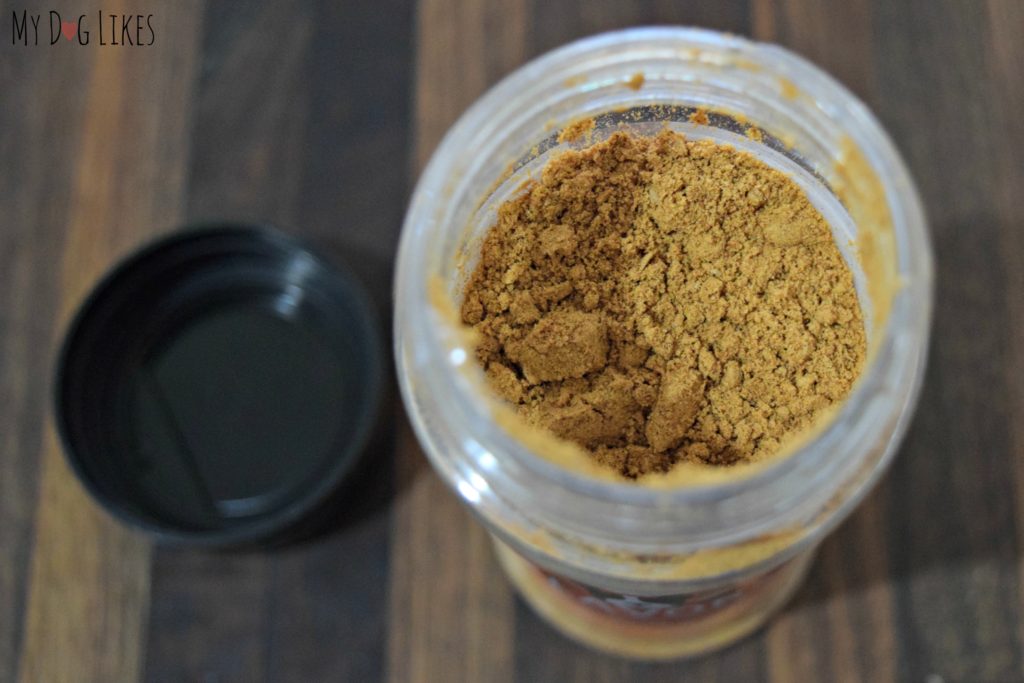 Basics Brands was kind enough to sponsor this post and send some samples our way so that we could test them out and share with you! Make sure to read until the end for a special giveaway opportunity!

Ingredients and Flavor Options
FLAVORS food toppers come in 5 different varieties, all made using 5 ingredients or less, and with the title flavor as the primary ingredient. Even though there are no artificial ingredients, they are shelf stable and do not need to be refrigerated. The flavor options include:
Red Meat

Ocean Fish

Peanut Butter

White Cheddar
About Basics Brands
Basics is a family owned company operating out of Atlanta, Georgia. The inspiration for their first product, FLAVORS, came from a rescue dog named Gracie who like many of our dogs, needed a bit of extra work and attention. They devised this product as a great way to both encourage dogs to eat, but also to reward them with some variety in their lives!
How to Use Basics FLAVORS
There are several different ways to use Flavors, depending on your needs…
Food Topper
Whether you are trying to encourage your dog to eat, or just looking to give them a special treat, FLAVORS can be added to your dogs current food in 2 main ways:
Sprinkle directly onto their food – The dry powder should have a strong enough scent to capture their attention.
Mix with water to create a tasty broth – Pour this delicious mix over their kibble and they will go crazy!
Treat Mix
Want to make your dog a special treat? FLAVORS can be mixed with water and frozen in ice cube trays to create a tasty and refreshing snack.
Water Additive
Worried about your dogs water intake? Mix some FLAVORS into their water bowl to form a tasty broth that they won't be able to resist!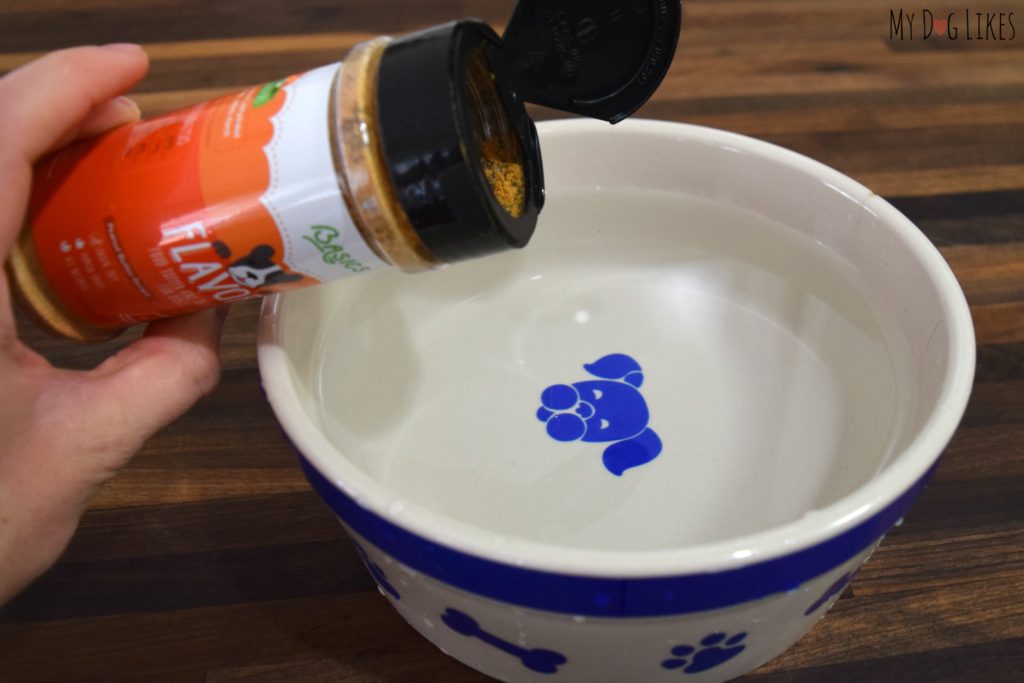 Time for the Taste Test – Our Basics FLAVORS Toppers Review
We were thrilled when our FLAVORS set arrived, and wanted to test them out right away.
The bright colors and fun design of the packaging gave us a very positive first impression! Each bottle has a freshness seal (which is nice to see) and an easy open flip-top cap. The bottle is 3 oz. and claims to be good for up to 44 servings!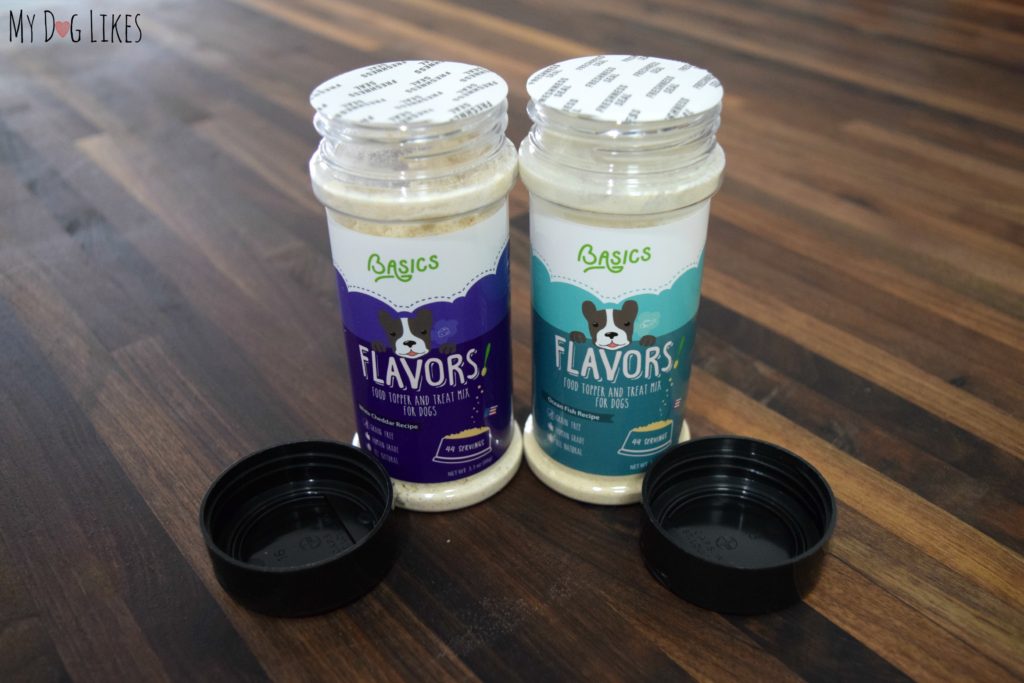 Since it wasn't yet dinner time (although I'm sure the boys would have been OK with an extra meal) I decided to give FLAVORS a try as a water additive instead. We have used chicken broth in a similar fashion in the past, but never liked giving the dogs something so high in sodium. It is also a pain that the container often goes bad before we can finish it all. We were very excited about the potential of a healthier AND shelf-stable option!
I shook out just a small bit of the peanut butter flavor into their water bowl and mixed with a spoon. It dissolved quickly and easily into a yellow-brown suspension.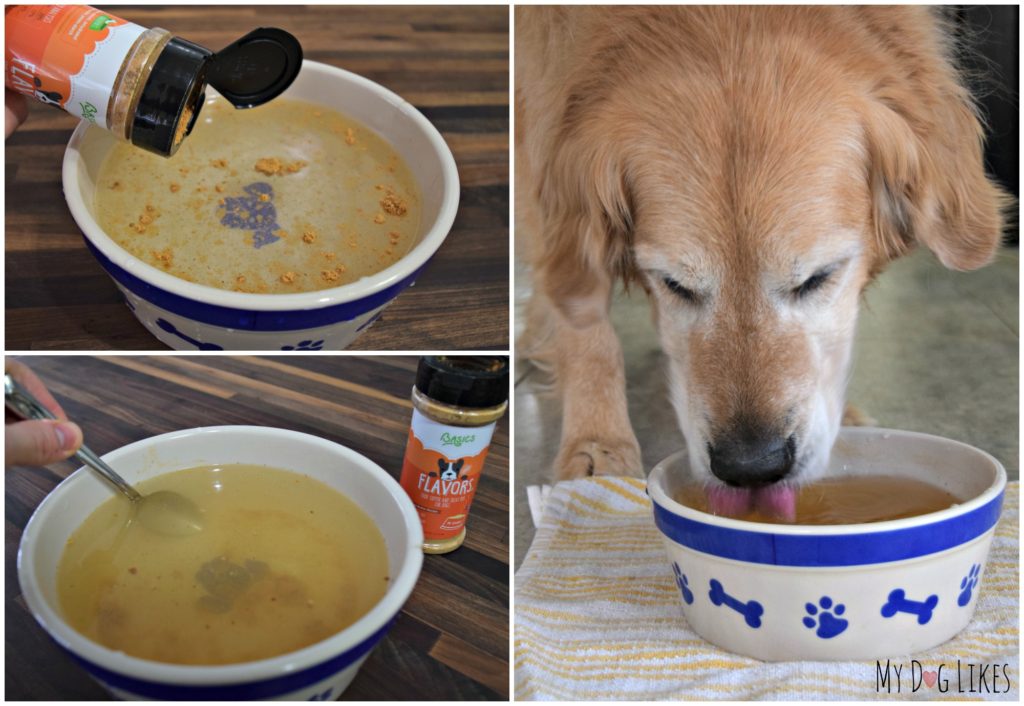 The aroma of peanut butter was apparent but not overpowering and quickly peeked the interest of Harley and Charlie. Both dogs enjoyed a nice long drink without extra prompting and were not even deterred by myself crawling around them taking photos!
I checked back on the bowl an hour or two later, and a bit of the powder does settle to the bottom. Not a big deal – give it a quick stir and it will disappear once again. Next time however, I may use a bit less powder or instead only mix what we would expect them to drink in one sitting.
When dinner time finally rolled around I decided to try serving the food topper in both ways – dry sprinkled on top, and mixed with water to form a nice broth.
For Harley, I chose the Ocean Fish variety and simply sprinkled on top of his food. I loved that the powder was fine enough to stick to the food instead of separating. Some dogs have consistency or texture issues with something new, but that should not be the case with FLAVORS.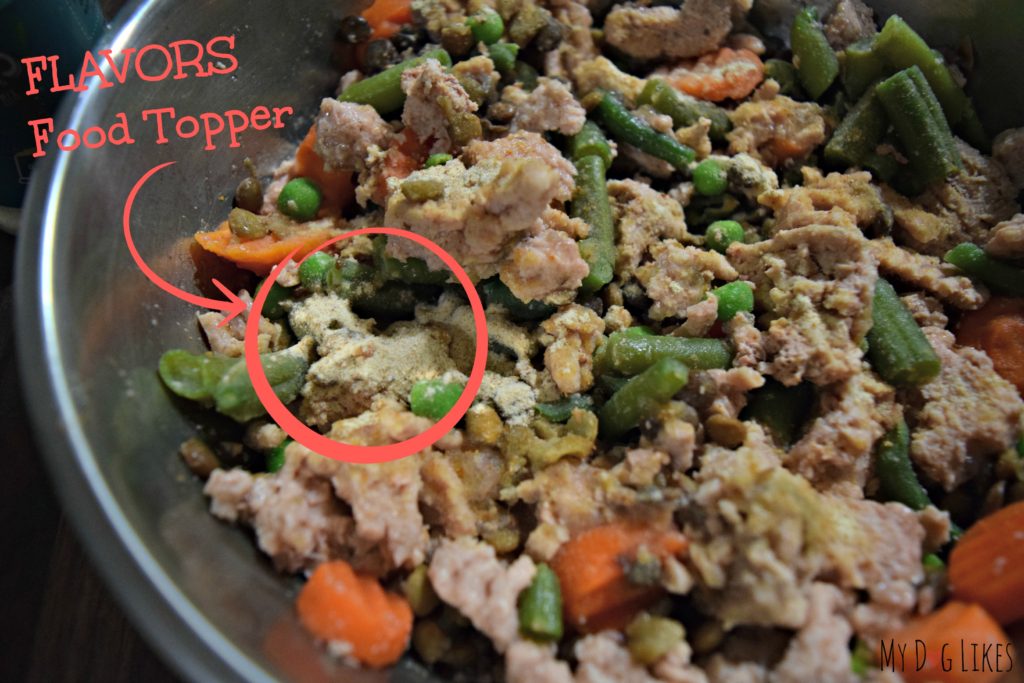 For Charlie, I wanted to try making more of a gravy, so filled a measuring cup with some water and slowly added powder until it reached a nice pour-able consistency. In case you were curious, he was going to be sampling the Red Meat flavoring!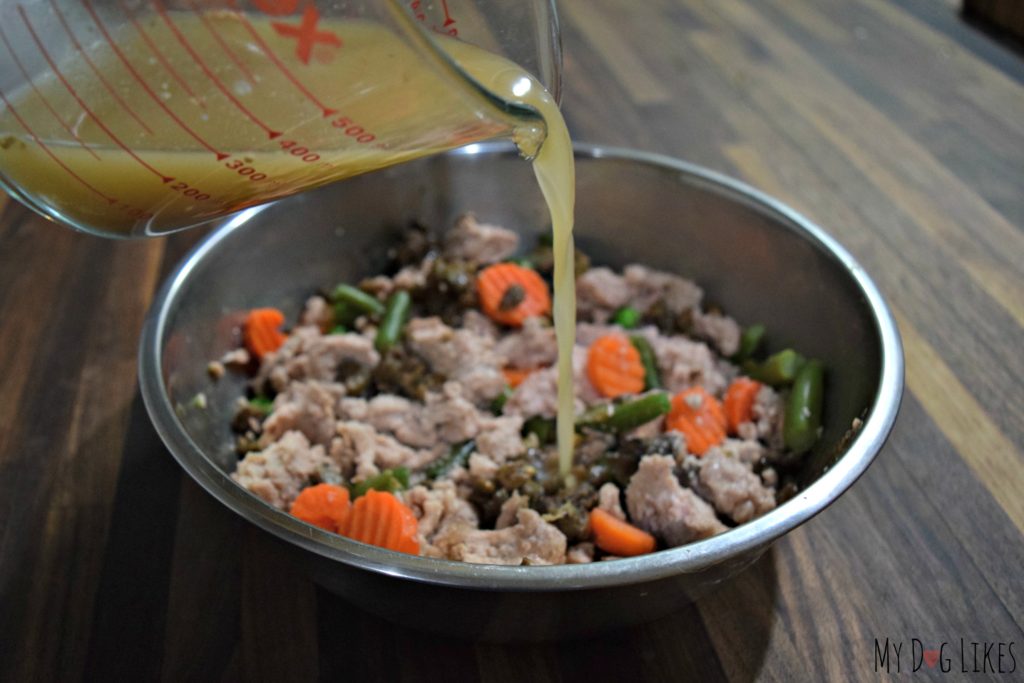 We make our own dog food which is quite enticing as is, but with the addition of FLAVORS, both Harley and Charlie seemed to attack their food with even more vigor! This reaction would be much more apparent with any kibble dog food.

Why MyDogLikes Basics FLAVORS Food Toppers
While Harley and Charlie are not picky eaters themselves, we do have one that we watch on a regular basis. As we mentioned before, we have had great success with mixing things into her food to encourage her eating. The problem is, that we are always scrounging around for options and have never had a reliable (and healthy) source. We are very excited to have these toppers on hand for the next time that she is visiting.
For those of you who don't have picky eaters at home, it is still nice to give them a tasty treat from time to time. FLAVORS can easily be sprinkled onto any meal to get your dog especially pumped up about meal time. All the flavors smell great and are sure to grab your dogs attention.
FLAVORS are also great for adding to your dogs water bowl to encourage them to drink up! Harley and Charlie dove right in when we tried this out and we will be using it on a regular basis to make sure they are staying properly hydrated. 
Last, but not least, FLAVORS can even be mixed with water and frozen to make a special icy treat! We will make sure to give that a try in the future and post some pics!
Want to give these food toppers a try?