We are off on a Dog Friendly Road Trip across America! Check out our daily recaps to see where we visit and how "dog-friendly" each destination turns out!
Last night marked our second stay at a Baymont Suites and aside from pets being relegated to the 3rd floor (not sure how that makes sense) we had a very pleasant stay.
On the agenda for today was exploring the Black Hills region of southwestern South Dakota. This includes Custer State Park and Badlands National Park. Although we had not even heard of Custer before planning our trip, we had read about it's dog friendly reputation and were very excited to check it out. Plus, we heard that you could get a glimpse of nearby Mount Rushmore – which does not allow dogs.
Custer State Park
Just about 30 miles south of Rapid City, lies the gorgeous 71,000 acre Custer State Park.  This park encompasses a variety of different terrain – from rolling grasslands to sharp granite peaks and mountain lakes – much of which can be seen from the 3 popular scenic drives. Leashed dogs are allowed throughout the park which was welcome news for our car weary pups!
UPDATE: Don't miss our Guide to Visiting Custer State Park with dogs for more information!
Custer is also home to a huge variety of animals including pronghorn antelope, burros, bighorn sheep, elk, mule deer and one of the largest publicly owned buffalo herds in the world.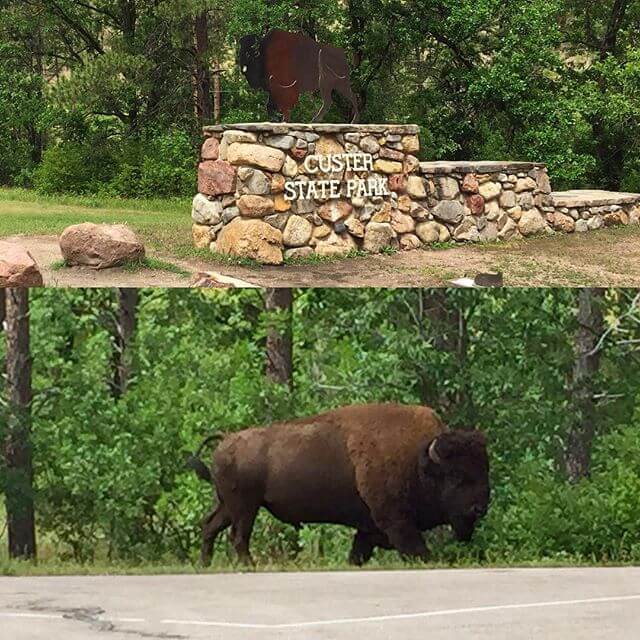 In fact, as soon as we approached the ranger station to enter the park (which has a $20 fee)  we were greeted by a large Buffalo – as it turns out the perfect sign of the awesome wildlife to come!
Wildlife Loop
On recommendation from the park ranger, we decided to start the day on the 18 mile Wildlife Loop which encompasses the Southern edge of the park. As we drove along gorgeous grasslands we spotted elk, pronghorn antelope, mule deer and lots of friendly looking families of prairie dogs.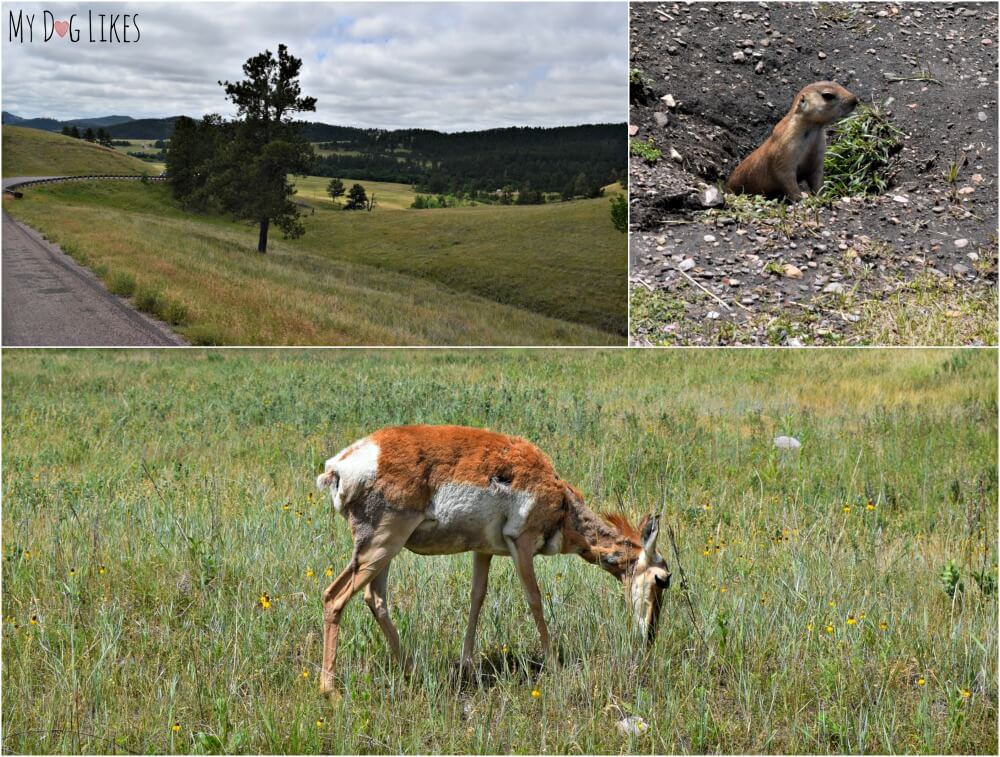 Saying Hello to the Burros
At one point along the ride we saw a large gathering of cars and decided to stop and see what the fuss was about. Well, it didn't take long to figure it out because before we could even park several large burro approached our car and even tried to stick their heads inside!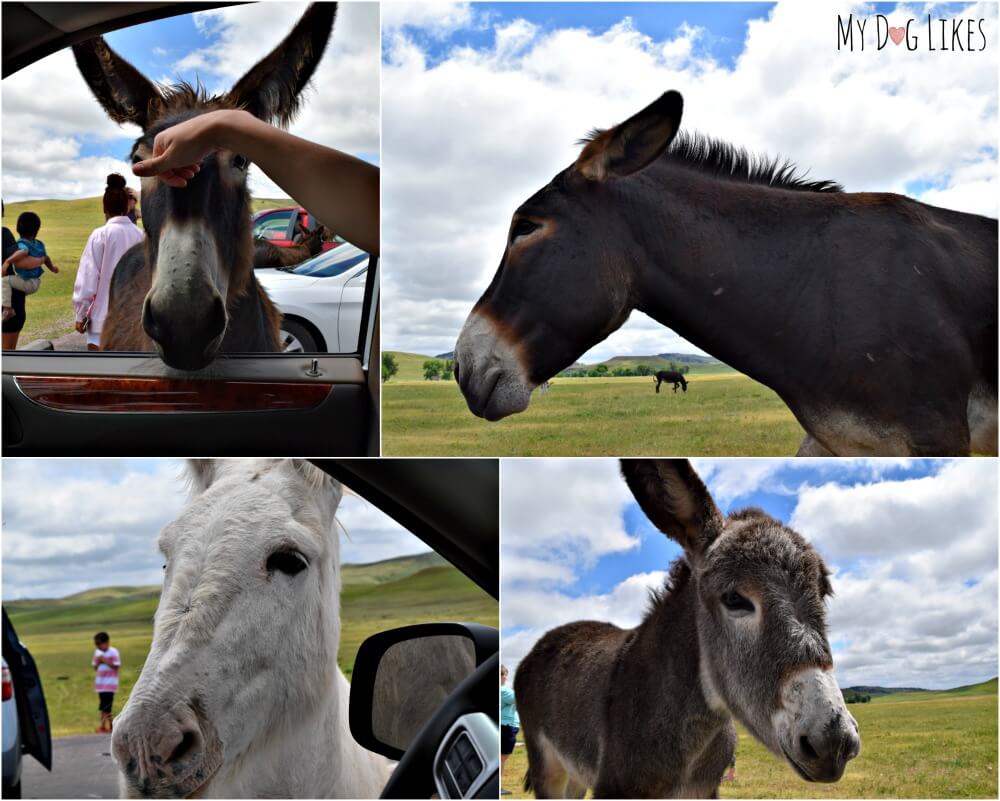 The Burro are extremely friendly and were quite eager to accept treats and pets from all the visitors. Burro are not native to this land but instead were used to transport tourists up the Harney Peak summit. After this practice was abandoned, the population was left behind and they now form a popular tourist stop wherever they are found in the park.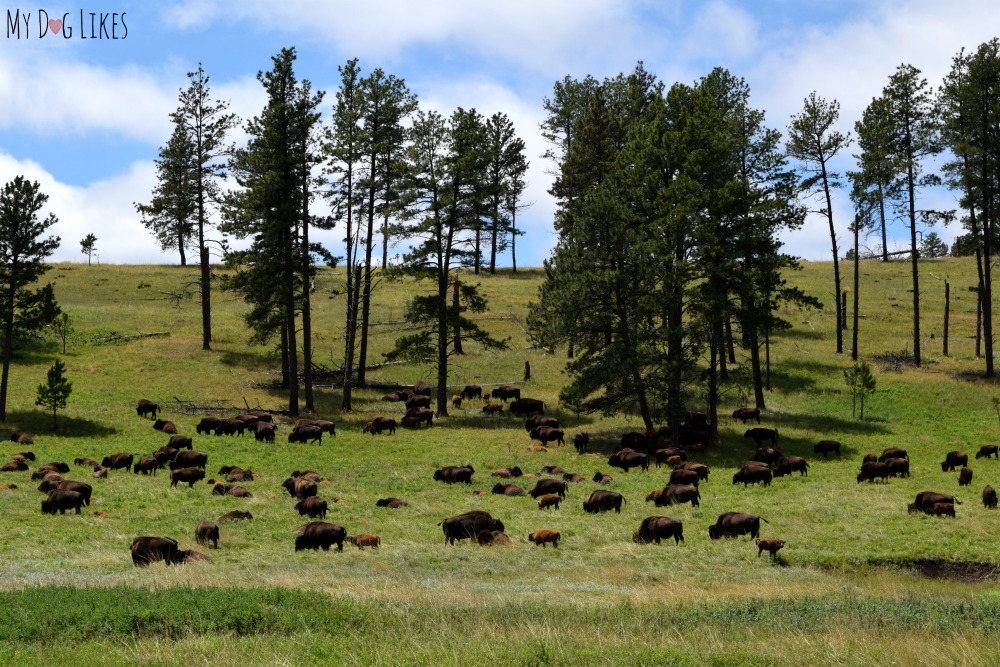 Further down the Wildlife Loop we finally came across some of Custer's massive population of Buffalo. Among the herd were large numbers of calves eagerly feeding from their mothers. Once per year there is a large Bison roundup and auction that attracts buyers from around the country looking to start or maintain their own herds.
Needles Highway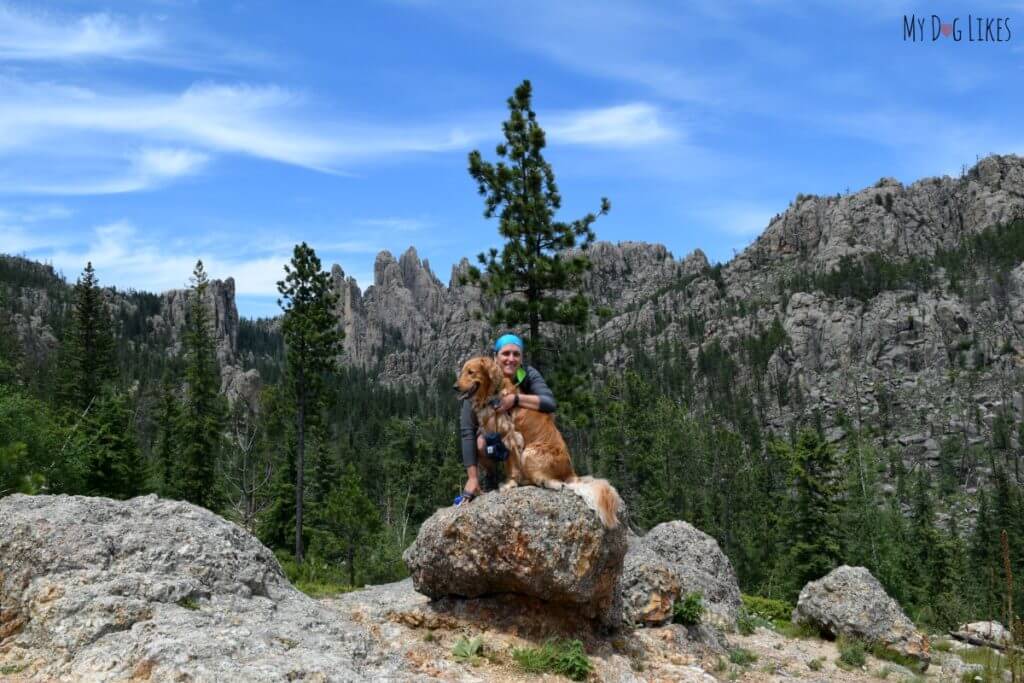 Wanting to find that view of Mount Rushmore that we had read about, we headed up Needles Highway. Also known as Rt. 87, this road led us up steep and narrow switchbacks, through narrow rock tunnels and past gorgeous rock spires. Everywhere you looked were interesting spots to walk around, climb and explore. Below is a video of us stopping to check out the view of Cathedral Spires, and letting the dogs stretch their legs.
Sylvan Lake
Shortly after reaching the top of the peaks we came across Sylvan Lake – a spot almost too picturesque to believe. This pristine mountain lake is surrounded by, and engulfs the large granite spires that cover the mountaintop. After getting a glimpse of the lake we just had to park and spend some time exploring.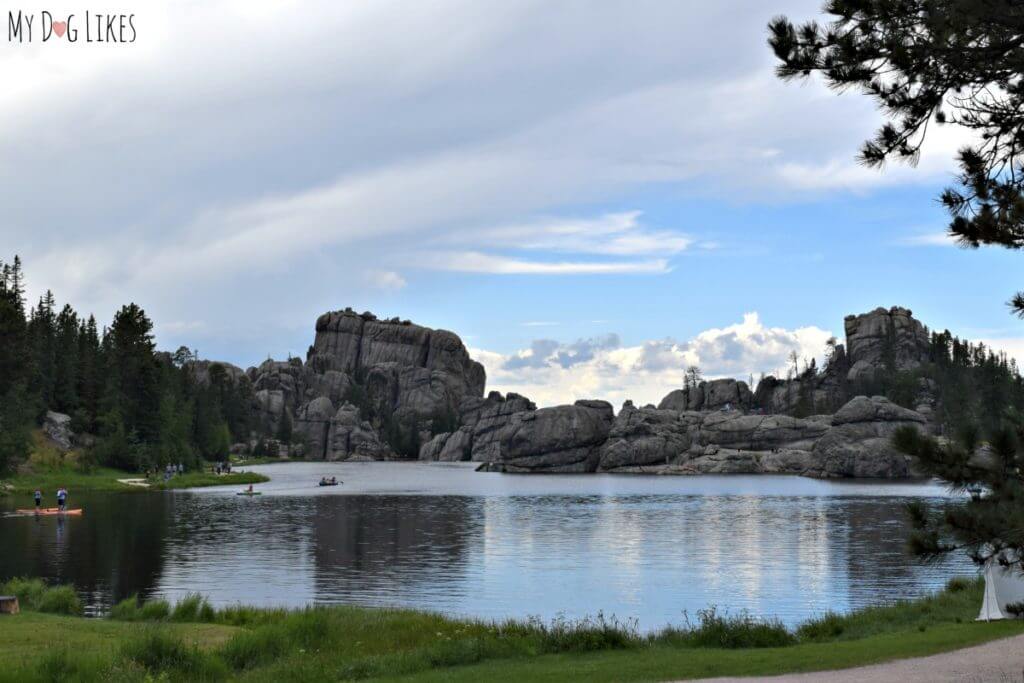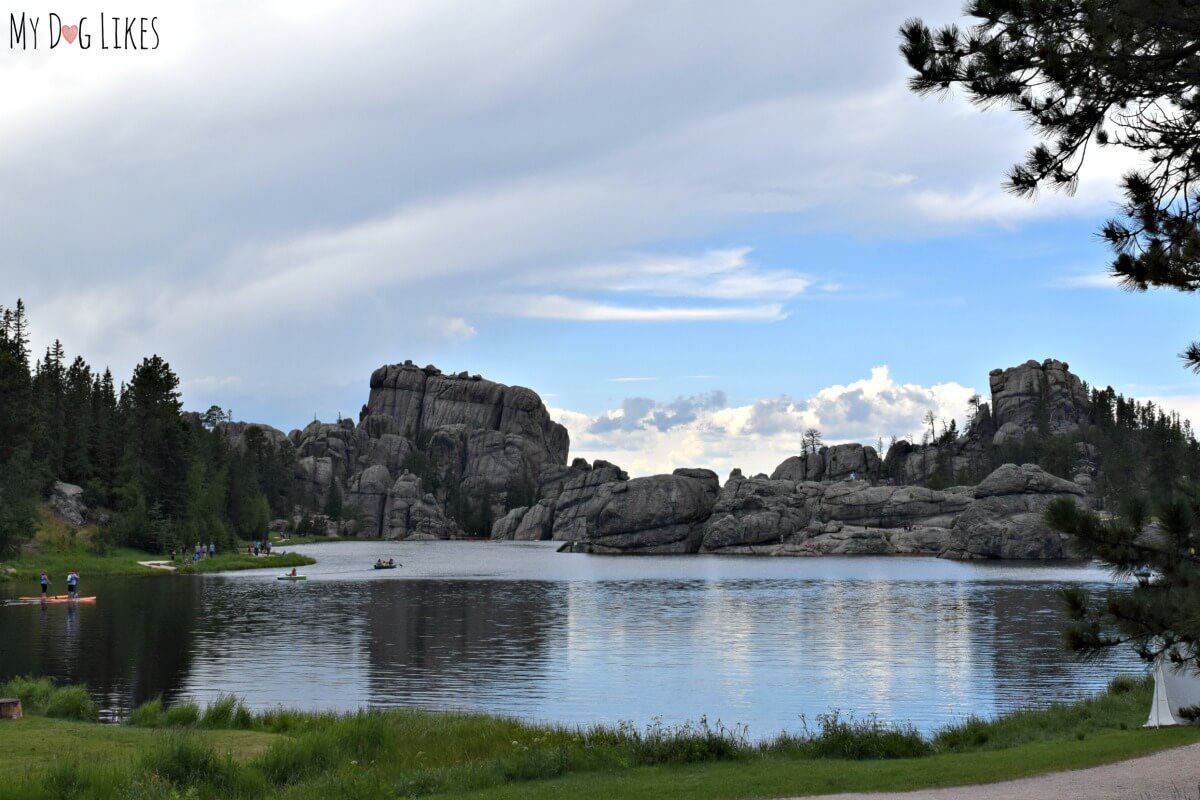 First things first was letting the dogs cool off in the lake. While there were lots of people there, it is a large lake and it was relatively easy to find a secluded spot.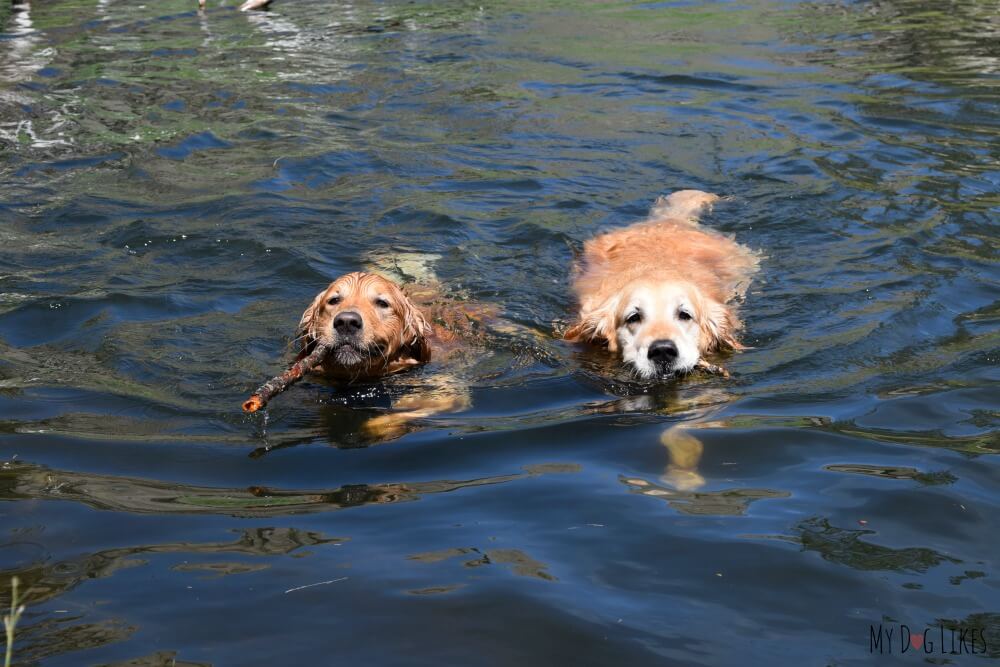 After our swim we decided to explore some of the several hiking trails around the lake. Unfortunately, Harley's wrist sprain was much worse after swimming so we had to cut out hike short. It was clear that we were done adventuring for the day so we headed back to the car to make our way out of the park and on to our next stop.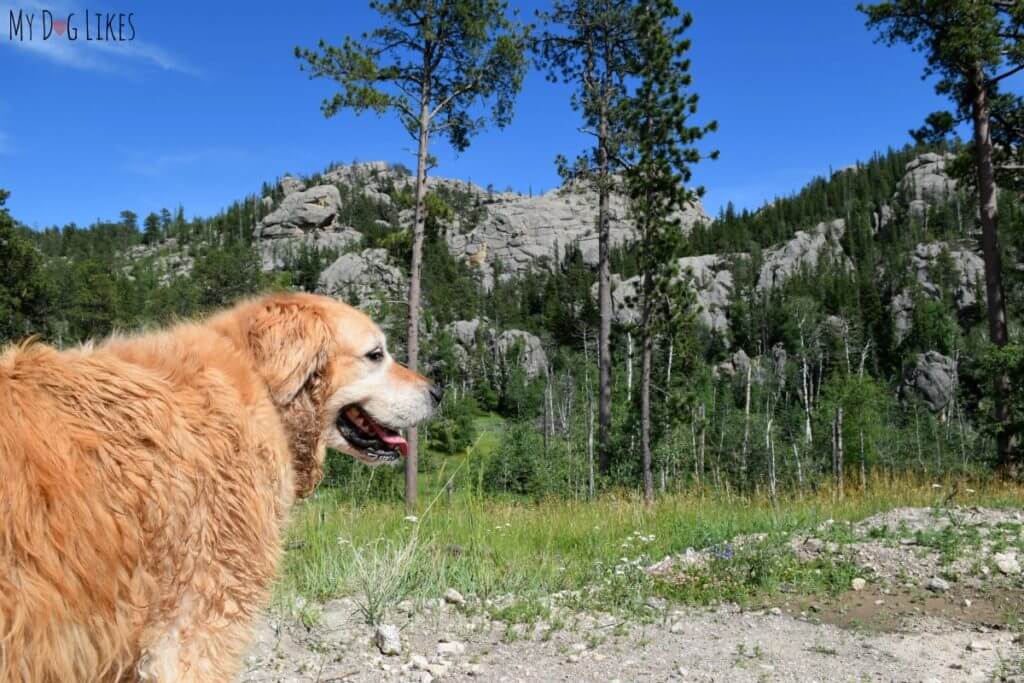 Mount Rushmore and Keystone South Dakota
After finishing our drive down Needles highway and out of Custer we headed toward Mount Rushmore on Rt. 244 and were excited to find out it was visible from the road. We didn't have the time to stop (it was packed!) plus dogs aren't allowed, so we were satisfied with a quick peak at the national monument.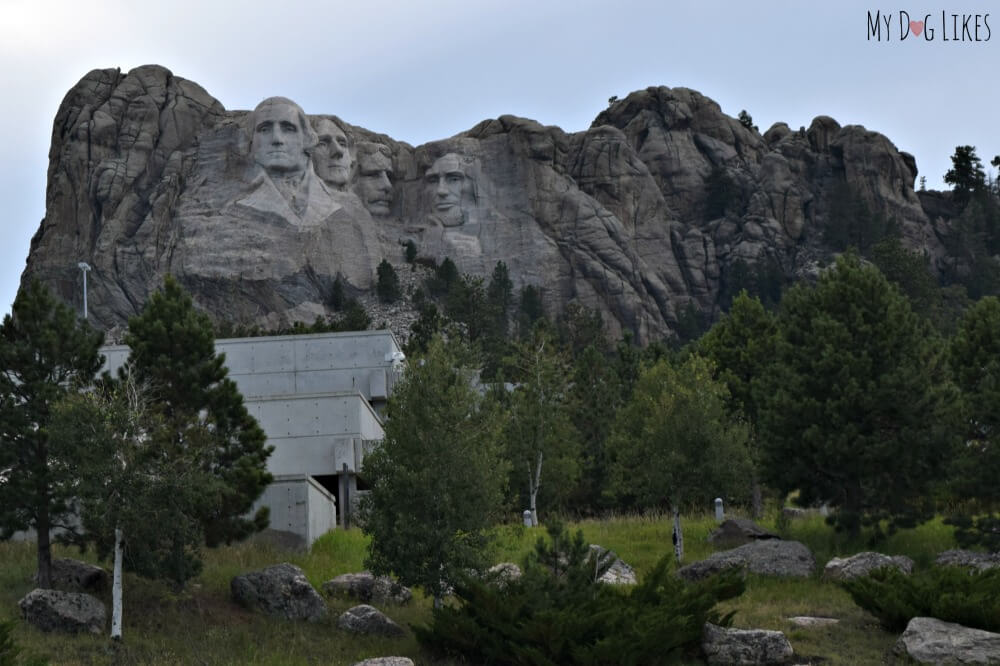 Just outside of Mount Rushmore lies the town of Keystone, South Dakota. Filled with attractions of all types including museums, adventure parks, and western themed specialty shops, this would be a great place for a family vacation.
Badlands National Park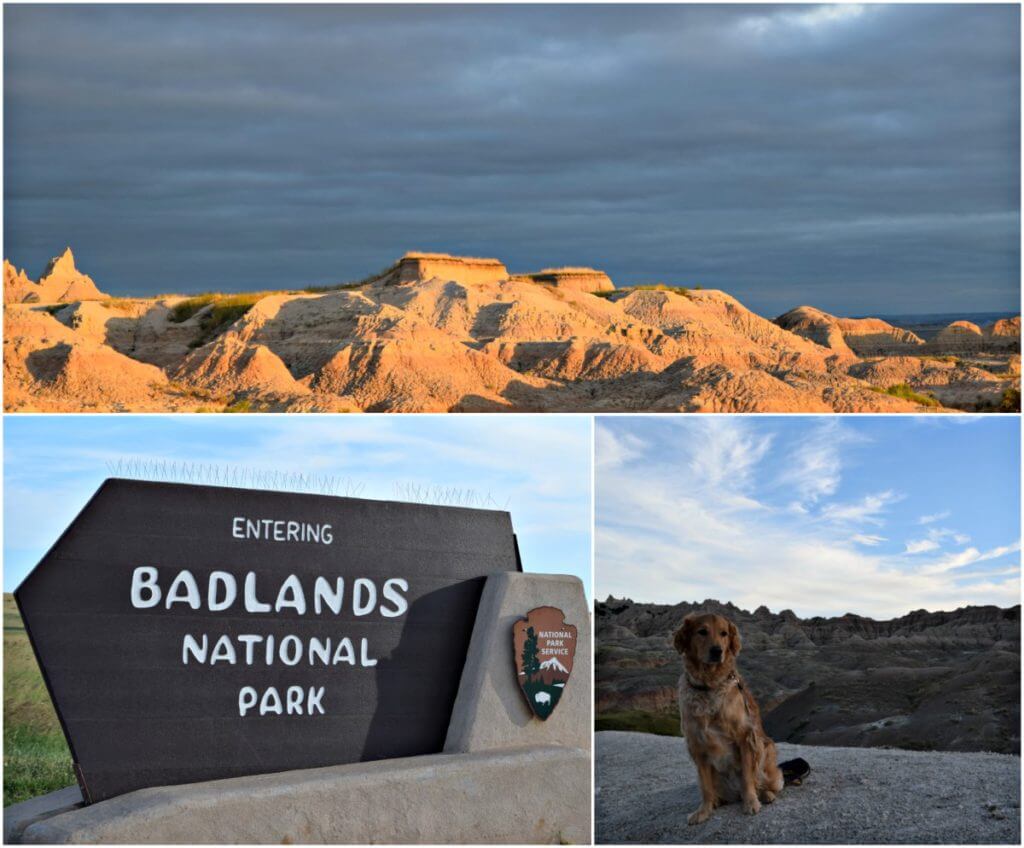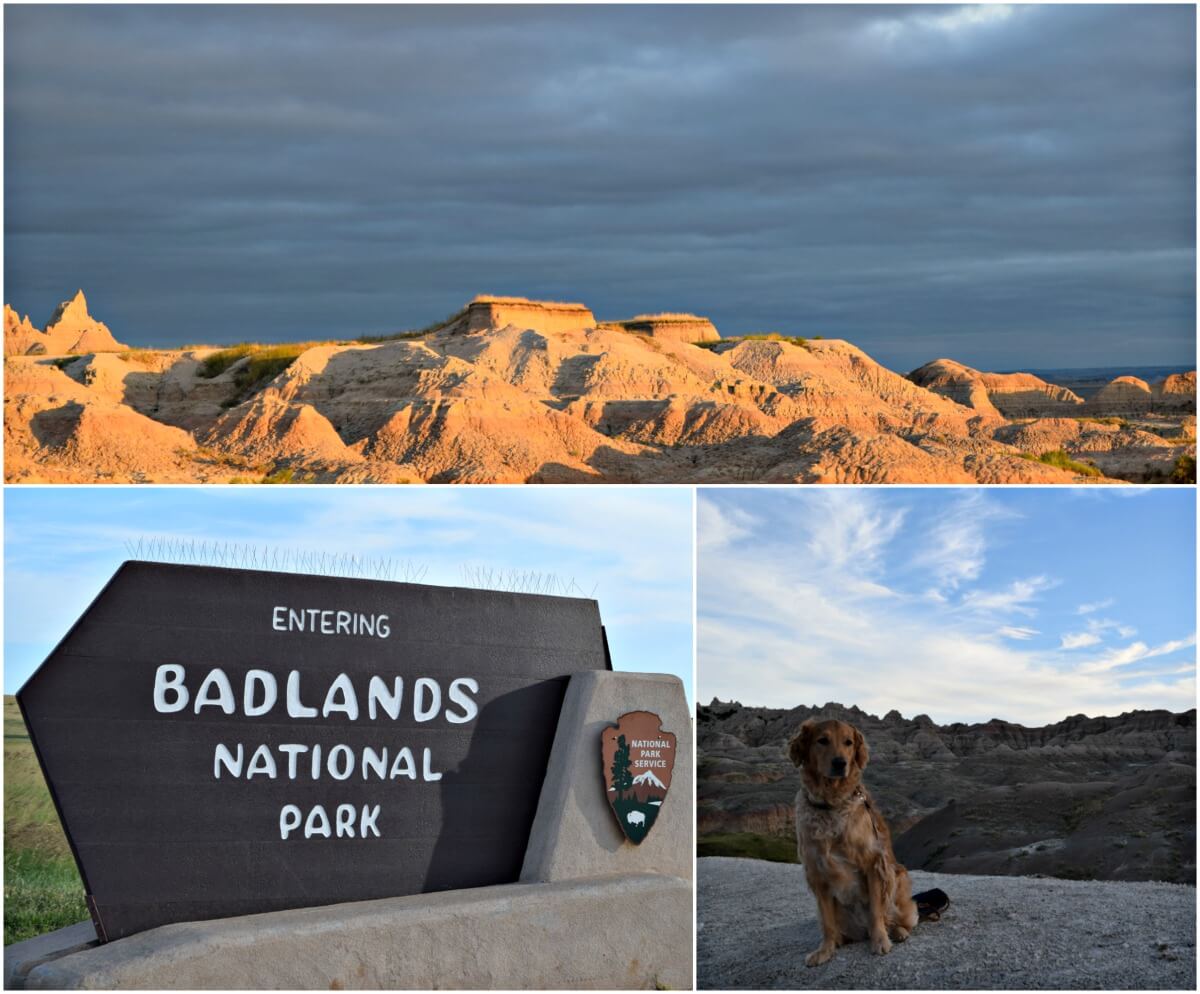 After spending so much time at Custer, we didn't have a lot of time left to explore Badlands National Park. This wasn't completely by accident however, as we knew the dogs weren't allowed to hike there anyways. We finally arrived at Badlands just before dusk and as it turns out the fading light would present some pretty amazing colors. We decided to stick to the main Badlands Loop (Highway 240) and figured we could get through the bulk of the park relatively quickly.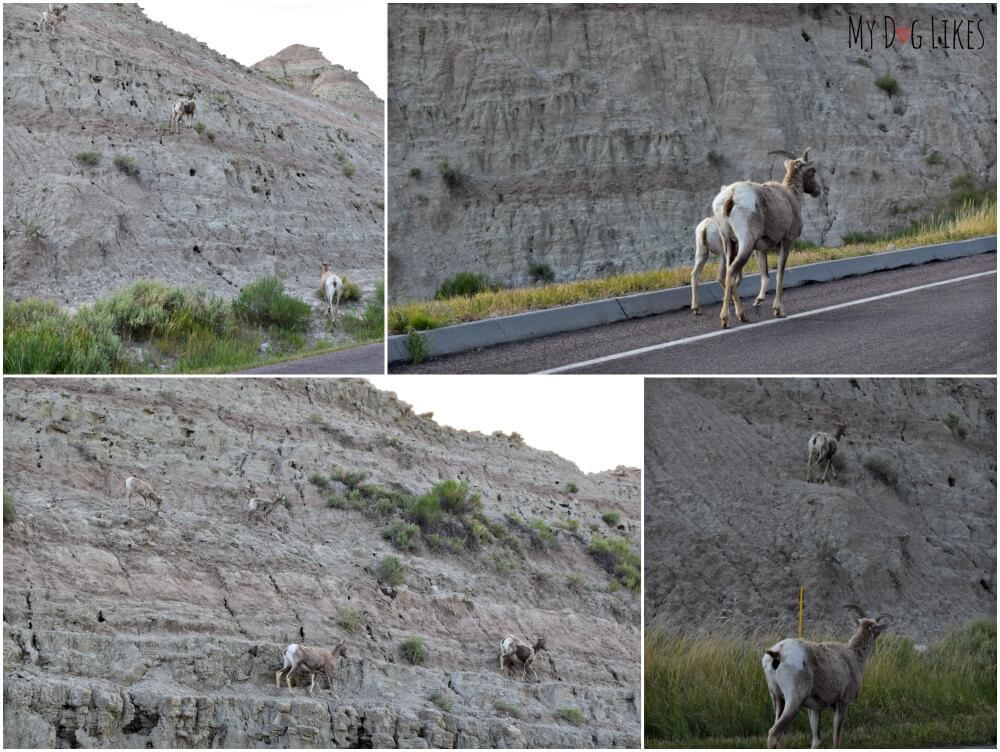 This land got its name from being notoriously difficult to live on. Carved out of the vast prairie are large areas of eroded buttes, pinnacles and spires. Although humans find this arid place not particularly welcoming, it is home to a wide variety of animals including mountain goats, black-footed ferrets and bighorn sheep.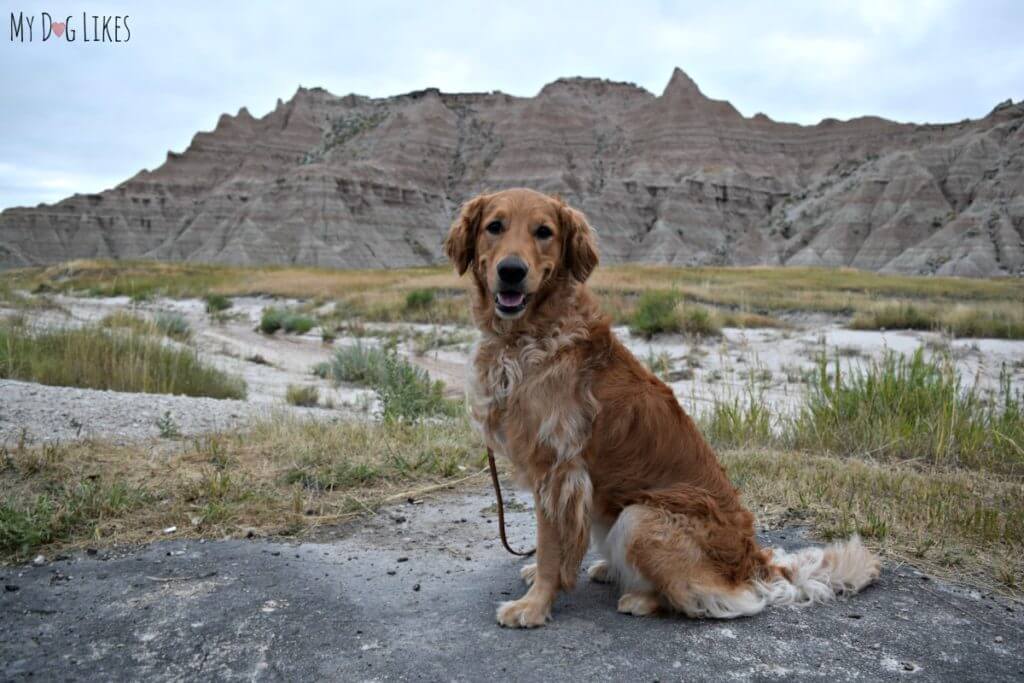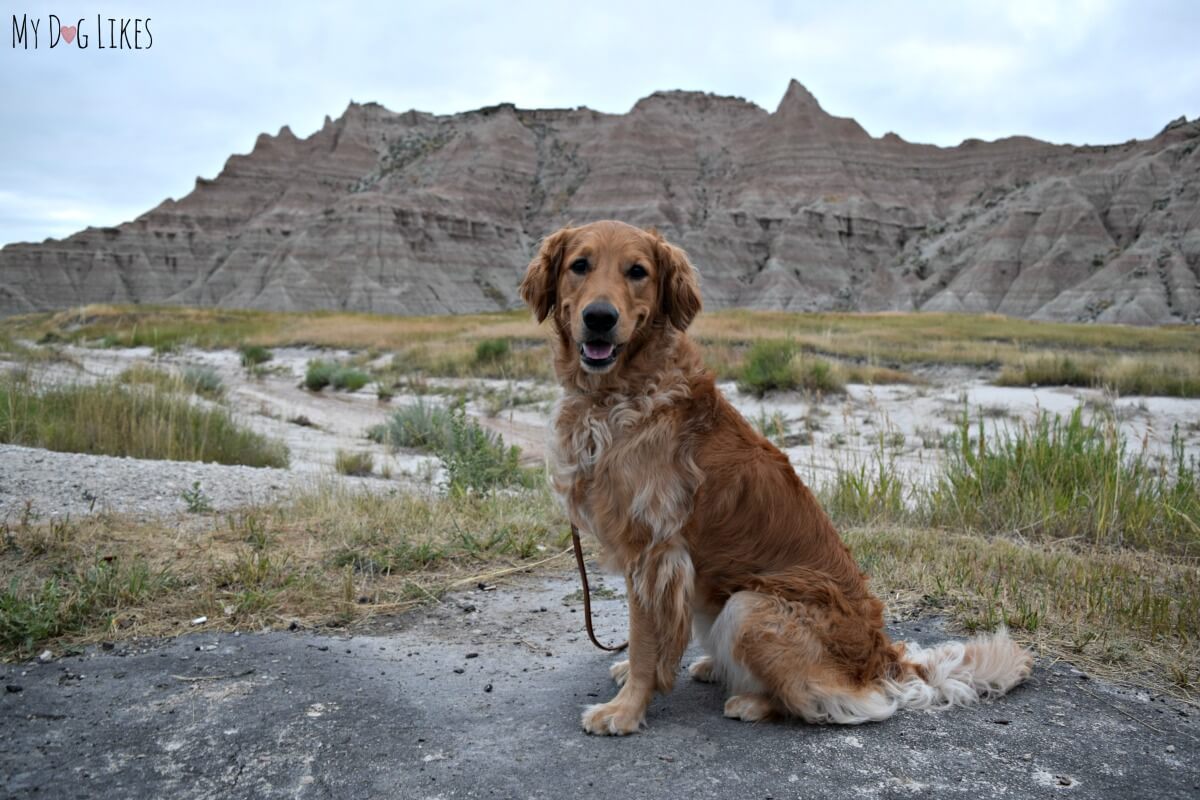 The Badlands is truly a stunning landscape unlike anything else we have ever seen. The views from the scenic drive were fantastic and a very satisfying way to get a feel for the land. We were surprised to find that there are actually quite a few hiking trails that lead into the midst of the Badlands formations as well. If we ever visit again without the dogs, we would love to check these out and get up close to these unique features.
What we Learned on Day 12
Plan a day for Sylvan Lake
This area was absolutely gorgeous and a complete surprise to us. Sylvan Lake would be a perfect spot to spend a day with friends hiking, climbing and swimming. The rock spires are seemingly endless so it is not tough to find a relatively private spot to set up "camp" for the day. We absolutely intend on returning here someday!
Book a hotel ahead of time for Eastern South Dakota
As we have mentioned before, we relied on Priceline last minute deals for finding a place to stay each night. Thus far we had been quite lucky – always finding a pet friendly room near our ideal stopping point and at a great rate. This was without a doubt our most difficult hotel booking of the trip! We checked town after town on our drive East of the Badlands until finally finding a room in Mitchell, SD.
Quick Stats
Miles traveled: 400
States passed through:  1 – South Dakota
Gas fill ups: 2