It is not often that we find ourselves exploring a new park in February.
Winter in Rochester, NY can sometimes make it a challenge to simply get out into neighborhood for a walk. However due to an unseasonably warm week, where the temperatures neared 70°, we decided to get the pups out of the house to check out someplace new.
Hoping to avoid a muddy hike, we made a quick Google search and were excited to learn about the Turning Point Park Boardwalk Trail.  It sounded like the perfect spot for such an early season stroll!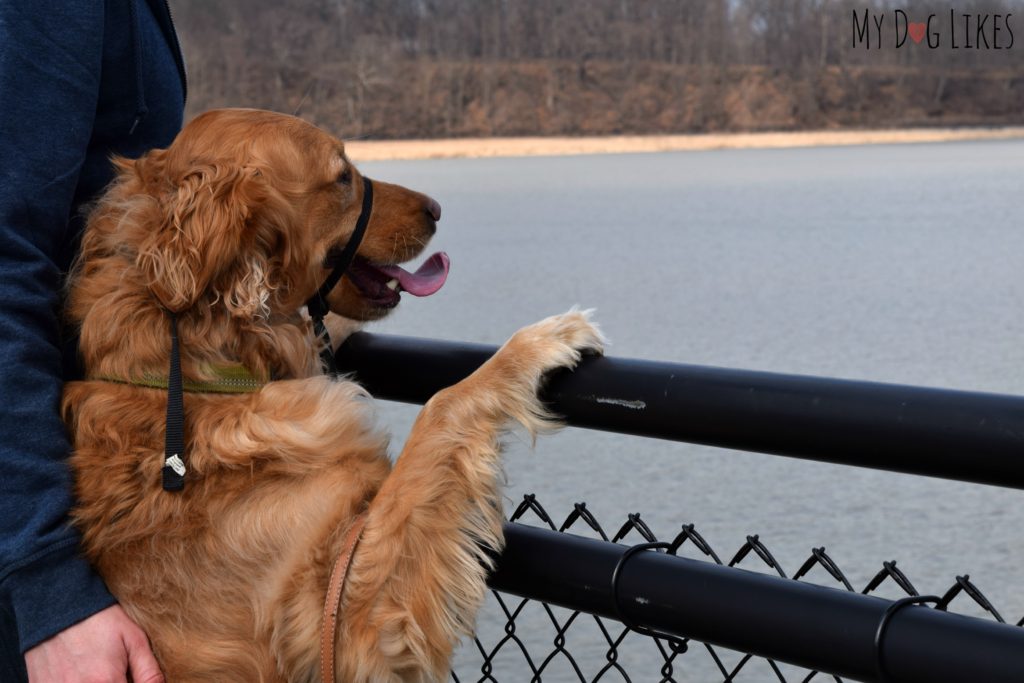 Turning Point Park
Located in North West Rochester, Turning Point Park gets its name from the large Genesee River basin which it surrounds. This basin served as a point for shipping vessels to turn around after heading through the Port of Rochester and before reaching Rochester's Lower Falls. This area was also the location of the Genesee dock which loaded ferries with rail cars and product from the nearby cement terminal.
This land became an official park in 1977, and the old rail bed leading to the water has now been turned into a paved trail. Turning Point Park also includes a long boardwalk over the Basin and roughly a half mile of paved trail both North and South.
Where is Turning Point Park
Turning Point lies within the town of Charlotte, and hugs the Western bank of the Genesee River as it nears the Lake Ontario shore. It connects to the Genesee Riverway Trail on the North and the South, making it an integral portion of Rochester's trailway system.
How Do I Get There?
The easiest way to access Turning Point Park is by taking Lake Ave to Boxart Street. This road quickly curves around a small hill and leads to a stop sign. Turn right to continue onto Boxart and follow the road straight until the end (roughly 1/2 a mile). Boxart leads directly into the parking lot for Turning Point which is large enough to park 2-3 dozen vehicles.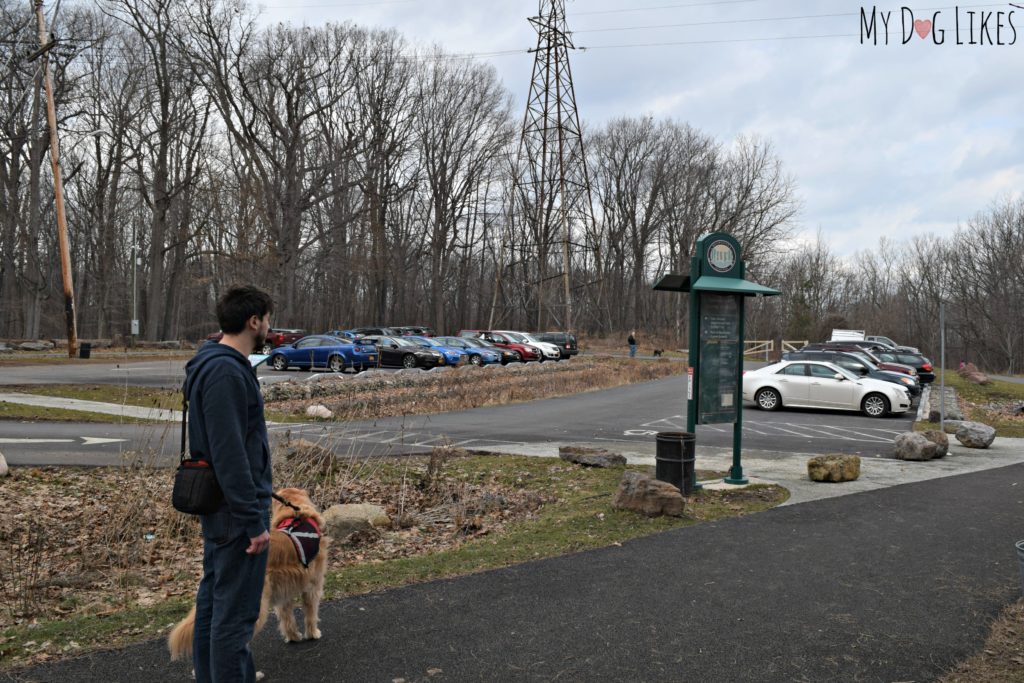 We visited on a weekday afternoon and there were still plenty of spots – though I hear that this park can get a bit crowded on the weekends.
Are Dogs Allowed at Turning Point?
YES! Dogs are allowed throughout the park, though they must be leashed at all times. Aside from a hill down to the boardwalk, the trail is relatively flat, so would be appropriate for dogs of all sizes, ages, and abilities.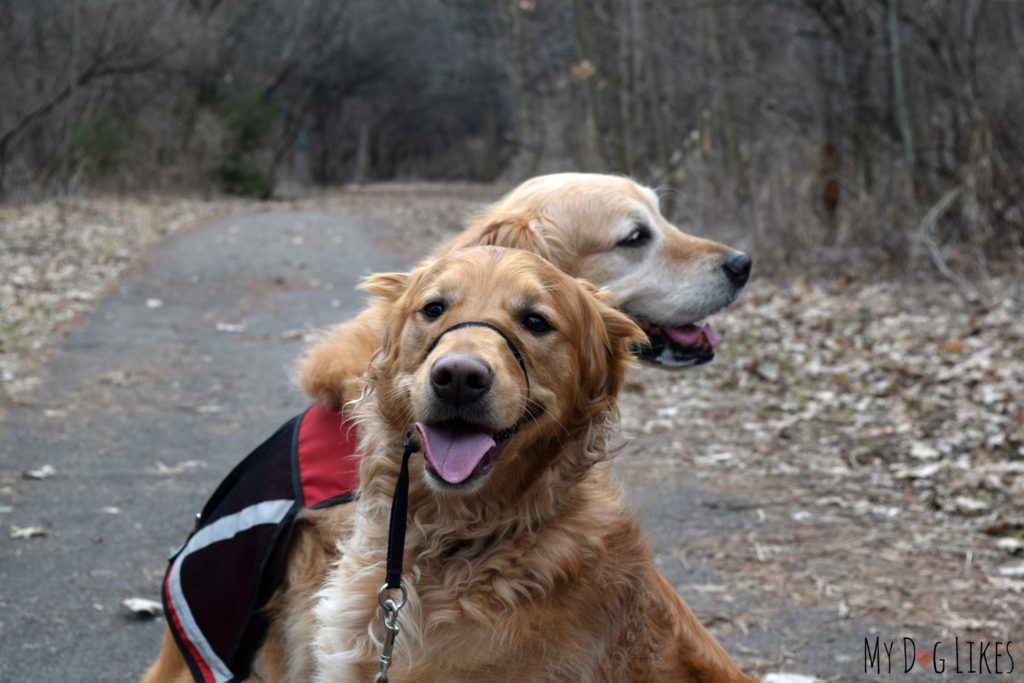 What to Do at Turning Point Park
Turning Point Park is a popular spot for:
Walking
Running
Cycling
Fishing
and Bird Watching
Turning Point Trails
There are 3 main sections to the trails at Turning Point.
 2,968 ft. path leading from the bank to the rivers edge
 3,572 ft. boardwalk over the Genesee River
 3,406 ft. section leading to the Genesee Marina
The trail surfaces are a mixture of groomed dirt, pavement, and wood planks along the boardwalk. This keeps the area relatively dry and allows for decent accessibility year round.
We started out our visit by heading South from the parking lot (toward the Essroc cement plant) and into the wooded section of the park. This area is very quiet and known as "Bullock's Woods." After roughly a half mile, you can take a sharp turn to the left to head back North and downward to the edge of the Genesee River. (Continuing South will lead you out of Turning Point Park toward Lake Ave. and Riverside Cemetary.)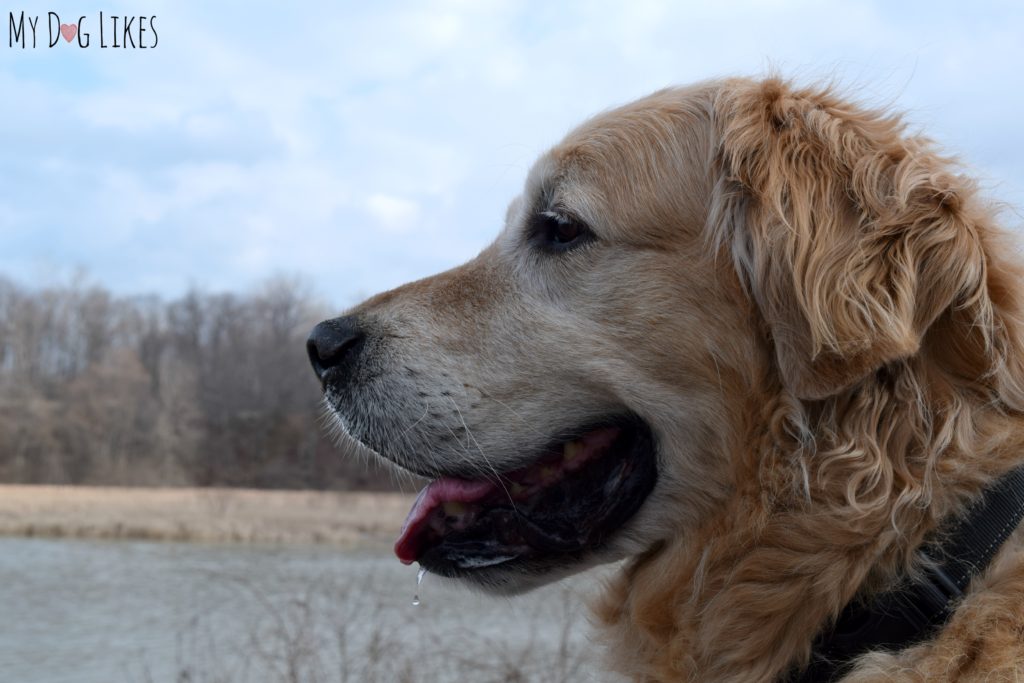 As you walk along the river below the parking lot you will run into the Boardwalk portion of the trail. This can also be accessed directly from the parking lot by heading North instead of South, though you do have to navigate a steeper grade (see pic below)!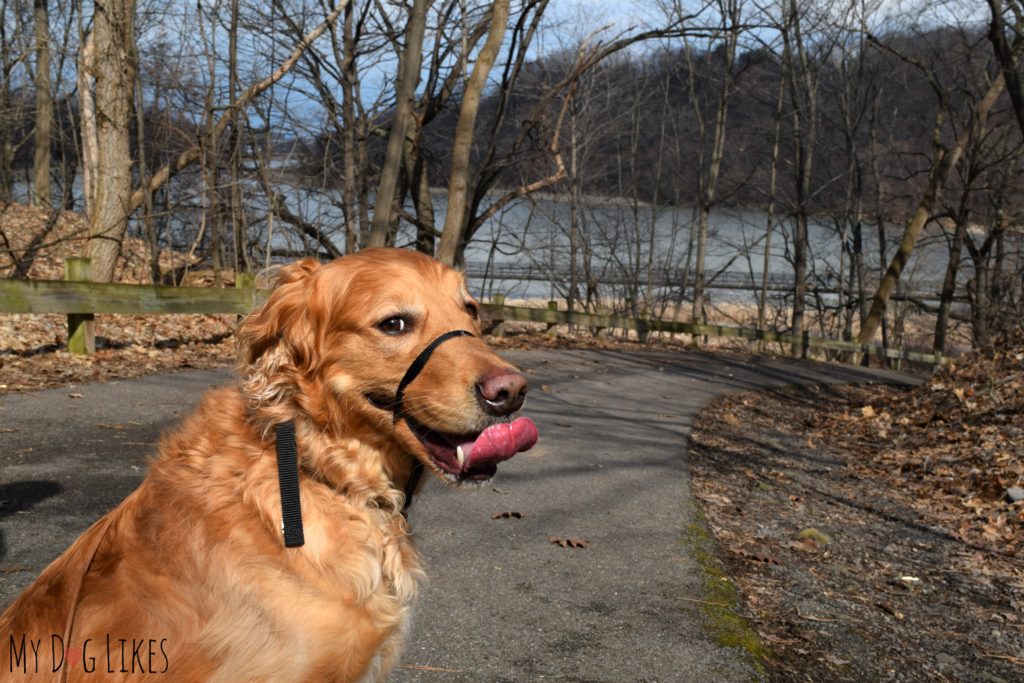 Turning Point Boardwalk Trail
Without a doubt the coolest part of the park is the boardwalk section which stretches 3,572 feet over the Genesee River. This gorgeous pathway actually won transportation project of the year from the American Public Works Association in 2008!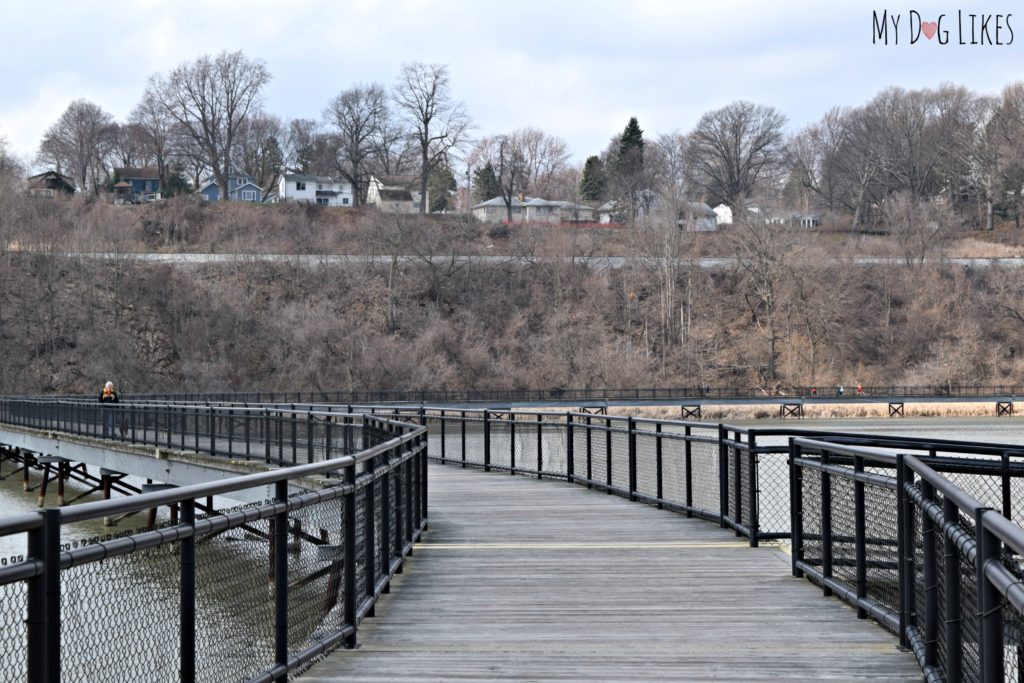 The surface of the boardwalk is constructed of tightly placed wood planks and lined by a no-gap fence on both sides. Dogs can often be weary of walking over gaps, but these were small enough that our boys showed no hesitation whatsoever. We were also very glad that it is fenced in a way that they couldn't stick their heads through or slip under in case they were so inclined!
We didn't bring Charlie's frisbee (which he carries at ALL times on his walks) due to fear that it could drop into the water below, but this turned out to be unwarranted. His beloved disc will come along on our next visit since he walks so much better when he has it with him!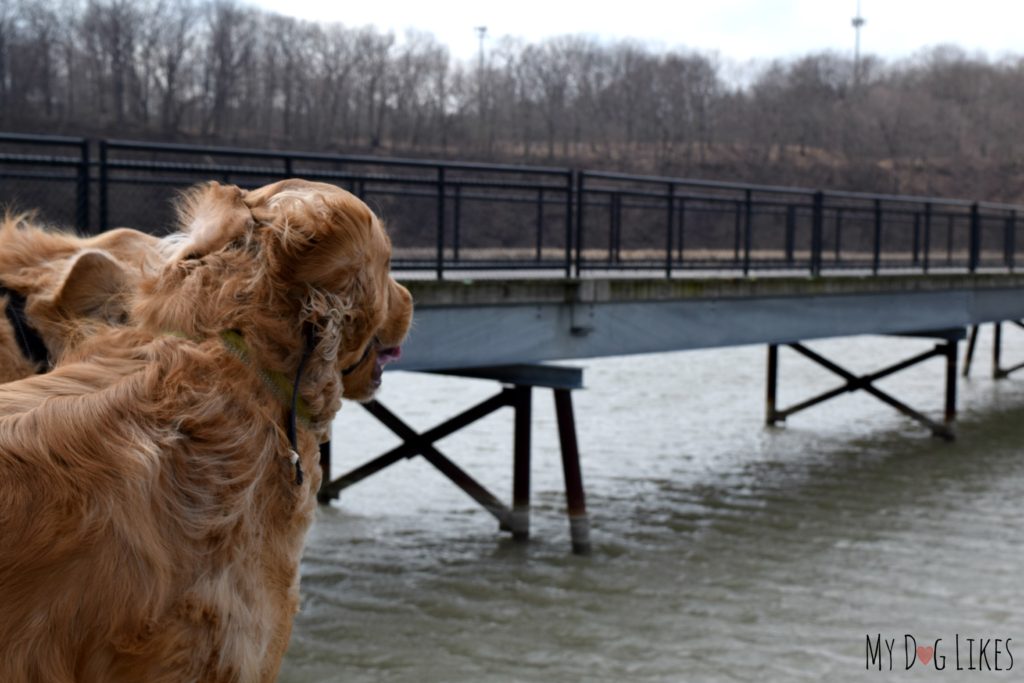 Along the boardwalk there are also 2 large concrete pads which can be used as a fishing platform or to just sit and enjoy the view for a while! But be careful! The pads are not surrounded by fencing as you can see in the photo above!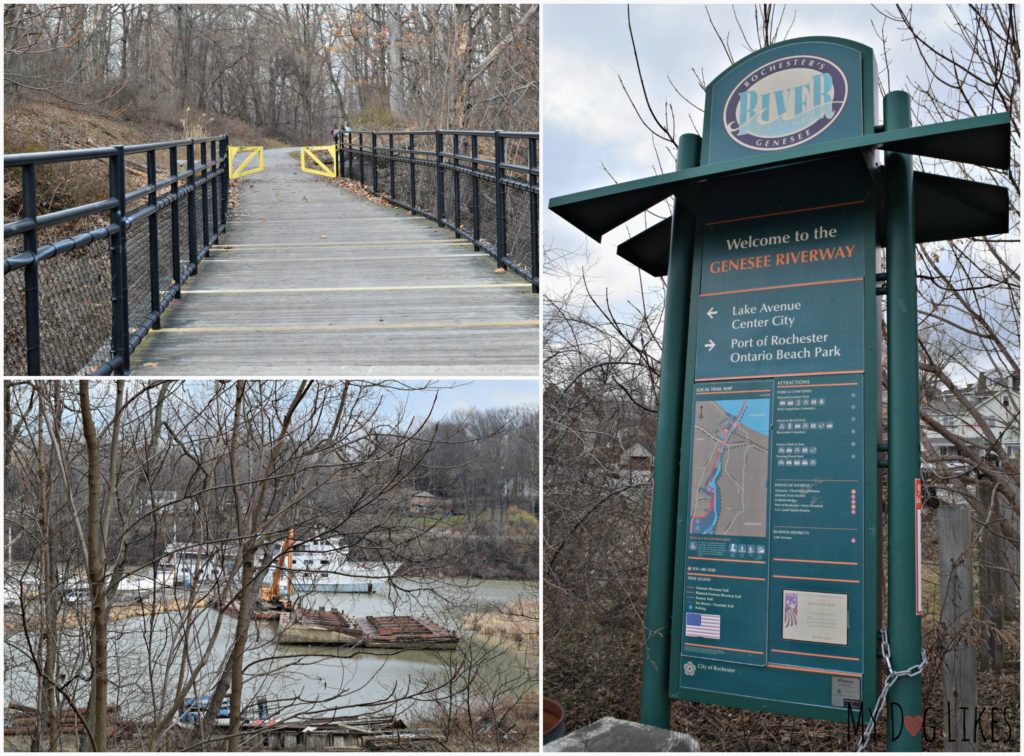 As you reach the end of the boardwalk, you will pass through a yellow gate and into the Northern wooded section of Turning Point Park. This portion will take you to Gibbs Marina (where the old Spirit of Rochester was docked when we first visited) and the edge of the park.
Connecting with the Genesee Riverway Trail
It was such a beautiful day, so we decided to continue our walk Northward since the trail way just keeps right on going!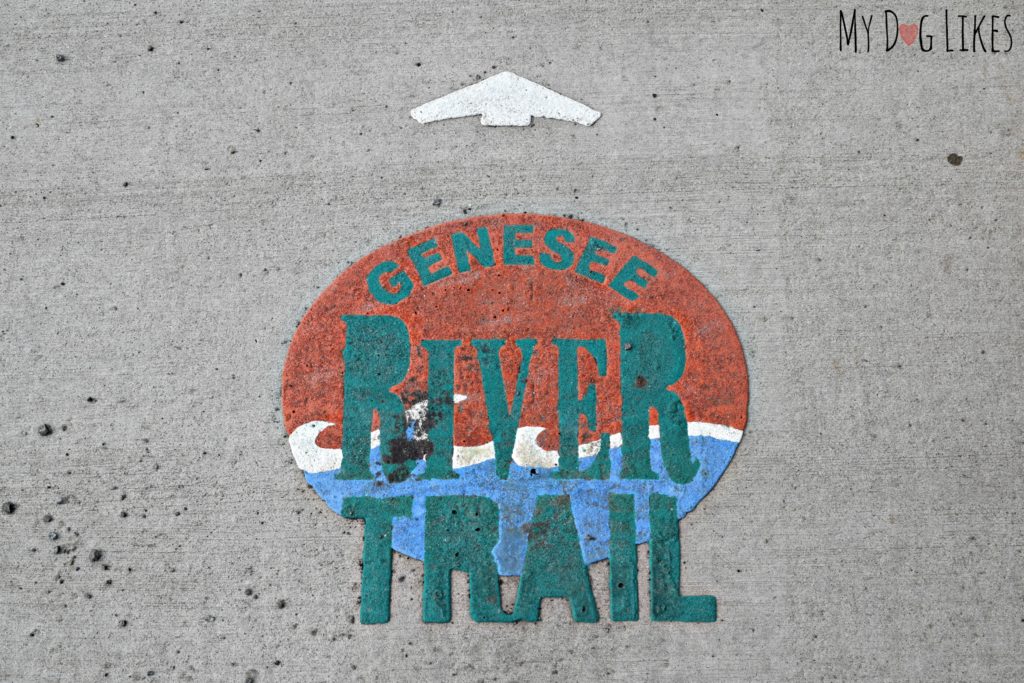 As we mentioned above, the park's trails connect to the Genesee Riverway Trail on both the North and the South end. The full Genesee Riverway Trail is a 24 mile long system that runs from the shore of Lake Ontario all the way down into the city of Rochester – meeting up with several parks and historic districts along the way.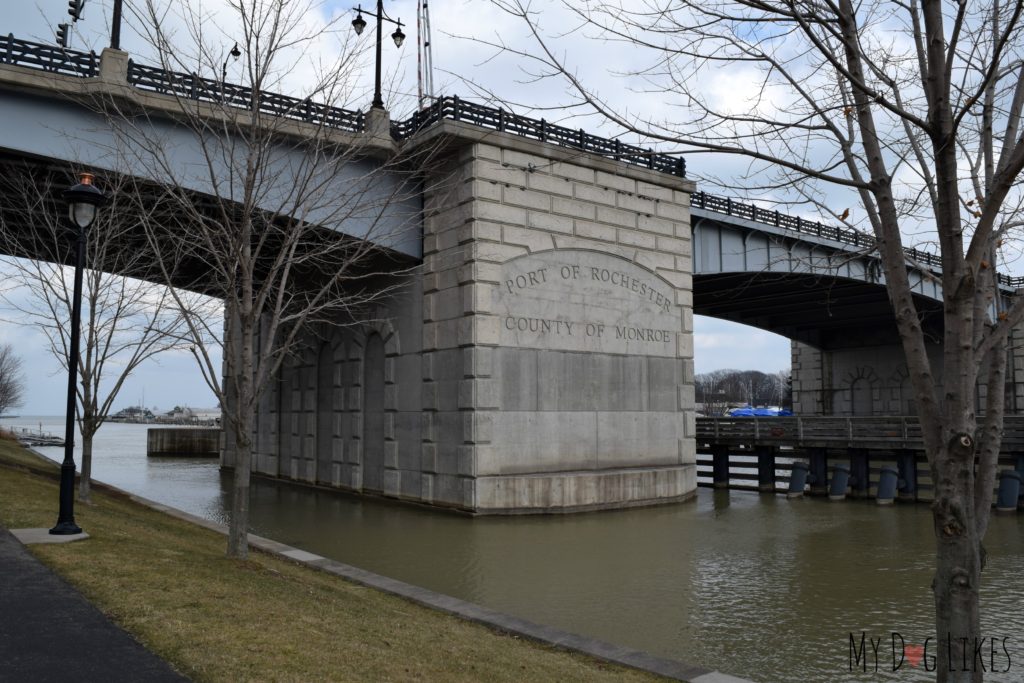 Shortly after passing the Genesee Marina you will reach the Port of Rochester, and the Colonel Patrick O'Rourke Bridge.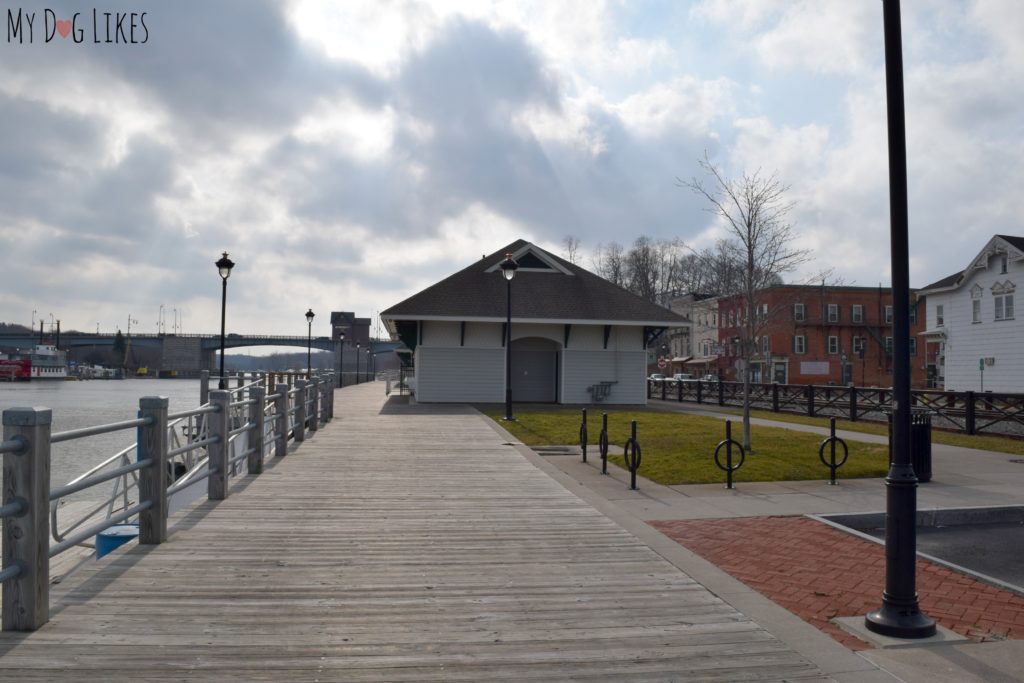 Next, you will pass over another nice boardwalk which runs parallel to River Street and looks like it would be a lively spot in the Spring and Summer.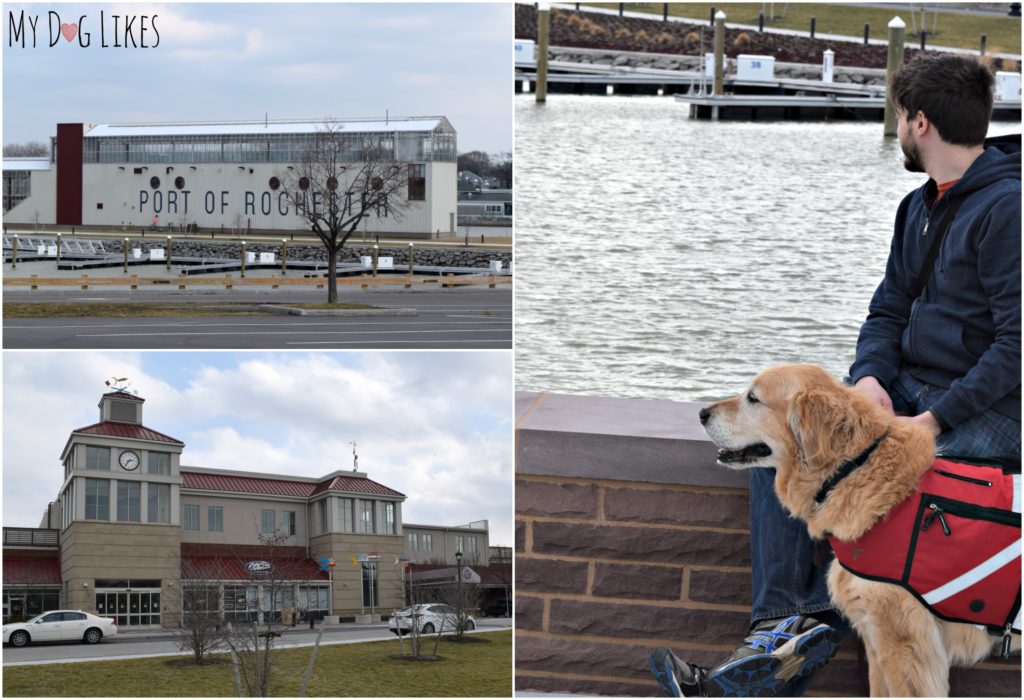 Continue on a bit further to reach the Port of Rochester Marina. This is a beautiful spot which has been been in development over the last several years and includes a terminal building with restaurants and bathrooms.
Within site from here is Ontario Beach Park and the Charlotte Pier (though dogs are NOT allowed at either!). I ran ahead a bit on my own to check it out and snap a few pictures of the lake…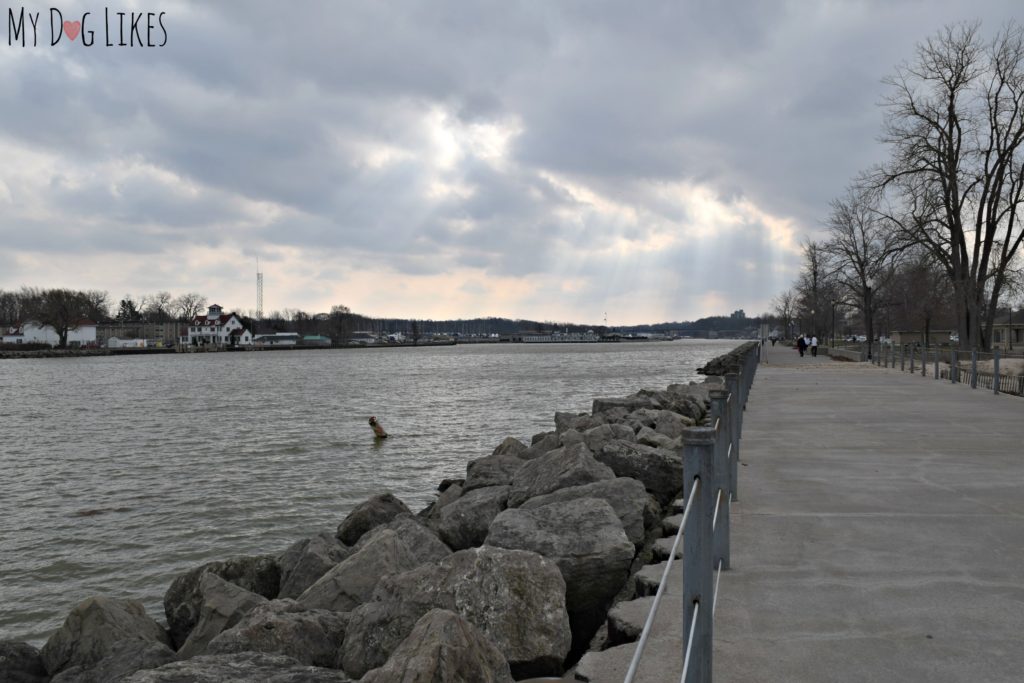 Looking back into the Port of Rochester from Charlotte Pier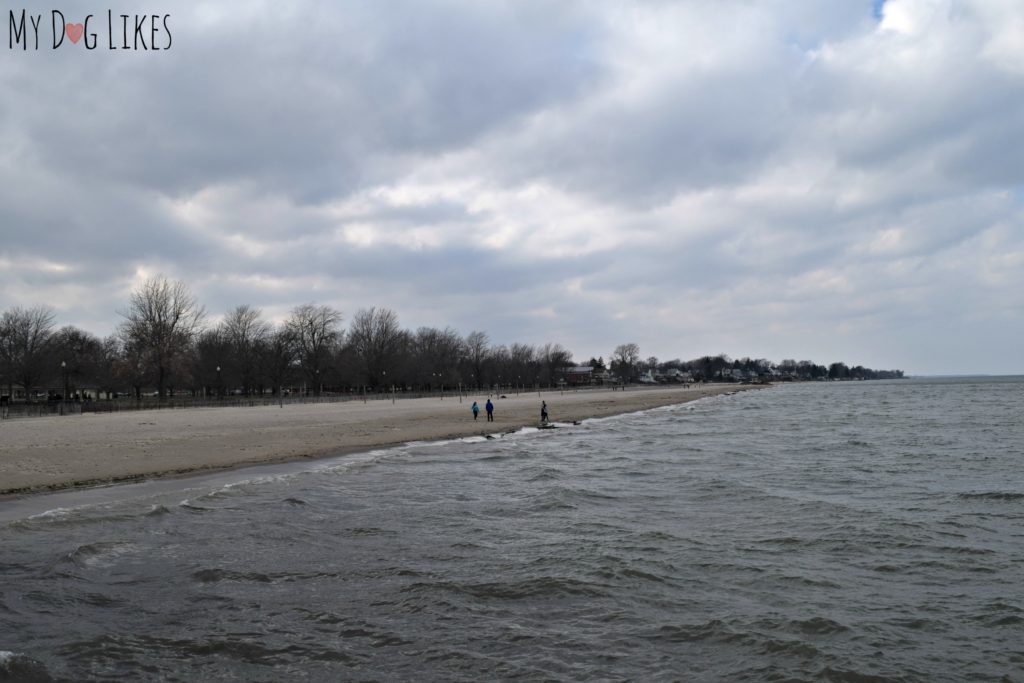 Ontario Beach Park from the Charlotte Pier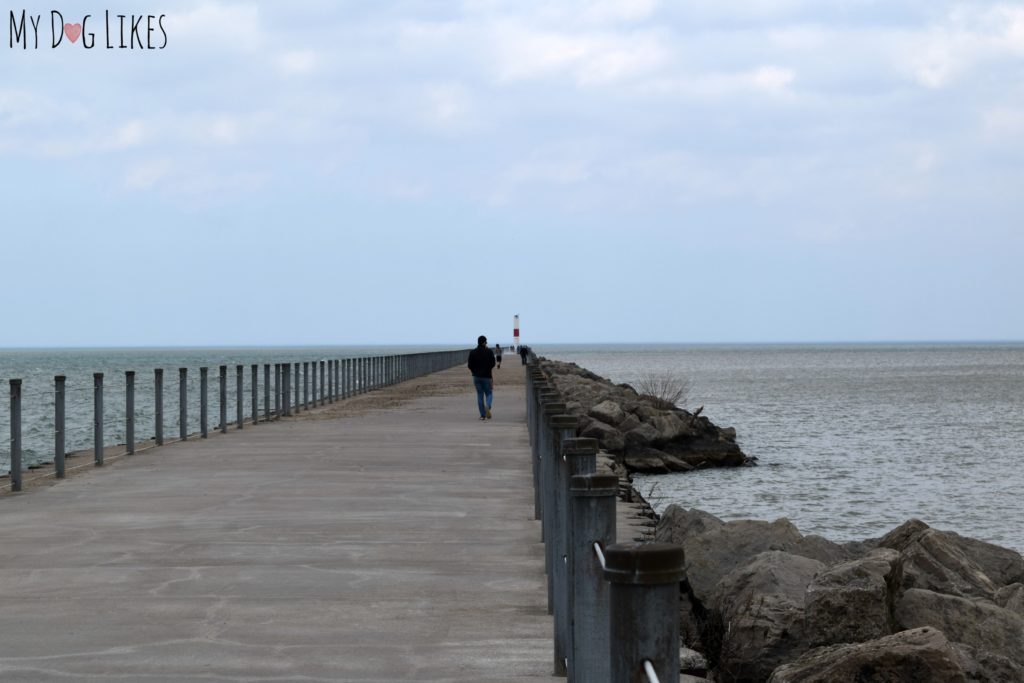 Looking down the Charlotte Pier into Lake Ontario
I met back up with Rach and the pups at the Marina and we began our way back to the Turning Point parking lot. We could not go any further North, and were more than a bit tired anyways! Our entire hike turned out to be just shy of 6 miles round trip.
A Note About Swimming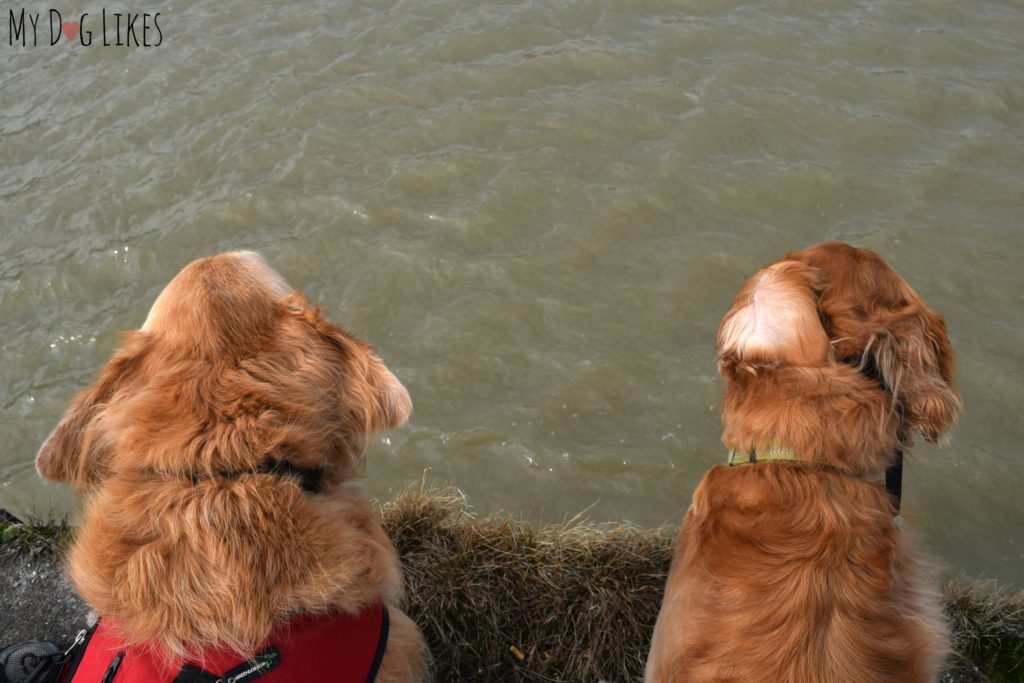 Though there is water everywhere, I wanted to emphasize that Turning Point (and the surrounding area) is not a place to take your dogs for a swim!
Despite the obvious temptation, the current of the Genesee is much too strong! If you are looking for some other spots in the area where your dogs can take a dip we would recommend Mendon Ponds, Corbett's Glen, or Powder Mills Park.
Wildlife at Turning Point Park
During our visit we encountered plenty of ducks, geese, and a pair of swans though I hear this is a great location to catch all sorts of interesting water fowl for those with a keen eye.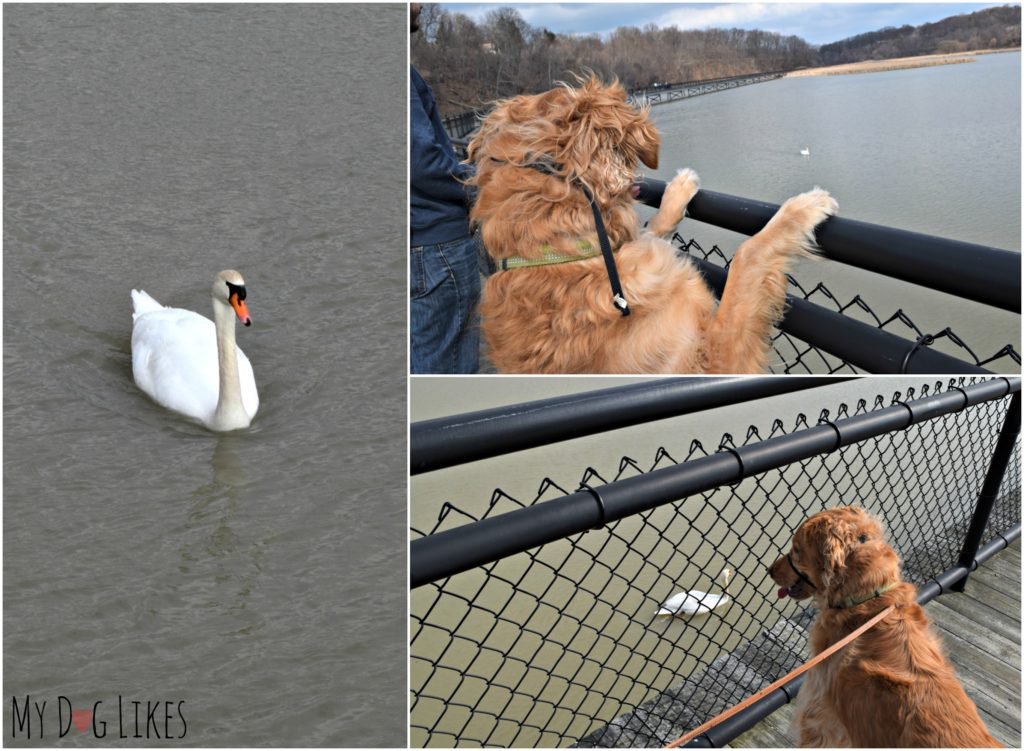 Charlie also really enjoyed watching the swans pass by!
Why MyDogLikes Hiking at Turning Point Park
I am not sure how we had never even heard of this park before our visit this past week!
The boardwalk is beautiful and the park itself extremely peaceful. The pathways are very likely to remain dry and it's proximity to the lake provides a nice breeze to keep the area relatively cool as well – Making it a great place to take your dog at any time of the year.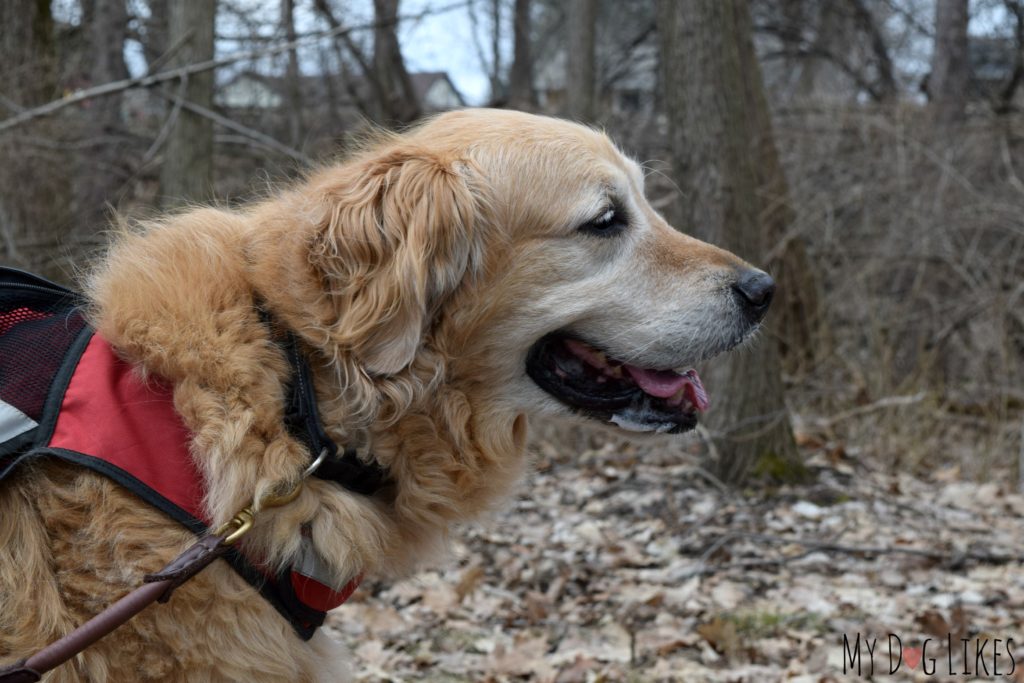 We also loved how Turning Point connects right to the Genesee River Trail and a visit can be turned into a much larger exploration of the Rochester area. The Lake Ontario waterfront seems to be having a bit of a revitalization and we look forward to checking it out in the Spring and Summer when all the businesses are back open and more people are out and about.
Have you ever visited Turning Point Park?