Recently, we shared our experience with an amazing set of bath products from Isle of Dogs. It has now been several weeks since using their shampoo and conditioner, and we are still getting compliments about how soft our boys are EVERY time we take them out in public!
As you can guess, when the time came to get the boys all cleaned up for BlogPaws 2015, we knew exactly which products to use. We made an appointment to see our pal Kara at Pawsitively Pampered Pooch and brought our remaining Isle of Dogs Shampoo and Conditioner along to ensure that our boys were as soft as can be and their skin was free of irritation for the big event!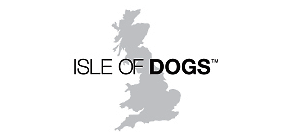 About Isle of Dogs
Isle of Dogs believes that grooming should be a positive experience for both you and your dog. To aid in this goal, they have created a wide range of high quality, safe, and easy to use dog grooming products.
Isle of Dogs Between Bath Products
For some dog moms and dads giving baths is no big deal. When you have two, big, long haired, beauties like ours it takes all hands on deck and quite a  bit of time and energy to get them fresh and clean. Isle of Dogs has already become our go-to for baths, so we were super excited to hear more about the rest of their product line, the between bath products! They were kind enough to send us a sampling of their wipes, conditioning sprays, and odor neutralizers to test out and share with our readers.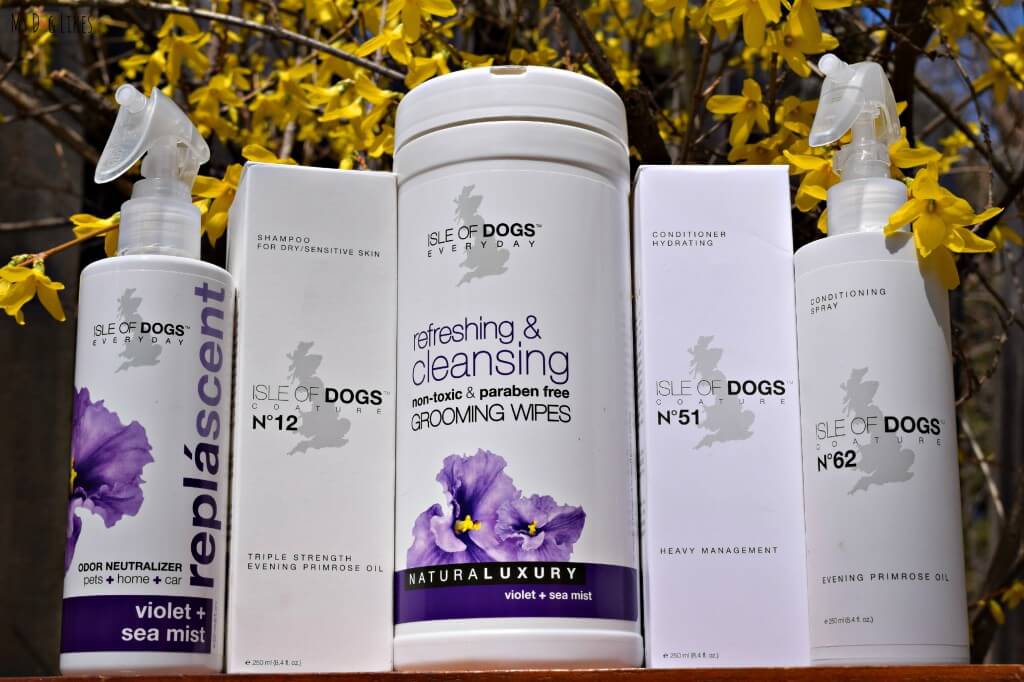 Isle of Dogs Couture Conditioning Spray
One of the biggest problems that we run into between grooming/baths, particularly as coats dry out between washes, are tangles and mats. Harley is especially prone to tangles in his haunches while Charlie is prone in the area behind his ears.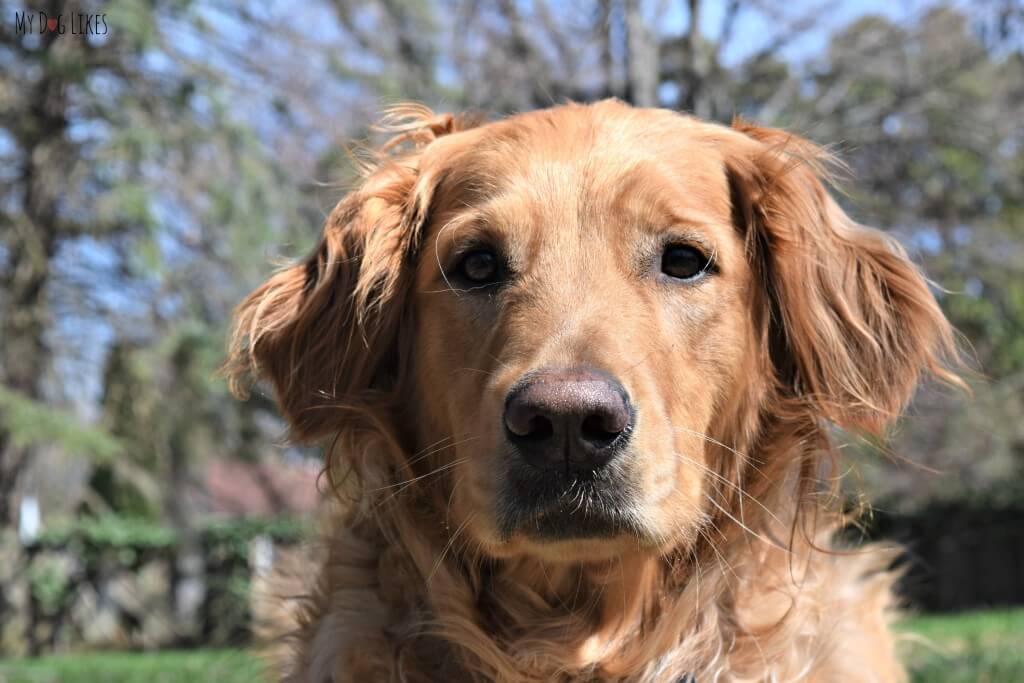 Though our boys are pretty easy going when getting brushed, detangling is certainly an uncomfortable and time consuming experience. Often we are forced to use a fine tooth comb to slowly work through each tangle and mat.

After receiving a bottle of Primrose Oil Conditioning Mist, we were hopeful that we might be able to prevent AND treat the tangles and mats that make our boys uncomfortable. No. 62 Evening Primrose Oil Conditioning Mist combines evening primrose oil and herbal extracts to soothe skin, alleviate flakes, and add shine to dry itchy skin. With a light fragrance, this cold-pressed Primrose Oil Spray, can be used as a daily brushing aid and also between baths to reduce coat odor.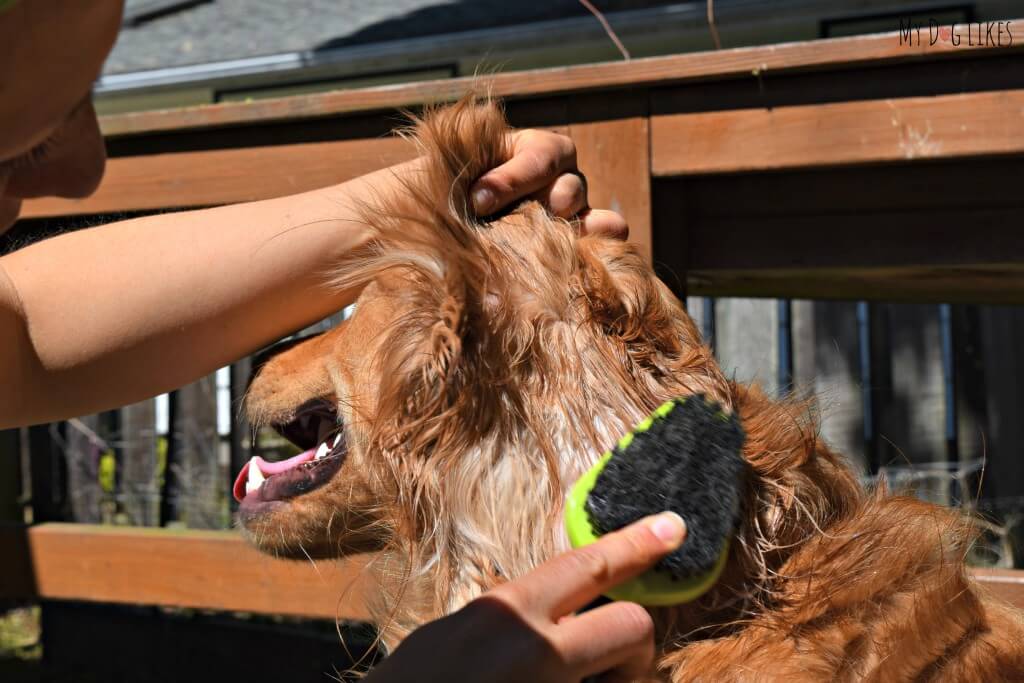 This stuff is tuff…
Though Charlie was a bit skeptical at first he warmed up to the brushing once he realized that the comb would easily pass through his unruly ear hair!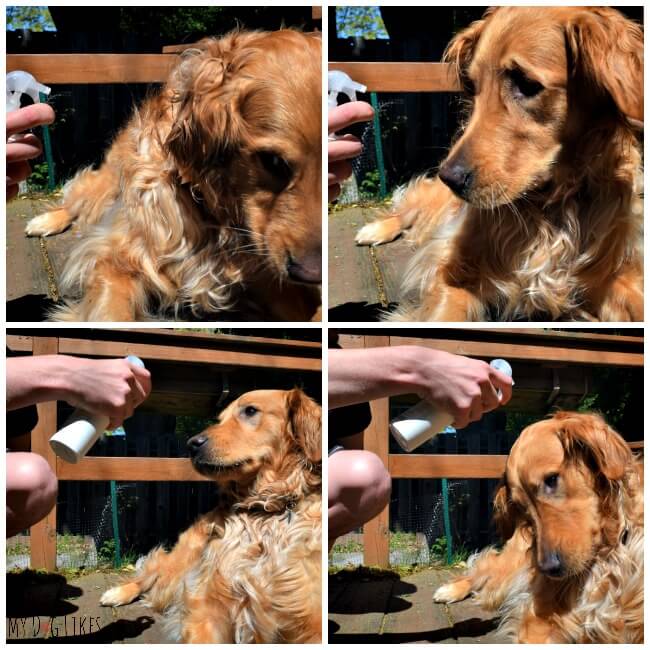 Just a few sprays on those dreadful haunches and behind those stinky ears and the hair easily became untangled. Best of all a few sprays as part of their regular brushing routine and those mats have yet to return!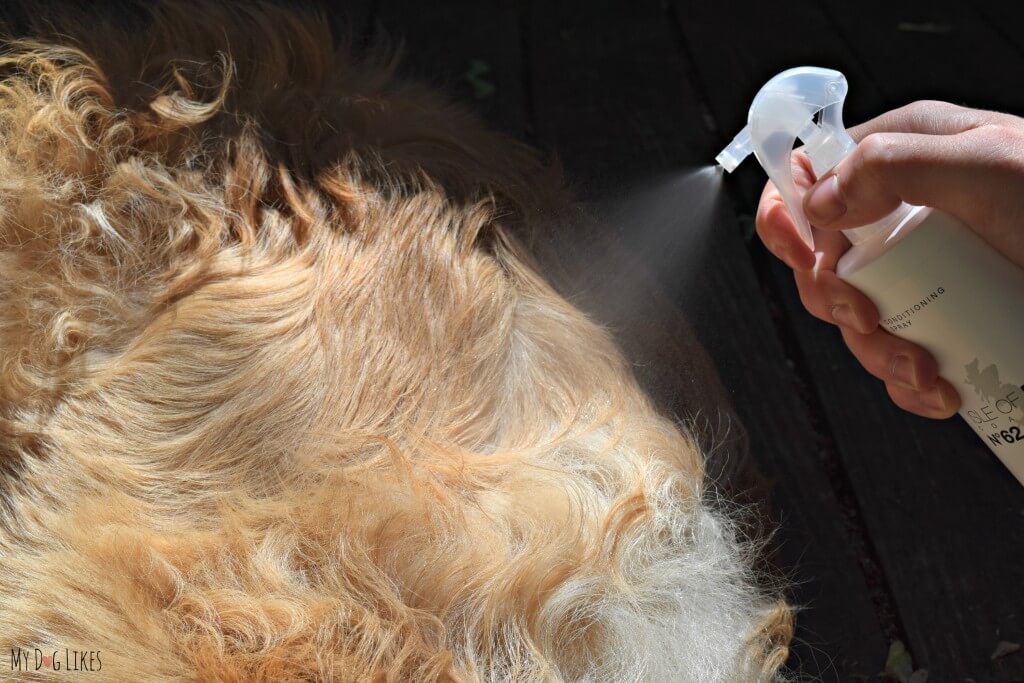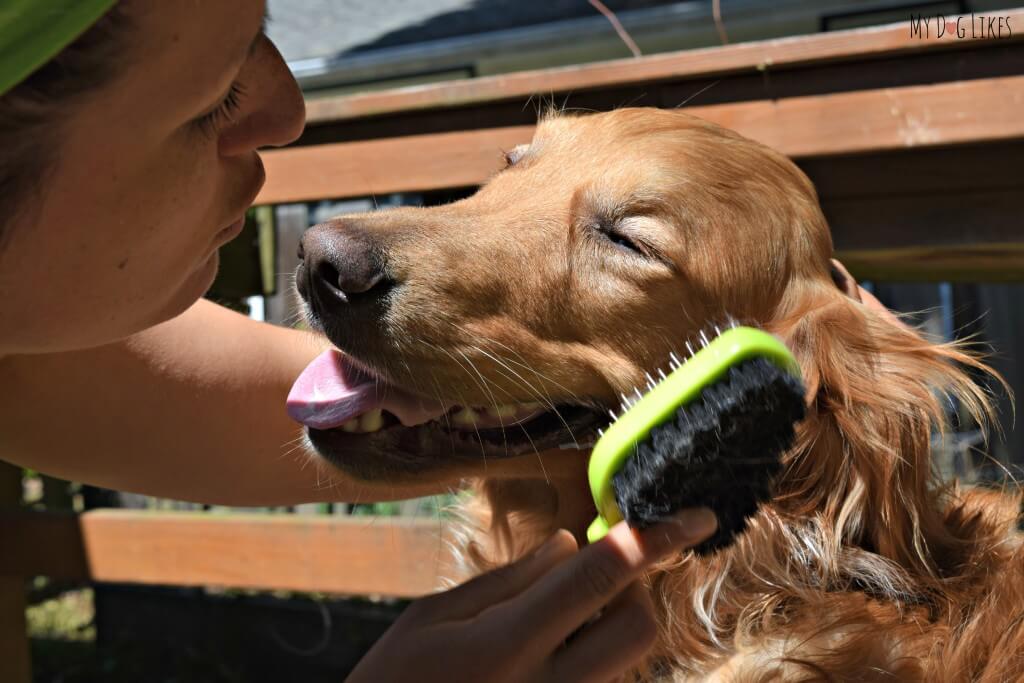 Isle of Dogs Everyday Collection
Designed to meet the everyday needs of pet parents this very affordable line which includes shampoo, conditioner, wipes, and sprays, may save money, but it certainly doesn't cut corners.
So what can you expect?
Only natural based fragrances, long lasting results, and products that are safe for dogs even when applied directly to the skin!
Isle of Dogs Grooming Wipes
Ever think your dog could use a bit of a refresh? As much as we love to snuggle our babies, they tend to get a little stinky over time, especially when they get into things!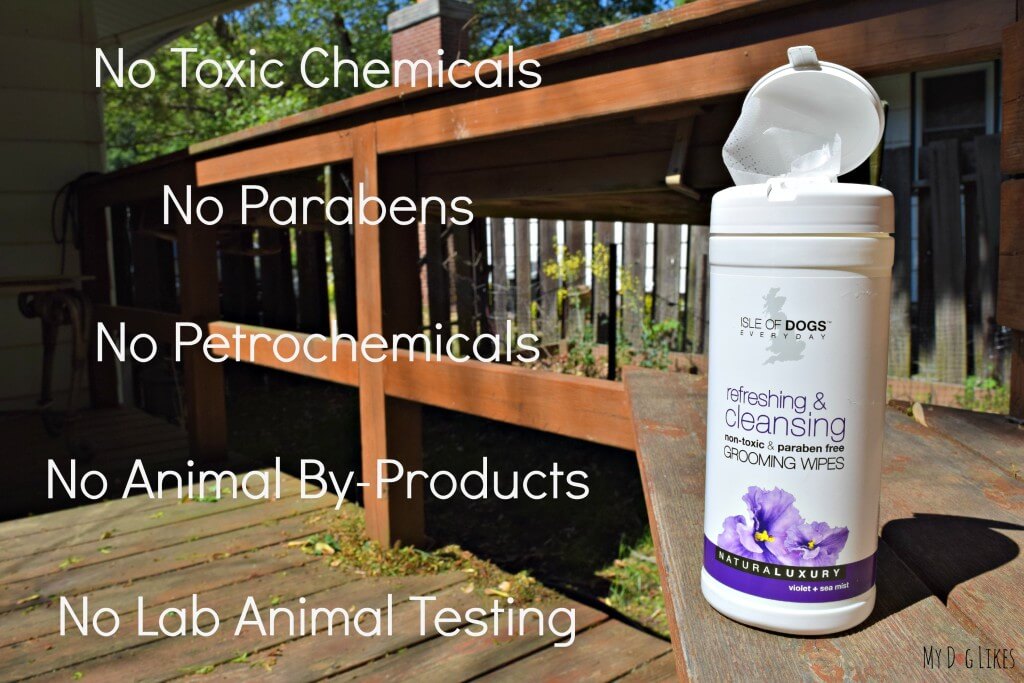 Isle of Dogs Violet and Sea Mist grooming wipes are a convenient between bath deodorizing and conditioning option. These 8"x7" wipes come in a 40 count container and are great for adding just a bit of extra freshness to your pup's coat. Infused with ExtenScent, a natural, odor-neutralizing complex that extends freshness, these wipes are designed to reinvigorate your pup's coat.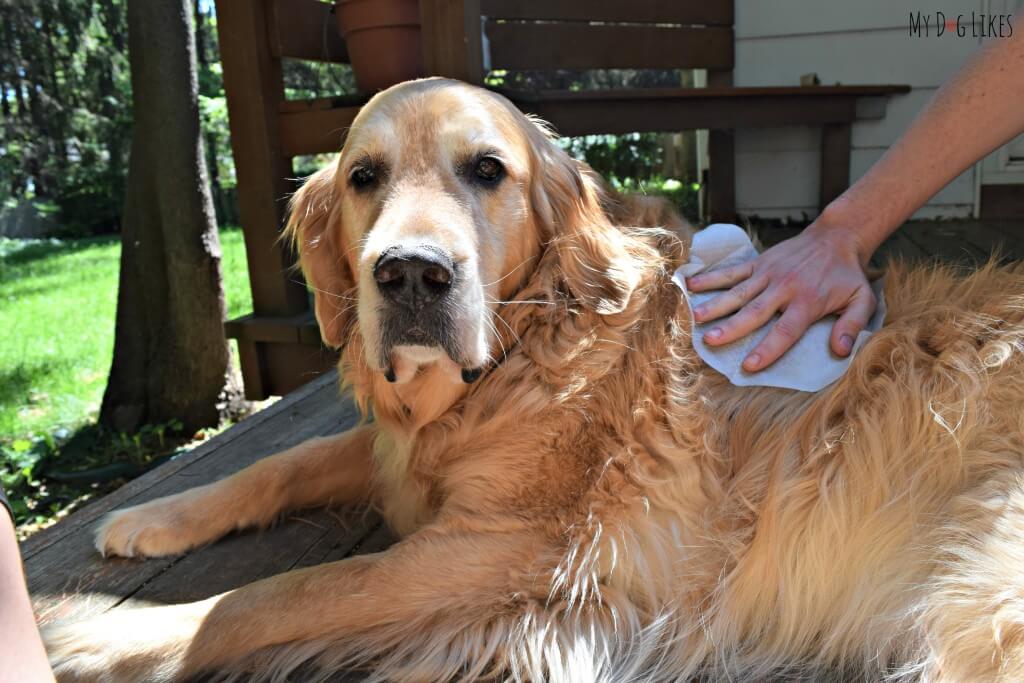 Head, Shoulders, Knees and Toes Paws
Just two wipes per dog did the trick for us. The light odor of these wipes added a refreshing scent to their stinky selves. These wipes were moist enough to cover their big bodies with ease but not so much so as to wet their fur (which can lead to some awkward 80's crimping of the ears). The wipes smell great but are not so strongly perfumed that the boys seemed at all irritated by the scent. If fact, Harley settled right into his aromatic "massage".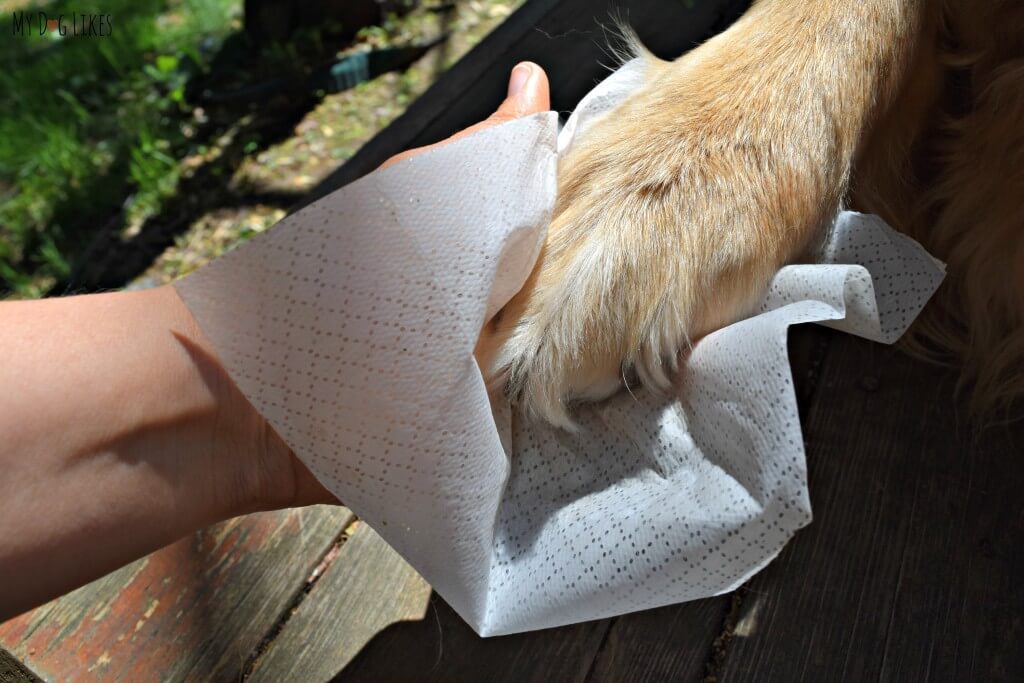 While these wipes could be used to help with muddy paws or stinky messes, they function best as a between bath refresher. I could see these being a great way to refresh your pup's coat before visitors; leaving your guests remarking on your delightfully fresh and soft pooch!
Isle of Dogs Odor Neutralizers
Isle of Dogs Repláscents are odor-neutralizing sprays that can be used around your home AND even directly on your dog's coat. The ability to apply directly to your dog's coat is a major distinction between this product and other odor neutralizing sprays which are not safe for direct application on your pet.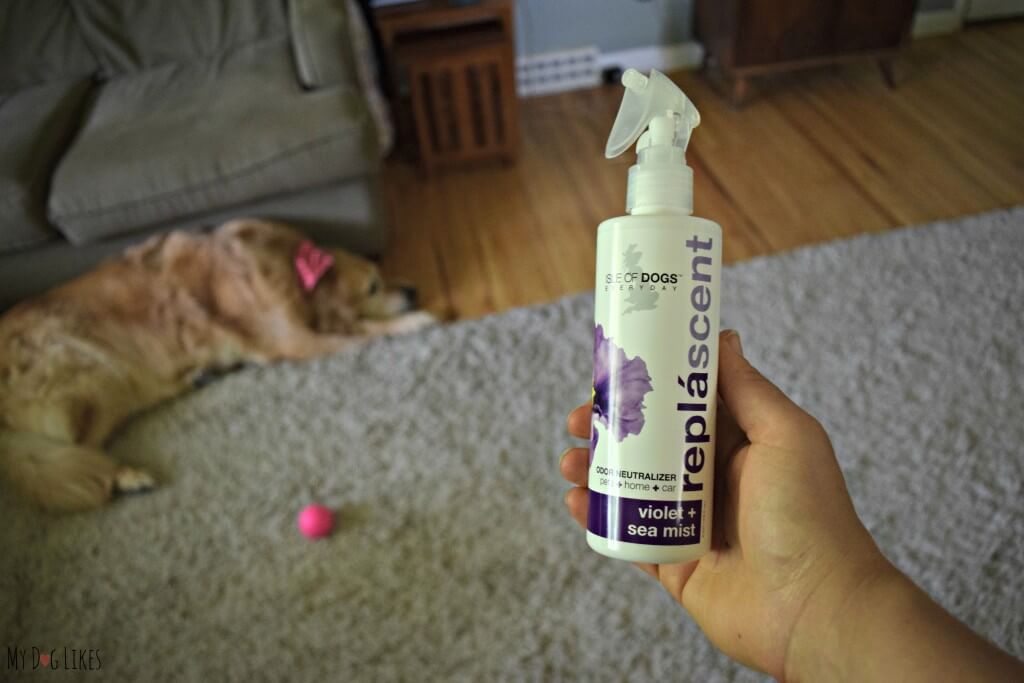 It makes sense though doesn't it? Why not attack an odor problem right at the source!
Isle of Dogs Repláscents come in a variety of pleasant scents including:
Jasmine + Vanilla

Cotton + Fresh Orchid

Red Berries + Champagne

Sugar Cane + Grapefruit

Violet + Sea Mist

Smell this!
Try as you might, it is sometimes difficult to get that "dog" scent out of your home. Of course we don't mind it, but we know that some guests may feel differently! We used the Violet and Sea Mist Repláscent to give our entire home but especially the boys popular lounging spots a bit of a refresh. We hit the couch, the beds (both dog and human), and the living room carpet in particular to put the product to the test.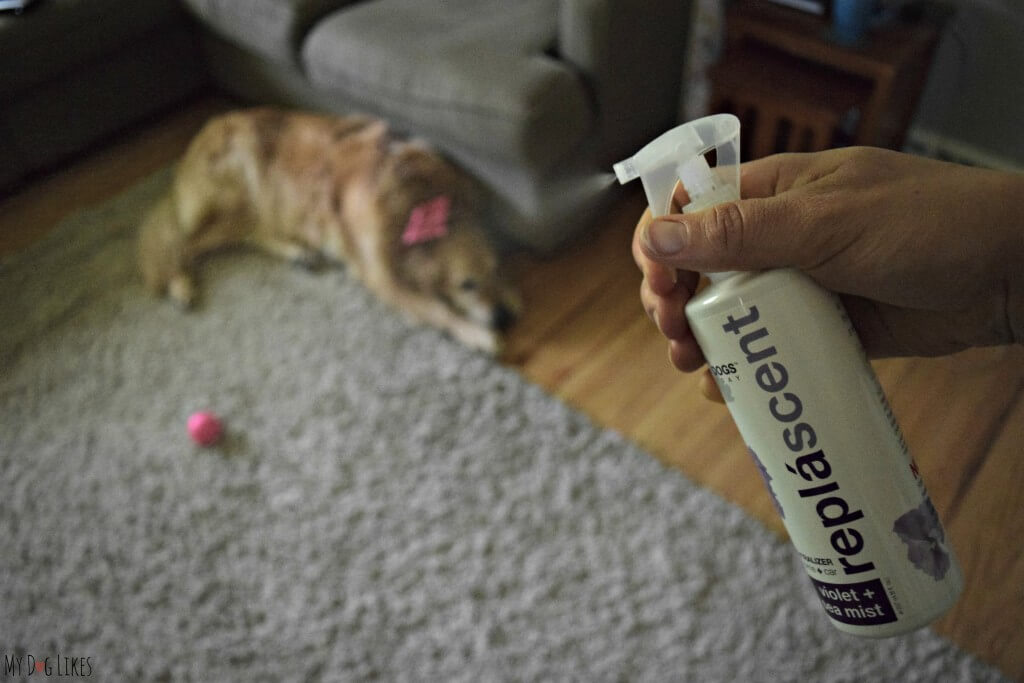 The scent of this spray is strong but not overpowering, which is great because I sprayed a lot to cover our large sectional sofa, area rug, and upholstered chairs! Within about 30 minutes the scent of the spray dissipated and was replaced with a neutral scent, effectively eliminating some of the odors that we have become accustomed to in a house with dogs and cats!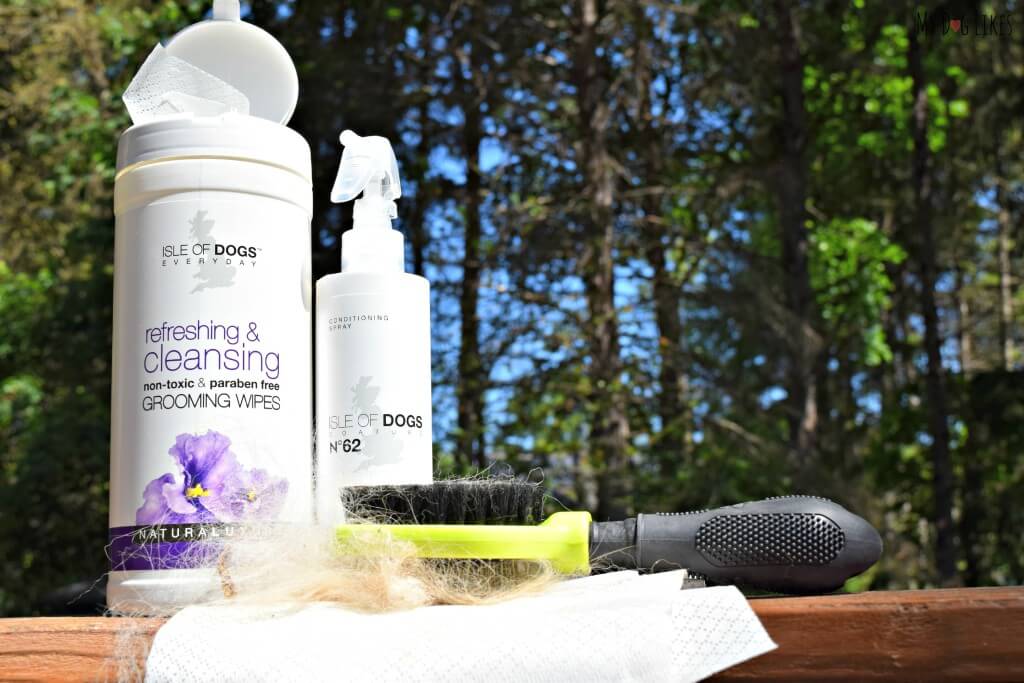 Why MyDogLikes: Isle of Dogs "Between Bath" Products
Proper dog grooming can not simply be confined to the occasional bath or trim. Any dog owner knows that our pups can use a bit of freshening up from time to time. Its easy to feel that no matter how often you bathe them, it's never often enough. For us this is completely true. I love my boys, but I hate walking into the house and smelling them before I get to see their wiggly butts. Worst of all, I hate that their coats dry out between washes leading their luxurious locks to tangle and mat. Once again we were blown away by Isle of Dogs and the exceptional results from their products. Not only did the wipes and odor neutralizing spray help my boys smell a little sweeter, but reduced odors on difficult to wash upholstered furniture, bedding, and carpets. The conditioning spray worked double duty, helping to loosen existing tangles and mats, while playing an important part of their regular brushing regimen to prevent recurrences.  
Interested in trying out Isle of Dogs?