Black Pants.
They don't stand a chance in our home.
No matter how long I wait to put them on before leaving, they will collect an obvious golden weave before I even leave the door. Things don't get any better in the car – where there seems to be an endless swirl of golden locks circulating throughout the cabin.
How on earth do I stay looking (remotely) presentable and professional? Well, the answer used to be sticky lint rollers….lots and lots of them. But I am thrilled to tell you that now we have a better (and more sustainable) solution…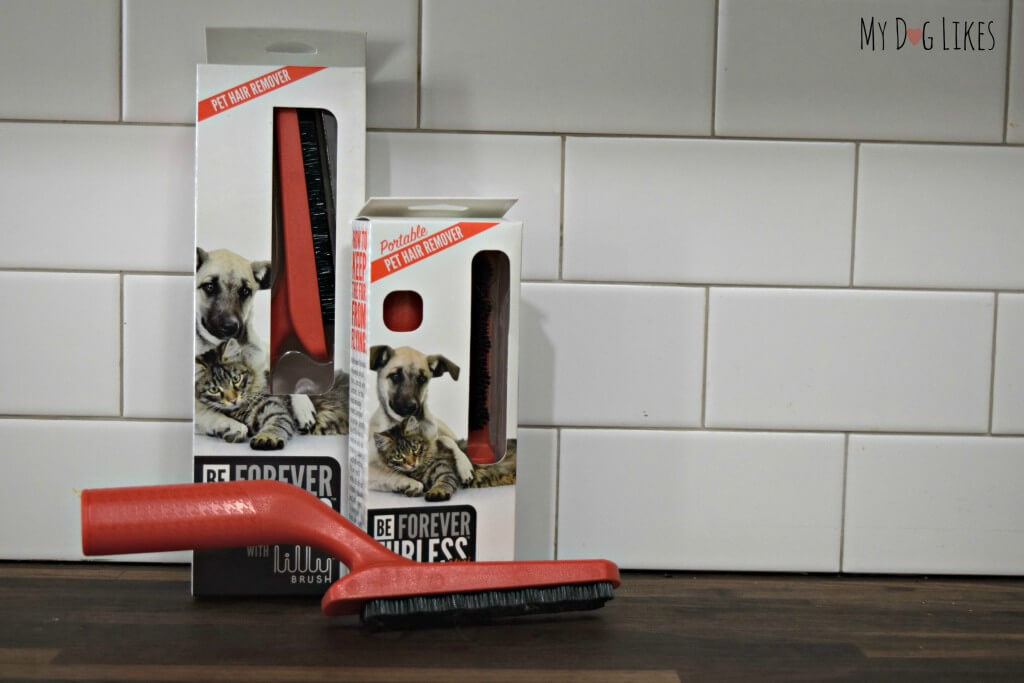 The Be Forever Furless Brush – From Lilly Brush
The Be Forever Furless Brush is a unique brush designed to remove pet hair from all sorts of fabrics and materials. It has specially engineered nylon fibers to be delicate on fabrics and an ergonomic handle for ease of use. There is also a small channel between the rows of bristles which helps to collect and combine hair while brushing.
Click here to purchase this brush on Amazon!
The brush comes in two sizes – a standard and a Mini. The mini brush even comes with a convenient cover making it perfect for a car or purse.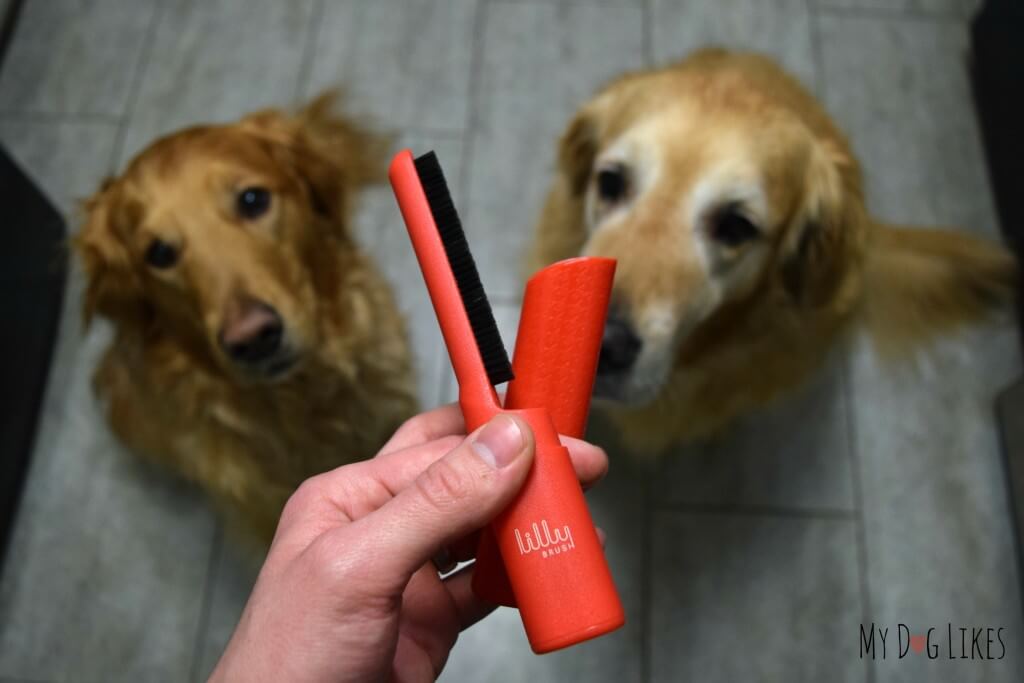 How to Use the Be Forever Furless Brush
The Be Forever Furless Brush can be used dry, but for best results they suggest the following:
Dampen the bristles

Shake off the excess water

Rub briskly over fabric in a back and forth motion
To clean the Be Forever Furless Brush when you are done, wash with soap and water and run your fingers over the bristles to knock out any stuck-in hair.
Putting this Pet Hair Remover to the Test!
We decided to take the Be Forever Furless Brush all over the house to see how it worked on a variety of different fabrics. All of the following tests were performed with a dry brush…
Microfiber Couch
We are not the type of people to exclude our boys from the sofa – they are welcome just as any other family member or guest. Unfortunately, they do tend to leave a piece of themselves behind. The fabric of our couch is a tight microfiber weave that tends to really cling onto loose hairs.
We have tried several vacuums over the years on this couch, and no matter how much time we spend with the various attachments we are always a bit disappointed. We were very excited to see how this brush performed in comparison!

The answer? The Be Forever Furless brush works much better than anything else we have tried – and it takes no time at all! Just run the brush back and forth several times and virtually no hair is left behind. Notice how the hair collects and rolls up? This makes it super easy to pick off and move on to the next section. No wasted time spent struggling to untangle hairs out of these bristles!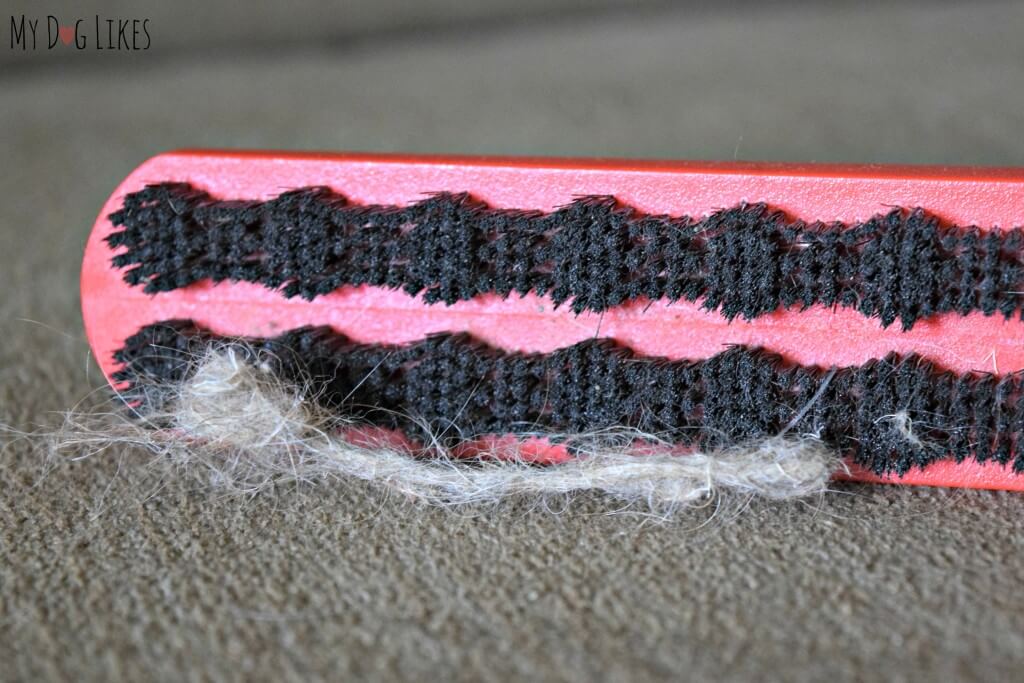 I also love that the handle is offset from the surface of the brush. This gives you room to work and keeps your knuckles clear during use.
Woven Area Rug
Well, I must admit that this one is a bit gross!
We decided to give the Lilly Brush a try on our living room area rug since the golden boys spend so much of their time laying on it. Please keep in mind that we do vacuum this regularly and by all appearances it is kept clean! Just take a quick look at this before and after to get an idea of how well this brush works!

The answer? WOW! Look how much hair the Be Forever Furless brush picks up that our vacuum cleaner left behind! And watch just how fast it works!
I think we have added a new requirement to our cleaning routine!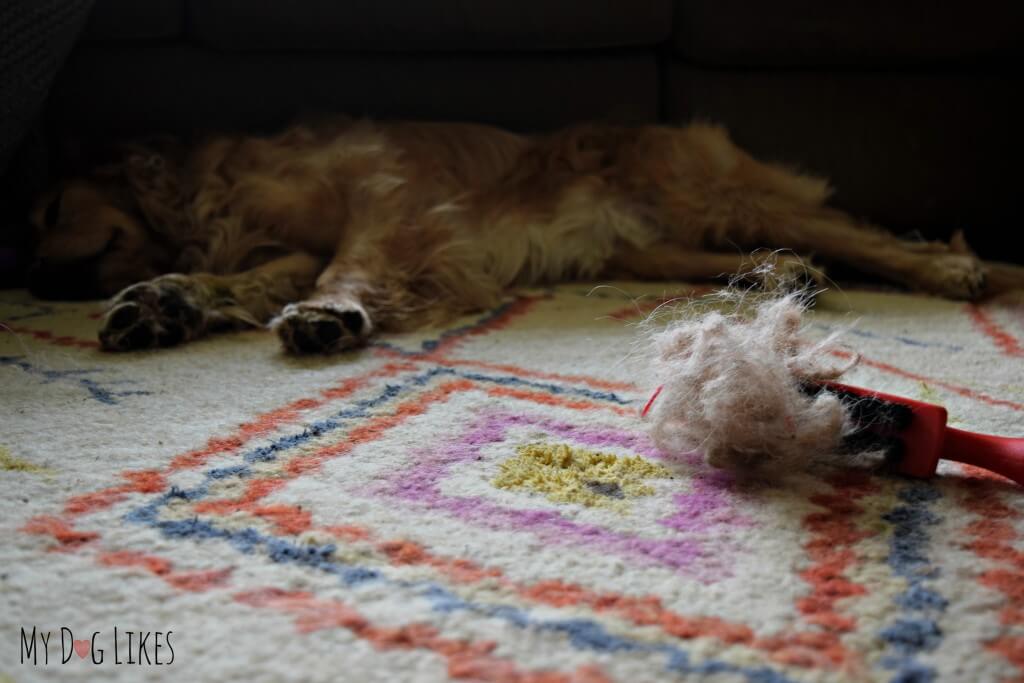 How could there be any hair left ON the dog!
Black Dress Pants
Saving the most critical test for last! Let's see how the Be Forever Furless Brush stands up to the golden hair on a pair of black slacks…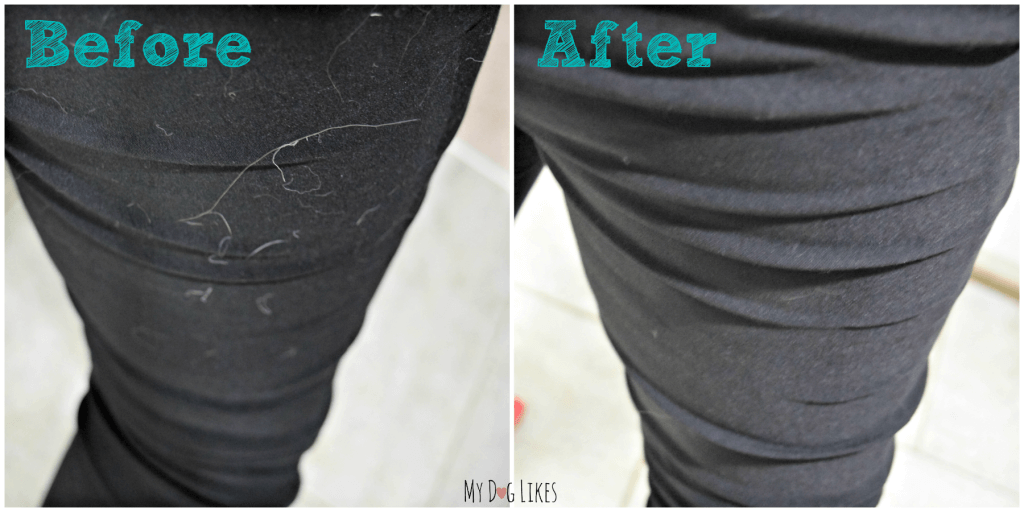 The answer? Very impressive! This test was performed with the travel sized brush to simulate a pre-work de-furring. In just a matter of seconds, all evidence was gone!
I like to keep the boys with me wherever I go, but I think I'll stick to my Golden Retriever necklace!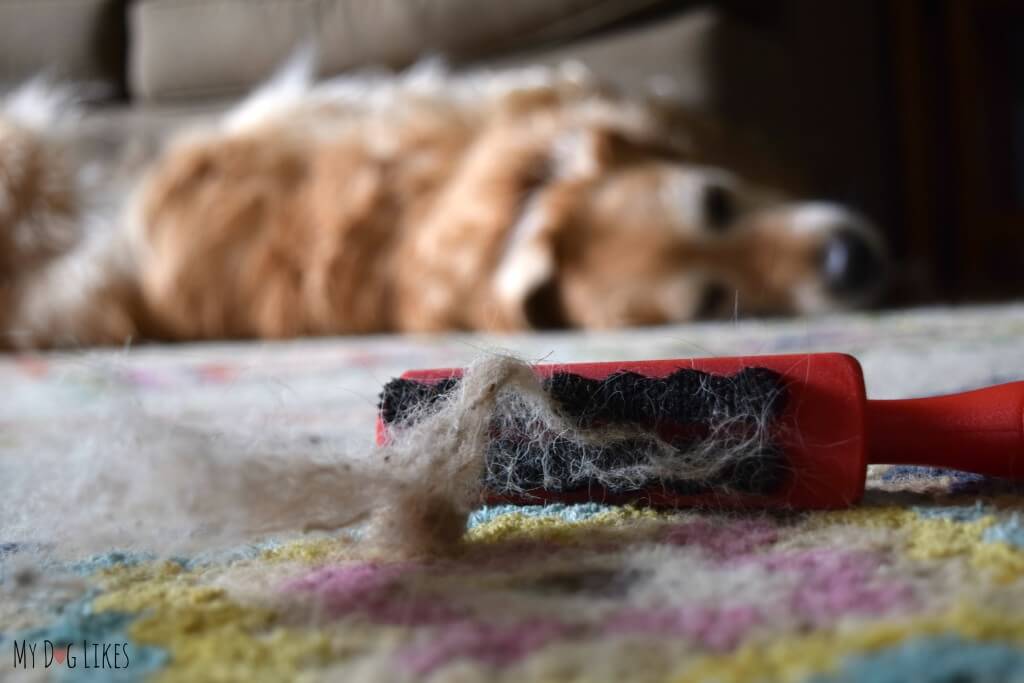 Why MyDogLikes the Be Forever Furless Brush from Lilly Brush
We love that this brush can be used again and again. Sticky lint rollers work well, but they require sheet after sheet to get the job done. We try to be as "green" as possible in our home and hate to create so much waste. The Be Forever Furless Brush is easy to use and easy to clean – making it perfect for daily use. We found that it can handle almost any situation when dry, but getting it damp takes its performance to the next level. Strange as it may sound, this brush works so well that is actually kind of fun to use!
We also love that it comes in a mini version which is great for the purse or the car. This is a pet hair remover that every dog owner needs, and it also makes for an excellent gift!
Want to get your own Be Forever Furless Brush and Mini?