Dogs love tennis balls.
And what's not to love? They are lightweight, high bouncing and far flying. They are also the perfect size for catching and carrying.
Even if your dog is not a fetch fanatic (like our Charlie) chances are that he or she is still a fan of tennis balls. They have just the right amount of "squish" that is extremely satisfying to chew and compress.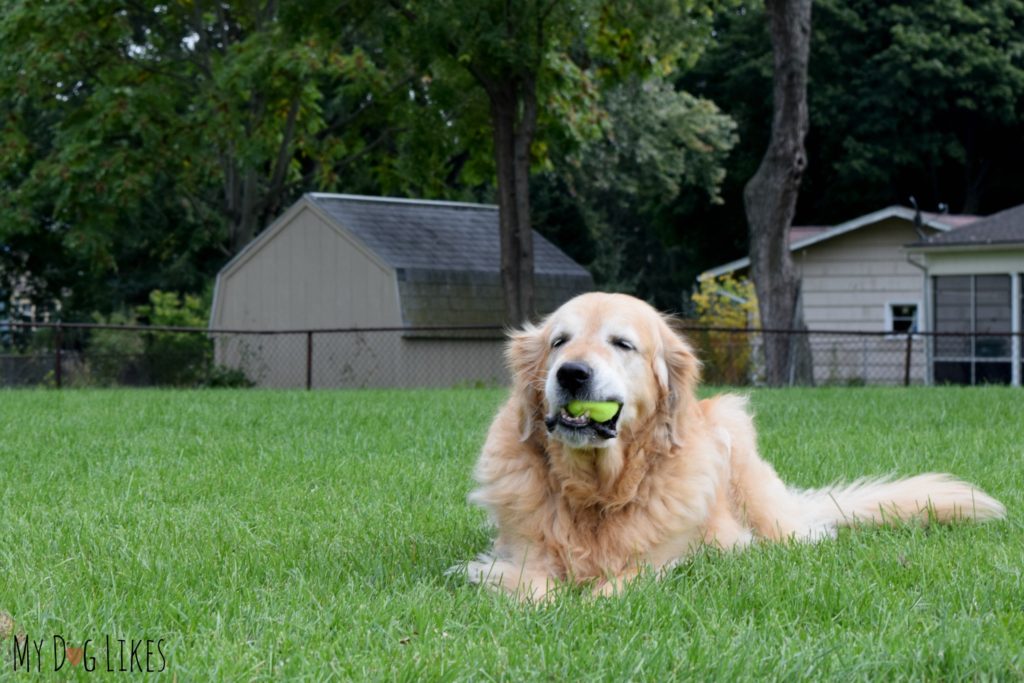 Harley "playing" with a tennis ball in his own way!
No matter how your dog enjoys them, there is one big downside for us pet parents…
The felt that covers tennis balls becomes absolutely disgusting during a play session. You know what I'm talking about – and nobody likes to carry around a wet, slimy and dirty tennis ball!
Introducing the Fetch It Case
The Fetch It is a durable case that holds a tennis ball – so you don't have to.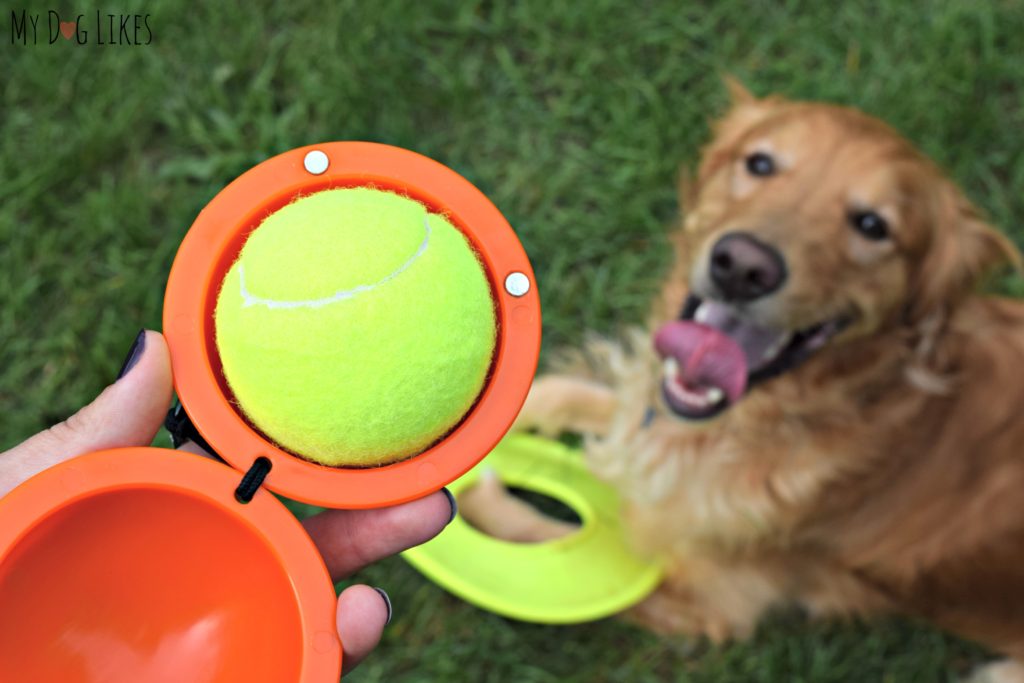 No longer will you need to carry around a slobber covered ball after playing fetch at the park! Just toss it into your Fetch It case and be on your way. The Fetch It can be attached to your leash, belt loop, dog walking bag, or whatever else you are carrying with you. The key thing here is that it doesn't have to go back into your pocket or hand for the rest of the trip!
Fetch It recently sent over a sample for us to test out and share with our readers.

Features of the Fetch It Tennis Ball Carrier
The Fetch It seems pretty simple on the surface but it has some really clever design features that make it even more practical and easy to use.
Durable Plastic Case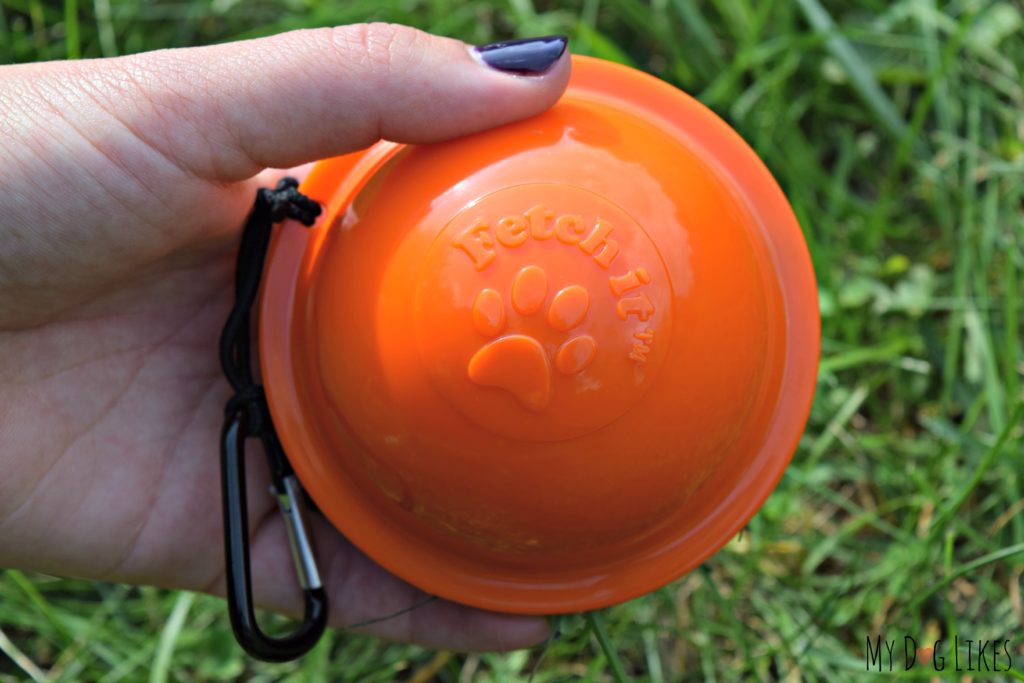 The shell of the Fetch It case is molded from a tough ABS plastic. It is clearly built to last and would not be harmed if you dropped it or stepped on it. We also loved the bright orange coloring which makes it easy to spot should you set the Fetch It down in the grass during play.
Last but not least, the product is completely washable. If it gets smelly, stinky or gross, just give it a quick rinse in the sink!
Carabiner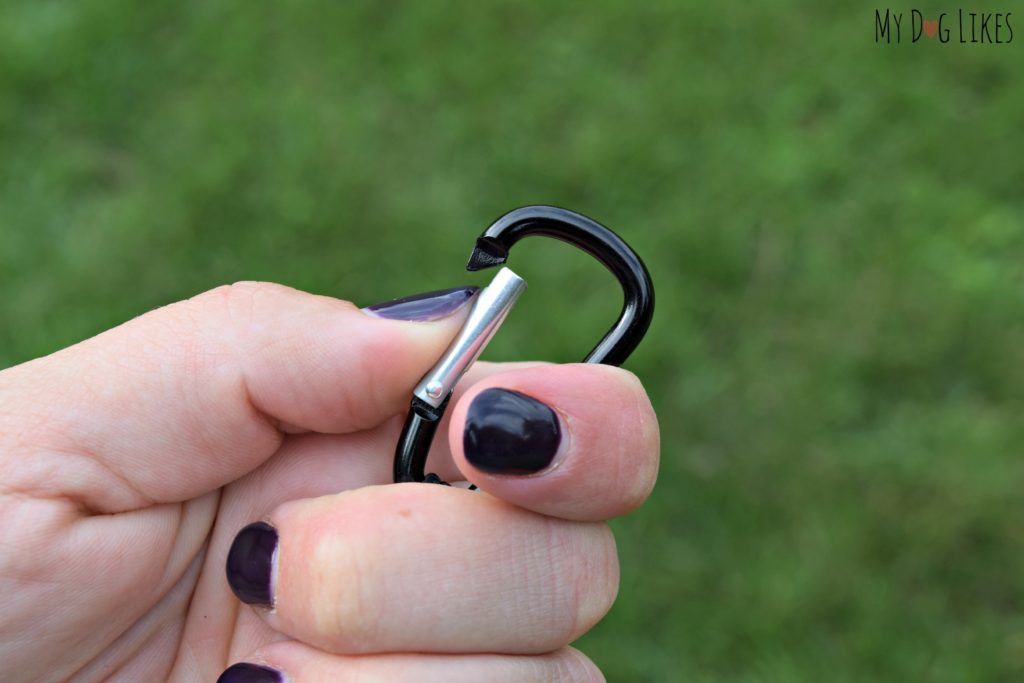 The Fetch It case is attached to a small carabiner making it simple to clip onto to a leash, bag or whatever else you bring along on daily walks. We also love this feature because it helps assure you will always have a ball with you should the opportunity for fetch arise!
I have even tried attaching to my belt loop and found that it wasn't at all obtrusive on my walk.
Magnetic Clasp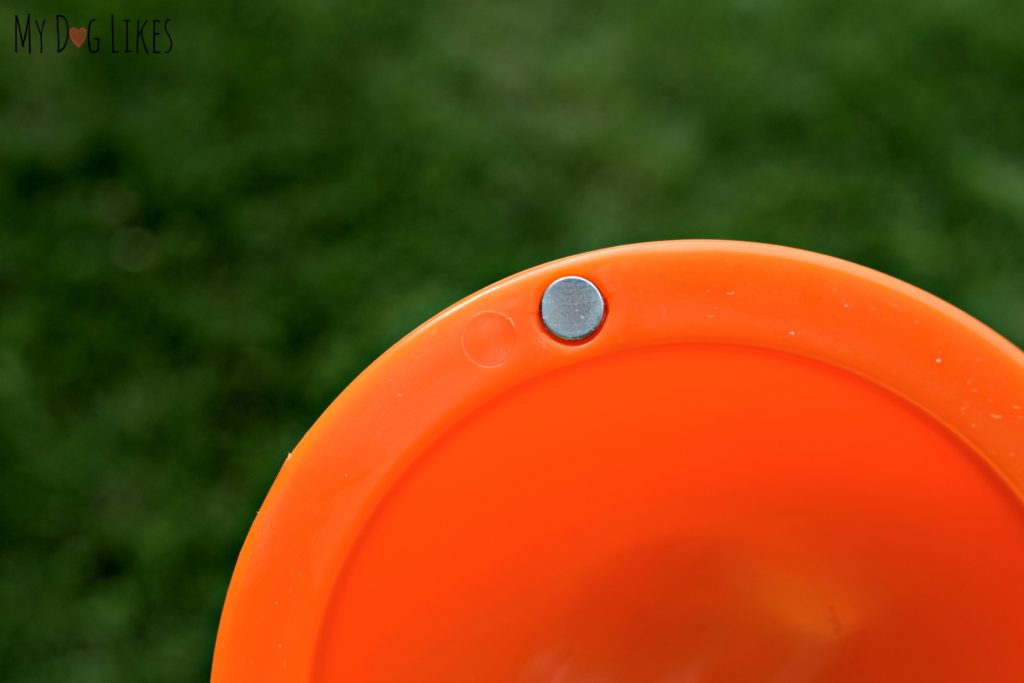 Two strong magnets are embedded into the edge of the case to make it align and close on its own. This is great because you don't need to fumble around with a clasp, and even though it is technically 2 separate pieces, you don't have to worry about lining it up either.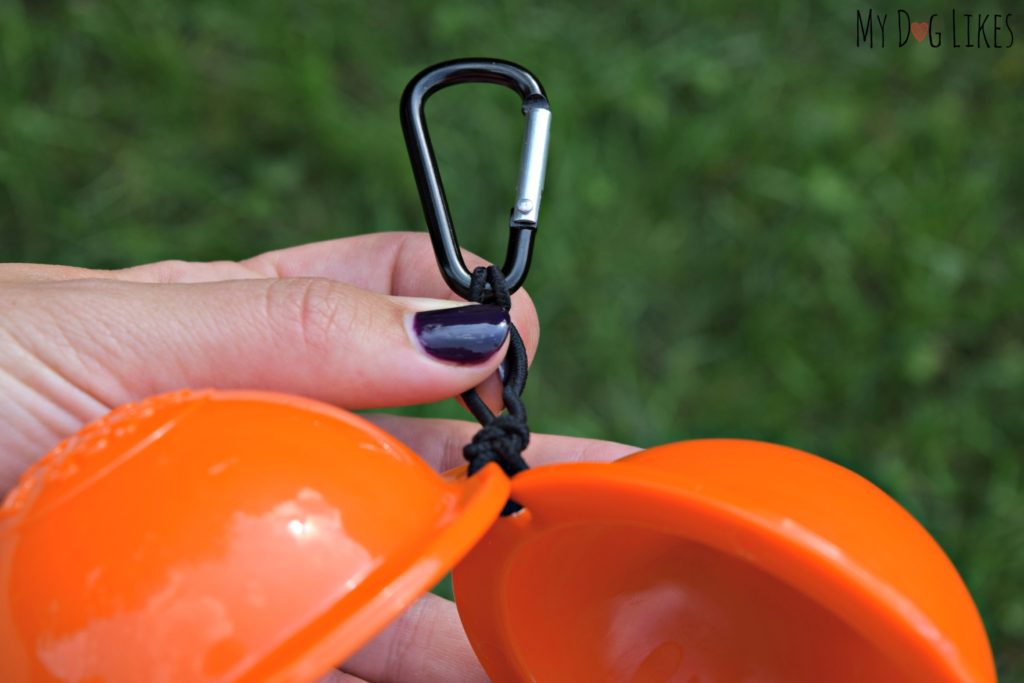 The string that is attached to the carabiner is also looped through one end of the case and acts as a built in hinge.
Tennis Ball Included
Bonus! For fetch hounds like Charlie, the fact that they have thrown in a tennis ball  in is just the icing on the cake. You can simply never have enough in your stockpile!
Fetch It Case Review – Putting it to the Test
Initial Thoughts
We were really pumped when our Fetch It case arrived in the mail. Taking it out of the box, we immediately loved the bright orange color and it could tell that it was well made. The plastic is tough, durable and clearly built to last.
We were also very impressed with the strength of the magnets inserted into the edge of the case. By simply bringing the 2 sides anywhere near one another, they will automatically align and snap together.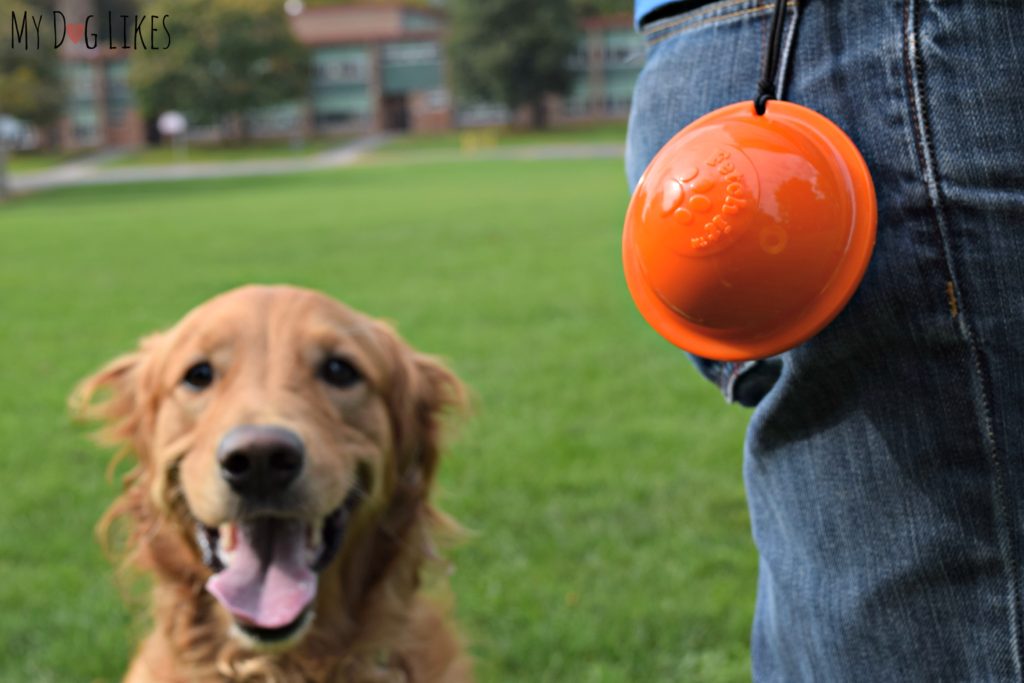 Eager to test it out, I clipped the caribiner onto my belt loop and we headed right out for a walk. We have talked a great deal about Charlie's favorite frisbees, but it should be known that he has a similar obsession with tennis balls.
Playtime!
We met one of his doggie friends at the park and the two of them spent more than a half hour chasing tennis balls (and each other.) Harley even got into the action a bit!

As you can imagine, by the time we were ready to head home this ball was soaking wet. The last thing we would want to do was carry it all the way home in our hands or put it into our pocket!

So with our new Fetch It in tow, we simply reached down, scooped up the ball and were on our way! No need to even touch it one last time, let alone carry it!
We thought that Fetch It struck a great balance with the strength of their magnets. They attract without needing to be too close, and they remain engaged though the swinging, bouncing and jostling of a walk.
On the other hand, it is not too difficult to separate the halves when you want to take out the ball to play. We found that a simple twisting action was actually perfect to separate the pieces.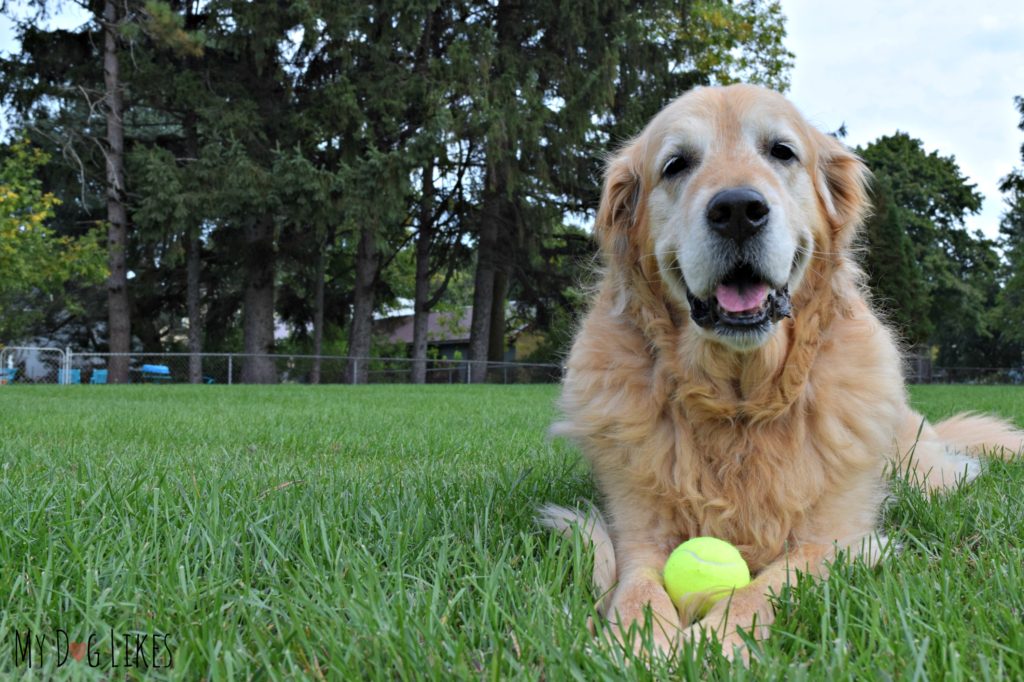 Fits Multiple Types of Balls
We also liked that the Fetch It case was designed in a standard size allowing you to use it with other kinds of balls. For example, Charlie is a big fan of the Chuck It brand balls because they are so bouncy! We like those balls because they do not have a felt cover that can be torn off and do not split down the middle like a "well loved" tennis ball. We were happy to see that the Fetch It case easily worked with our favorite ball too!
Why MyDogLikes the Fetch It Case
The Fetch It is yet another great lifestyle accessory that makes things just a bit easier and more convenient for pet parents. Solving a problem that you may have never thought about before….but now that you have, will wonder how you ever dealt with in the first place!
Not only do we no longer have to put up with carrying a disgusting tennis ball in our hands or pockets, but since the Fetch It can be attached to any leash – we will never forget a ball on our walks.
We would highly recommend the Fetch It case to anyone with a ball motivated dog!
Want to pick up your own?