An Opportunity
At the BlogPaws 2015 Conference in Nashville, TN,  we were invited to attend a VIP luncheon hosted by PetSafe®. At this luncheon we learned all about PetSafe and the great products that they make including Busy Buddy® Toys, Pet Fountains, Harnesses/Leashes, and so much more!  Imagine our surprise when at the end of the luncheon MyDogLikes was surprised with a $500 gift card to use however we wanted (OMGEEEE).

My head started spinning, PetSafe makes so many great products, how would we decide? I knew we could review/ giveaway lots of fabulous stuff to our readers, but I thought this was a great opportunity to pay it forward.
I contacted Lollypop Farm, the Humane Society of Greater Rochester, and asked them what they needed. Their answer, Busy Buddy Toys for their Behavioral Enrichment Program! Perfect!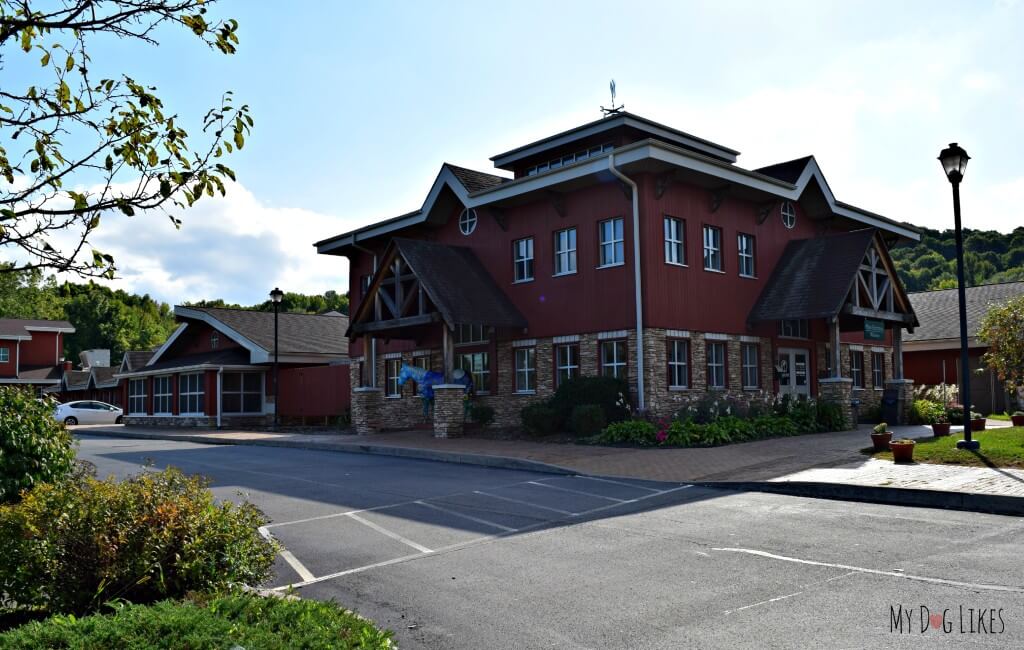 Behavioral Enrichment?
Not really sure what that means? Don't worry, I didn't know much about the behavioral enrichment program either which is exactly why I came in to Lollypop Farm to speak with Behavior and Training Manager, Rebecca Lohnes!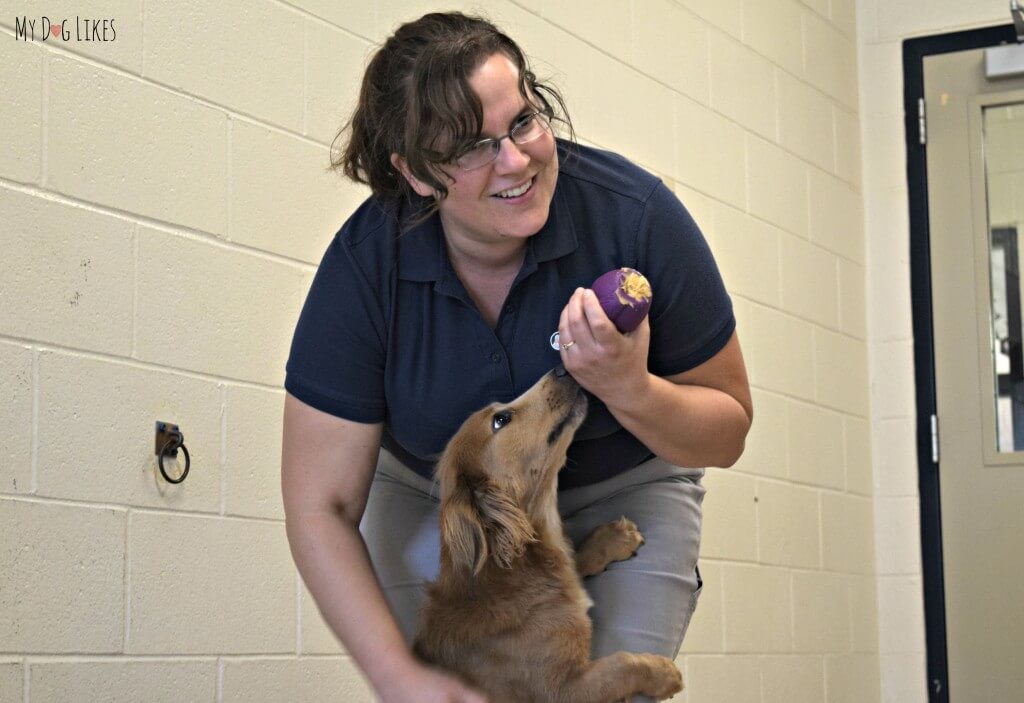 The Behavioral Enrichment Program at Lollypop Farm was originally developed with the aid of Kelley Bollen, MS, CABC, a graduate of Cornell University's College of Veterinary Medicine. Since its inception the program has grown and continues to evolve as staff at Lollypop Farm look for ways to provide rich and varied experiences that help the animals to become more adoptable.  
Why do shelters need Behavioral Enrichment Programs?
There is a misconception out there that dogs that are in shelters are "broken"; someone else's' discarded dog with behavioral problems. Unfortunately, this stereotype is sometimes perpetuated based on the behavior that potential adopters see when walking through kennels. Says Lollypop Farm's Vice President and Chief Operating Officer, Gillian Hargrave:
"A dog has less than three seconds to make an impact on someone. Some are really nice dogs, but they are so stressed they can't present themselves well to prospective adopters."
Unfortunately, this stress typically presents as barking, whining, and throwing of their bodies at the kennel doors. As it was explained to me, these pups are looking for comfort and attention in the only way they know how.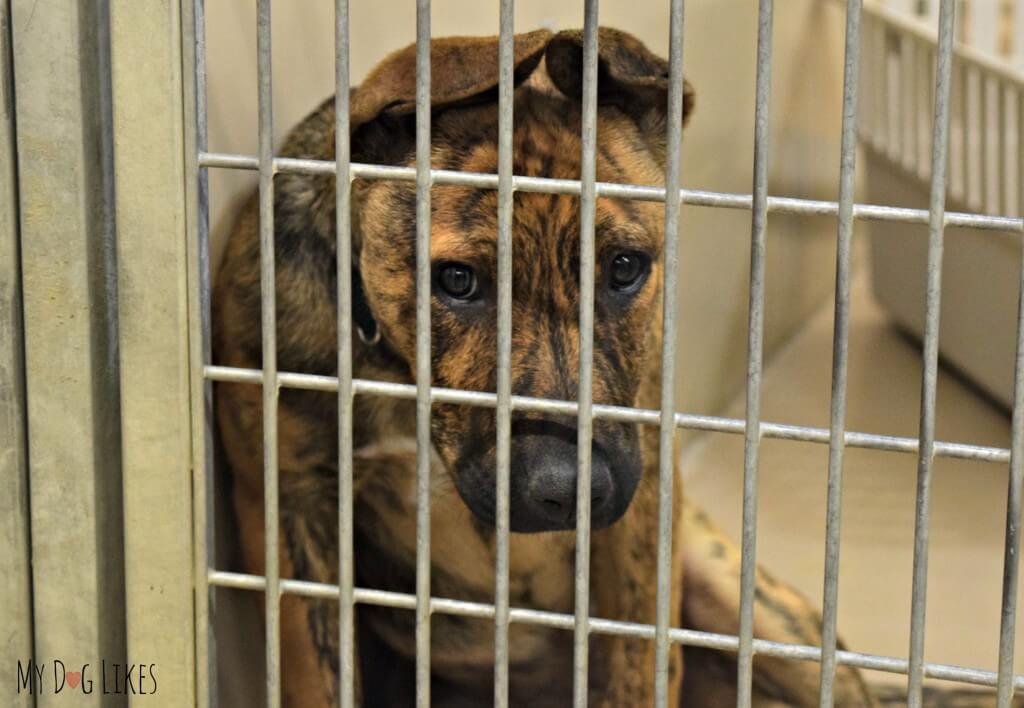 Despite the efforts of volunteers and staff, the environment in a shelter is not natural and many animals feel uncomfortable and confused in their kennels. This behavior leads potential adopters to bypass these animals, labeling them as too excitable or difficult to handle.
Natural Environment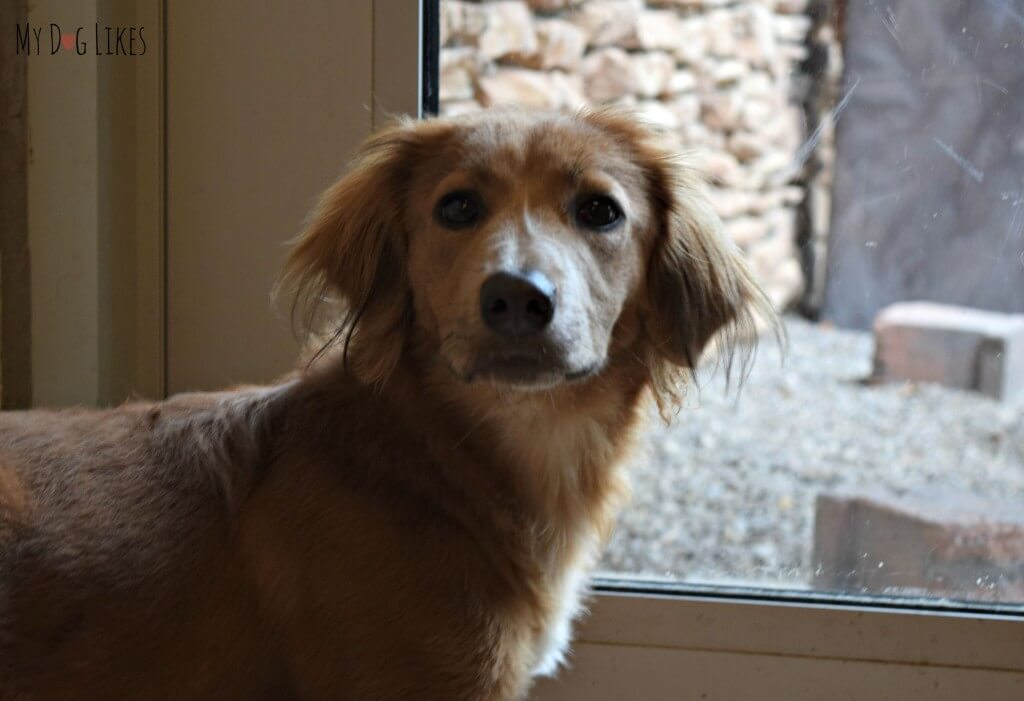 Consider for a moment how rich and varied a dog's day can be at a home. Between walks, window watching, visitors, and baskets of toys to rummage through, a dog in a home has the opportunity to be him/herself, exploring the environment and all of the things in it when he chooses. Now consider how that compares to the four walls of a kennel. Constraints such as time, staff/volunteers, physical space, behavioral needs, contamination risks, and safety, significantly limit the experiences of a dog. Dogs who are especially sensitive to their environment or who spend a significant amount of time in a shelter can experience cognitive and behavioral changes as a result.
What is the answer?
The dedicated volunteers and staff at shelters work day in and day out to create an enriching environment for shelter dogs so that they can be happier and more cognitively and physically stimulated while awaiting their forever home. Lollypop Farm, like many other shelters across the country, understands the importance of creating an atmosphere that mimics the natural environment and offers varying intellectual experiences. Instituting behavioral enrichment programs is one of the best ways to ensure happy, healthy, and highly adoptable dogs!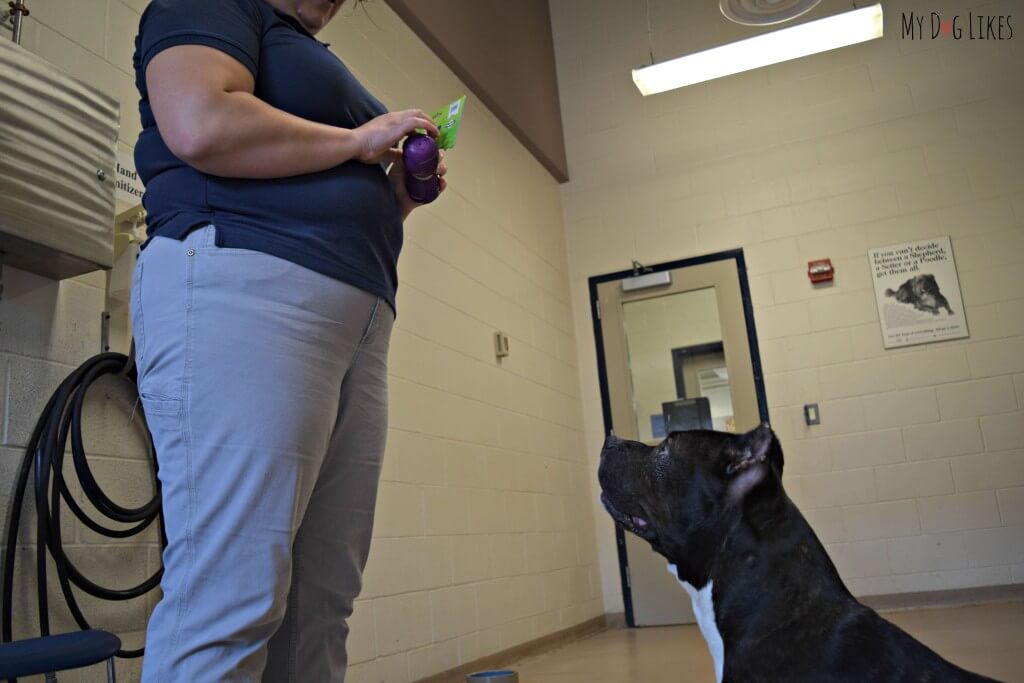 As part of the behavioral program all dogs who are up for adoption receive some basic obedience training, regular outdoor time, and daily walks. Recognizing that the shelter environment is not a natural environment, the enrichment program at Lollypop Farm helps to provide varied intellectual experiences.
Aspects of Behavioral Enrichment: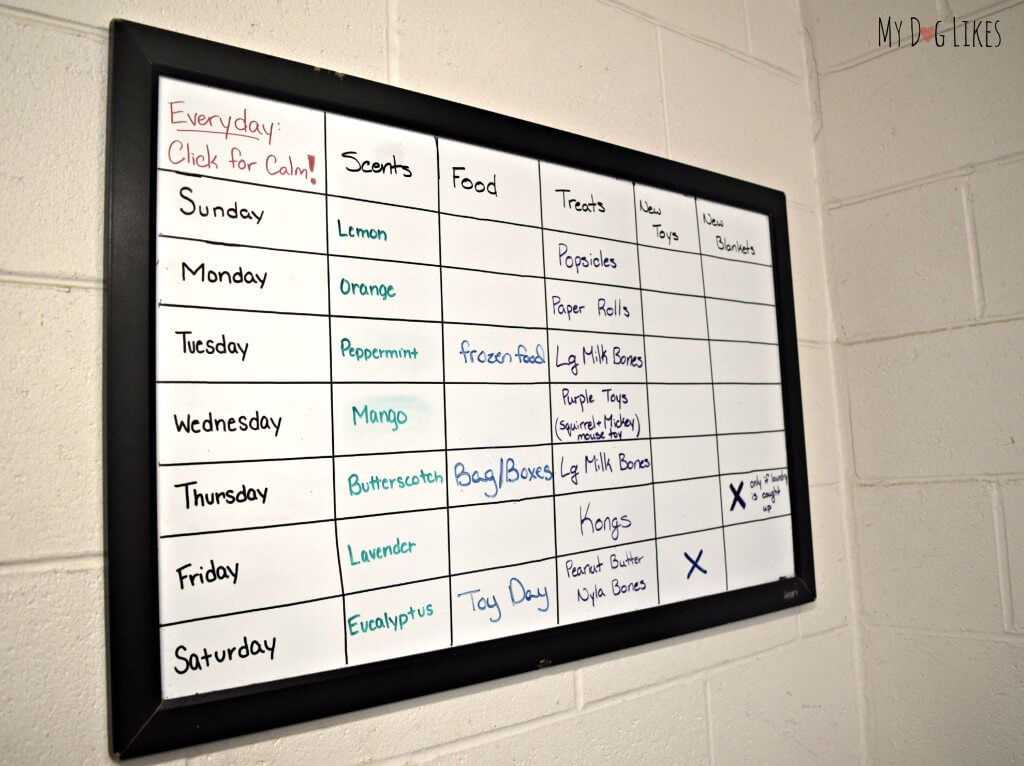 Scents– Dogs love to sniff and have up to 300 million olfactory receptors in their noses (compared to about 6 million in humans). Dogs explore their environment with their noses providing lots of mental stimulation for them. In order to provide varied olfactory experiences for pups in the shelter, Lollypop Farm sprays different scents in the kennels everyday!  
Sounds–Whether the sounds of the neighborhood, the TV, or radio, dogs are sensitive to the noises in their environment. Dogs not only have a larger range of frequencies they can hear, but their ears contain more muscles allowing them to locate sounds better. You probably know someone who leaves the radio or TV on for their dogs during the day (it might even be you). This is something that Lollypop Farm does, playing music/talk radio and more recently experimenting with televisions on carts for pups who like to watch their morning soaps!
Action–While physical exercise outdoors is important, puzzles and interactive dog toys can also play an integral role in keeping dogs stimulated. Using lots of variation in treats and helping dogs explore and locate these treats is just one way that Lollypop Farm provides some extra fun for the pups. Paper lunch bags and cardboard boxes/tubes are an easy and inexpensive way to provide some exploratory fun.
Heavy duty dog toys, like PetSafe's Busy Buddy line are also popular because they can be reused and also hold treats inside. As dogs work to get at the goodies inside, they are forced to really stretches those doggy brains! The only drawback is the cost for a lot of shelters.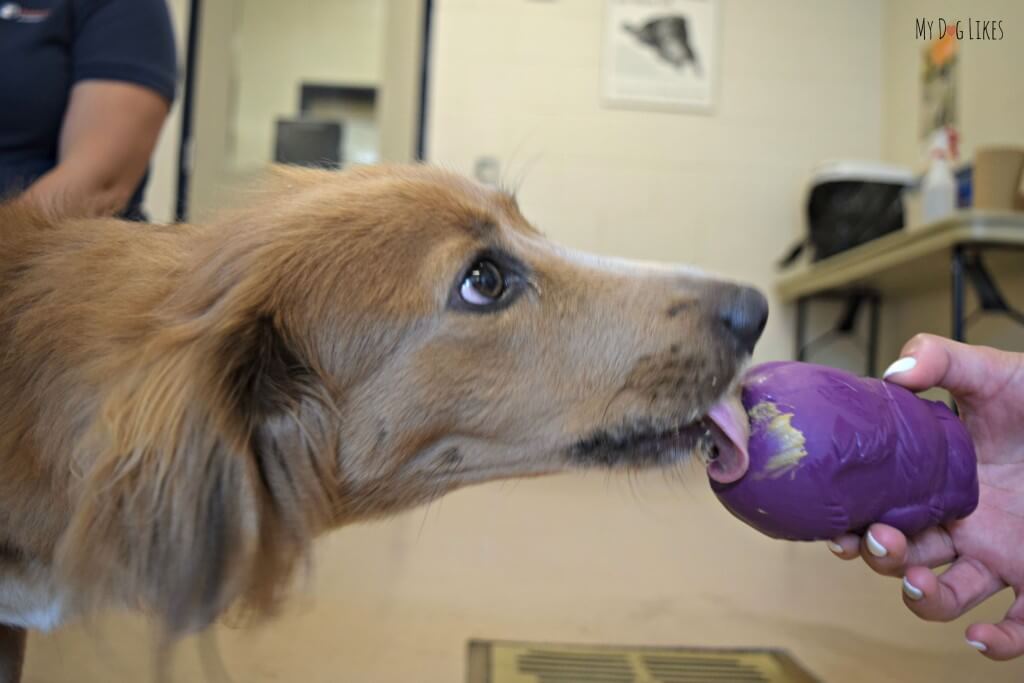 Here comes the FUN part!
PetSafe to the Rescue (literally)!
Using $250 of my very generous PetSafe gift card, I made a large purchase of Busy Buddy dog toys for Lollypop Farm. Shortly after placing my order, the goodies arrived and I was off to Lollypop Farm! With a box of Busy Buddy Toys in hand, I recruited help from two very happy and sweet doggy volunteers, Dixie (adopted) and Keira Bell (available-and oh so sweet!).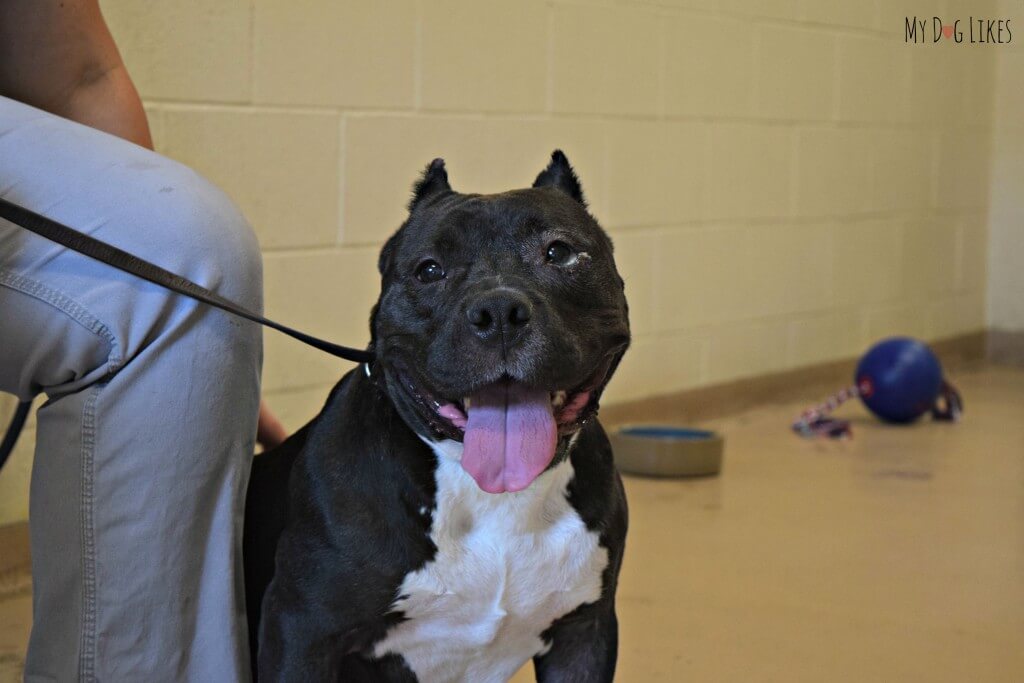 It was time to see behavioral enrichment in action!
Busy Buddy Dog Toys
Busy Buddy Toys are made out of a unique vanilla scented rubber that can stand up to some pretty serious fun! The entire line of Busy Buddy toys come in various sizes for our petite and extra large friends. These toys also come in various "chew strengths" providing options for our dainty friends and power chewers. These two features help pet parents to make good choices for their friends based either on dog size or the power of their chew. We love this feature because it can be customized for your dog and his/her habits.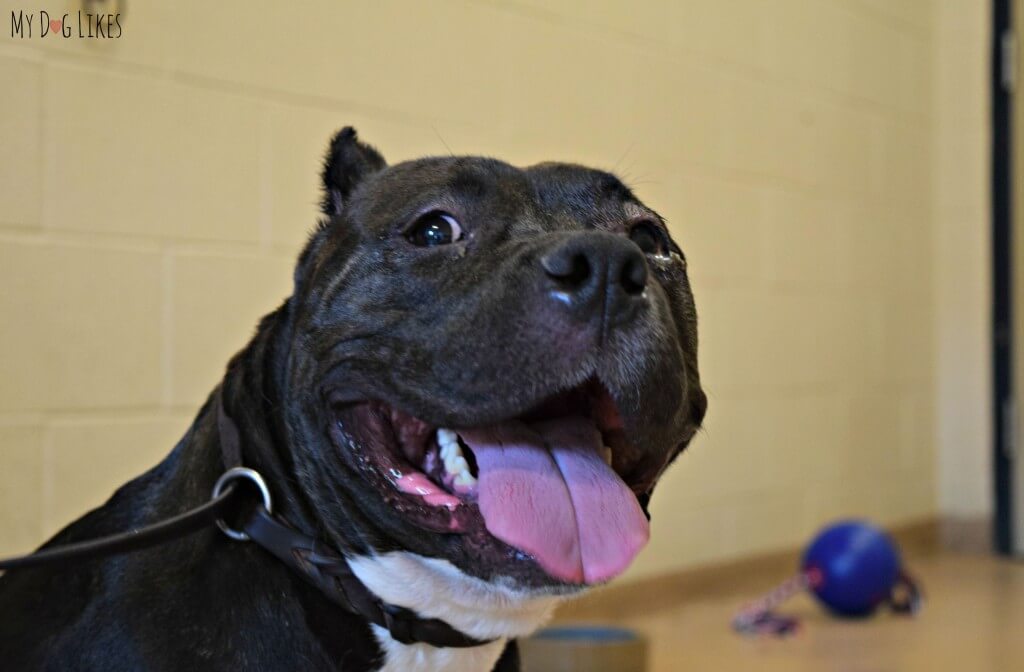 The Busy Buddy Treat Dispensing line combines the yumminess of treats with durable, bouncy, interactive fun! These toys contain a patented Treat Meter® which allows you to customize how easy it is for your pup to get treats out from inside. These toys can be stuffed with all sorts of goodies like hard/frozen treats, kibble, or soft treats like peanut butter or canned food. No worries about the mess-just toss these super versatile toys in the dishwasher!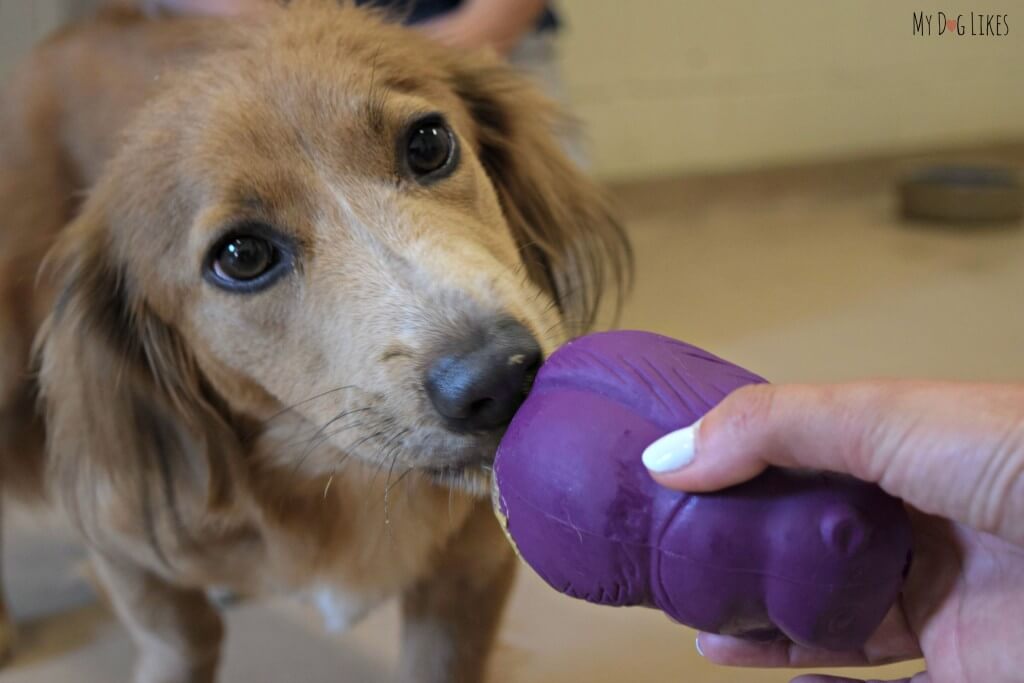 Fun, right?!
There is MORE!
Remember how I said I only used half of my gift card!? Well, the rest is up for grabs! Do you think your favorite shelter would love PetSafe's Busy Buddy Toys? How about $250 of Busy Buddy toys?
Enter your favorite shelter into a drawing to win $250 of Busy Buddy Dog Toys! The winner will also receive $50 of Busy Buddy toys for their own pup! 
Want to pick some up for yourself?
Check out some of our favorites from Amazon:
Tell us about your favorite shelter below!
 [/su_spacer][/su_spacer]