Our dogs love to chew – so much so that it really is a daily requirement. While they would love to have an endless supply of edible chews like bully sticks at their disposal, their waistline (and veterinarian) would not approve.
Non-Edible Dog Chews
For this reason it is necessary to find tough dog chews that don't pack on the pounds. While bones and antlers are a popular choice, they have been known to crack the teeth of a heavy chewer. This is where non-edible dog chews come in. These types of chews are hard and durable (though not as hard as bones) and not meant to be ingested.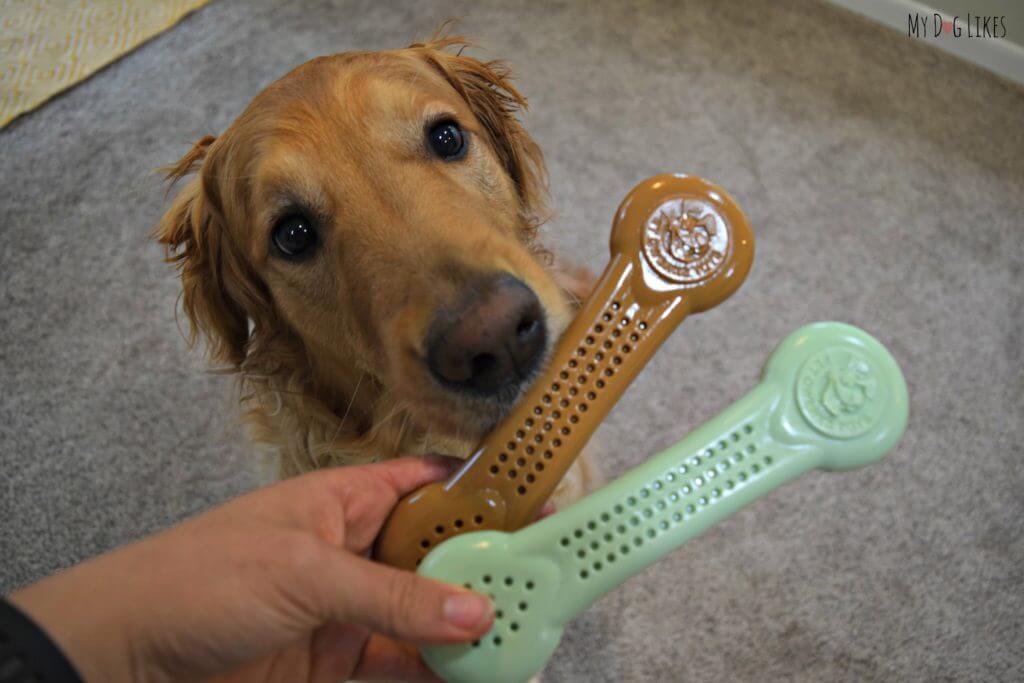 The most common non edible chews are made of hard rubber or nylon. Dense rubber compresses during chewing and springs back into place providing dogs with satisfying resistance and good jaw workout. Nylon style chews are hard enough not to easily split or break, but soft enough to deform slightly during use. This little bit of give helps to prevent damage to the teeth.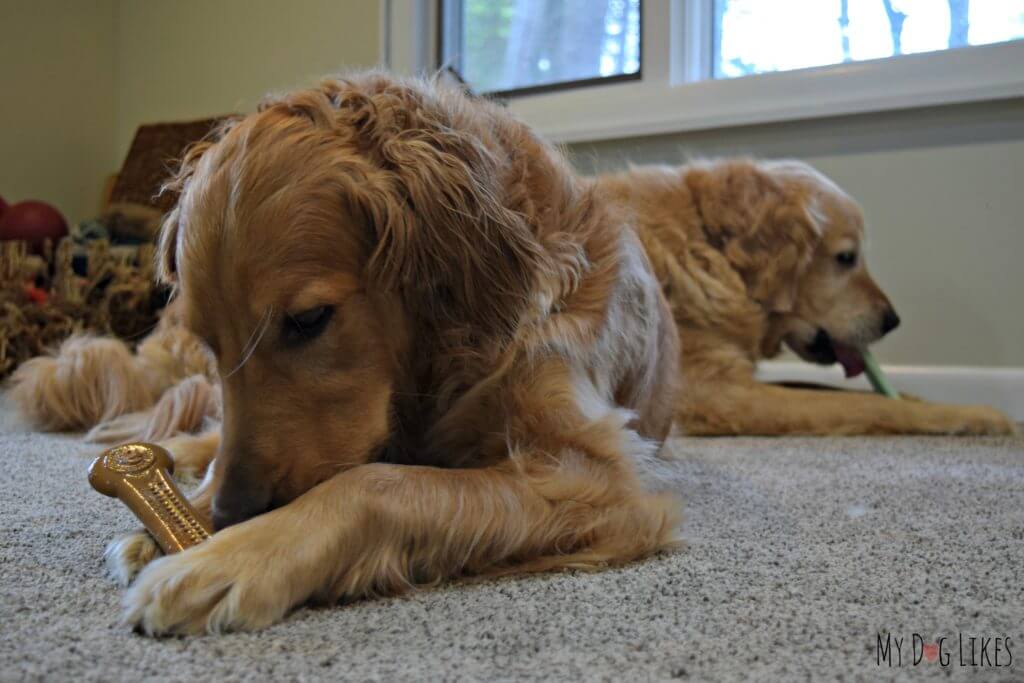 Harley will not put rubber toys in his mouth so those have always been off the table for us. Instead, he has enjoyed the nylon variety of chews for most of his life. For this reason, we were very excited to learn of a new and improved version – Pet Qwerks Flavorit Bones.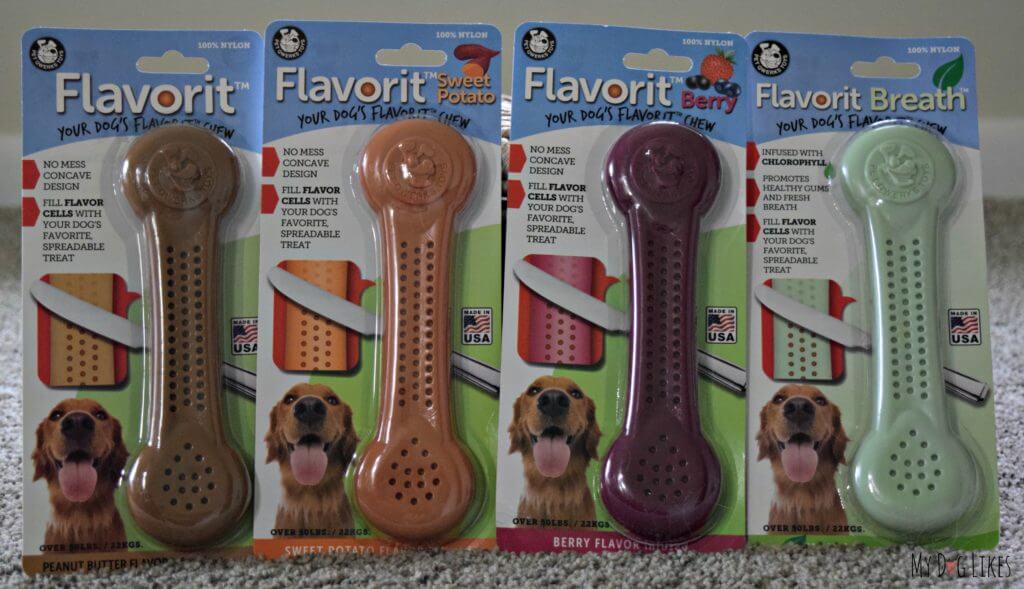 Pet Qwerks was kind enough to send us a sampling of these bones for the boys to try out. They are also sponsoring a giveaway for 2 lucky readers below!
About Pet Qwerks

Pet Qwerks is a family owned company based in California that is dedicated to keeping dogs busy and entertained. For over a decade, they have been leading the way in the development of interactive dog toys. From their signature Babble Ball line which makes unique animal noises during play, to their Incredibubbles which are long lasting bubbles that stay intact when they hit the ground – just waiting to be popped!
Click here to shop Pet Qwerks toys & chews on Amazon
Flavorit Bones – Not Your Average Dog Chew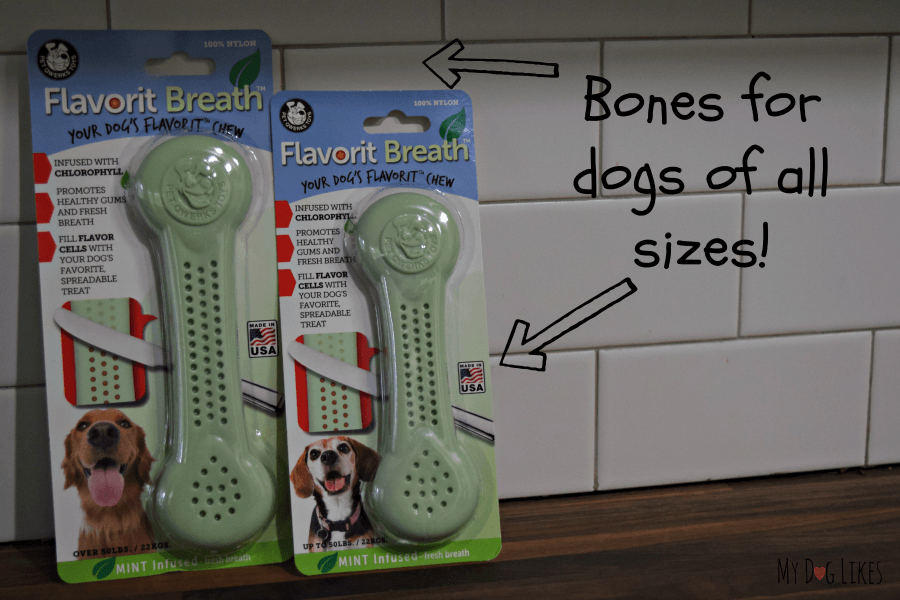 Flavorit Bones are formed from 100% nylon which is very durable and suitable for most aggressive chewers. They are bone shaped and available in several different sizes, from small to extra large. Flavorit Bones are also dishwasher safe and made in the USA. 
Flavor Infused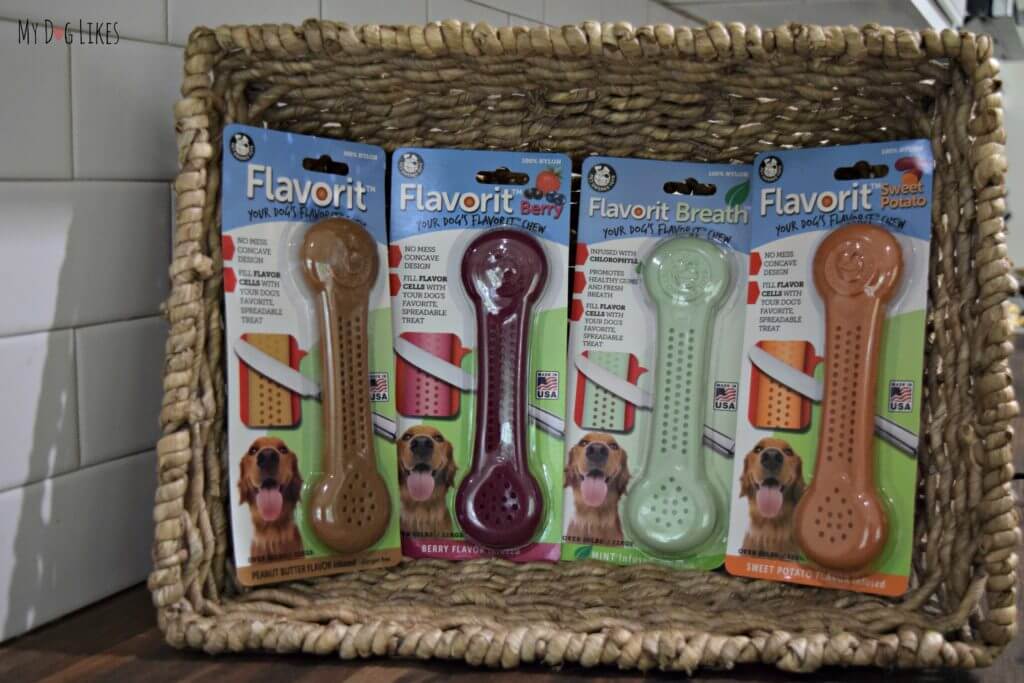 For a fun taste and scent, these bones are also available in a wide variety of flavors.
Chicken

Peanut Butter

Sweet Potato

Berry

Mint
Flavor cells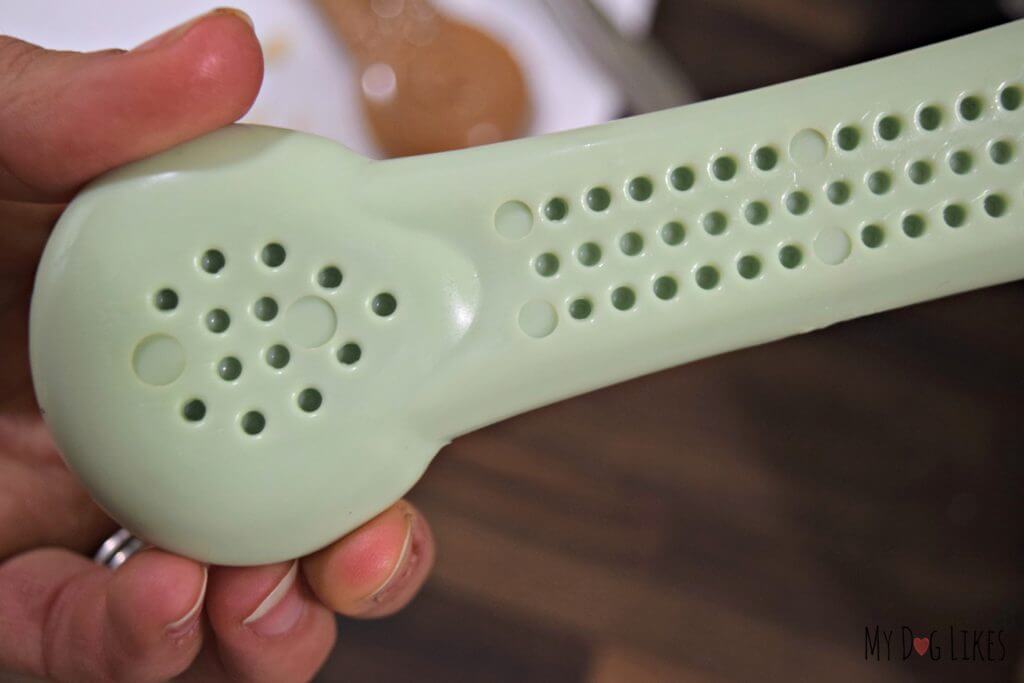 The real defining feature of Flavorit Bones are the unique flavor cells molded right into each chew. These are small concave indentations roughly ⅛" in diameter which run across the entire surface. Flavor Cells can be filled with your dog's favorite spreadable snack before each and every chew session!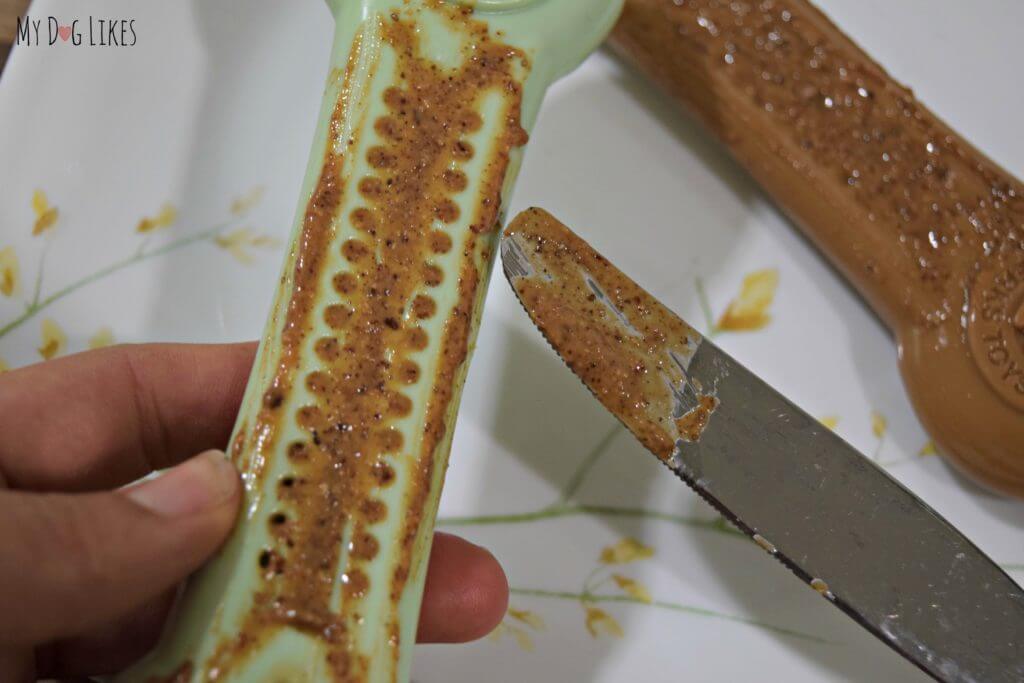 Wondering what to use?
Peanut Butter

Yogurt

Cream Cheese

Pumpkin

Applesauce
You can also mix these spreads with flavors like cinnamon, peppermint and vanilla for that extra special touch. While the bones themselves are flavored, the flavor cells entice hesitant chewers to dig in!
It's Chew Time! Our Flavorit Bones Review

When you remove them from the packaging you will note that they have a light aroma. For the first chew, we decided to let them enjoy the bones as is. The built in scent and flavor proved enough to get their interest as they knew what to do right away.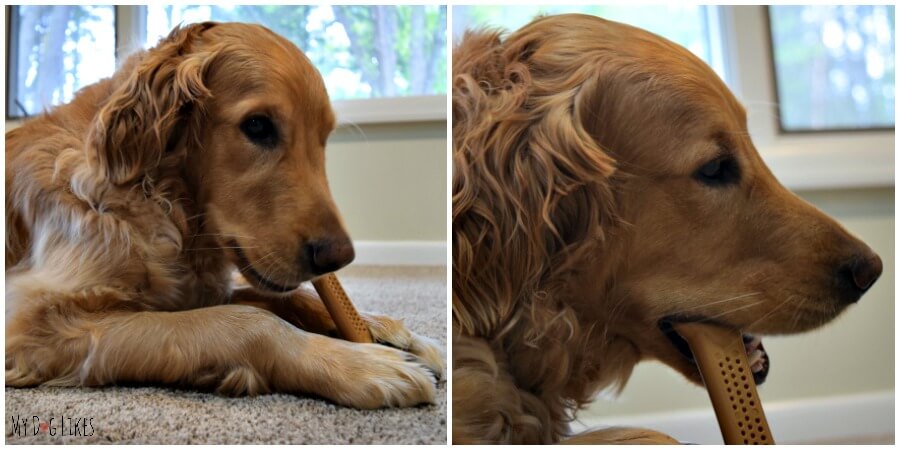 A couple of days later we decided to give the flavor cells a try with a bit of their favorite almond butter as spread. As you can imagine, this grabbed the dog's attention right away and proved to be a big hit. The boys went back and forth between chewing and licking. Surprisingly there were no messes left behind, however, I did choose to only coat one side so the other could fall on the carpet without leaving a mess. If you are worried about staining or stickiness, choose your spread accordingly. We found that our resident carpet lickers were more than happy to clean up any errant spread!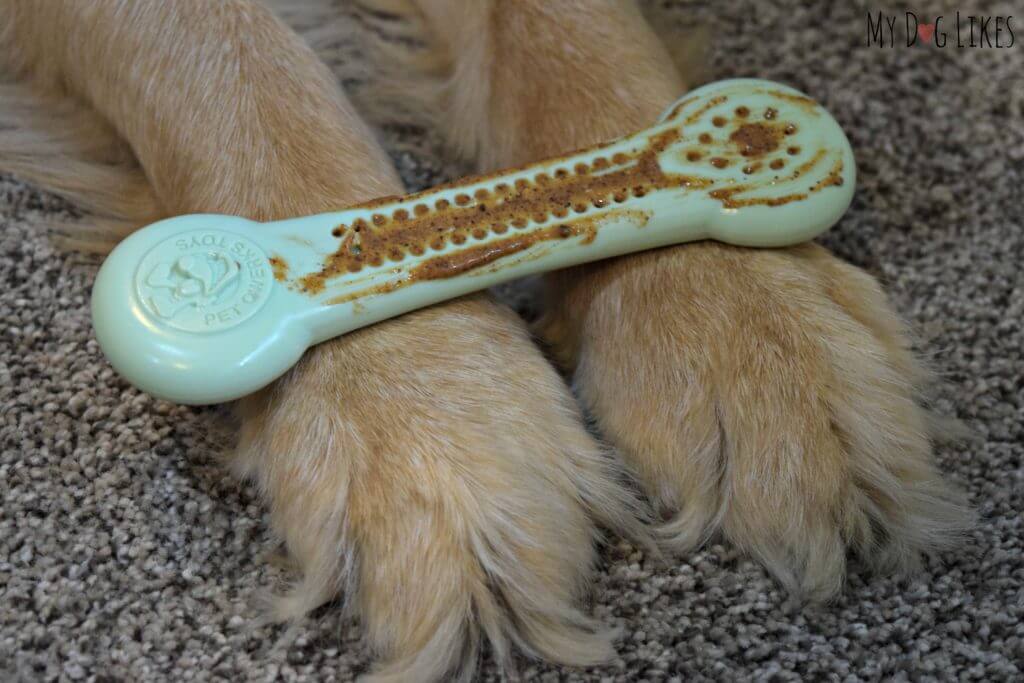 NOTE: As with any chew, these should be enjoyed only under supervision. While they are very hard, it is possible for a piece of the "bone" to break off during chewing. Though small flakes may be ingested during chewing, large pieces should not be swallowed ! These could cause a perforation or blockage of the intestinal tract!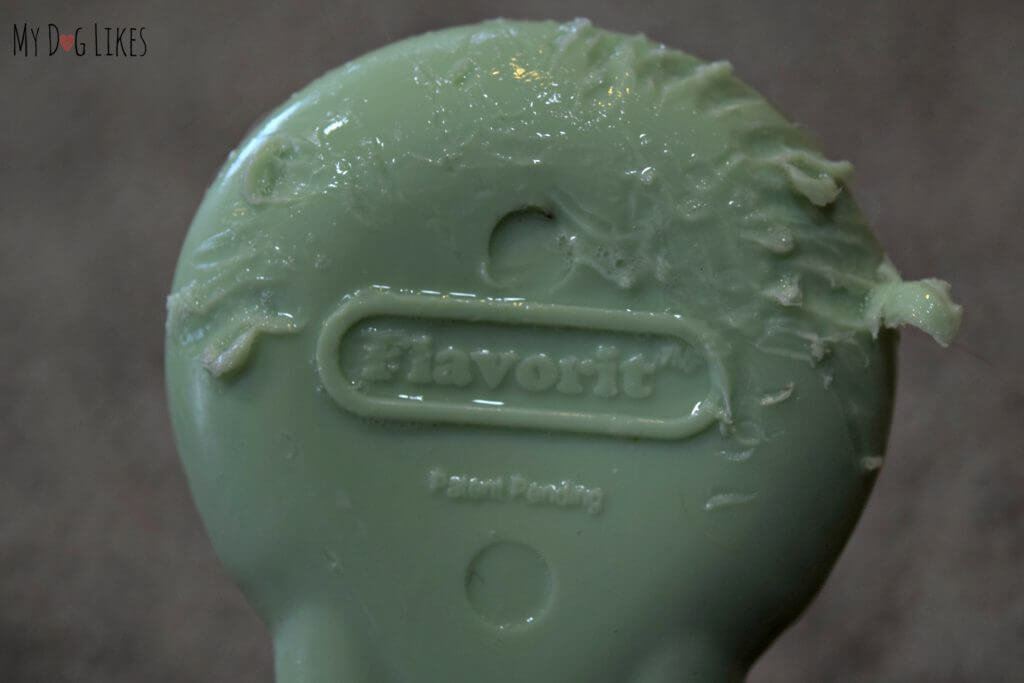 Here is a photo of our bones after several chewing sessions. As you can see they are a bit more rough to the touch, but these projections actually help to clean teeth while chewing.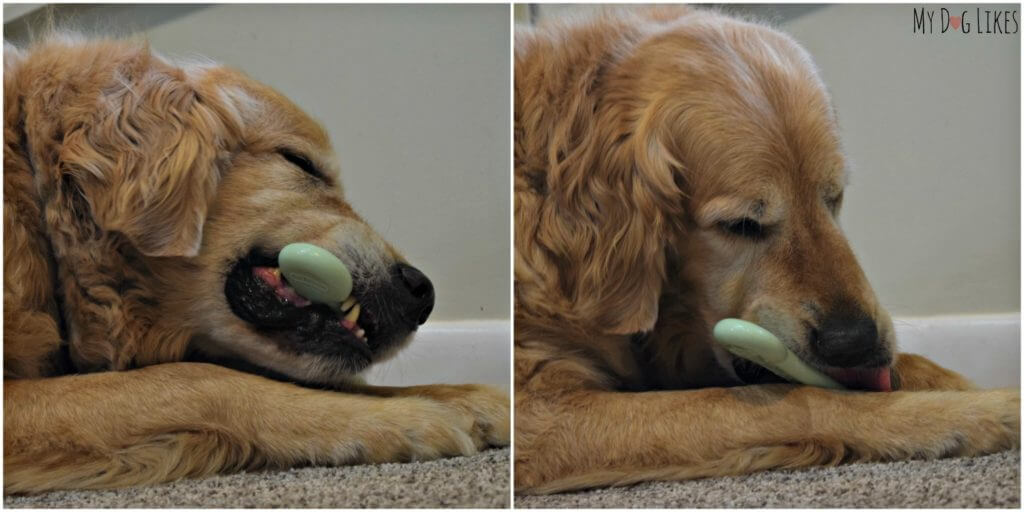 Why MyDogLikes Flavorit Bones
Have you ever tried to introduce your dog to a new toy or chew only to have them look at you disinterested! C'mon, I know you have, and it is very discouraging!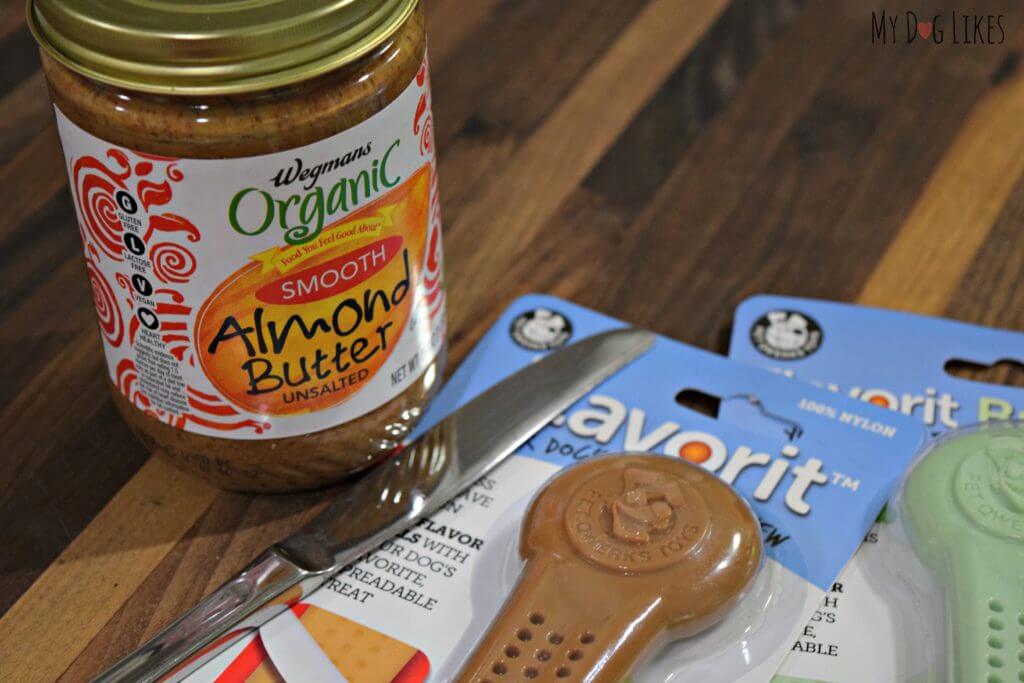 Flavorit Bones flavor cells are almost sure to solve this problem – by adding a familiar and irresistible taste and scent to the equation. This is truly an ingenious concept and one that will surely lead your dog to take to it right away. Aside from that awesome design feature, these chews are also high quality and well made. Another great option for the tough chewer in your home!
UPDATE: Flavorit Bones now also come in a curved version to make them easier for your dog to pick up and manipulate!
Want to try some for yourself?