You know that we are always on the hunt for cool new pet products.
What you may not know however, is that we are very selective about the companies we work with and the products and services we recommend to our readers. On just about a daily basis we are pitched things that don't align with our mission for one reason or another.  They may not be a good fit for our boys, we may not agree with their manufacturing processes (where and how they are made), or we may not trust the quality of their product. It is also a big deal to us how companies treat their workers and their overall environmental impact.
Suffice it to say, we had no such concerns when we found out about the following company, which not only makes great products, but does things the right way and has a charitable goal that we can really get behind.
Introducing WO Design 
WO Design is a company with a serious mission – "Creating change for widows and orphans in Ethiopia". This aim is apparent in everything that they do, and even proudly displayed in the company name itself: WO stands for Widows and Orphans.
The company was founded by Josh Allen, who after a service trip to Ethiopia in 2012, felt called to do something about the startling needs of the people for basic supplies and resources. He and his wife were already in the pet industry, having opened up a local pet supply store several years before, and saw an opportunity to use this connection to make a difference.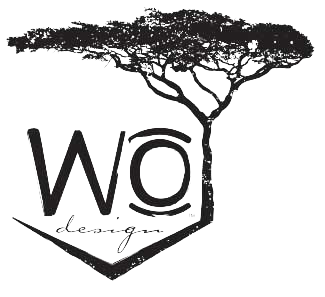 They began the company by creating a line of innovative dog toys, and from their founding, have committed a percentage of all products sold to nutritional aid for Women and children in Ethiopia.
WO also has a line of human products, but we will naturally be focusing on the dog gear!
Partnership with Bring Love In
WO Design has partnered with an organization out of Addis Ababa, Ethiopia called Bring Love In, to help achieve its philanthropic goals. For every dog toy purchased, they donate and distribute 2 meals to women and orphans in need! Consumers are thus able to make a direct impact on the lives of others around the globe, and you can even visit the WO Design website to read stories of the impact they have made!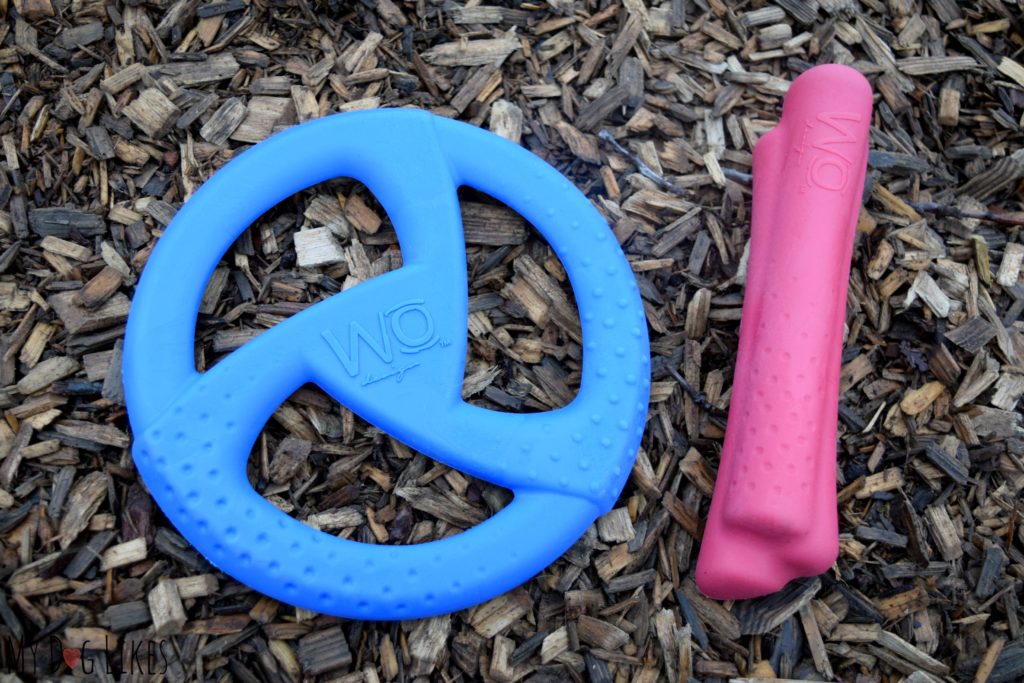 WO Design was kind enough to send over a couple of their dog toys for Harley and Charlie to try out, and they are sponsoring this post to help spread the word about their awesome mission.

Wo Design Dog Toy Review
Currently, WO manufactures 2 different tough toys (though more are soon on the way) – a bone and a disc. Both are made of the same unique material which is:
Durable

Flexible

BPA Free

FDA Approved

Non-Toxic

Recyclable

Floats
Sounds like just about everything you could want in a dog toy!
WO Bone
Their flagship product, the WO Bone is a rugged chew toy that can withstand some serious abuse. It is shaped like a classic bone with the addition of a few interesting features like bumps and divots which add to its appeal. This toy comes in 2 different sizes (6″ and 8.5″ long) and 4 colors (blue, green, cranberry and yellow).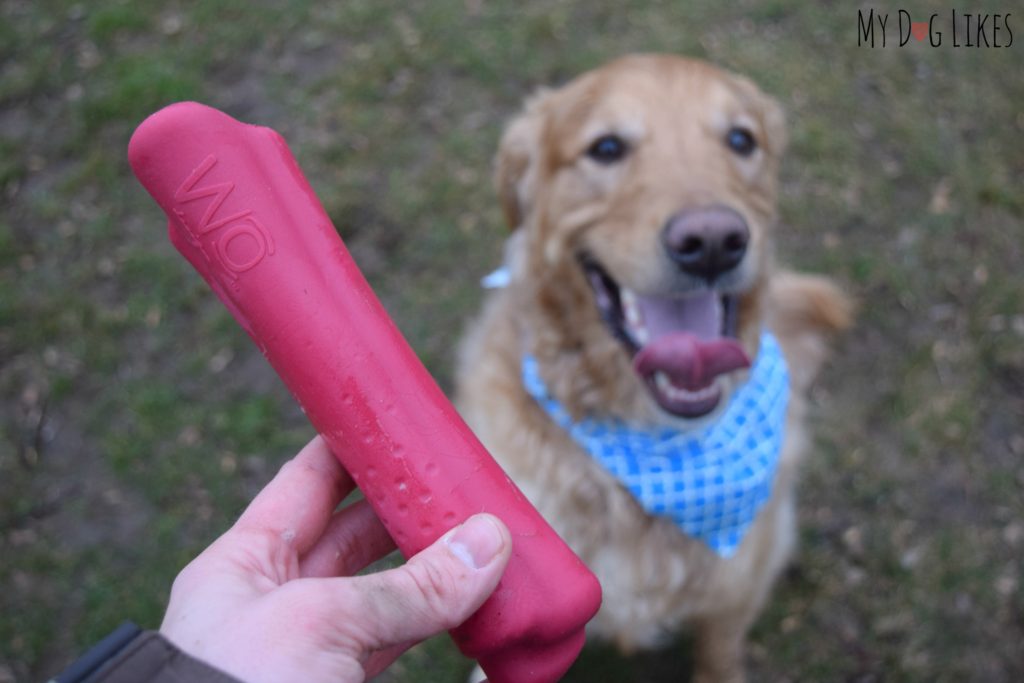 The WO Bone makes an excellent fetch toy since it is lightweight and easy for dogs to pick up and carry. The twisted shape lends itself to taking some unpredictable bounces as well. Though it was too cold for us to try it out in the water, we are very excited to use this toy for some water fetch this Summer!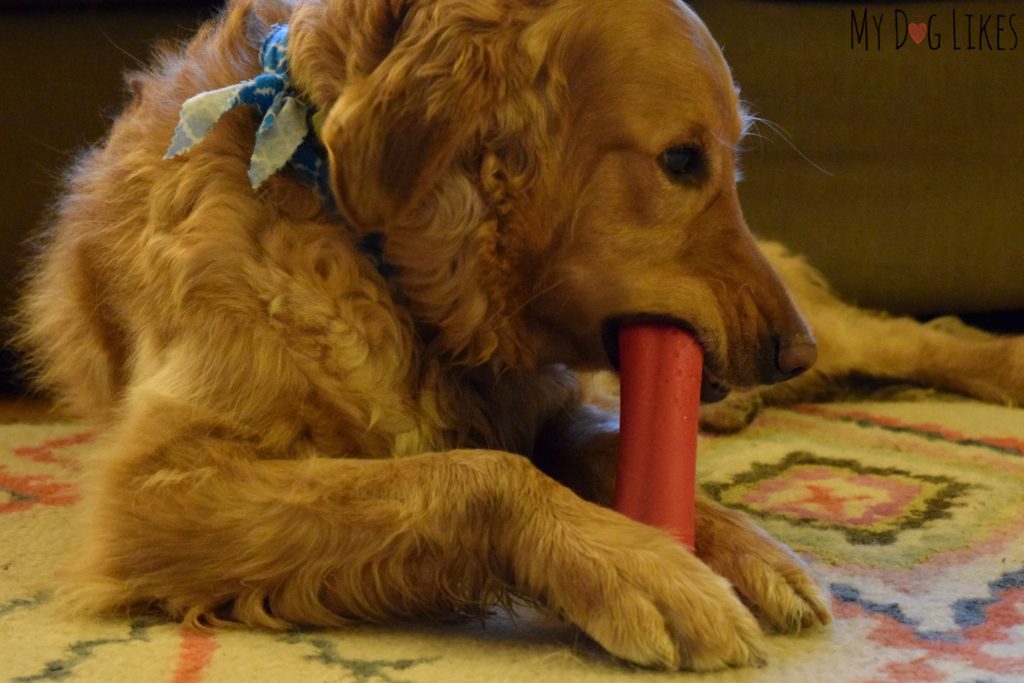 For those dogs (like Harley) who would prefer to just like to settle in for a good chew, the WO Bone excels in this area as well. The material has the perfect amount of "give" that dogs enjoy, while completely rebounding its shape after releasing pressure. Both Harley and Charlie have unleashed their powerful jaws on this toy and it still looks good as new!
WO Disc
The WO Disc is 8″ in diameter and about 1/2″ thick. It is flexible enough to be bent in half, but stiff enough to maintain its shape during flight.
It also has several holes in the center which allow it to be easily picked by your dog. Anyone who has tried to play catch with their dog and a regular frisbee will understand how important that can be!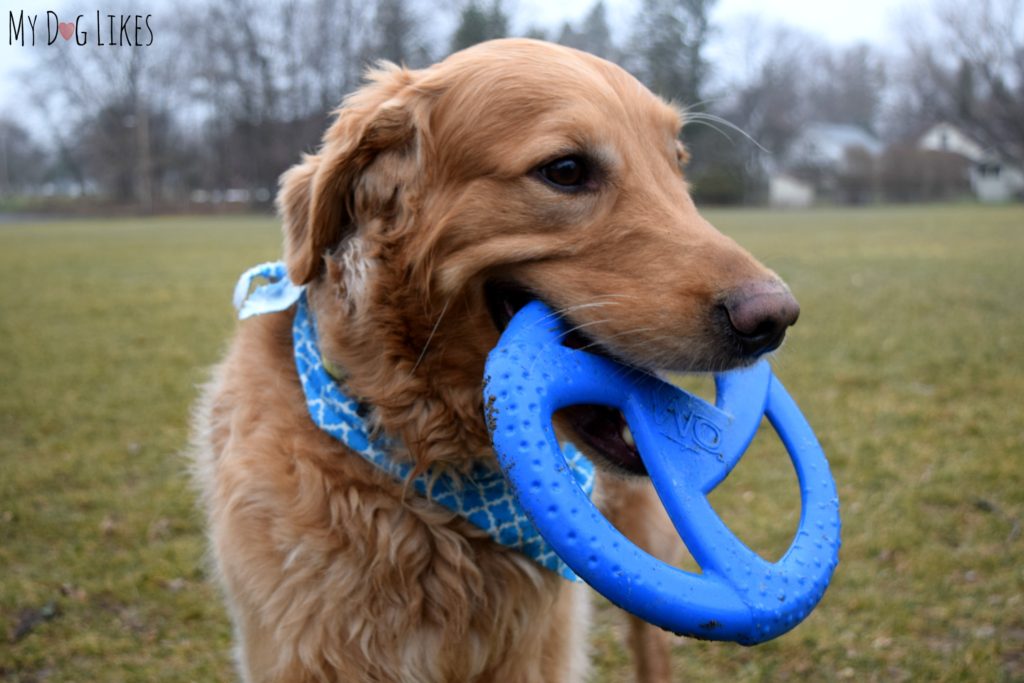 After testing out the Bone and determining that WO Design's material was up to snuff, we were really excited to see how their disc performed in flight. For those of you who don't know, Charlie is frisbee obsessed – and has difficulty even controlling himself around them.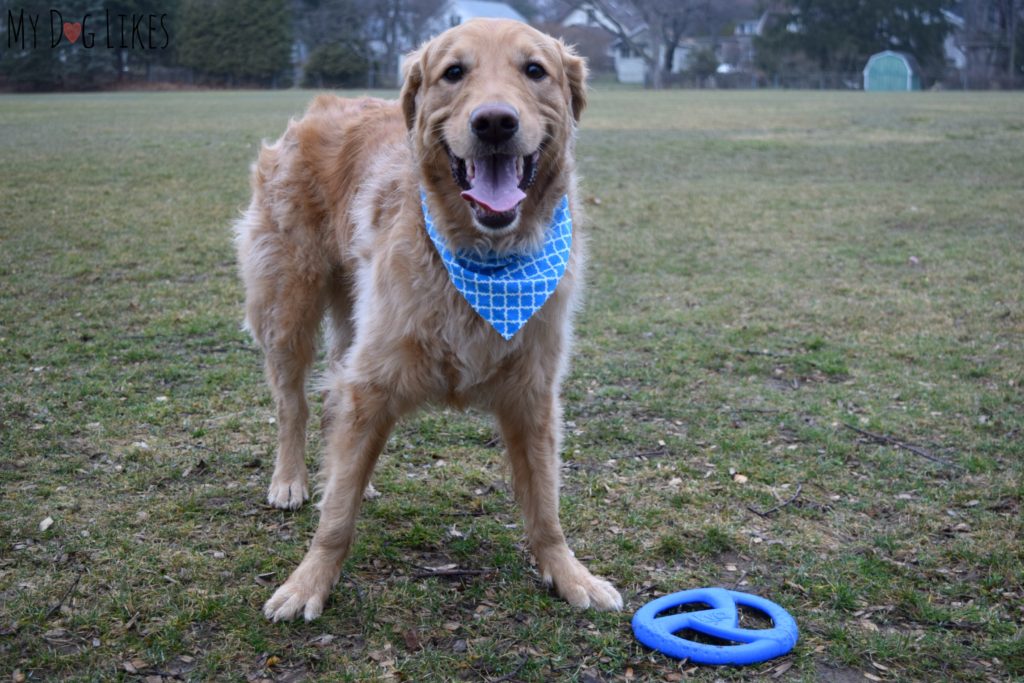 This disc is smaller in diameter and a bit thicker than most others we have tried, so I wasn't expecting it to fly very far. Boy was I wrong! The WO disc travels just as far if not further than anything else we have ever tried! Part of this is due to its tendency to flip onto its side towards the end of its flight and roll, roll, roll! This makes the toy even more enticing for your dog to run and chase after.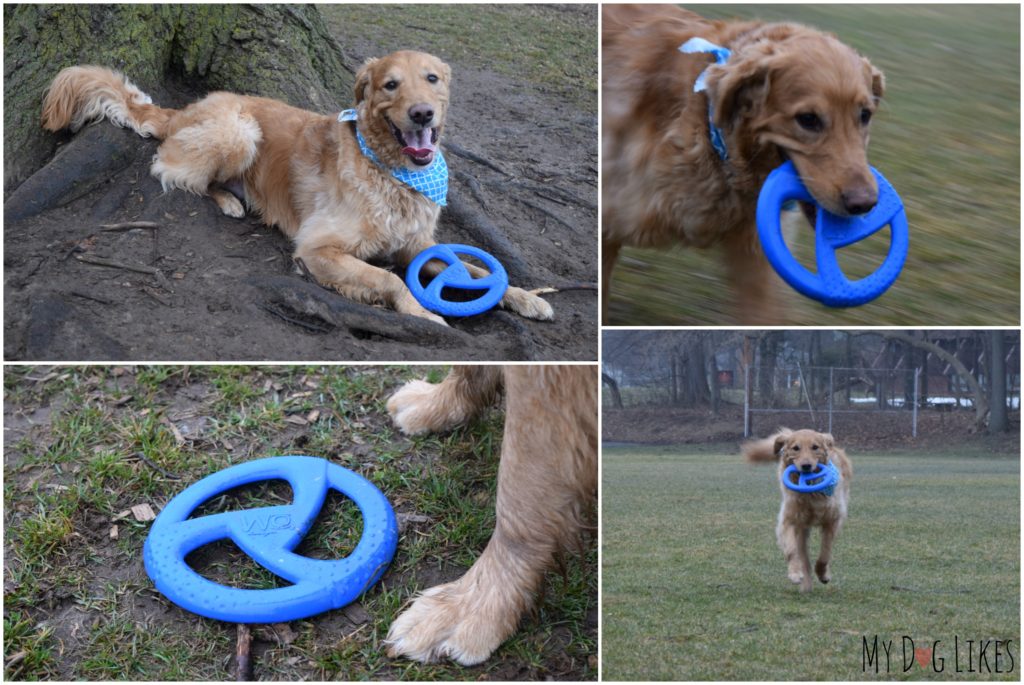 We were very impressed at how well the Disc held up to chewing and pulling as well. It can be stretched a great deal making for a fun tug toy, and really chomped on without showing any damage whatsoever.
Charlie had an absolute blast playing with the WO Disc, and this bad boy is getting the ultimate honor of making our list of the top discs for dogs!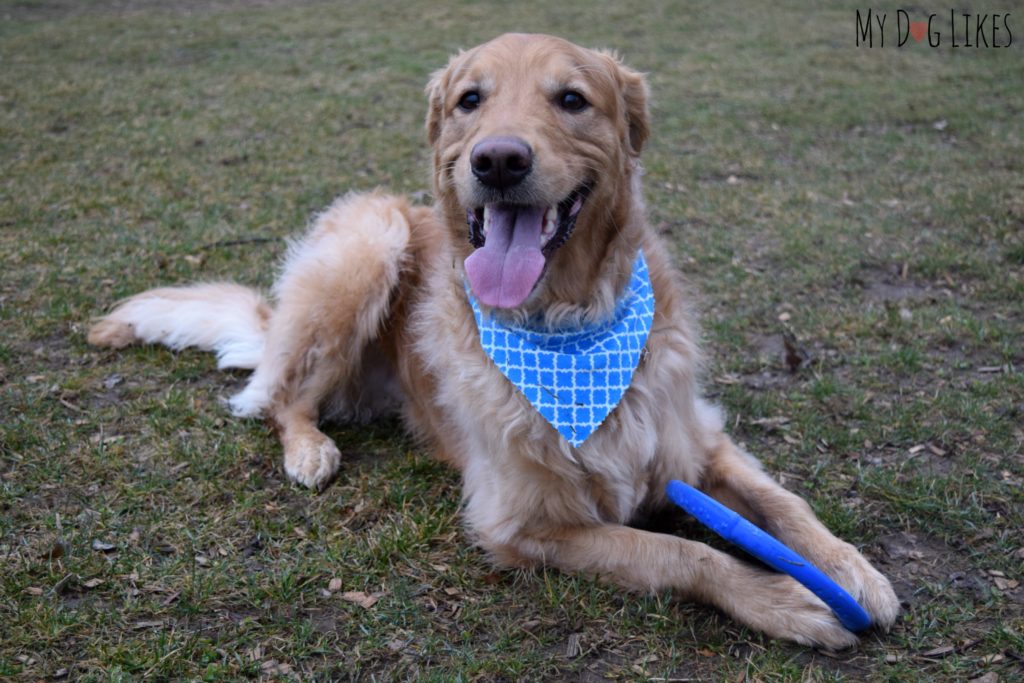 Why MyDogLikes WO Design
With a couple of very active dogs, we are always happy to find out about some more great outdoor dog toys. After some rigorous testing, we would highly recommend the WO Bone or Disc for any dog who likes to tug, run, fetch or chew. WO design even offers a one time product replacement guarantee if their products don't meet your expectations!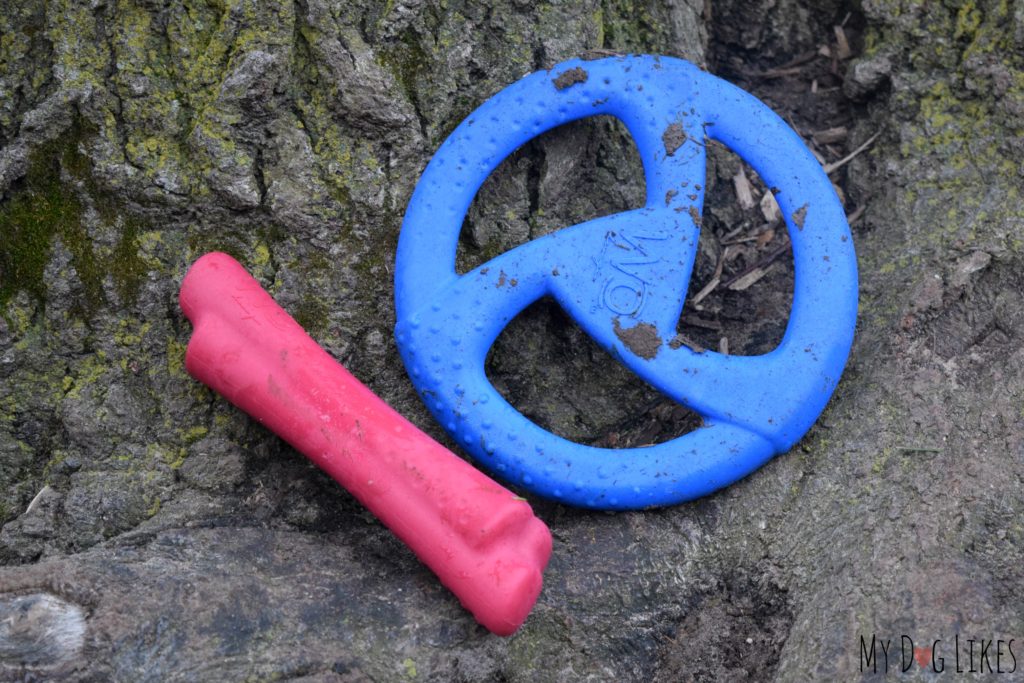 Aside from the quality of their products, we love the mission and philosophy behind WO Design as well. To date they have donated over 13,000 meals to women and orphans in Ethiopia! We think it is so cool that they are leveraging the pet market to truly make a difference in our world.
It also feels great as a customer to know that your purchase is making a direct and positive impact on the world.
Want to Give WO|Pet Products a Try and Help Support a Great Cause?