As we will all be spending more time outside over the next several months, we wanted to highlight some of our favorite outdoor dog toys. These are the type of toys that really aren't suitable for play inside the home.  Things designed for the rough and tumble dog who craves exuberant play!
For this discussion, we will be excluding fetch toys like balls and frisbees but instead focusing on the toughest of dog toys.  Those that can be simply left out in the yard through any type of weather and remain no worse for the wear.
Scroll down to see the full list, but here's a quick sneak peak!


The 6 Best Outdoor Dog Toys
Jolly Ball – Tug & Toss
If a toy was designed for horses, you know that it will be tough. The Jolly Ball was originally developed by a company called Horseman's Pride who has since spun off the toy into its own brand called Jolly Pets.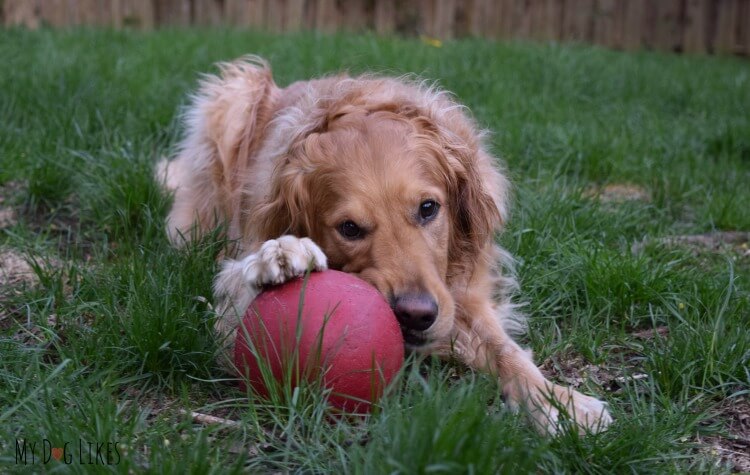 There are several styles of Jolly Balls available, all consisting of a hollow sphere with a thick rubber exterior shell. This shell is tough yet still flexible. You have likely come across the classic version, known as the Tug & Toss, at one time or another. This model has a unique triangular handle allowing for all sorts of fun play opportunities.

Other Jolly Balls are available without a handle or even with an attached rope. They all come in several different sizes from 6" – 10" in diameter. It is interesting to note that the company even makes huge models for zoo animals like lions and tigers!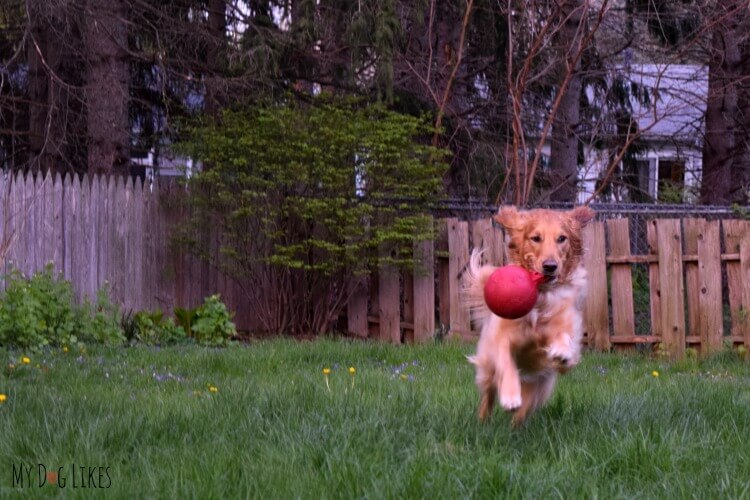 We have the classic version with the built in handle. Not only does this make it easy to grab (for both you and your dog) but also easy to toss. The handle also causes unpredictable rolls and bounces due to the irregular shape!
Perhaps our favorite aspect of all is that since it is not inflated, instead just a hollow sphere, it cannot be popped. If your dog chews the handle off (likely), it is no worse for the wear and will be just as fun to toss and kick around. Ours has lost part of the handle and literally spent years sitting outdoors but is still going strong.
In our opinion, this is a toy that belongs in every backyard garden.
Click here to pick up the Jolly Ball on Amazon!
The Tuggo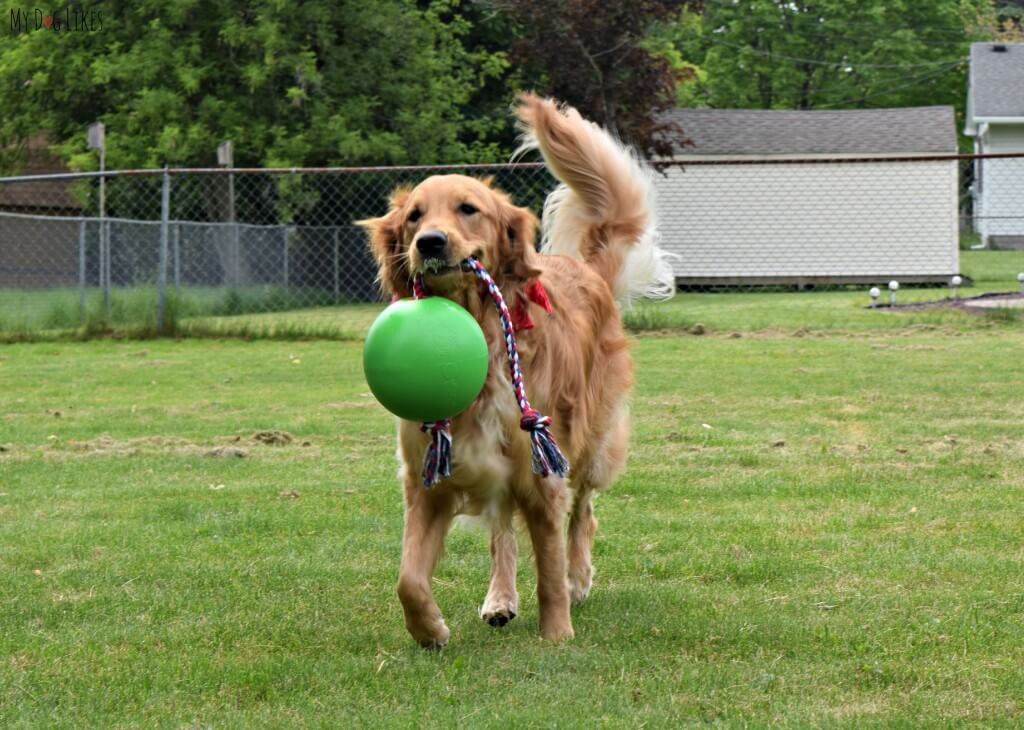 A bit of a newcomer on the market and one of our favorite finds of the last few years. The Tuggo dog toy is a hollow sphere constructed of an extremely tough and durable plastic. It also has a thick rope running through the center that is free moving – able to be pulled from side to side. 
It comes in multiple sizes depending on breed or play style, but what makes this toy most unique is that it can be filled with water to provide extra resistance. This toy already has some weight to it, so you can just imagine what it feels like full of water.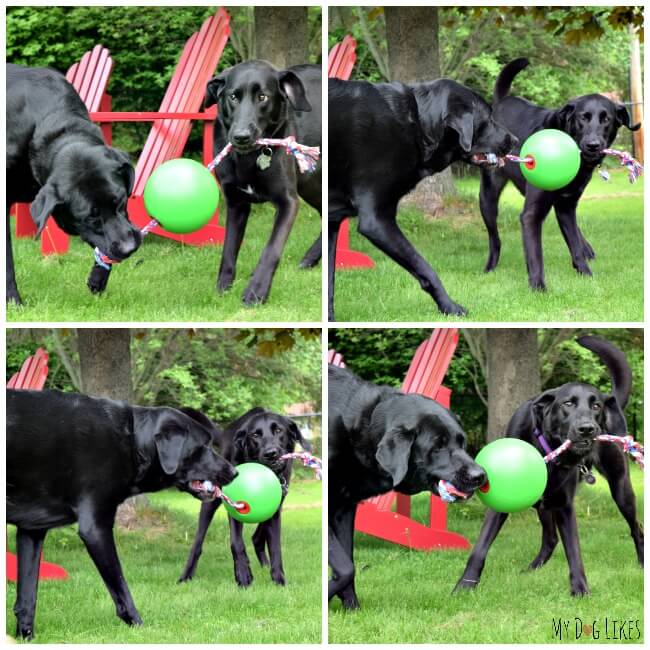 Playing with the small Tuggo!
Another fun option is to only fill it up partially. The sound of the water sloshing around inside will entice your dog to fetch and pounce. This movement will also cause the ball to roll and jiggle back and forth in a way that your dog won't expect!
This toy is great for tossing, tugging, fetching and dragging and is a great form of exercise for your pet. It is also perfect for multi-dog households- as the rope will lead to some serious games of tug-o-war!
While a dog could certainly chew the rope if left unattended, I really can't imagine a dog destroying the shell of the toy itself. And guess what – the rope is removable and replaceable!
Click here to pick up a Tuggo on Amazon
West Paw Design Zogoflex Toys
These were the first seriously tough dog toys that we ever found and a huge inspiration for creating this site. After wasting hundreds of dollars as poor college students on "tough dog toys" we were thrilled when we finally encountered West Paw Design.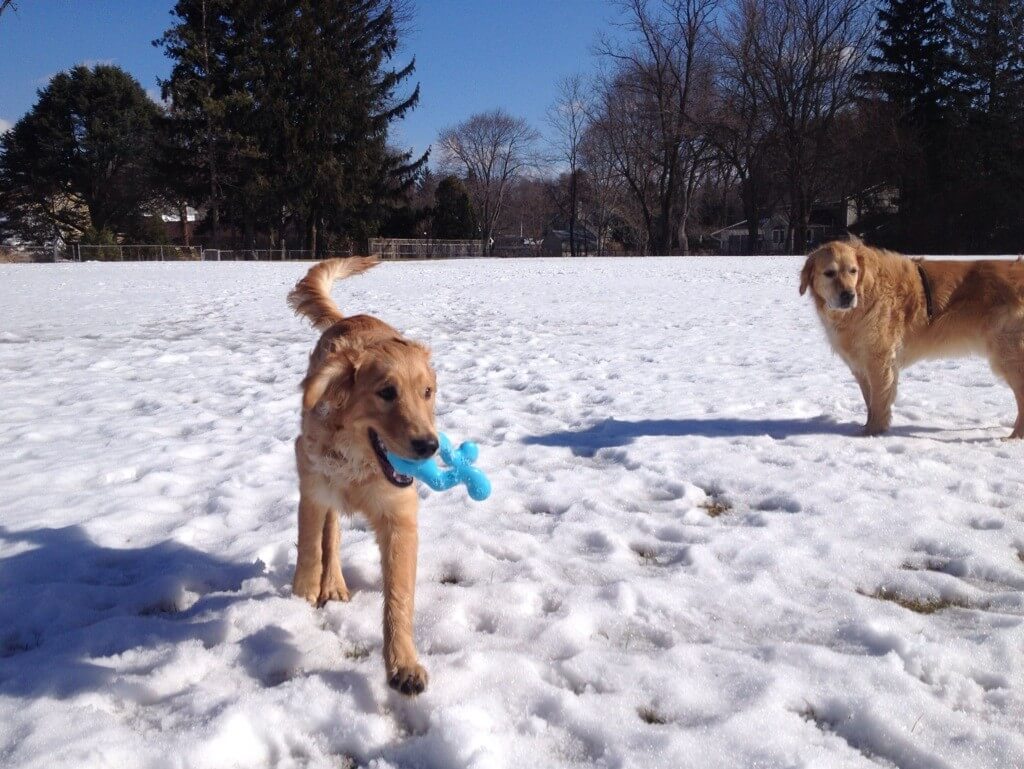 Their toys are formed from Zogoflex – a proprietary material that is flexible, buoyant and shockingly durable. It is completely non-toxic and made and sourced right here in America. Another thing we love is that it is also recyclable. If your dog does manage to tear it simply send it back – Not only do they offer a one time product replacement guarantee, but they will use the scraps to make a new toy!
Our first experience with West Paw was the bone shaped Hurley, though we quickly added the Bumi and the Tizzi to our toy chest. All varieties are great for chewing, tugging, and tossing and each has its own special quirk as well. For example, the Tizzi has a slot that can be stuffed with peanut butter, the Toppl filled with treats, the Zisc thrown like a frisbee and the Bumi stretched to twice its length!


These toys can withstand some serious abuse, making them prefect for an outdoor setting. Want to freshen them up? Toss them right in the dishwasher for a good cleaning!
Click here to shop West Paw Designs Toys on Amazon!
Zeus Bomber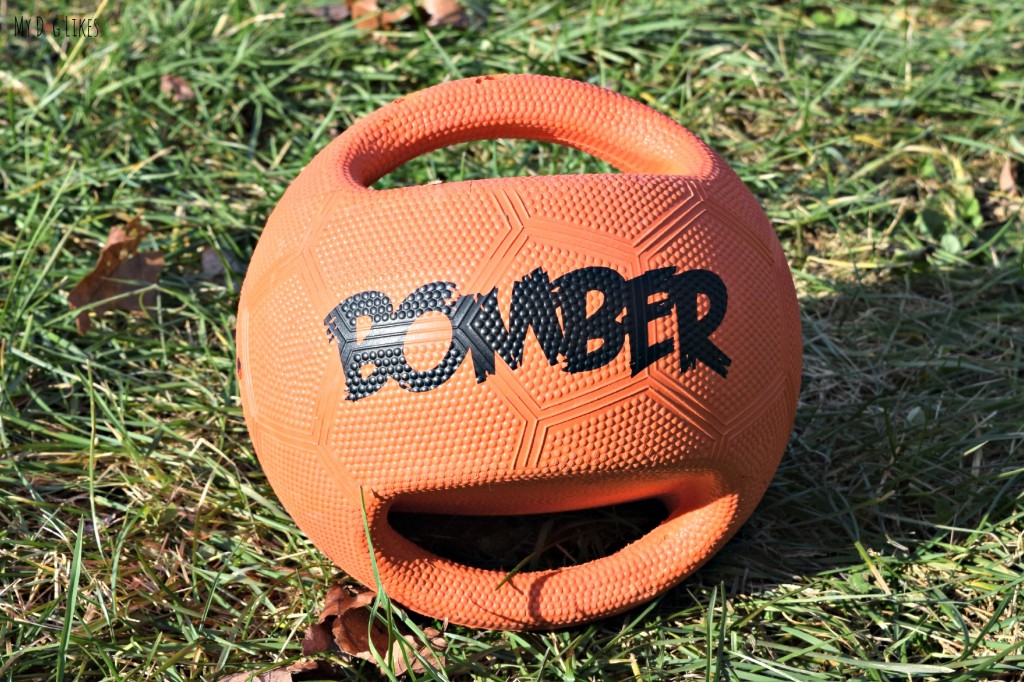 Reminiscent of a basketball with handles, the Zeus Bomber is another tough toy perfect for outdoor play. It is constructed of 100% natural rubber and comes on multiple differ t sizes.
The first thing you should know about this toy is that it is heavy. For this reason we would only recommend for dogs with powerful jaws and strong necks. That being said, it is also extremely tough.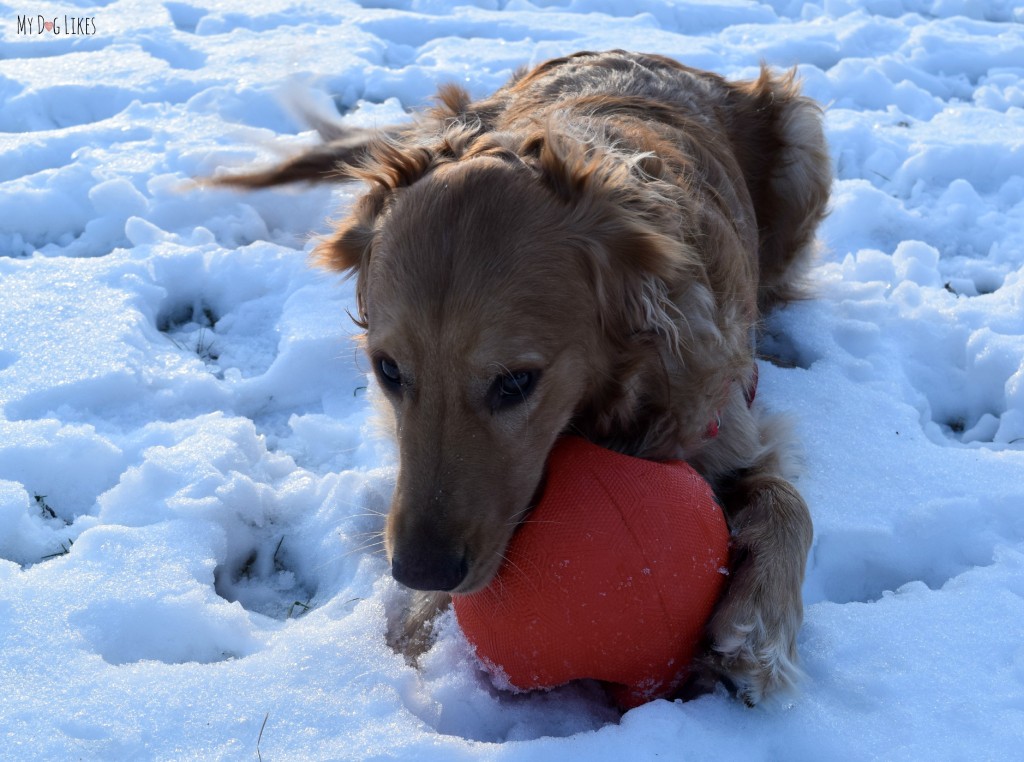 This ball can be tossed or rolled a great distance and the handle makes it easy for your dog to carry back. Just be careful if you kick it – this ball is hard!
Great for all sorts of weather and conditions!
Click here to pick up the Zeus Bomber on Amazon
Kong Squeezz 
The KONG Squeezz was a hugely pleasant surprise for us. What first appears to be just a donut shaped squeaky toy, turns out to be a blast to play with.
The standard KONG Squeezz is roughly 6″ in diameter and comes in several bright colors. It has a unique recessed squeaker that makes a lot of noise when squeezed.
Where this toy really shines is fetch. We were amazed at how far this toy will roll and bounce. Whether you slam it hard into the ground or give it a long toss, it will bounce unpredictably and in a way that your dog will LOVE to chase!
KONG Squeezz is also available with a rope handle. This option is great for tug between you and your dog or multiple dogs. The high pitched squeaker is sure to keep them engaged in the game throughout.
Click here to pick up the KONG Squeezz Ring on Amazon!
The Puller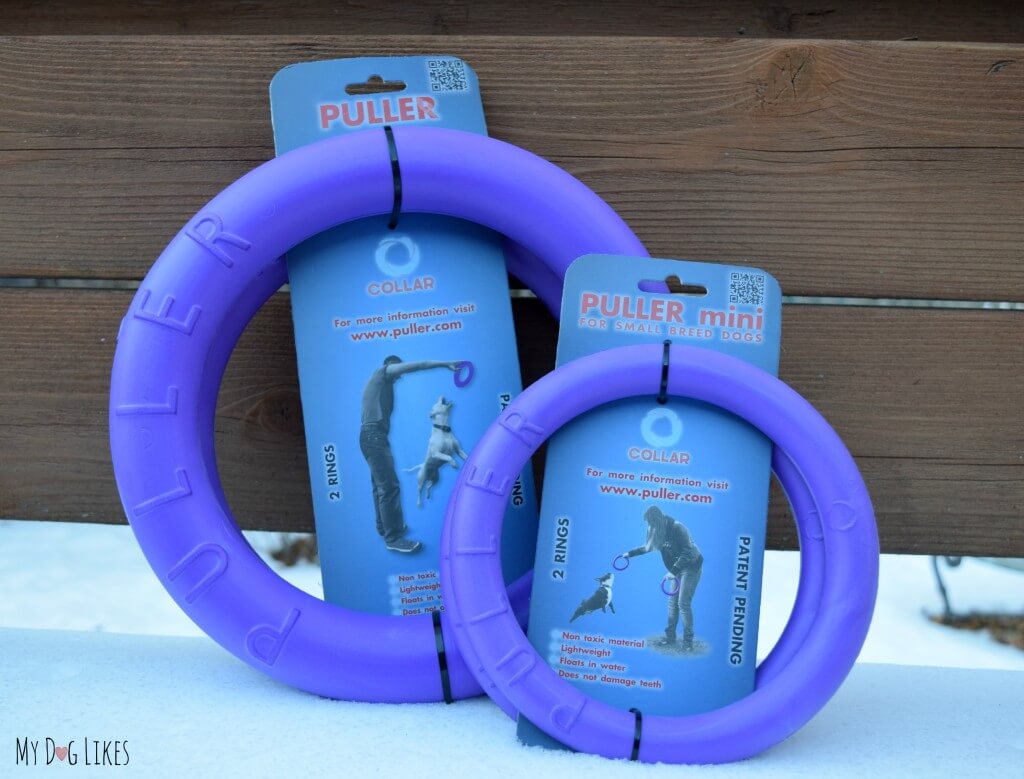 When it comes to the best outdoor dog toys, you can't leave the Puller off the list! Part toy, part exercise device, it is really a product in a class of its own. Each unit comes as a set of 2 rings and is available in a small and large size.
The rings are constructed of a shockingly durable foam that can withstand some serious pulling and chewing. Ours is over a year old and though it is clearly "well loved" it is no worse for the wear!!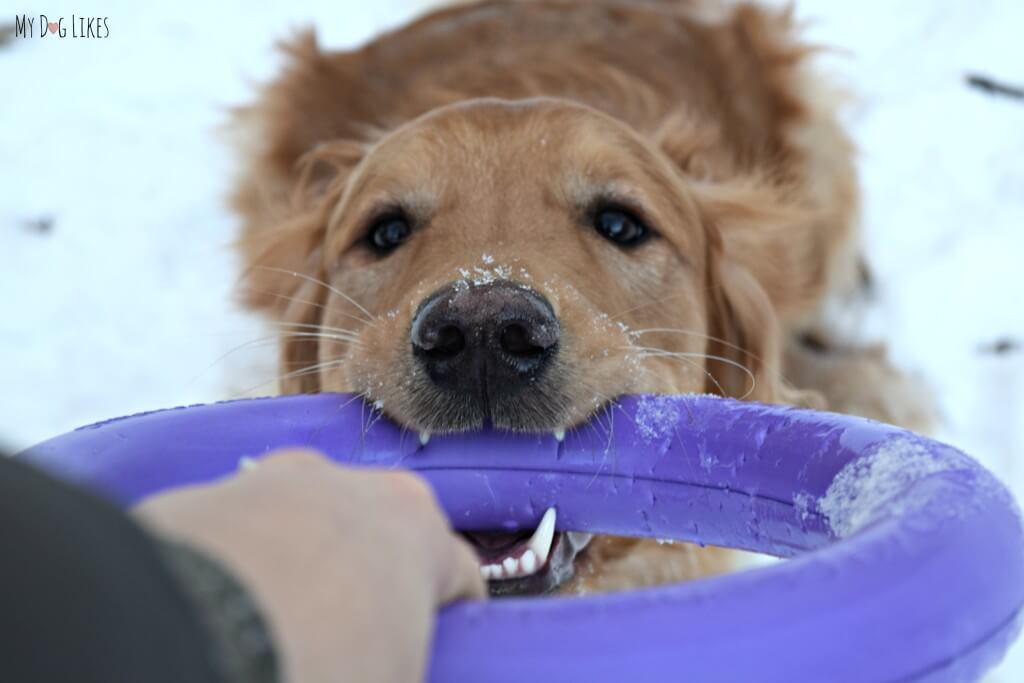 This toy is perfect for fetching, tugging, jumping, chasing and more. The real unique feature however, is having a second ring on hand at all times. This allows for interesting games as well as easy training for commands like drop it, leave it or stay. The puller also floats so the fun is not restricted to land!
Click here to pick up the Puller from Amazon
---
Looking for more tough dog toys? Don't miss our exhaustive list of durable dog toys!
Does your dog have a favorite outdoor dog toy?