Ever since Mom accidentally recycled Charlie's favorite frisbee, we have been on the lookout for a good replacement. This search has claimed several casualties thus far; a Frisbee Golf Disc and a new Chuck-It have already bit the dust.
Charlie has been relentless in his search, tearing up the competition and making it clear there was no room for second best. You can imagine how skeptical he was when our friends over at Chewy.com recommended a new toy for outdoor (and indoor) fun, the Kong Squeezz!

Charlie couldn't believe his ears, it was NOT a frisbee!
With over 18,000 items in stock, how could Charlie be sure that his friends at Chewy had selected a winner? Bursting with questions and knowing that Chewy.com has 24/7/365 customer service representatives on staff, Charlie begged for someone with thumbs to call Chewy. Badgered with questions like "is it fun?", "does it really taste better than a frisbee?" "can I carry it in my mouth on walks and still have people oogle over me?" he was finally convinced to wait and see for himself!

Challenge Accepted!
Despite his trepidation, Charlie knew what he needed to do. Being a fair and reasonable dog with an insatiable thirst for outdoor fetch, he owed it to his readers to accept this most challenging product review request.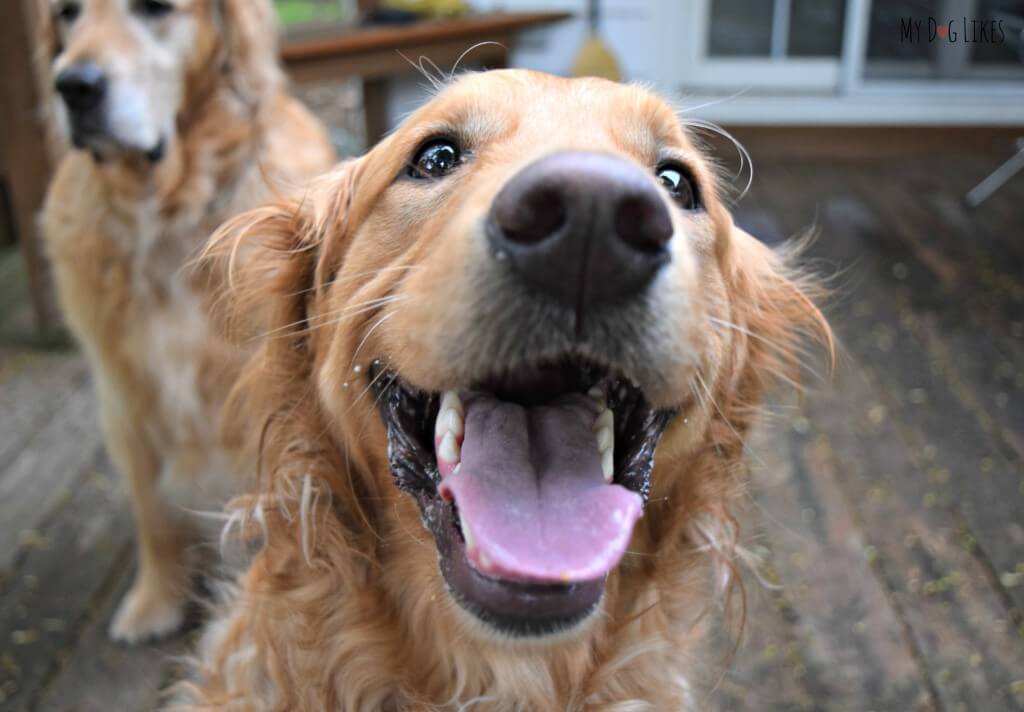 Lickity Split
Charlie eagerly waited by the door, hoping that this package from Chewy.com would yield the results he was looking for: a SUPER fun toy!  
Charlie loves to order from Chewy.com because as an impulsive puppy brain, when his good friends recommend something, he wants it yesterday. While Chewy has not yet figured out a time machine, their shipping is pretty darn close to magic, with most packages leaving their warehouse the same day.

In "blink and you missed it" fashion, Charlie's Chewy order had arrived. He opened the box and inside was not one but two different Kong toys: the Kong Squeezz Ring and the Kong Squeezz Ring Rope.
About Kong
Now a days most people are familiar with the Kong Company. While many of you may think of the Classic Kong that has been entertaining dogs (and preserving pet parent sanity) for decades, the Squeezz line is a different take on doggy playtime all together. With a focus on interactive play, Squeezz toys are designed to provide stimulation through fetch and retrieve play that taps the natural hunting instincts of your dog while releasing energy and increasing your bond at the same time.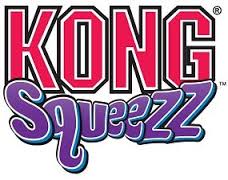 KONG Squeezz Ring Rope with Handle Review
All dogs love a good game of tug, so we decided to start off our play session here. This Kong Squeezz Rope toy consists of a rubber ring toy attached to a durable nylon rope that is great for tugging and playing.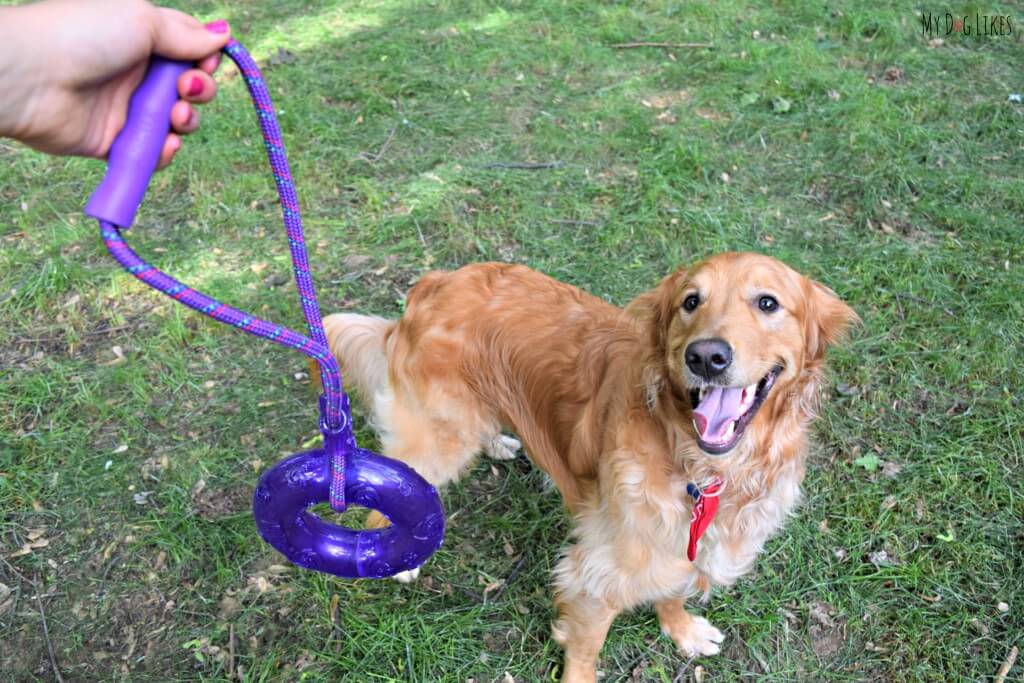 The long rope allows you to really launch the toy getting extra distance or height for your pup. The higher it flies the crazier the hops and spins when it hits the ground! Charlie was excited to run after this toy but spun like a helicopter when he first tried to pick it up – unsure of how to handle the long rope and handle! After figuring it out, Charlie brought it back and it was officially playtime!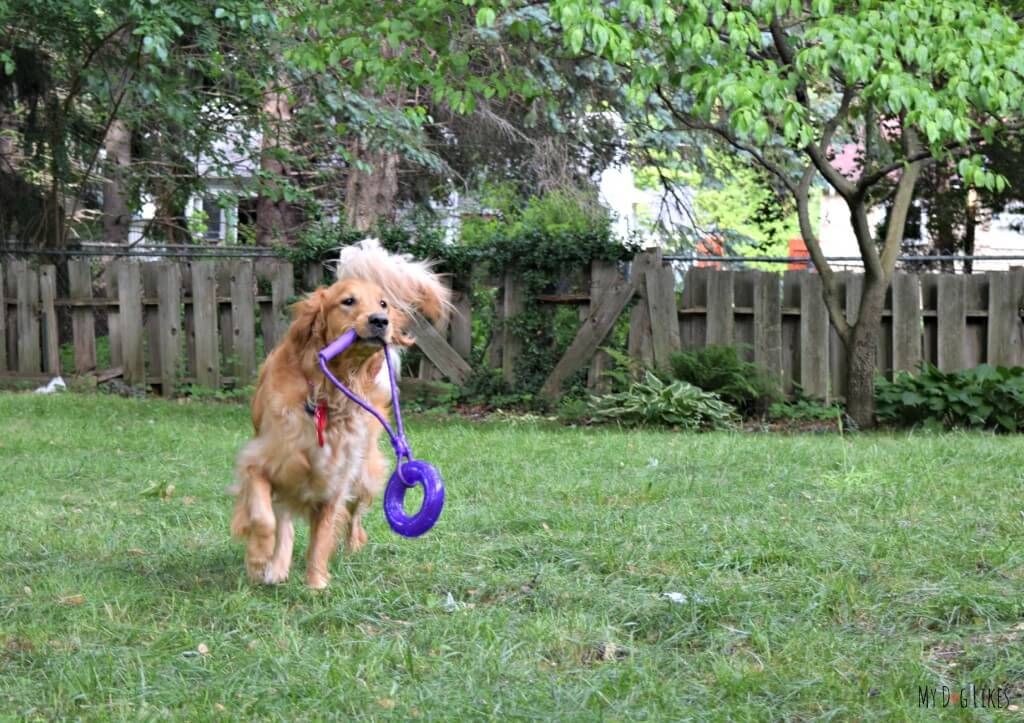 What we really liked about this toy was that there is no bad place to grab it when playing with your dog. The rope has a comfortable handle but the rubber ring can also be grabbed. As an added bonus, the rubber ring has an excellent squeaker. When I wanted Charlie to let go so I could toss it again, a hard squeeze was all it took for him to release it, leaving me wondering if it is similar to the yelping philosophy when dogs are getting mouthy as pups.

As expected, this toy really excelled at a game of tug and Charlie had a blast working all angles to gain an advantage!
KONG Squeezz Ring Review
So what do you get if you remove the tug rope? A simple fetch toy?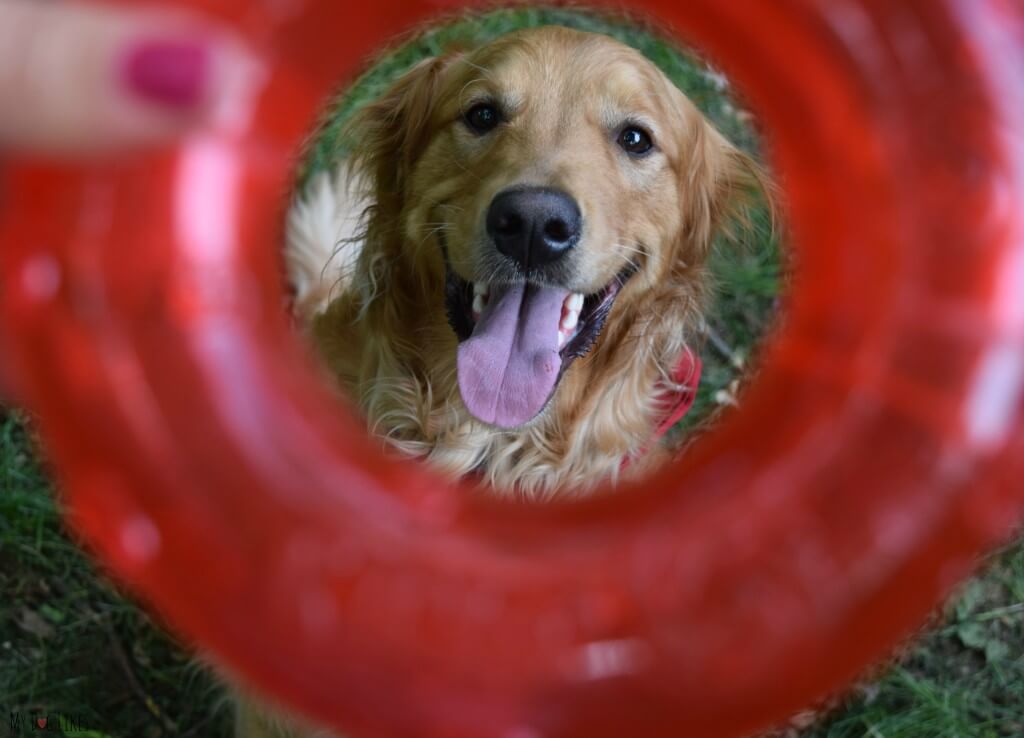 Well, that is what we thought, but the KONG Squeezz Ring far exceeded our expectations!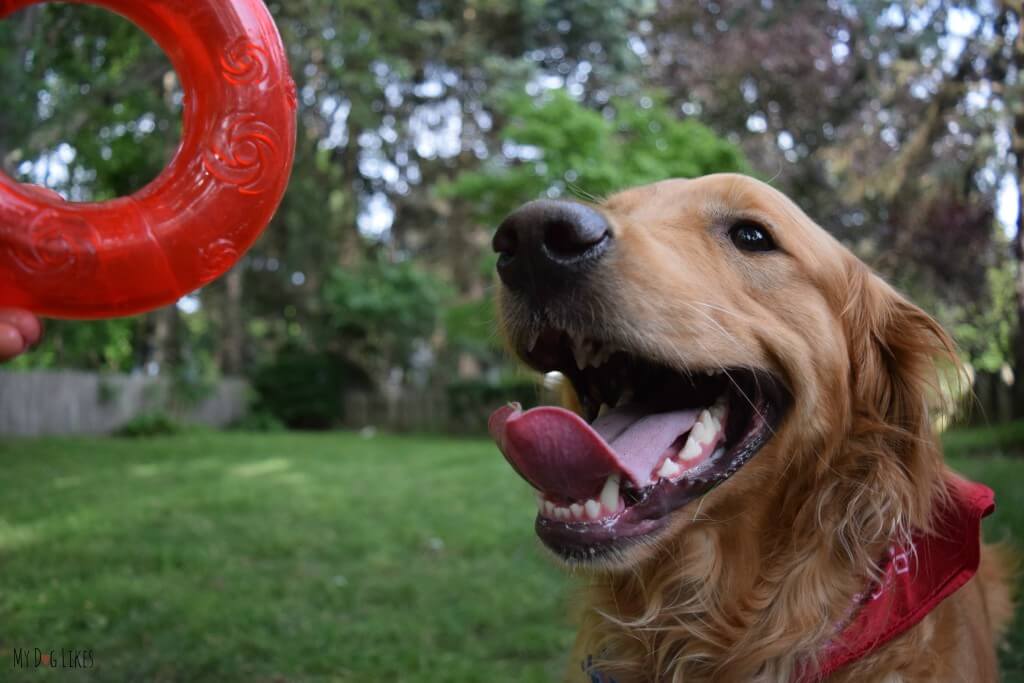 You will see what makes the KONG Squeezz unique as soon as you throw it. While it does not fly like a frisbee its cylindrical shape allows it to roll upright bouncing and taking unexpected turns with every bump in the ground. 

This movement really plays on your dogs natural instinct to chase and one throw was all it took for Charlie to be hooked! Just like the previous toy, this one also contains a great squeaker that will further stimulate and keep your dogs attention.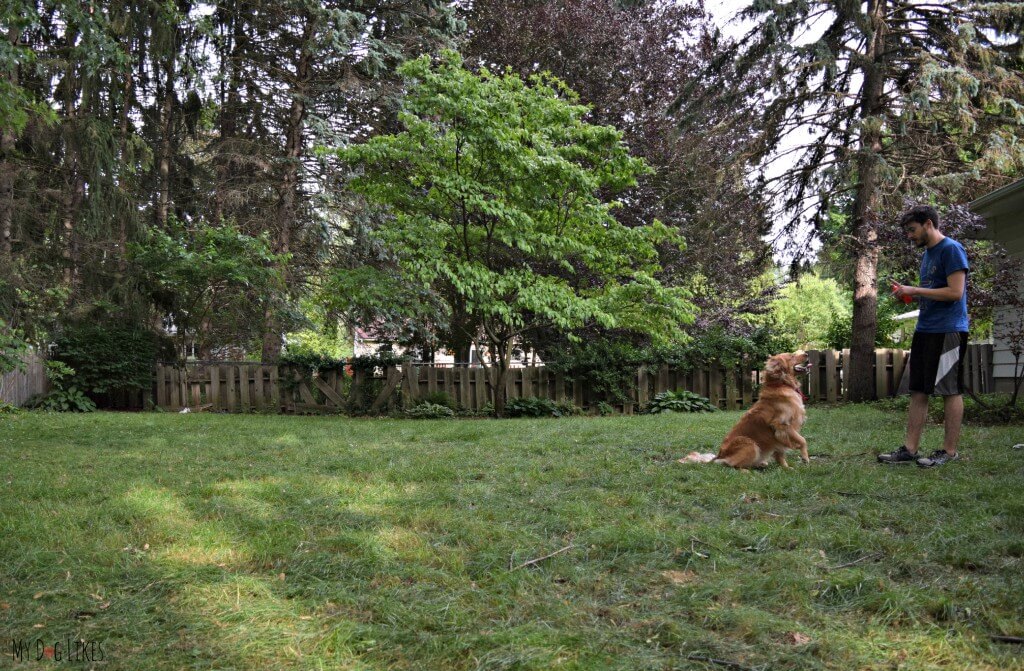 We were amazed at how far this toy will roll after a good throw! Perfect for our little ball of energy who likes to really get up to speed! We did our best to wear him out with a long play session but he just kept wanting more!
Check out some fun clips of Charlie enjoying the KONG Squeezz!
Why MyDogLikes KONG Squeezz Dog Toys
These toys do an amazing job playing off your dogs natural instincts. They travel in such a unique way that if you have an active dog like Charlie they will simply not be able to resist chasing after them! KONG Squeezz toys come in several bright, fun colors and multiple sizes appropriate for any sized dog.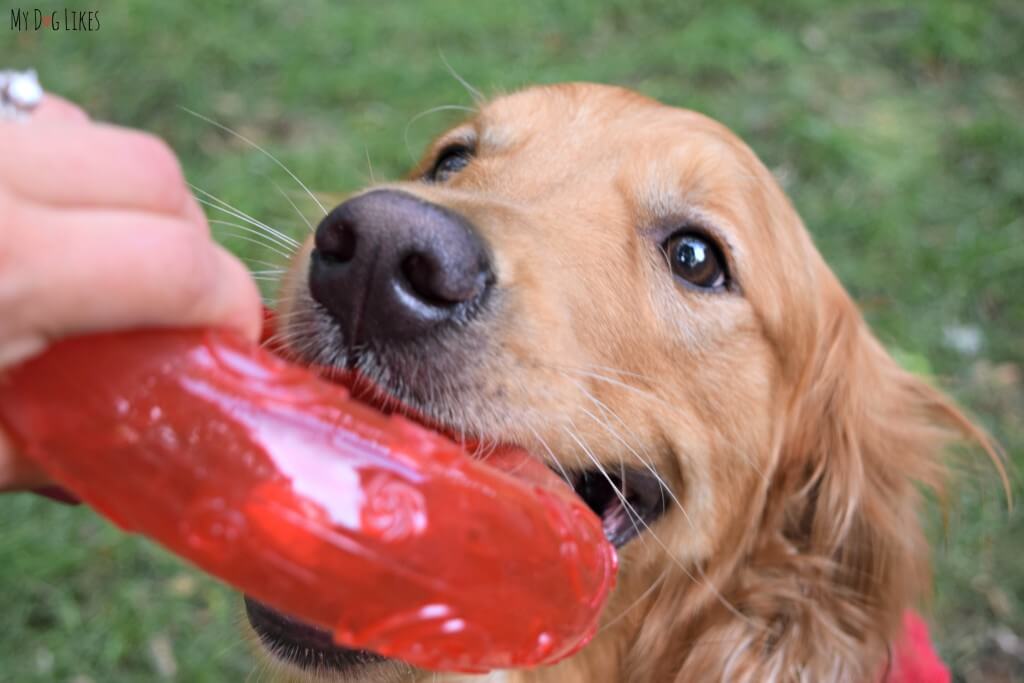 Most importantly of all, these toys have filled a void in Charlies daily fetch sessions at the park! Making it into this exclusive rotation of toys is the highest honor a toy can achieve for our little Chuckie – a HUGE stamp of approval!
Click Here to get your paws on some of these KONG Squeezz dog toys!