As soon as we laid our eyes on the Puller at Backer's Total Pet Expo last fall, we knew that Charlie had to have it.
As a well known frisbee connoisseur, this thing was clearly right up his alley. We spoke briefly to their representatives at the booth to learn a bit more, and as it turns out Puller is more than just a dog toy.   It is designed to be used as a dog training and exercise device as well!
Needless to say we were thrilled when their parent company, Collar recently contacted us about reviewing Puller for the blog!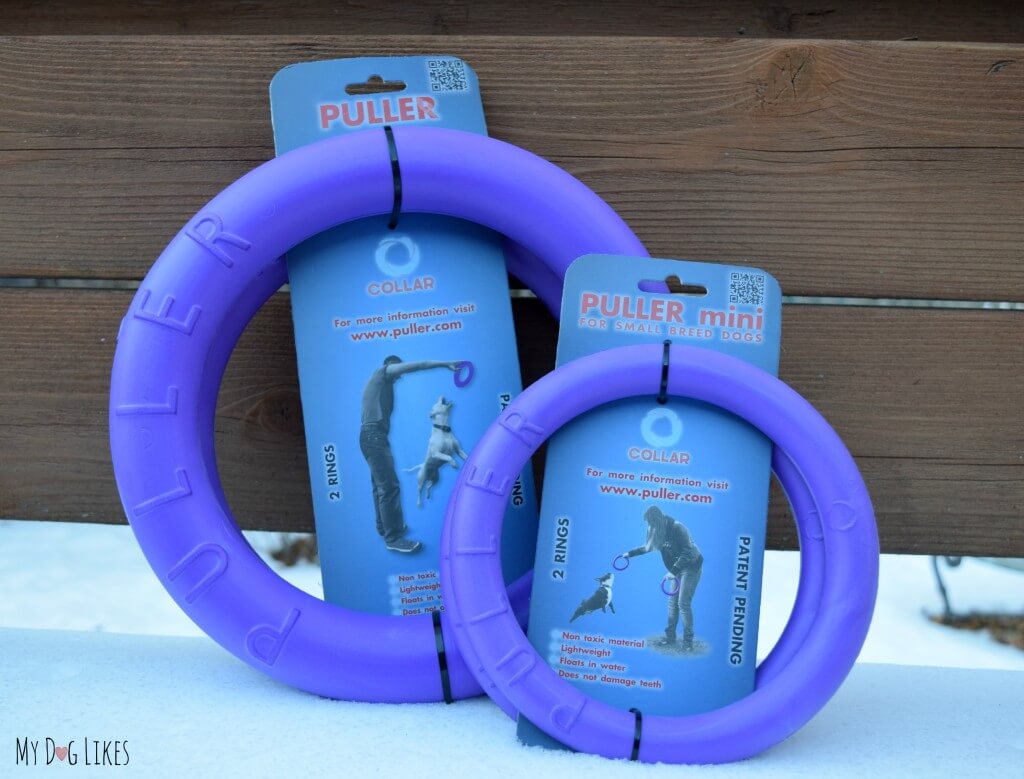 About the Puller
The Puller consists of a set of 2 soft but durable rings.  They are constructed of a unique material that is non-toxic, tough and resilient, yet gentle on your dogs teeth.  Puller is lightweight, naturally buoyant and thus great for use in water as well. 
Click here to buy the Puller from Amazon
Puller is available in 2 sizes, Standard (11" diameter rings) and Mini (7.5" diameter) and they were kind enough to send us one set of each size for review!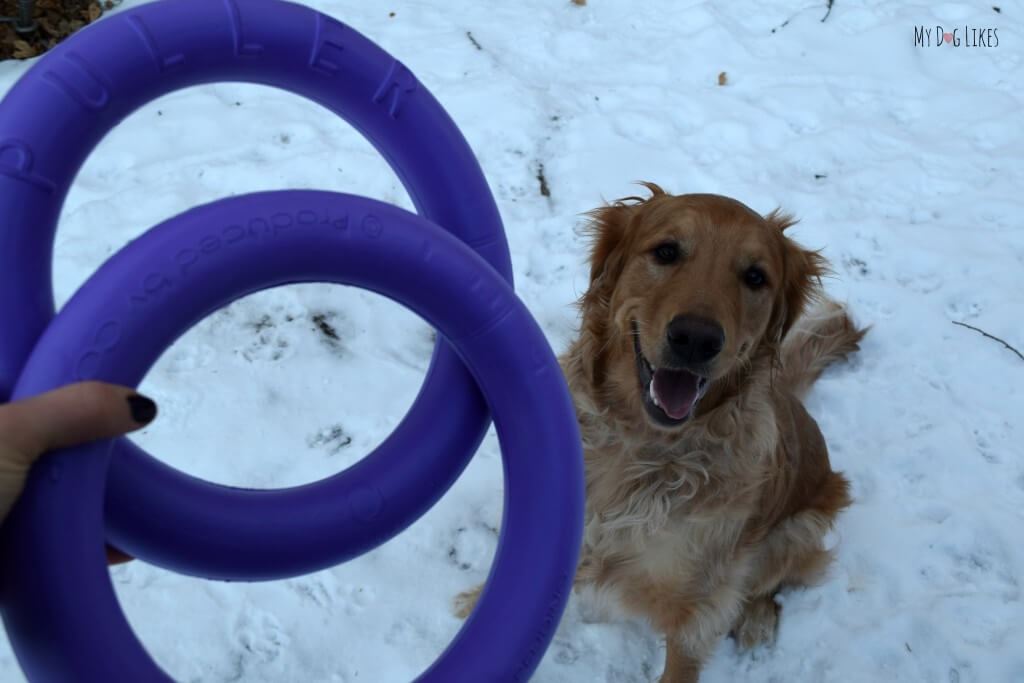 More than Meets the Eye
Part of what makes Puller so unique is its design intent.  It is no coincidence that this product is sold in a pair – it was truly designed with a dogs health and well-being in mind. 
While it may look like a regular dog toy, it really functions more as a piece of exercise equipment.  We all know how important exercise is to keeping your dog not only physically fit but mentally fit as well. Puller makes it easy to incorporate the type of rigorous exercise that dogs really benefit from into any busy lifestyle.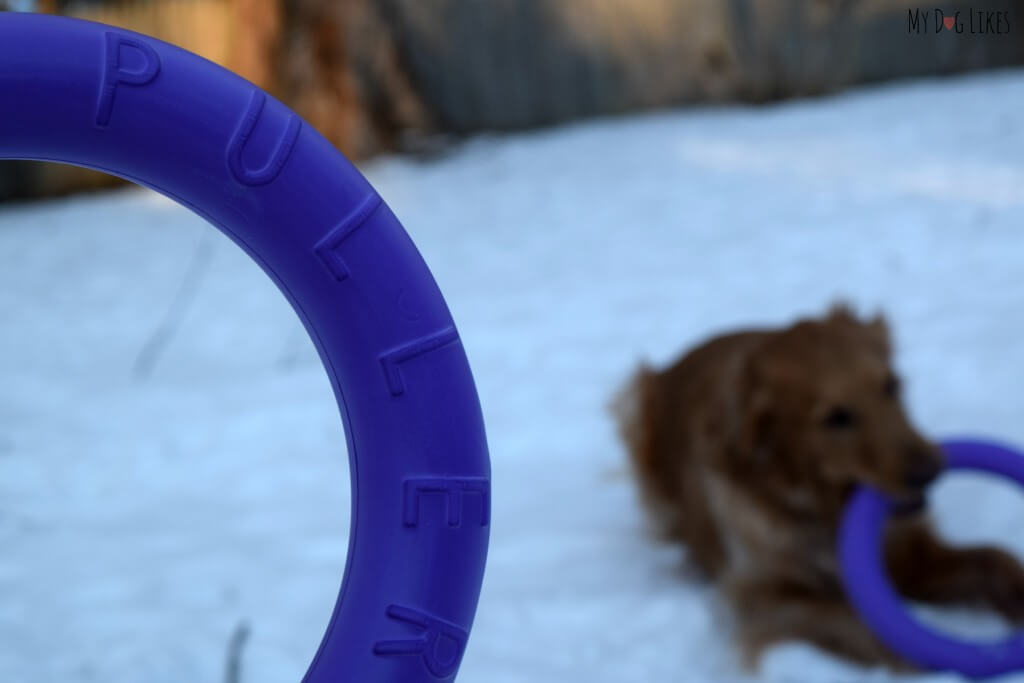 Puller recommends the following 3 activities (or exercises):
Combine them all in a typical play session for maximum health benefits!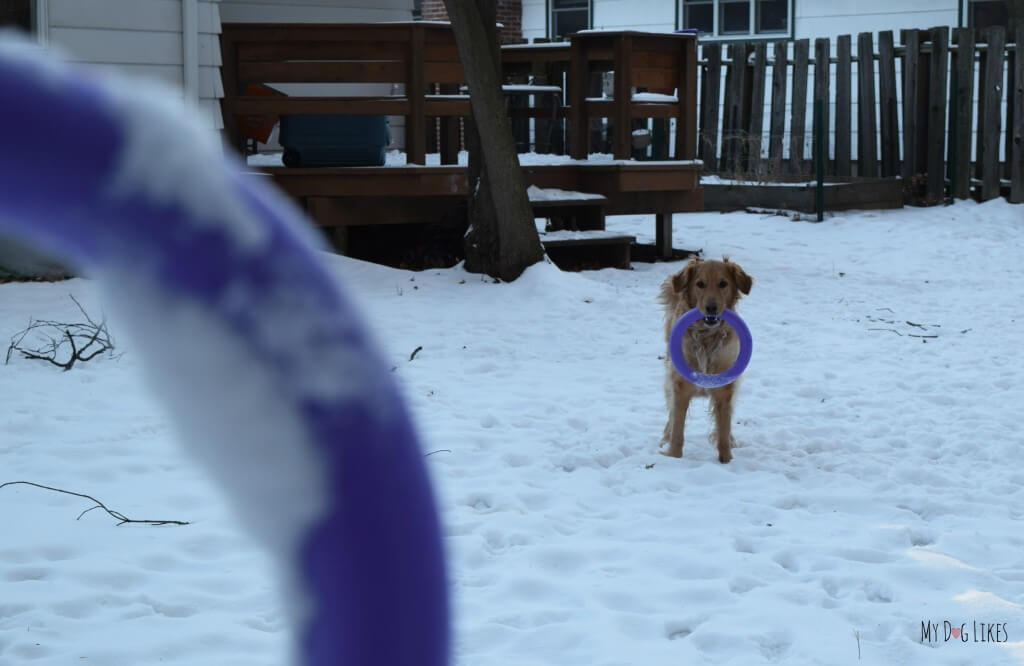 Running
The round shape of Puller makes it excellent for throwing and rolling.  Your dog will love to chase retrieve it! When they return, you'll be prepared with a second Puller in hand to throw again.  This constant motion (as opposed to the standard fetch-retrieve-drop-wait-fetch cycle) keeps your dog on a brisk pace for an extended period of time.  This is especially important if your play area is space limited.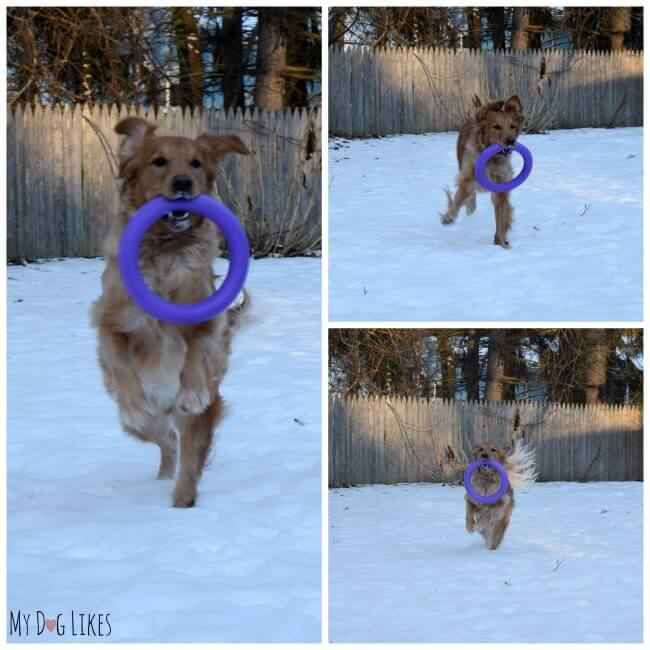 Jumping
This exercise is designed to help increase dog-owner bonding and response.  A Puller is held in each hand and not released throughout the activity.  One Puller is then held out for the dog to jump and grab.  After a release command, the other Puller is held out to be grabbed.  This process is repeated back and forth and your dog gets a great workout while helping to reinforce commands and obedience at the same time.  Since we are actively working on NOT jumping with Charlie, we didn't test this out yet!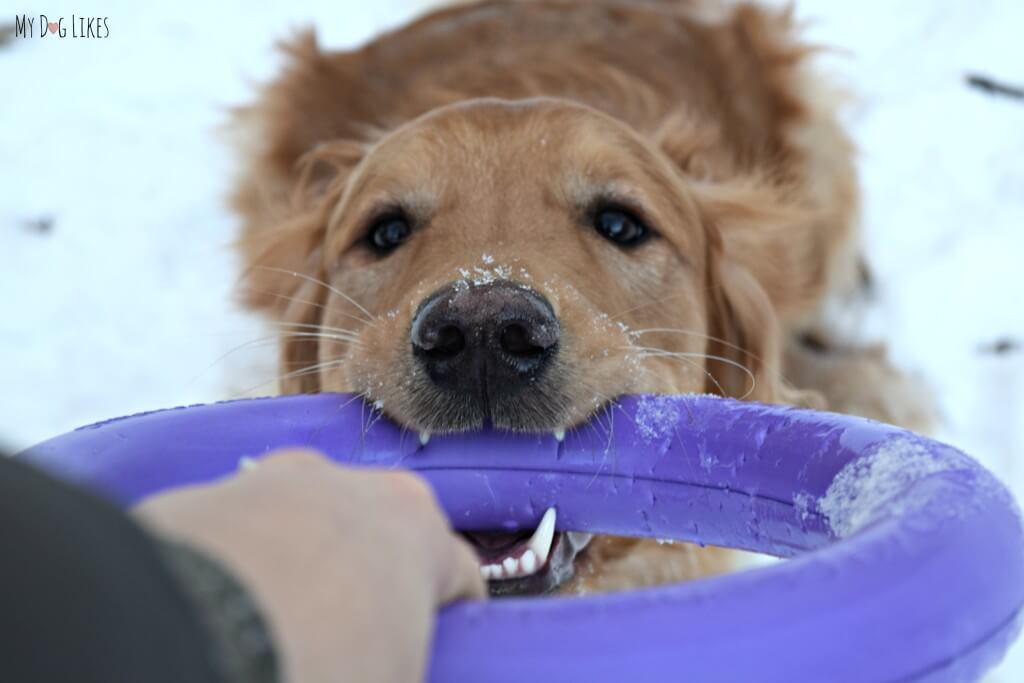 Pulling
This one is a bit more self explanatory – a good old fashioned game of tug!  Your dog will love the gentle "squish" of the Puller and you can be assured that it will not damage their teeth.  Pulling is great exercise for dogs and helps to build and develop many important muscle groups.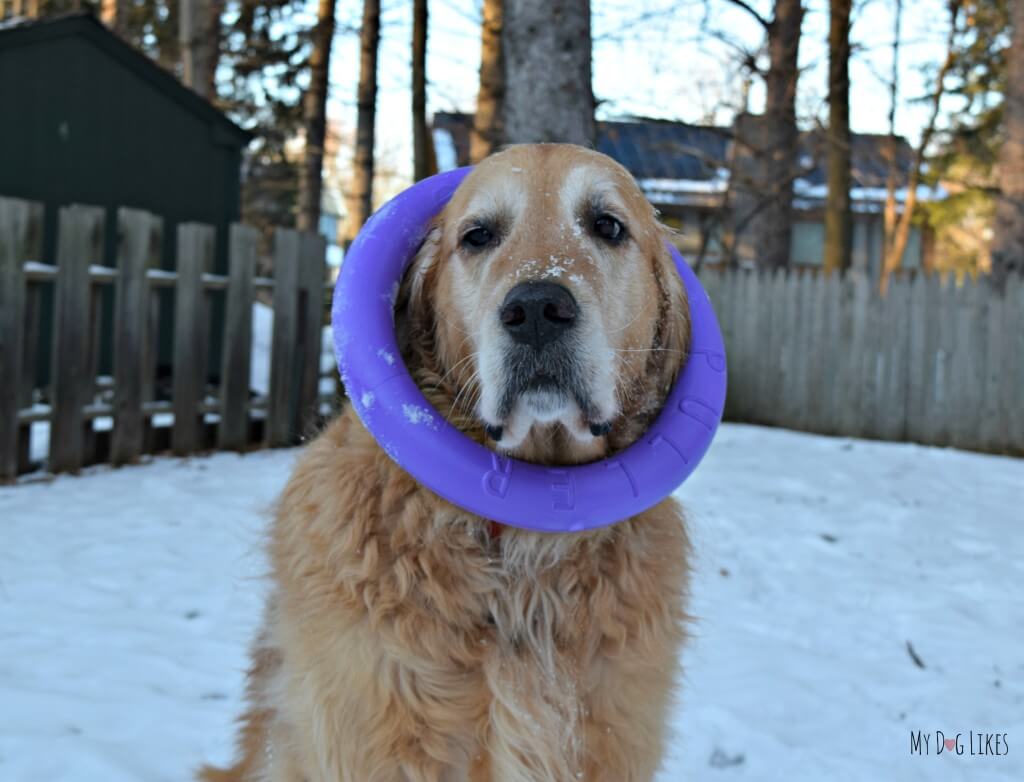 My Halo – It slipped!
Why MyDogLikes The Puller Dog Toy
As a big fan of frisbee and all things "fetch" Charlie was instantly enamored with the Puller. As for us humans, we absolutely love the emphasis that Puller puts not only on exercise, but on bonding with your dog through physical activity and mental stimulation.  
Since releasing toys after fetching is not strength of his, it was great to have two Pullers to keep play going; although sometimes a certain puppy brain forgot to drop the first and would carry it over to the second and stare, unsure of what to do! The Puller does not travel as far of a distance as a frisbee so it was a great option for our small(ish) backyard, which is great when we want to just burn some energy without going for another walk!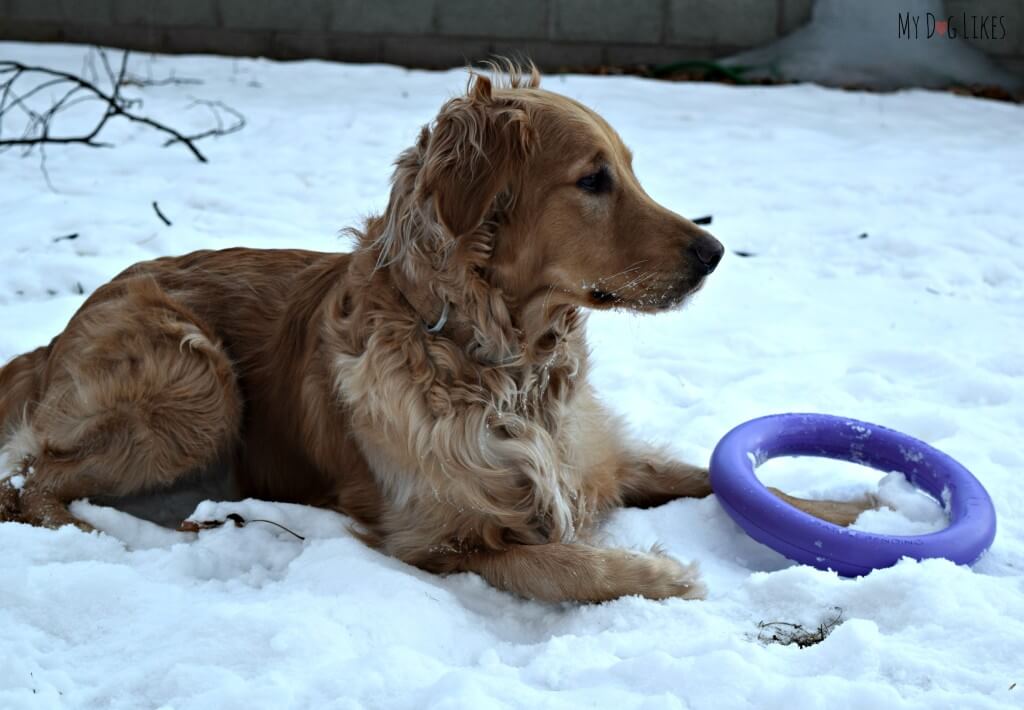 Versatility 
There are so many ways to use the Puller and we know it will keep the dogs mentally stimulated for a long time to come! Although we have not been able to try it, we look forward to Spring (isn't everyone) and using  the Puller in the water. Since swimming is such a low impact exercise that is great for arthritic and aging dogs, we are super excited to use the Puller with our water dog, Harley!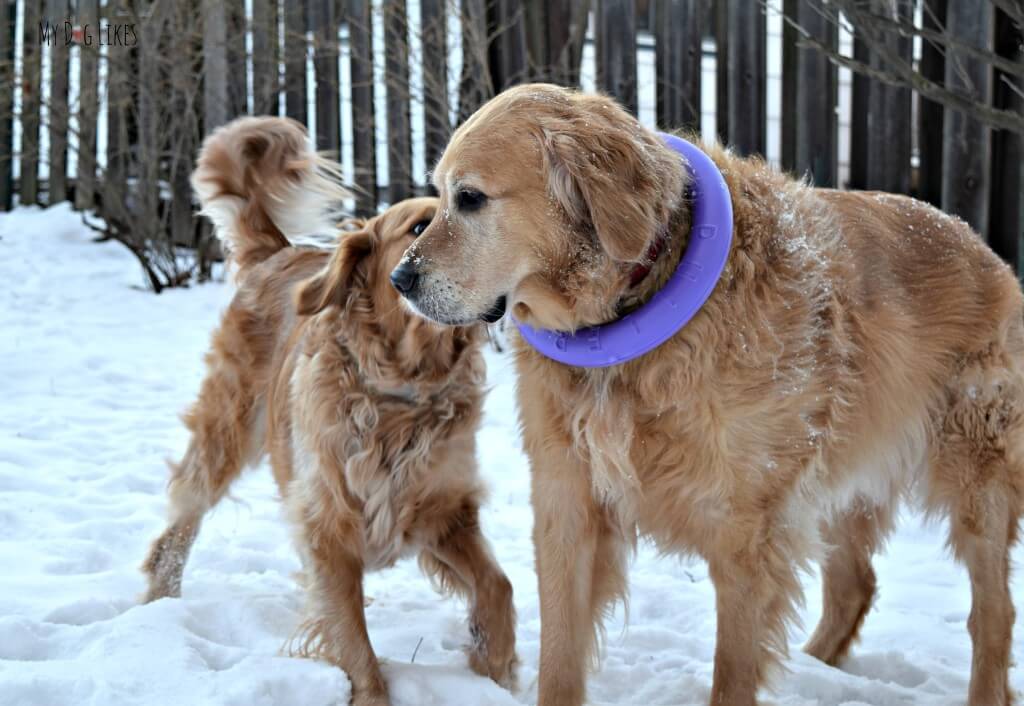 There is my other Puller!!
Toughness
The Puller's unique material holds up well to biting, pulling and the elements – earning it a spot in our list of the toughest dog toys.  It is not a chew toy however and should be taken away after a play session.  This also helps to increase interest in the Puller and make it more effective during training. We've done this with Charlie and as a result he gets really amped up when he sees me heading toward the backyard with it!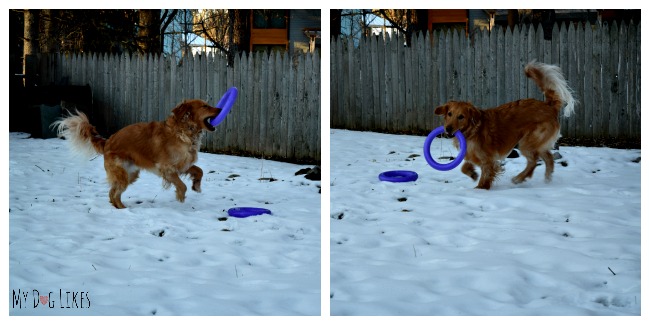 Odorless
While it may not seem like a big deal, many dogs (like Harley) are averse to rubber or plastic type objects.  Puller has no discernible odor so will not be offensive to dogs that may be sensitive to this.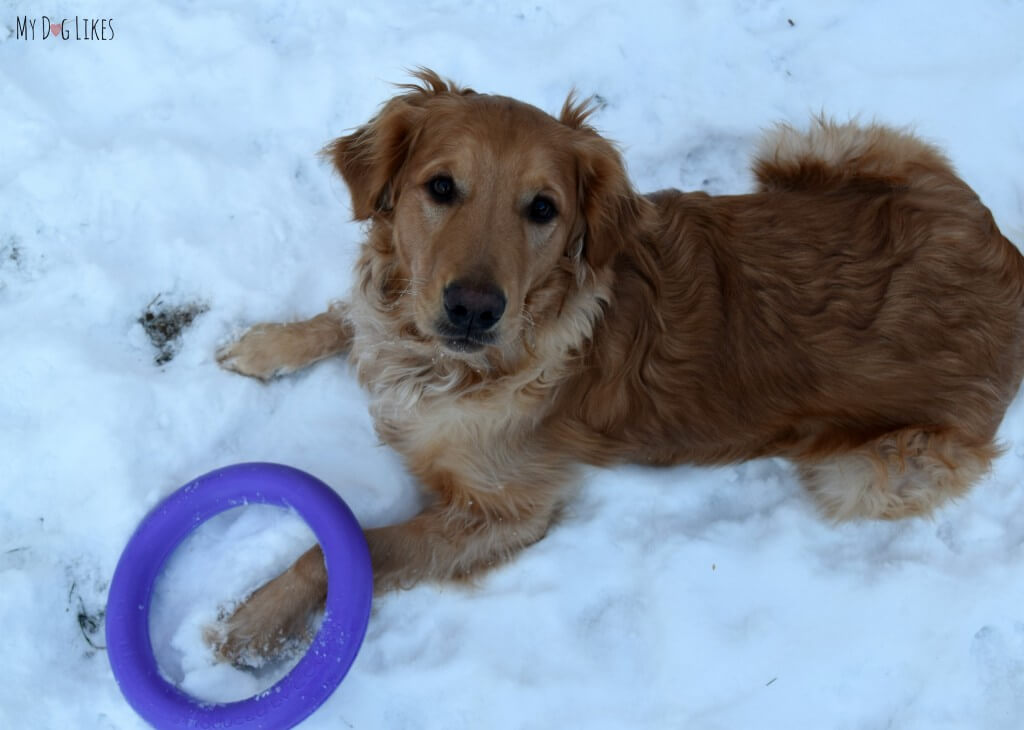 This is a great toy for dogs who love fetch, tug, and interactive play! It keeps the mind and body busy without requiring a lot of space! The Puller has quickly jumped onto Charlie's (and our) list of favorites toys for outdoor play!