Would you believe that this is the face of a dog toy serial killer?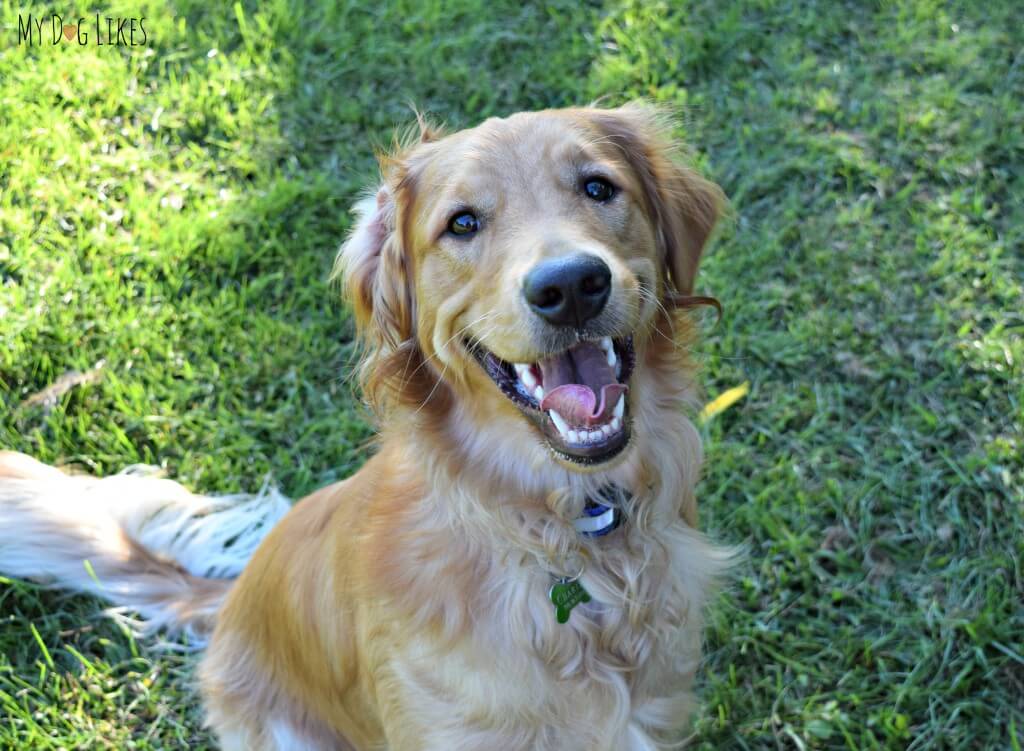 Well, believe it.
Like most dog owners, we are on a constant quest for durable dog toys.  When we find one that can actually withstand a bully like Charlie we can't wait to share it with our readers.  That is why we are so excited to tell you about the Zeus Bomber!

Introducing The Zeus Bomber
The Zeus Bomber looks like a small basketball with handles.  It is orange, made of a natural rubber and textured for grip.  Inside is a hollow chamber filled with air making it bouncy and buoyant.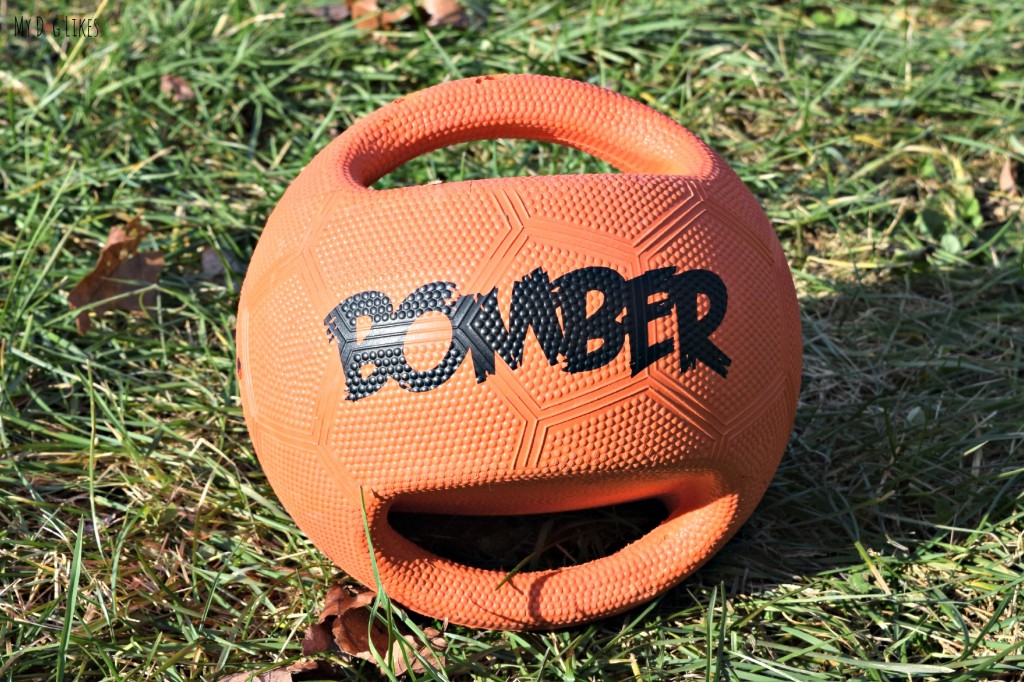 The Bomber comes in 2 different sizes and Zeus was kind enough to send us a "Regular" (7″) Bomber for review.
Seriously Tough
One of the first things you may note about the Bomber is its weight – it clocks in at nearly 2 pounds! While clearly a sign of quality and durability I must admit that I was a bit concerned as to whether Charlie would even carry it around!  Furthermore, he loves to run with his toys and I wasn't sure if he would be able to! As you will see, these worries were completely unfounded…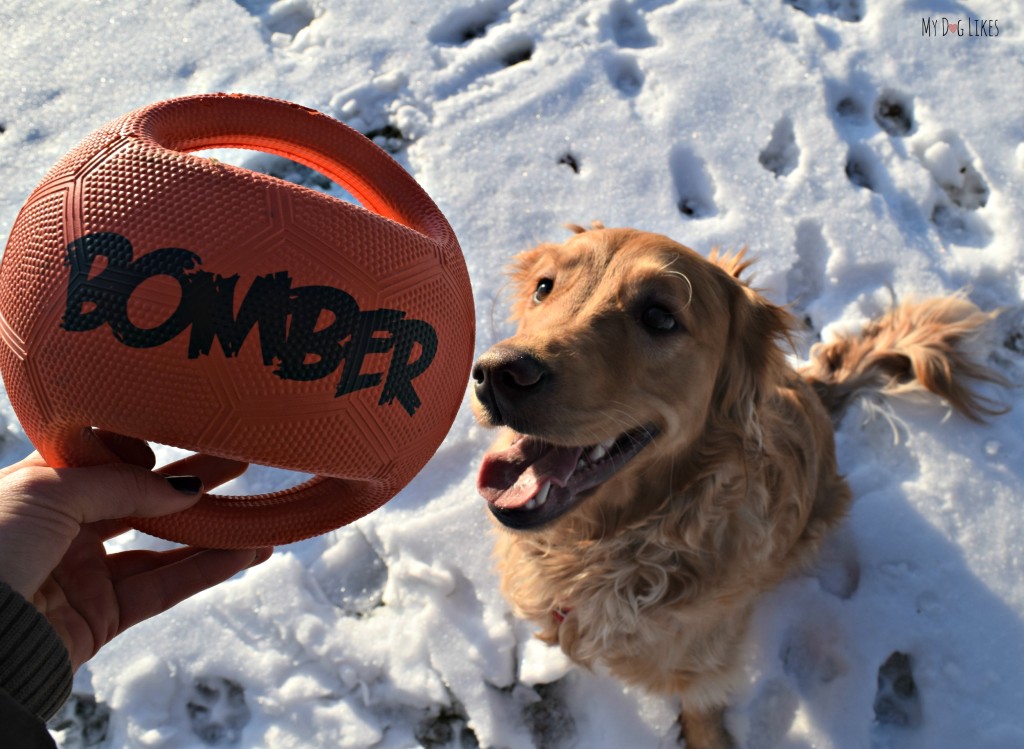 Inside of the Bomber's rubber shell is a reinforced polyester layer that helps it to maintain its shape.  The handles on the Bomber are thick and sturdy and can clearly withstand some serious tugging force.
So Many Ways to Play
The Zeus Bomber is an extremely versatile dog toy.  It's unique shape and construction lend itself to all sorts of play possibilities.
Fetch It
The Bomber is an excellent fetch toy.  Not only will it's handles help your dog to retrieve, but they will help you to throw it as well.  As I mentioned before, it is a bit heavy so I would recommend a side or underarm throw!  It also works well to roll it like a bowling ball! It tends to take some unpredictable bounces and turns which leaves your dog scrambling around to get it!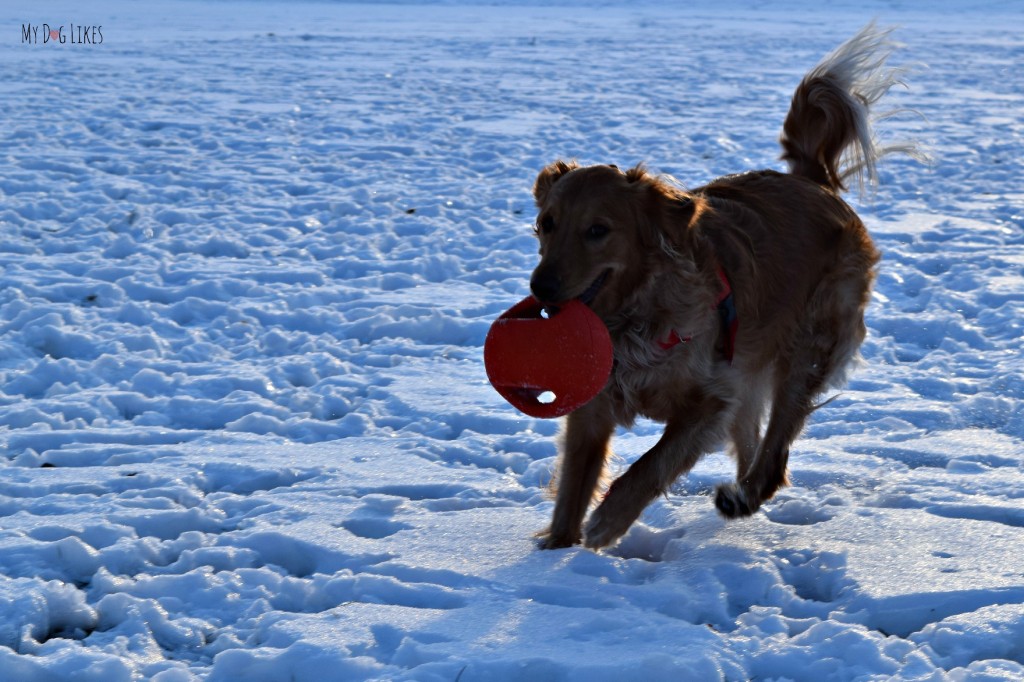 Kick It
One of my favorite things about the Bomber is that it is tough enough to be kicked. The way it bounces and rolls make it the type of toy that dogs will love to pounce on and chase.  You can dribble it around like a soccer ball and have a blast as you both try to keep it away from one another! Keep away is a fun game to play with the Bomber, but I wouldn't recommend kicking it hard or punting it  because it is so hard.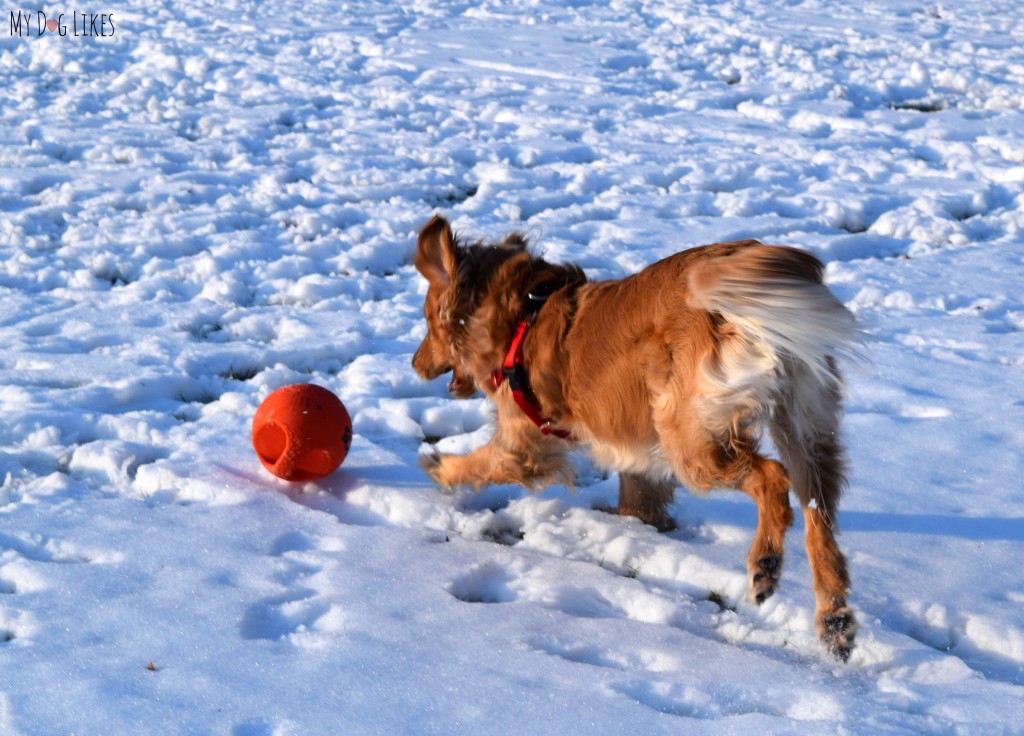 Tug It
The 2 handles of the Bomber make it an ideal tug toy.  Whether dog-human or dog-dog tugging, the Bomber can "handle" it.
Float It
Obviously with 2 Golden Retrievers in the house anything that can float scores some extra points in our book.  We can't wait till spring rolls around and we can try this out at some of the boys favorite swimming spots!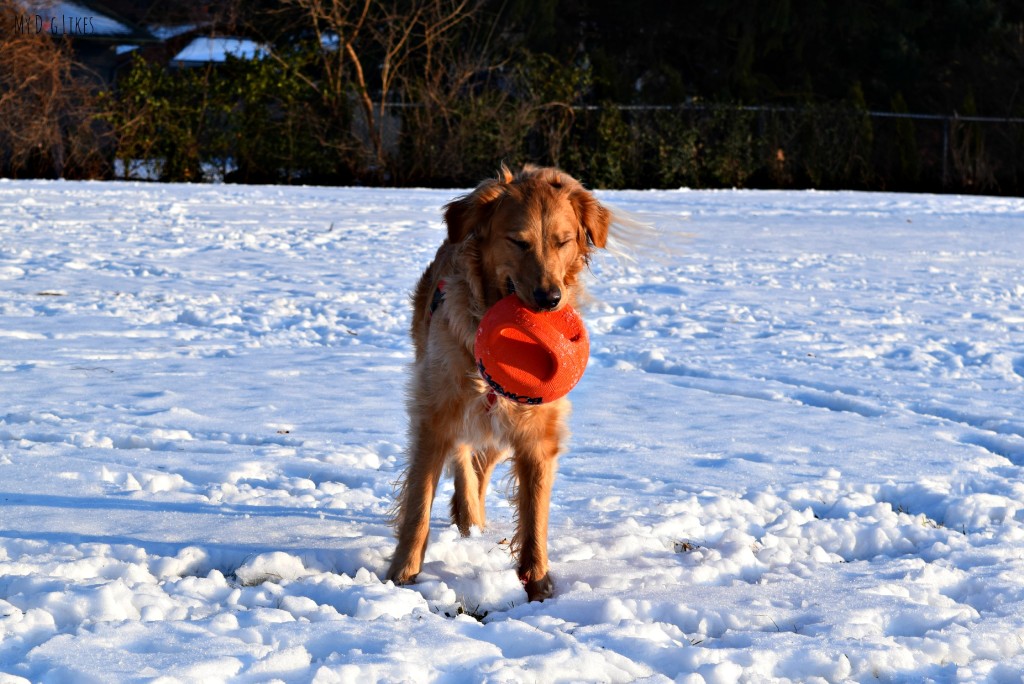 Bomber F.A.Q.'s
The Bomber is a ball – Should I be worried about deflation?
The short answer, I wouldn't be.
It would take some serious effort and dedication to puncture this toy.  I wouldn't suggest leaving a really destructive dog alone with any toy for an extended period of time, but I have no concerns that with normal to somewhat aggressive play, this toy can hold up!

Can I play inside?
Yes! Charlie loved when I bowled  it down our hallway! After retrieving it a few times, he carried it around the house and sat down for a chew where he mouthed it pretty aggressively. Despite some rough play,  (and that was before the photoshoot) you can see how well it has held up!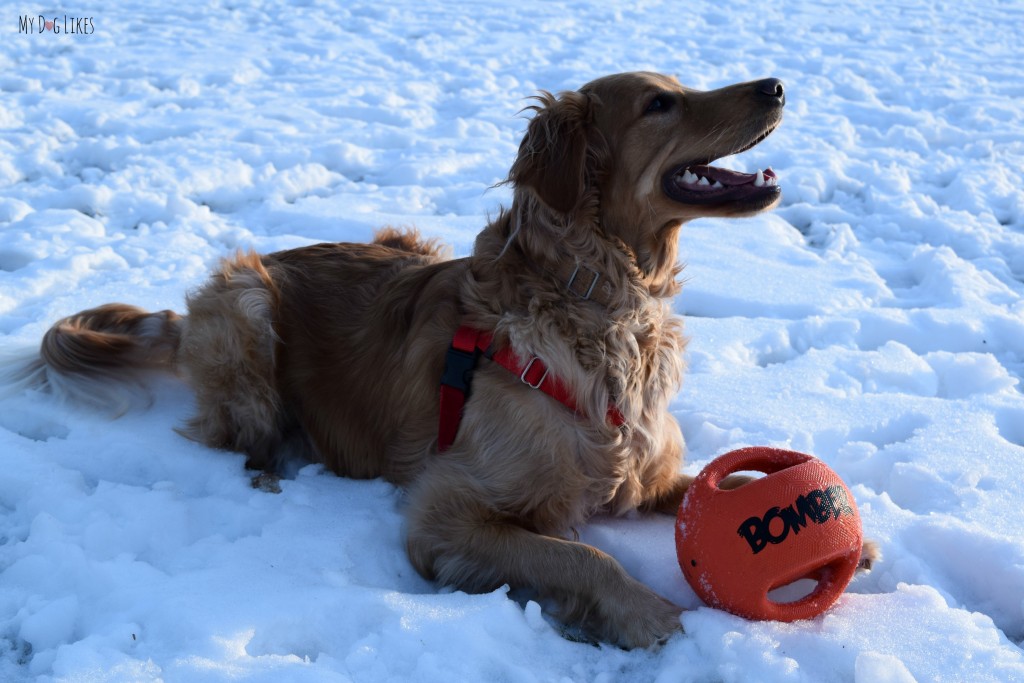 Why MyDogLikes the Zeus Bomber
Charlie loves running around carrying the Bomber in his mouth.  The handles (when he uses them) make it very easy to do this and also add the element of "tug" that other products like this don't have.
The Zeus Bomber is versatile; easily transitioning to fetch by land and sea (or pond). The bomber is extremely durable and holds up well to aggressive play indoors or out.
The toy comes in two different sizes, regular (pictured) and mini (4.5″). For a medium sized dog like Charlie (65lb), either the Regular or Mini Bomber would have worked. If your dog falls somewhere in the middle, I would recommend that you make a choice based on durability (larger allows less of the toy to fit inside of those sometimes destructive mouths) or weight (how easily you think you can throw it and your dog can carry it). Unfortunately, I don't think our small dog friends would be able to use this toy as easily, however, if he/she has a big dog ego and an all out play style, they could have lots of fun too!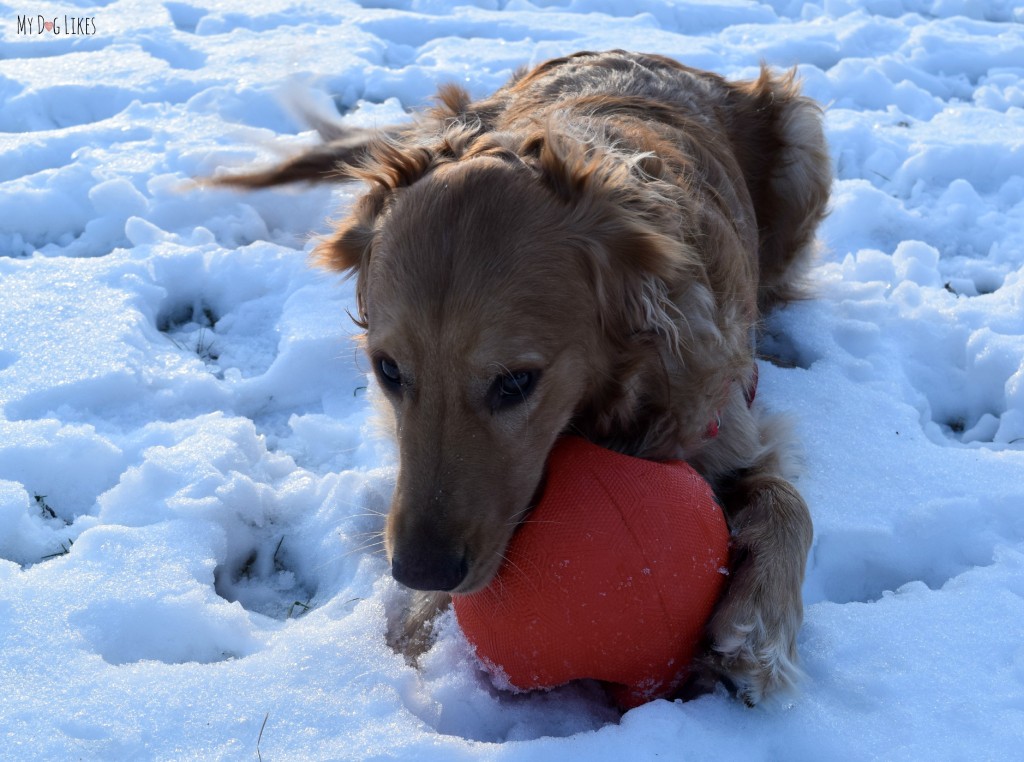 The Bomber is a truly tough dog toy and a great way to keep your dog fit.  It's unique shape makes it a ton of fun and can really mix up the play options inside and out!
Want to get your paws on one of these awesome toys?
Pick up the Zeus Bomber on Amazon