Throughout February and March we have been talking about good dental health practices for dogs…
Brushing your dogs teeth is extremely important and if you have a cooperative pup, not too hard to do.

Dental chews can be a great complement to regular teeth brushing as well!
Another great (and easy) way to keep your dog's teeth clean is to tap into their strong desire to chew!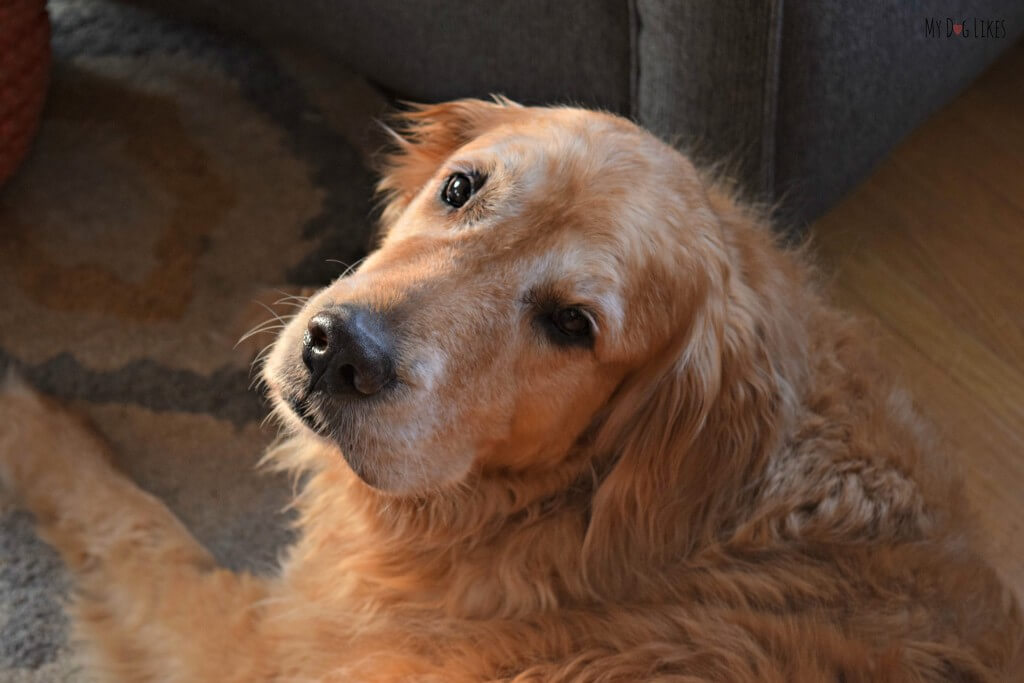 Chewing is Harley's favorite pastime and as any Golden Retriever owner knows, abstaining is just plain torture!
Unfortunately, a few weeks back, Harley had a procedure to remove several epulis from his gums. Our poor guy has been feeling a bit down in the dumps ever since as we had to take all his bones away while healing! In fact he has been digging through his toy bin every day whining and looking for his precious bones! 
Now that enough time had finally passed, it seemed that a Nylabone would be the perfect thing to get him back into the swing of things!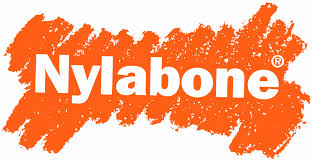 Nylabone
For those unfamiliar with Nylabone, they are THE industry leader in safe dog chew toys. They make a large variety of both edible and non-edible chews catering to dogs of all sizes, ages and chewing types.


We have enjoyed Nylabone products for many years and you can read some of our prior reviews here: Double Action Chew and Dura Chew!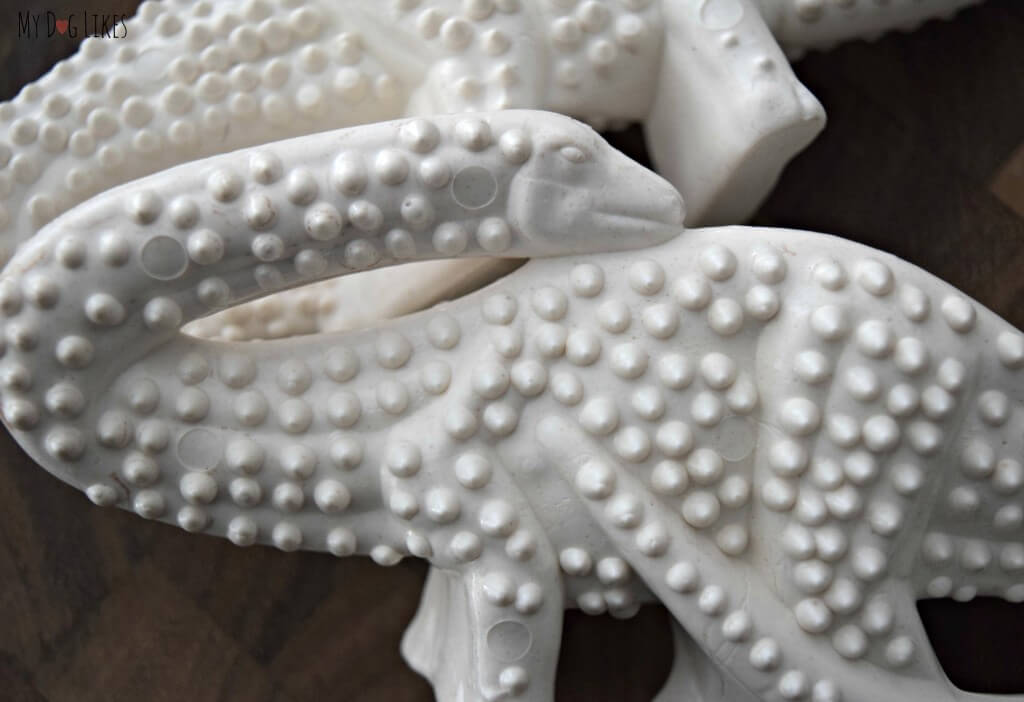 Dental Dinosaurs
Nylabone's Dental Dino is a non-edible chew that comes in several fun dinosaur shapes including Brontosaurus, Stegosaurus and T-Rex! All shapes are roughly 6″ long, 3″tall and 1″ thick. They are covered in raised nubs that help to remove plaque and clean teeth while chewing. Furthermore, the Dental Dino has a clean scent that freshens breath!

A word of Caution
It is important to note that these chews are not edible. Small pieces that shred off and are consumed will pass without issue, but if large pieces or chunks are broken off these chews should be taken away.
Make sure to select the size that is right for your dog and always select toys for the largest, strongest, chewer in your home. (Nylabone recommends choosing a chew large enough to encourage chewing from the sides not the top and bottom)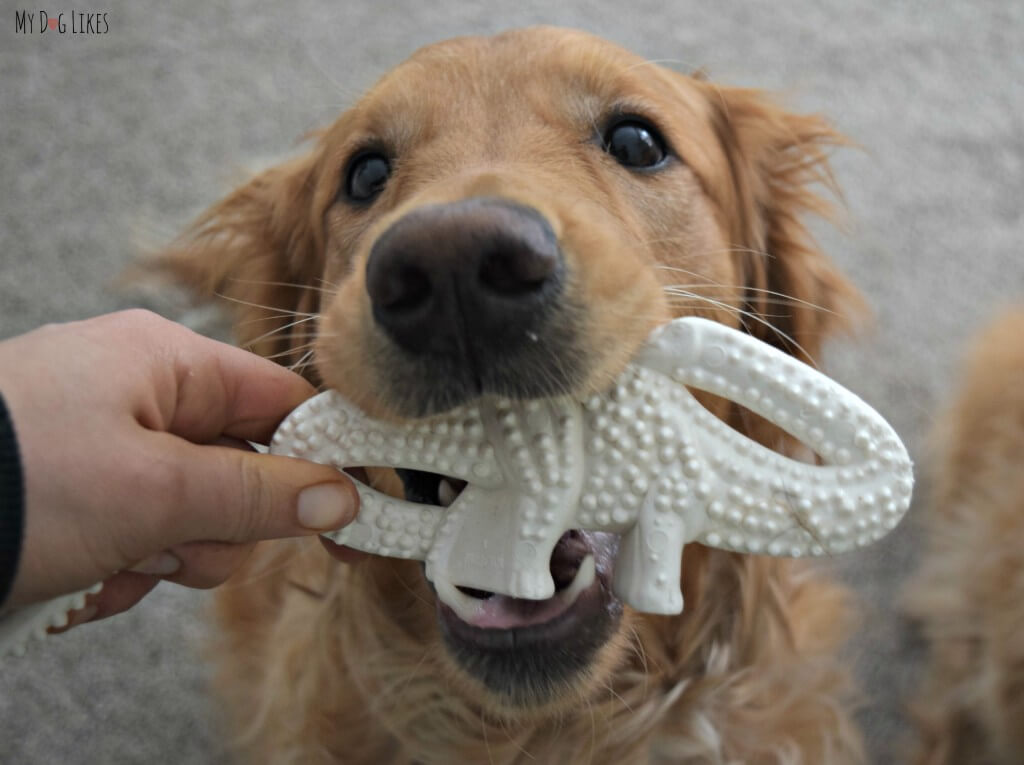 Dog vs' Dino
Not every dog is up to the challenge. This chew is designed for POWERFUL Chewers! Don't worry, we have no shortage of those in our house!
Claims:
Long lasting design

Cleans teeth and controls plaque and tartar

Engages and entertains

Discourages destructive chewing
Let the chewing begin!!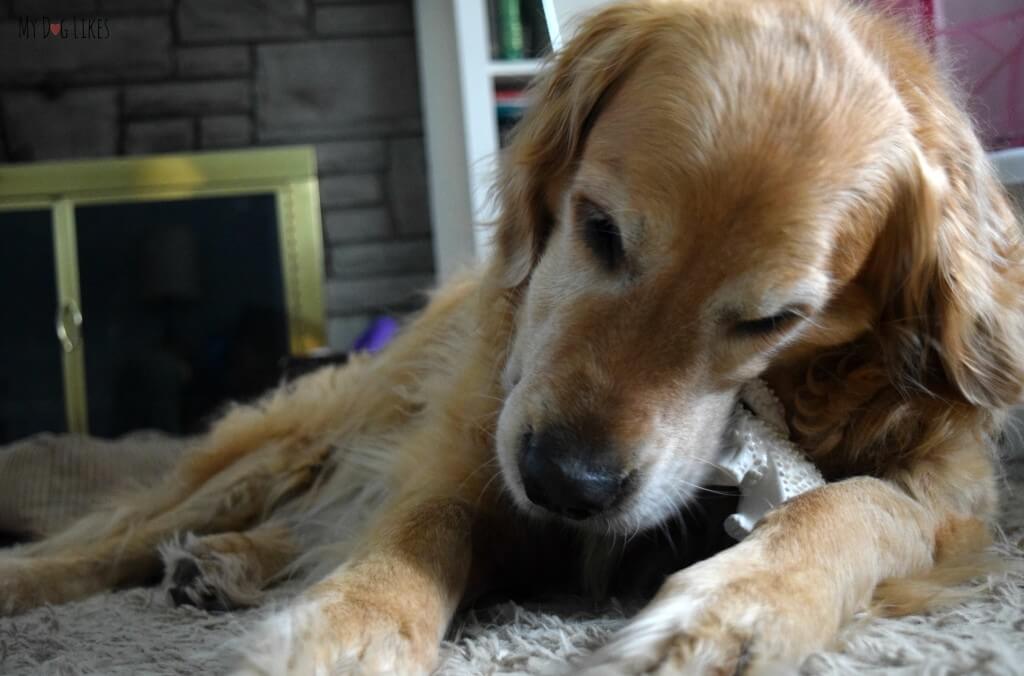 Harley is absolutely thrilled to have "bones" back in the house!!!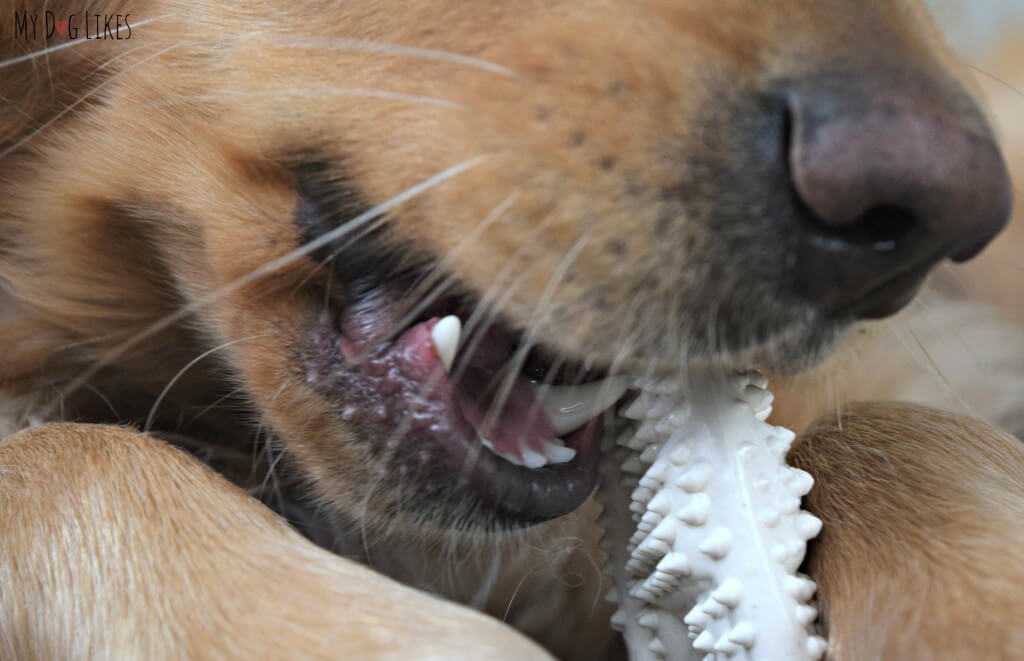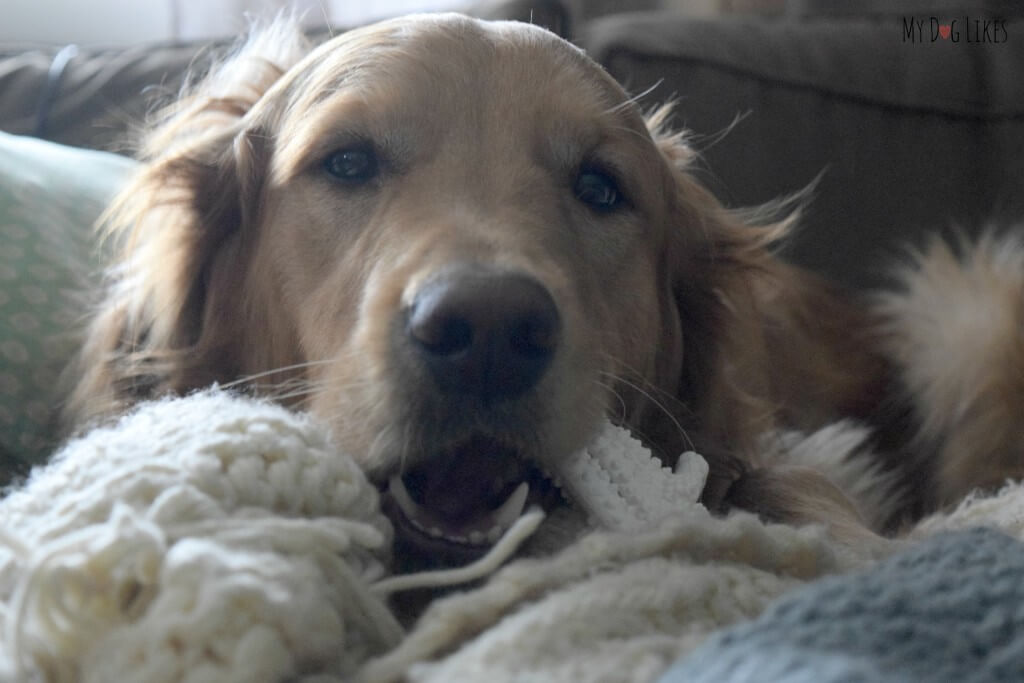 Charlie loves that he doesn't get in trouble when he tries to eat it snuggled on the couch!
The Aftermath

As you can see, the boys enjoyed these chews a great deal! What you are looking at above is the result of several hours of steady chewing.  While it is clear that damage has been done, the rough "bristled" areas exposed actually help to further clean teeth.  No large pieces were broken off during chewing so we did not have to take them away at any point – these chews are ready for more action! A serious achievement with our strong chewers!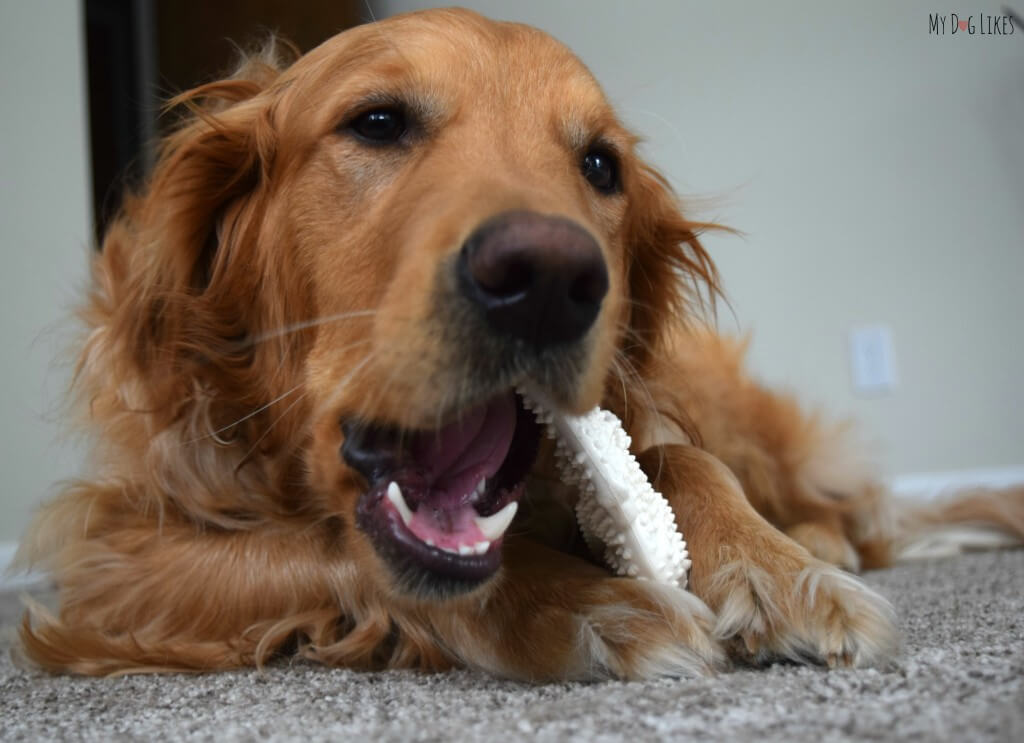 Why MyDogLikes Nylabone Dental Chews
First and foremost, they are no-mess! Unlike real bones, there are no foul odors, bacterial concerns or stains left behind from chewing. Better yet, the Action Cleaning Nubs all over the surface actually help to clean teeth and freshen breath! These chews do a great job of satisfying their natural desire to chew, and the unique shapes keep them mentally stimulated in the process.  They are extremely tough and the boys enjoy them just as much as a regular bone!
Want to try out some Nylabone chews out for yourself?!
Click here to browse Nylabone on Amazon!