If our dogs are experts in anything, surely it is comfort.
Believe it or not, these two freeloaders spend the majority of their time just lying around! Talk about having it easy!
We aren't the type to keep them off the furniture either. That means a constant battle over who gets the prime spot on the couch, or even the bed.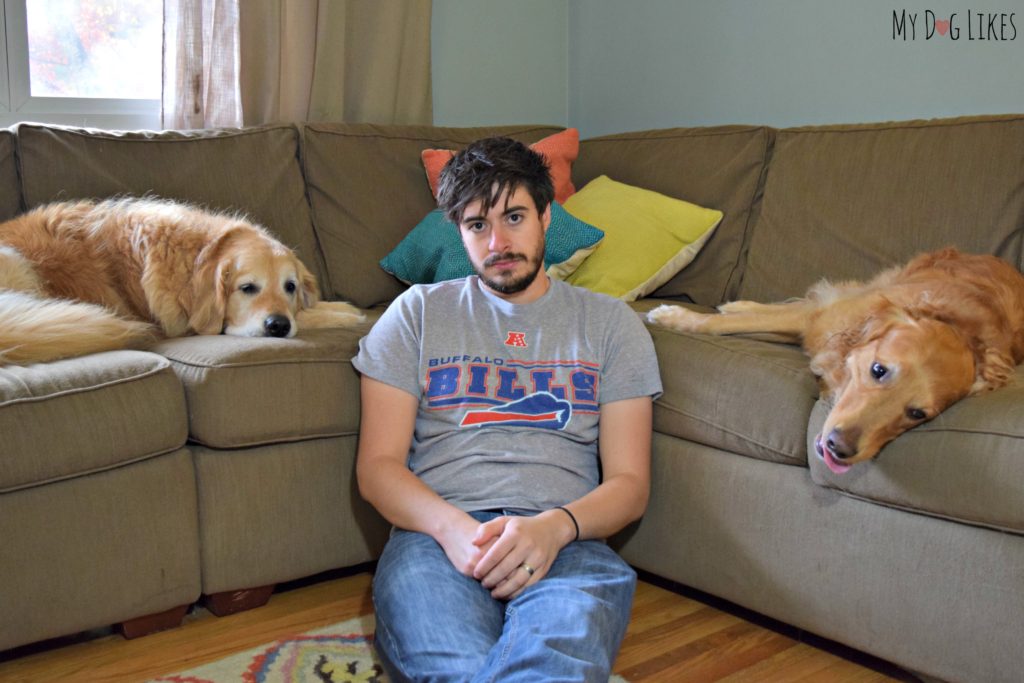 Hey, something doesn't seem quite right here….
We realized years ago that in order to have a shot at laying in our bed at night, these dogs needed a cozy spot of their own. Therefore, they each have their own bed in our room which they (mostly) stick to. The only problem with our current setup is that it can be a pain to drag the beds out into the living room in order to clear a prime spot on the couch…
Thankfully, West Paw Design recently asked if we would be willing to try out their Heyday dog beds and get the opinion of our lounging pros. As you can imagine they were ready and willing to jump (lay) right on the job.
As for the humans of the house – we were just excited at the thought of winning our couch back!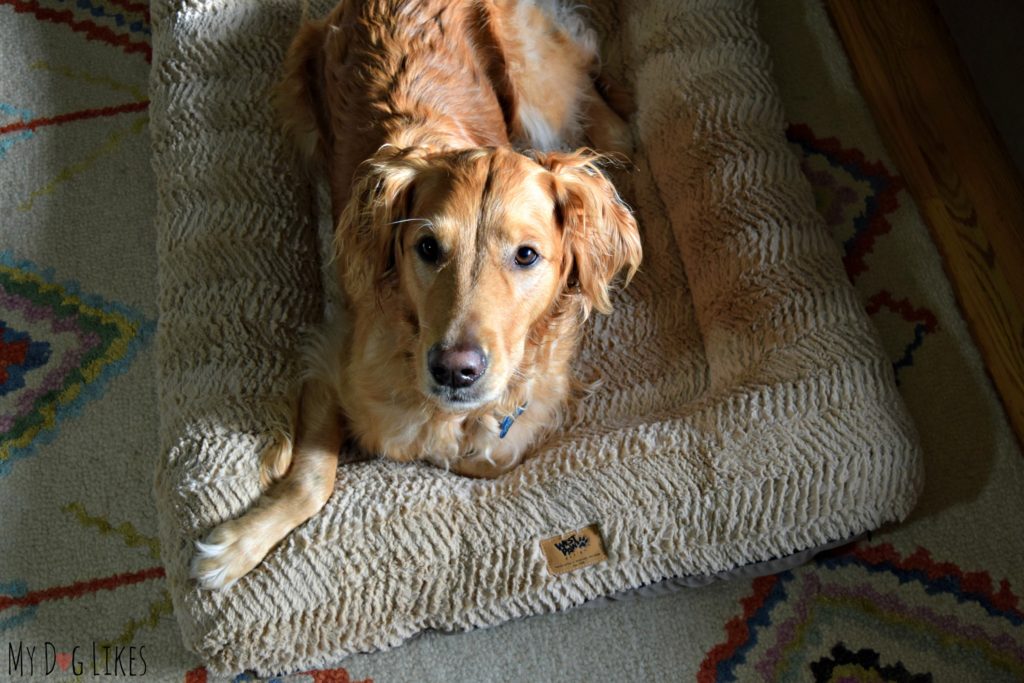 Introducing the West Paw Design Heyday Dog Bed
You're probably familiar with West Paw from their line of Zogoflex dog toys – which we have raved about in the past. These durable dog toys are worth every cent and deserve a place in the home of every tough chewer.
Did you know however, that West Paw also manufactures some of the best dog beds on the market?
Harley has been using a West Paw Design Bumper Bed for several years now and he absolutely loves it. As a matter of fact, our whole animal family is constantly fighting over it!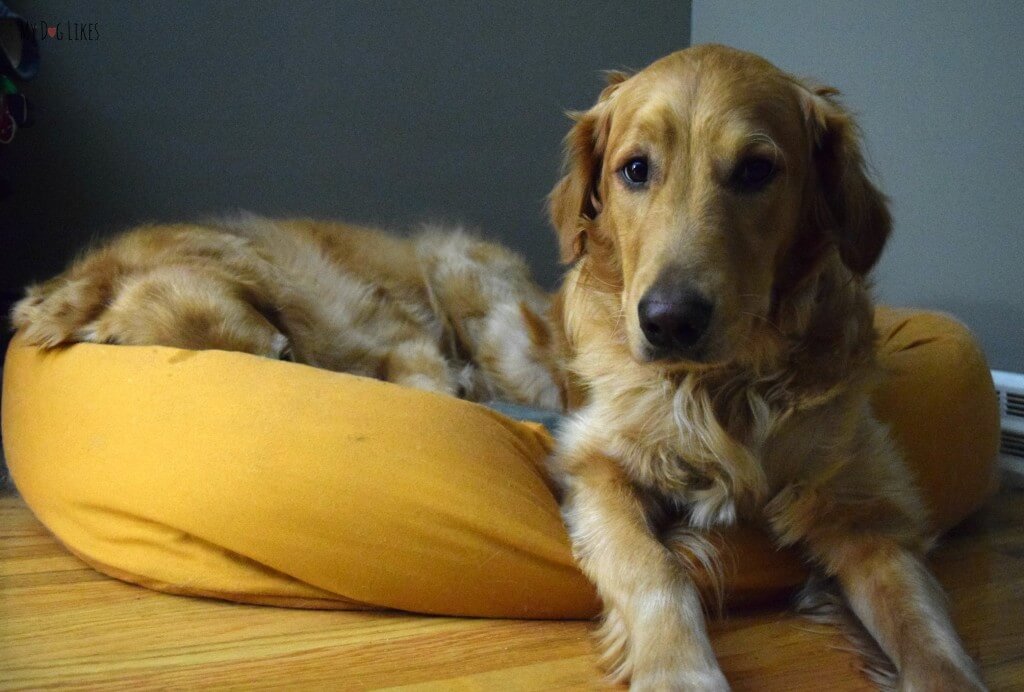 West Paw's Heyday dog bed is rectangular instead of oval and quite a bit lighter making it much easier to move around. This is perfect for places like living rooms where you may want to reposition it from time to time!
Breaking Down the Features for our Heyday Dog Bed Review
The Heyday bed comes in several different sizes and tons of different patterns so you are sure to find the perfect option for your dog. We received an Extra Large Plush Oatmeal (46″ x 32″)  and a Large Plush Boulder (40″ x 27″) for the purposes of this review.
 Click Here to Browse Heyday Beds on Amazon
Let's take a quick look at some of the standout features…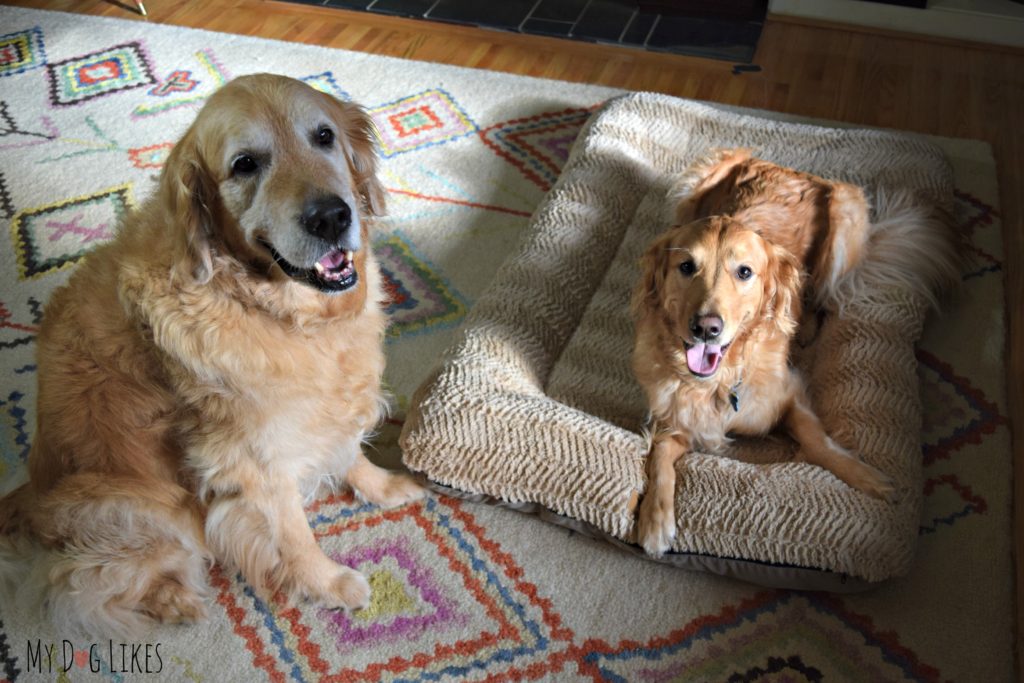 Stylish
First things first, these beds look fantastic. There are tons of color options, and you will no doubt find one to complement your home decor. We love pet accessories that don't stand out like a sore thumb! Just because this is a dog home doesn't mean that it needs to look like it!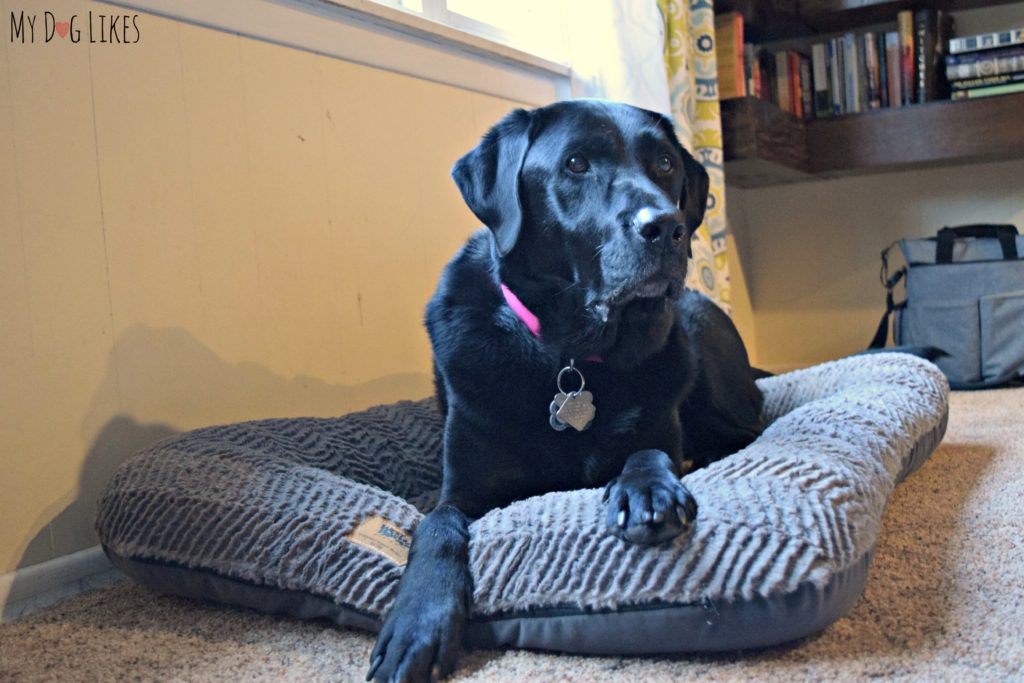 Doggy pal Laila was more than willing to help with this product review!
Comfortable and Soft
Heyday Beds are available in a mix of plush/ microsuede (like ours) or all microsuede. We chose the plush top as we figured it would be more forgiving to heavy traffic and errant dog hair!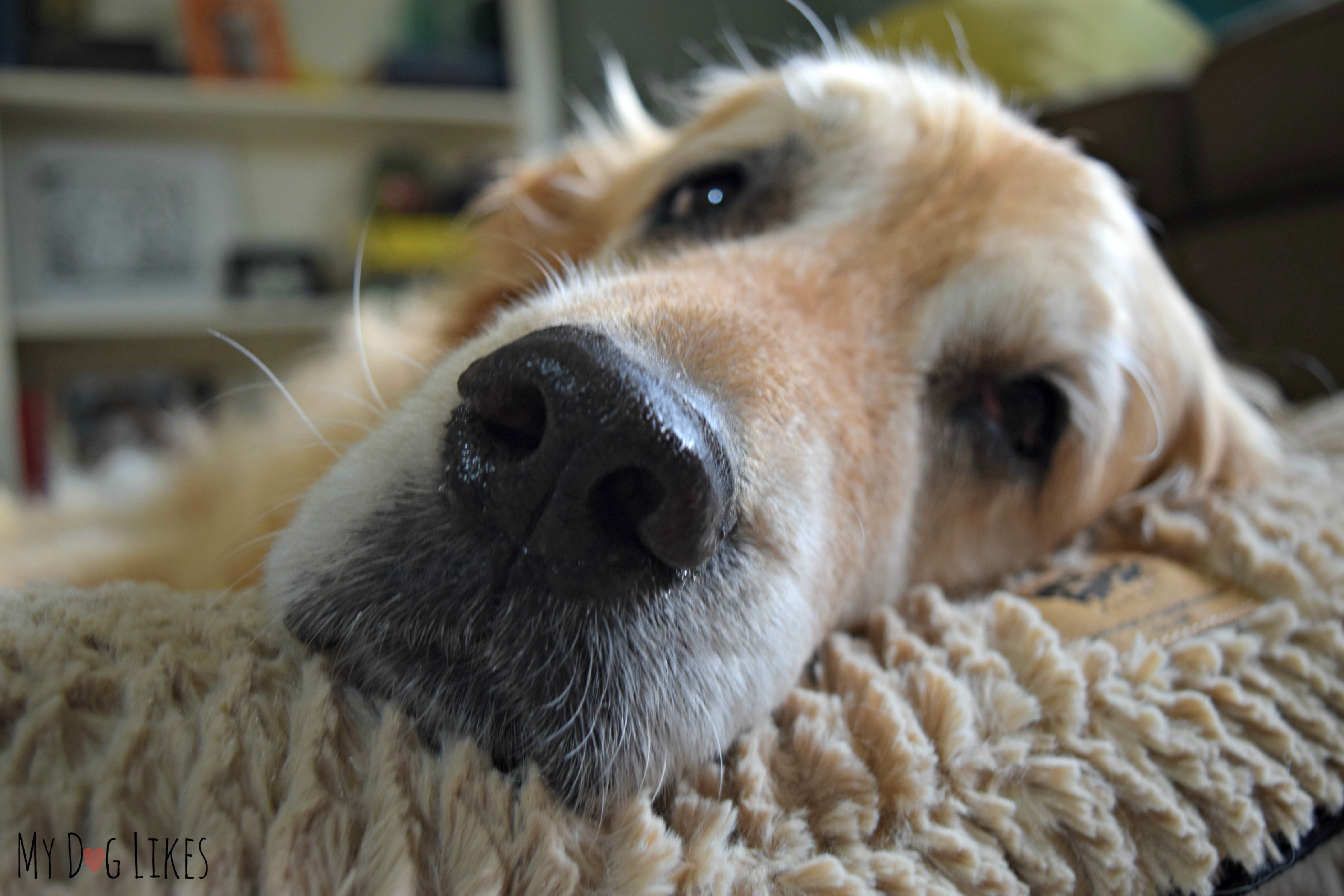 No matter which fabric you choose, these beds are soft. Ridiculously soft. That was the first thing we noticed when we took them out of the box and we still are surprised every time we touch them.
All West Paw beds are filled with their proprietary Intelliloft stuffing. This eco friendly fiber is made from recycled plastic bottles and provides a cozy yet durable batting. It is even certified non-toxic by an independent body.
Built-in Bumpers
Heyday beds come with a built in pillow that wraps 360 around the bed. Harley and Charlie took note of this right away and wasted no time getting comfortable.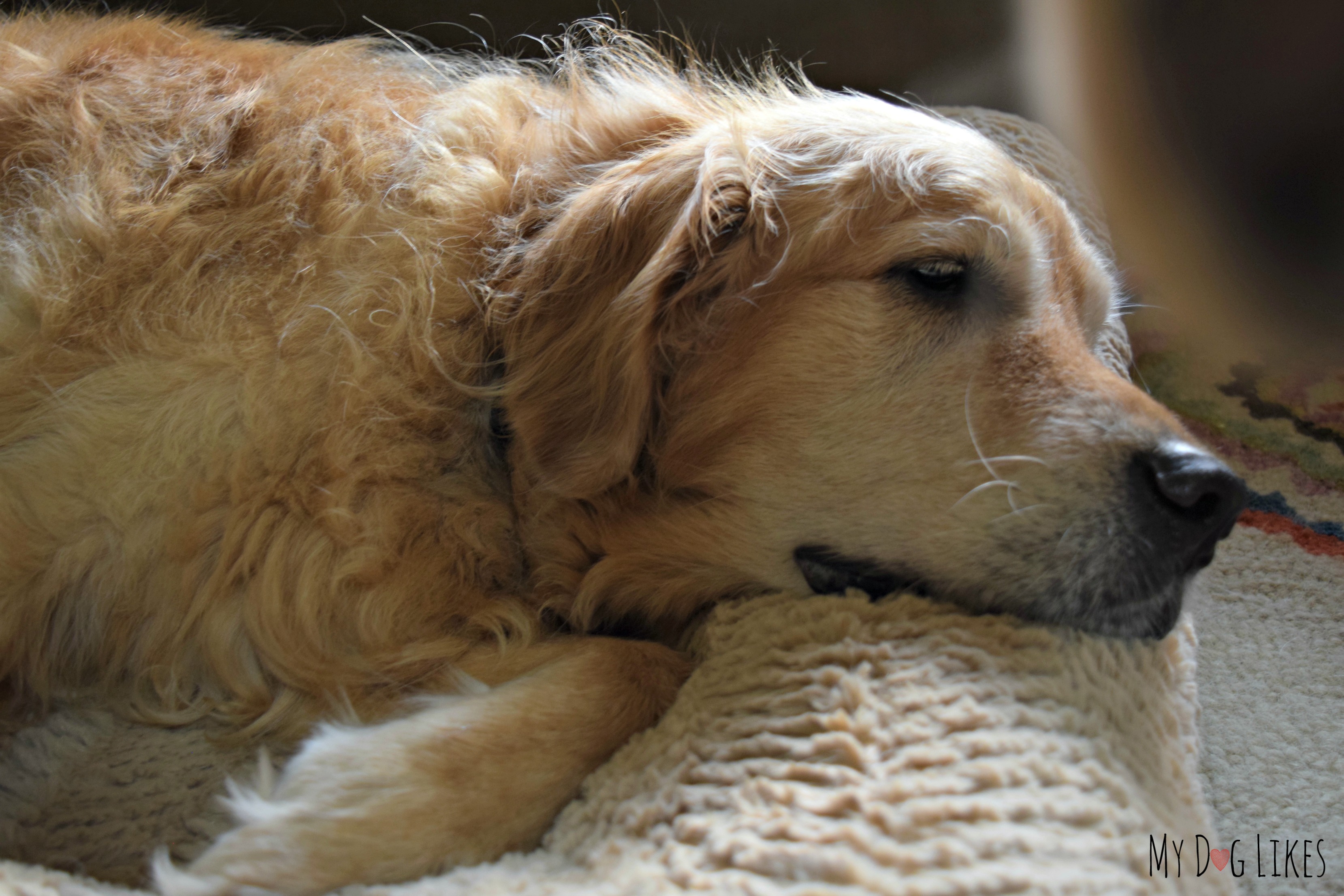 Harley – Hard at work once again…
Lets just say the bumpers are a big hit – alternating between curling up with their backs against them, or resting their heads right on them!
Microbacterial Protection
Believe it or not, the entire Heyday bed has a micro-bacterial protection that is designed to repel odors. Just what you'd want for something your dog may be spending 10+ hours a day on!

Washable
While it can be easily tidied up with just a damp rag, the HeyDay bed can also be given a deep clean in a washing machine. Go ahead and wash in one piece (if it fits) or separate with the following instructions:
Machine wash on COLD/COLD.
Machine dry on LOW heat or AIR DRY.
Made in America
West Paw makes all their beds by hand, in their Bozeman, Montana facility. We love products that are made in the USA – and West Paw has made a serious commitment to keeping things in house. Not only that, but they strive to make their operations as sustainable as possible – with minimal environmental impact.
Oeko-Tex Certified
Last but not least, Heyday dog beds are certified by the same organization that recognizes safety in children's textiles. We love that West Paw understands that our pets are a part of the family and we know that our readers will appreciate this as well!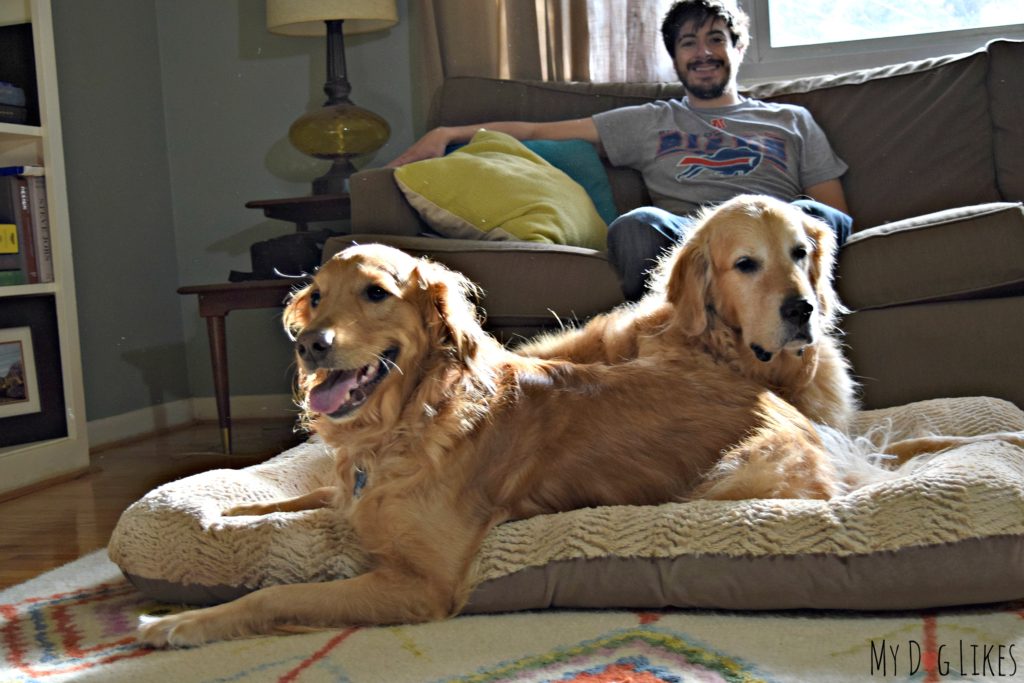 Why MyDogLikes West Paw Design's Heyday Dog Beds
Judging first by the most important aspect of a bed, these are extremely comfortable. They are soft to the touch and have a built in bumper that our boys love.
We also love the look of these beds. With so many fabric and color options you are sure to find an option that won't clash with your home decor. This is a big plus if you are hoping to keep them out in the open like us.
Although our boys can be spoiled when it comes to their comfort, they took to their new Heyday beds right away! And we have finally gotten our couch back!
Well – most of the time at least 😉
Want to pick up one of these awesome dog beds for your furry friend?