As pet parents, you have a good idea of how to protect your dog from the elements. Dog clothing is not only adorable, but it is functional, offering added protection from extreme weather.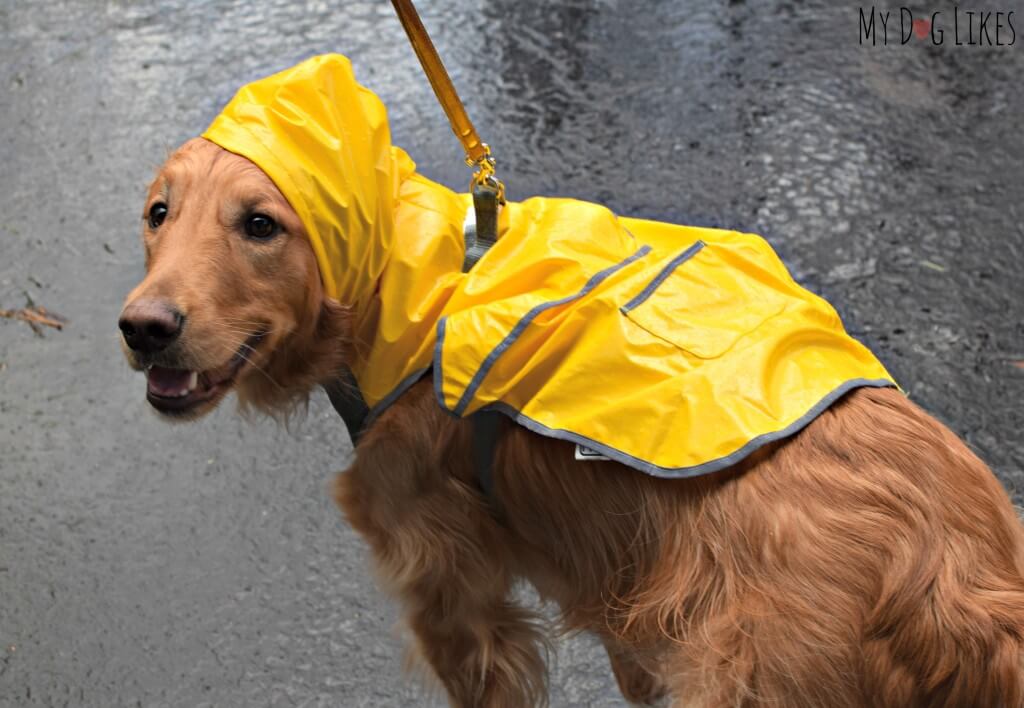 Don't Forget the Soft Parts!
An important, and often overlooked, part of protecting your dog from the elements is keeping all the parts of their body that are not covered with hair in good shape. Dog booties go a long way in keeping their soft and sensitive paw pads protected, but many dogs won't tolerate these and it is not practical to put them on EVERY time your dog steps outside for a potty break. Booties can be part of the solution, but they don't address the need to protect other sensitive parts of the body like the nose.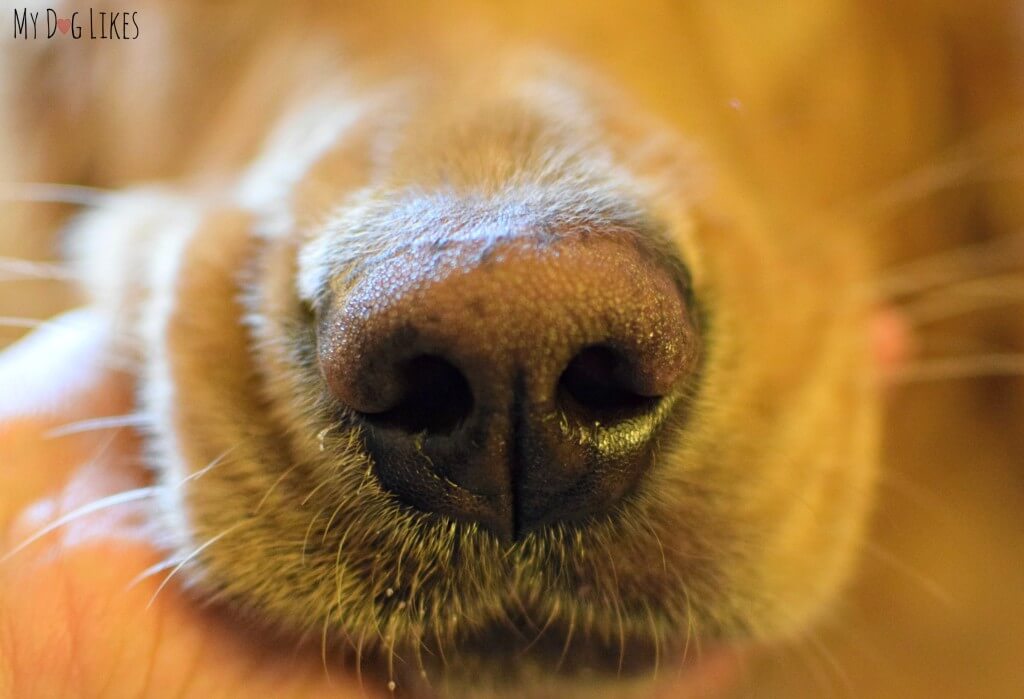 That is why we are so excited to share a product that we have just started using to keep our boys safe and protected, no matter the weather around them: Walter's Dog Balm! Our little Duckie loves it so much, he always keeps some in his back pocket!
Purchase 2 or more tins and save 40% with code "MYDOGLIKES"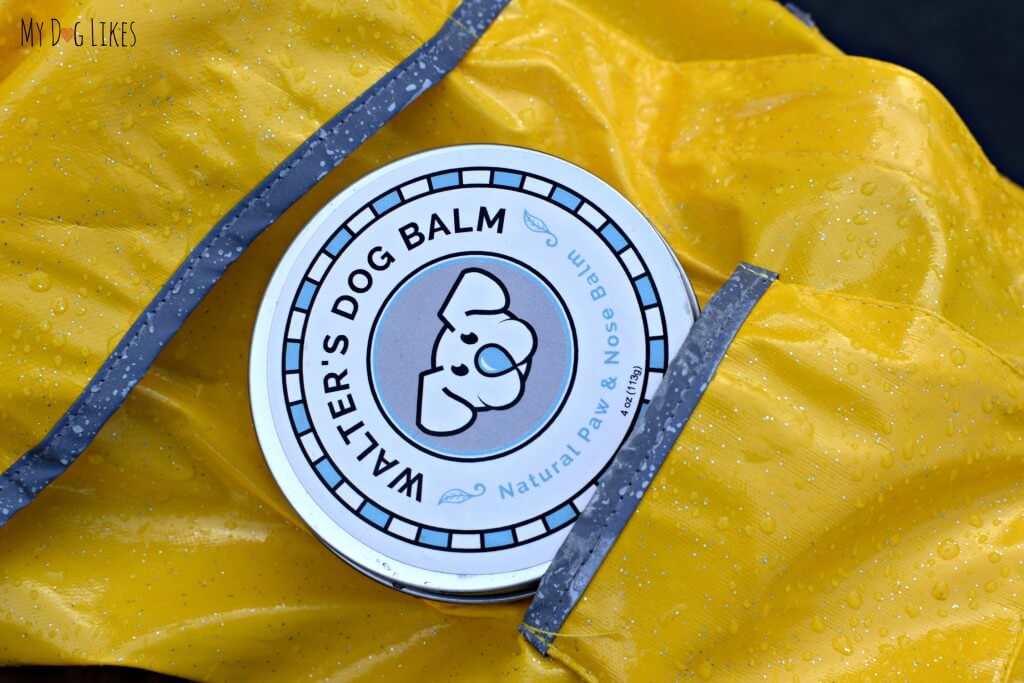 Walter's Dog Balm: A Personal Mission
Like many of our favorite companies, the inspiration behind Walter's Dog Balm is a real dog – Walter!
Walter is a Newfoundland mix who was adopted from a high kill shelter at only 5 weeks old! During his first vet visit it was discovered that the poor pup had cracked paw pads – likely the result of walking on hot pavement!
Walter's Dog-Mom searched for a natural ointment that could be used to help heal his pads, but came up empty handed. That is when she decided to formulate her own!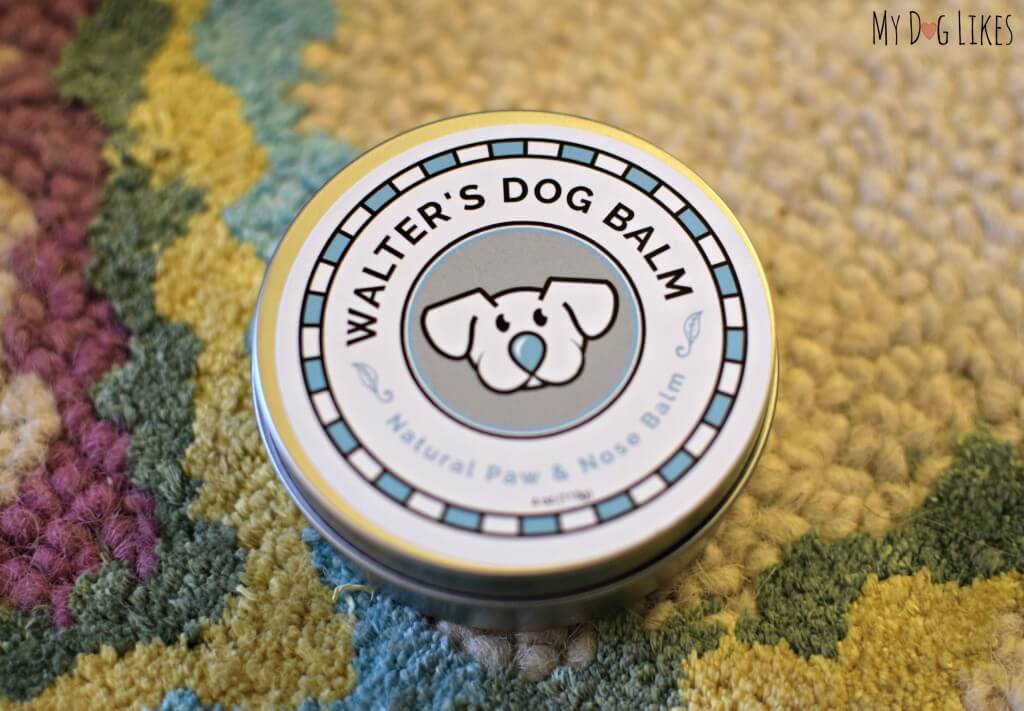 What exactly is Walters Dog Balm?
Walter's Dog Balm is an all natural, salve designed to be used on your dog's dry paws, elbows or snout. It works to moisturize and sooth the irritated skin, helping to heal and also protect against further damage.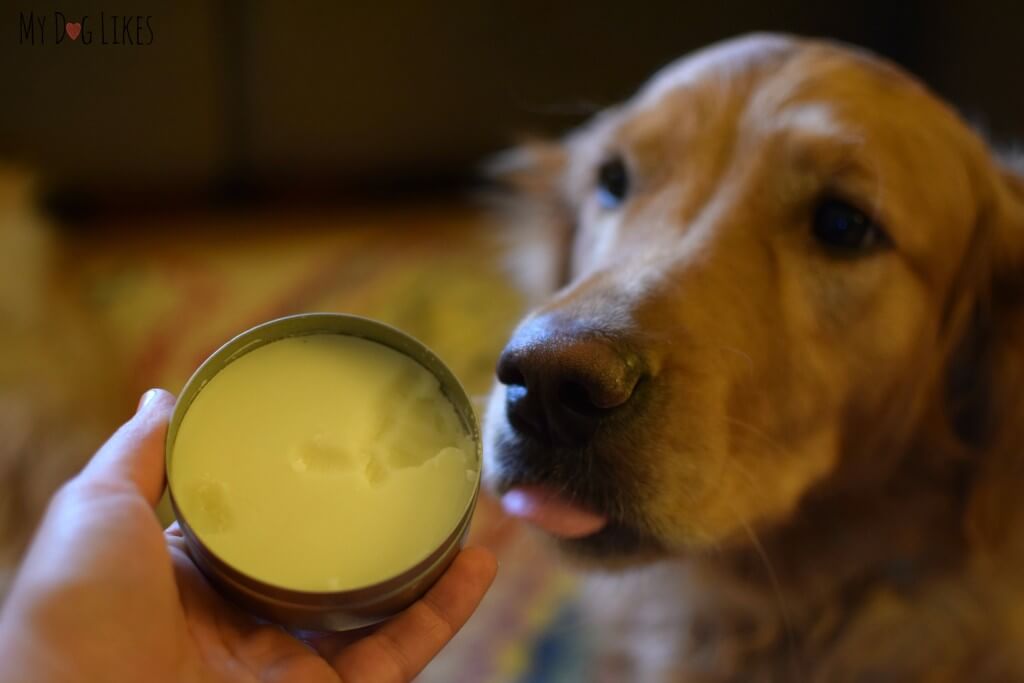 Charlie, Walter's Dog Balm is NOT for eating!
Ingredients – So Good, you can use it too!
If able to reach, your dog WILL lick anything you apply to his/her body. Thankfully, Walter's knows this too and puts nothing in their Balm that could harm your pet. Just take a look at the ingredient list:
Sweet Almond Oil

Beeswax

Shea Butter

Vitamin E
That's what we like to see! Absolutely nothing but natural here. Since you can bet some of the balm will remain on your hands after application, you'll be happy to know that it is completely safe to rub it in and use on your self!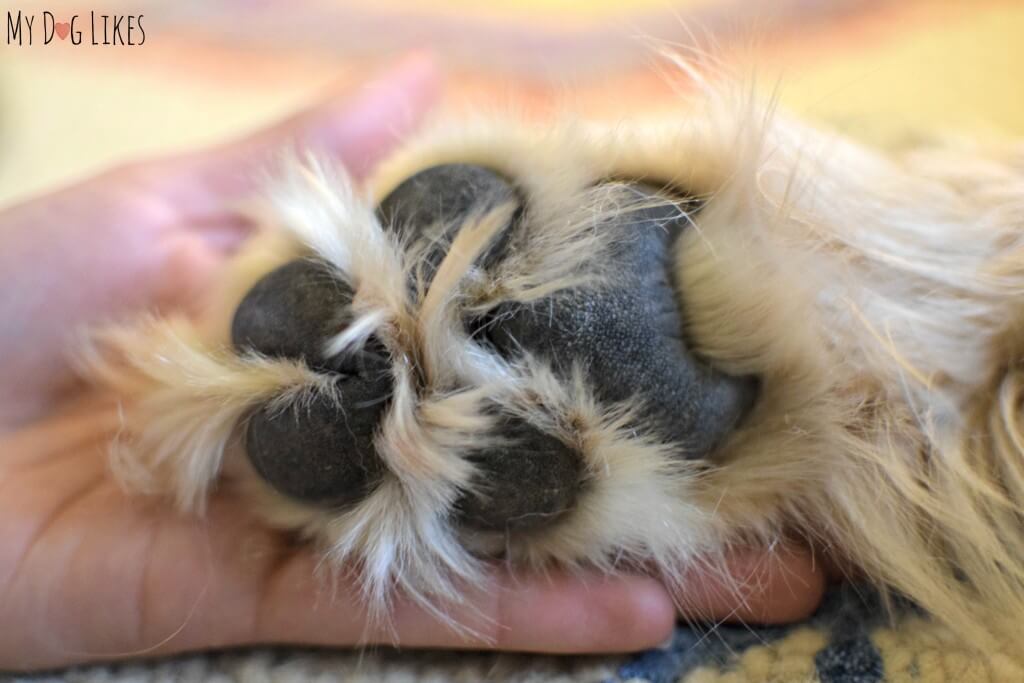 Why is protecting your dog's nose and paw pads important?
Harsh, cold winters will often lead to a dry dog nose and cracked paws. These areas are typically licked leading to further irritation. If you have ever had chapped lips, you know that licking does NOT help! Winter also brings ice and snow that can build up between your dog's paw pads during walks and cause painful inflammation. Last but not least, the use of salt and chemical ice melts can be corrosive to paw pads – and dangerous to their health!
Live in a warm climate? Dry cracked paws are not only an issue in the cold. Did you know that dogs can burn their paws on hot pavement?  A good rule of thumb is that if you can't place the back of your hand on the surface for more than 5 seconds, it is too hot for your dog to walk on. Sensitive areas can also simply dry out from warm, arid conditions.
Have a working dog? If your dog frequently digs, walks on gravel or pavement, or spends a lot of time in the great outdoors they are very likely to develop dry/cracked paws as well.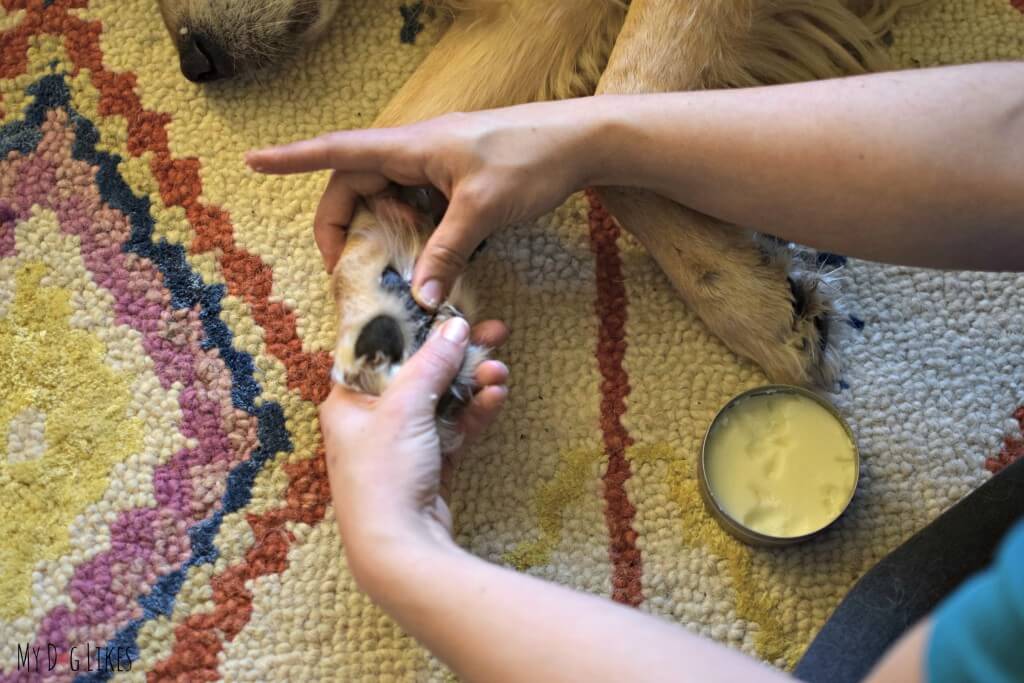 How to use Walter's Dog Balm
Using your fingernail, scrape out a small chunk (you really can't get too much). The more I used it I realized that scraping around the outside rim was easiest to get the perfect amount of balm.

Walter's Dog Balm is hard at room temperature. Warm it in your hand/between fingers by rubbing them together. This will help to spread the balm better.

Massage into the paws and nose, taking breaks and giving treats whenever they seems to pay too much attention. Once they get used to what's happening, they tend to relax and treat it like a massage!

Tips for an Easy Experience
If your dog is not used to having its paws or nose handled, it may be a good idea to take things slow. Some dogs are very sensitive to these areas being touched. Start a week before you intend to use the product touching and rubbing their paws and then giving treats to help them to realize it equals good things!

They will likely be curious when you open the balm so go ahead and allow them to sniff it. Remember an errant lick is no big deal since Walter's Dog Balm is completely natural!

While still getting used to the balm, try to apply right before you are about to do an activity, or when they are very tired. This way they are less likely to undo your handy work by licking it all off!

So what did we think?
Both Harley and Charlie have been suffering from dry nose and paws this winter. Though it hasn't been nearly as cold as it typically is, the weather has fluctuated from very cold to warm, causing some serious drying out to occur! Be that as it may, we were eager to see how it worked for us. We found that Walter's Dog Balm was very easy to apply and had a pleasant odor.  We really liked that the balm was hard at room temperature because it felt as though we had more control over application. It really was a breeze and no mess at all! The dogs were awesome about us rubbing it into their noses and paws without going crazy on the licking – but it was great peace of mind that the product is all-natural regardless! In fact, Harley got so into all that rubbing and pampering that he turned into a ball of mush!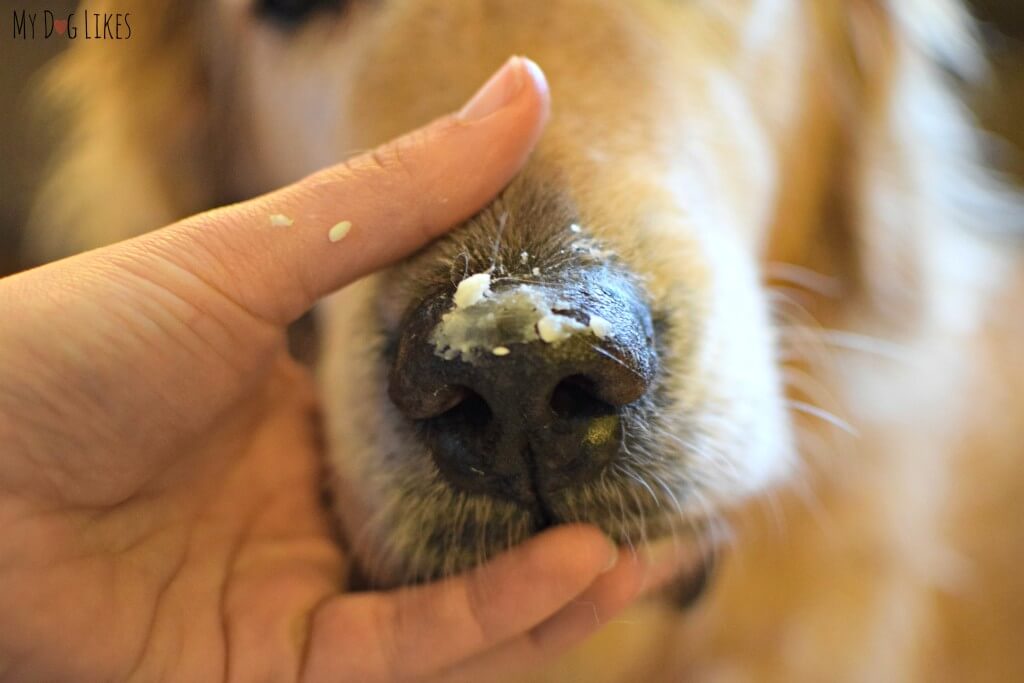 You can see an immediate difference in the appearance and feel of their skin as soon as you rub the balm in. We checked back periodically over the next few hours and were very pleased at how moisturized both the nose and paw pads remained. We also found that the balm created a barrier when going outside in the elements. The rain seemed to bead off of their paws! We have continued to use the balm and are finding that the baseline dryness in their paws and nose is improving. For something that only takes a few minutes to apply, we couldn't be happier with the improvement that we are seeing!

Why MyDogLikes Walter's Dog Balm
Living in the Northeast, cold dry winters are the norm – and this typically leads to dry and cracked skin. It should not be surprising that our dogs may suffer from the same issue! Especially considering that they are typically much less protected from the elements than we are!
Walter's Dog Balm is a great all-natural remedy for irritated paw pads, noses and elbows. Simply rub a bit into any affected area and you will see the relief right away. Walter's is also great for preventative care, as routine applications will help keep things moisturized and may save your dog from discomfort later.
Interested in giving it a try?
Purchase 2 tins and save 40% using code "MYDOGLIKES"  

Tell us: What kind of seasonal weather does your dog face? How could Walter's dog Balm keep them protected?