It's hard to believe, but our 2nd annual Dog Friendly Tour of America is about to begin!
If you remember back to last year, we ventured all the way across the country – from NY to Arizona before returning along a Northern route! The goal for the trip was to show you (our readers) that traveling with dogs does not have to be stressful, and that with proper planning there is no reason that your pups can't join you on your road tripping adventures.
The goal of this years trip is the same, but we will be sticking to the East Coast, and checking out some vastly different landscapes. Over the course of 2 weeks we will be making our way down to Myrtle Beach, SC and back on a 2,500 mile journey. Though we will be hitting major parks all over, we will focusing much of our time along the famed Blue Ridge Parkway in North Carolina and Virginia.
Make sure to visit our dog road trip kickoff page for more information about our route and the towns, parks and landmarks we will be hitting!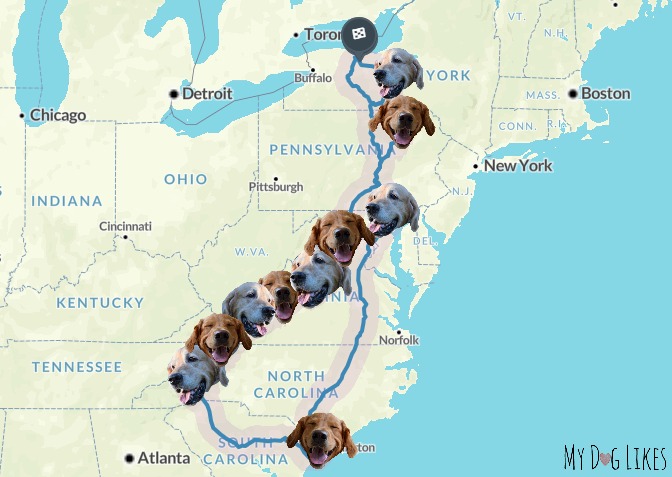 Needless to say, this trip would not be possible without the support of our sponsors. Learn more about these companies and how they support our mission in the boxes below. Don't forget to show the love and visit their sites to see all of the wonderful things that they have to offer!
Throughout our trip we will be highlighting the products and services of our sponsors, showing you how each makes traveling with dogs (or living an active lifestyle) simple, safe, and convenient.
These brands are also offering some amazing deals and giveaways throughout the course of this trip!
When all is said and done, there will be dozens of winners and thousands of dollars in prizes, so make sure to visit MyDogLikes every day and follow all of our social media accounts at the top right of this page!
Gold Sponsors
Silver Sponsors
Bronze Sponsors
Supporter