At MyDogLikes, we are always on the lookout for healthy dog treats. For that reason, we were so excited when our friends at Brave Beagle reached out to see if we would like to try their new freeze dried chicken liver dog treats! You may remember Brave Beagle from our review of their all natural dog ear cleaning solution. Well, they are back with a new product, and a quick read of their tagline serves as a good reminder of why we are such big fans of this company!
All-Natural, Chemical & Filler-Free Pet Products Made in the U.S.A.
Brave Beagle graciously offered to send us a few bags of their all natural dog treats to try and review for our readers – needless to say our boys jumped at the chance!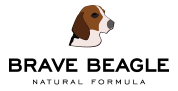 Use Code "HARLEY16" to save 20% on these tasty treats!  
Introducing Brave Beagle Dog Treats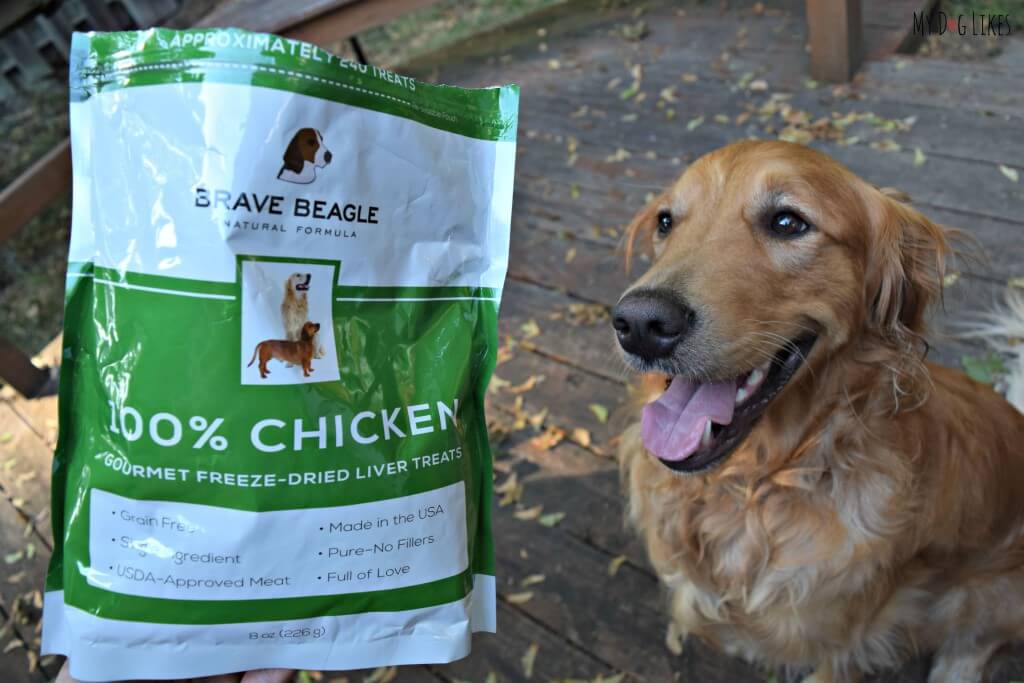 When it comes to dog treats, we are firm believers that the simpler the better. Brave Beagle agrees and their freeze dried dog treats contain only one ingredient, 100% Chicken Liver. That means no fillers, hormones, dyes or artificial ingredients. Naturally, they are also grain free, and fit perfectly into a raw diet.
Jam Packed Value
Because these treats are freeze dried, all of the moisture is removed making them shelf-stable (my packed refrigerator thanks you). This along with the resealable zip on the bag allows your pup to enjoy these treats at optimal freshness (not that these will be sitting around for long).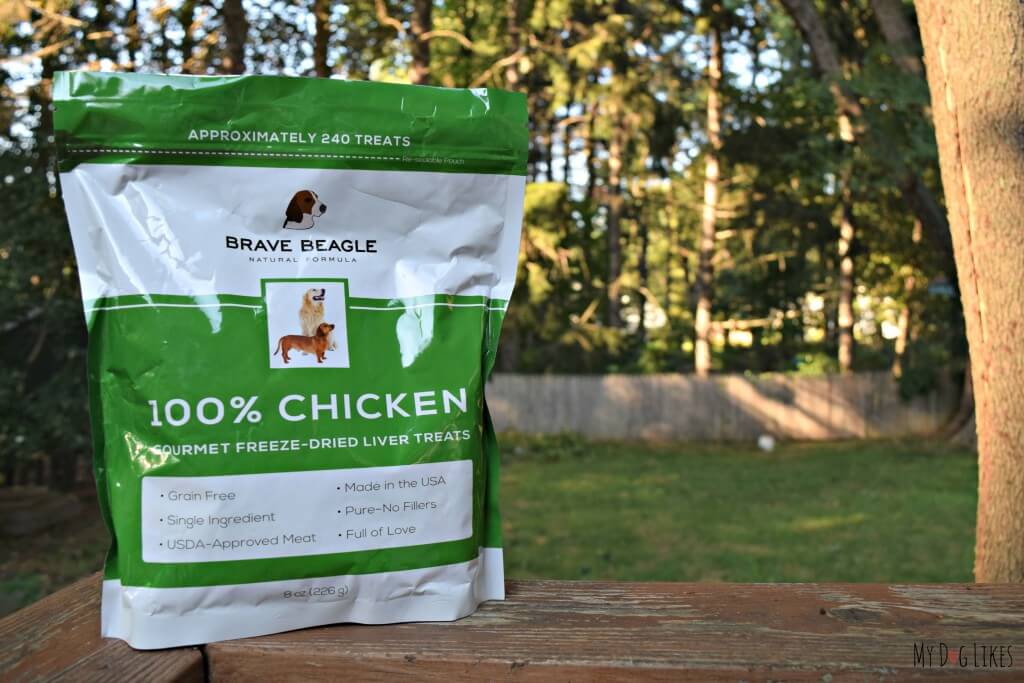 Removing the moisture also keeps these treats light and airy. Though they come come in only one size bag (8 oz), tell your pet not to fret, because each bag of Brave Beagle dog treats contains roughly 240 treats! Perfect for multi-pet households or for pet parents engaging in behavioral reinforcement/training. Simply said, these treats go a LONG way!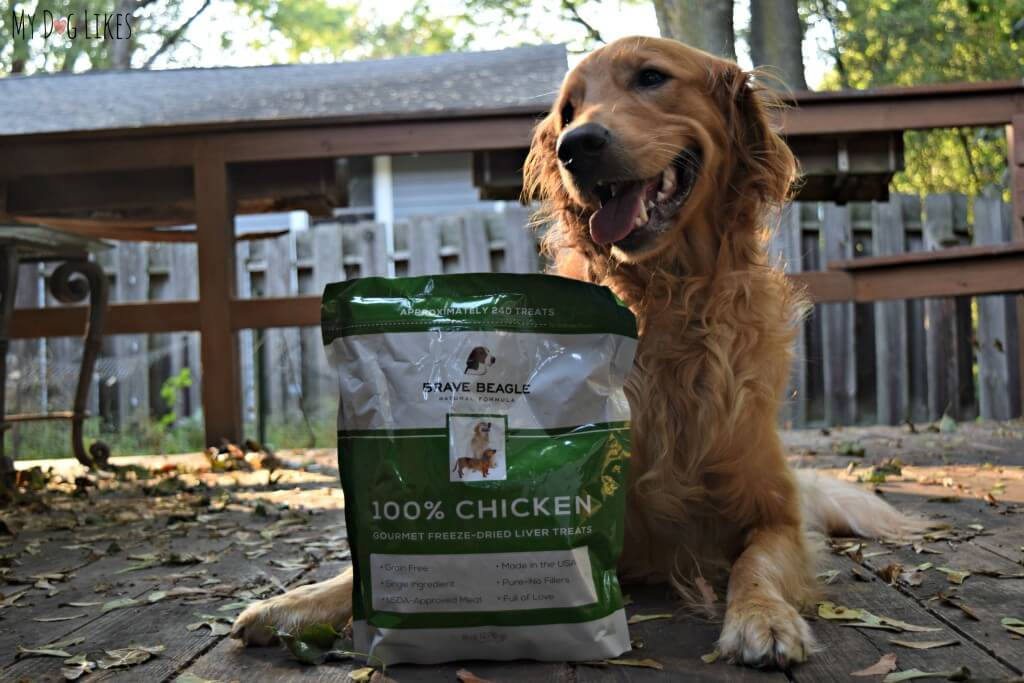 Pet parents love to indulge their pups with a few extra treats, but often worry about packing on extra unhealthy weight from high calorie snacks. Well, we are happy to report that Brave Beagle's 100% Chicken Liver treats allow you to treat without the guilt! These tasty treats clock in at only 4 calories per piece! Perfect for your weight conscious pal.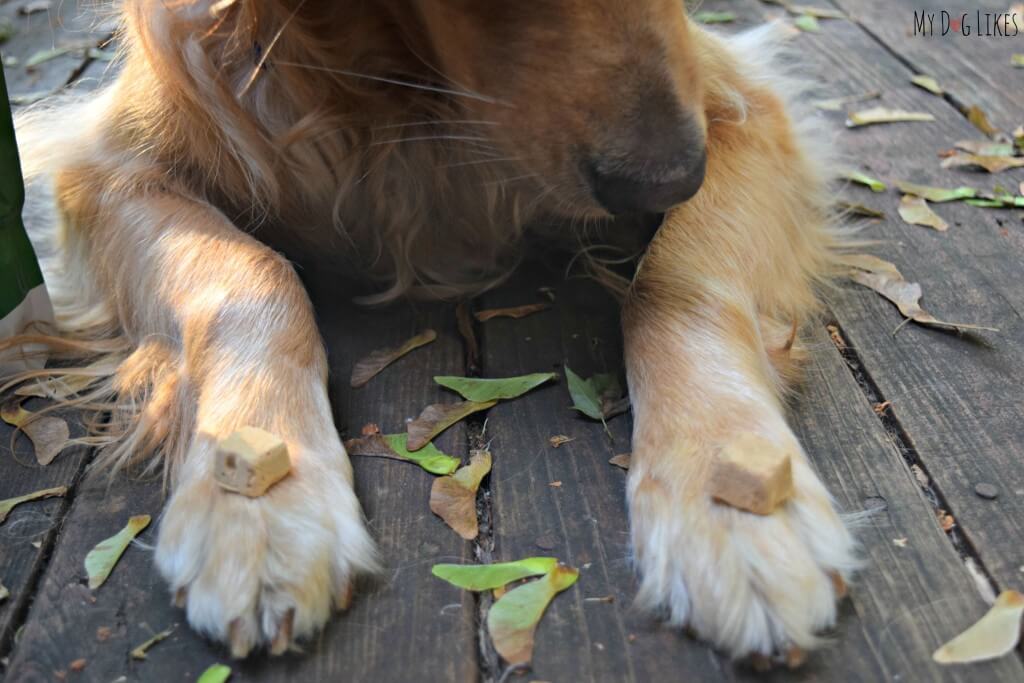 American Sourced and Manufactured
Brave Beagle's products contain only meat raised in the USA and inspected by the USDA. With all of the international safety concerns of the last few years this is a HUGE deal for us!
Time for a Taste Test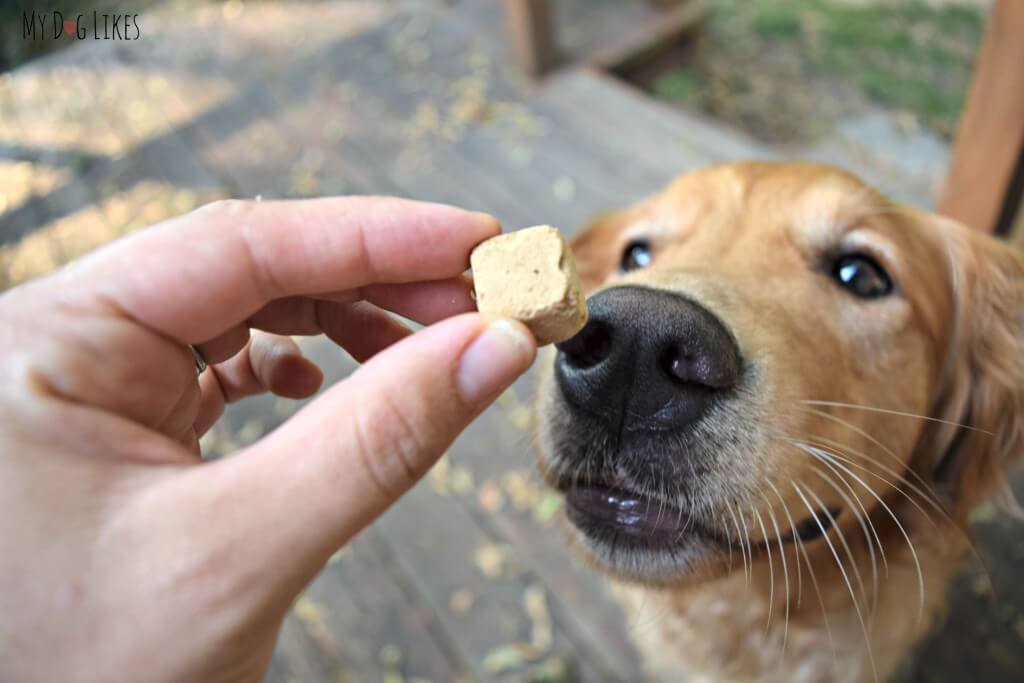 You might think that because these treats are freeze dried they wouldn't pack a huge punch in the scent department, but that is just not the case. Even before I opened the bag, Charlie knew there were goodies to be had inside. After opening the bag, I had his full attention as he cycled through the commands that he knew in an attempt to get a treat.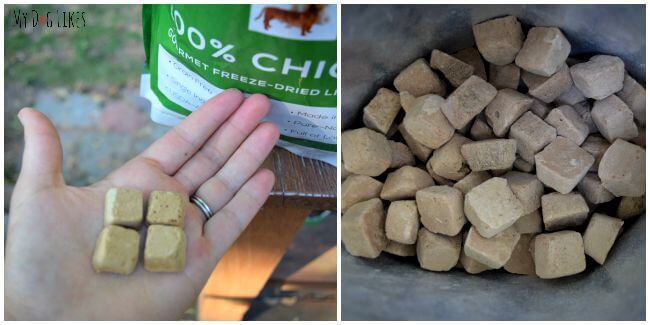 Visually, these treats are uniform in size and shape. I was impressed to see that the treats had for the most part, retained their shape, as freeze dried treats often crumble in the bag. We have learned that these treats have recently taken on a sliced rather than formed look. Regardless, the simple and high quality ingredients remain the same.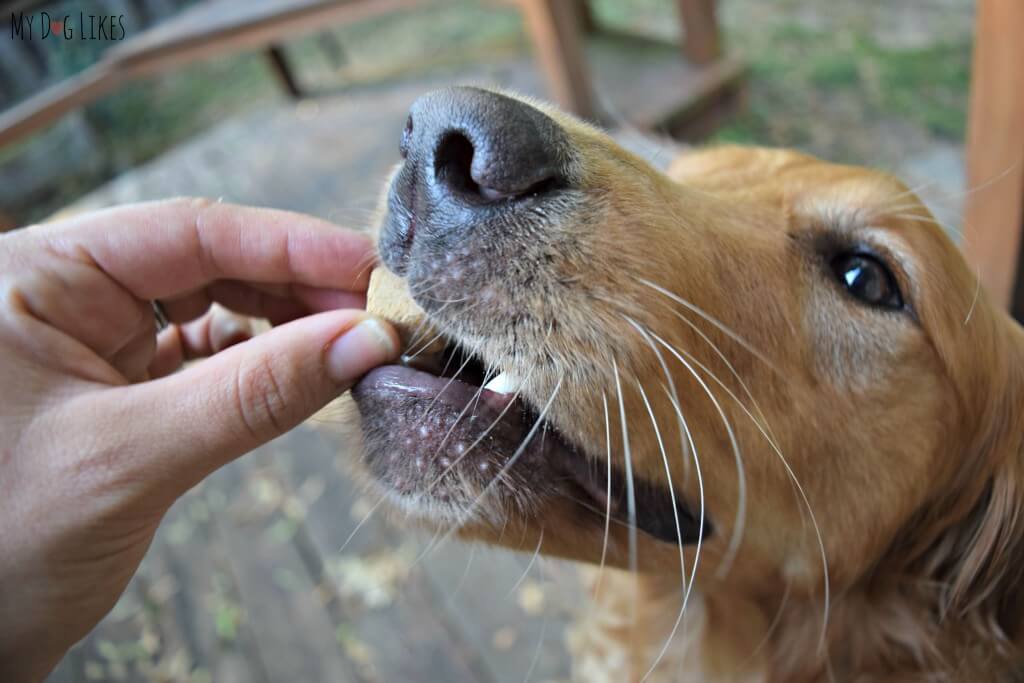 Their light and airy composition led to excellent munching (reminiscent of popping cheese puffs)  allowing the dogs and cats of MyDogLikes to enjoy these treats with equal ease.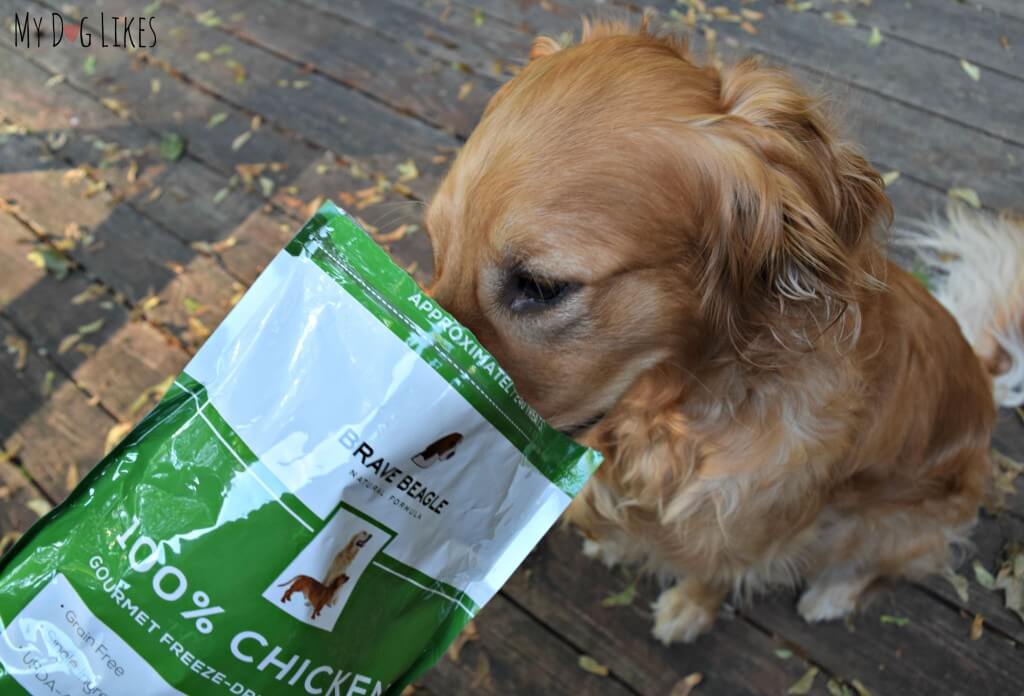 I like to judge how much the boys love the treat by the difficulty of the photo shoot. In this case, Charlie dunked his head right in the bag, despite my request to "leave it" – I'd say he liked them! Overall, these treats were a huge hit with the canines and felines in the house!
Why MyDogLikes Brave Beagle's Freeze Dried Dog Treats
While the freeze-drying process removes the moisture, it does not remove the nutrients or the yummy, gotta have it taste! As soon as we opened the bag, Charlie was ga-ga, performing his full arsenal of tricks in the hopes of being rewarded!  After opening the bag I was surprised to see that the treats had retained their shape so well not crumbling like many freeze dried treats have a tendency to do.
Both the dogs and the cats loved these wholesome single ingredient treats and I felt good giving them to them knowing that they are made in the USA with only the finest ingredients. Since I watch the boys' weight carefully, I was also glad to see that these treats were only 4 calories each!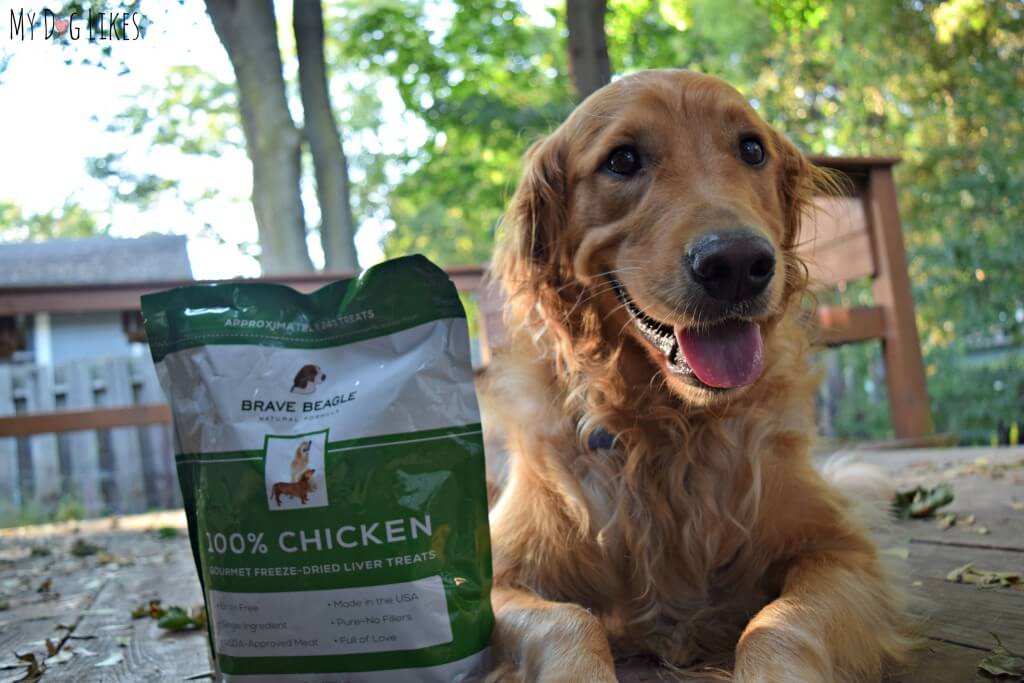 So Who Wants a Taste?
Brave Beagle is so sure that your dog will enjoy their treats, that they stand behind their products with a 100% money-back guarantee! Why not give them a try?
Use Code "HARLEY16" to save 20% on your order from Brave Beagle!