Want to get your paws on an awesome Pridebites toy, blanket, bed, collar or leash? Take advantage of our special deal below!
Click here to Save 20% Using Code "MyDogLikes"
Football Sunday!!
If the men of the house got what they wanted, football Sunday would amount to a day on the couch with only one interruption: the pizza delivery man with a large pie to share.
If the men of the house got what they wanted, they would be BIG FAT boys! Don't they know that pizza is not a health food?!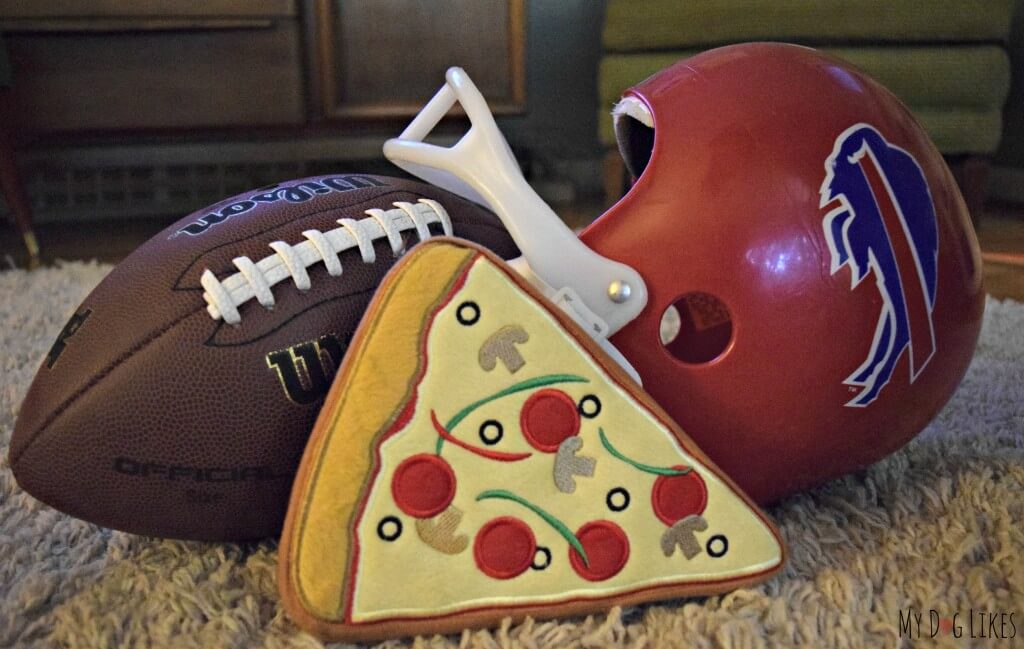 SO, when I offered my boys a slice of pie, they could hardly believe what their (big floppy) ears were hearing….
Would their mouths be full of bread, cheese, and sauce…sadly, no. Could I possibly have something that made them just as happy? Yes siree!!  A Pridebites Pizza!!!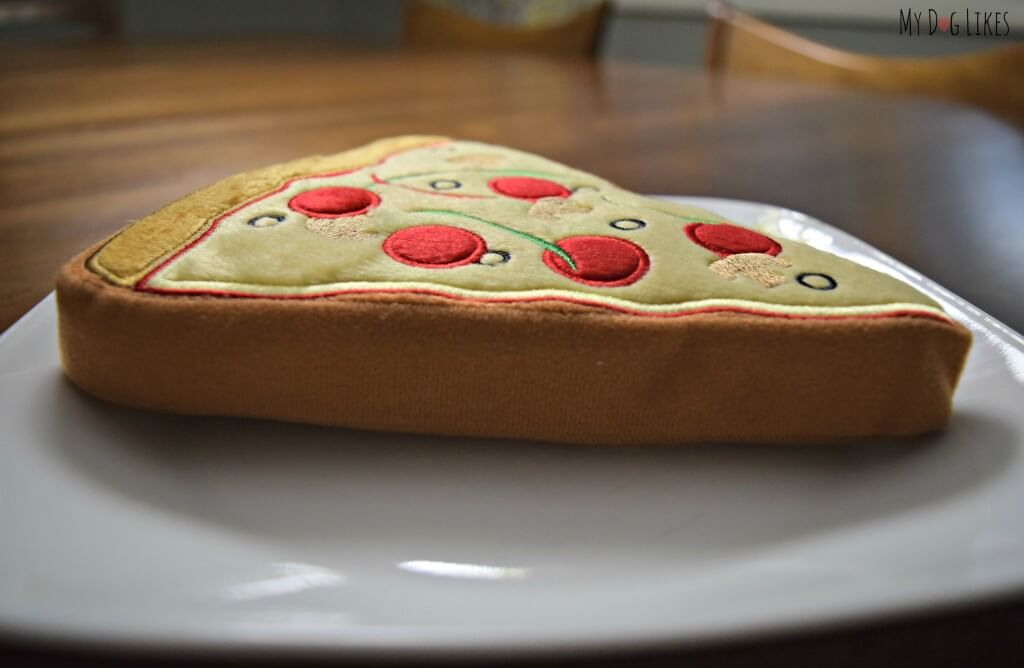 We had been wanting to test out Pridebites for some time now. Pridebites toys were all over Instagram, Twitter, and Facebook…one thing all of these posts seemed to have in common is that every dog that had one seemed to love it!! We just had to get one!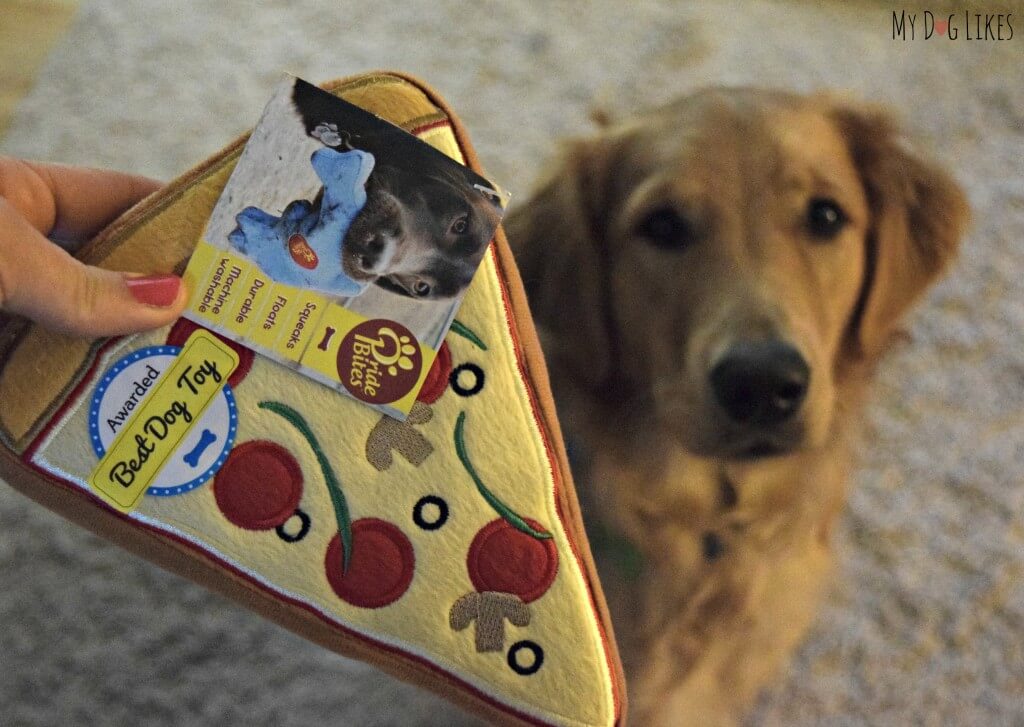 Pridebites boasts that their toys are where "durability meets design". This is no joke, these toys are amazingly adorable! Not only do they have funny classic collections featuring character such as Larry the Mailman, Sadie the Squirrel, Steven the Baby, and Tux the Penguin; but pet parents can actually have a custom Pridebite created with the likeness of their best friends sewn right in. Check out their image gallery!
About Pridebites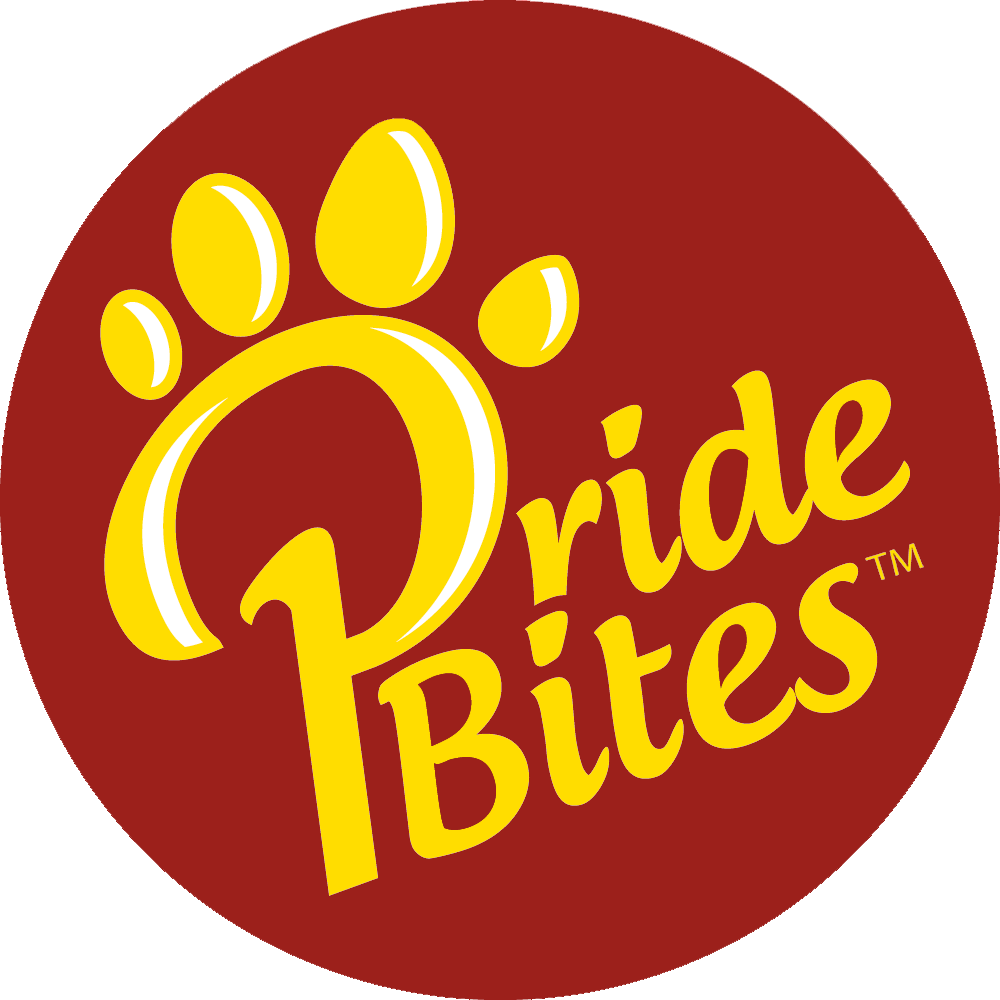 PrideBites was started in Los Angeles by four young guys who turned their passion for dogs into a company that not only produces awesome toys, but gives back to the community!! Watch their video below!
So what IS a Pridebite Toy?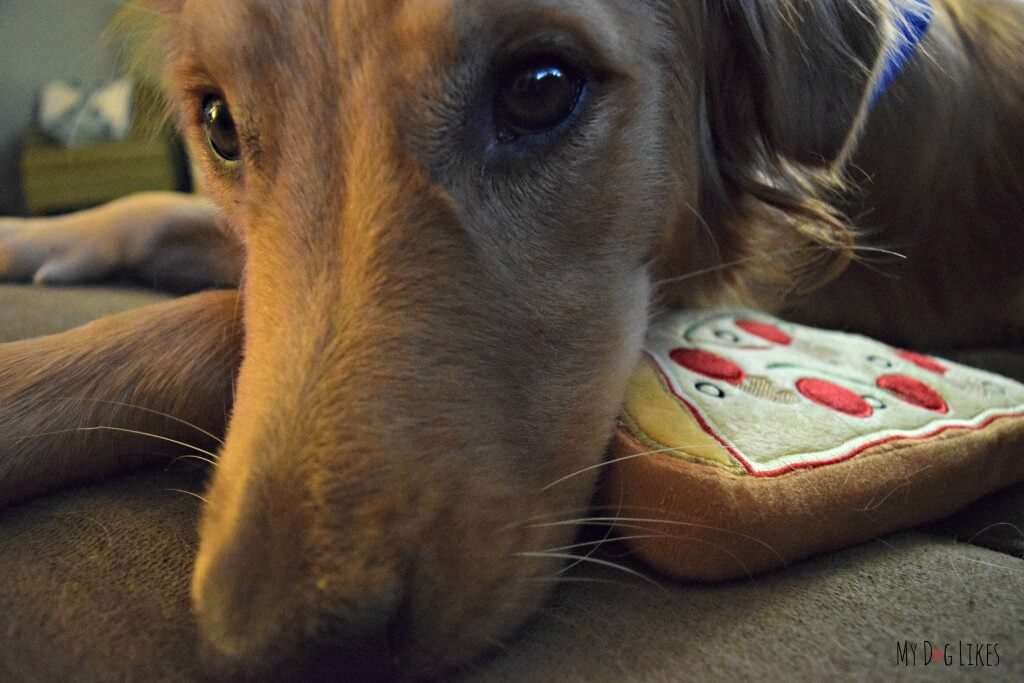 Advertised as a "the best of both worlds", Pridebite toys have many features of your dog's favorite plush toys such as softness, squeakiness, easy washing, light weight, and safety indoors, while retaining many of the features found in your dog's favorite rubber toys like durability, flotation, and versatility.
Construction
PrideBites are made from two layers of Durabite fleece with a rip stop technology sewn in between.
Durabite foam: Light weight, interactive, floats and retains shape!

Squeakers encased in pouches and then sewn onto the toy for safety.
Pridebites boasts that their toys are machine washable and can withstand 55lb of pull pressure!!
Time for the TEST – Our PrideBites Dog Toy Review!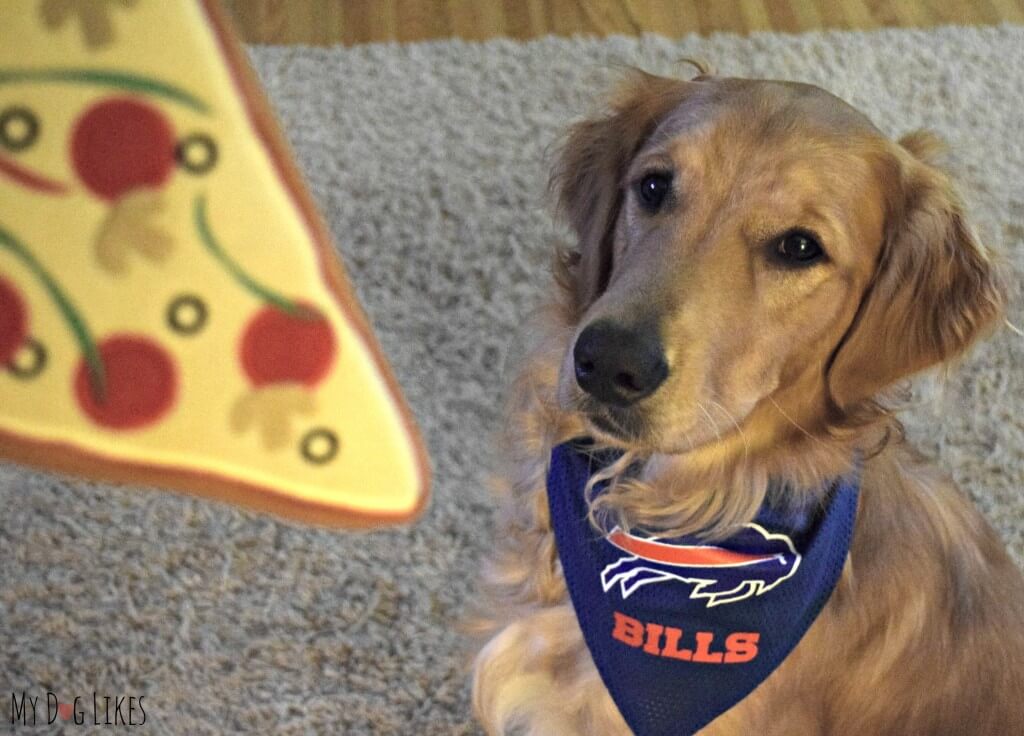 I know it seems silly to read the packaging of a dog toy, but that's exactly what I did! Pridebites provides some helpful information on how to introduce the new toy to your dog, ensuring that they play appropriately! 
Play a nice game of tug of war or fetch (indoor or outdoor).

When playtime ends put the Pridebite away or in the wash.

Reward with a treat!
A quick read, but as I would discover later, a good call!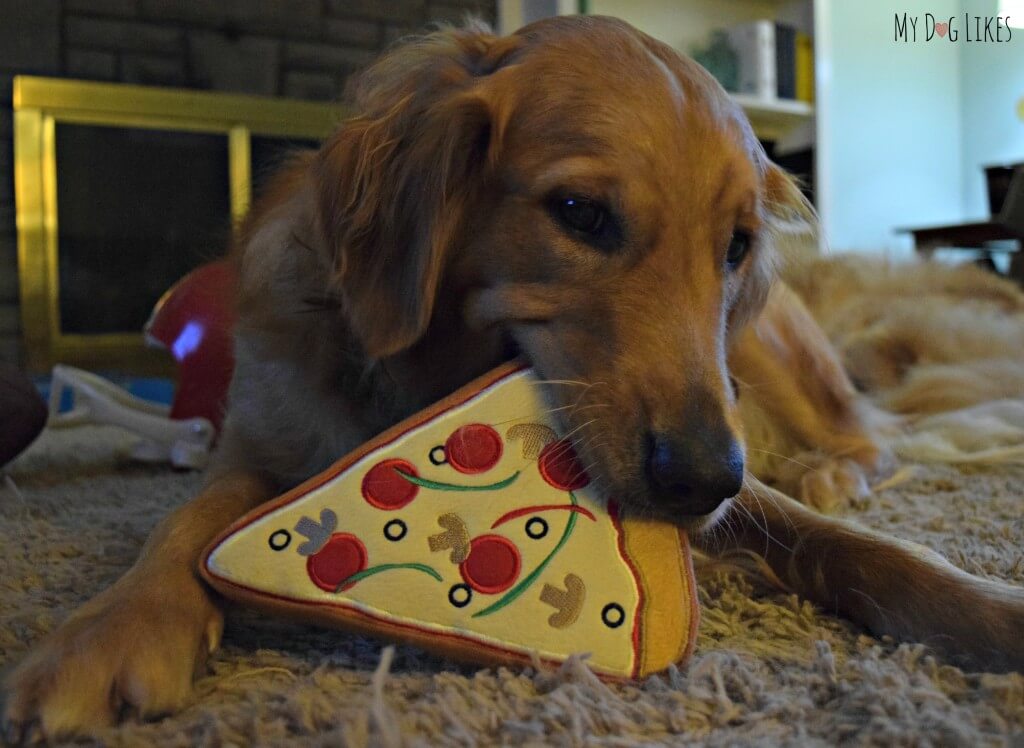 Since it was a lazy day around the house, we decided to toss the Pridebite around indoors. It was nice knowing that although it flew through the air similarly to a saucer/frisbee, it wasn't going to be knocking over lamps or causing any damage to things in the house. It is super lightweight…I have to say I was a bit skeptical at first, this toy weighs almost nothing, how could it be "durable"?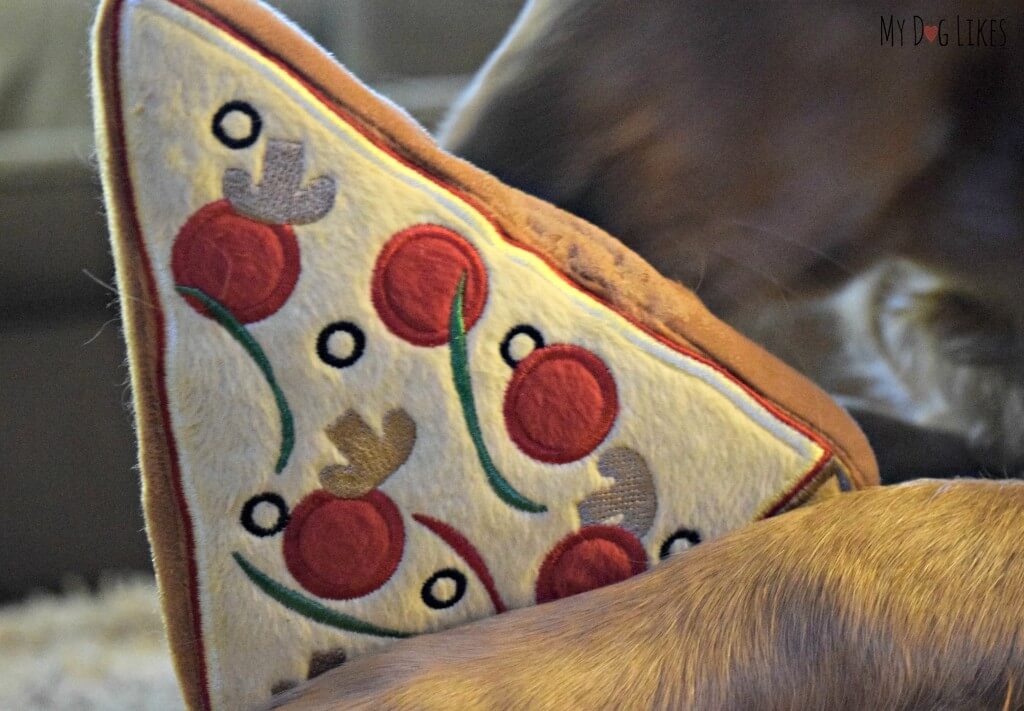 I knew I had just the pup to put it through its paces, Charlie! Although he gets better every day, Charlie is still very much at the "destroy all things" stage of his puppy life. He will go several days without any carnage, then rip the innards out of 4 toys in one night!!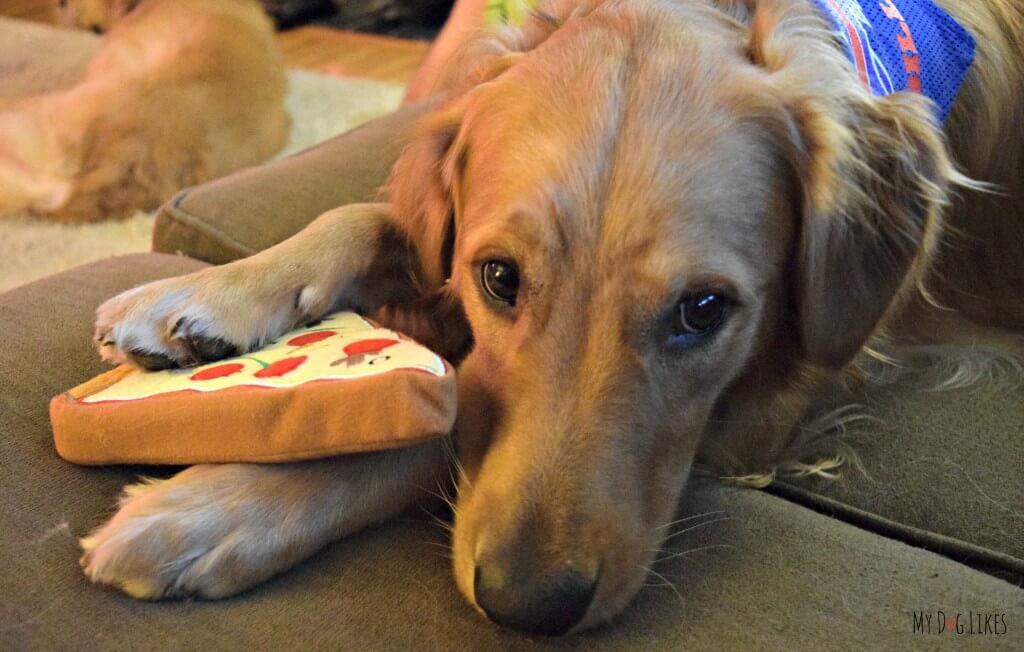 Keeping a close eye on him to make sure that he didn't settle in for a serious chew, Charlie, the lover of Frisbees, was completely smitten with this toy within seconds! Between tosses down the hallway, Charlie gently carried his Pridebite treasure all over the house. He loved it so much he seemed to need a few extra reminders to "Ready, Steady, Go" and not lunge after it!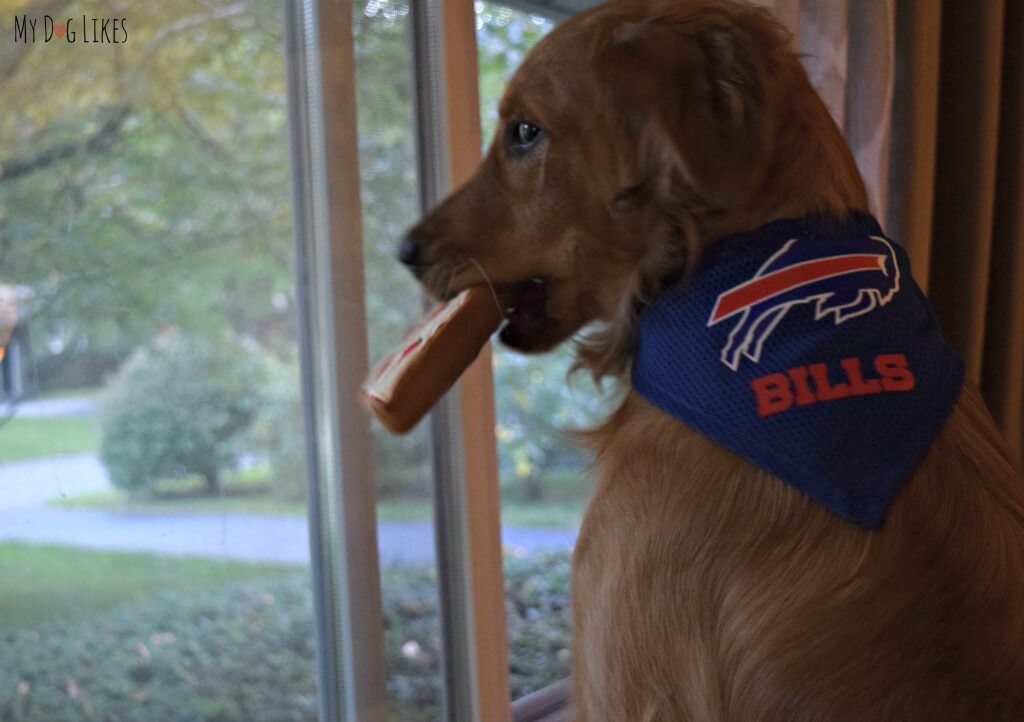 If you think you are taking this from me, you are CRAZY!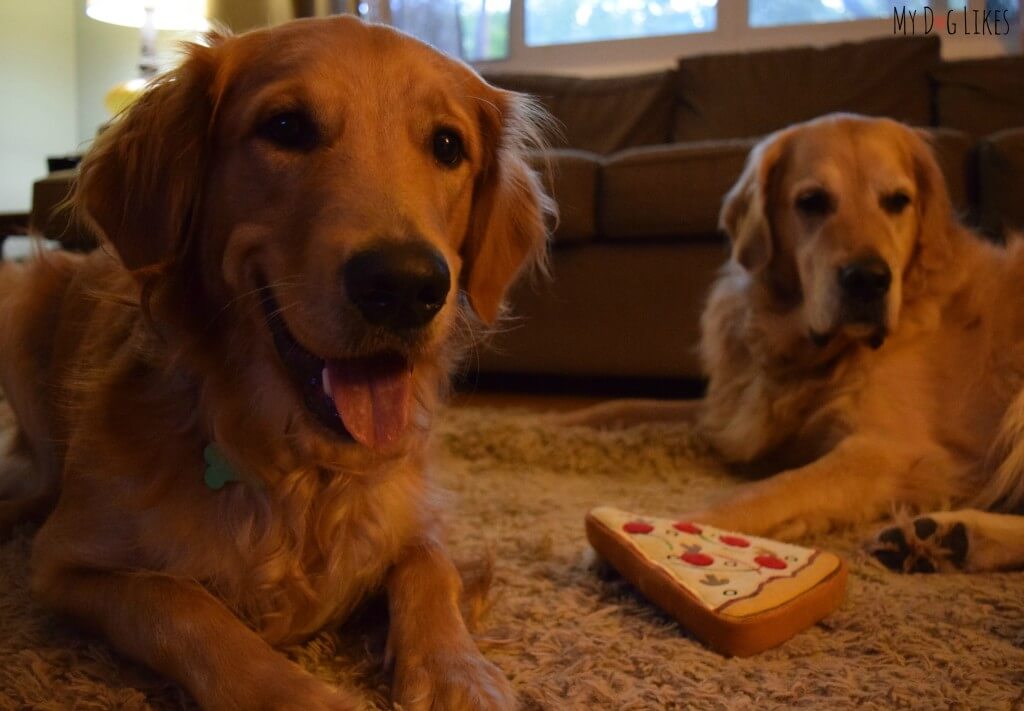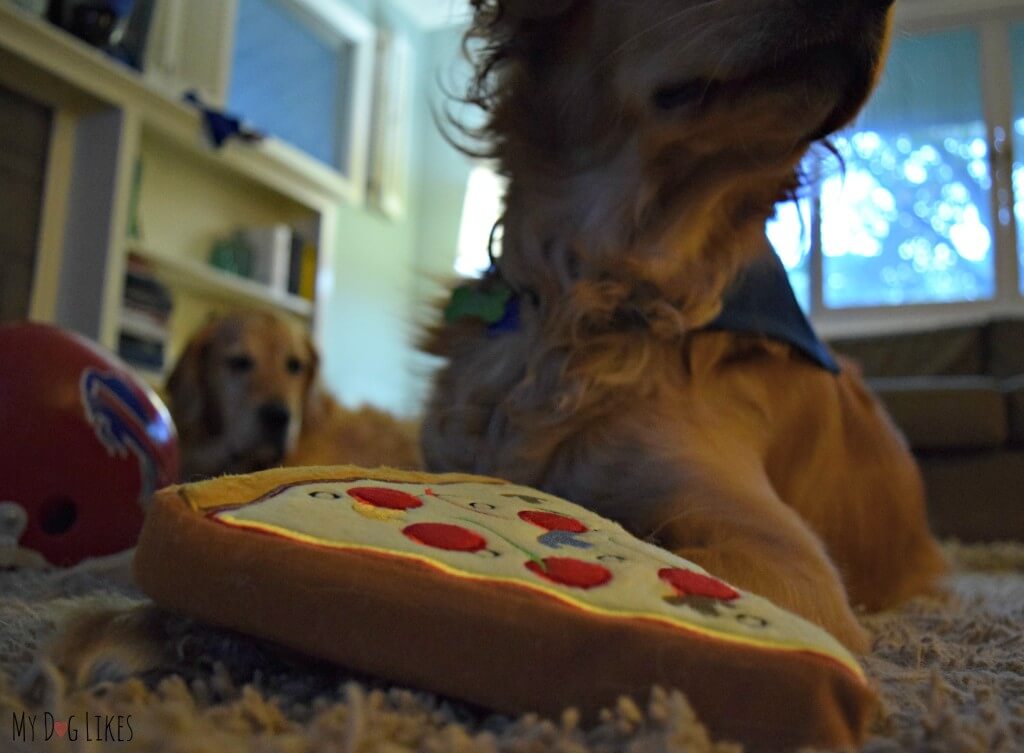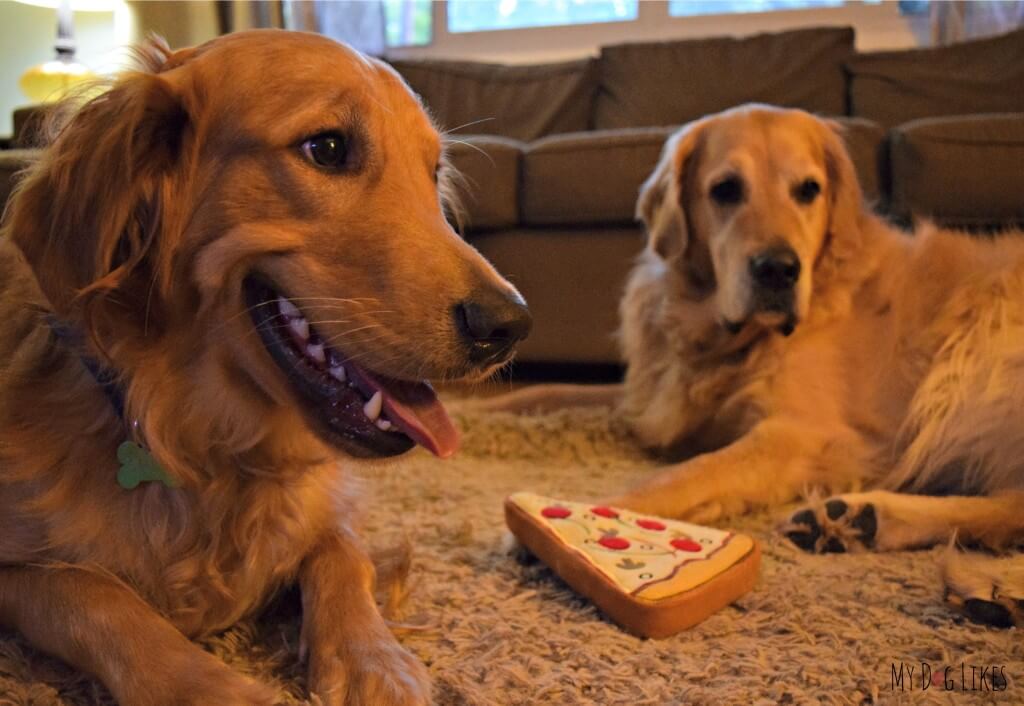 With Charlie all over the new toy and his "in your face" style of play, Harley barely had a chance to play! Thinking that we would give him a little uninterrupted play time, Charlie was put out to pasture (let outside).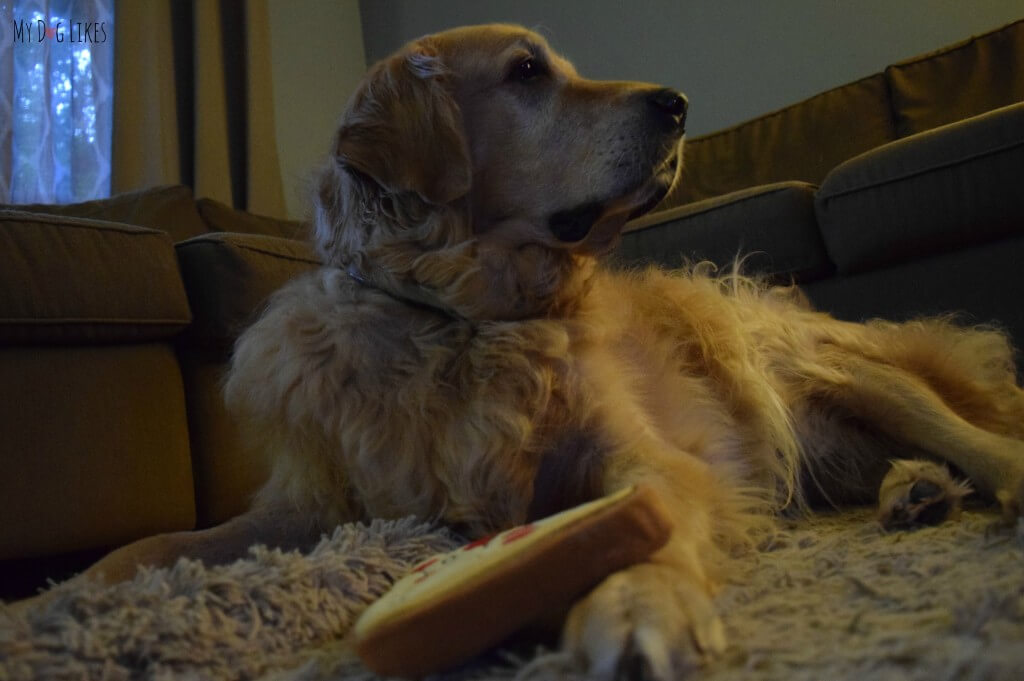 Well, it didn't take Charlie too long to figure out our plan and within a matter of moments, he was at the door barking and whining to be let in for some more Pridebite playtime.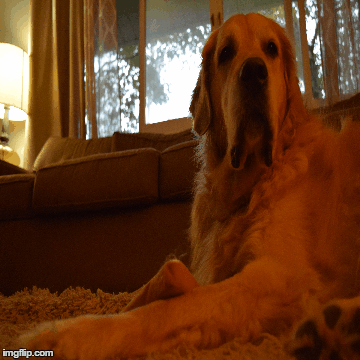 Charlie, the thief!
As playtime winded down, I noticed that Charlie started to chew the toy rather than just mouth it. Its triangular shape made it perfect for settling in for a corner chew. Pridebites makes it very clear on their website that these toys are interactive and are not a chew toy. Though they provide nice resistance for some gentle mouthing, they are not designed or advertised, to withstand adolescent puppy chews!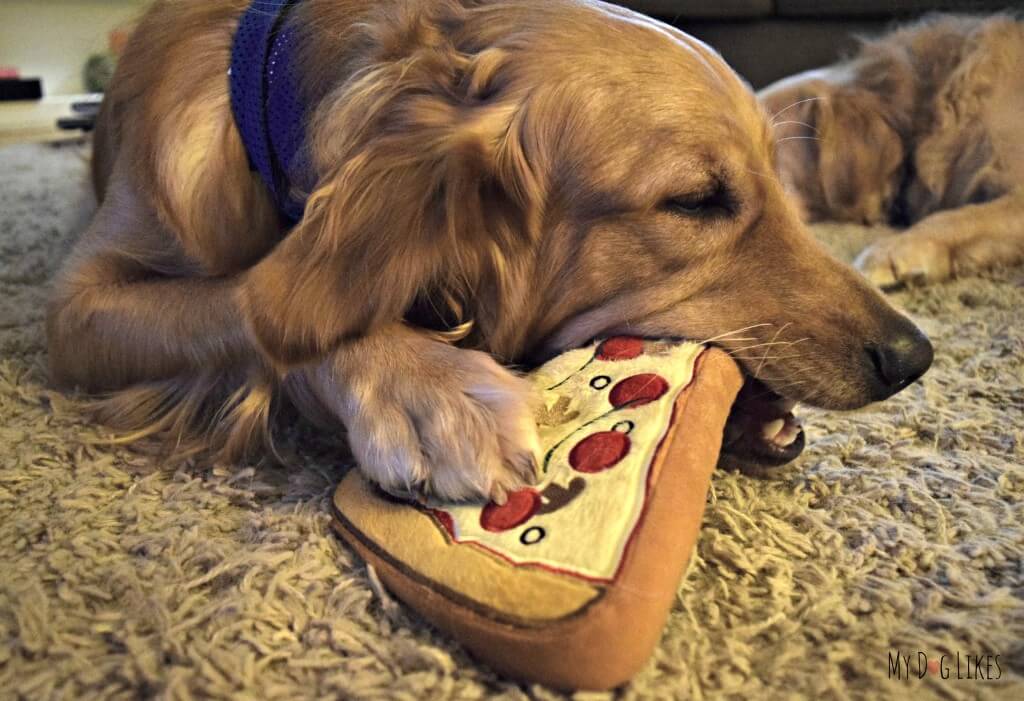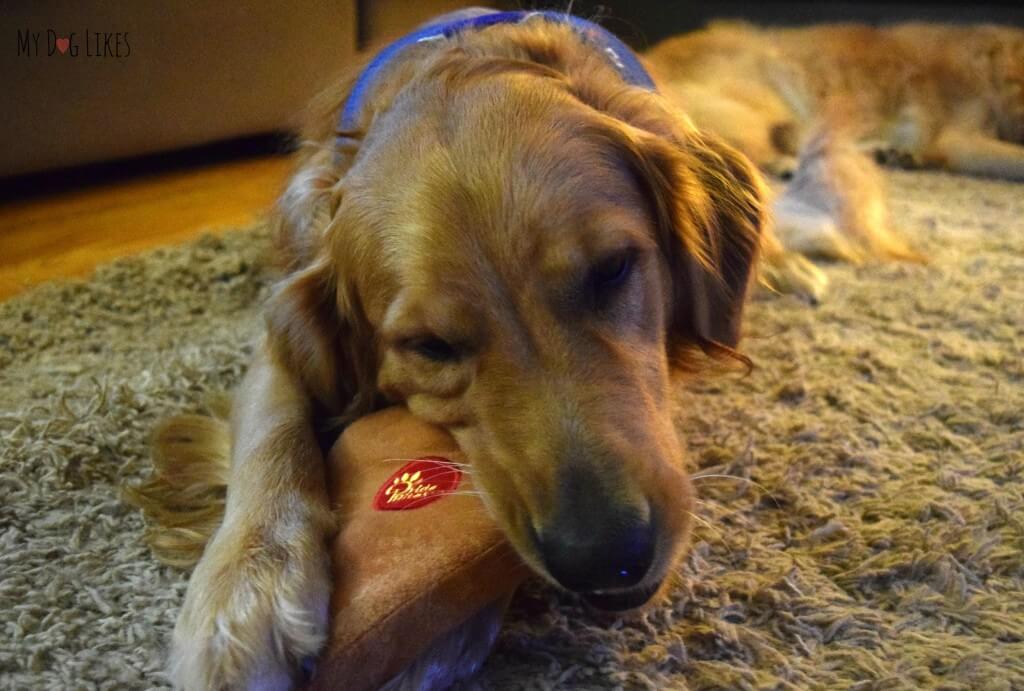 Remembering the little note about taking the toy away when playtime was over, I decided to do as advised and snatch it up. However, before I had realized what was happening, Charlie had managed to make a small puncture hole in the Pridebite toy! After collecting the toy, giving him a treat, and putting the Pridebite away, I had to endure a few pathetic puppy whines. Lucky for us, he got over it quick (I guess knowing that no one gets to play with it helped).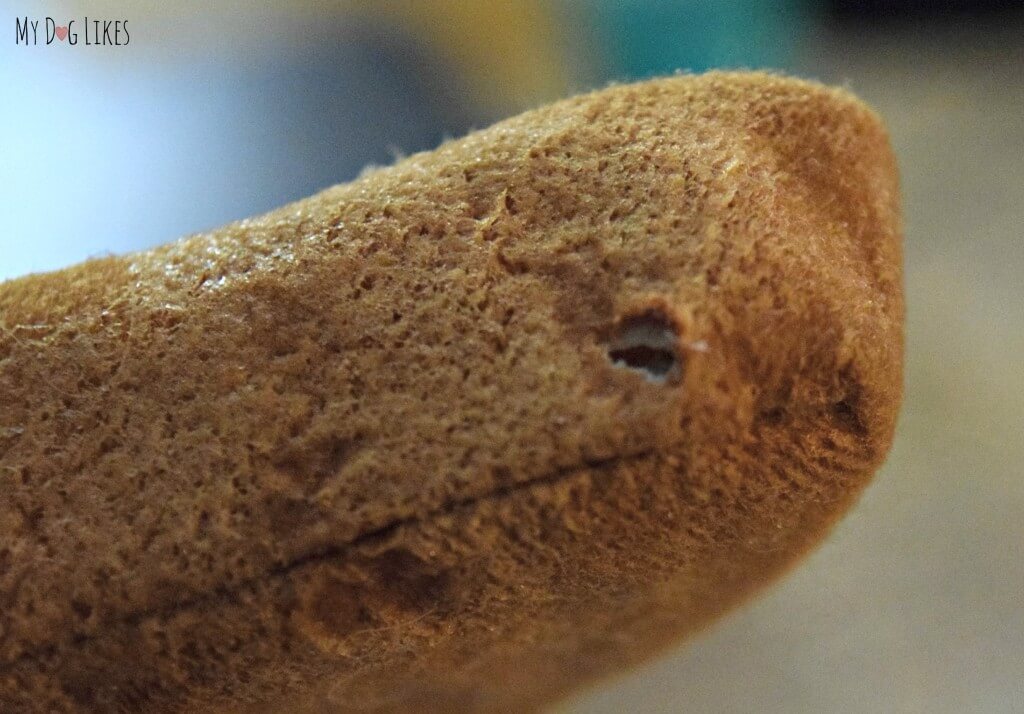 Though there was a small puncture hole in the toy, it didn't seem to show any other vulnerabilities. Unlike a lot of other plush toys, it wasn't oozing stuffing, which was great, and prevented the "kill switch" from being activated. Its construction is solid, and there were no parts of it which Charlie showed any interest in zeroing in on and destroying. Though Charlie's Pizza Pridebite clearly does not fall in the "indestructible" category of toys, its solid construction and the common sense design makes it a high interest and engaging toy that Charlie didn't WANT to destroy!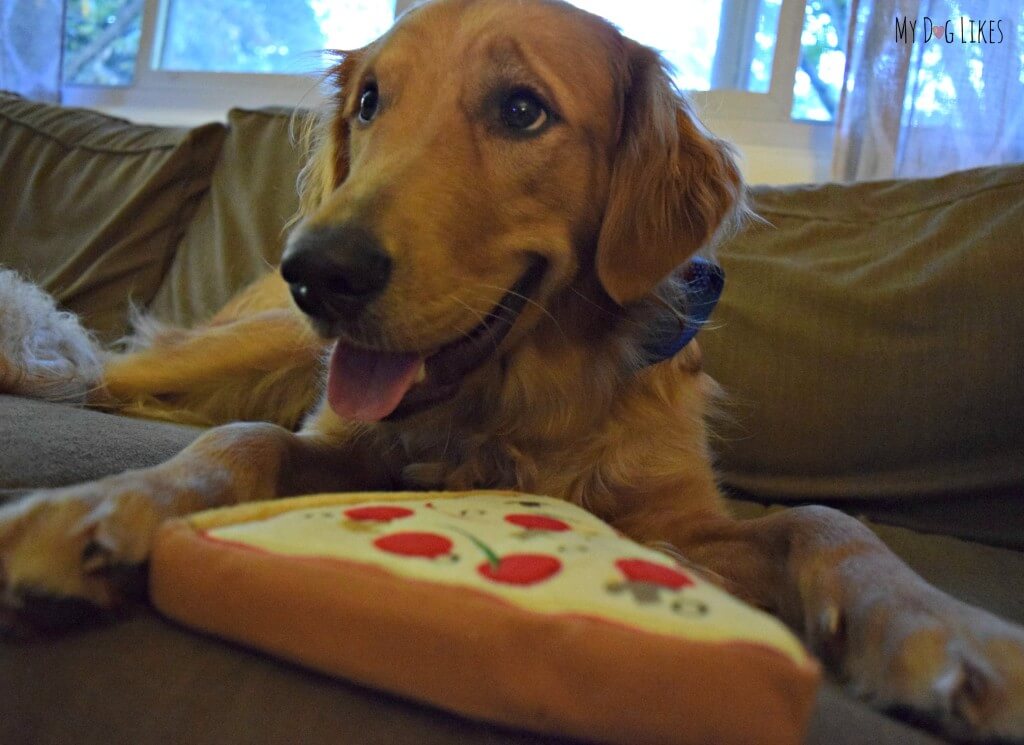 Why MyDogLikes Pridebites Dog Toys
These toys are fun to play with and to look at! When thrown, the Pridebite behaved a lot like a Frisbee. It was lightweight and flew through the air in a similar fashion. Where Pridebites rise above a standard Frisbee toy is that they are safe indoors!! If it hit a lamp or table top item, no worries, its so lightweight, and cant do any damage!! We know that this toy was a winner because Charlie got that crazy look in his eye (like when his flying squirrel is out)!
We can't wait to test our Pridebite outdoors!! We get pretty grossed out by many of the plush toys we have that look even worse when they come out of the washing machine. I love that these are made of a micro-fleece that is known to  wash easily and retain color over time. With visions of Harley and Charlie being the dirty dogs they were born to be, and lots of rolling in the dirt, I know we will need it! Knowing that they can float is awesome, but I think we will be saving outdoor playtime for the yard and swimming pool… I wouldn't want to lose this awesome toy when my "retrievers" fail to retrieve!! 
Harley (in his limited exposure) and Charlie loved to mouth these toys and feel the squish of them! The squeaker only adds to the fun!! Pridebites would be a great fit for you if you have a dog like Harley who would rather die than destroy a toy or if you plan on doing some interactive play with your pup. Though they are designed to be durable, they are NOT a chew toy, and could be torn up by a dog on a mission.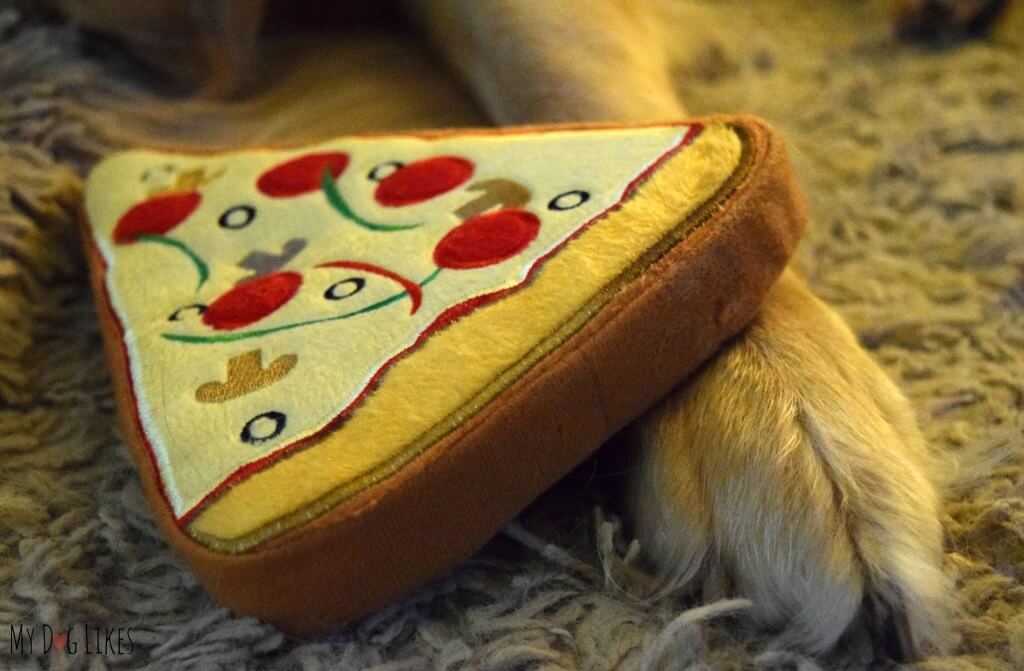 Make sure to stay tuned on Facebook/IG…We will share our outdoor results and some post-washing machine pictures! Next on our list is one of PrideBites personalized dog products – perhaps with a beautiful Golden face?!! I can imagine nothing more beautiful!! 
Want to get your paws on an awesome Pridebite

s toy, blanket, bed, collar or leash?
Take advantage of our special deal below!