If we have learned one thing about traveling with dogs over the years it's that you need to be ready for just about anything. Let's face it – dogs are messy and they tend to get into things!
Today is the first installment in our series of pet travel essentials – and we are going to start with your vehicle itself – and how to protect it from whatever your dog can throw at it.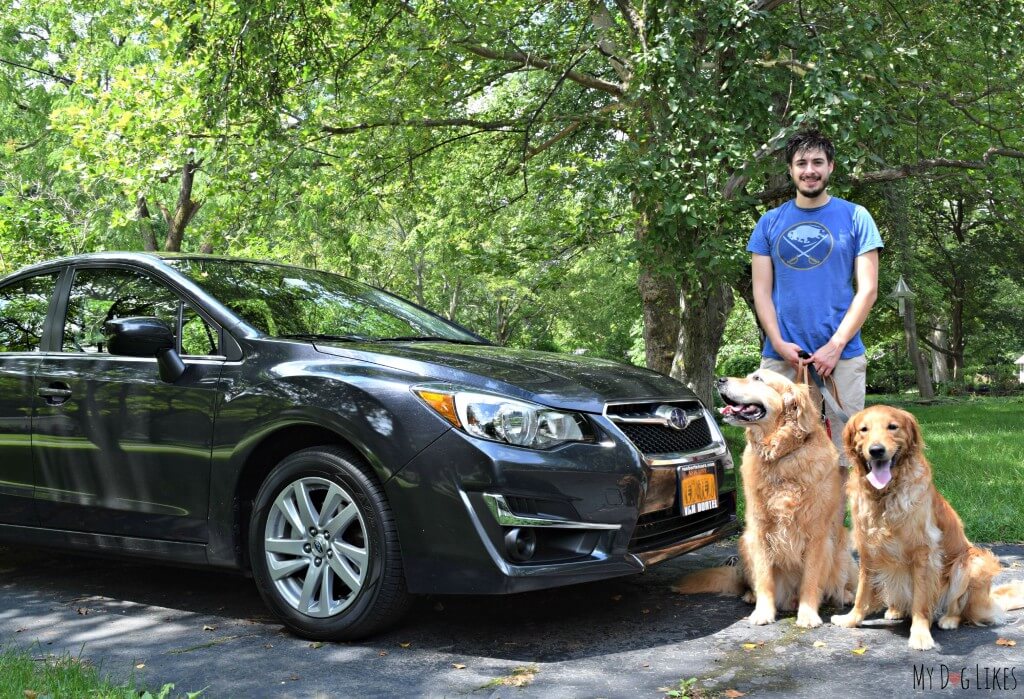 Take a moment and think about how much dog hair and drool winds up in your car after a quick trip to the park or vet. Now imagine the messes you will encounter after spending some serious time in the car – where your dog will potentially be eating, sleeping and dragging in all sorts of dirt and debris from their adventures…
Luckily we have the perfect solution to keep your car clean on any road trip with dogs…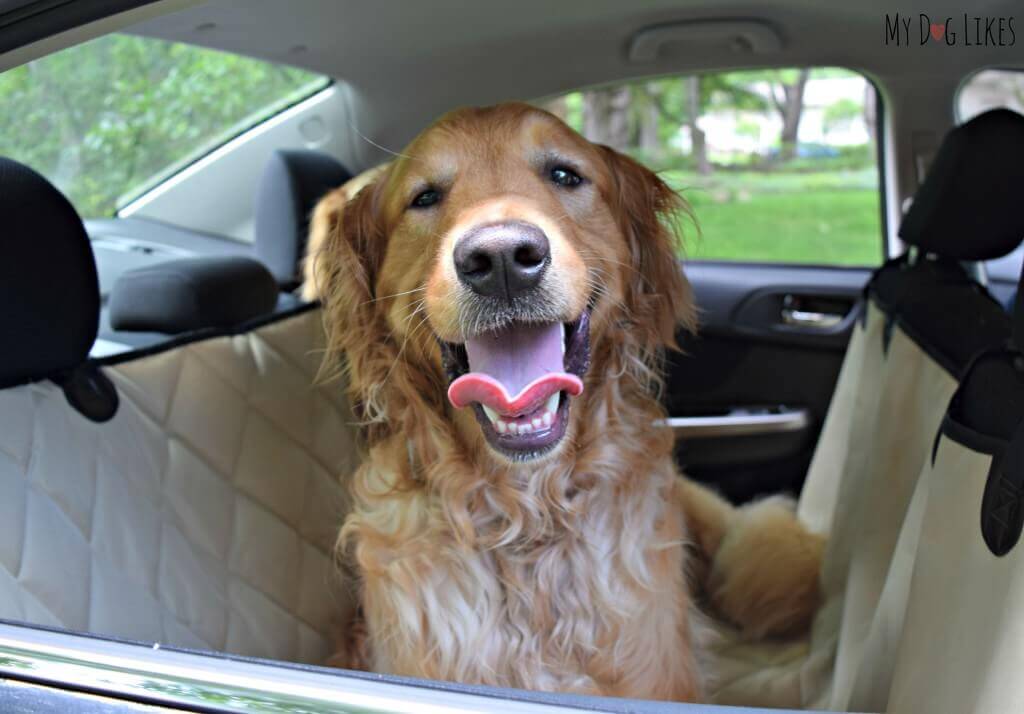 Introducing 4Knines Dog Seat Covers
4Knines is a manufacturer of premium seat covers, designed specifically with dogs in mind. Their covers are waterproof, easy to install, and easy to clean. 4Knines also includes features like a non slip backing, seat anchors, and headrest straps to keep them firmly in place – hugely important for a moving dog.


Another aspect that truly sets 4Knines apart from their peers is the look. Their covers are available in multiple sizes and colors with a quilted design that in no way detracts from your cars' interior.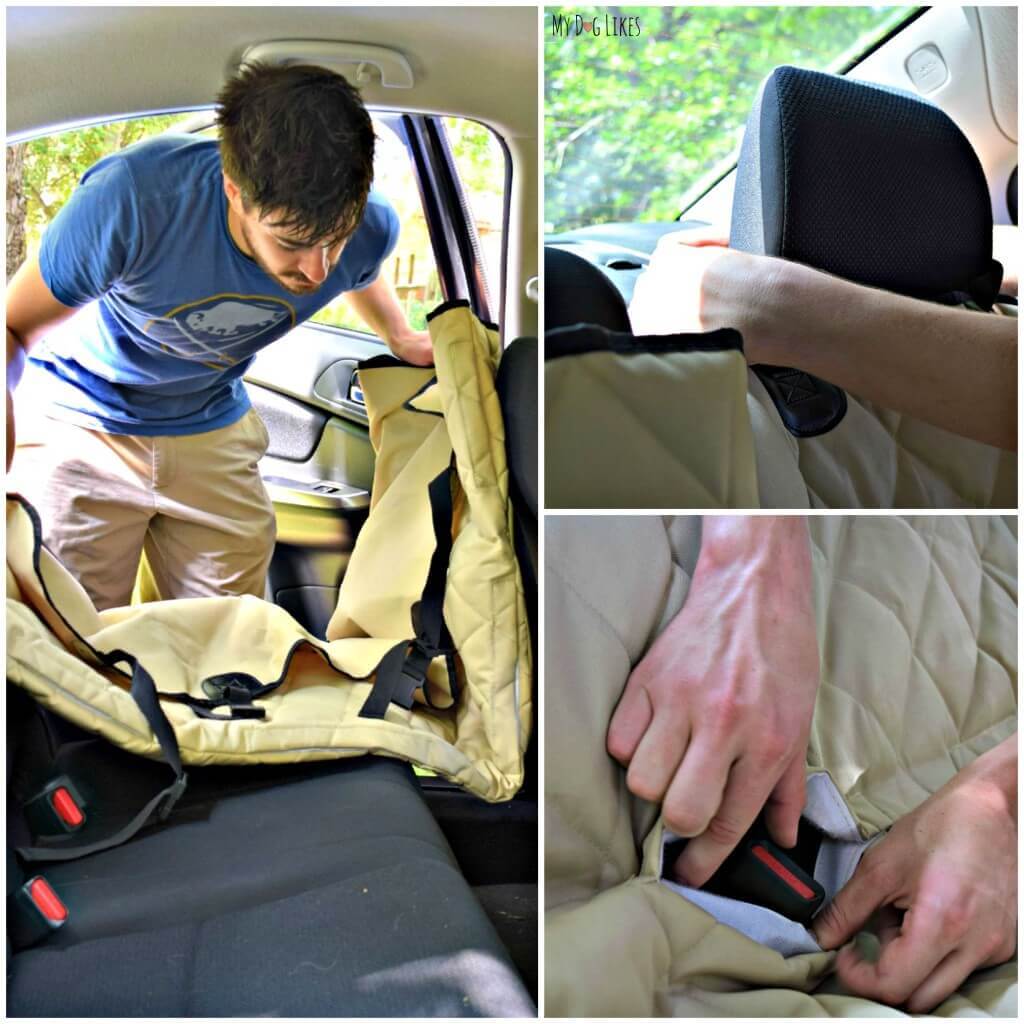 We have been using their cargo cover and rear bench seat cover for over a year and simply could not be happier. When it came time to pack for our recent dog friendly road trip, we knew there was no way that we would be traveling without them! We reached out to see if 4Knines was interested in becoming our official vehicle protection sponsor and we were thrilled to get them on board (literally)!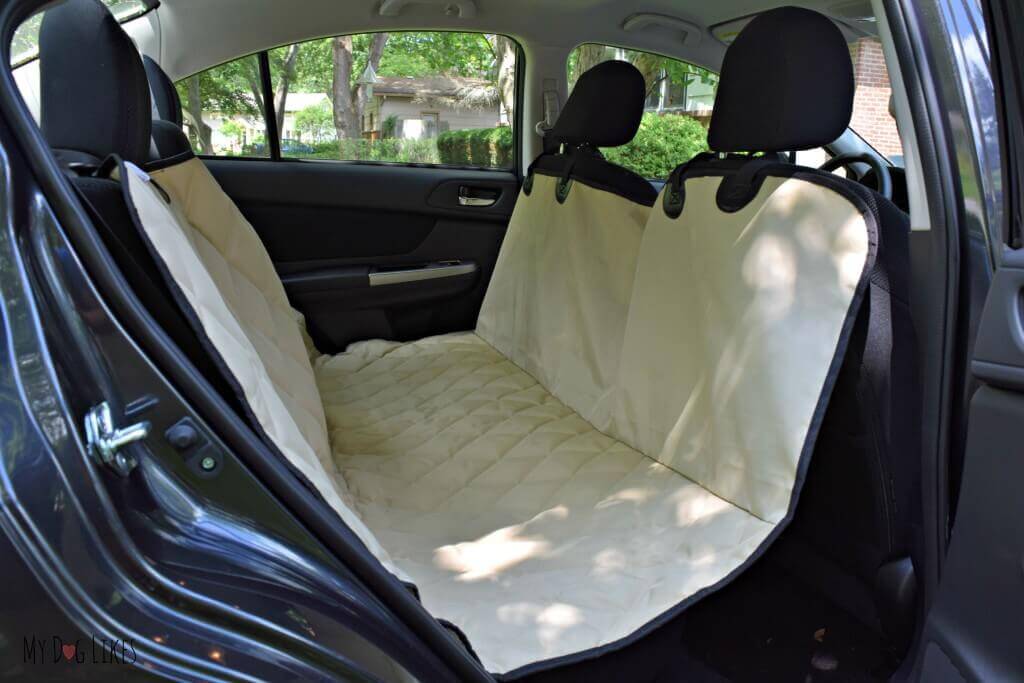 Choosing and Protecting our Rental Car
Whether you want to avoid putting the mileage on your own vehicle or could use some extra space, a rental car is a great option for your road trip. We were looking for a little bit of both since our SUV is getting up there in miles and we really wanted a third row for all of our gear. The caveat… if you want to avoid an additional cleaning fee, you need to leave no trace behind! This of course is easier said than done.
Pet Friendly Rental Car Companies
Believe it or not, several of the major car rental companies do allow dogs. After a great deal of searching around, we decided to go with Avis, who has no additional pet fee. We rented a Chrysler Town & Country (which we would highly recommend for those traveling with dogs) and decided to bring along both of our 4Knines seat covers to help keep it clean.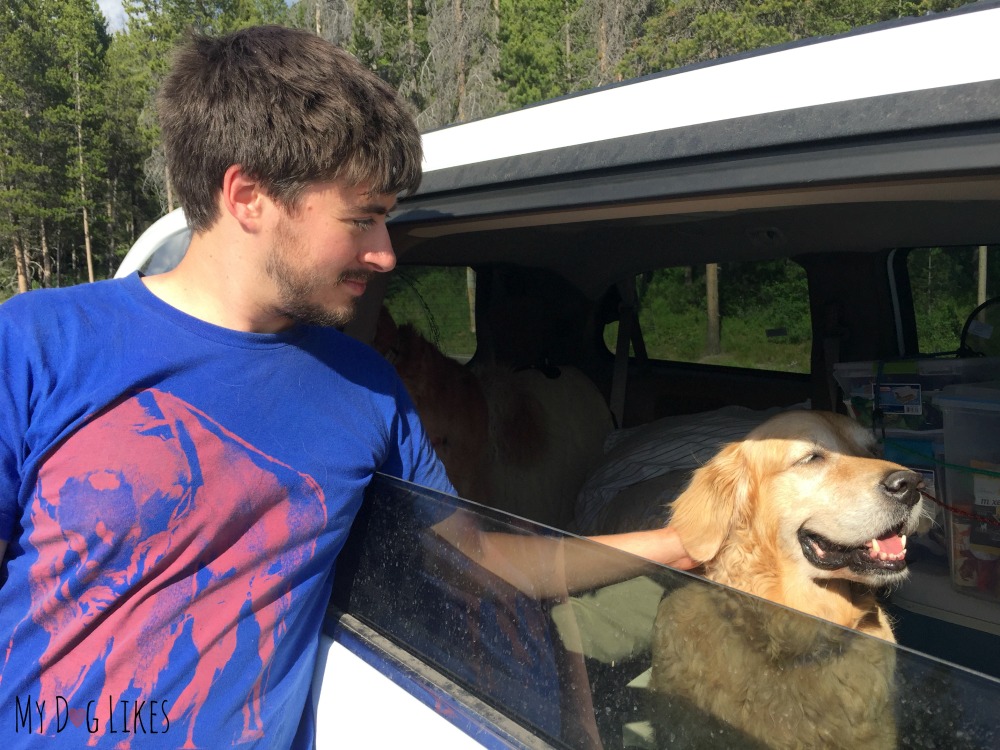 Prepping for our Road Trip
Below we are going to let you know how we chose to utilize these seat covers on our road trip and of course how well they performed!
Using the 4Knines Cargo Cover 
While the Knines Cargo cover is designed for use in an SUV, we decided to improvise a bit to use it in our rental van -where the trunk area is much too small for our dogs to fit! We folded down the middle seats into the floor, and found that the cargo cover was perfectly sized to fit the entire area. The buckles and straps made it a breeze to secure to the base of the front and rear seats. The cargo cover even has built in side flaps which we folded up the bottom of the walls. This layout gave us a ton of space for storage on the floor, plus allowed us to create a cozy nest area for a dog bed and just enough room for the dogs to stretch their legs when needed.
Rear Bench Seat Cover
After getting the floor all situated, we used the 4Knines bench seat cover to protect the back seat. This fit just as well in the van as it does in my car. Since it is hammock style there was also plenty of extra material to fold onto the floor in front of the seat.
At this point we had every surface that the boys would be coming into contact with well protected!
4Knines Performance – How Did it Go?
At 2 weeks and over 6,000 miles, protecting our vehicle was a monumental task. Aside from the long hours on the road we would be visiting State and National Parks across the USA. All of this adventuring was bound to introduce a great deal of mud and dirt along the way!
Comfort
As you can see, comfort was no issue at all. The boys fought over the back seat for the majority of the trip – and sometimes even shared it (much to our chagrin). The quilted fabric proved to be quite cozy for these 2 Golden boys.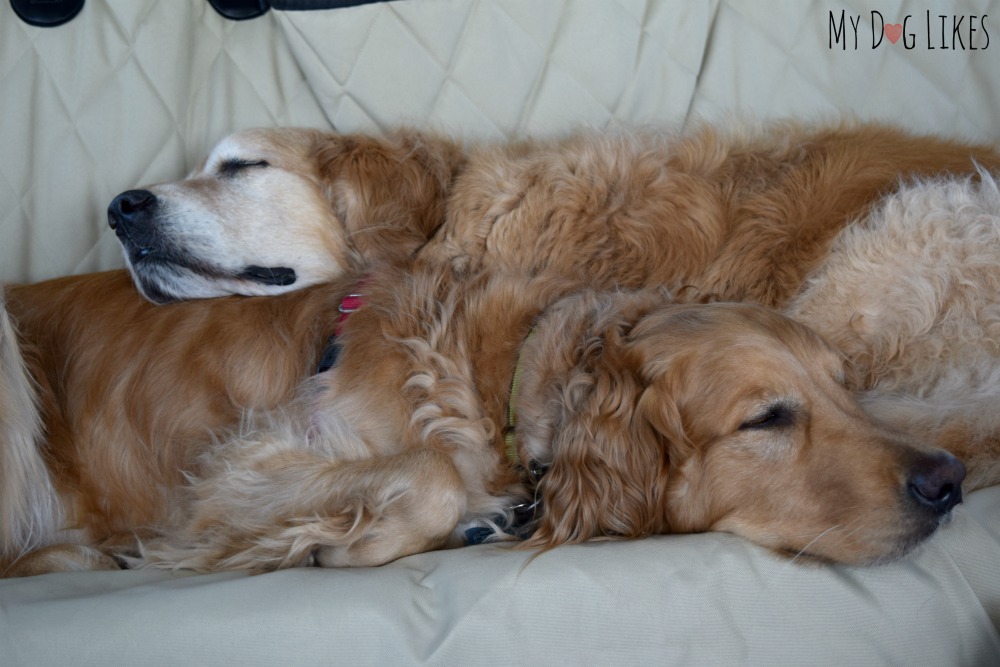 Protection
Even though the dogs had spent the majority of the past 2 weeks in the van, when we folded up our 4Knines covers there was practically no mess left behind. Even we were surprised at how well they worked containing their mess. As anyone with dogs knows, their hair has a way to make its way into just about anywhere, whether you think it was protected or not.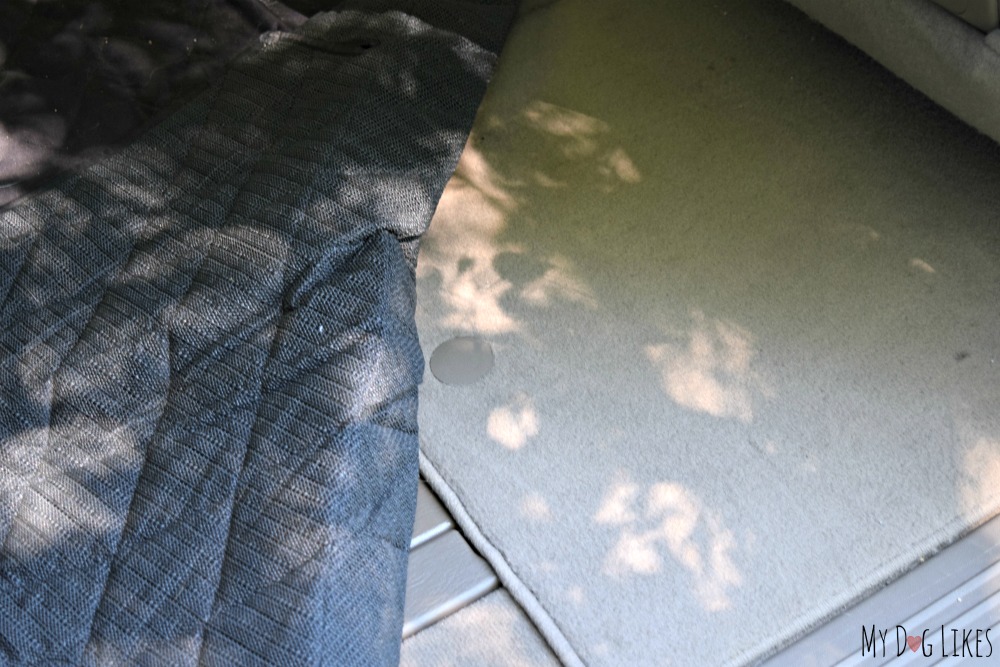 We were also very pleased to see that the tough material protected the leather seat in the back from accidental punctures or tears due to sharp nails!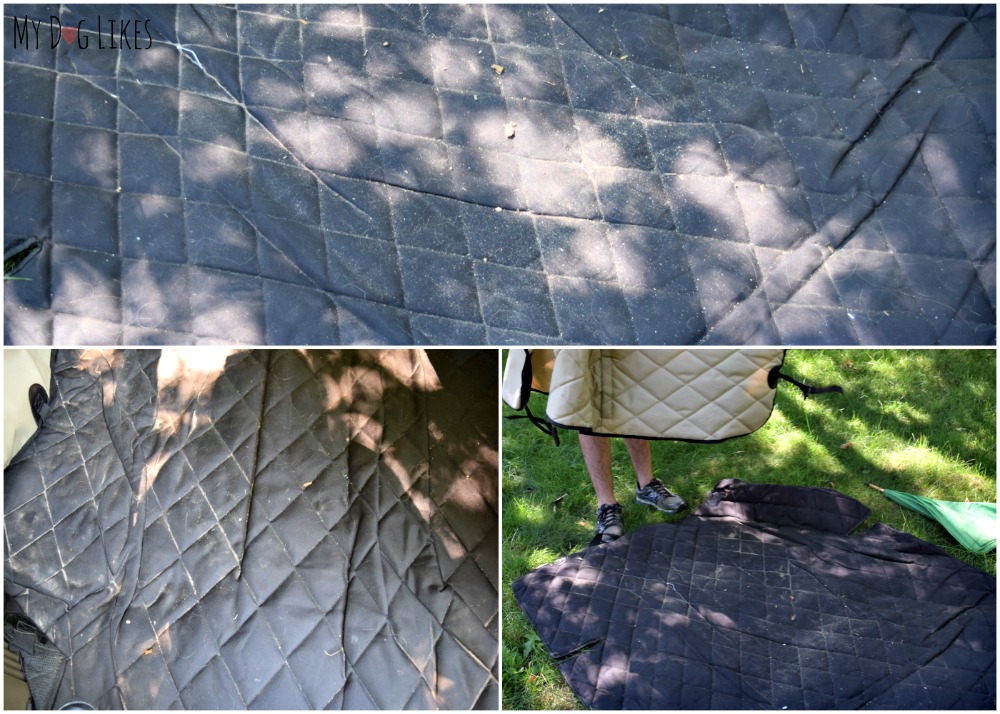 Shaking out our seat covers after the trip!
We encountered our fair share of spills over the course of the trip from food and water to mud and drool. Thankfully, none of these penetrated the waterproof fabric, or proved a hassle to clean. A damp rag was all that was needed to get the cover looking good as new.
It was also great having enough confidence in 4Knines to avoid freaking out in these situations!

Why MyDogLikes 4Knines Seat Covers
Whether you are traveling in your own vehicle or a rental car, you will want to make sure it is protected. The last thing you need upon returning home is to be hit with a major cleaning or damage fee. Protecting your vehicle with a quality set of seat and floor covers like these is a breeze and provides massive peace of mind.
4Knines dog seat covers are worth every cent and we wouldn't dare travel without them.