We love our dogs. Thankfully much more than we love having a clean house, car, or clothing. In fact, if you've spent any amount of time around us, you might think that dog hair is our favorite accessory; after all a little piece of the boys comes with us wherever we go. Though we don't mind the hair, all of the guests in our home are not always so eager to take a piece of the golden boys with them.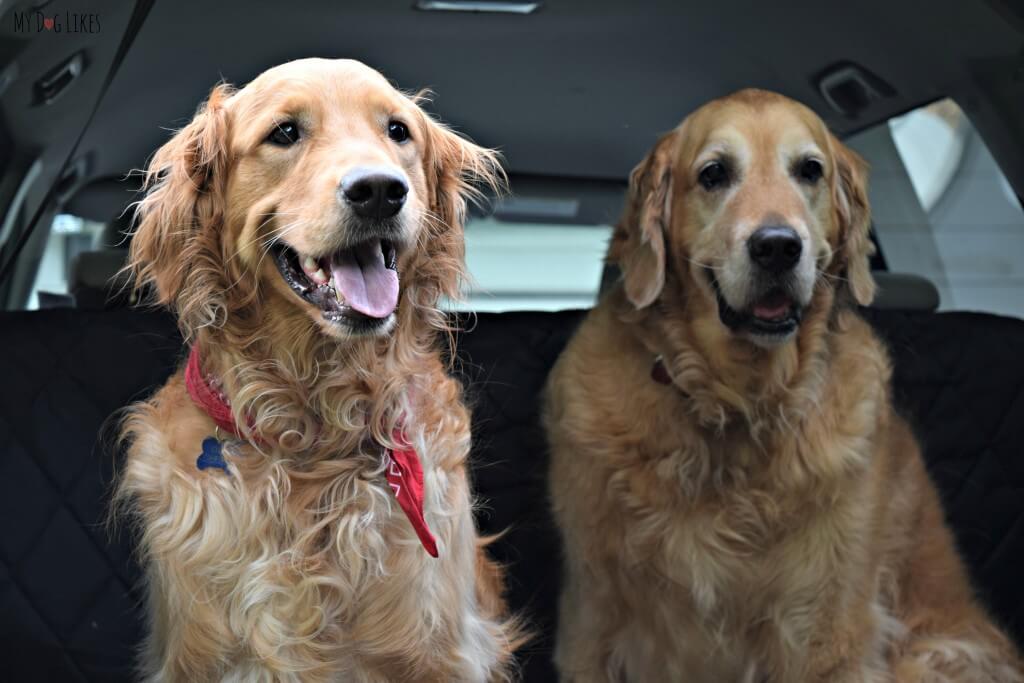 Our home is the subject of another post on another day. Today we are talking all about the hair and stink capsule that currently transports our boys to all of their adventures… the car!
The car itself is great. We picked out a Toyota Rav4 years ago with the comfort of our main squeeze, Harley, in mind. The Rav4 has a large cargo area, a low entry, and seats that fold flat; leaving lots of room for golden fun.
Anyone who has known or loved a golden retriever knows that they are always up for a good time, especially when it involves water or mud. Now that we have double golden trouble, our car (the cargo area in particular) really takes a beating. After years of wet, stinky, hairy, and dirty floor mats, you can imagine how pumped we were when 4Knines contacted us about their super durable, luxury cargo liners! Good bye dirty, stinky sheets…there is a new boss is town!
4Knines was kind enough to send us a seat cover and SUV Cargo cover liner to test out and share with our readers – they are also sponsoring a giveaway so be sure to enter below!

Click Here to Shop 4Knines on Amazon
About 4Knines
The idea for 4Knines came to founders, Jim and Maggie, after a particularly crazy ride with their two dobermans, Ares and Ana.  Fur and dirt were everywhere and the seats were marked up with claw marks (oops). Dog Dad Jim, was used to a perfectly clean car, and this just wasn't going to fly! Jim and Maggie tried multiple different car seat covers for dogs but could never find one that could withstand their resident maniacs (yeah, I've been there). They recognized the need for a dog seat cover that performed, had superior durability, and classic looks. Sounds simple, right? Jim and Maggie knew that anything that would bear their company name would first need a stamp of approval from Ares and Anna, it needed to look good AND perform.
4Knines Cargo Cover Review – Breaking Down the Features!

Easy to Install
The 4Knines cargo liner is a breeze to install. Simply unfold the mat in the cargo area, lift the end with straps up the back of the seat, buckle around the headrests, and tighten the straps for a custom fit. Not only are the securing straps adjustable for a perfect fit, but they are reinforced. Many years ago we had a competitor's seat cover rip at the attachment points so we definitely appreciate the extra stitching!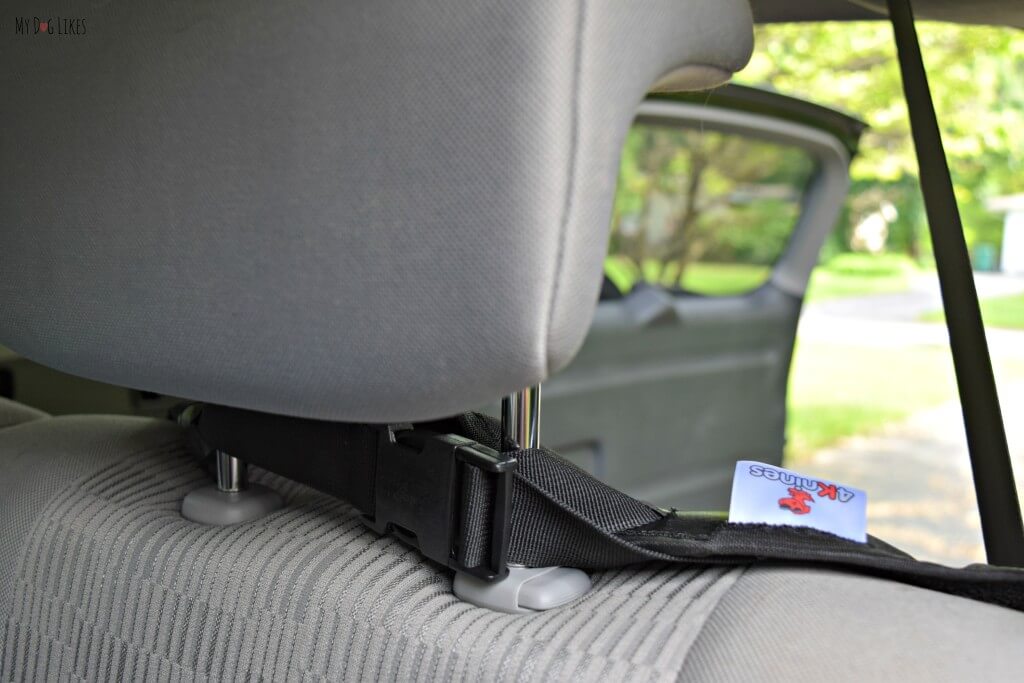 Alternatively, if you lay your rear seats flat, the straps can be buckled around the front seats, creating an instant barrier between the driver and the dogs.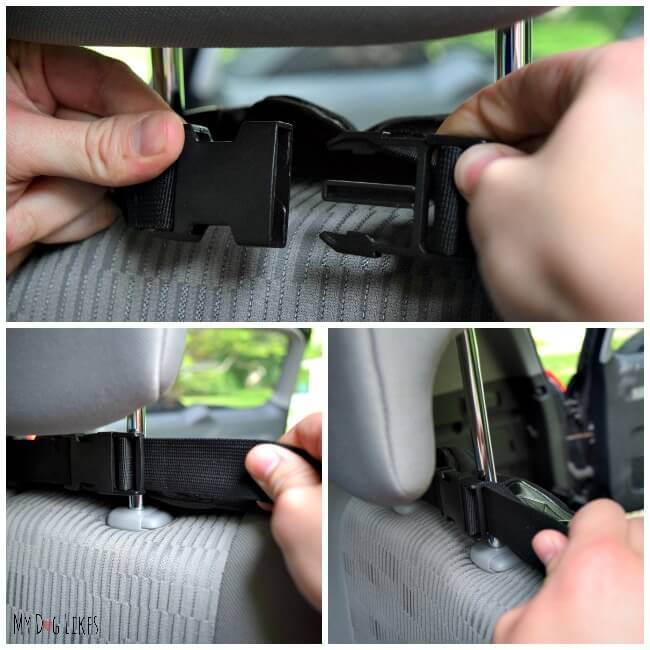 Weatherproof
The heavy duty weatherproof material keeps moisture and debris on the surface where it is easy to clean up. This material can be wiped with a wet cloth or vacuumed with ease. Anyone who has ever tried to get long, fine, dog hair out of carpet fibers, you get this!! This is a great time saver. Additionally, since most of our messes end up with lots of moisture on the seats, I love that this cargo liner cover fabric is resistant to soaking up all of the water and accompanying odors that come along with dirty dogs.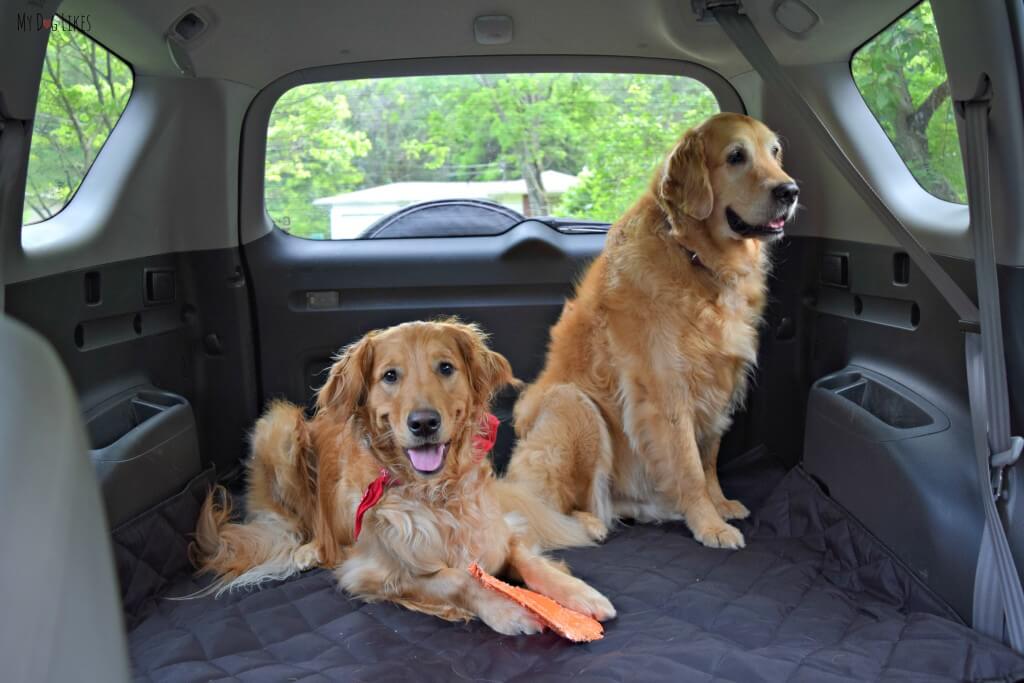 Nonslip Backing
Whether trying to poke their nose out the back window or just looking for a better view, no dog sits still during an entire car ride. They are on an adventure after all! That is why we love the non-slip backing of the 4Knines cargo liners! It stays where it is supposed to, protecting what it is supposed to!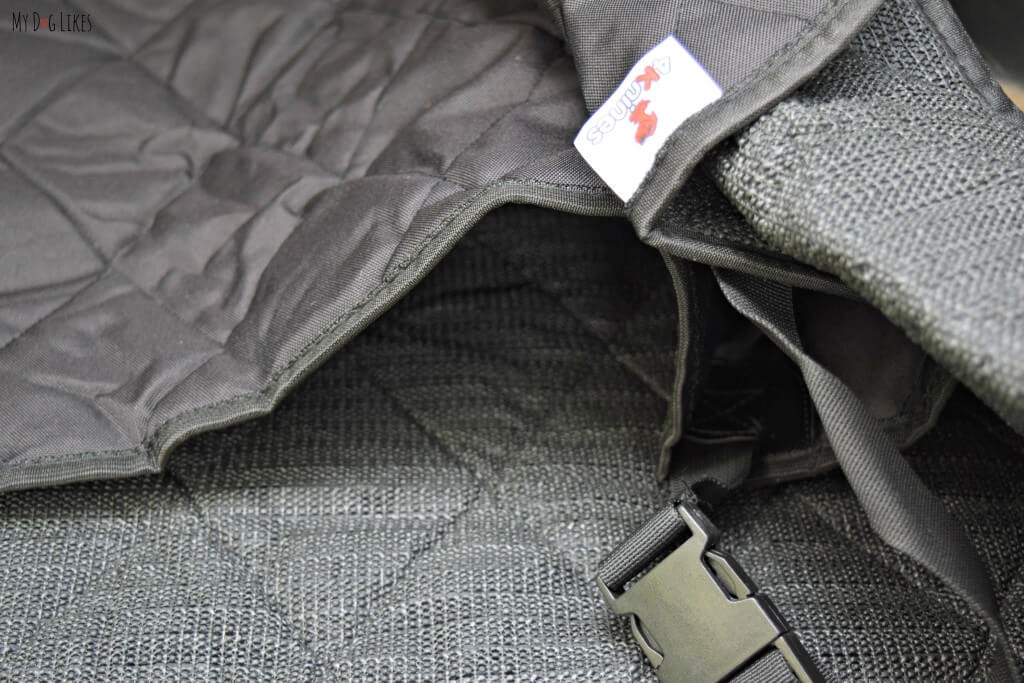 Not only does it help keep our car interior protected from the elements, but it helped Harley feel more confident and comfortable when jumping into and out of the car. As Harley gets older and less confident, it only takes a couple of little problems like a slip in material, to prevent him from trying for a couple of days. We loved that the no-backing held its ground and stayed in place throughout car rides and entry!

Side and Bumper Flaps
At 82" Long X 52" Wide, this 4Knines liner is not just for the floor. Instead, it is designed to protect the entire cargo area; from the back of the seat to the edge of the door. This is a huge plus since our boys commonly lean against the back of the seat. You wouldn't believe the amount of golden hair that weaves its way into the upholstery!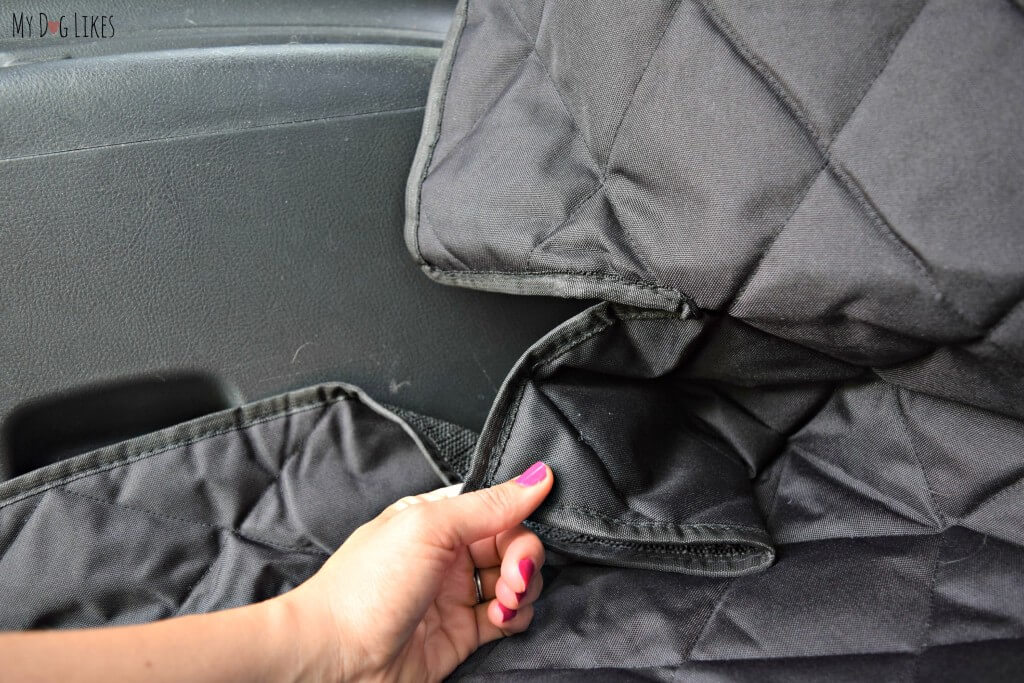 Additionally, these covers have built in side flaps that fold up the walls and a 20" Bumper flap to protect the tailgate. No more dealing with deep gouges in the sidewall plastic or surface scratches on the bumper!
Lifetime Warranty
At $116 you may feel that this cargo cover is a bit pricey. Don't! This is by far the best cover we have seen and believe it is well worth the money. It is HUGE, high quality and best of all 100% satisfaction guaranteed. 4Knines is willing to stand behind their products for life!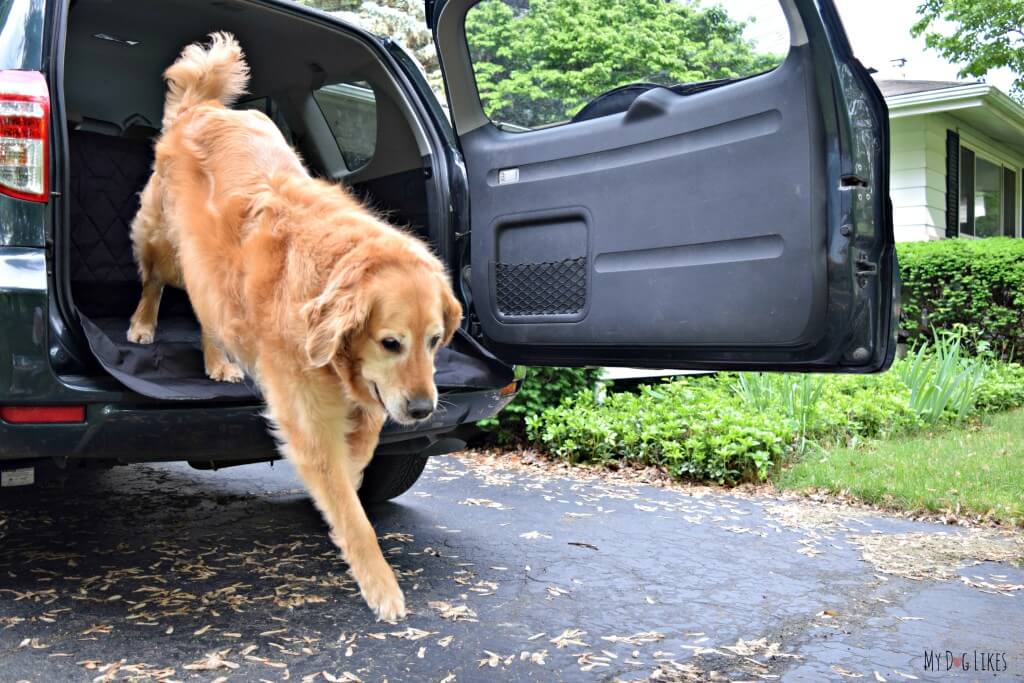 Why MyDogLikes 4Knines SUV Cargo Covers
Stylish
With 2 large active dogs a seat or cargo cover really is a must have. How did we put up with old sheets and towels for so long!?! Not only is our car better protected, but with the stylish, quilted design of the 4Knines cargo liner makes it look so much cleaner as well. The sleek black color blends well with our grey interior and definitely adds a look of luxury to what was previously a stained, soggy, and stinky cargo area!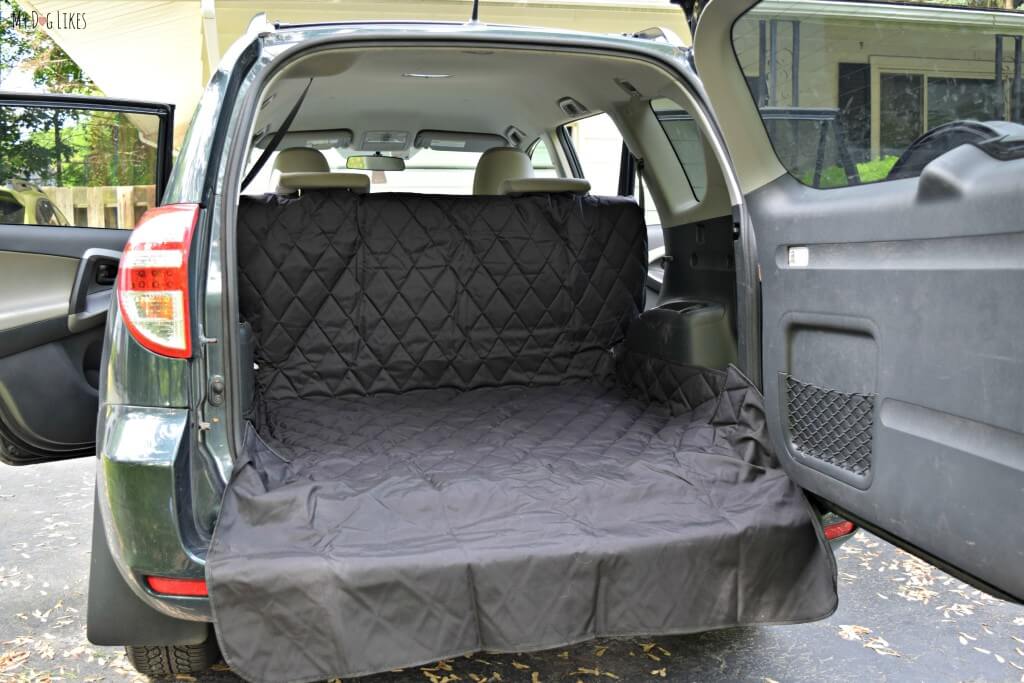 Comfortable
The material is not coarse like most other weatherproof fabrics on the market. Instead, 4Knines covers are quilted and plush to give your dog a more comfortable ride!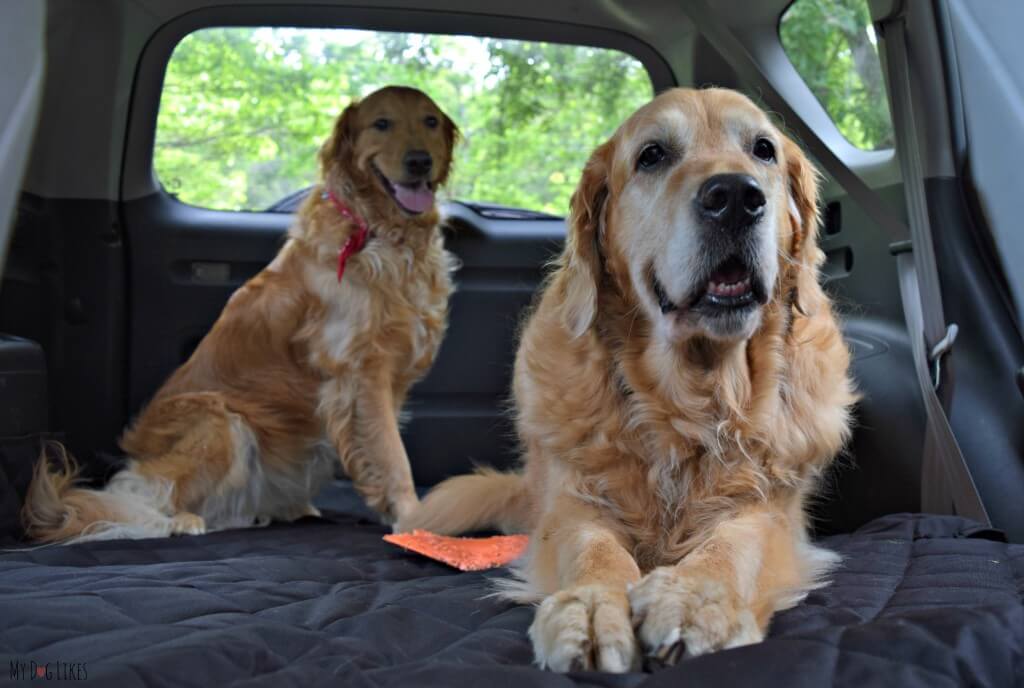 Versatile
Once installed, we are able to fold the back seat flat as normal and the cover will simply slide along with it. The liner is long enough to still cover the bumper even with the seats folded down! This is great for protecting the car interior not only when transporting dogs but large loads as well!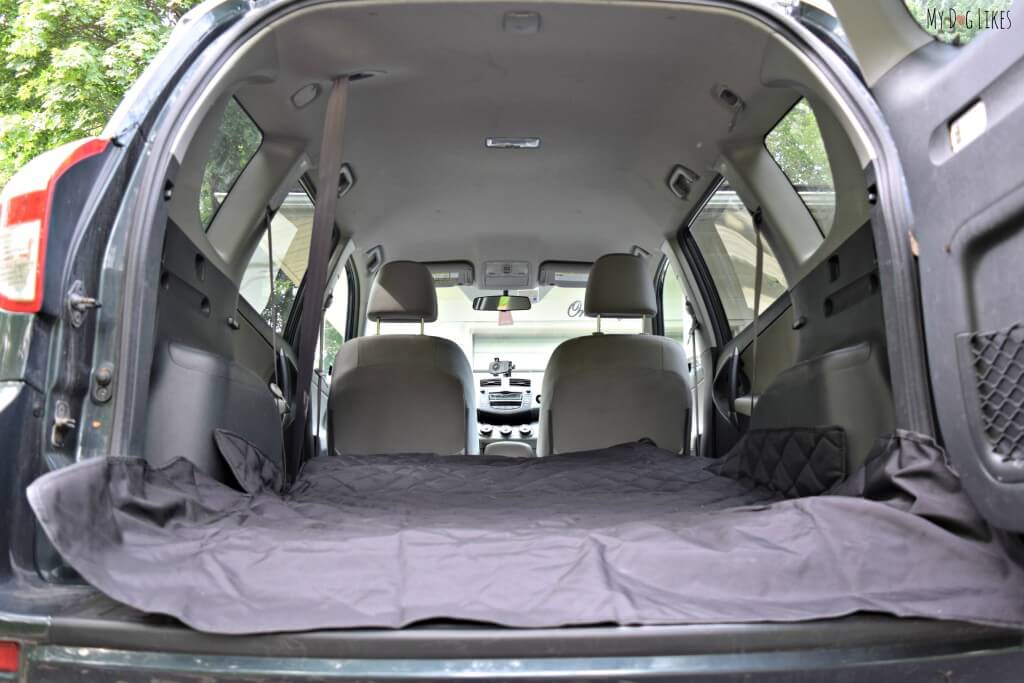 Another major reason that we love this product is how it makes our sweet senior, Harley's life just a little bit easier. At 9 years old, Harley is not as sure of himself as he once was – occasionally displaying hesitation about jumping up into the back of our SUV. It seems as if the extended bumper cover, combined with the non-slip backing has made him a bit more confident about making the leap. Seeing him eagerly jump in and out of the car put a big smile on our faces.
We were thoroughly impressed with the 4Knines cargo cover and would highly recommend it to any dog owner. If (like us) you enjoy traveling with dogs we consider this an absolute essential!
Interested in a 4Knines Seat or Cargo Cover?