At MyDogLikes, one of our primary goals is the promotion of an active lifestyle with your dogs. We are firm believers that bringing your dog along on all of your adventures is a great way to enhance your bond and ultimately leads to more successful adoptions!
A new Car?!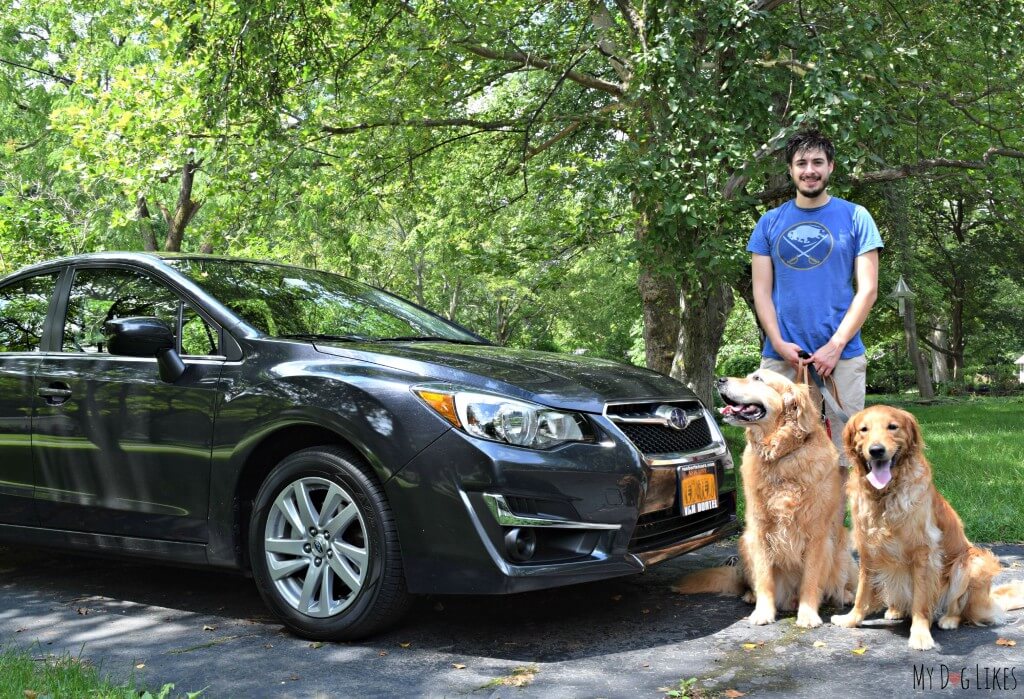 Due to our frequent excursions with the dogs, when it came time to upgrade my vehicle (after 12 years!) it was crucial that we find a "dog-friendly" car. Since Subaru's are Dog Tested, Dog Approved® we knew that it would be a great choice for whatever our family and the Western New York winters could throw at it. We ultimately decided on the Subaru Impreza, which was very spacious for its class, had excellent safety ratings, and gets excellent gas mileage!
A car is one of the biggest investments many of us will ever make: of course it makes sense to protect it. When 4Knines heard that we were getting a new car, they were kind enough to send us a rear car seat cover to check out and share with our readers!! How awesome is that!?

A Trip Down Memory Lane
Perhaps you've read our 4Knines Cargo Cover review? We have been using (and loving) this cover for several months and remain obsessed with it!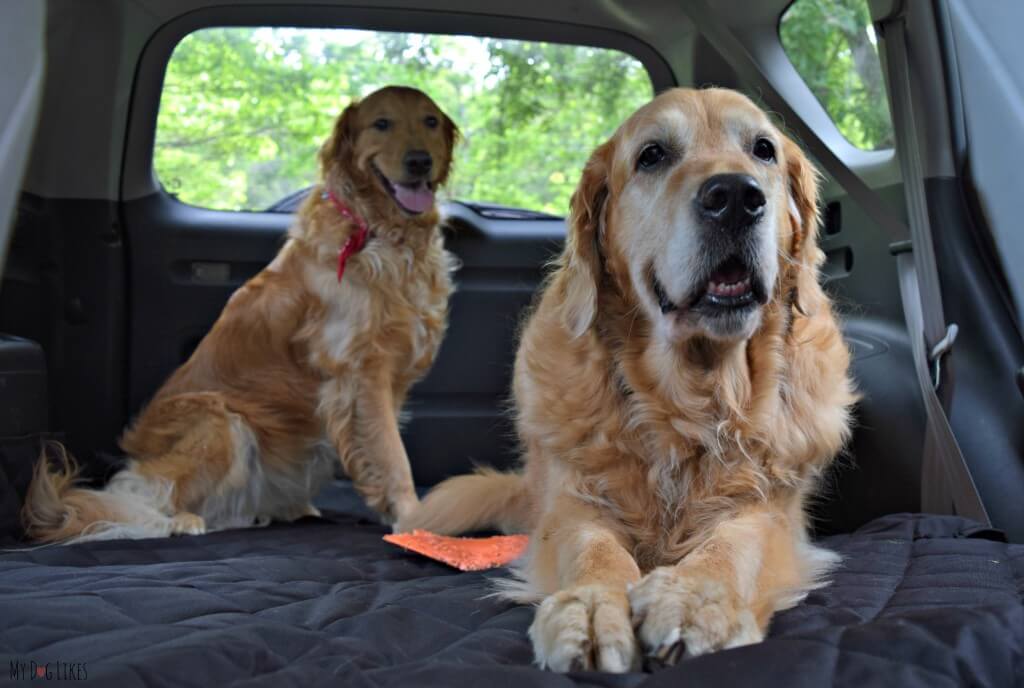 Not only does our cargo cover help to keep our SUVneat and tidy, but it looks great as well! The luxury cargo cover is loaded with additional features like a built in bumper cover, non slip backing and sidewall flaps!


Your Hair is Everywhere…
Anyone who owns and loves a dog with long hair will tell you that their fur tends to follow you along wherever you go. After only a few trips in the new car (and none with the boys) their mark has definitely been made and lots of "Golden love" had already made its way inside!!!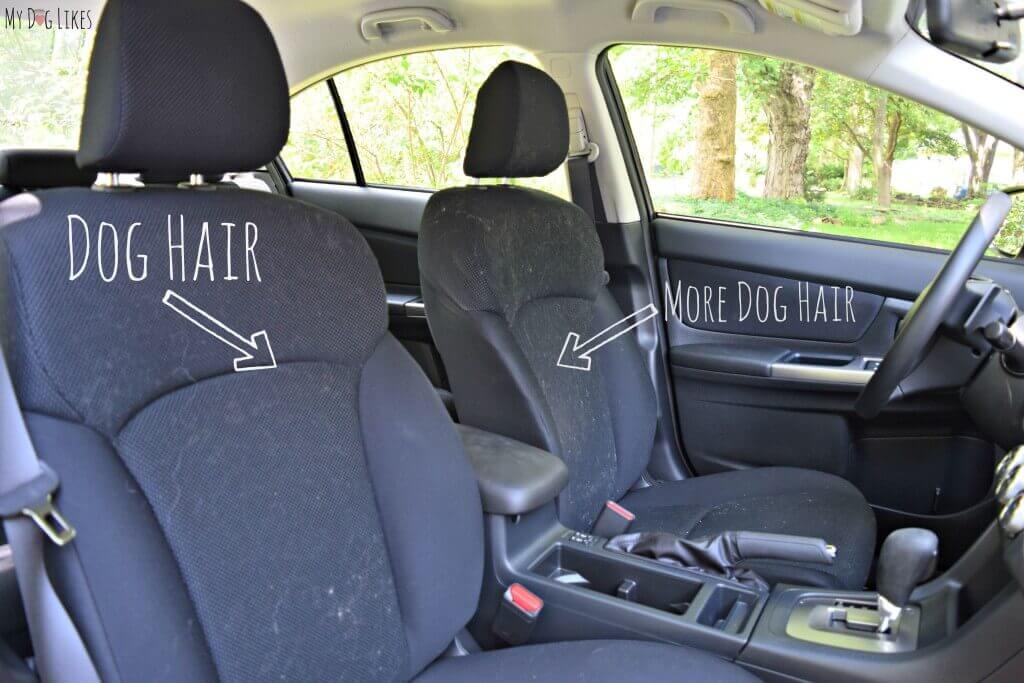 Easy to see why a car seat cover makes its way onto our ultimate list of dog essentials, huh?!
Taking a look at the 4Knines Car Seat Cover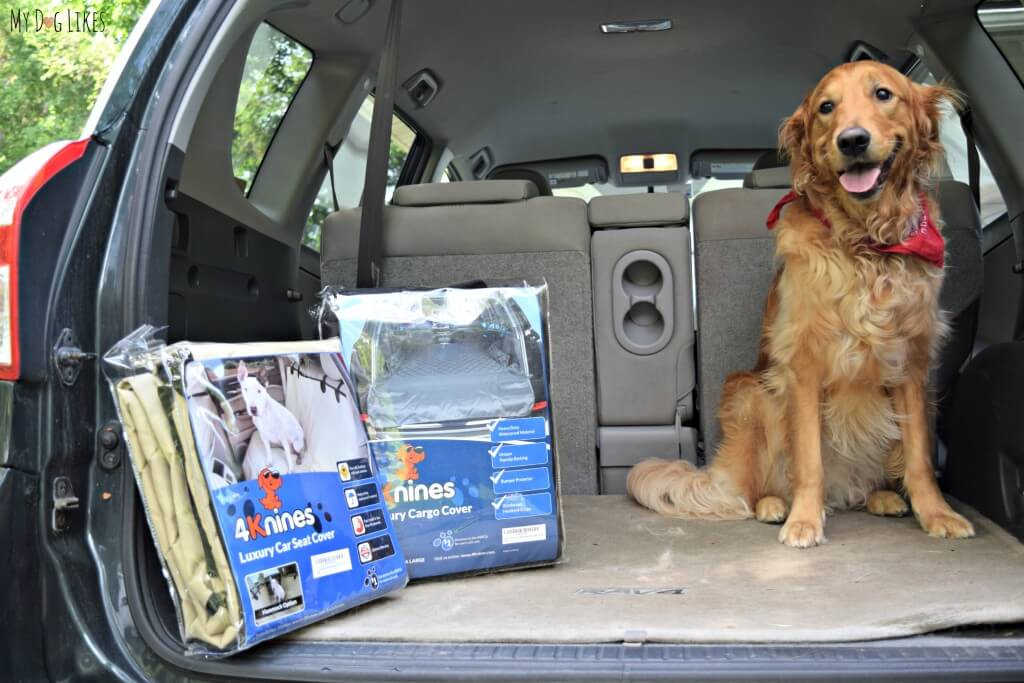 The first thing you will notice upon removing the 4Knines seat cover from its packaging is the quality. The quilted fabric is plush and comfortable. It comes in 3 different colors; black, grey and tan. The regular size cover is 54" wide and 58" long, but they also make a larger cover for the rear seat of trucks and large SUV's.
Installing a 4Knines Dog Car Seat Cover
This seat cover is an absolute breeze to install.
First, fold out the cover with the rubber side down and the quilted side up. Make sure that the non-quilted section extends toward the car floor.
Next, slip the seat anchors between the top and bottom cushions of your bench seat.
Now, buckle the straps around the rear headrests and tighten for a secure fit.
OPTIONAL – Open the velcro flaps for access to the seat buckles, and attach the lower portion around the front headrests to use in a hammock style.
It took us less than a minute to install the seat cover and we immediately headed out for a spin!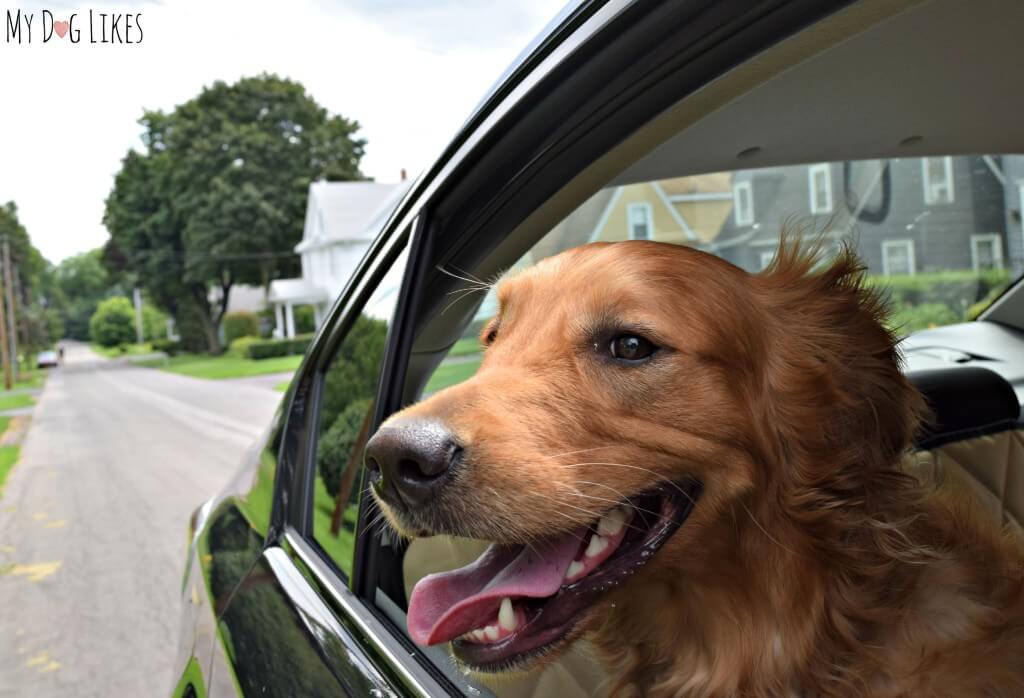 Breaking Down the Features of the 4Knines Seat Cover
Even after just a short time using the cover, a couple of features really stood out!
WeatherProof
Since protecting your car seat from the elements is the primary purpose, like its cargo seat cousin, these dog car seat covers are constructed of a rugged weatherproof material. This weatherproof fabric keeps dirt and moisture on the surface and is very easy to clean (with nothing more than a damp rag in most cases). The rugged and durable material also helps prevent tearing of the seat from a dog's nails which is especially important when hopping in and out of the car!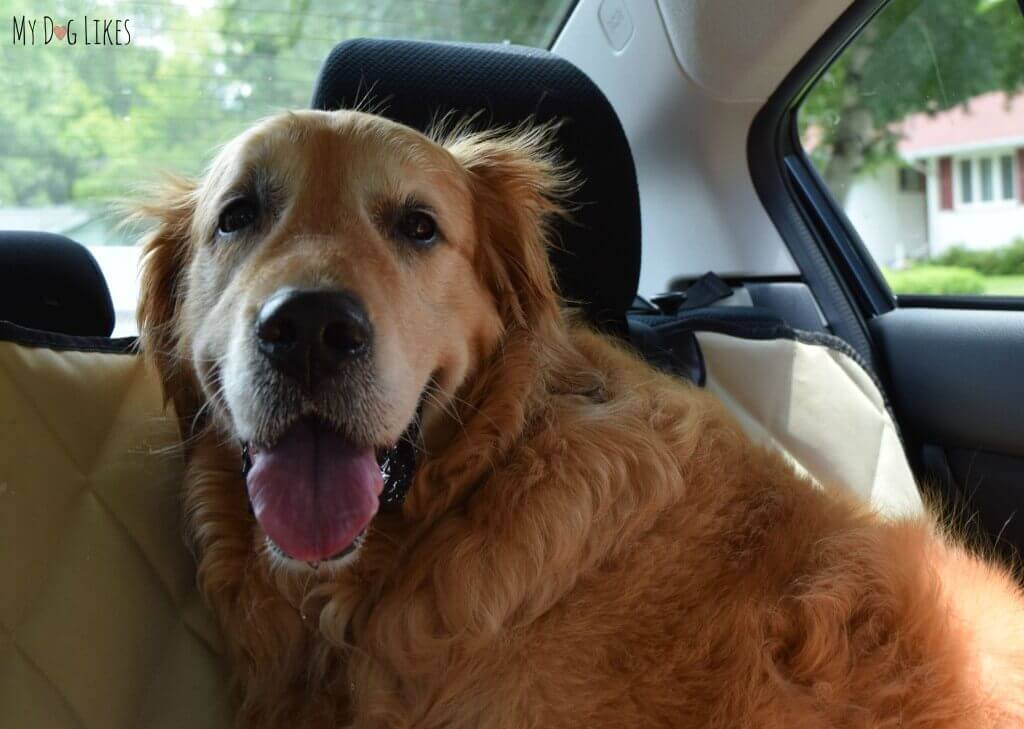 Seatbelt Access
Having a 4Knines seat cover installed does not preclude you from using the seat for its intended purpose. All seat belt buckles are easily accessible through velcro flaps, allowing passengers to sit in the back or for use of a harness/seat belt system for your dog. We have seen some rear seat covers that have slots for seat belts, but we loved that these seat belt slots were secured with velcro to keep hair and debris sealed on top of the cover and off of the seat.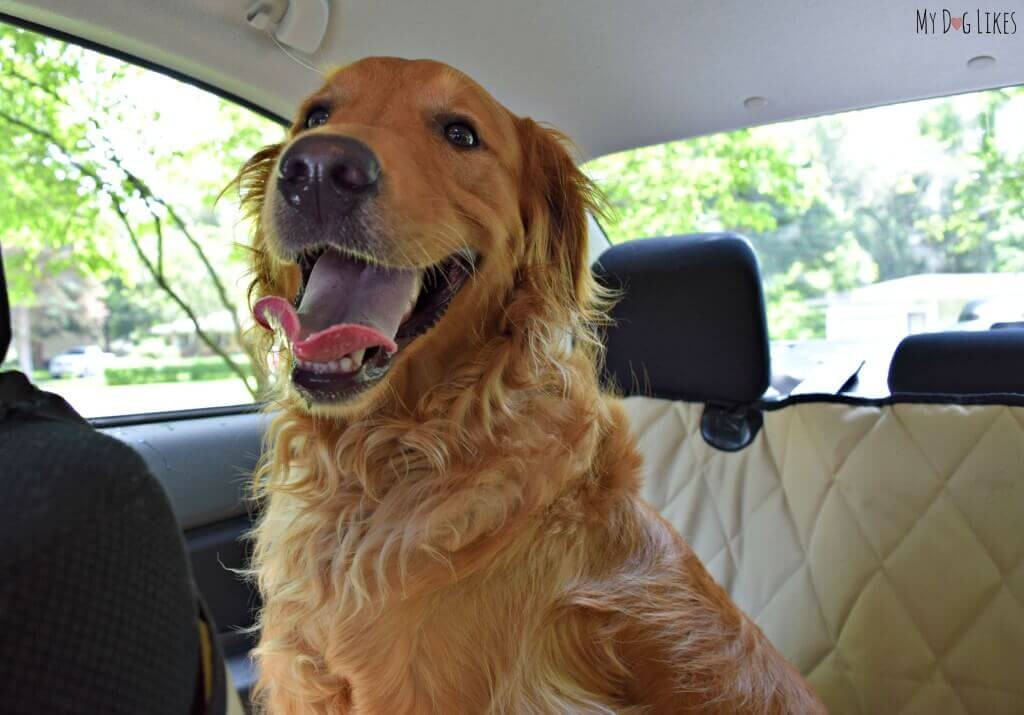 While we don't have any children, we also thought that this seat cover would be great for families with small children who ride in carseats. No need to remove the cover everytime you go for a ride and more importantly no need to unhook and rehook car seats! Best of all the two messiest creatures in the house can comfortably sit in the back seat together (without making a huge mess)! We love the versatility!
Non-slip Backing and Seat Anchors
No dog will sit still during an entire car ride and it is important that a seat cover does not move along with them! 4Knines covers have a rubberized, no-slip backing and heavy duty seat anchors to make sure they stay in place for optimal seat protection.
Hammock Style Layout
The 4Knines seat cover can be easily switched between 2 different layouts – a Standard Seat Cover or a Hammock style. To switch to the hammock style, simply attach the lower head rest loopholes around the headrests of the front driver and passenger seat. This is not intended to hold constant weight, but acts as a visual/physical barrier between the front seat and as an emergency safety catch in the event of a sudden stop.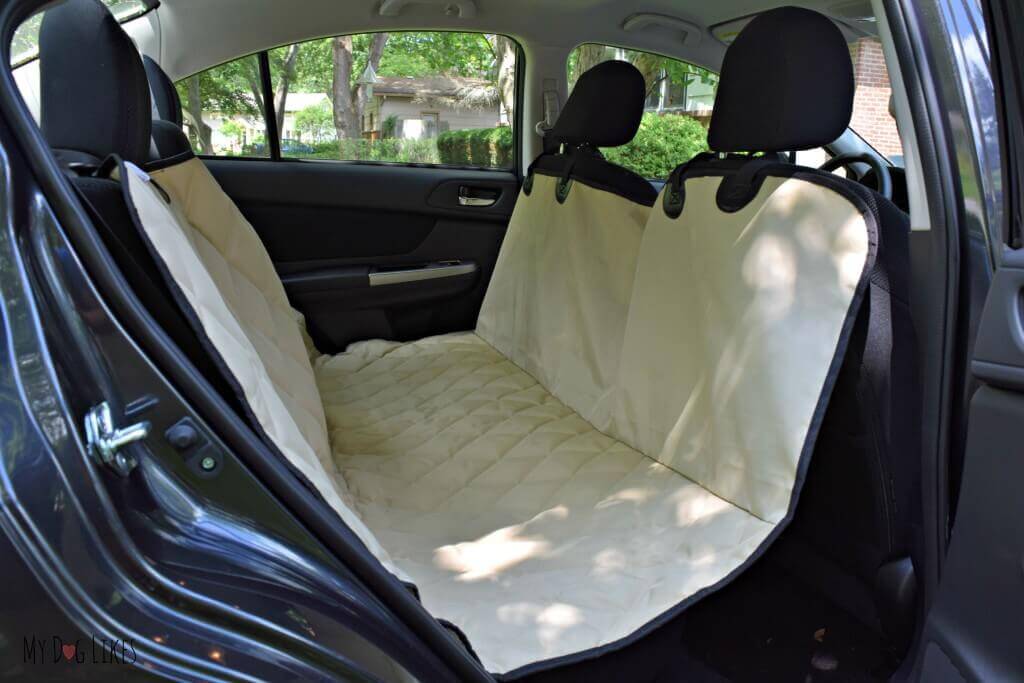 We felt that the boys were more comfortable with the hammock style seat cover. Because they are big boys, who typically ride in the cargo area of our SUV, they sometimes get nervous about fitting in the back seat of the car. We love that the hammock clearly defines their space and they seem less hesitant to jump in. Though we drive extra carefully with the boys in the car, sudden stops are inevitable and we loved the extra barrier the hammock provided!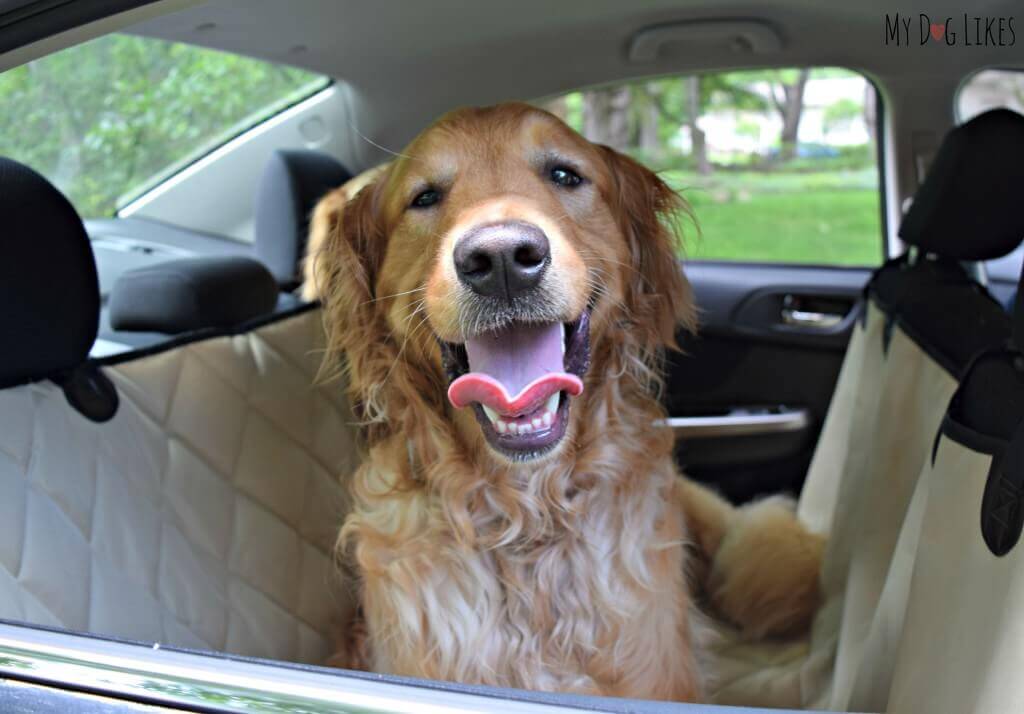 Need some more reasons to give 4Knines a try?
4Knines is committed to giving back and $1 from every purchase is donated to the ASPCA. These covers also come with a 100% Lifetime Warranty! If you are unsatisfied for any reason just let them know and they will make it right!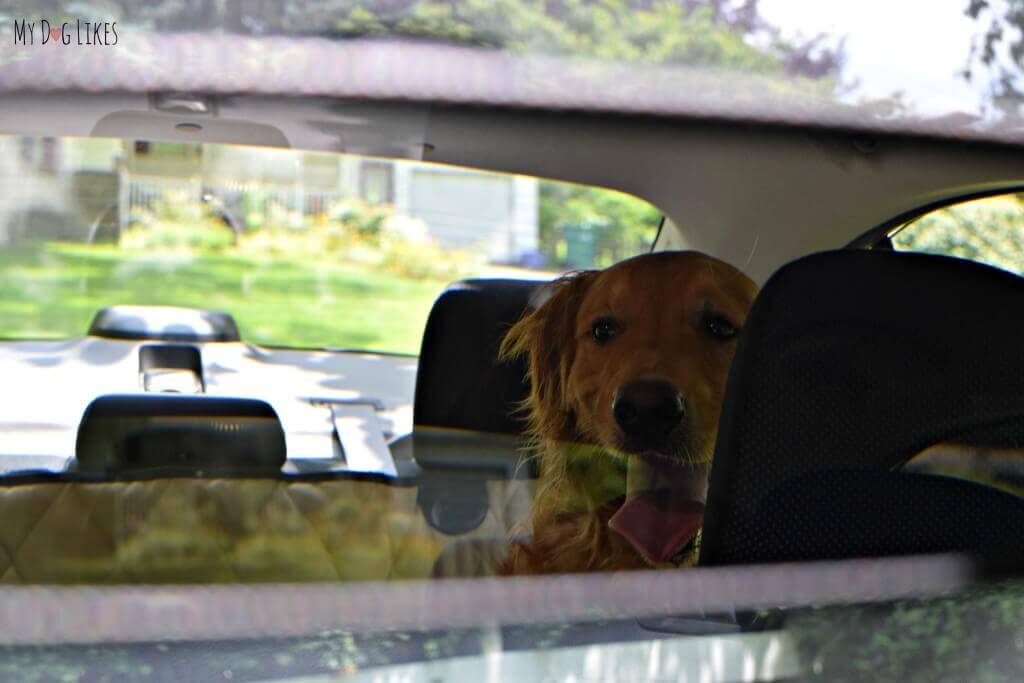 Why MyDogLikes the 4Knines Rear Car Seat Cover
Not only does this seat cover do a great job protecting your car from dirt and debris, but it is stylish as well. While it is easy to take in and out, it looks classy and blends into the style of the car well. This is the only cover we have seen with a hammock orientation and we found that our dogs really loved it! They can sometimes be a bit hesitant to jump into a sedan, but with the front headrest straps attached, it was easy for them to see where the seat ended, creating a less stressful boarding process. We especially loved the hammock orientation for the extra safety preventing them from accidentally slipping off when turning around or needing to brake hard.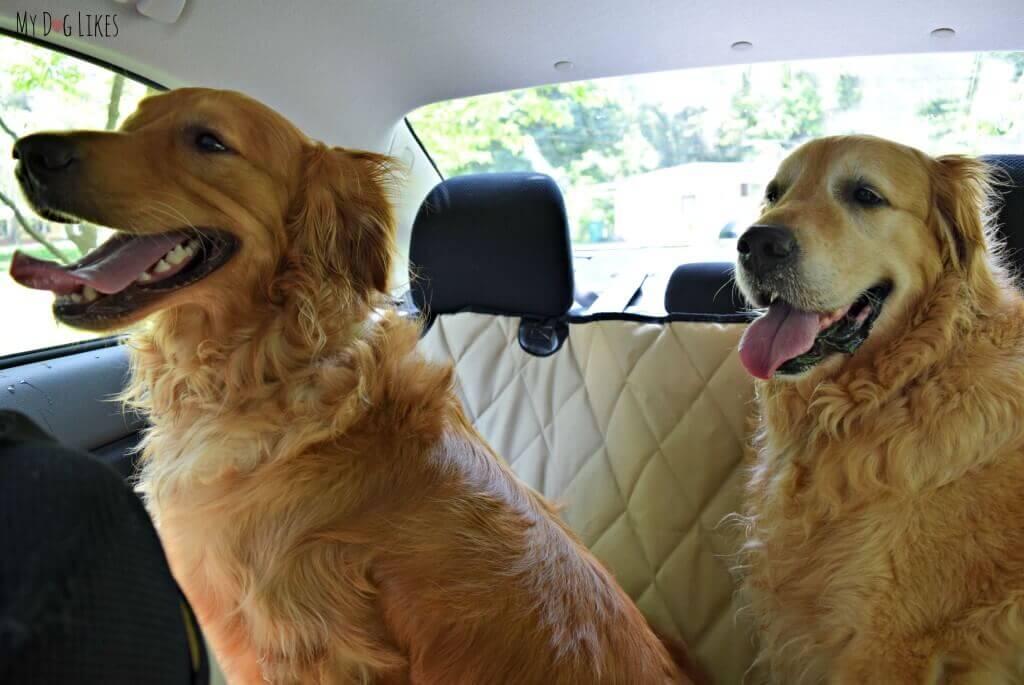 4Knines seems to have considered every possible need when creating this rear seat cover. Gone are the days of an EMBARRASSINGLY hairy back seat! From the easy installation, velcro seat belt access points, hammock style, and weatherproof fabric, this seat cover is the perfect solution for parents of pets and human children (both of whom can be a bit messy)!
Think the 4Knines bench seat cover is right for you?
Click here to check out 4Knines on Amazon!