Dogs poop. Two dogs poop even more.
What's worse is they hardly ever care where they are when they do it. As responsible pet owners we know that exercise is important for our pets, but taking our dogs for walks can leave us stranded with multiple bags of poop and no garbage can in sight.
In the past few years, several options have been introduced to the market for pet owners to more conveniently carry their dog's business. We have tried and loved some of them and are really excited to tell you more about a product that we think offers a convenient way to carry everything a dog and his person need to enjoy exercise and promote a healthy lifestyle.
Introducing the PooBoss K-9 Utility Vest
We first met, Mary, from PooBoss at Backer Total Pet Expo. At first glance, the PooBoss looked a bit like other "poop vests" we had seen on the market. A short demonstration and we knew that this product had a lot more to offer!
About PooBoss Company
As a family of dog owners who love and walk their dogs daily, the owners of PooBoss LLC realized that they could make their daily walks easier, safer, and more convenient by solving some basic issues that all pet parents deal with; visibility, poop, and convenience!

Increases Visibility
Like lots of busy pet parents, the creators of the PooBoss walked their dogs in the early morning or late evening hours when it was dark. Concerned about the safety and well-being of their family they knew that they needed to be seen and added reflective tape to increase visibility.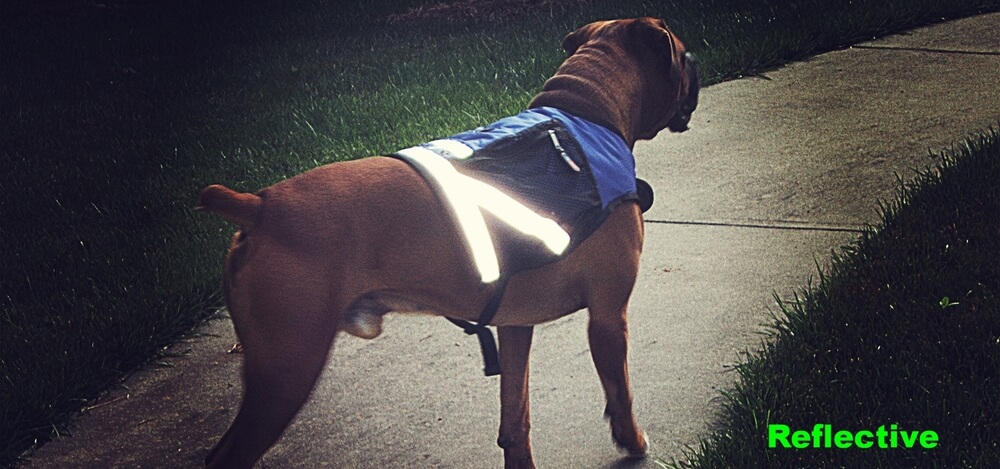 Holds Used Poop Bags
Innovation didn't stop with increasing visibility. Knowing that dog owners have another big problem on their hands (a 60 million pound problem to be exact), PooBoss knew they could do something to help increase pet owner responsibility and clean-up. By their figures the average dog produces about 3/4 lb of feces daily. Multiply that by the number of dogs and thats a whole lot of poop!
PooBoss wanted to encourage dog owners to clean up after their dog every time, not just when it was convenient, so they added a poop bag dispenser and storage compartment to hold bags once they have served their purpose. Not only does this ensure that you always have bags with you, but allows you to go hands free and completely in control of your dog rather than juggling bags of poop!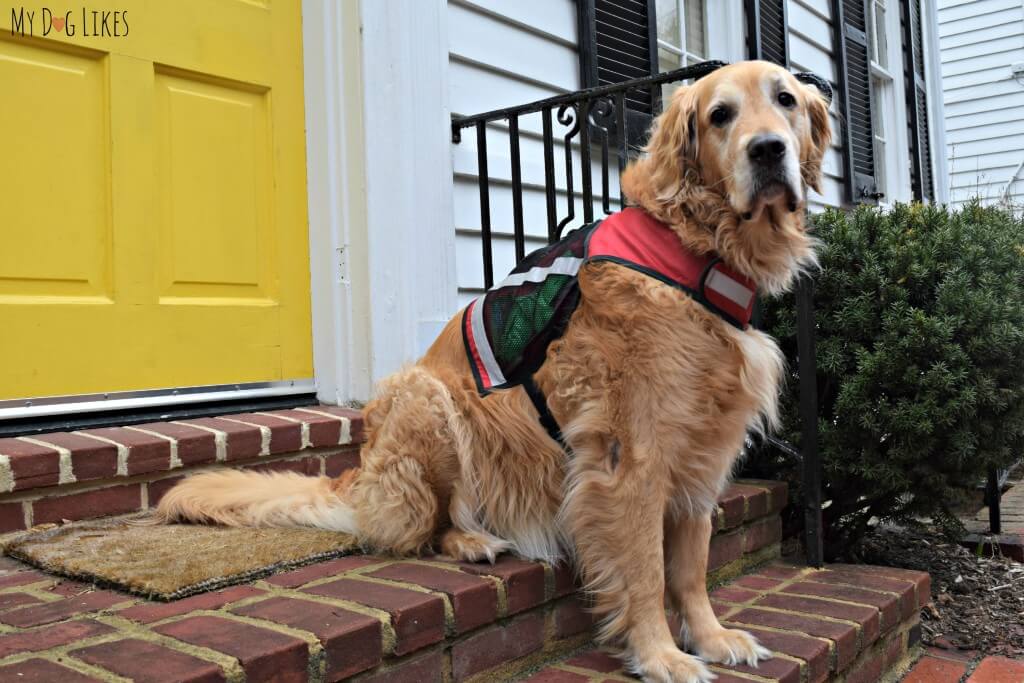 Maximum Convenience
Knowing that we hardly ever travel lightly, PooBoss also includes a handy storage compartment, allowing you to carry some of your dog's favorite treats, a cell phone, some doggy first aid gear, or anything else you might desire!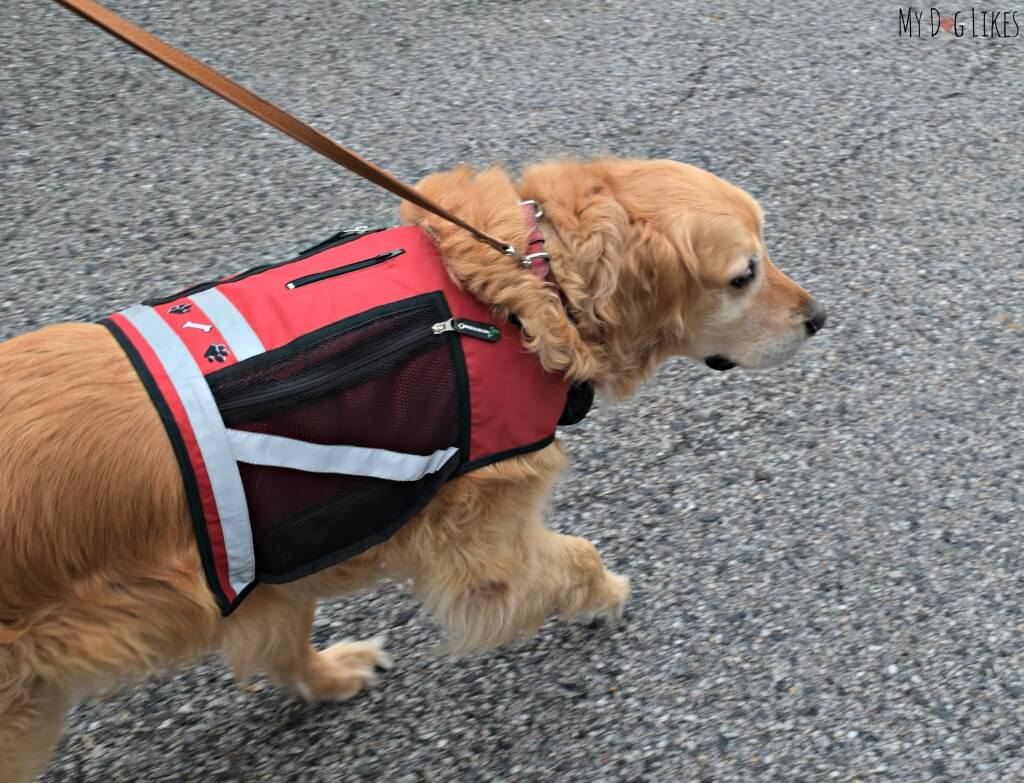 Its a Dog Multi-Tool
When they say K9 Utility Vest, PooBoss isn't kidding. Here is a look at some of the built in features we really liked:
Poop Bag Holder
Without a doubt the coolest feature on this dog vest is the built in poop bag dispenser! Just pull and tear. We love that the bags are always handy but don't add bulk to our leash! While Harley is the primary wearer of this vest, and can handle this novelty just fine, Charlie is a different story. Though only an occasional wearer of the vest, Charlie takes a "I will pull all bags free from their captor" approach to this feature. No worries, just push the bags into the dispenser and it is officially puppy proof!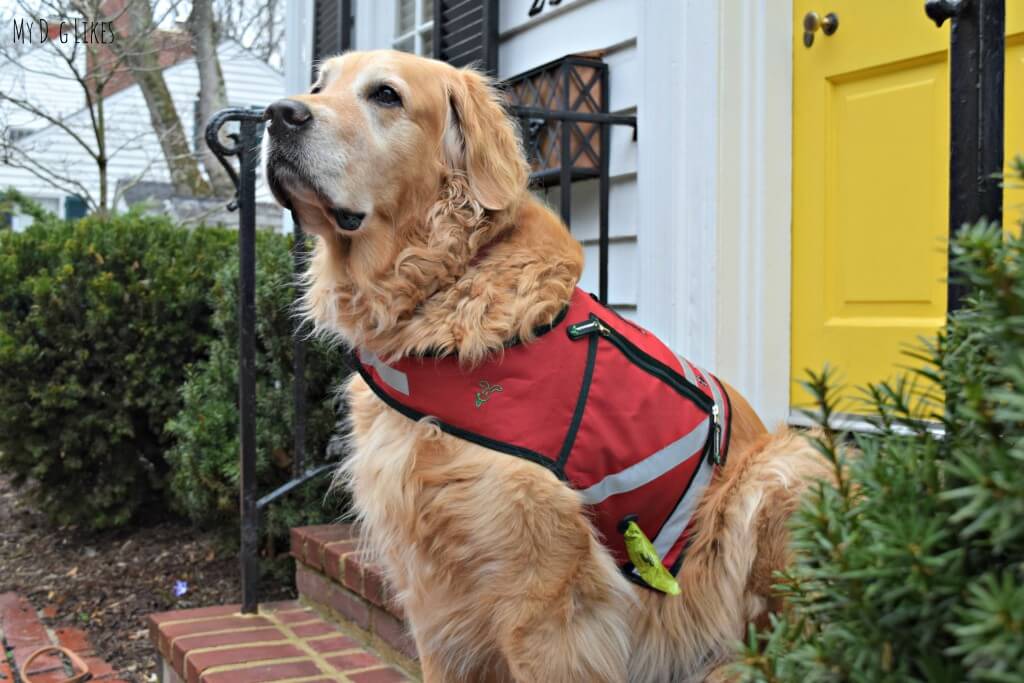 Dual Pocket-Mesh/Regular
One for poop and one for stuff. Our boys never seem to do their business near a garbage can so we love being hands free on our walk. If you are going to have off leash playtime, be sure there are no poop bags inside before some golden rolls ensue.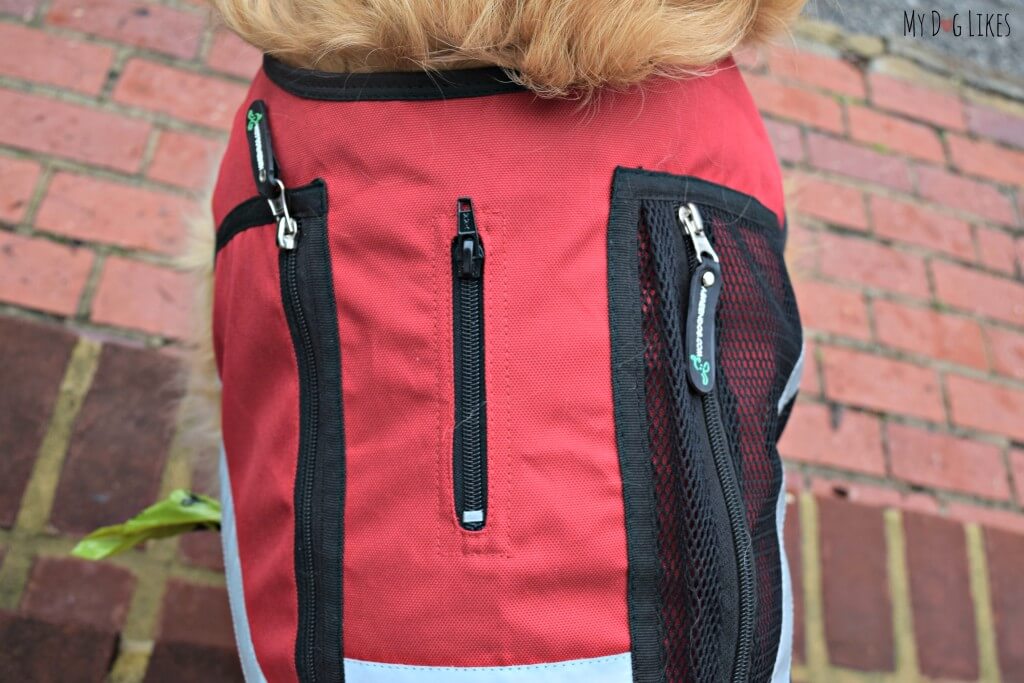 Though we loved not having to carry poop around we realllllllly liked that Harley could pull his weight and carry some of our stuff around for a change. The mesh compartment is big enough to hold your wallet, phone, and/or a snack for longer hikes! As an added bonus, I like to use my phone to keep track of the distance that I walk/run as well as listen to music and I can still hear it through the mesh pocket.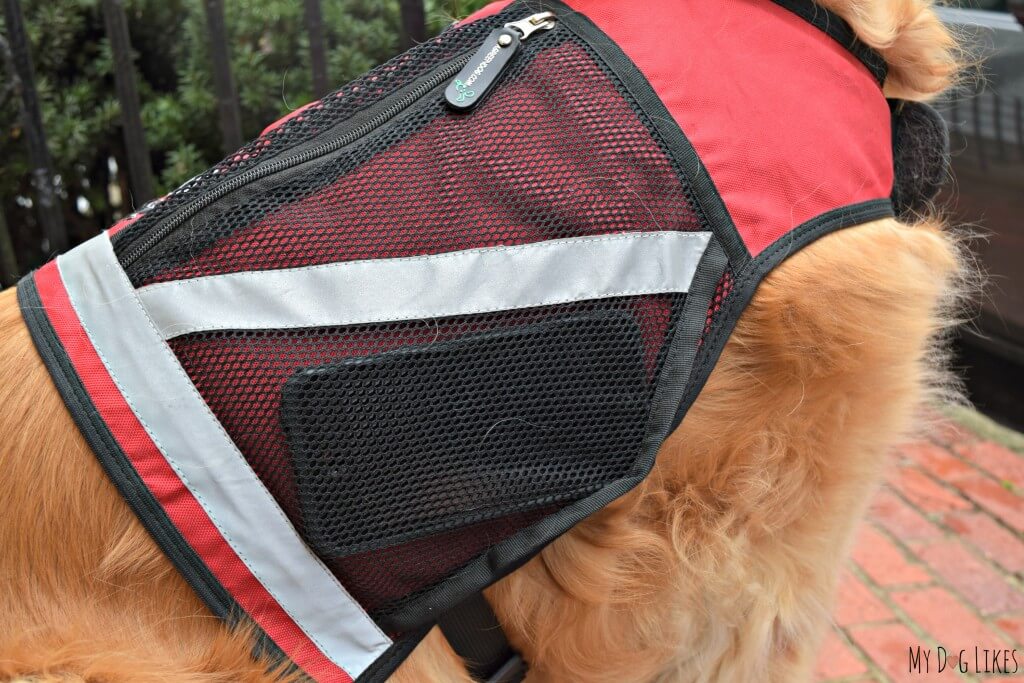 Harness Zipper
This vest works with all kinds of collars and harnesses. There are no adjustments that need to be made if you use a front connection harness or a collar. If you use a harness that connects to your leash on your dogs back, simply unzip and pop the harness through!
Adjustable Strap
The vest adjusts for dogs of varying sizes. Even though Harley has a good 20 lbs on Charlie, both can wear the vest because of the triglide adjustable stomach strap and velcro chest wrap.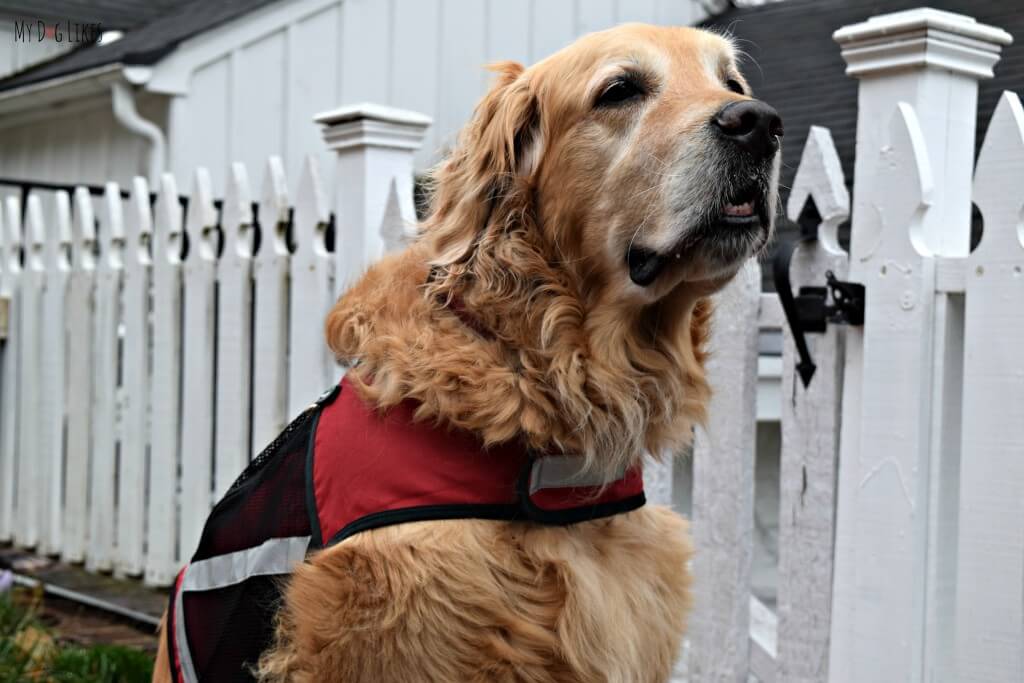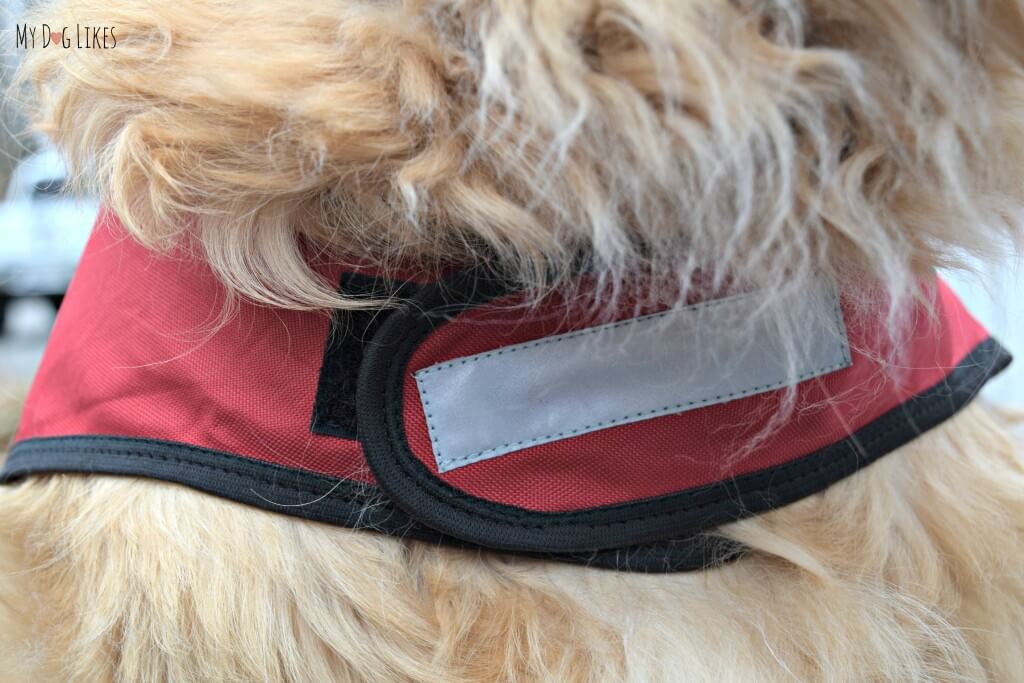 The one that we have is the perfect size for Harley (it fits like a glove) and I'm sure that a size smaller would be the perfect size for Charlie, but we love that it works for both of them. Browse all the colors and sizes to determine the perfect fit for your pup!
Reflective Gear
As busy pet parents we aren't always able to fit our boy's exercise into the daylight hours. The PooBoss K9 Utility Vest is outlined in wide reflective strips to help assure visibility on those late night or early morning walks (Ha, who am I kidding). In the summer its not as hard, but on those long winter nights, this is essential for us!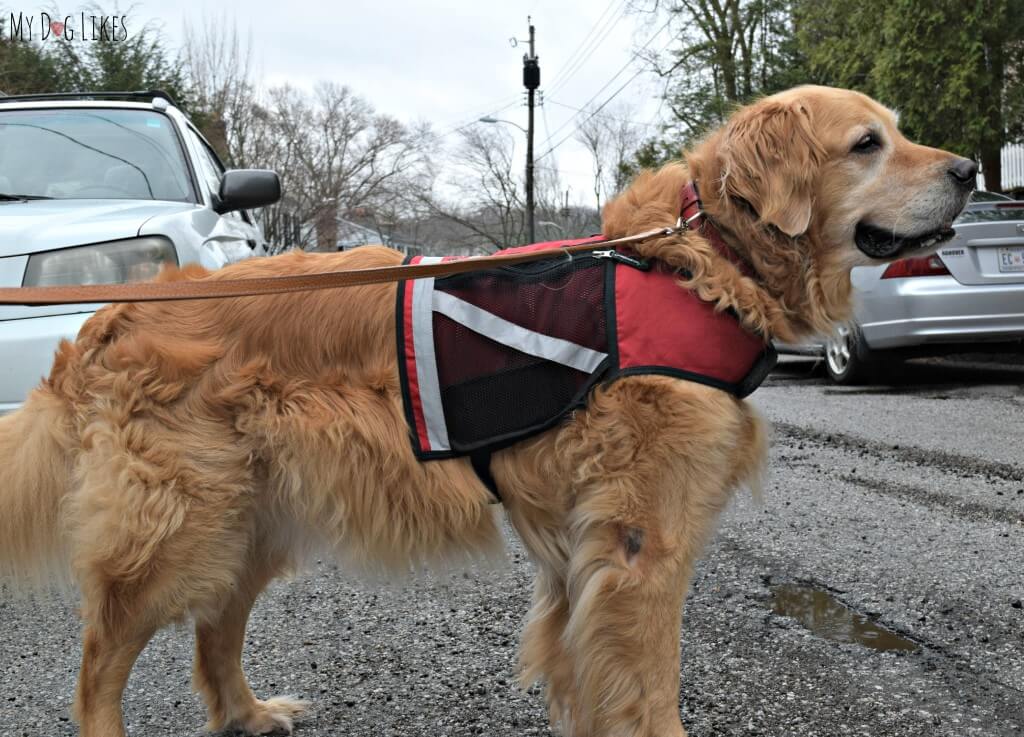 Why MyDogLikes the PooBoss K9 Utility Vest
First, have you seen Harley in this vest? It is adorable! When he wears the vest he looks like a dog with a very important job to do! Cuteness factor alone, I love when he wears the vest. He tolerates it beautifully and I swear, walks a little prouder when he is wearing it.
The PooBoss also solves some big problems for active dogs and their owners in a really practical way by adding key features like reflective tape, a poop bag dispenser, storage compartments, adjustable straps, and an easy access spot for connecting to a harness. Sometimes I get lucky and the boys do their business near a garbage can, but the PooBoss gives us the flexibility to explore new areas regardless. I also love using the mesh pocket to play music and track my run/walk. Charlie and I are able to rock out while exercising together, which I think is pretty awesome!  As PooBoss says, we are able to "be green and be seen but not get caught holding the bag!"
Interested in trying out the PooBoss K9 Utility Vest?
Use the code "MyDogLikes" to receive a 20% discount on PooBoss Dog Vests and Like them on Facebook to get free USPS first class shipping in the USA.