A couple weeks back we caught Charlie writing a letter. He wouldn't say who it was for, but has been keeping an awfully close eye on the mailman every afternoon since.
A Special Delivery – PawPals with Annie!
Finally, last week he heard the knock he was waiting for. Charlie greeted the mailman with a single bark and we all rushed outside to see what had arrived! Charlie's ear to ear smile said it all, this was good stuff!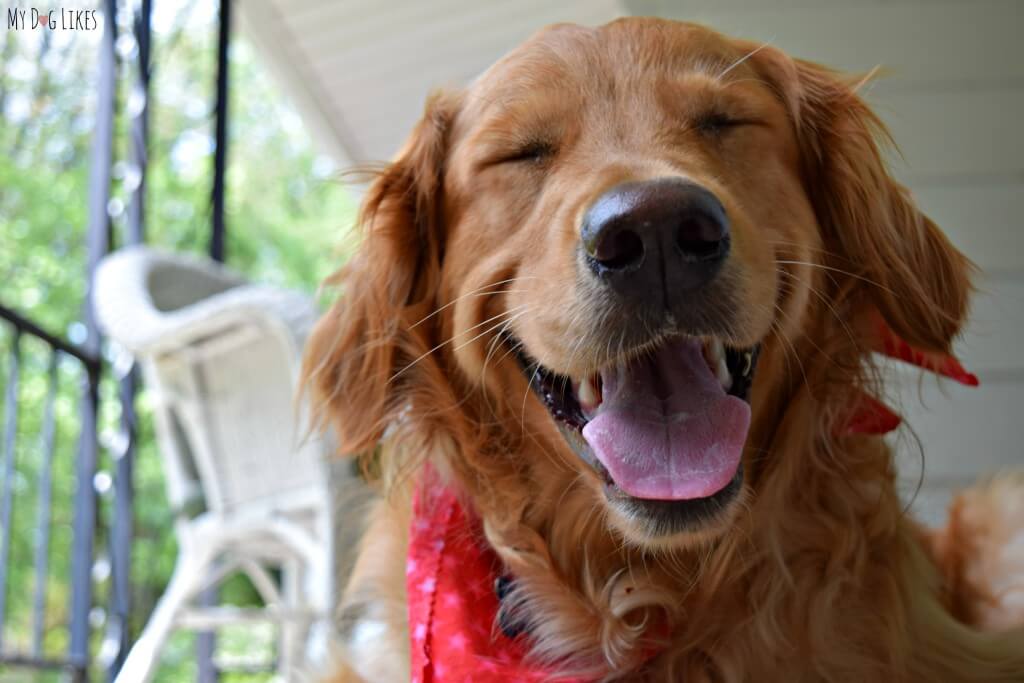 To our surprise, stuffed in our mailbox was a large brown package. It turns out Charlie had sent a note to his pen paw pal Annie and she had responded with this box of goodies put together just for him!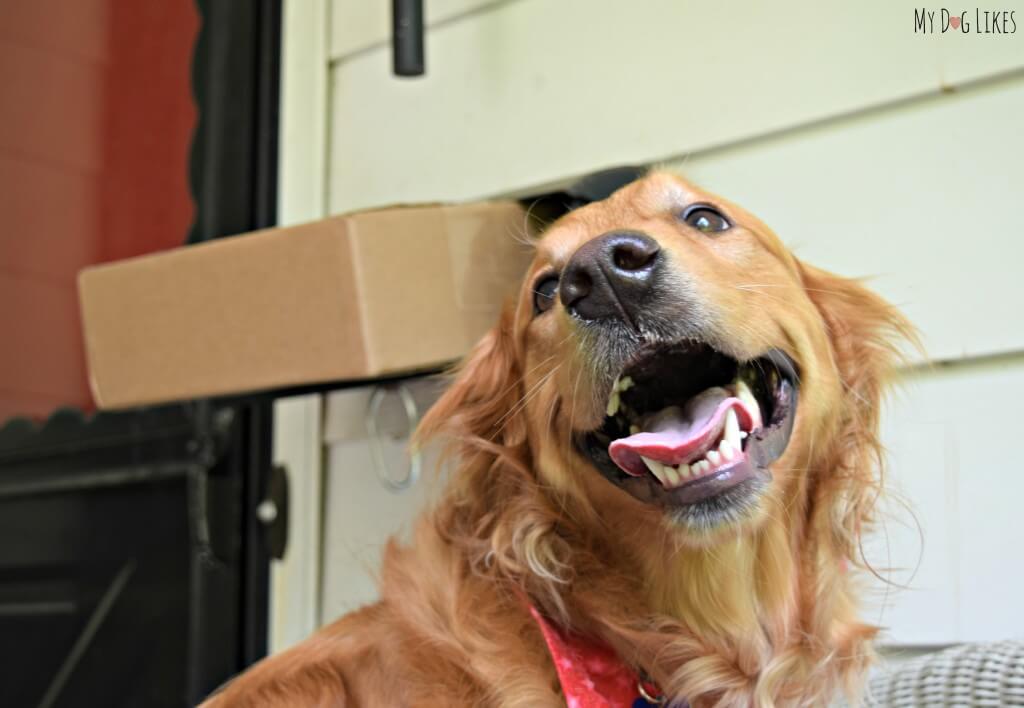 Annie Tested, Annie Approved
PawPals with Annie is a dog subscription box unlike any other. Each month you will receive a variety of premium dog products which have been hand paw selected by Annie herself. What does it take to be "paw selected" you ask? Well, Annie the blonde Scottie personally tests each and every product that makes it into her boxes! Doggy approved!

Aside from the high quality of the products, what makes PawPals with Annie unique? Check out these features which set Annie's box wags above some others on the market:
No automatic renewal
This is the only dog subscription box we have encountered that does not auto-renew. Whether you choose a 1, 3 or 6 month option, when it ends you will not be surprised with a new charge on your credit card! This makes a lot of sense to us as many dog owners may not be able to afford, or think that they need, a box every month. Because PawPals with Annie does not auto-renew, you can choose when to have boxes delivered. Maybe you have a special occasion coming up like a birthday or new puppy arrival or maybe you have just survived a particularly destructive month and the toy graveyard is overflowing. The point is, you get to choose!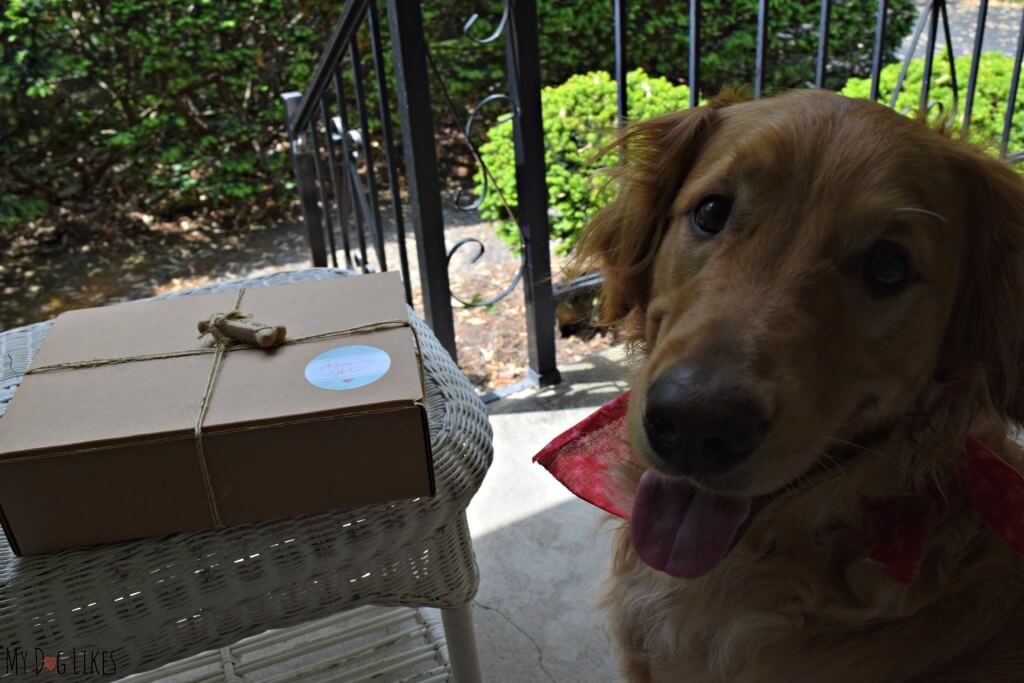 Another feature that we really liked was that PawPals with Annie ships at any time of the month, unlike many of her competitors who ship on predetermined days. As an expert procrastinator, I really appreciate that I can send a box to our best dog friend on her actual birthday and not feel like a jerk if I forget to do it three weeks in advance! 
Personalized
Not only is your box selected by dog size, but interests as well. The online order form includes a "Tell Us About Your Dog" box where you are encouraged to give a bit of info on your dog's breed, weight, likes and dislikes. We absolutely love this feature because its allows your voice as pet parent to be heard and the unique characteristics of your dog to be celebrated. Maybe rope toys just don't cut it in your house, Annie want's to know that! In our house, little Charlie is not too picky, but Harley will not play with ANY rubber toys!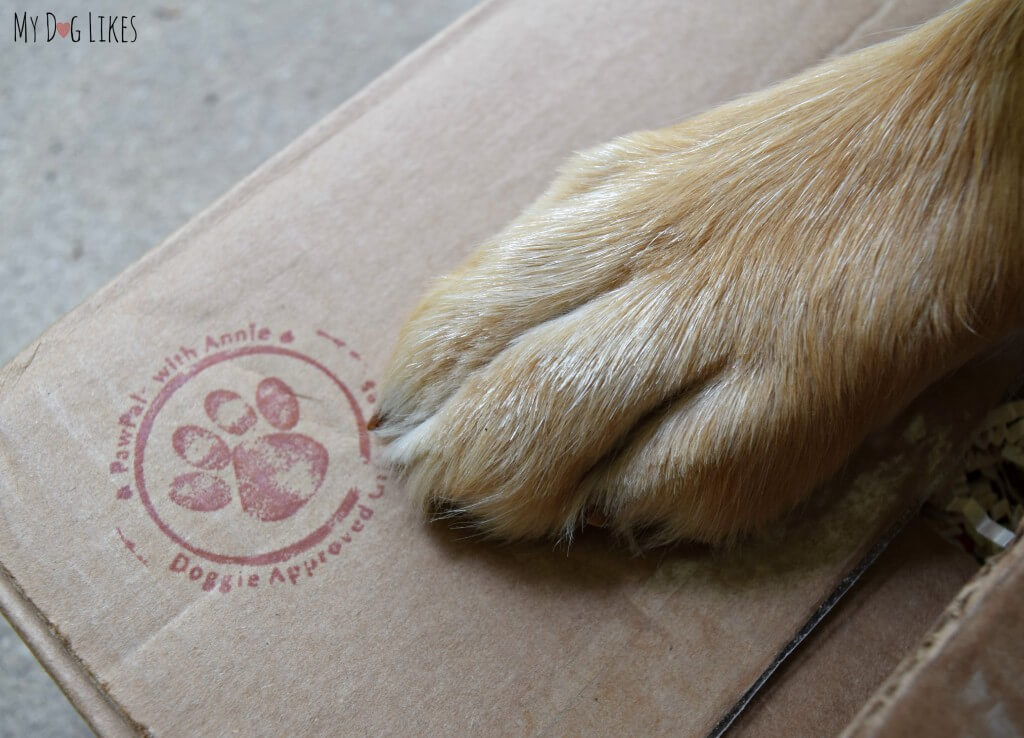 We love that Paw Pals with Annie is willing to put forth that bit of extra effort to really make each box special.
Charitable
5% of every gift box sold goes to America's Vet Dogs. America's VetDogs® is a not-for-profit organization that serves the needs of disabled veterans who have served our country. VetDogs provides guide dogs for individuals who are blind or have low vision; hearing dogs for those who have lost their hearing later in life; service dogs for those with other physical disabilities; facility dogs as part of the rehabilitation process in military and VA hospitals, and PTSD service dogs to help mitigate the effects of PTSD in an effort to provide the emotional and physical support needed. 
Taking a Look Inside our PawPals with Annie Box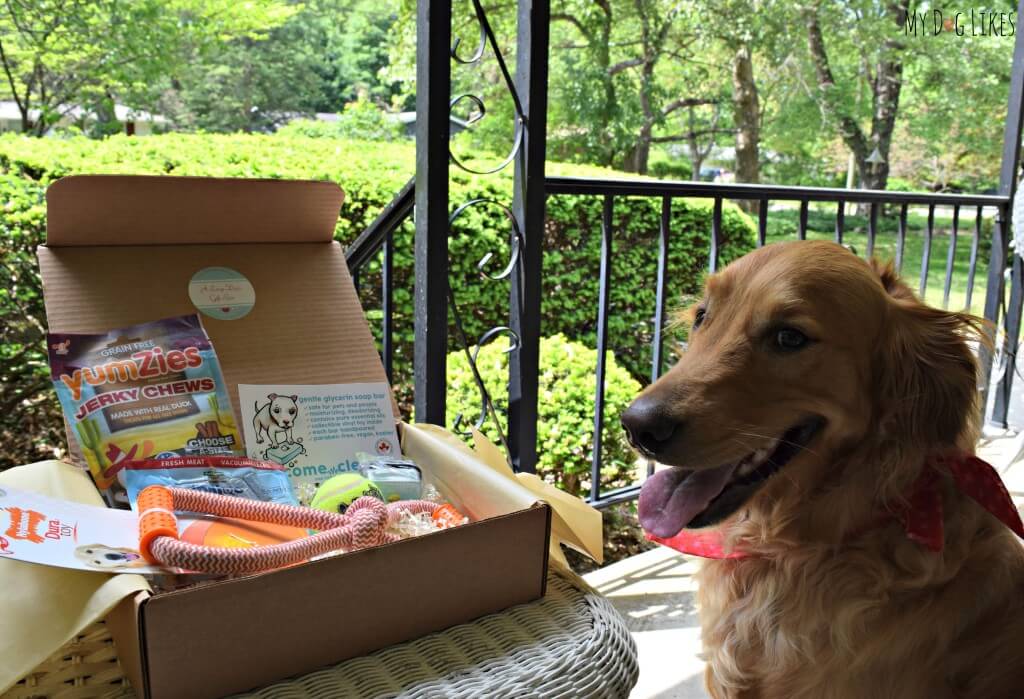 Nylabone DuraToy
We have had great experiences with Nylabone in the past, so were happy to see a brand new design in the box. The DuraToy is a unique combination of a rope tug toy and a nylabone chew.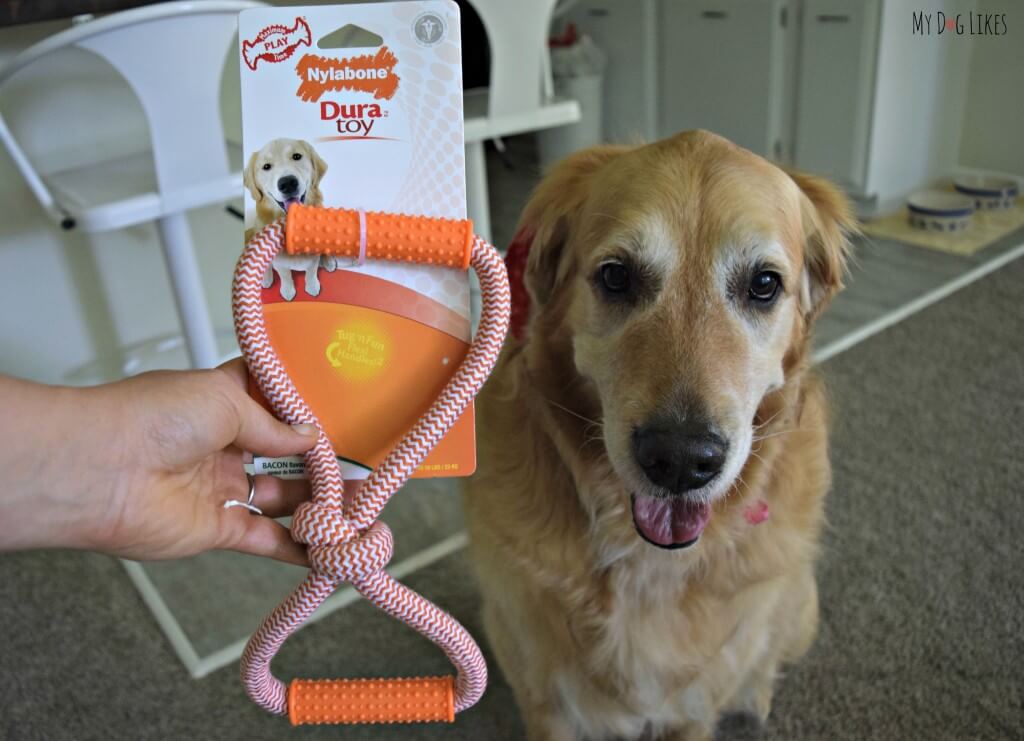 This is an excellent tug toy, but like any rope toy should not be left unattended as a tough chewer could make their way through the rope without too much difficulty. Thankfully, the chewy grips help to distract your pup from eating the nylon rope while providing a good grip for the human (or dog) on the other end.  The knot you see in the middle of this toy moves creating some interesting movement and changes in size of the "handle". When playing directly with Charlie, I liked creating a small handle for myself and a large one for him to ensure that any puppy lunges and chomps did not accidentally land on my fingers!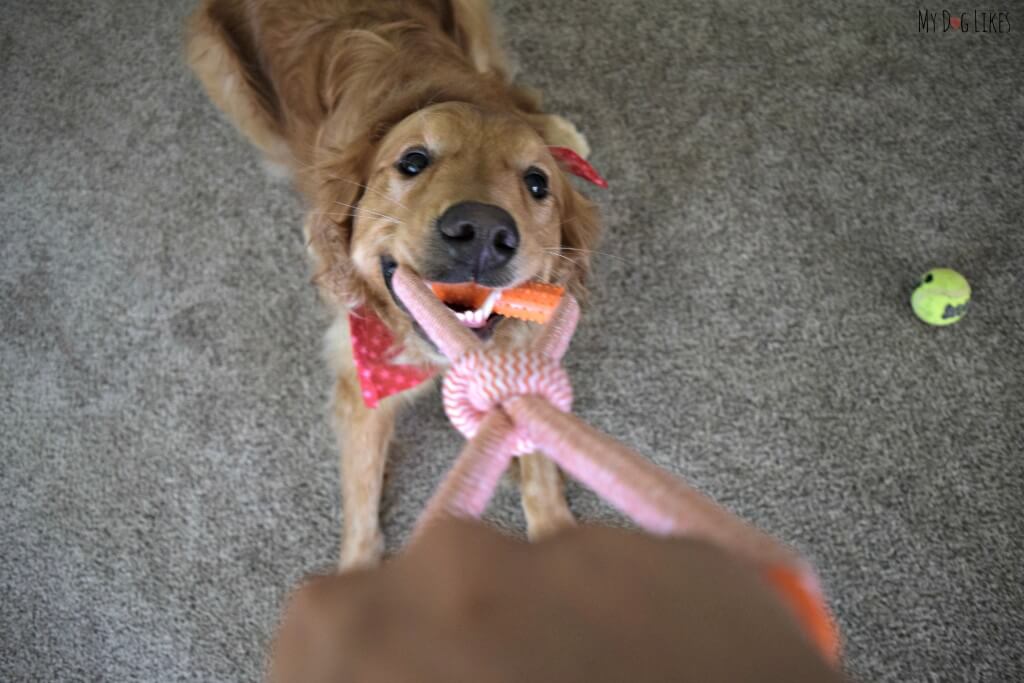 Come Clean Soap
This item was a bit of a surprise as most boxes tend to stick to toys and treats – but it was wonderful to receive another lifestyle item that pet parents can appreciate as well.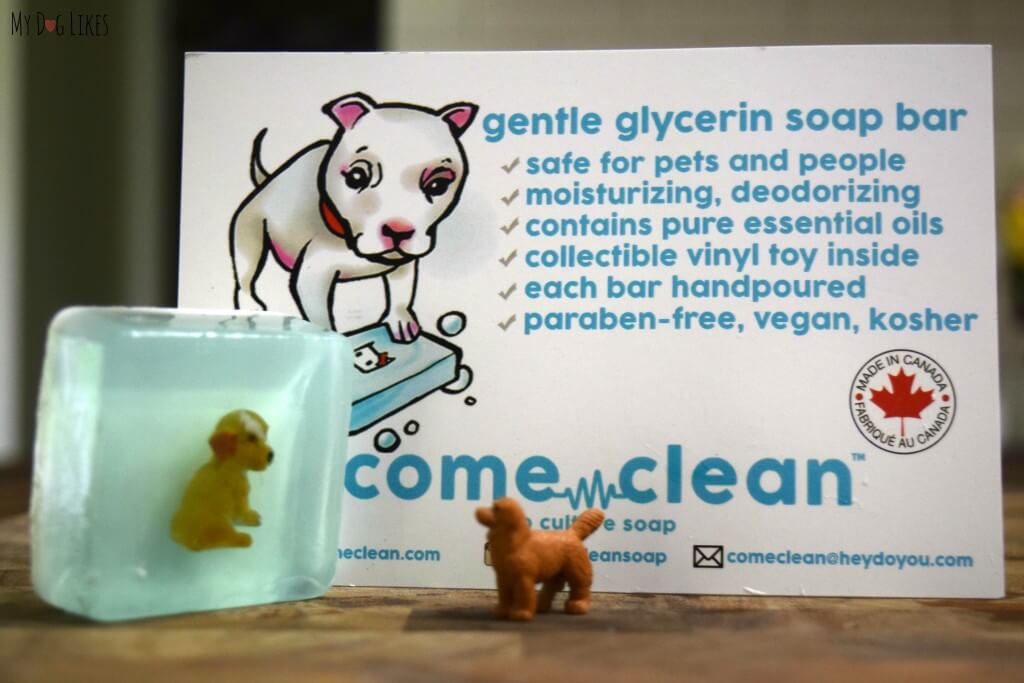 This all natural glycerin soap is safe for humans and dogs alike. Better still, each bar of Come Clean soap contains an adorable collectible dog figurine inside. Taking a closer look at ours revealed a cute Golden Retriever pup waiting inside! Annie clearly picked out this particular bar just for us! Once we use this bar up our Golden Retriever figure collection will be complete with a little Harley and Charlie! 

As promised, this soap looks and smells great. It lathered up nicely and was great to use on our own hands after delivering treats, leaving them soft and moisturized. This little bar of soap put in some overtime too, freshening up some well "loved" toys! With mud season in full swing this bar would be great for creating a bucket of soapy water to help our little "muddy buddies" come clean as well. Best of all, after using this bar of soap it dried clear, allowing us to see still see our golden friend staring back at us!
Indigo Smokehouse Strips
These 100% Pork Bacon treats come from PetSafe – one of our new favorite brands. These treats contain no artificial color, flavors, or byproducts and are sourced and processed in the USA. These treats are so fresh, you'll be looking for that bar of soap! Nothing but whole food goodness in these vacuum sealed snacks!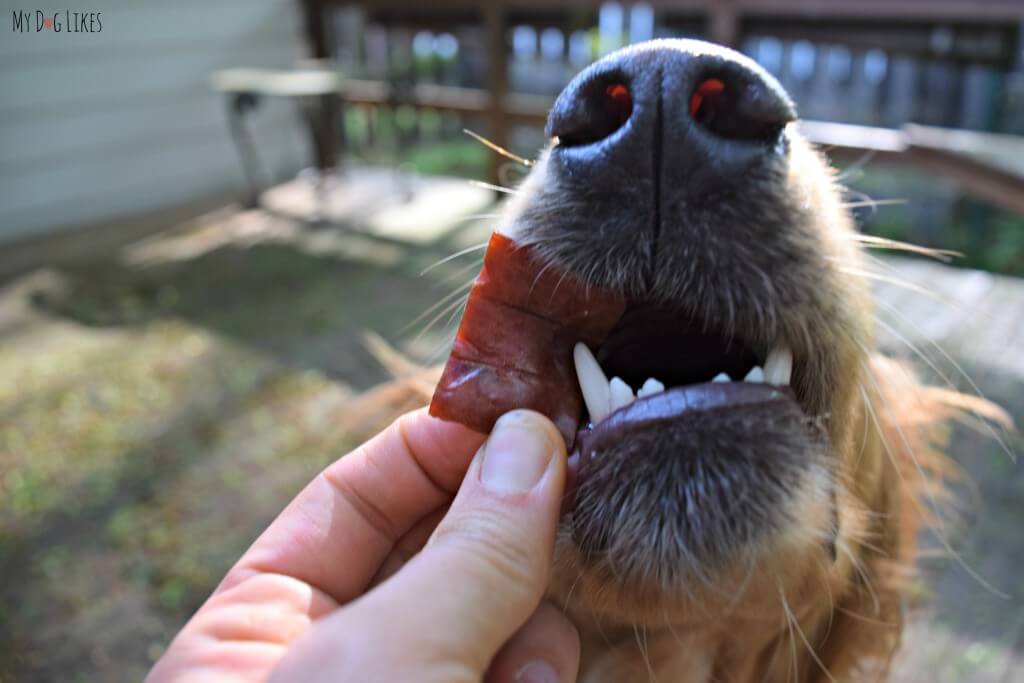 YumZies Duck Jerky Chews
The boys are on a grain-free diet so we always appreciate when we can give them treats that follow this same standard. These YumZies Jerky chews are all natural and also free of wheat, corn, and soy. Sourced and manufactured right here in the United States, these treats have a strong aroma that got the boys really fired up! Though their name would suggest a tough jerky consistency, the reality is that these are soft treats that come in large "perforated" squares that make sharing a cinch! Because YumZies Jerky Chews allow you to customize the size that you want, these treats are ideal for dogs of all sizes. Although Harley would have preferred having the whole square to himself, he was content sharing it with Charlie too!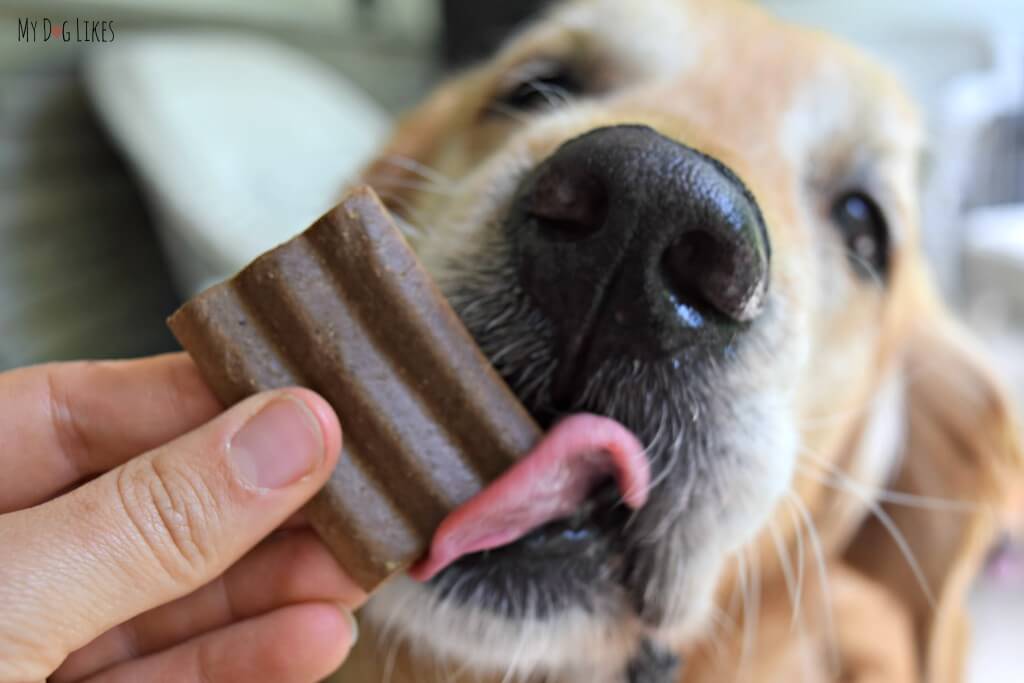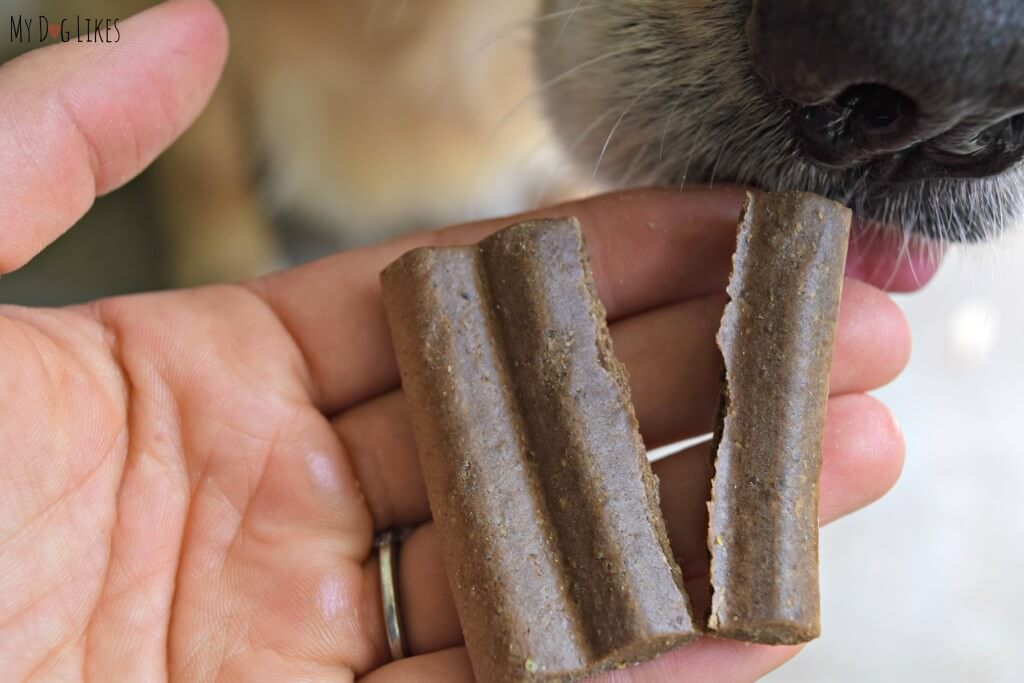 Kong SqueakAir Ball
I think we have made it pretty clear in the past how much our little Chuck loves his dog discs. Well, the only thing that can compete in his mind is a fresh Tennis Ball. Needless to say, we were very happy to see that his friend Annie included a Kong Tennis Ball in this box!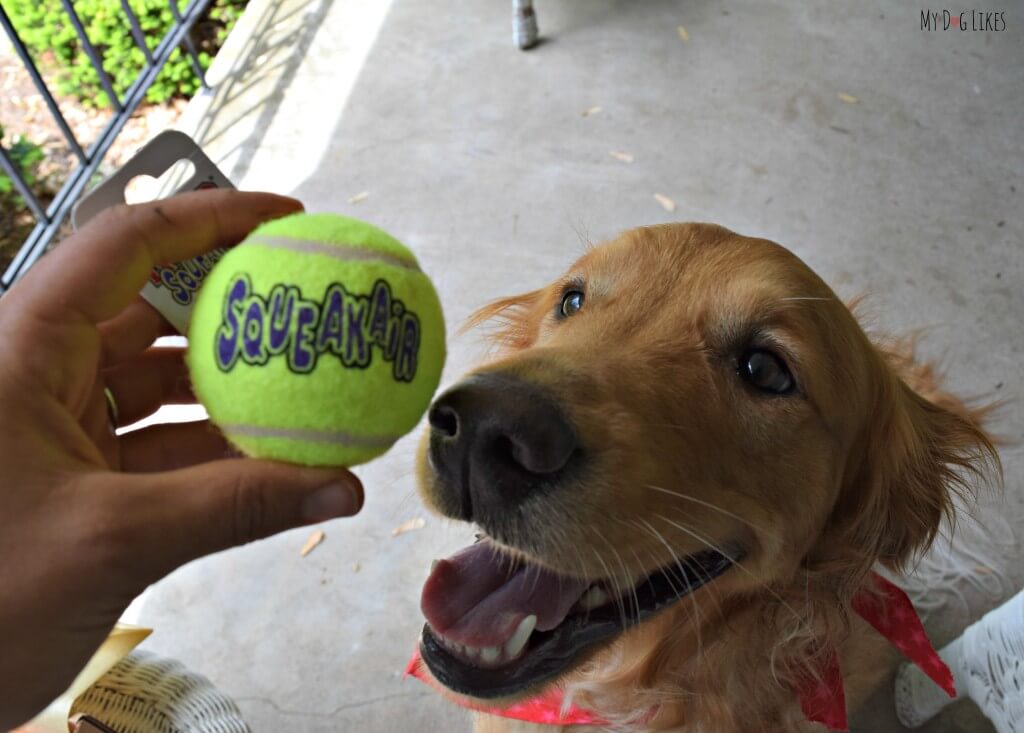 Apparently, Annie throws one of these into EVERY single box! What an awesome extra gift! We have tried out these Kong balls in the past and they are significantly tougher than your average tennis ball designed for dogs which typically have a seam down the middle and split at first chew! This added toughness will come in handy over the next 2 weeks when this toy will not leave his side (except for frisbee/walks of course).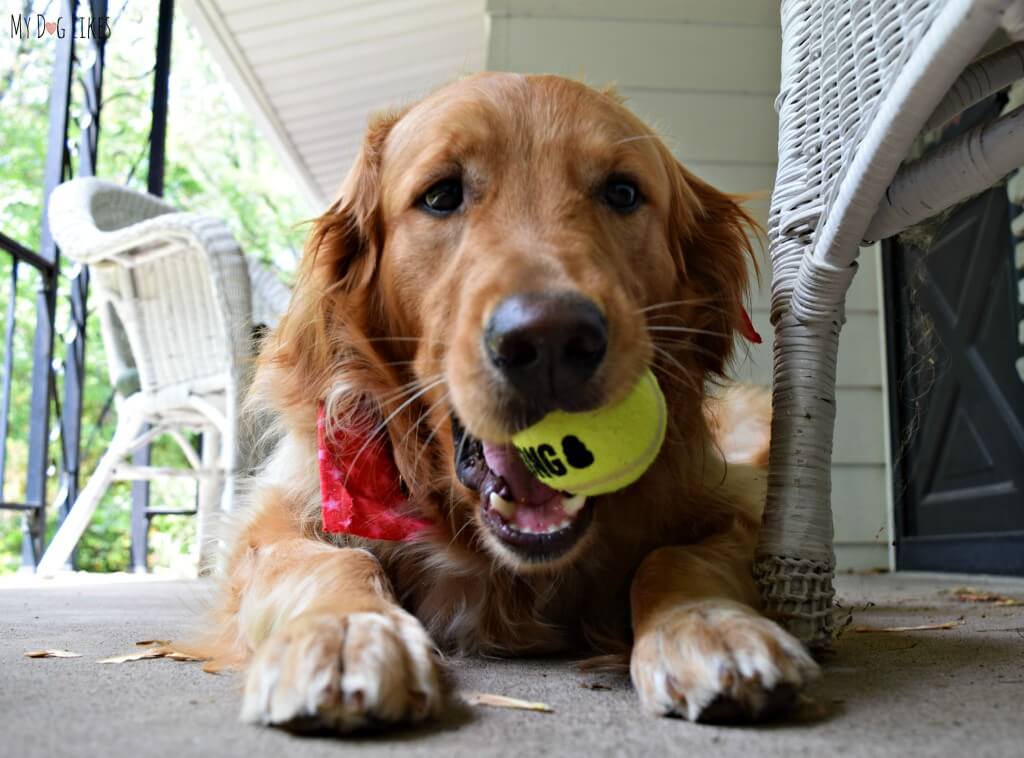 Why MyDogLikes PawPals With Annie Dog Subscription Box
At between $20 and $40 a box (shipping included), we felt that PawPals with Annie delivered a great value for the money. The quality of products was very high and we thought the inclusion of a lifestyle item was a really nice touch.
We love the fact that Annie is willing to personalize each box a bit for her friends personalities and that she does not auto-renew! After all, shouldn't you be able to make the decision when you want to receive? If you are looking to check out a new dog subscription box you should definitely give Paw Pals with Annie a try!