We awoke Sunday morning to a bit of commotion in the kitchen. Apparently Charlie thought he would get up early and surprise Mom with breakfast in bed…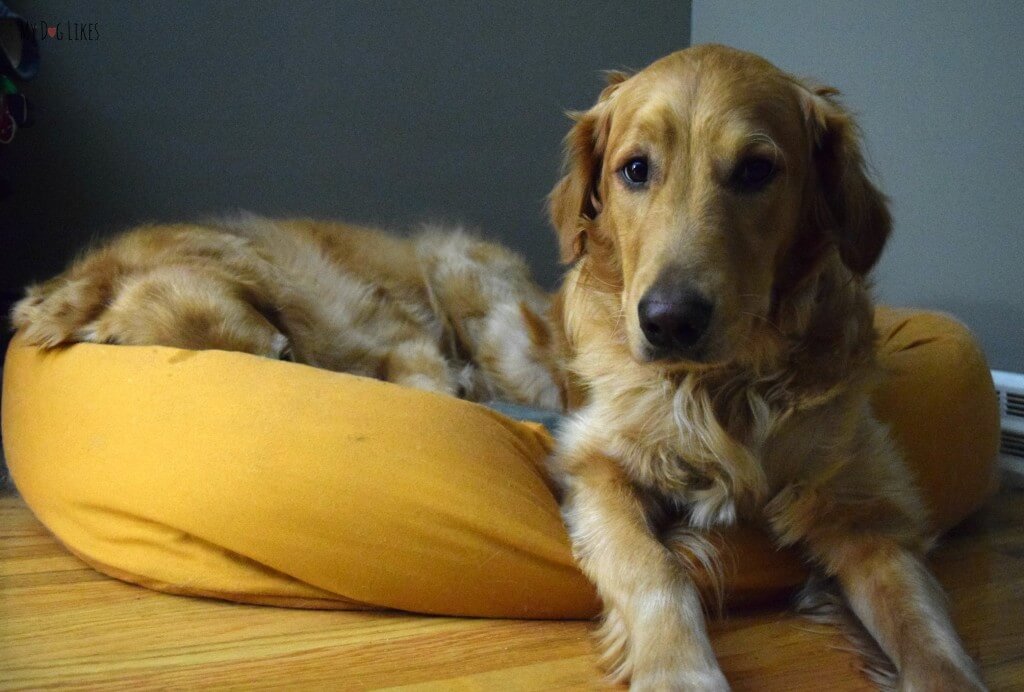 Now what he really had a hankering for was bacon, but he knows that he is not allowed to use the stove or oven without adult supervision.  What's a dog to do??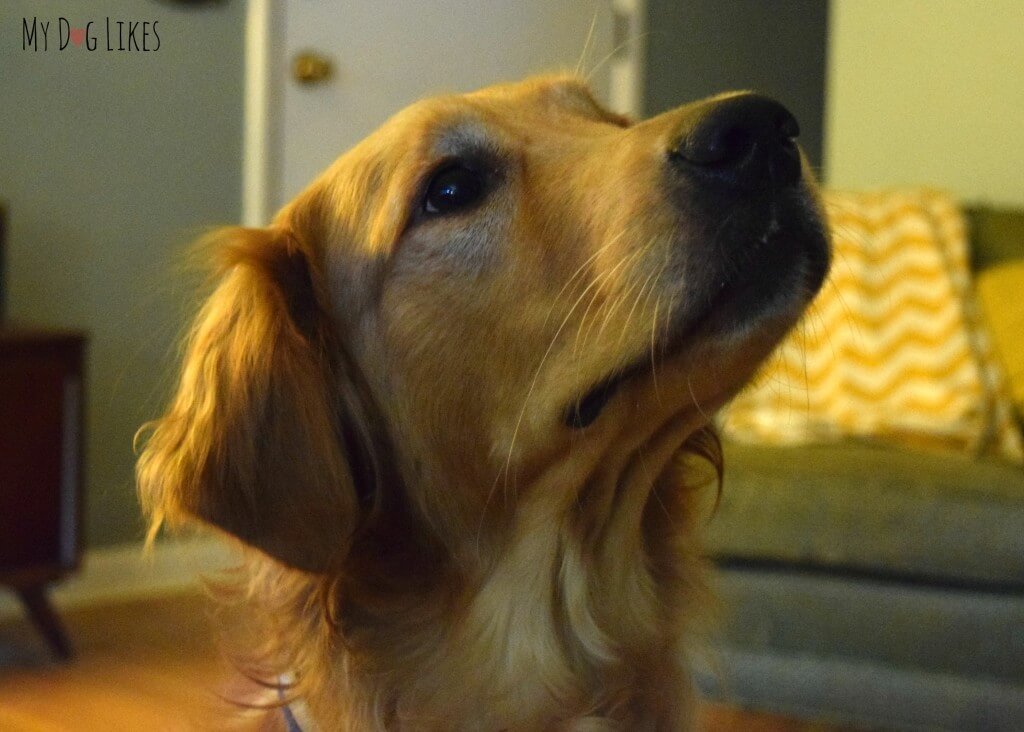 Easy like Sunday Morning…
Searching for an "easier" option, Charlie opened the pantry and there in front of him, was the answer he was looking for!
"I love these! They make me hop like a bunny and squirm like worm! This one says "real bacon" and "100% human grade ingredients!"  Mom will love these!!"
Introducing Full Moon Dog Treats
Started by Ryan Purdue in 2011, Full Moon Dog Treats comes from a family owned and operated company that has been bringing food to your table for over 40 years! Proudly made in the United States, Full Moon uses only regionally sourced, high-quality ingredients, that are healthy and human grade! They have a commitment to supporting local, family-owned farmers that have gained their trust – and you can learn more about where the meat comes from on their site.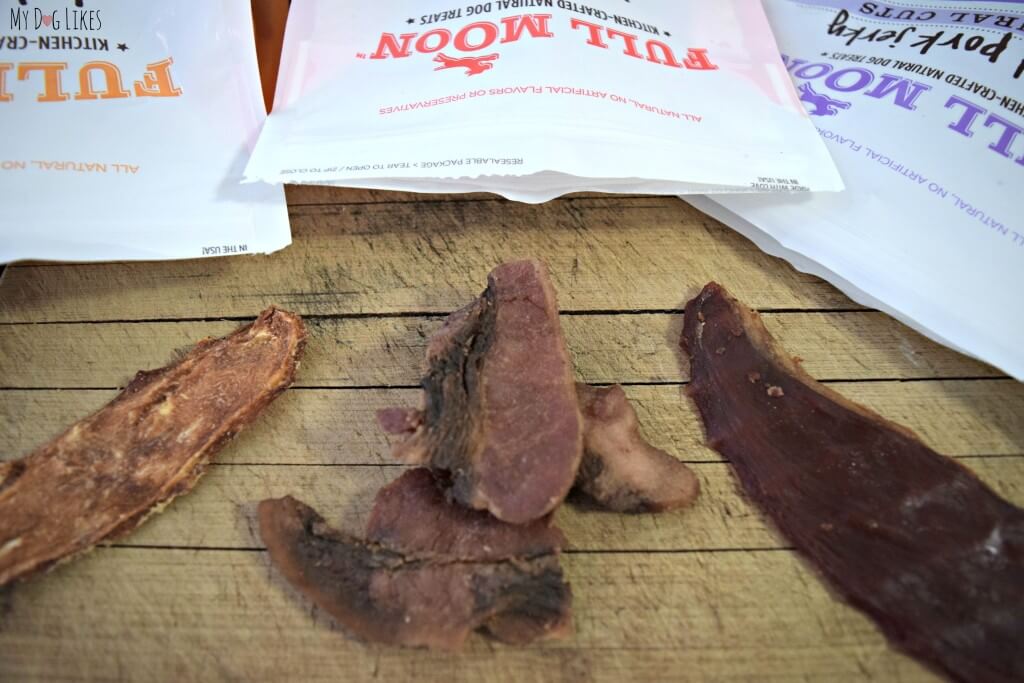 Click here to buy Full Moon Dog Treats on Amazon!
Not only is the highest quality of meat expected, all Full Moon treats are cooked in small batches using only simple, wholesome recipes to ensure safety! While the high quality ingredients and small batch philosophy is more costly, Full Moon believes that your pet will taste the difference!
Their mission is nicely summed up in the following quote:
If it's not good enough for us to eat, it's not good enough for our pets.

Full Moon Dog Treats
Depending on where you live, finding high quality treats can be a challenge. Accessibility is no issue with Full Moon Dog Treats which are available at major retailers like Target, Walmart, Price Rite, Kroger, and so on. Use their  online product finder to find a major retailer near you! Nothing close by? You can also order online at Amazon and Walmart! – How's that for convenient!?
Full Moon was kind enough to send us a sampling of their treats to review and the boys have been working hard to assure a proper assessment of these goodies…
Our Full Moon Dog Treats Review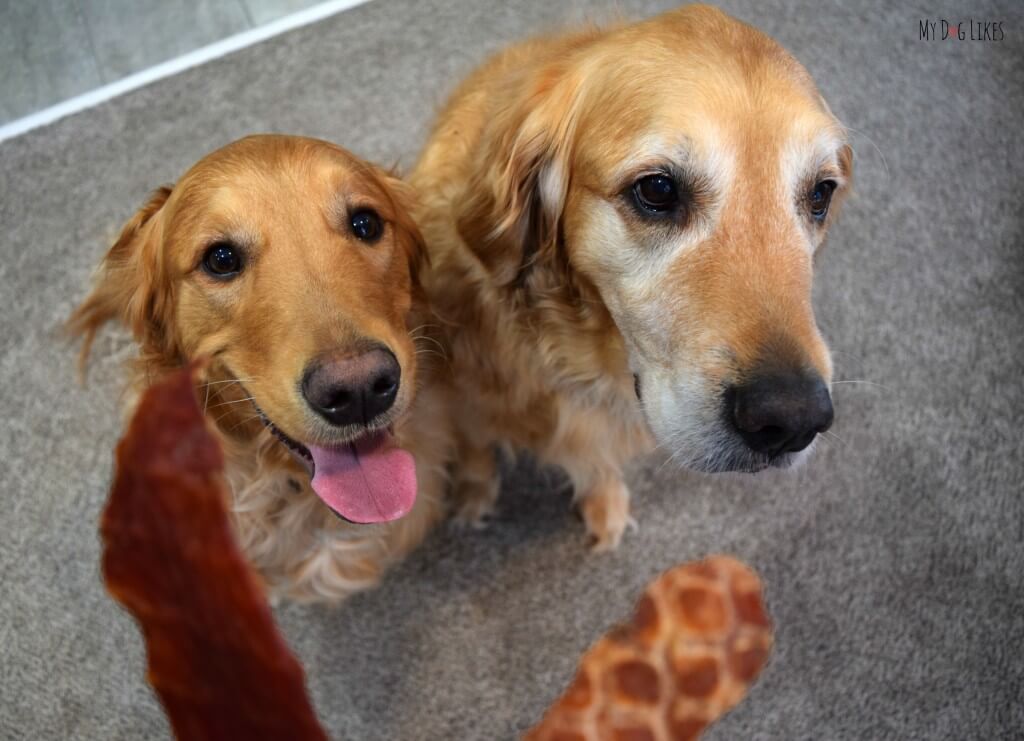 Real Pork Bacon
If you are thinking of those popular "bacon flavored" strips, think again. While both are available at your grocery store, and both may make your pups mouth water, the similarities end there! You won't find ingredients such as ground wheat, corn gluten meal, wheat flour, corn, sugar, and "meat" in these treats (I am not kidding, "meat" is an actual ingredient in some of the competition!)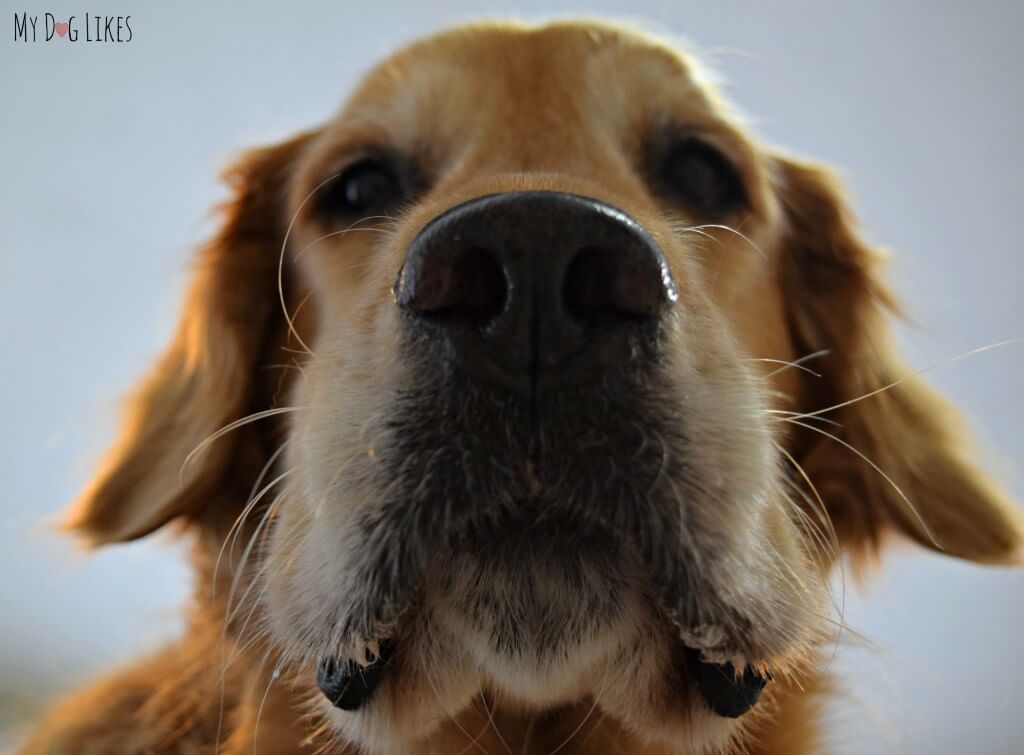 Harley is not amused with meat imitations…
What will you find? Only the best!
….these treats are the REAL DEAL!
100% all-natural, US Grown, Cage-Free, Grain-free human grade pork bacon

No artificial flavors or preservatives.

Hickory Smoked using only dried cane molasses, sea salt, vinegar, dried ground celery, natural smoke flavoring, Alpha Tocopherals (natural preservative), and, decaffeinated green tea extract-No added flavoring, real food doesn't need it!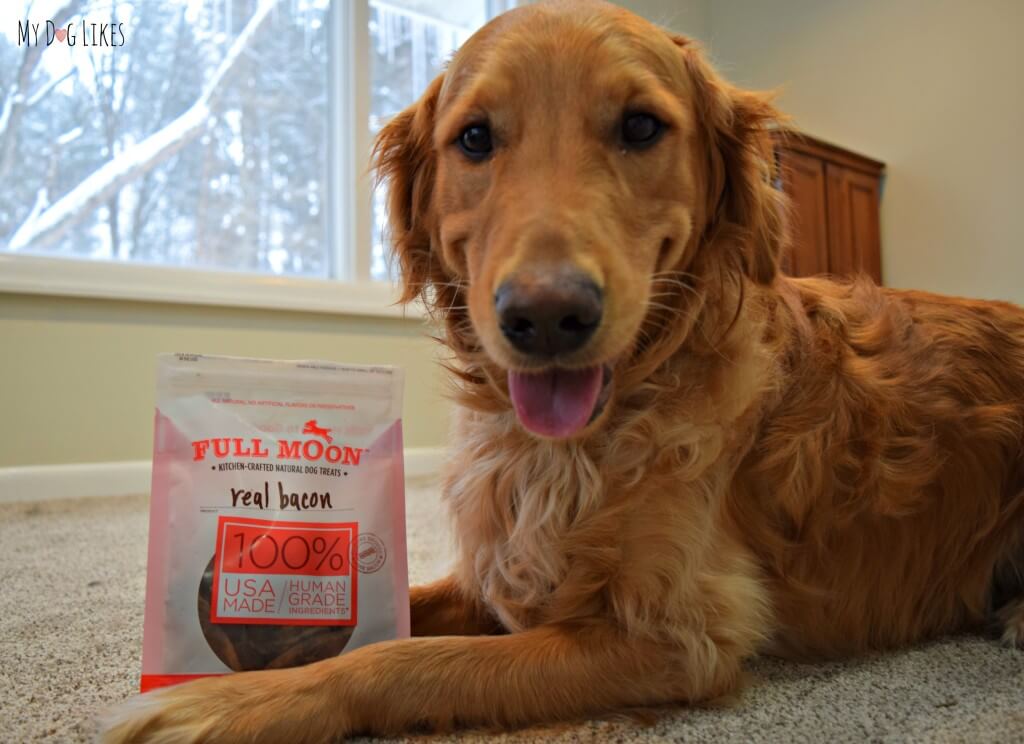 To compare Full Moon Bacon to something you have eaten at home, think of thick cut bacon: juicy, thick, and savory. Because its not crispy like the bacon you may typically eat, the pieces will not bend and break easily. Have no fear, they have natural tearing points (where the meat meets the fat) and will often pull apart when stretched side to side.
If your pup isn't watching their figure or is a medium/large dog, go ahead and give him/her a whole piece (they are the perfect size, not too big, not too small) or for your figure conscious/petite friend, take  my lead and use a pair of kitchen shears to cut them into bite sized pieces!  (Sorry Harley, Dogtor's Orders!). No matter the size of the treat-your dogs will  GO NUTS for these.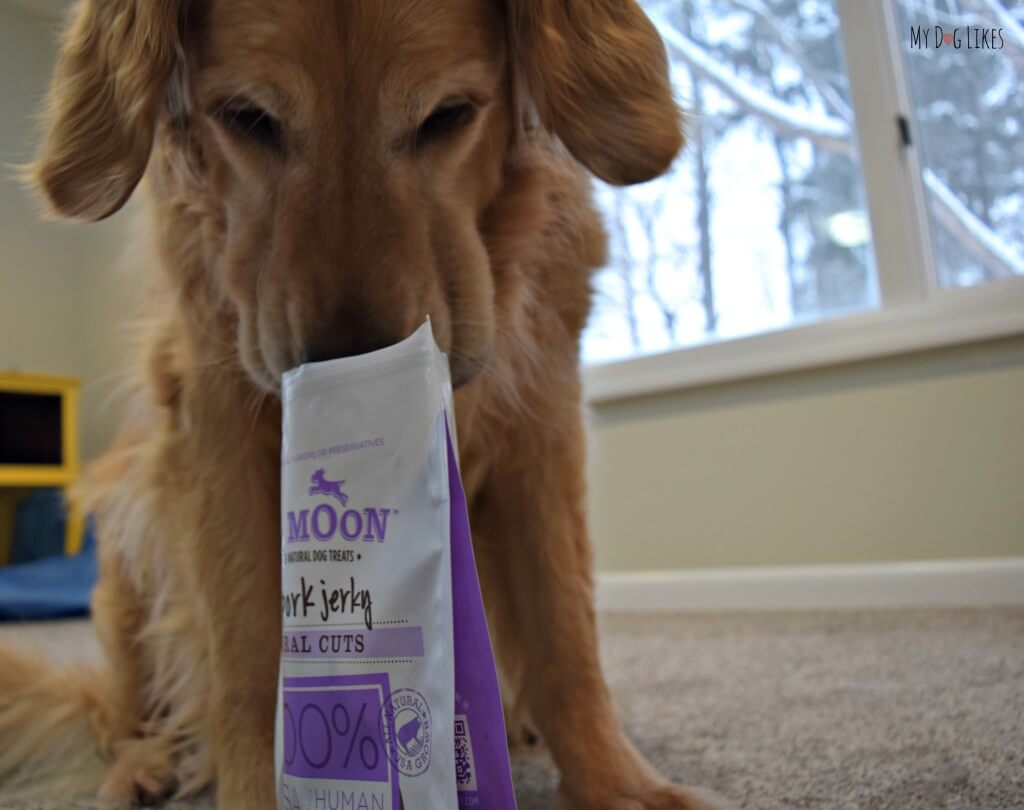 Don't be a Jerk-y
Meat jerky has gotten a bad wrap over the years and with good reason! There have been countless recalls and ill pets as a result of jerky treats produced in China; enough to make major retailers like PetSmart and Petco vow to stop selling these products in their stores! Nervous about feeding jerky products? Read on and see how you feel afterward. In our opinion, Full Moon Jerky stands out amongst its peers!
Chicken & Sliced Pork Jerky
Full Moon's Chicken Jerky was created in response to the jerky epidemic. With a commitment to only human-grade ingredients, sourced and made in the USA, Full Moon Jerky treats are a cut above the rest! Wondering how they compare to other products on the market? Check out their product comparison tool!
In our mind there really is no comparison!
Made of sliced, whole muscle chicken and pork, these jerky treats are slow cooked in small batches to bring out the rich, hearty flavors  and textures your dog craves! They are crunchy and easily snap into smaller pieces, allowing you to find the perfect size for your pet!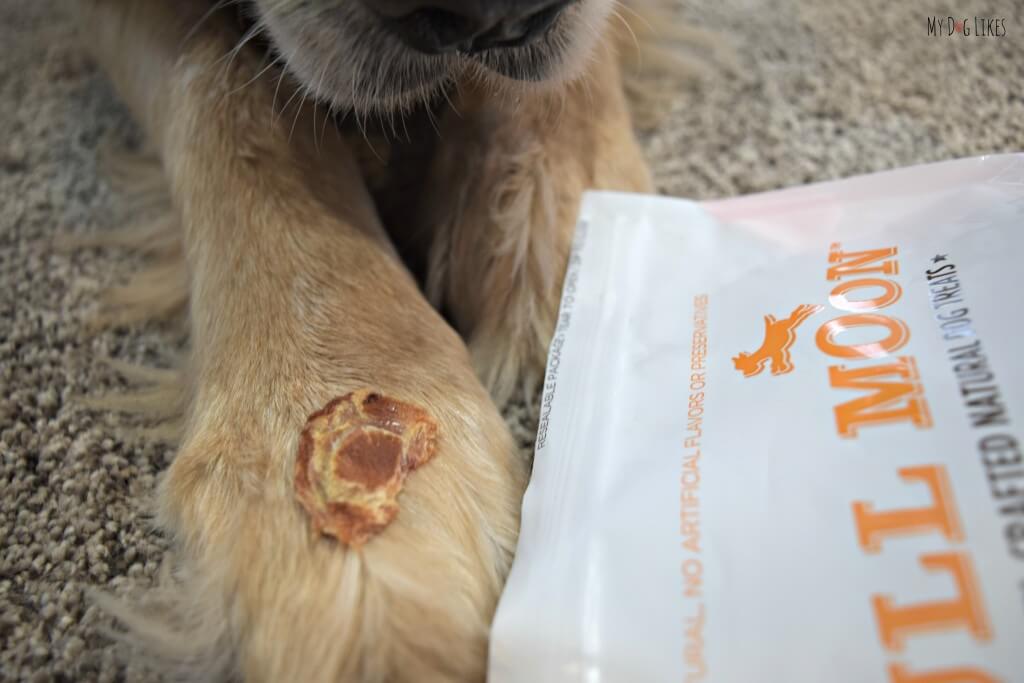 It doesn't matter what size you break them into, the ingredients of each are spot on:
Chicken, Brown Rice Syrup, Flax Seed Oil*, Decaffeinated Green Tea Extract

Pork, Dried Cane Molasses, Vinegar, Sea Salt, Decaffeinated Green Tea Extract and Rosemary Extract
*To help foster a shiny, thick coat, Omega-3 and Omega-6 fatty acids from Flaxseed Oil is added to the cooking process!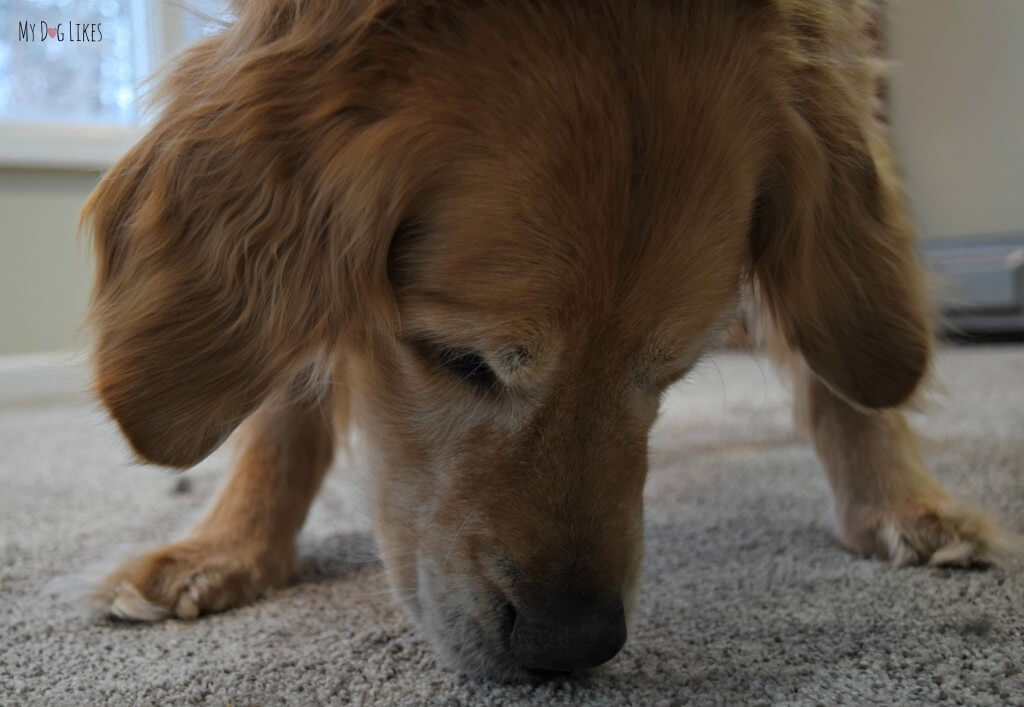 Searching for crumbs..
Now back to our plotting pup…
A Paleo Platter
Charlie got straight to work fixing a beautiful platter of bacon and jerky for Mom (and presumably sampling a few in the process).  Everything was coming together perfectly, until he realized one little problem…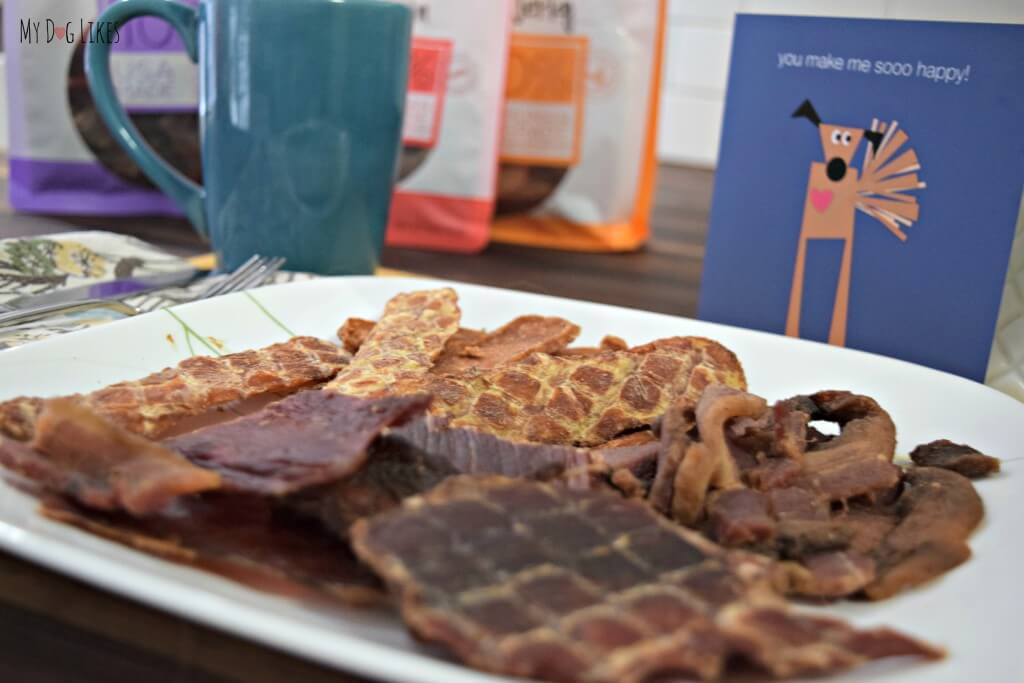 "Wait a minute, with no thumbs, how am I going to carry all this into the bedroom?"
Out of options, he ran to the bedroom and jumped into our bed.  It was time to get up!
With hungry bellies, the smells coming from Charlie's meat platter certainly were tempting! Alas, Charlie's thoughtful plan was foiled as we kindly reminded him that human-grade did not mean that Mom and Dad should actually eat these treats! Silly puppy!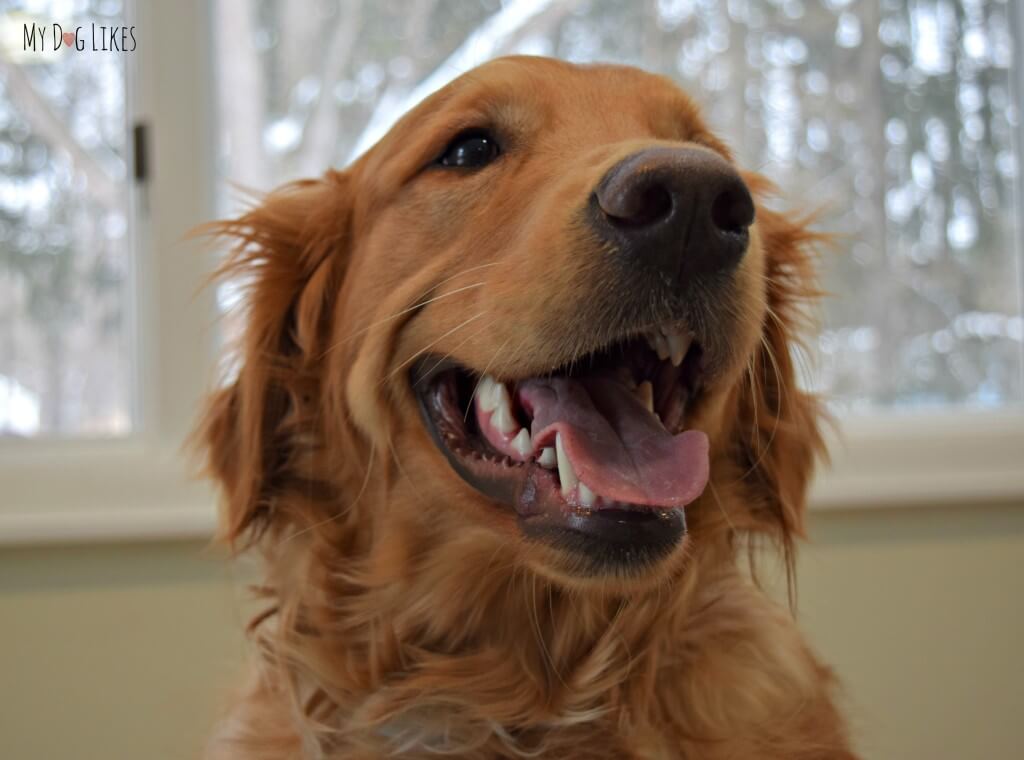 Why MyDogLikes: Full Moon Dog Treats
It is hard to pick what we like most about these treats! First and foremost, they are made and sourced in America with only high quality, cage-free, grain-free, USDA quality meat from family owned and operated farms! Made is small batches to ensure quality and safety, their ingredients and recipes are simple and natural. Did I mentioned that the boys go absolutely nuts for them? Like kind of naughty nuts!? Full Moon promises your pet will notice the difference and I have to say their crazy-pants dance tells me everything I need to know, these are some tasty treats!!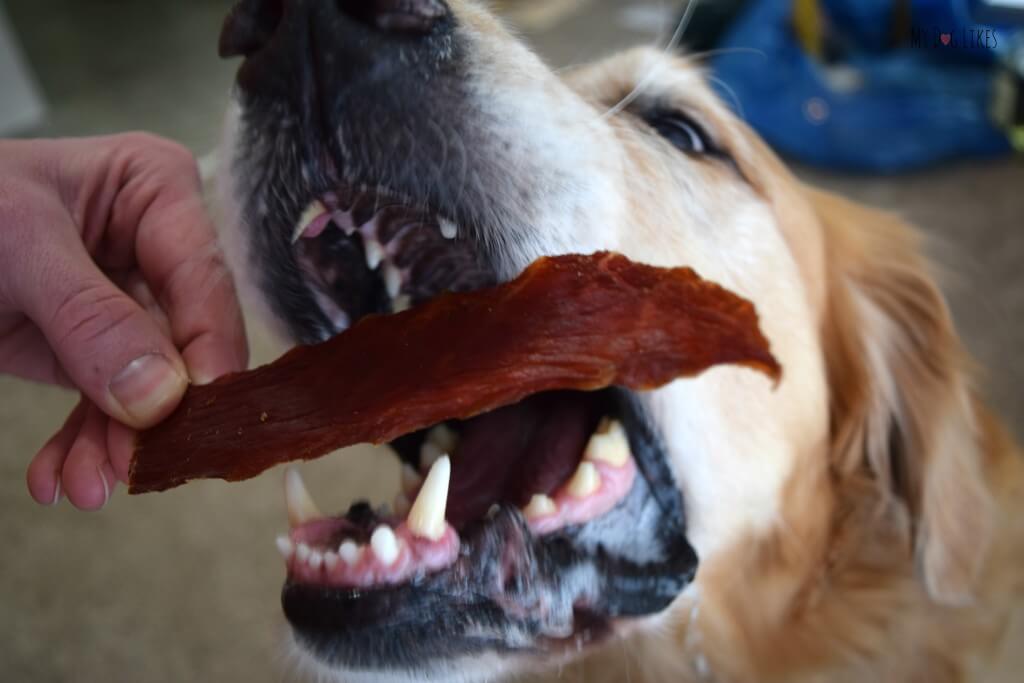 Adding to our love list…. These treats are accessible. We have heard from so many people that they want to find high quality, healthy, made in the USA treats, but their local stores don't carry them. Whether its Target, Walmart, a major grocery store chain, or online, these treats are easy to access, allowing you to make excellent, cost conscious choices for your dog without sacrificing quality!
Don't miss our reviews of Full Moon's Artisanal Jerky and Chicken Dog Treats.
Interested in giving these tasty treats a try?
Click here to buy Full Moon Dog Treats on Amazon!