Even the most carefree of pups must grow up eventually.
So, after a few years of study under his sophisticated older brother, it seems that Charlie is finally starting to get serious about his education. One of the things Harley has been trying to get across is an appreciation for the finer things in life.
Life isn't just about eating as much as you can, as fast as you can! It's always good to class things up from time to time and learn more about the world around you!
A Perfect Learning Opportunity 
As proud brand ambassadors for Full Moon Dog Treats we recently received a package of their latest concoction – a line of gourmet dog treats.
Harley thought that this would be the perfect chance to set up a proper tasting and work on refining Charlie's palate.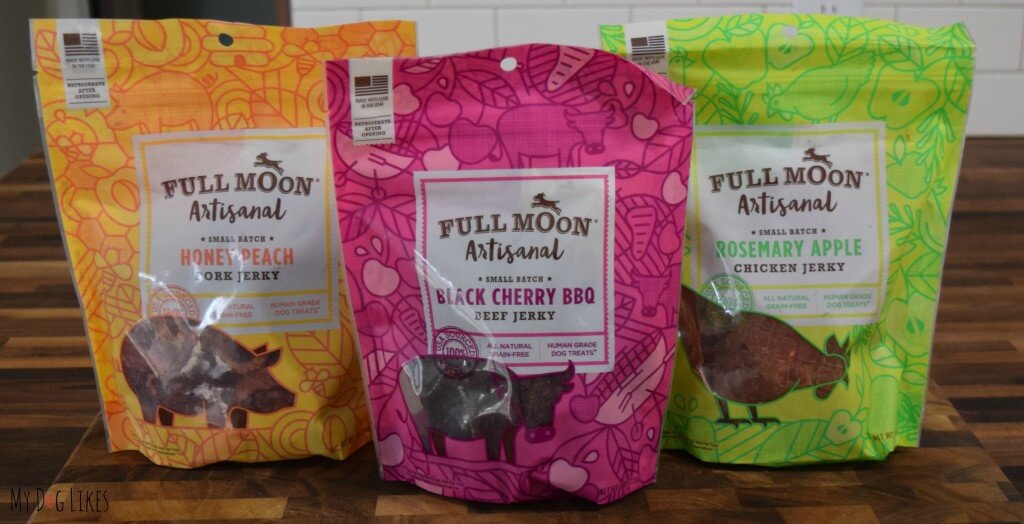 Introducing Full Moon Artisanal Dog Treats
Just like the rest of their products, Full Moon's Artisinal treats are all natural, grain free and cooked in small batches. They are also sourced right here in the USA. What really sets these treats apart however, is the tantalizing flavor combinations!
Reading through these flavors, you will want to dig in! While they are 100% human grade, they are actually meant for your furry friends instead!
Black Cherry BBQ Beef Jerky
Honey Peach Pork Jerky
Rosemary Apple Chicken Jerky
Mmmmm….getting hungry yet?
Click here to check out these Treats on Amazon!
About Full Moon Pet
Full Moon is a subsidiary of Purdue, a family owned and operated company that has been in the food business for nearly half a century. One look at their mission statement will give you a great idea of just what they represent…
If it's not good enough for us to eat, it's not good enough for our pets.
We couldn't agree more! 
Full Moon sources all ingredients right here in America, to keep a close eye on the manufacturing process and better assure quality.
Check out our previous Full Moon Dog treat reviews to learn more about their natural cut jerky dog treats and gourmet chicken treats!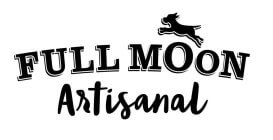 Back to the Artisanal Treats…
Let's take a quick look at the flavor profiles before Harley lays out the taste test.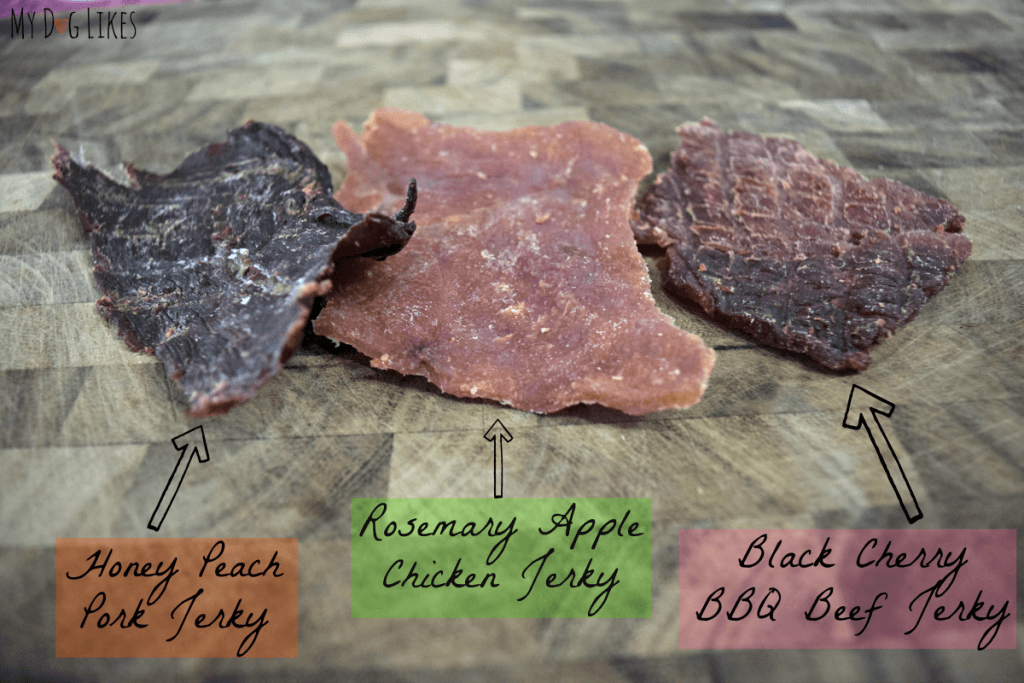 Black Cherry BBQ Beef Jerky
These savory treats feature tender beef that has been marinated in black cherry. Not only is this sauce especially tantalizing for dogs, but it is rich in antioxidants as well. Full Moon's artisanal Beef Jerky treats are moist and easily digestible.
American ranch raised beef

Contains glucosamine and chondroitin which promote joint health
Honey Peach Pork Jerky
Peach marinated pork topped with a drizzle of honey. Are you getting jealous?!!
Cage free pork farm raised in America

Free of corn, wheat, soy and glycerin

Supports healthy skin & coat
Rosemary Apple Chicken Jerky
Tender, rosemary infused chicken with a hint of sweetness from orchard pressed apples.
Cage free chicken farm raised right here in the USA

Glucosamine and Chondroitin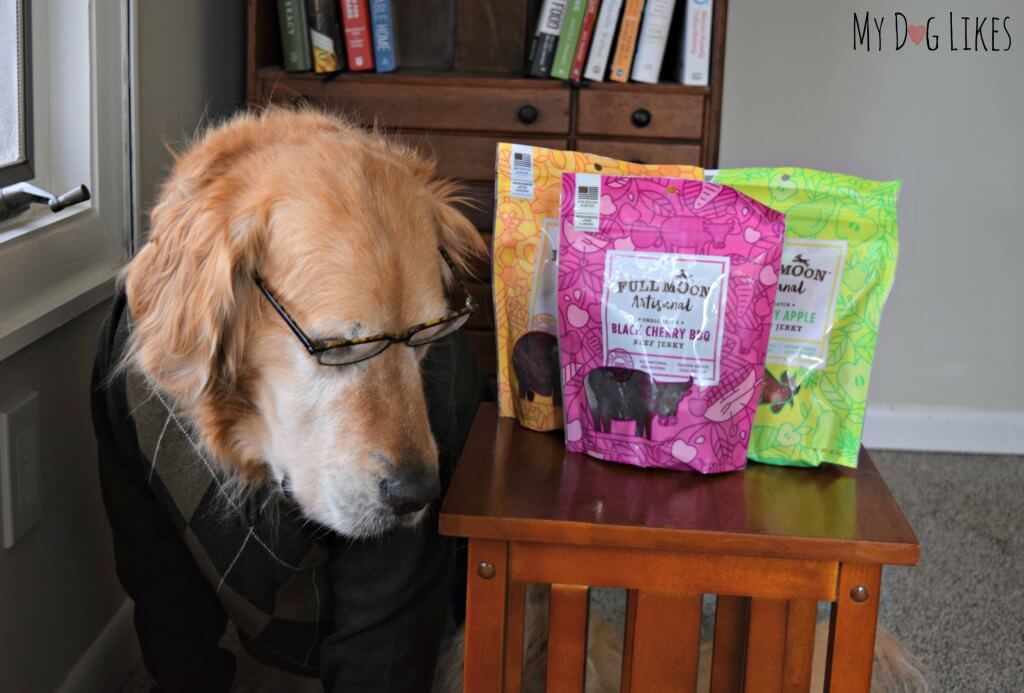 Getting Down to Business – A Feast for the Senses
Harley carefully developed a lesson to teach his little brother how to properly evaluate the quality of a dog treat.
To start things off, one must know how to properly read an ingredient label. This is very important for any dog trying to refine his tastes and sharpen his skills. How can you get better at identifying flavors without knowing what they are?!
Harley made sure to point out that the first ingredient in all of Full Moon's treats is meat – a lack of fillers is a true sign of quality!
Next, Harley set out all 3 flavors for the visual examination and smell test. He wanted to make sure that Charlie noted the texture and how the treats tear along the natural striations in the meat. Whole muscle meat is exactly what a dog want's to see!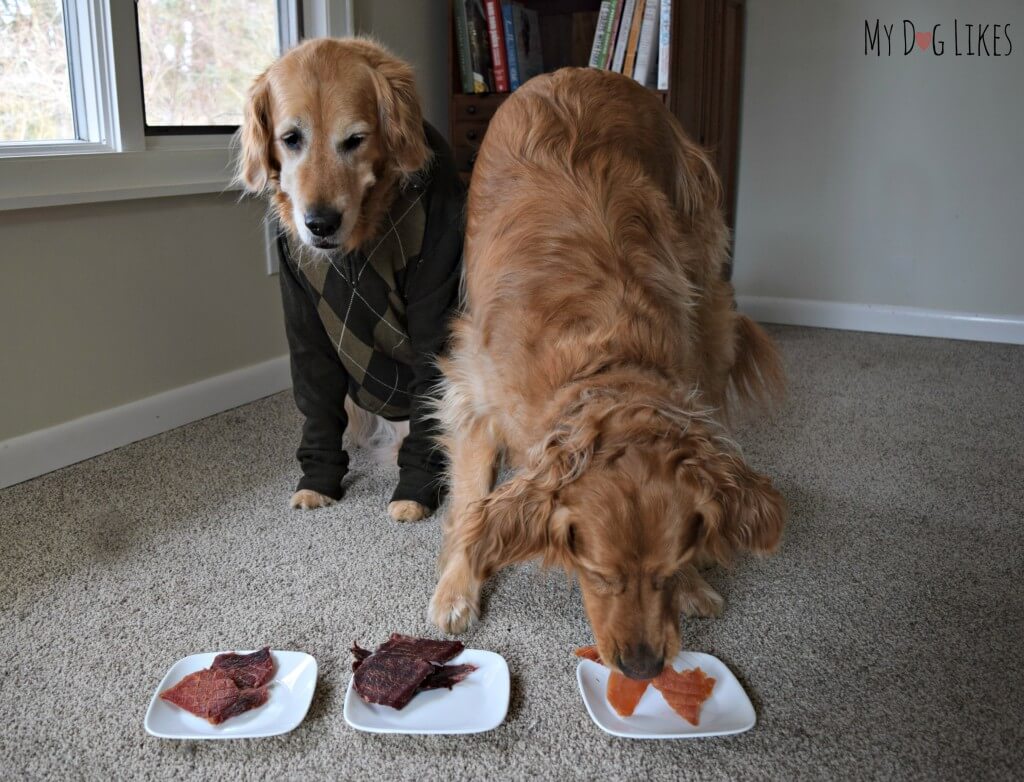 After careful inspection, Charlie was instructed to move on to the smell test. It is very important for dogs to be able to identify the scent of meat and jerky so as to know when his parents may be hiding something tasty from them. Charlie had a bit of a slip up during this portion of the lesson…instead of simply allowing his nose to fully appreciate the aroma he may have snuck a quick taste of his own!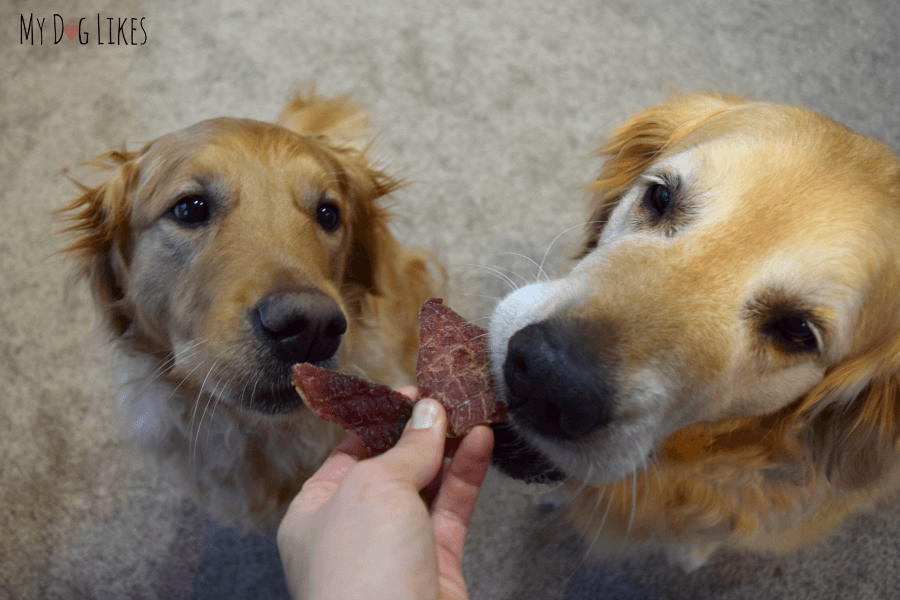 Next up…the taste test! Both boys were more than ready to explore the last and most critical part of their evaluation. These treats were devoured in no time and both boys gave glowing remarks.
The final objective in the lesson was a blind taste test. Harley wanted to see if his brother had focused enough throughout the lesson to be able to properly identify flavor by smell and taste alone. We selected a strip of Honey Peach Pork Jerky for the test subject.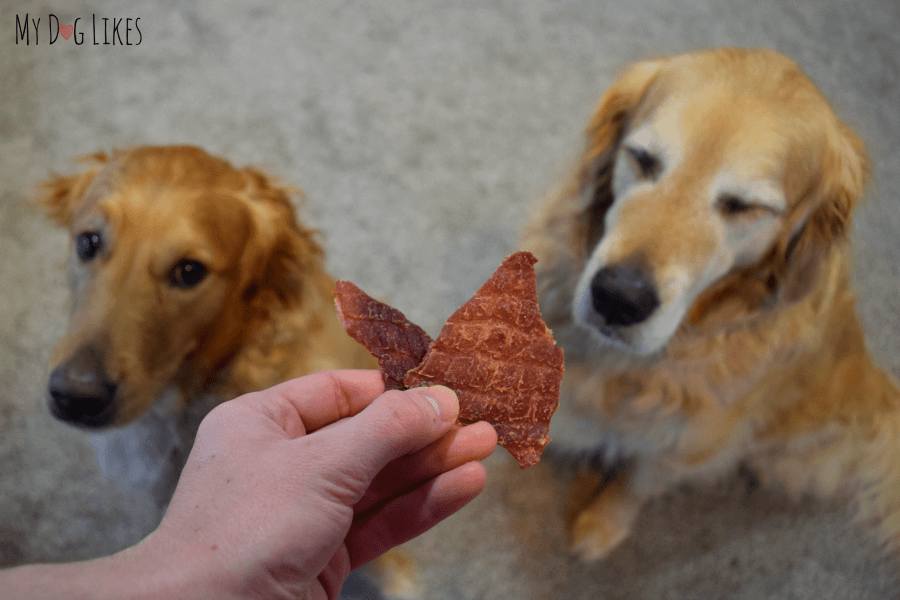 Harley was very proud of his brother for passing, but upon further review it looks like somebody may have been peeking!

Why MyDogLikes Full Moon Artisanal Dog Treats
It is always fun to spice things up, and we love that Full Moon has found a way to do this while sticking to their impeccable quality standards. As always, these treats are all natural and grain free. They recommend to refrigerate after opening which in our eyes is a great thing. Real food should go bad if it stays out! Anyways, it has been a long time since our fridge and freezer weren't loaded with dog food or treats of some kind!
So whether your dog is still working on his manners (like Charlie) or already a sophisticated gentleman (like Harley), these may be the perfect gourmet treat for you. 
Want to give these treats a try?