Halloween can be a spooky time of year. Monsters seem to be everywhere, decorating people's houses and even showing up at my doorstep demanding that I do tricks for treats (but I never actually get any!).
That however is a problem for another time, as today we have a serious issue to discuss. There is a monster IN my house. Let me show you the evidence.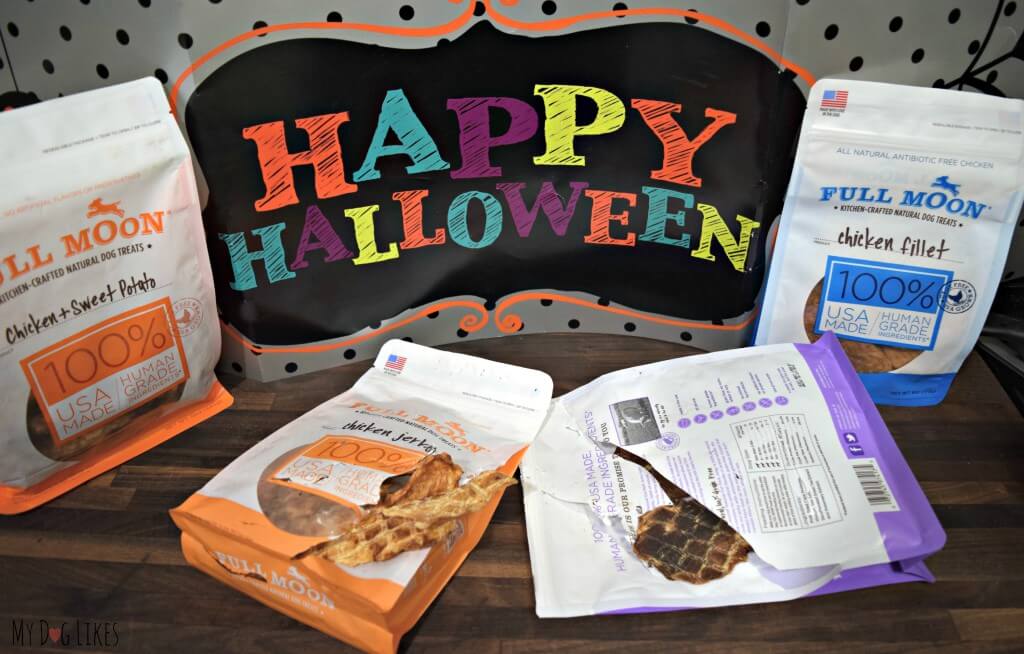 The CRIME
I woke up the other morning to find that the kitchen had been torn apart. A paper bag containing apples was spilled all over the floor and the biggest travesty of all, the monster had gotten into my treat stash! Shredded and torn, it was clear that this monster was a ruthless beast and needed to be stopped. I cleaned up the evidence and began my investigation.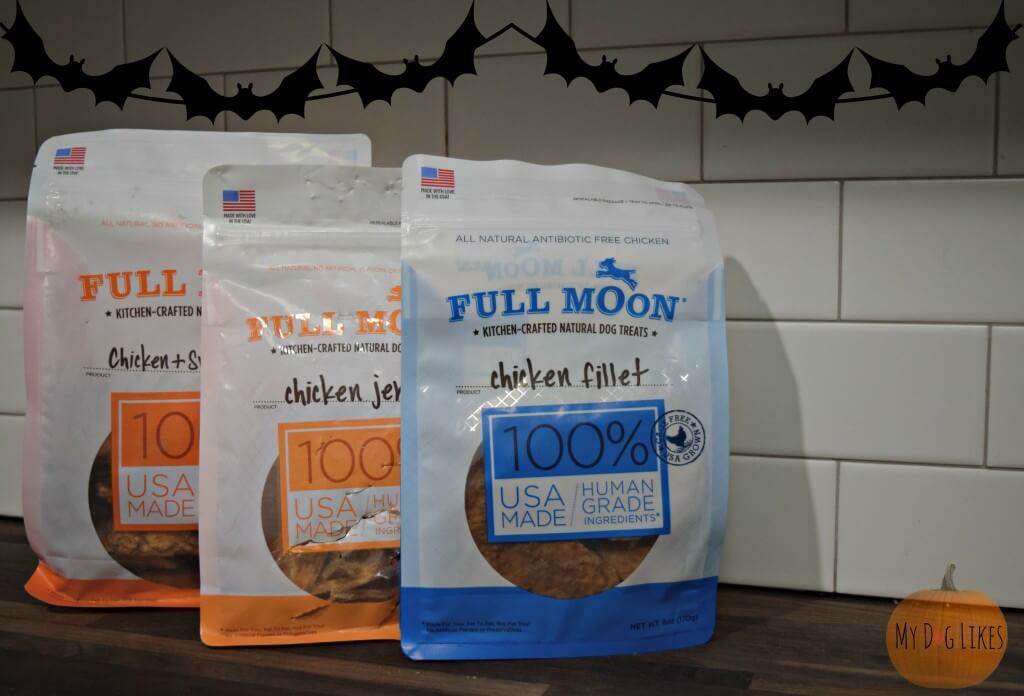 The VICTIM(s) 
So what did exactly did the perpetrator tear in to? BAGS of Full Moon Dog Treats! Perhaps I should say, my never-opened bags of brand new to the market Full Moon Dog Treats that had been so graciously offered to me for review: Chicken Fillet's and Chicken and Sweet Potato treats!
Click here to browse Full Moon on Amazon!
If you have seen our previous Full Moon Dog Treats review, you already know how much Harley and I love their Chicken Jerky. Of course we jumped at the opportunity to do some additional taste testing!
Victim #1: Chicken Fillet Dog Treats

These appetizing treats have chicken as the #1 ingredient – but not just any chicken. Full Moon uses chicken that has been raised cage free in the United States and is free of any antibiotics. Chicken Fillet's also don't rely on fillers like corn, wheat or soy. There are also no artificial flavors or preservatives. Instead, you will only find simple ingredients like sea salt and rosemary.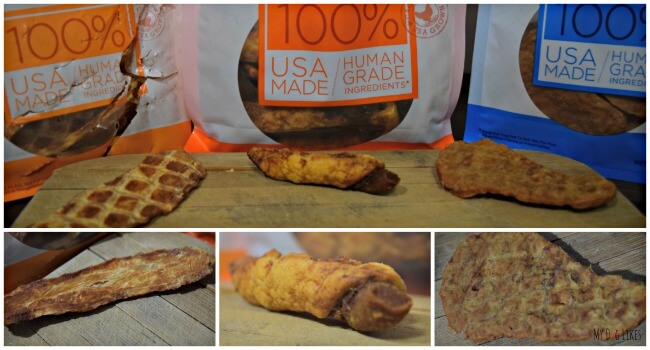 Victim #2: Full Moon Chicken and Sweet Potato Dog Treats
These chicken dog treats are wrapped in sweet potato. Wow, two of my favorite things in one! Just like the jerky treats and fillets, they use cage free chicken raised right here in America. 

Victim #3: Full Moon Chicken Jerky
If you want to read more about these treats, check out our Chicken Jerky review! SPOILER ALERT! – WOW are these things tasty!
I couldn't believe it! The criminal had beaten us to the punch treats!
The Suspects
I had a hunch that this investigation would be open and shut. As a matter of fact, I already had a suspect in mind…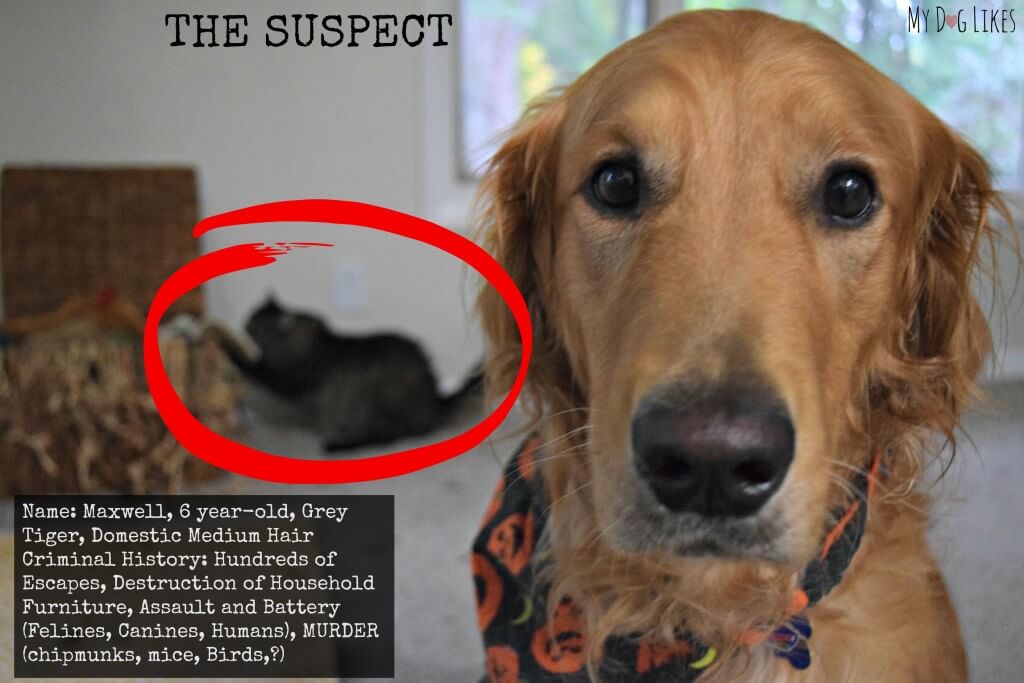 With a wrap sheet longer than my tail hairs,  it was clear, this guy had been wreaking havoc around here for years.
I set up a trap and waited for the monster's instincts to compel him to repeat his heinous act.
CAUGHT IN THE ACT
Can you believe that when I approached he just looked me in the eye and kept on going? How brazen can you be?!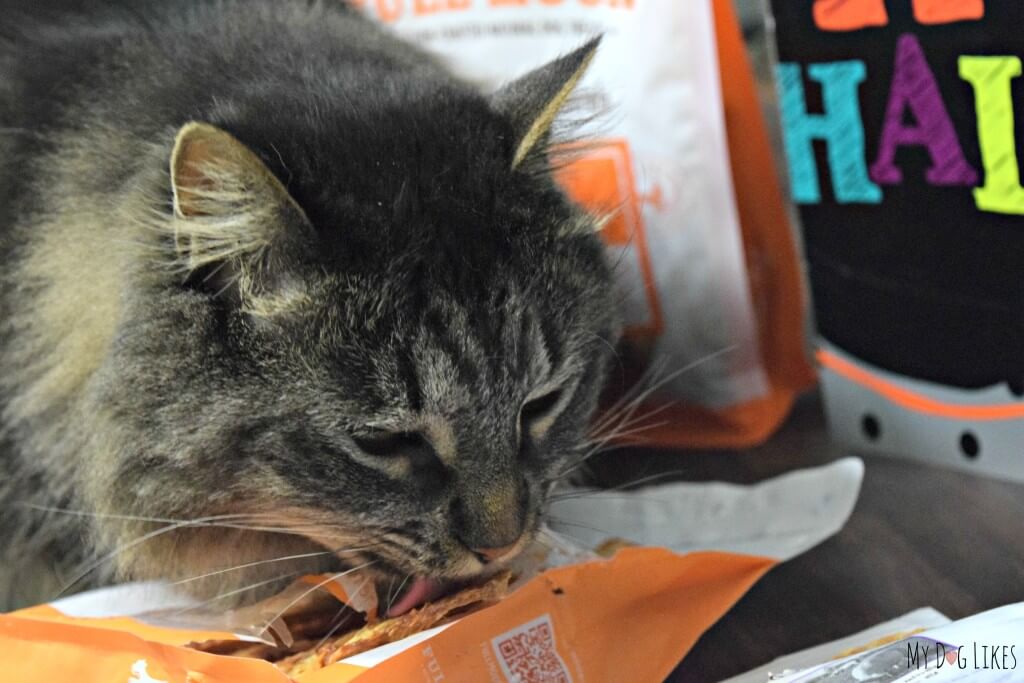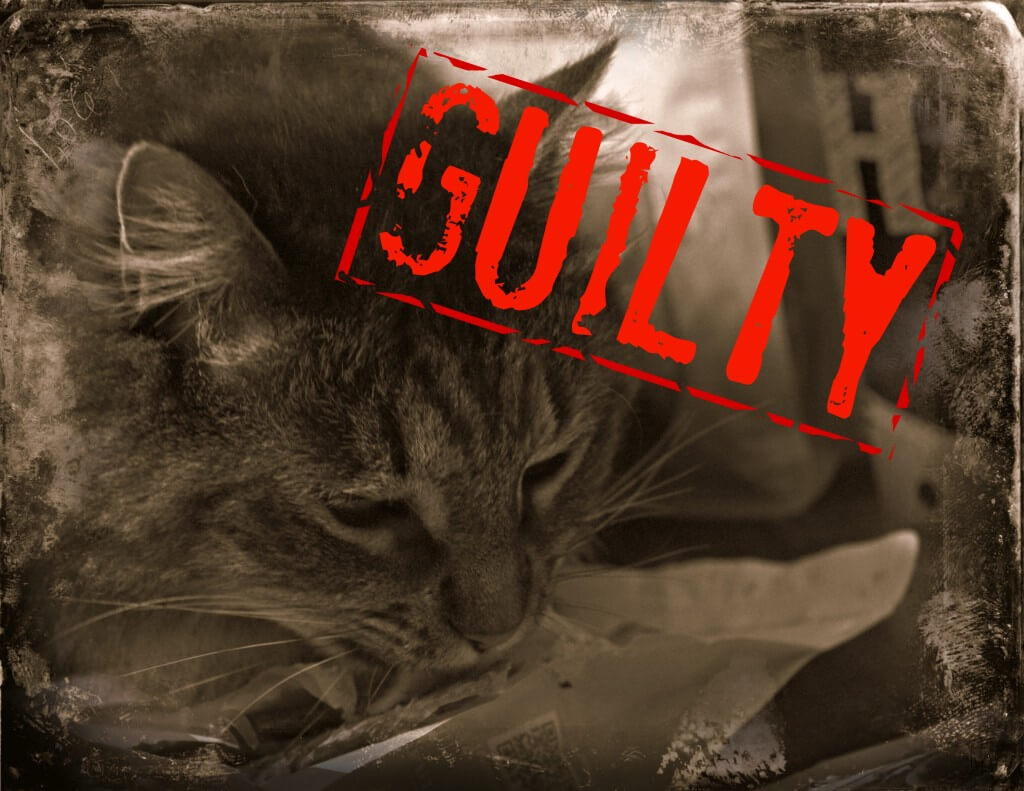 What came next, I was not ready for. As it turns out my innocent friend, Lucas Kitty, was his accomplice!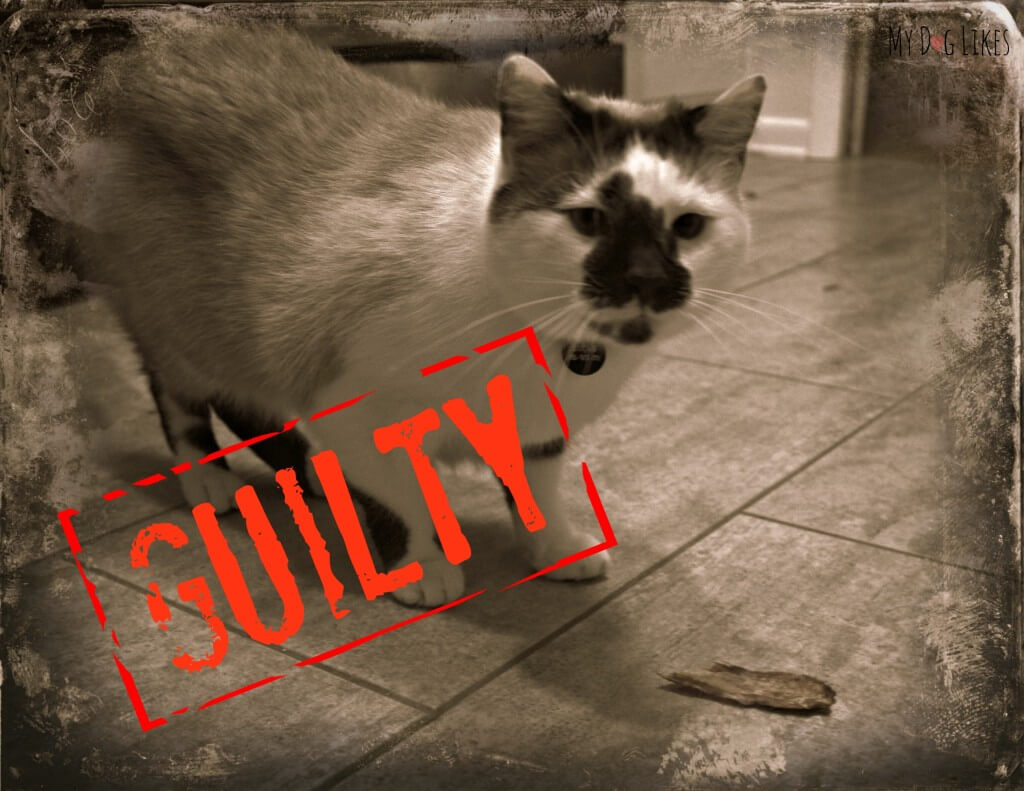 To reward us for a case closed , Mom treated Harley and I to some of the leftovers these monsters had left behind!
Just try not to drool looking at our very special basket of treats! As you can see, we were very eager to finally give them a taste!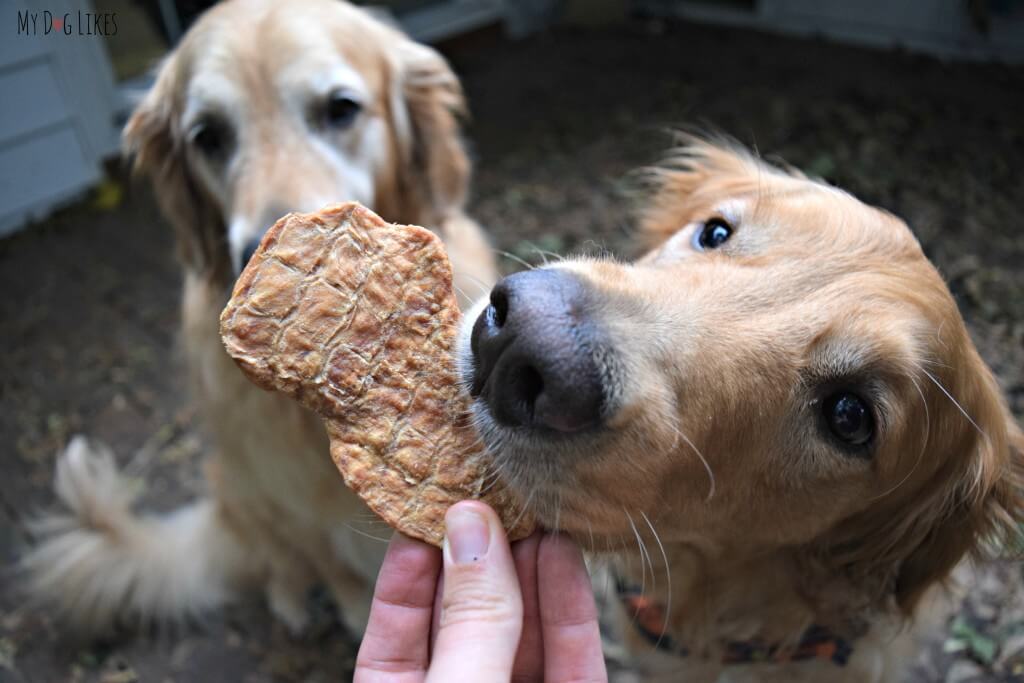 So what did we think of all of these Chicken Dog Treats?
The Chicken fillets are quite large, so Mom typically breaks them in half for Harley and I to share. While I would love to eat the whole thing at once, they are so good that I really can't complain! The Sweet Potato and Chicken treats were especially scrumptious. Fall is my favorite time of year and anything that incorporates sweet potato is a winner in my book!
All in all, these treats were so tasty that we ended up burning through the rest of our stash for the trick-or-treaters!
What was a dog to do?
I wanted to make sure that all of my doggy friends who stopped by would be given some delicious treats as well….
Time for some online shopping!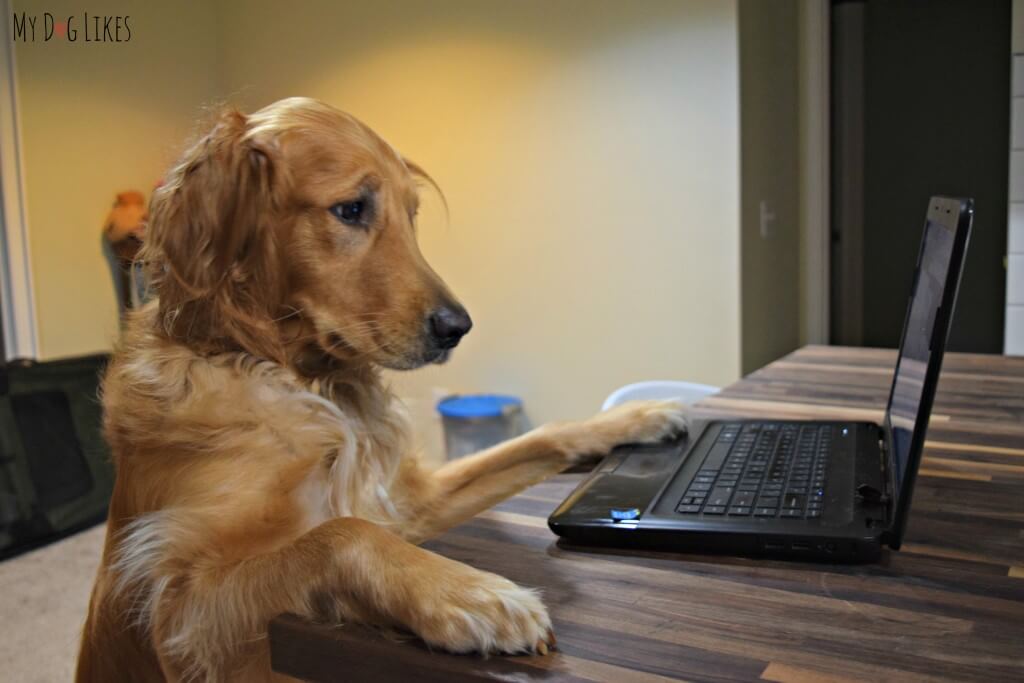 Want to get your paws on some of these treats?