There is no shortage of places to buy things online. The problem with buying online is that you can't always be sure of the quality of what you are going to get. Sadly, many online retailers will sell anything that they can earn a commission on. While it may be good for sales, its not always good for the consumer. As pet parents we try to make good decisions, but it is very difficult to judge the quality of a product from a picture alone – and nearly impossible to determine how it performs or holds up over time.
Wouldn't it be nice to shop somewhere you could be sure had already done this vetting for you? To be confident that everything they sold is high quality and worthy of your money?

That's where Amato Pet comes in!
We were recently contacted by AmatoPet.com – an online pet store focusing in finely designed, high quality pet products.
The Dreaded Dog Toy Graveyard
Amato Pet was born from a feeling that every pet owner has experienced at one time or another. The frustration of a home cluttered with the carcasses of barely enjoyed pet products! Not only does the toy graveyard represent a lot of wasted money, but it leaves us questioning things: Does sharing our home with pets have to mean a messy home?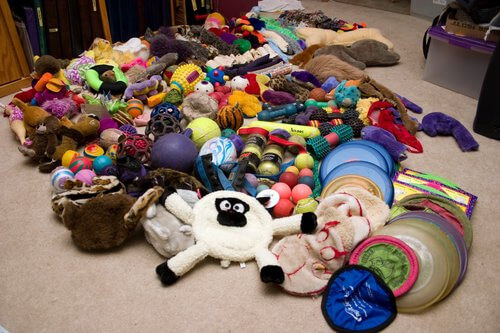 This reminds us of a part of our own mission statement:
…we know that you've been there, sorting through a tattered mess of what used to be dog toys, wondering how such an innocent face could have caused so much damage. While at the same time wondering if these pet product manufacturers have ever had a dog themselves, or even bothered to test out their designs…
Enough is Enough
Founded by pet parents just like you, Amato Pet's mission is to create an online shopping destination that only carries the best the pet industry has to offer.  Where other pet owners can rest assured that what they are buying is beautiful, well made, and will hold up to its intended use. Amato Pet understands how important your pets are to you and trust me, they feel the same way!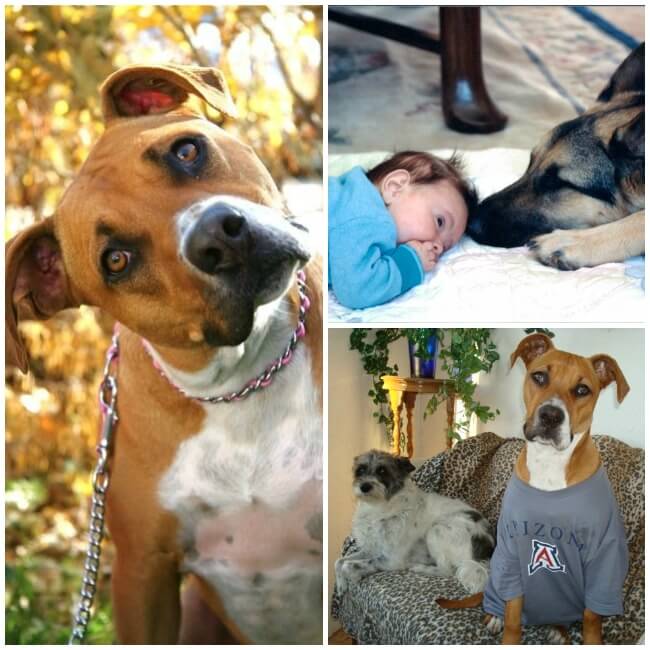 The Amato Pet Family!
Form meets Function
Amato believes that just because a product is for your dogs, doesn't mean that it has to look like it.  A pet product can be high quality, durable and useful without drastically clashing with your home decor!
Amato translates to "loved" in Italian and you will find only the best pet products listed on their site. Things that they have tested themselves and are sure that both you and your furry friends will love!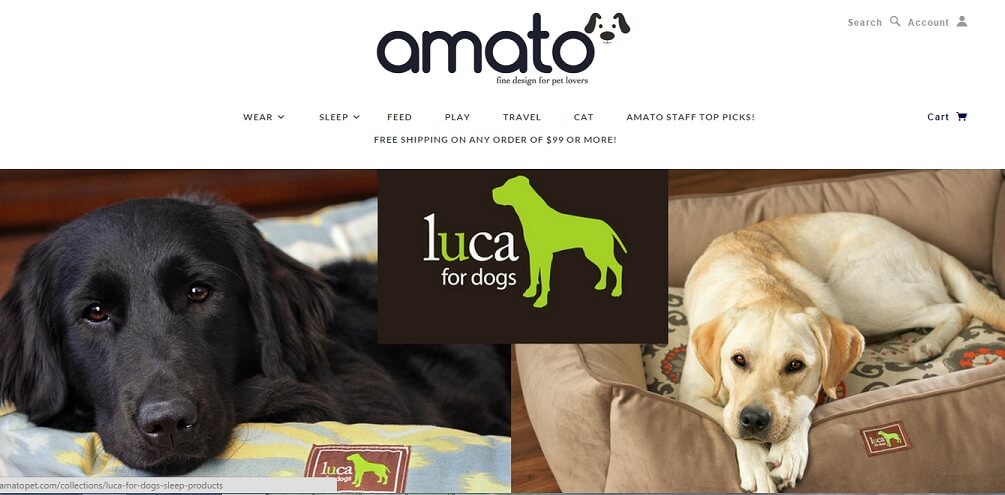 Sophisticated and Modern
One quick browse of Amato Pets selection and you will be blown away. These are some seriously beautiful dog products. Below are just a few things that caught our eye right away!!
Would your dog look beautiful in a bow tie? Warm in wool? Happy in a harness? Amato carries dog accessories that are both beautiful and functional for every size of furry friend! We were drooling over the Chilly Dog Sweaters and Trish Hampton Bow ties!
Feeling like your dog already owns more clothes than you?  Take a look at the excellent harnesses, leashes, and collars that are available. Sturdy Wildebeest Harnesses and Legitimutt waterproof and handcrafted Italian leather leashes really grabbed our attention!
Many of us love having our pups to snuggle with but its also pretty awesome to go a whole night without having drool on your pillow or 4 paws in your back. Finding a dog bed that will be beautiful in your home AND stand up to everyday use and serious napping is not an easy task. Relax…you have time for a nap because AmatoPet.com has done all the work and carries some seriously gorgeous and durable dog beds! We would love another West Paw Design dog bed for Charlie but also LOVE the Luca Nest Bed, Bowsers Donut Bed in Herringbone, and the George Pinstripe Bed, all of which can be easily disassembled for washing!
Have you looked around for dog bowls at your local pet store? Its not pretty. When you add a second dog in the mix, it complicates things.  With two thirsty dogs it seems as though our only option for heavy duty, large bowls are industrial and just not…..pretty. We put our food bowls away after use, but water bowls are a permanent piece of furniture in our home. From higher end products like the Big Country-Artisan Feeder which looks like a piece of beautiful furniture in your home to fun and useful products like the colorful Kaleido Bowl or Wildebeest Funston To-Go Bowl; AmatoPet.com offers so many different options you are sure to find something that reflects the style and comfort of your home.

Durable is a must when it comes to dog toys and AmatoPet offers some great choices. We were intrigued by the leather tug set by Legitimutt and were also eyeing up one of our tried and true tough toys, Mega Brand Tuffy Plush!

Going places with your pet is always fun…having the right gear to do it makes it even better. If you have a little pup, Amato Pet has lots of fashionable carriers, booster seats, and small dog harnesses.
Don't worry, they haven't forgotten about the big dogs!! Harley loves to go for rides in the car but as he gets older jumping up into the back of our SUV is getting more challenging. We added the Essential Pets Telescoping Ramp to our wish list! We were also intrigued by the Twiststep Dog Step, which adds a platform so your pup can make a smaller leap into the back of your truck or SUV with a hitch (Bonus: you can use it to reach your roof rack easier).

We can't forget about our kitty friends! Maxwell and Lucas demand  the best and added a few items to their dream list like the Bowser Cat Tower, Big Country Siam Drink Dish, and Big Shrimpy Catalina Cat Bed! A cat can dream of someday having his own cat product review blog…MyCatLikes has a nice ring to it, huh?
Seeing for ourselves – Our Amato Pet Review
We always test out products and services before we recommend them – and Amato was kind enough to send us a beautiful LEGITIMUTT leather dog leash to get an idea of the quality of products they carry.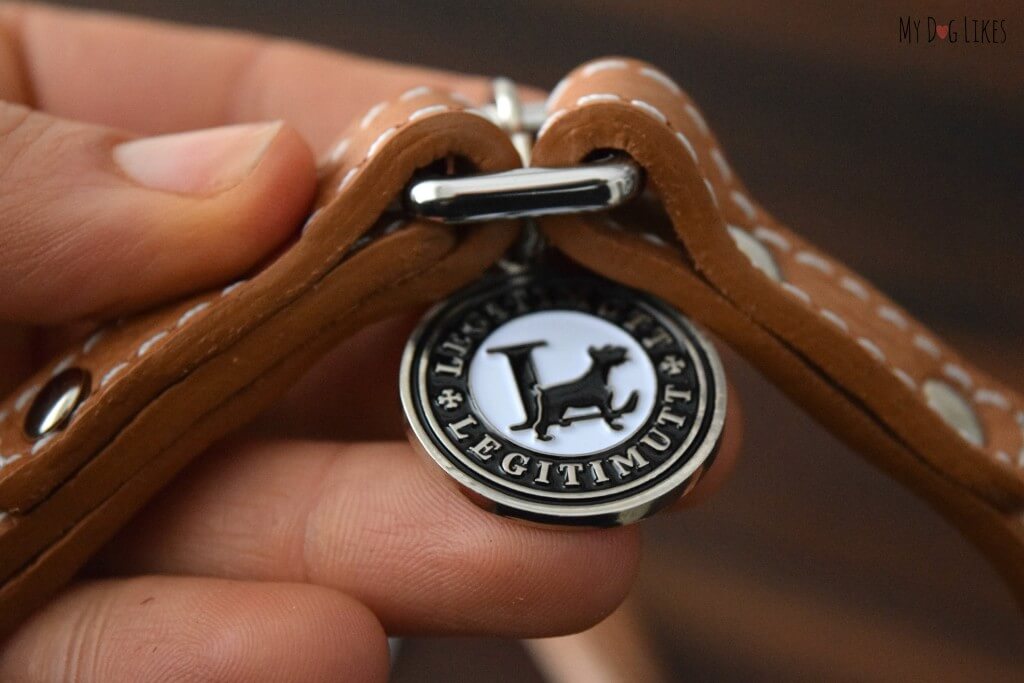 The Legitimutt Leather Dog Leash
This ½" x 48" leather leash is stunning. Made in the USA of imported ultra-luxe leather from Italy, the craftsmanship is striking. This leash is complete with stainless steel hardware and medallions, so you can be sure that it will be looking good for a long time to come.  
Giving it a Try
We loved the way this leash performed on a walk.  It felt sturdy and secure and of course looked fantastic. 48″ turned out to be a great length. We didn't need to wrap it around our hand to keep Charlie close like we do with most leashes. It also has a thin ½ inch profile so it won't add a lot of bulk if you like to wrap it around your hard for better control and a shorter leash.  I was surprised at how well my hand fit the leash loop handle. I think this is the first time I have actually found myself using it like prescribed!
Our favorite part of the leash is the flexible hinge. Before we used it, we weren't sure of its functional purpose, but a few minutes into the walk we were wondering how we ever lived without it! You know how your puppy walks in a straight line heeling close to you all zig-zaggy, OMD its a squirrrel… well the hinge allows for some movement without tangling you up or rubbing up against your arms/wrist! It is AWESOME!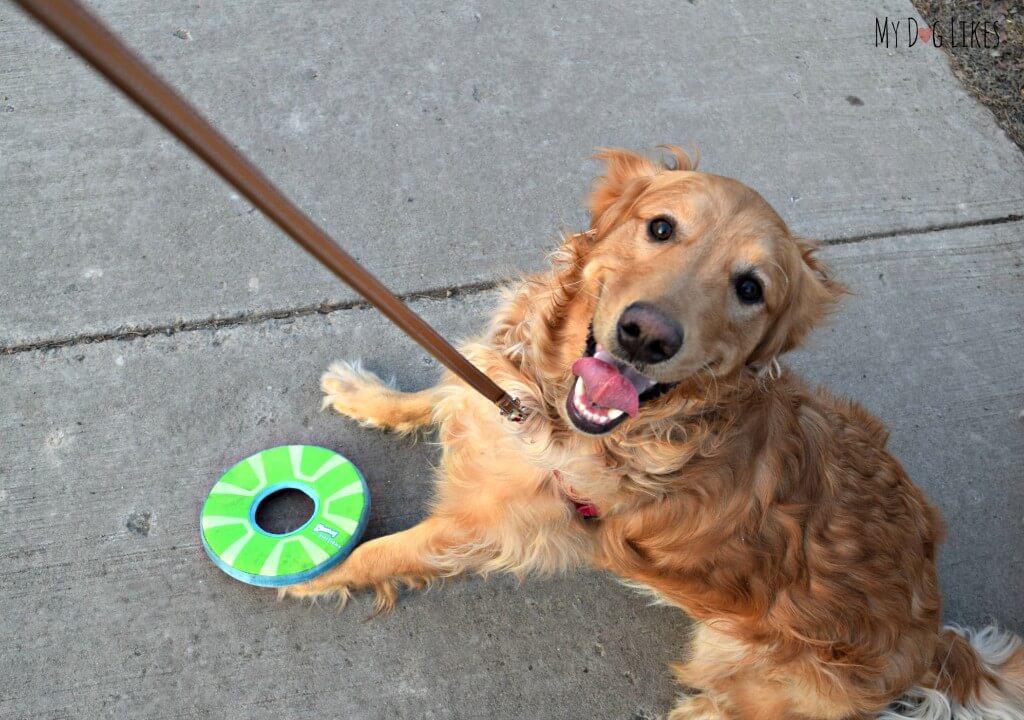 Why MyDogLikes AmatoPet.com
We love the mission behind Amato Pet and were absolutely amazed by the quality of products they carry. Some products may be more expensive than what you will find at a big box store, but we have come to find out that in most cases, you get what you pay for. The selection at Amato Pet shows you that pet products don't have to be an eyesore, they can be beautiful, functional, and modern. No matter your style you will easily find items that match your lifestyle and fit into (or elevate) the decor in your home .  
Want to give Amato Pet a try?
Save 15% with Code "Flyer15" at

AmatoPet.Com