Dogs just want to have fun!!
Dog parties are the best kind of fun because there are always lots of tasty treats and new toys to play with.
A busy Dog Mom and Dad schedule is no reason to limit the fun. What if you could get the best part of a party delivered right to your door?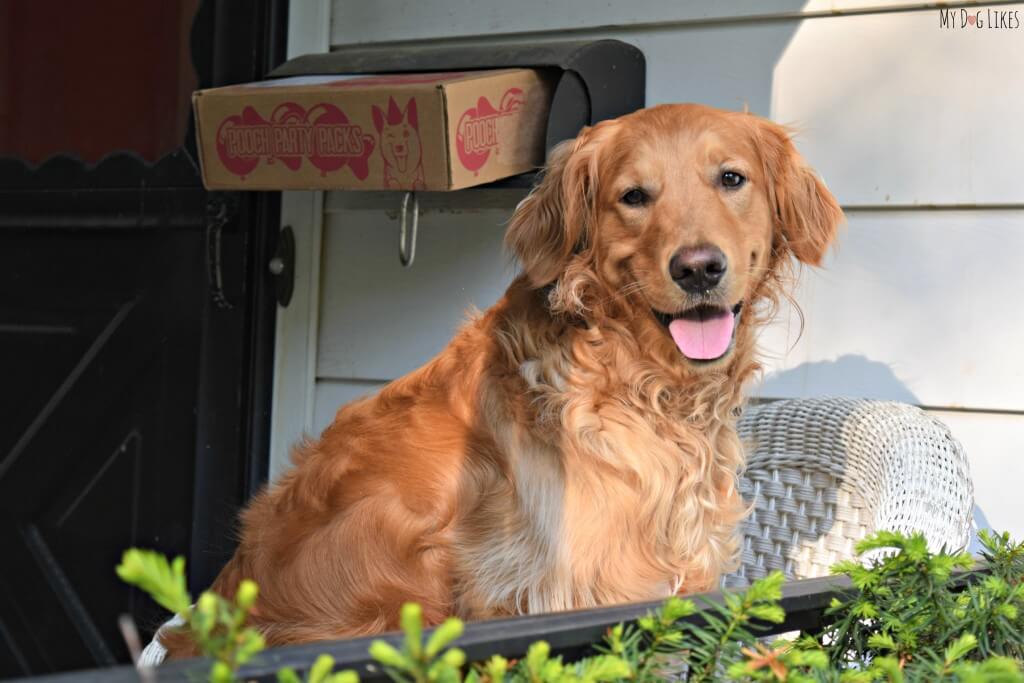 Pooch Party Packs – Dog Subscription Box
Why limit the fun and surprise to once a year? Pooch Party Packs is a dog subscription box that aims to keep your dog happy and stimulated all year long. Every month your dog will receive a box of high quality pet products carefully selected by the PPP team.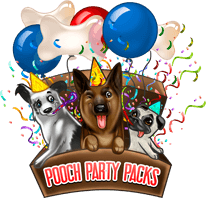 One thing that sets Pooch Party Packs apart from other dog subscription boxes on the market is their commitment to small businesses. They believe that their are a TON of innovative and top notch pet items being made in this country that deserve a shot to make it big.
Every box shipped features an item from a small pet business somewhere in the United States. Not only will this allow pet owners to try some products that they would not be able to find locally, but it helps mom and pop businesses across the country to get their name out there. Being a small business ourselves, we think this is such an awesome idea!
Pooch Party Packs was kind enough to send us a large size subscription box for our two party animals to check out and share with our readers!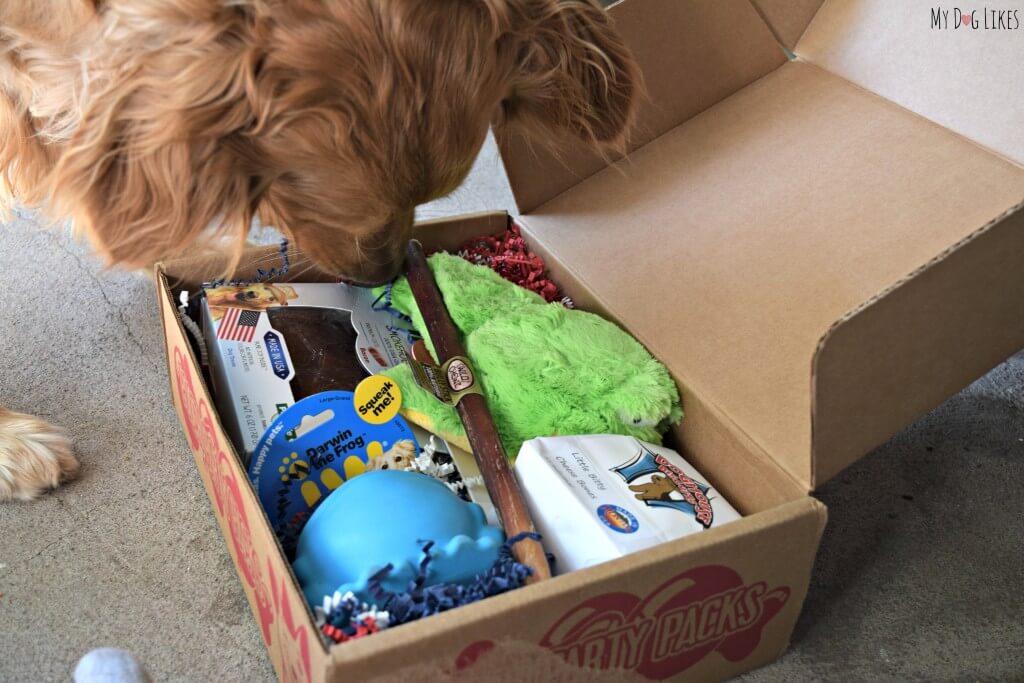 What's in the box?
Each box contains between 4-5 carefully selected dog treats, toys or grooming supplies – One of which is guaranteed to be from a small local business somewhere in the United States.
Know of a great locally made pet product? Pooch Party Packs would love to hear about them! Send them an email here to give a recommendation!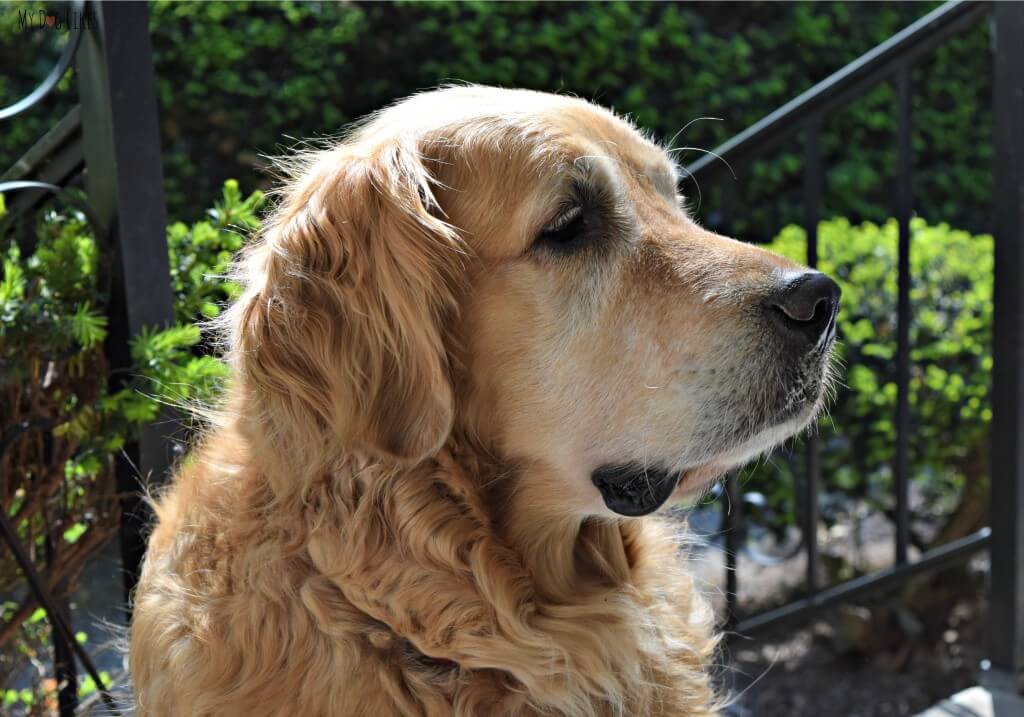 Seriously, what's in the box…
Kong Knots – This plush toy contains an internal knotted rope for durability and chewing resistance. There is also less stuffing inside which means less mess if the reinforced body were to be compromised! This toy has Harley written all over it. Nobody appreciates a good stuffy like our big guy – especially when an annoying younger brother has ruined so many favorites!  
PetSafe Indigo Smokehouse Strips – Unlike many other "bacon" treats on the market, these treats are the real deal – 100% pork bacon.  On top of that they are sourced and processed in the USA. As you can guess both dogs went absolutely nuts for these.  These treats are so fresh they come vacuum sealed and once opened need to be stored in the refrigerator. Worried about keeping them fresh, well PetSafe has thought everything and has included a resealable bag in the box, making storage between snacks ultra easy.  Not only do we love that these treats are "real food" that need refrigeration, but it keeps nosey noses from smelling (and seeking) these aromatic Smokehouse Strips!
Wild Chewz Bully Stick – This was no ordinary Bully Stick. Although our boys enjoy them we usually refrain from buying them because our power chewers devour them in under a minute. Totally different story with Wild Chewz Bully Sticks (and this wasn't even the "thick" version). Try as we might, we couldn't break this chew in half for the boys to share!  While the boys tried to eat both ends of the stick at the same time, we ended up letting Charlie start on it and Harley finish it. 

Believe it or not, they each got at least a half hour of heavy chewing out of this one Bully Stick! 
Little Bitty Cheese Bone Dog Treats – The featured local item in this month's box comes from Doghouse Biscuits of Missoula, Montana.  This family run company was founded out of the love of their own dog. A lot of love and high quality ingredients are in every bite letting you know that they are concerned for your dog's health and well-being just like you.  Doghouse Biscuits use no chemical preservatives, flavors or coloring on their products. Our box contained the Little Bitty Cheese variety which smelled deliciously like cheesy pizza crust!  These bones are plump and crunchy but can still be broken in half for double the fun! 
JW Pet Darwin the Frog-Squeaker – The final item in the box was Darwin the Frog from JW Pet. This toy has a serious squeaker, and although you may not love that – your dog certainly will!  It is constructed of a non-toxic natural rubber material and you can tell by one squeeze that this thing is tough. One of the most fun things about this toy is how well but unpredictably it bounces. Charlie has been having a great time chasing it around the last few days.  
Join the Party – Signing up for Pooch Party Packs!
So, how does it work?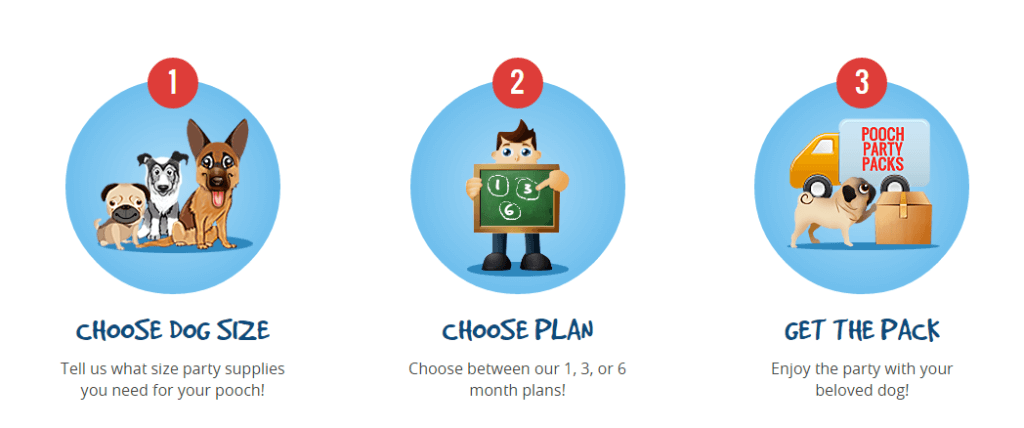 Choose Size – Pooch Party Packs has a subscription box suitable for any size or breed. Simply choose from the small medium or large box for the package most appropriate for your dog.
Subscription Length – They offer 1 month, 3 month, and 6 month options all of which can be gifted as well to the favorite pup in your life! Pooch Party Packs offers Free Shipping to anywhere in the United States (including Alaska and Hawaii!)
To Boost or Not to Boost? – Want to really spoil your pup? For an extra $8, you can have your box Boosted with an extra goody or two!

Let the Party come to you!
Place your order before the 7th of the month and your package will ship on the 15th.
Why MyDogLikes: Pooch Party Packs

We are all busy and sometimes have difficulty giving our dog the special one-on-one attention that he/she craves. What we really love about Pooch Party Packs is that they deliver a special moment right to your door. You will be just as excited as your dog to sift through the box, discover and play.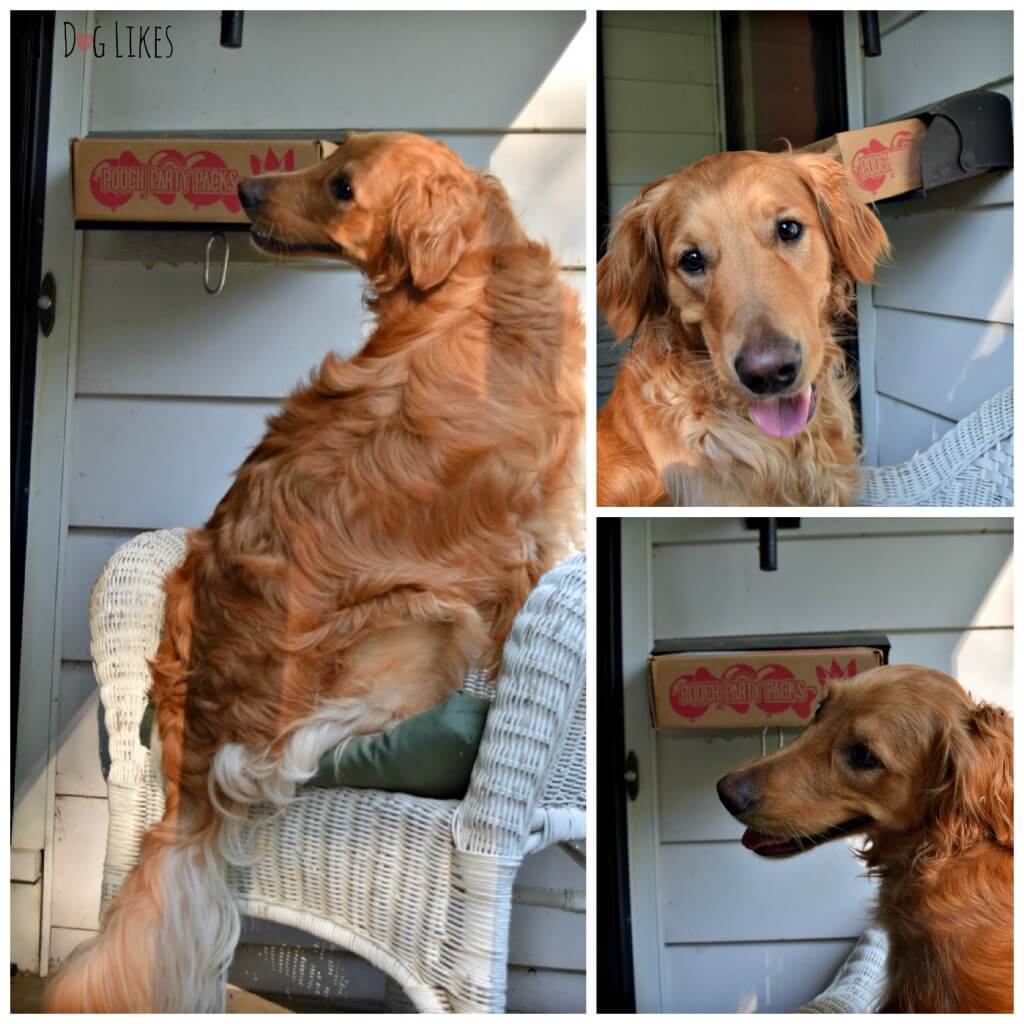 Overall, We thought this pack was a great value for the money – not only for the high quality products inside, but the experience it creates on a regular basis. We love finding new products, particularly from small businesses across the country. Pooch Party Packs does all the hard work for you, searching high and low for the best that small businesses have to offer, and delivering them right to your doorstep!
Want to throw a party for your dog?