Guess Whose Birthday It Is?
Believe it or not, Harley turned 9 years old yesterday!
Its nothing to be embarrassed about Harley
If that doesn't warrant some special treats I don't know what does! So, what are dog parents to do? We planned a very special dinner and dessert for the big guy!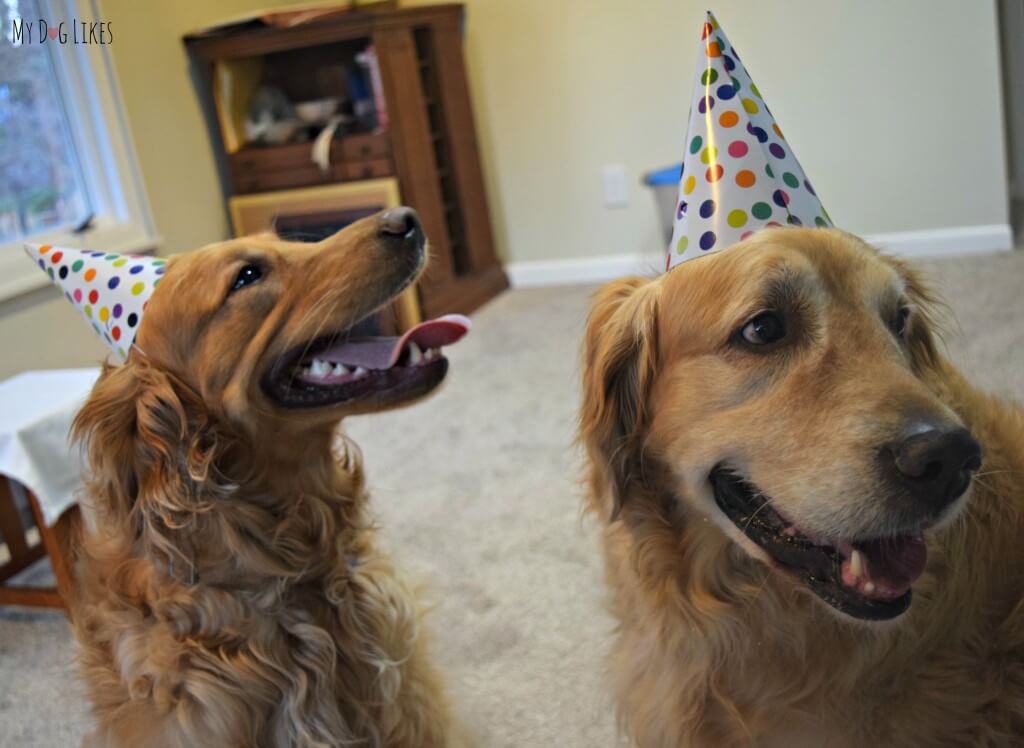 Dressed and Ready for the Dog Birthday Party
The boys were in a party type of mood so we started things off with dessert (hey, its his party, he can do what he wants to)! Unfortunately, things have been very busy in the MyDogLikes house, and we didn't have time to bake a cake like we did for Charlie's Birthday. Don't worry, we didn't forget about H! We knew we had one up on Betty Crocker; the most perfectly crunchy, delicious, and tasty something for this very special occasion.
Paws Barkery NutterBites
After reading how much the boys loved her Bow-Wow Snickerdoodle dog treats, our good friend Candice from Paws Barkery was kind enough to send some new goodies to check out!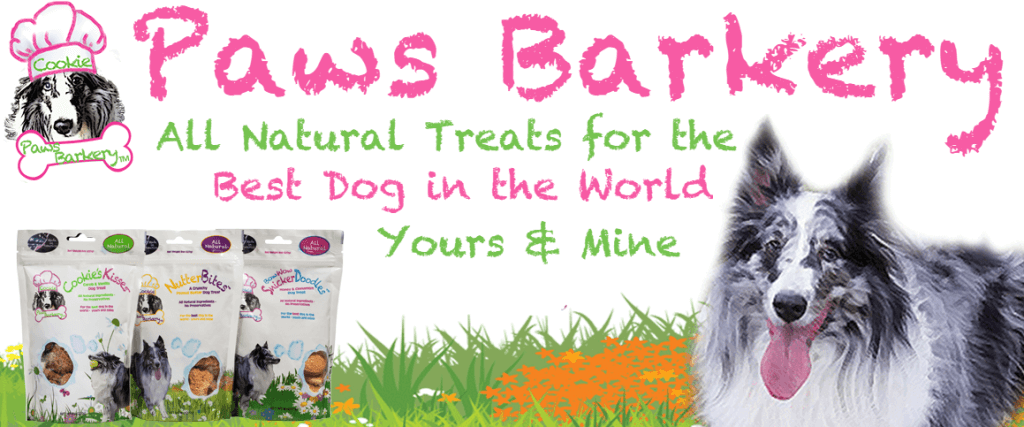 We met Candice at Backer's Total Pet Expo in Chicago and absolutely loved the story of her company. As we shared in our Bow Wow SnickerDoodles review, Paws Barkery was the maker of her dog Cookie's favorite treats. When these treats could no longer be found in local stores she learned that the company was for sale! Well, what other options did Candice have…she bought the company! Now, Cookie can have all the Bow Wow Snickerdoodles she desires!
Although they do keep a very packed schedule, these two workaholics decided they could squeeze in just a bit more taste testing.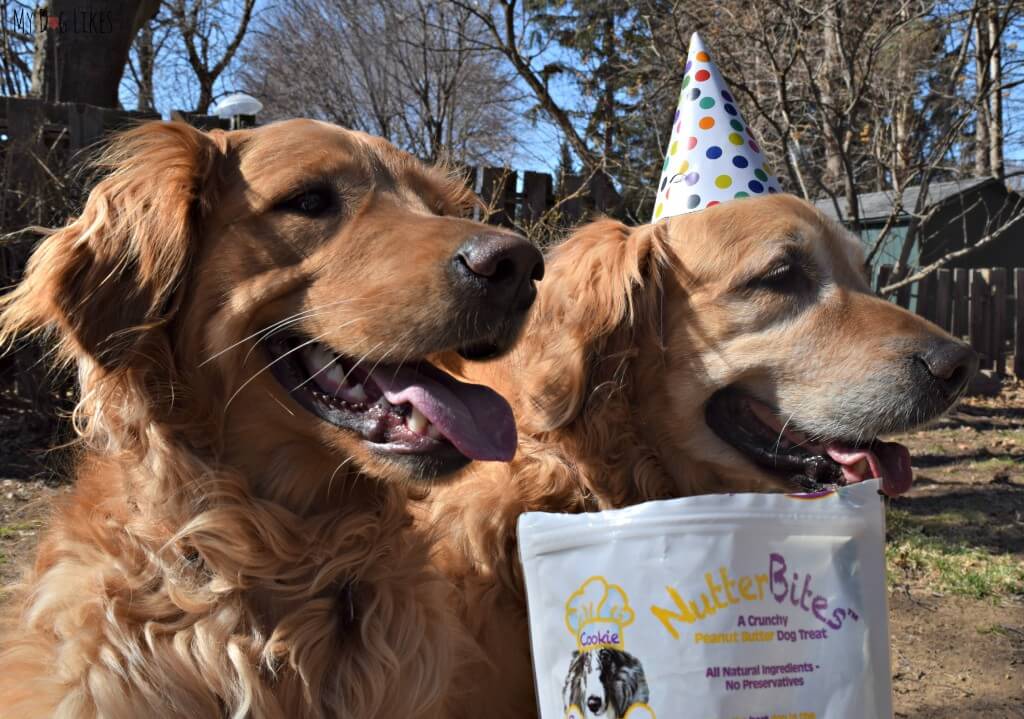 When we opened the special package from Paws Barkery we found some peanut butter "NutterBites," and carob/vanilla "Cookie's Kisses!"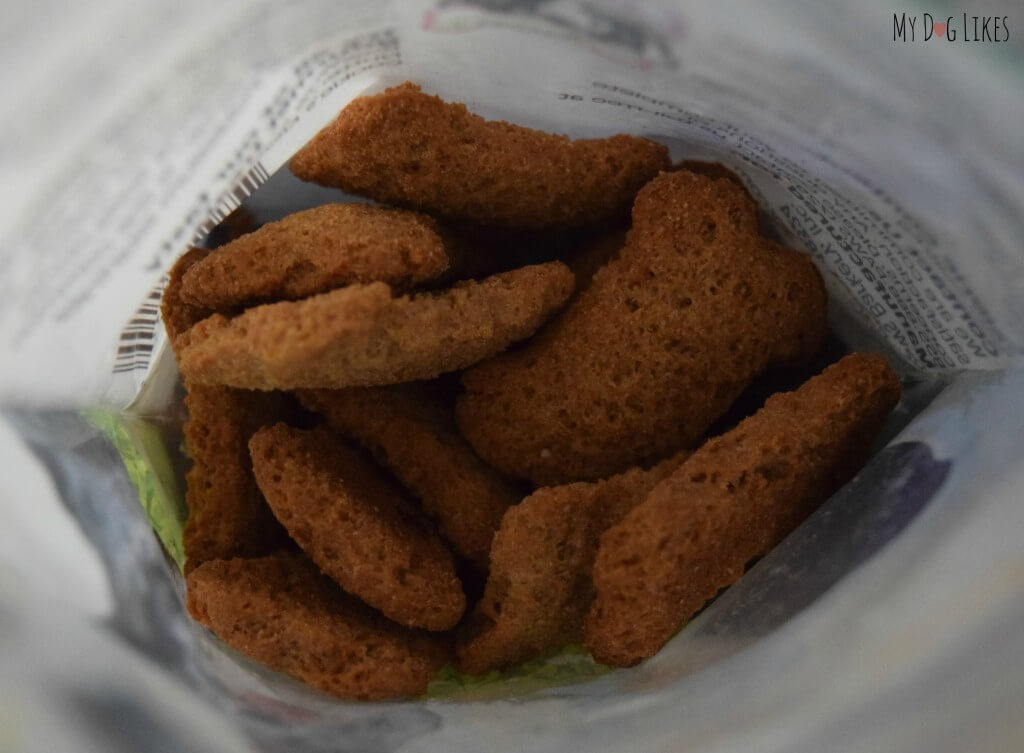 Like most dogs, Harley LOVES peanut butter, so we chose the NutterBites for his special Birthday treat.  Just like everything from Paws Barkery, these biscuit style treats are all natural and made without preservatives. They are also made and sourced right here in the USA with the kind of ingredients found right in your kitchen. They are the treats you would make for your dog if you had the time!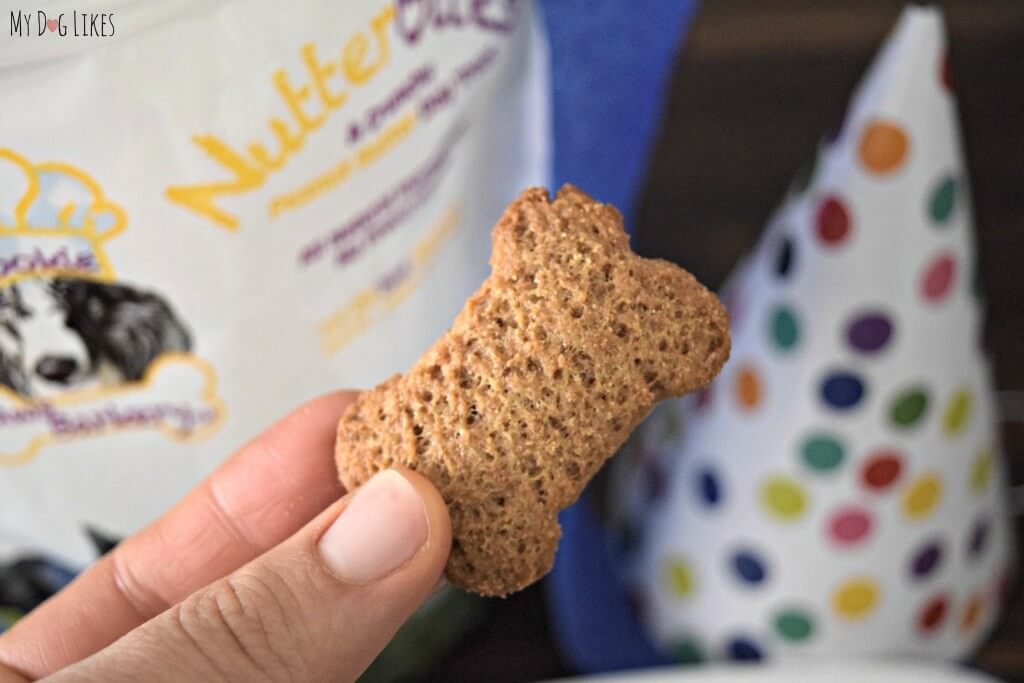 Since we have passed these treats off as homemade before we figured why not try it again? We assembled our very own "cookie cake" for Harley! With the savory aroma of peanut butter wafting through the air, we knew our sweet Harley would be intoxicated with yum and never know the difference!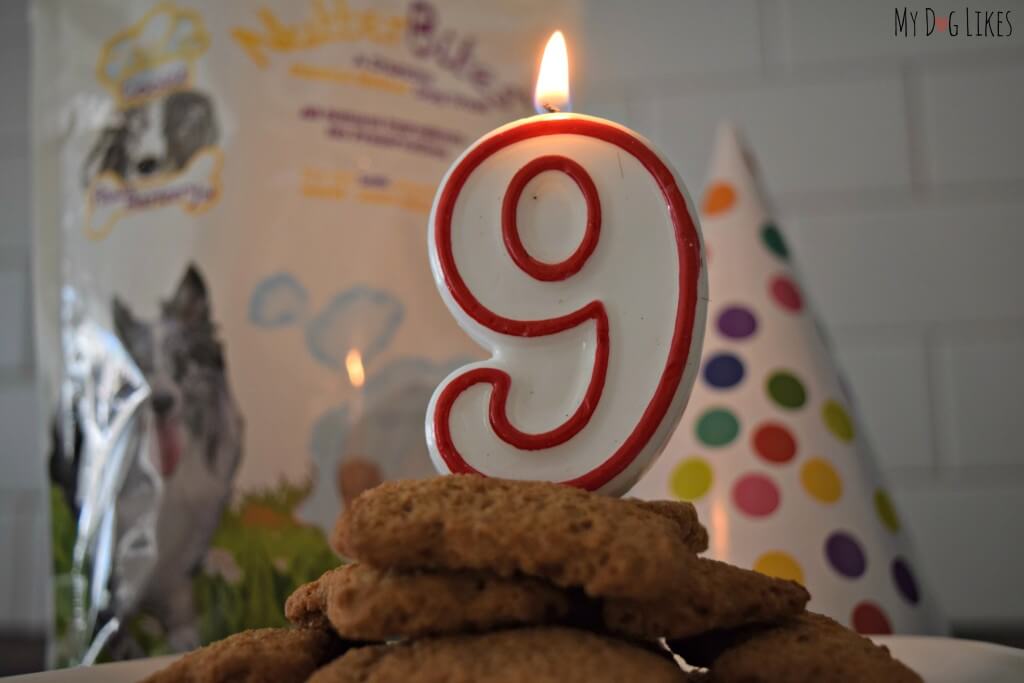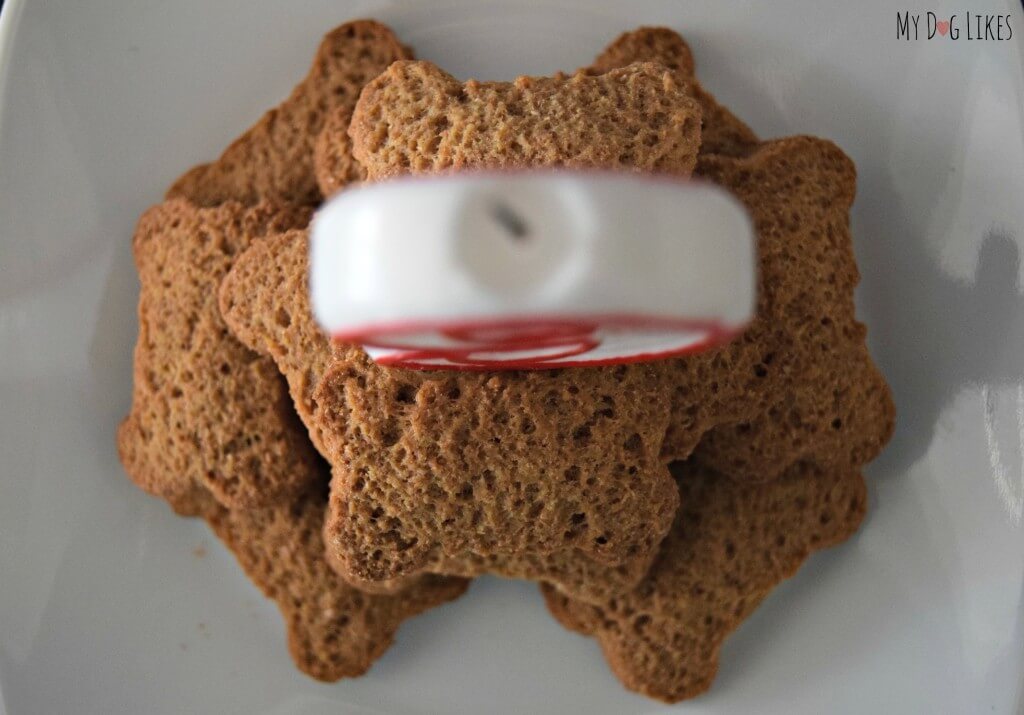 Lets Eat!
It was not difficult to gather everyone around to start the festivities!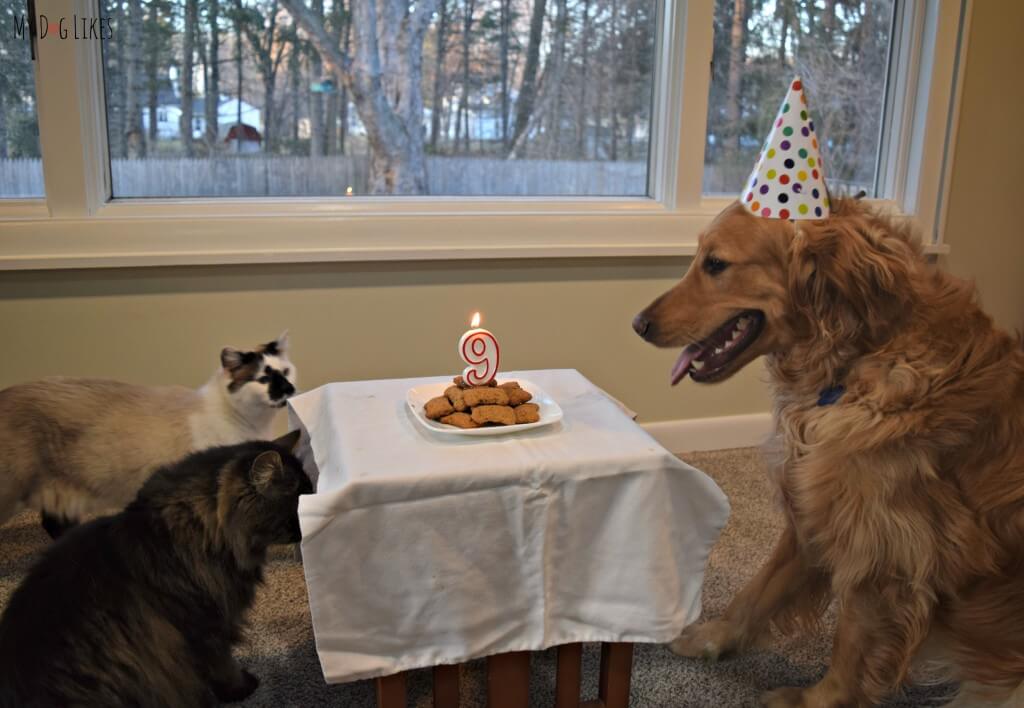 The kitties wanted to dig right in, but Charlie insisted that we sing first. Big brother only turns 9 once! After making a wish and blowing out the candle, they could wait no longer.
 It was every dog for himself in this Birthday chow down!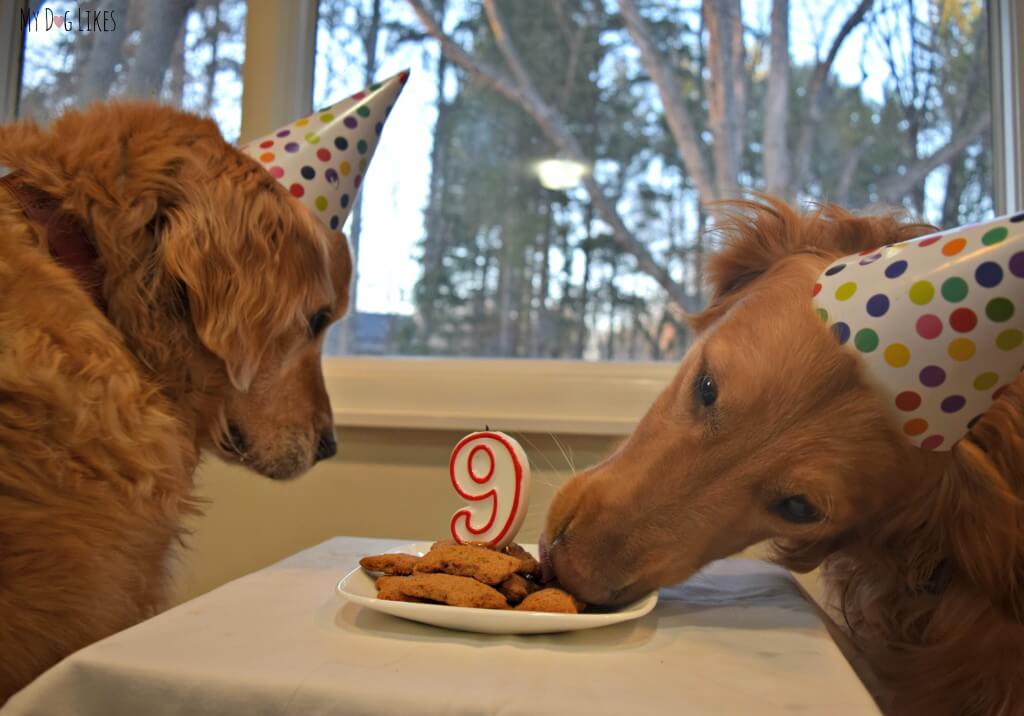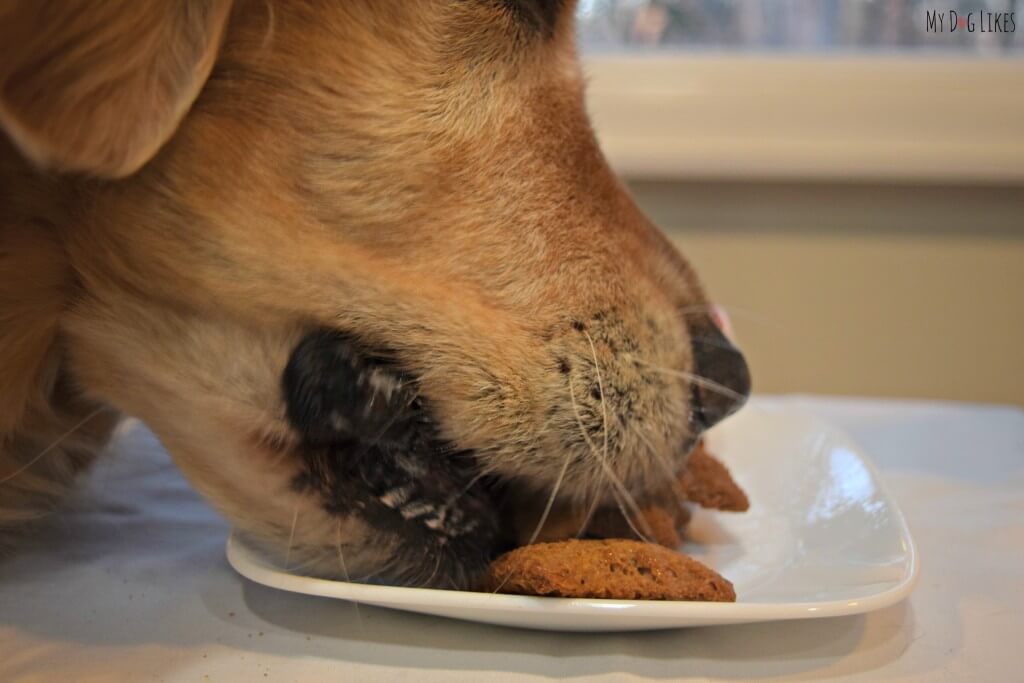 Judging by the quick work they made of their "cookie cake" it was clear that the NutterBites were a big hit!

Why MyDogLikes Paws Barkery NutterBites
We love everything about Paws Barkery NutterBites. Working with small businesses is fun because they have so much passion for what they do. This is absolutely true of Candice at Paws Barkery – who purchased this business because her dog Cookie loved their treats so much! Working with Paws Barkery has been easy to do because the product is so delicious (and she is pretty delightful as well).
While these treats are not grain free, we feel comfortable feeding them to our boys because there is no added junk or mystery ingredients . Whole Wheat Flour, Water, Milk, Peanut Butter; these are the kind of ingredients I could find in my own kitchen and would use to make treats (if I ever found the time). Just like the Bow Wow Snickerdoodle cookies we reviewed before, these treats smell delicious and based on our doggies behavior, taste even better.
Whether it's a celebration like Harley's Dog Birthday Party or just a little snack to say "I love you," your dogs will enjoy these treats and all the love that is baked into each one! Best of all, these treats are "made for the best dog in the world, yours and mine" so you can feel good giving them a little extra love!