Regular readers will know that we are big proponents of including your dog on excursions whenever possible. The only problem is that new environments are often stressful or overwhelming for our pups.
That is why having the ability to provide a safe place for them is extremely important. Unfortunately, this is not so easy when you are on the go.
For that reason, we are very excited to let you know about a new, super-convenient option to keep your dog calm and comfortable – no matter where you are…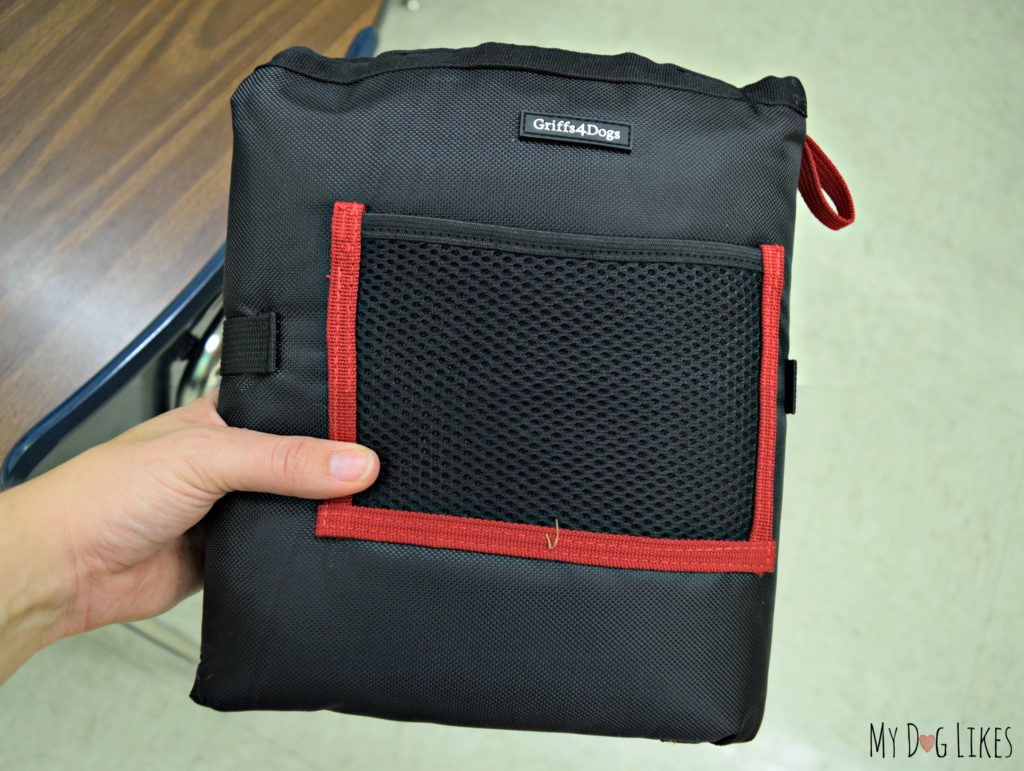 Introducing the Out and About Mat from Griffs4Dogs
The Out and About Mat is a plush, fold-able blanket designed to give your dog a sense of security while away from home. The basic concept is that by keeping on hand something your dog is familiar with, it can ease their nerves when in public or a new place. This mat then folds up into what looks like a small briefcase or shoulder bag for convenient carrying.
That's not all however… the Out and About Mat is also designed with multiple attachment points so that it can be conveniently secured to your dog as well as to a table, chair or whatever else is around. This will make sure that your dog is kept right by your side, without concern about them running away!
These mats are currently available in 2 sizes (26″ or 34″ square) and 7 different fabric options. Griffs4Dogs was kind enough to send over a couple of mats for our boys to test out and review. They are also sponsoring a giveaway so make sure to read til the end!
More about the Company
Griffs4Dogs is a New Zealand based company that makes versatile dog accessories for active pet parents. Besides the Out and About Mat, they also offer dual leashes, poop pouches and water bottle holders.
Save 20% at their Store Using Code "mydoglikes"
Out and About Mat Features
This mat is much more than initially meets the eye, as Griffs4Dogs has included tons of unique features into their product to make your life just a little bit easier.
Multiple Fabric Options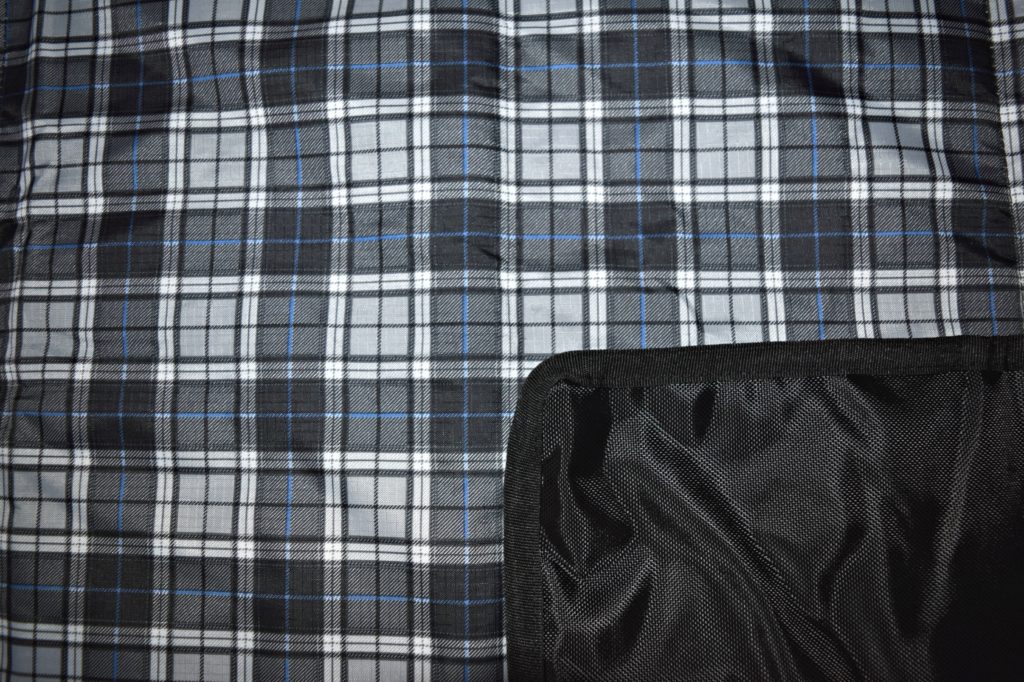 As we mentioned, the Out and About Mat is available in several different style options from plain, to patterned, to cartooned. With so many choices, you are sure to find something to match the style and personality of your dog!
We have the Tartan Blue Stripe (Seen Above and Brown Velour (Seen Below), and both are gorgeous. The fabric is durable and very easy to clean.
Water Resistant Backing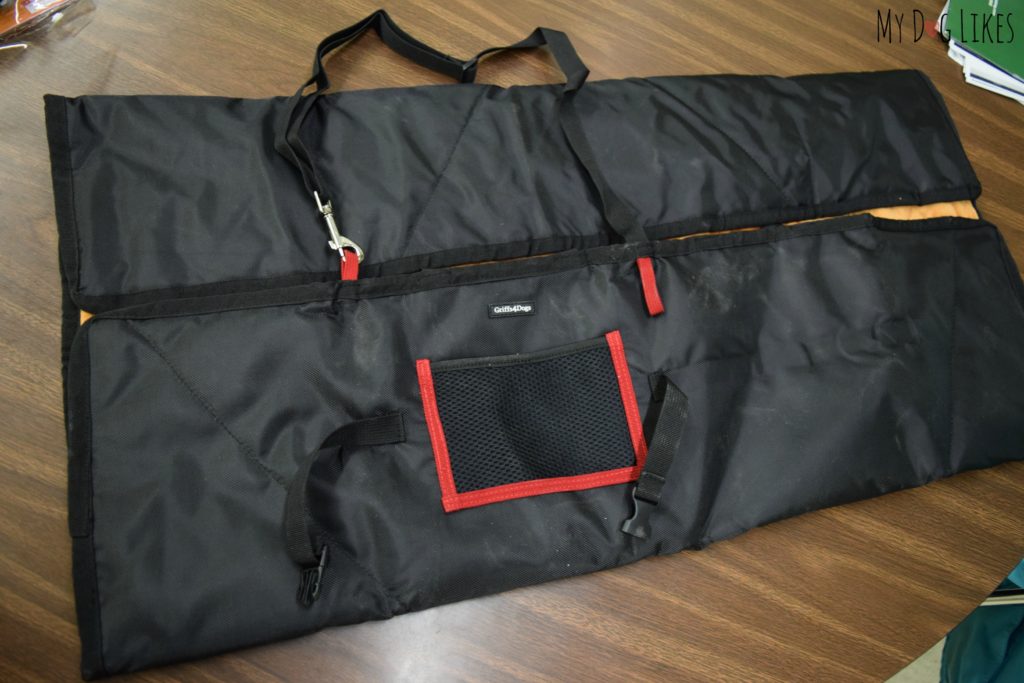 While the top of the mat is a bit more plush and soft, the back of the mat is constructed of a durable water resistant material making it perfect for outdoor use. Whether you are at a cafe or a park, you don't need to worry about lying it right on the ground.
The Out and About Mat will keep your dog clean, and the entire thing can also be thrown directly into a washing machine if does get dirty or could use a bit of freshening up!
Low Profile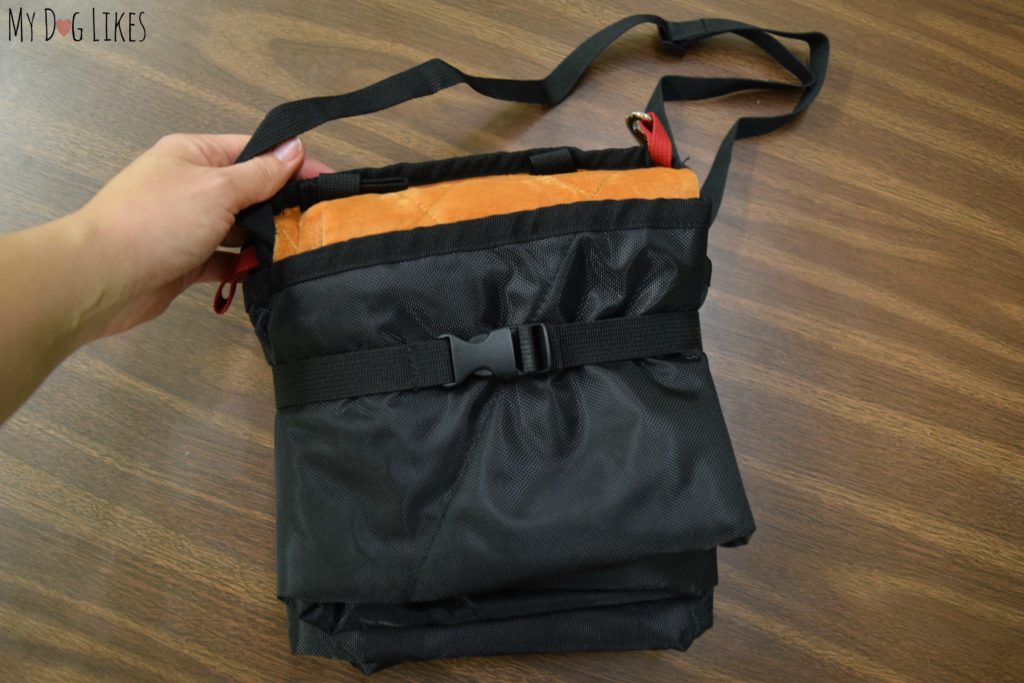 The Out and About Mat conveniently folds into a 9″ x 9″ square, and only weighs a few ounces. It is very quick and easy to fold and even secures with a buckle to keep it neat and tidy.
Built in Shoulder Strap/ Lead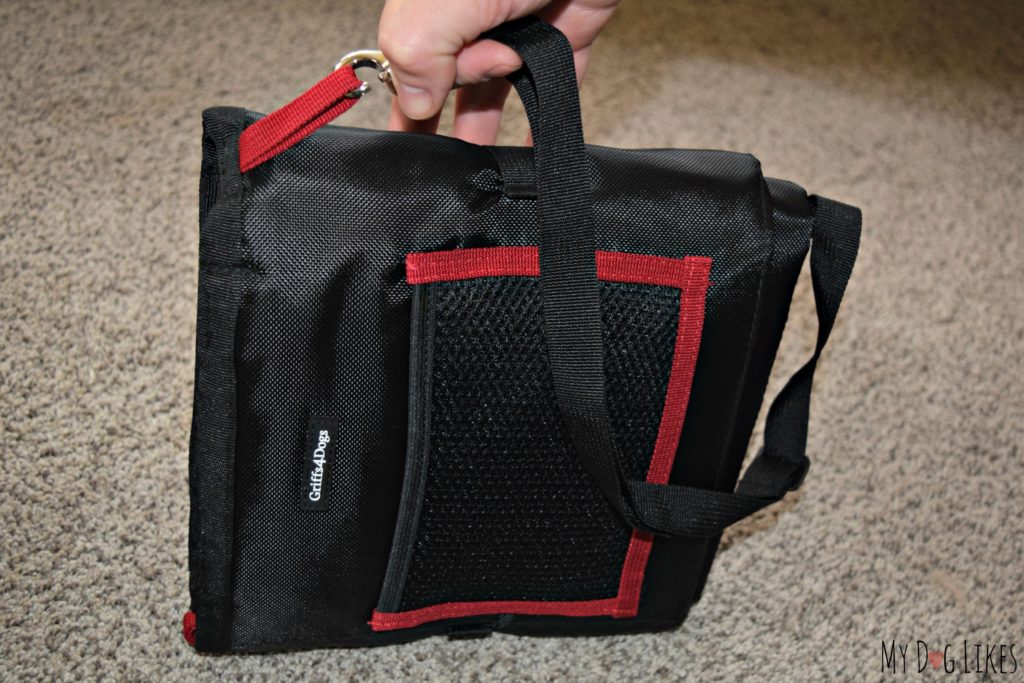 Aside from the standard carrying handle, the mat also has a 36″ built in strap. This can be looped around and connected to the other side of the bag (as shown above) to be used as a shoulder strap, or kept hanging free to be used as a leash (seen below).
This strap also serves as connection point when your mat is laid out on the ground. It is designed to keep your dog connected to the mat, while being long enough to allow them to move around and readjust themselves.
Built-in Pocket

Last but not least, the Out and About Mat contains a built-in mesh pocket that sits on the reverse side of the blanket. This is perfect for carrying around essentials like keys or some extra goodies for your pup.
Putting it to the Test – Our Out and About Mat Review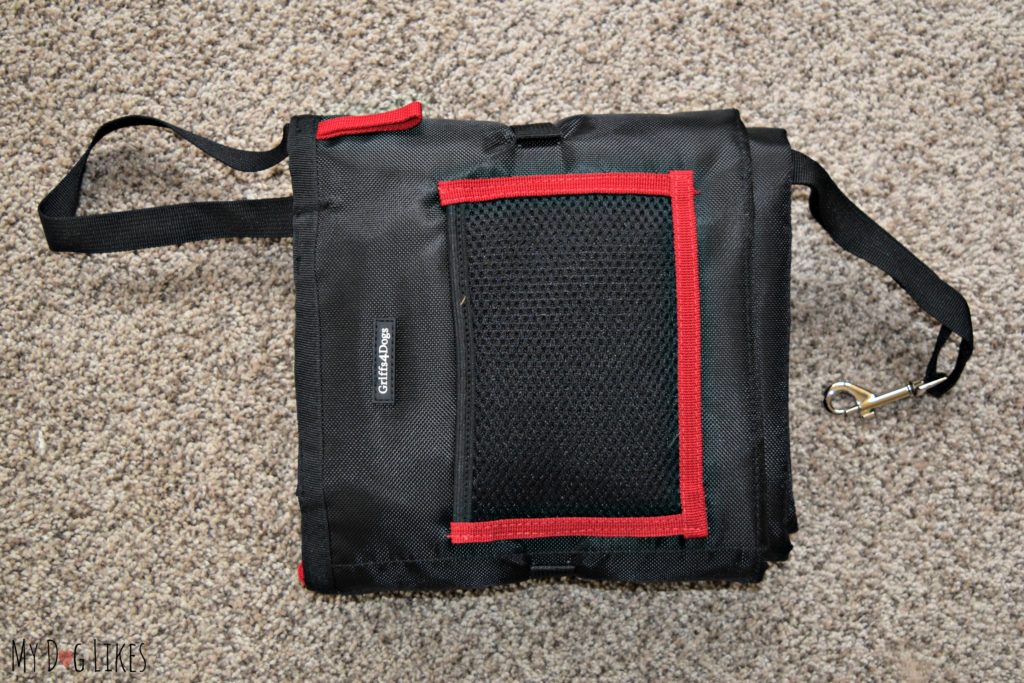 As soon as we removed our Out and About Mat from its packaging, we were impressed by the quality of the materials and functionality of the design. Everything was well thought out – from the way it folds up to the way the strap can be configured.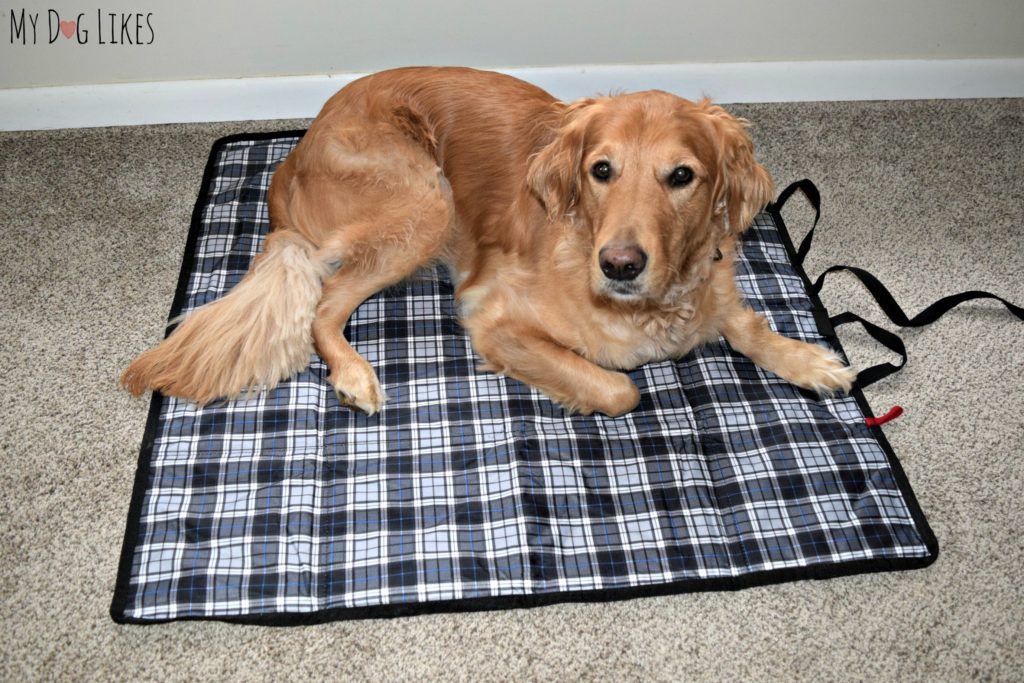 In order to begin using your new mat, you will first want to get your dog used to lying on it at home, where they already feel safe and relaxed. If you need help with this, check out our article on teaching your dog the "Place" command. We would recommend having your dog use it at home for several days before venturing out – to make sure that they are completely comfortable. It would also be a good idea to continue bringing it out at home from time to time to reinforce their positive feelings towards the mat as a safe space.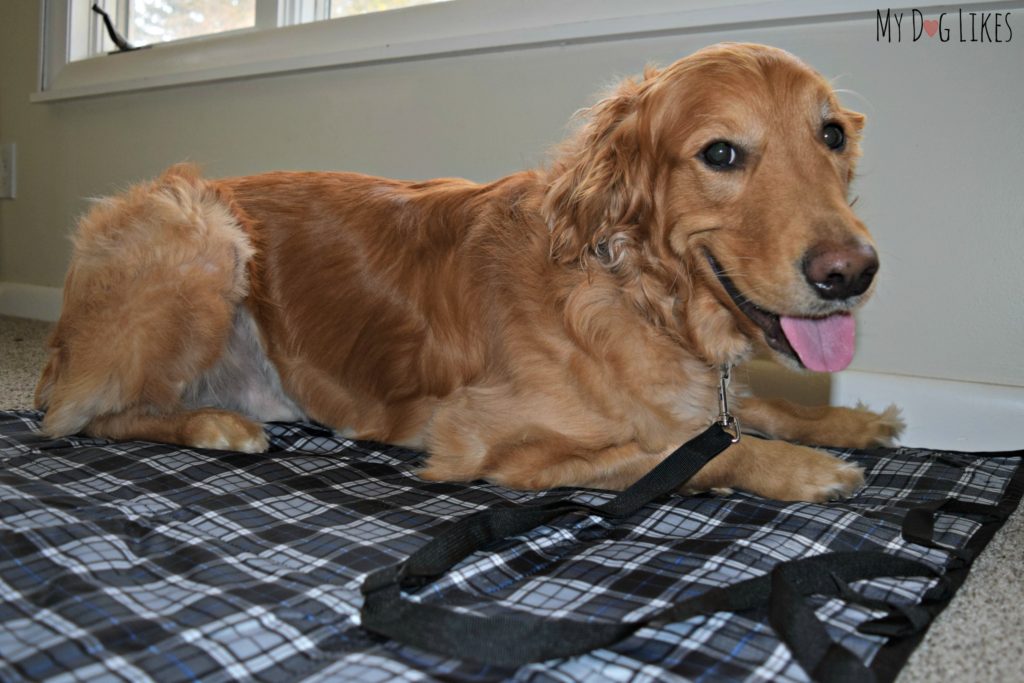 Great for Working or Therapy Dogs
While this mat is great for taking your dog to a restaurant or cafe, we are planning to use it primarily for a different purpose – keeping Charlie comfortable as a therapy dog.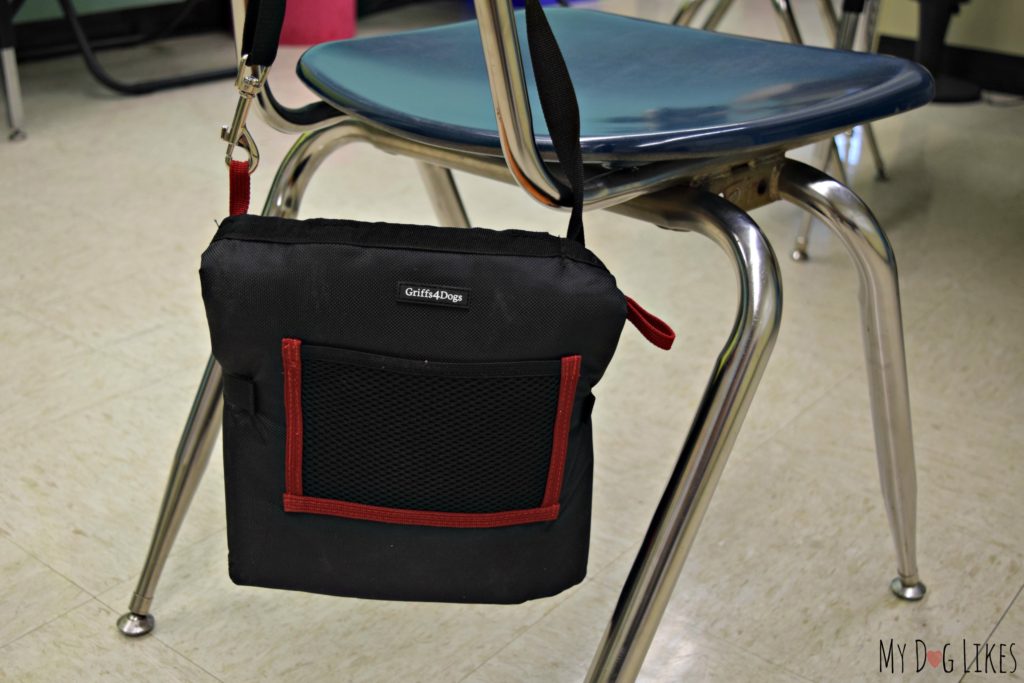 Next year (we hope) Charlie is going to begin his career as a therapy dog working with Rachael at her school. For those of you who don't know, therapy dogs are used in schools for many purposes including comfort during counseling, soothing during stressful situations and even to boost overall morale. Charlie's work will take him into different classrooms all around the school where he will be meeting with new children every day.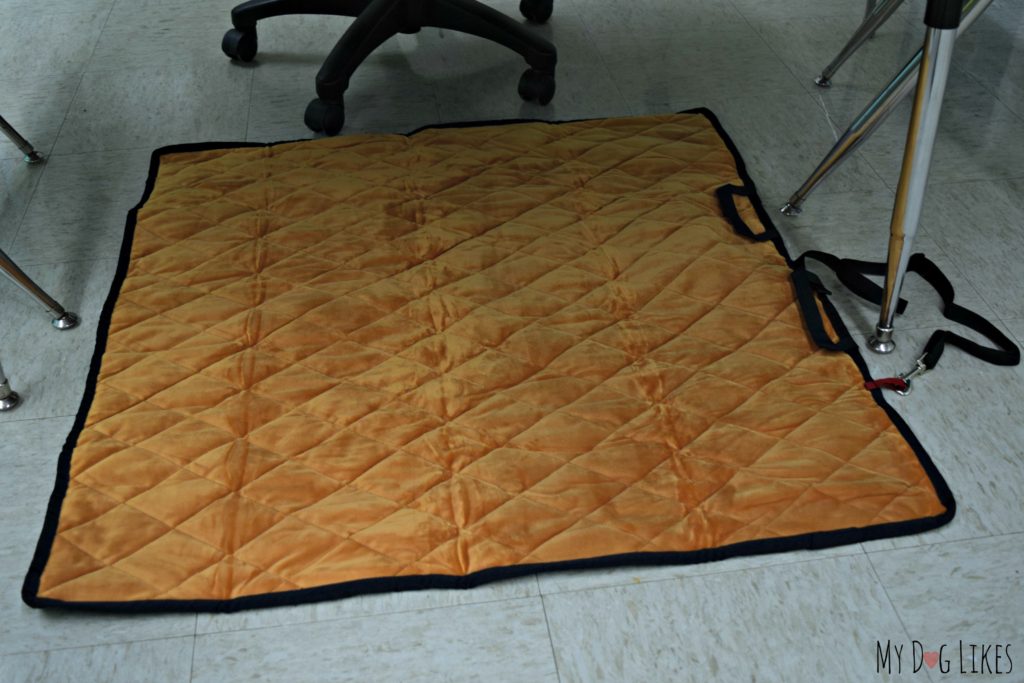 We love that the Out and About Mat is so easy fold up and move from place to place. And, that it only takes a second to roll it back out, slip a table or chair leg through one of the loops and give Charlie a quiet and comfortable place to relax.
We plan on keeping our Out and About Mat with him at all times so that he always has a bit of comfort in his new environment. This is going to be a very important aid in keeping him calm and helping in his transition.
Why MyDogLikes the Griffs4Dogs Out and About Mat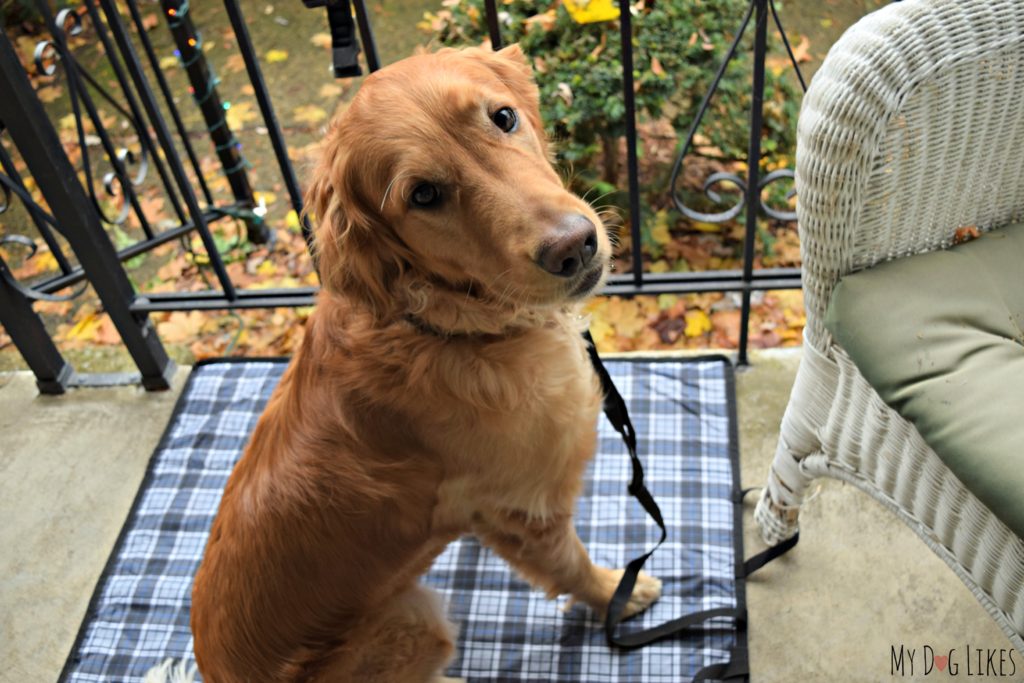 We think that the Griffs4Dogs Out and About Mat is an awesome concept and that it was visualized extremely well. It is well made and has tons of added features making it very practical and convenient to use. While we will be using it most often in a school setting, we are also very exited to begin using it at cafe's and restaurants in the Spring (once the weather warms back up)!
How would you like to try an Out and About Mat for your Dog?