We will be recapping each day of our Dog Friendly Tour of America! Check back daily to see the latest places explored and plenty of dog road trip tips!
Rise and shine, its time to get back on the road!
Day three started with Kevin and I (and the pups) feeling much more rested after a partial night's sleep at Red Roof Inn. After unpacking a few things and settling in, we got into bed around 3 am. We planned on setting our alarm for 9am so we could shower, pack up, and start the last leg of our journey to Phoenix, Arizona.
Unfortunately, that is not exactly how it worked out.
Alarm Clock Insecurity
I was sleeping somewhat restlessly because I was concerned that the alarm would not go off and we would get too late of a start. We certainly were tired enough to sleep much longer than the 6 hours we planned! I woke up several times in the early morning feeling rested and content. "Well rested" was quickly replaced with panic in my brain because surely "rested" must also mean "late"! I finally decided to stop fighting my brain and got up before the alarm went off, at 7:45am.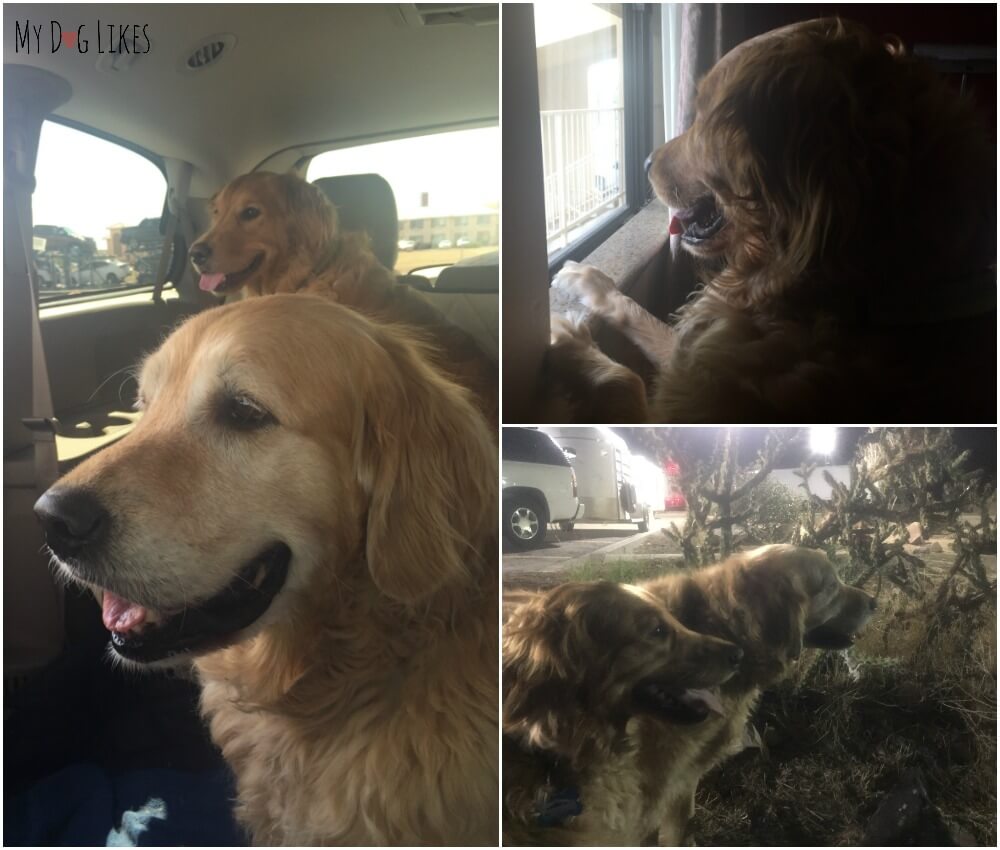 I jumped in the shower and decided that I would let Kev sleep until I was done. I woke him up a few minutes after 8 and instantly heard some grumbles about how early it was! He mumbled and grumbled but eventually woke up asking me why we were up so early.
Well, as it turns out, he was on to something.
Rewind to the night before. Shortly after unpacking, I realized that my phone had been left in the car. Knowing we were going to be at the hotel for such a short period of time, I left it out there and got into bed. Concerned about waking up on time and getting on the road for BlogPaws, I slept restlessly; checking my Fitbit throughout the night to ensure I had not overslept. The problem is that my Fitbit was still set to Eastern Time! So, instead of waking up at 7:45, it was actually 5:45! I had only slept for 3hrs!
I knew I was going to feel it later in the day…
On the Road Again
We were back on the road around 9am. Our trip from Gallup to Phoenix was set to take us around 4 hours.  I was sad to leave New Mexico. Kev's Aunt lives in Taos and we were lucky enough to spend some time there with her a few years ago, and loved it. New Mexico is a beautiful state that deserves so much more exploring and enjoyment. But, until next time…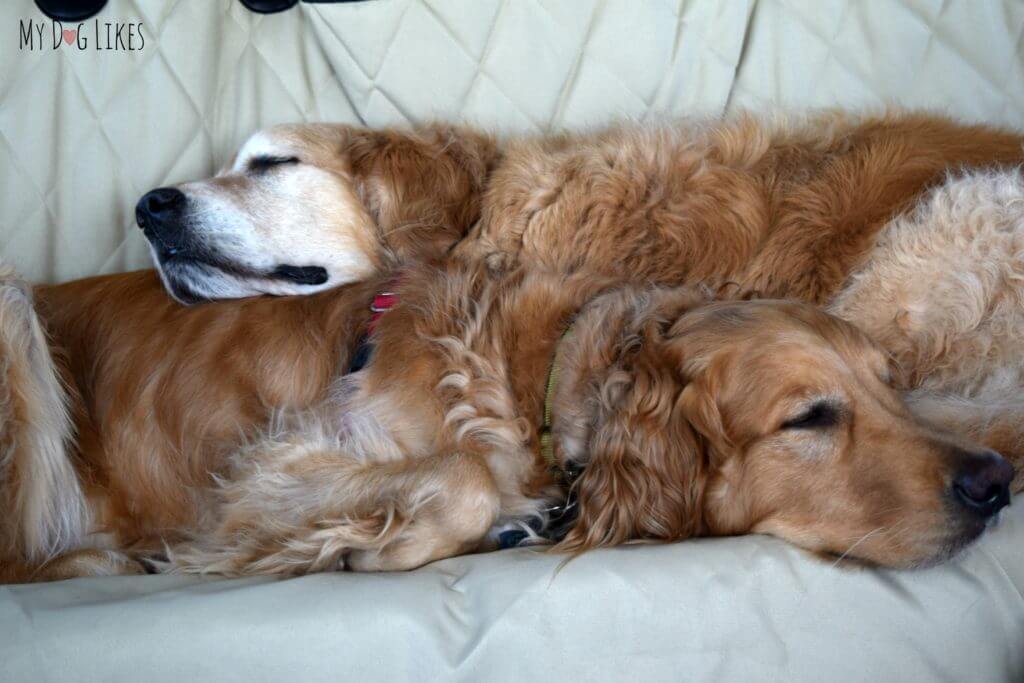 Beauty is EVERYWHERE
Though we anticipated that the trip would take a little more than 4 hours with some stops for coffee and a bathroom break, we hit some traffic passing through the Tonto National Forest which extended our trip by about an hour. The landscape was so beautiful and we were constantly tempted to pull over and explore the trails that lined the mountain highways. There are so many absolutely stunning places in this country!
BlogPaws Commence!
We arrived in Phoenix at the Sheraton Grand at Wild Horse Pass around 2pm and were able to check in a bit early. Instantly, we were blown away by how AMAZING this place was (and also how HOT it was)! I couldn't believe that dogs (an animals of all sorts) were not only allowed, but celebrated at this gorgeous place! Because we arrived early we had time to settle in, unpack, and chill for a few minutes before heading over to conference activities.
First Floor Please!
When we travel without the dogs, we value the view and love having a balcony to sit and relax on after a long day. From a practical standpoint, I also typically feel a little bit safer on a higher level. When we travel with the boys, it's a whole other story and we felt really lucky to be assigned a ground level room which made bathroom breaks a cinch! Helpful hint: Call ahead and ask for a lower level room so there are no accidents!
Hot Diggity Dog
With outdoor temps nearing 110 degrees the floor your room is located on is only one point of consideration. Extreme heat poses an increased risk of heat stroke and paw burns. We knew we wouldn't let the boys outside, except to go to the bathroom, which solved the problem of heat stroke but didn't solve the problem posed by hot pavement!
Enter Pawz dog boots! We've reviewed these boots before, here, and cannot say enough good things about their ease of use and the simple but complete protection they offer.  Slipping these boots on is mandatory in this heat where pavement temperatures can exceed the ambient air temperature by more than 40 degrees!!
Let the Drinks Flow
Once settled, it was time to catch up with friends at the first Yappy Hour of the BlogPaws, Social Media and Blogging Conference! It was great to catch up with friends and let me tell you…the drinks were flowing (from the PetSafe Fountains)!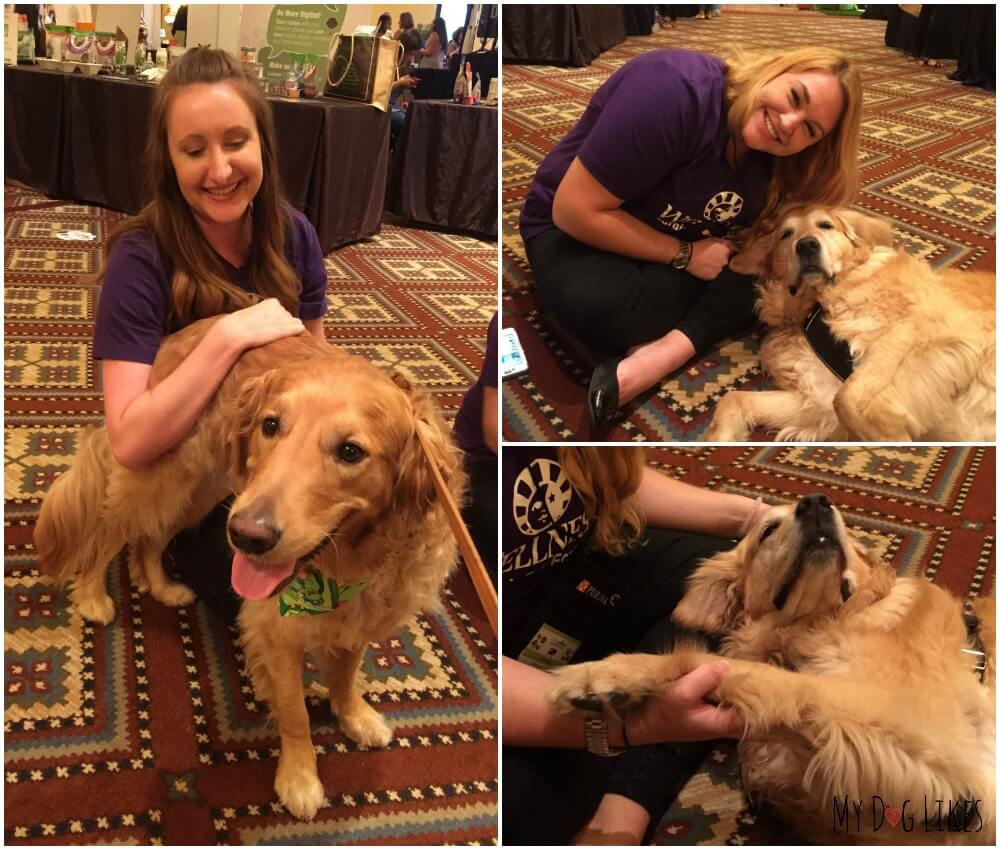 By 8 pm-we were all tired and ready for sleep! Harley and Charlie crashed hard. I'm pretty sure there is photo evidence that I fell asleep sitting up too, but lets not talk about that!
What we learned:
Get Your Tech in Line: Take away any stress that might come from "alarm clock insecurity". Sync all of your devices including any car clocks/watches and adjust the time as you travel through different time zones. Still worried about getting up on time? You can always ask your hotel for a wake-up call, if needed.
Request a Lower Level Room: While you miss out on the views, lower level rooms are really convenient when you are traveling with a dog. Sometimes you get really lucky and have a patio door which makes letting your pal out even easier. Either way avoid stairs and elevators and skip "the view" when you are just crashing along your journey.
Wear Paw Protection: Do not underestimate the heat that is absorbed by pavement. It is so much better to be safe than sorry because any injury is not only painful, it can really upset your vacation plans. Heat or cold not a problem? Don't underestimate the way that environmental allergens can irritate your dog's paws! Its better to keep them protected!
Quick Stats
Miles traveled: 281
States passed through:  2 (NM, AZ)
Gas fill ups: 1
Stop back tomorrow to see what we're up to on Day 4…
Visit our Road Trip Home Page  Enter our Grand Prize Leaderboard Contest