Day 2 of our dog friendly road trip started out bright and early. After a only a few hours of sleep in the car, we were on the road. While sleeping in the car doesn't sound glamorous, we were all business and really wanted to make up time – plus, it was hard to justify spending $50-$100 on a room that we would only crash in for a few hours!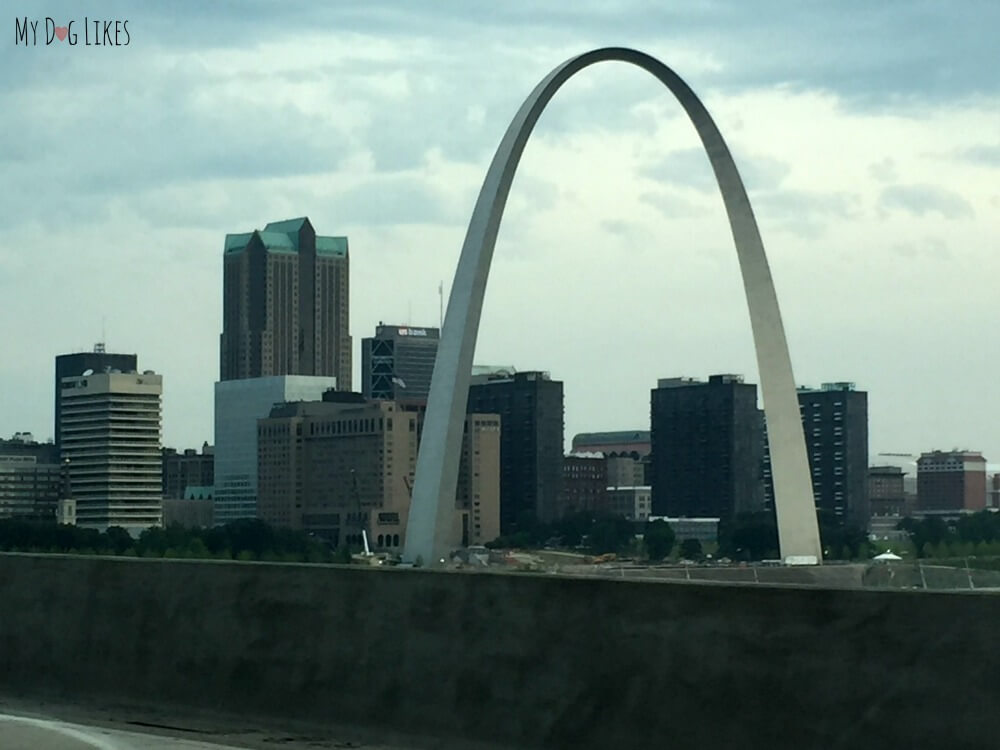 Roadside Glamour – Love's Travel Stop
Our choice of stops was a Love's Travel Stop, which we ended up finding all along our route. This travel stop was fantastic because it was clean, had great bathrooms to freshen up in, and you felt pretty safe surrounded by people who were sleeping in their cars/trucks as well. I slept in the back with the dogs (lucky me) and Rach slept in the passenger's seat. The temperatures were pretty cool so we cracked the windows to keep the car cool and as the temps warmed a bit, turned the car on, put the windows up, and cranked the AC! While it was not the most restful sleep we have ever had, it was perfect to refresh and recharge! 
Penicillin – A Wonder Drug
After 3 doses of Penicillin (currently referred to as "wonder drug" around these parts), Rach was feeling much better! Since I had driven through most of the night, Rach decided she was feeling up to driving and kicked off our second day of travel from about 30 miles east of St Louis, MO. We drove throughout the day with nothing but gas and stretching breaks planned. We were absolutely in LOVE with the price of gasoline in Oklahoma, reaching as low as $1.89 (that we saw).
Keeping the Dogs Hydrated on the Road
The further south we traveled the more we could feel the temperatures rising! Doggy potty breaks were kept a little shorter and we made sure to provide plenty of fresh water. Because we had a lot of space in the mini-van, we simply used their ceramic bowl from home. We figured it was heavy enough that it wouldn't accidentally get knocked over or cause any problems. We liked that the boys could get up in the middle of the ride to get a drink if needed. We made sure to bring a gallon of water with us and topped it off at each rest stop to ensure that we wouldn't run out.
If you worry about water spilling or don't want to have to lug around a extra gallon, a reader shared an amazing all-in-one bowl with us called the Torus. What makes the Torus amazing is that it has a water reservoir that holds up to 2L but only releases a small amount of water at a time, preventing major spills. I really want this for the rest of the trip!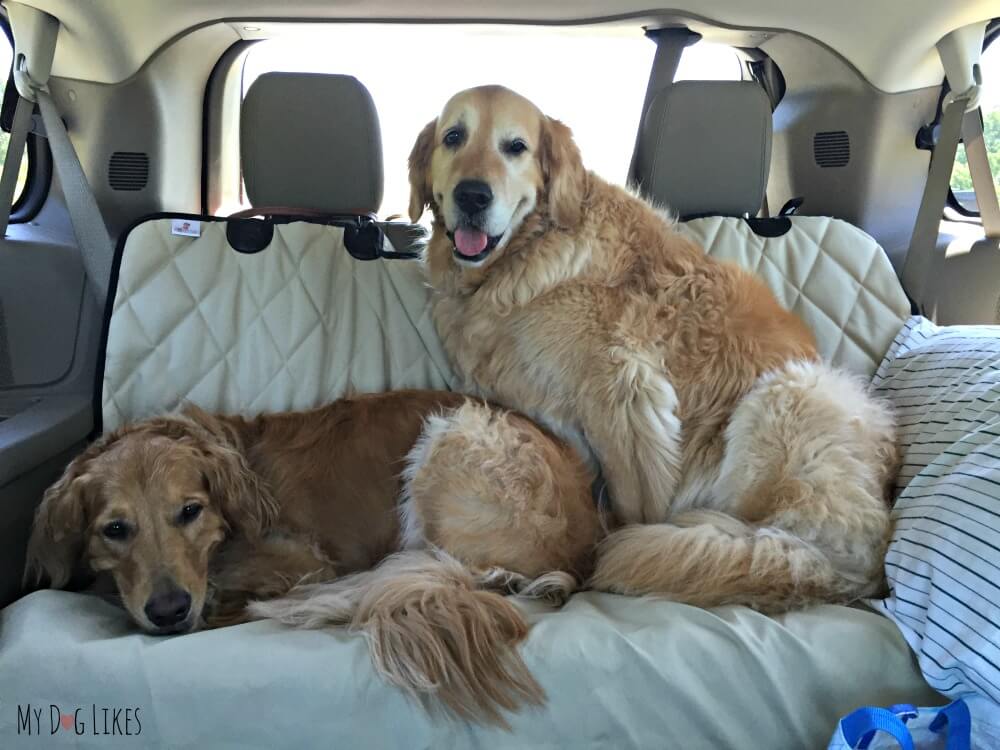 Pit Stops are NOT the Pits!
After 5 hours of driving, we decided to make a pit stop in Tulsa, Ok to visit our friend Flea – the official blogger for Jones Natural Chews. We love Jones' products (see here and here), especially their stinky hooves! Not only was it great to touch base with a friend that we haven't seen in a while, but it was great for the boys to run around and spend some energy. With a full 24 hrs of of driving under our belt, it was very much needed! 
Of course, Flea showered the boys with love (and treats) and in a show of true southern hospitality served us up some lunch and cold drinks in mason jars. Flea is the perfect example of why we love our readers and fellow bloggers so much. We truly form an online family, don't you think?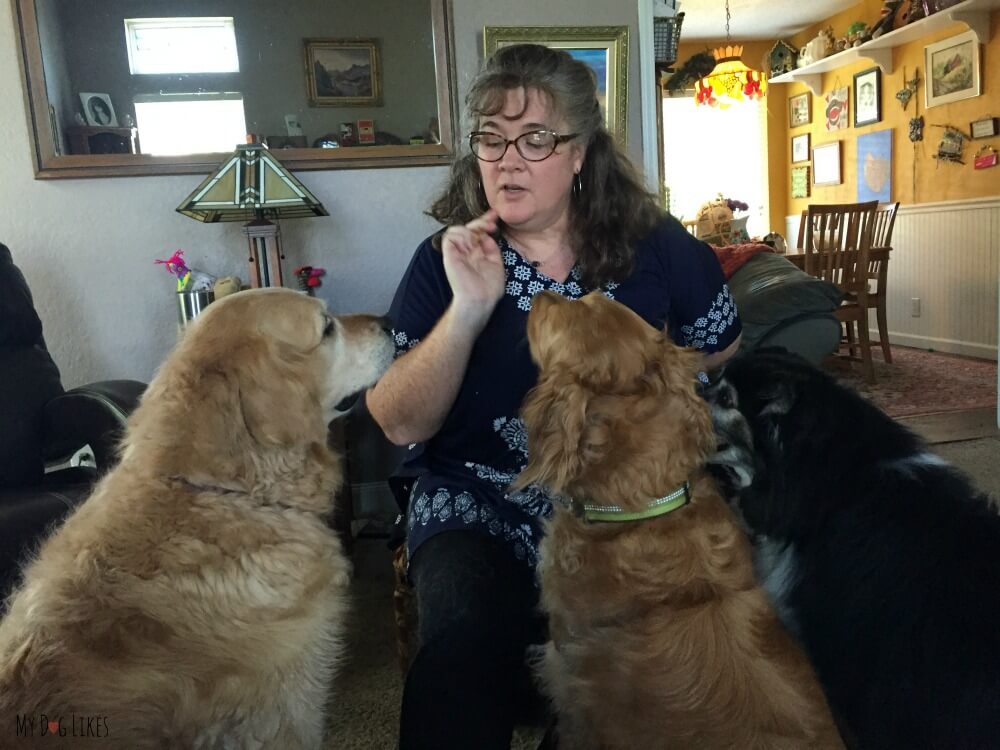 Flea showed us around her awesome house which included a chicken and duck coop and aquaponic garden which uses fish waste to grow vegetables! Best of all, everything I'm describing was right in suburban America in a housing development. Flea's family uses every inch of their space to its fullest capability, so cool!
As Flea was showing us around, we took our eyes of the boys for a hot second, only to hear the splashes of their golden bodies in her koi pond! (Thankfully, there were no fish in the pond at that time!) We couldn't even believe it! Harley and Charlie, without shame, flounced around in the above ground pond before proudly rolling in the grass. Just goes to show you…where there is water, a golden will find it!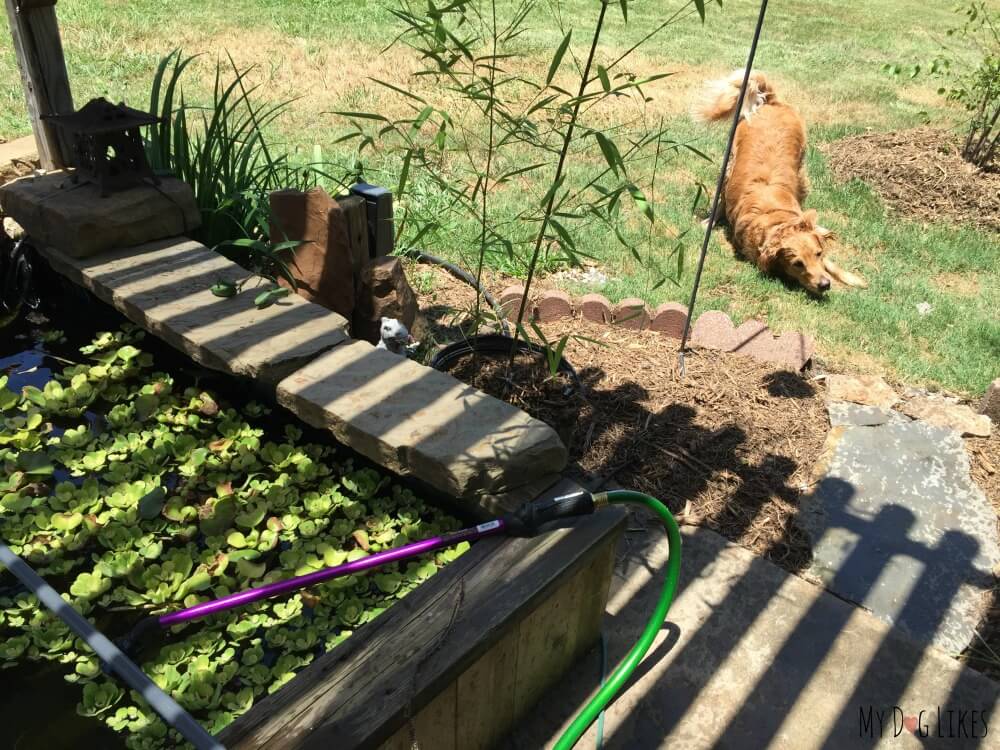 The OK State – Unless you only have paper money!
After a brief visit with Flea, it was time to get back on the road again. We set our eyes on Albuquerque and hit the open road! We hit some minor snafus passing through the Oklahoma Turnpike and ended up with paper money in a lane that did not have a coin changer. After some dramatics – a siren going off and fearing we would be arrested or ticketed (slightly dramatized), good ole' Google let us know that we can send payment (along with license plate and time of transgression) to the Dept. of Transportation to avoid a hefty ticket! Will someone please remind us to do this when we get home?!
Pet Friendly Accommodations
As we neared Albuquerque, Rach started to look on Priceline for pet friendly accommodations for the night. As much as we loved the idea of saving some money and sleeping in the car, we wanted to be a little fresher (both in smell and mentally) when we met up with fellow bloggers the following afternoon. Plus, I think the boys needed a break from the confines of the car!
Today more than ever there are lots of options for pet friendly hotels stays at all budgets. Right off the top of my head I can think of Sheraton, Red Roof Inn, La Quinta, most extended stays, and campgrounds. BUT, buyer beware: pet friendly does not always mean all pets nor does it mean that they will be able to stay for free-so check the fine print or call before booking!
Because we were exhausted and wanted something easy and inexpensive, we decided to stay at the Red Roof Inn. We had never personally stayed at a Red Roof Inn, but knew they were super pet friendly. After looking at some reviews, we decided to push on a couple of hours past Albuquerque and stay in Gallup, NM right on the border of Arizona!
Red Roof Inn – For the WIN!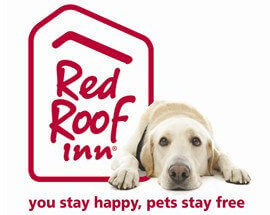 If you have never stayed in a Red Roof Inn, or it has been a few years (or more) since you have, let me tell you – this is not the Red Roof Inn you might have in mind! We were so happy to land here and were blown away by our immaculately clean room that was filled with modern and comfortable furnishings. Can I also say how inexpensive it was for all of this?! We paid around $60 for the room and it was WORTH EVERY PENNY as I drifted off to sleep with the AC blowing and Charlie kicking me in the back!
Things we learned on day 2 …
We're kind of "in love" with Love's Travel Stops: While I am sure there are many other travel stops that are also great, we had a great first experience and decided to keep going with a good thing. All of the bathrooms we visited were clean, their prices were always comparable with gas and other goods, and there always seemed to be a patch of grass for the boys to do their business on! While I'm sure this isn't the case for all Love's Travel Stops, they worked for us!
Keep exact change on hand if traveling through Oklahoma! – When I

 say exact change, I mean coins! There are tolls with no operators and no change machines that accept exact change only. We were caught without the proper combination of coins and no option but to pay what we had and continue on. The alarm sounded and now we are expecting some sort of extravagant bill in the mail. NOT friendly for out of state travelers!

Check your hotels! Not all hotels are pet friendly. Those that are pet friendly sometimes impose restrictions on breeds, size, or quantity of animals. Additionally, some hotels tack on fees for your beloved pets to sleep there. I don't get it, my dogs are definitely cleaner than some people – they only gently hop on the bed after all!
Quick Stats
Miles traveled: 1,233
States passed through:  5

(IL, MO, OK, TX, NM)

Gas fill ups: 3
Stop back tomorrow to see where we visited on Day 3…
Visit our road trip home page  Enter our Grand Prize Leaderboard Contest