Even though it sometimes gets in the way of my desired napping schedule, I gotta admit that our job does have a few perks. Most notably, the opportunity to taste test all sorts of brand new, natural dog treats and chews.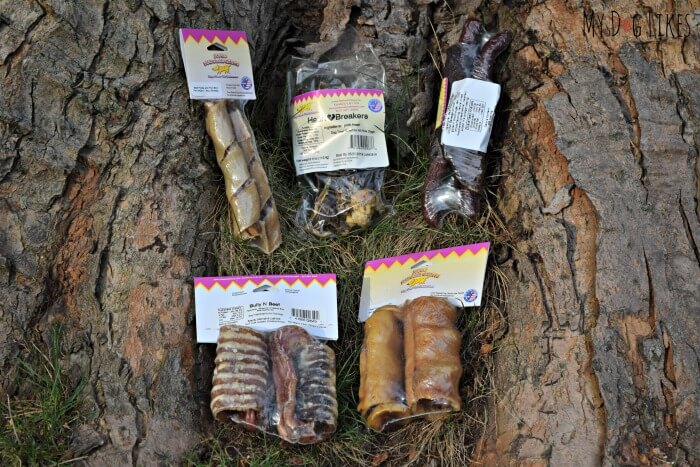 My latest assignment comes from our good friend Flea at Jones Natural Chews who sent over a special goody bag of their latest concoctions to try. I love Jones so I was not only excited to see this package arrive, but a bit relieved as well…
A Very Close Call
You see at last years BlogPaws conference, we visited Flea at the Jones Booth. While my parents were chatting and distracted by an adorable little baby chick, my brother Charlie brazenly stole a treat from right from under her nose! The little criminal was caught in the act – crawling underneath the table!
You can imagine my horror at this potential hit to my hard earned reputation. Thankfully,  Flea laughed it off and I am so excited that we seem to have remained in her good graces.
Back to the Business at Hand
I insisted that we get started on this project right away, so Mom opened up our Jones delivery and pulled out the contents one by one. As she laid them on the grass, I could hardly even believe my eyes. Talk about a smorgasbord of delicacies! 
Click Here to Shop Jones on Amazon
Wondering what was inside?
Frank N Woofer's

A hot dog for dogs?!!! These treats consist of a 7-8" chicken sausage wrapped in a 100% beef burger.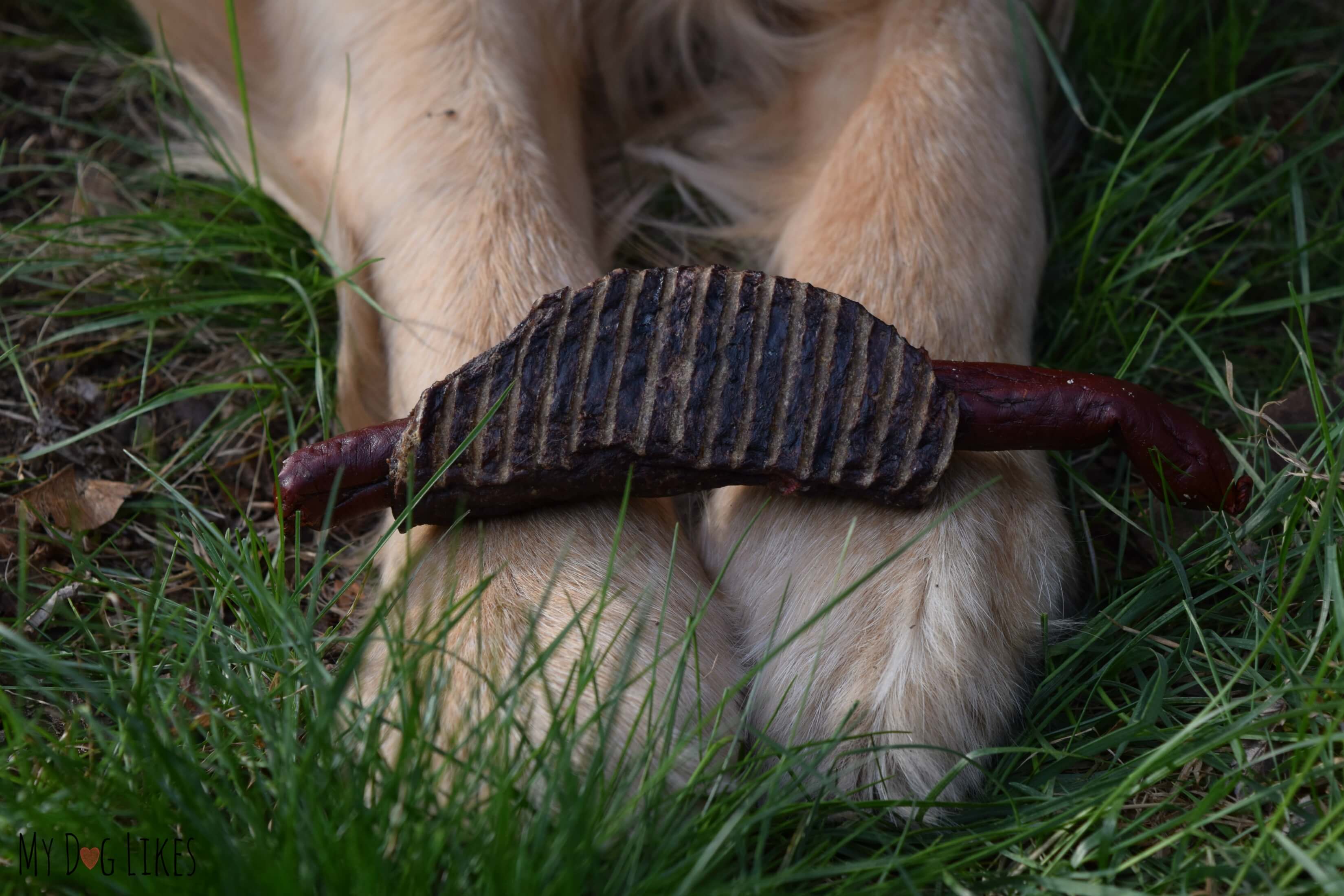 Heart Breakers

Oven baked slices of pork heart, 4-6" long.
Bully Bacon Twist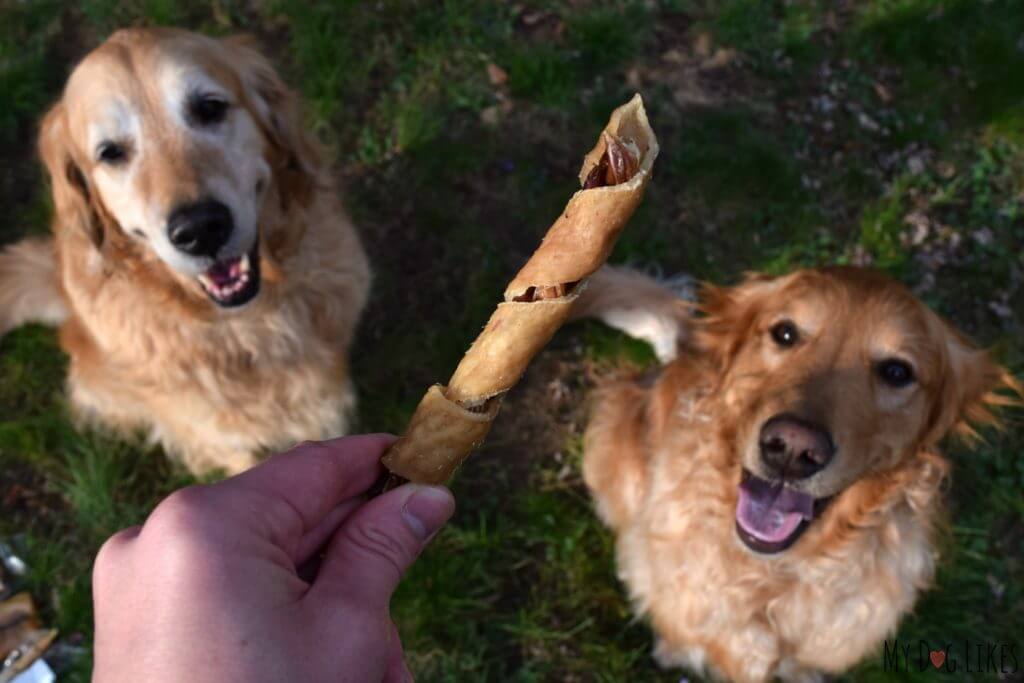 (2) 5-6" long braided bully sticks wrapped in pork skin.
Bully N Bacon

A 4.5" long curled bully stick wrapped in pork skin
Bully N Beef

All natural, 4" beef trachea with a bully stick tied through the center.
Wow, my mouth was already watering!
Charlie wanted to attack the pile and dig right in – but I had to remind him that this job is not all fun and games!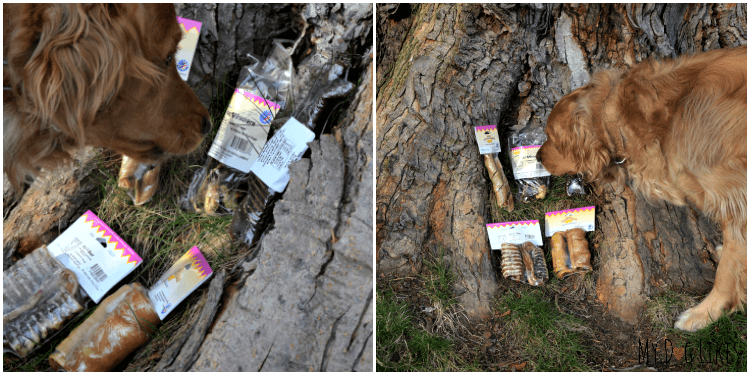 I have become known amongst the dog community for my palate and I know that dogs all over the world look to me for culinary critique. Needless to say, I take this responsibility very seriously.
Proper analysis must be conducted before I give anything my official seal of approval. This includes a thorough examination and proper savoring of each item.
Time for the Taste Test
Frank N Woofer's
This just may be the best idea since Peanut butter. I typically keep a close eye on the foods my parents are cooking, and hot dogs are something that I have always wanted to try. Unfortunately I am always met with a "this isn't good for you" rejection!
Frank-N-Woofers are "hot dogs" made exclusively for dogs. I made sure to try this one myself to give it the attention it deserves.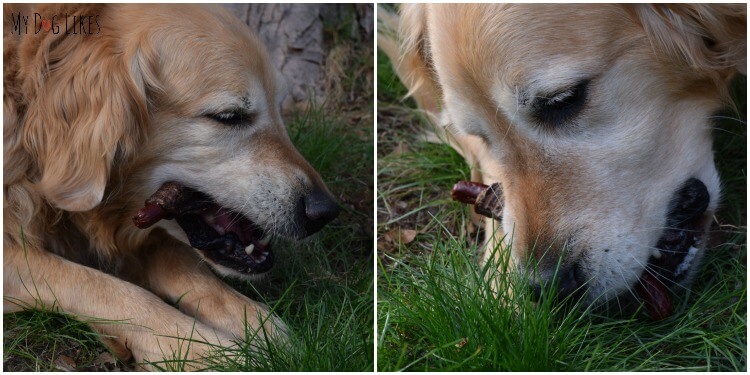 To put it short, this treat was fantastic. It had a wonderful crunch to it and a delicious flavor. With years of anticipation built up I polished off this bad boy in under a minute, but it was worth the wait!
Heart Breakers
We have never tried heart before but have heard that organ meat is a great source of protein and other nutrients. Charlie was waiting patiently, so I decided to let him have the first taste.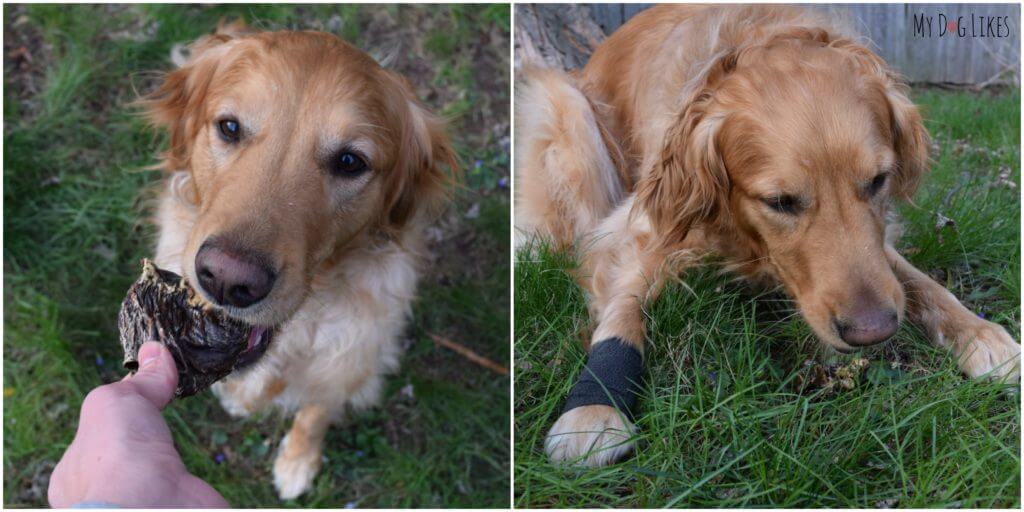 I thought they would feel a bit like jerky, but these strips of dried heart were surprisingly stiff. These lent itself to a really satisfying crunch as Charlie dug in. He seemed to really enjoy these chews and was ready for another right away!
Bully Bacon Twist
What could possibly make a Bully Stick any better? Well, apparently wrapping it in pork skin!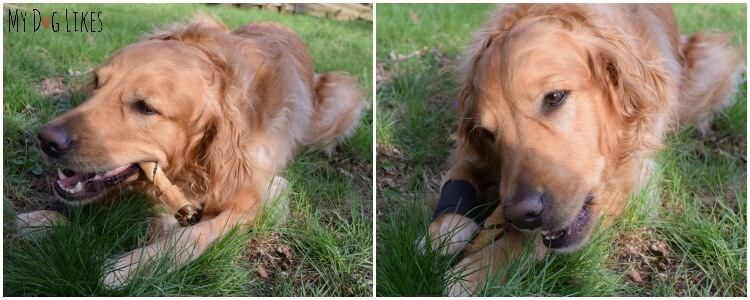 These treats had an amazing crunch and lasted longer than expected for their size. It took Charlie about 5 minutes to work his way through this tasty treat.
Bully N Bacon
We have been tasting quite a few Bully Sticks as of late (not complaining) so I know quality when I see it. 

One of the strongest indications of Bully Stick quality is how quickly they can be devoured. While these chews on the small side as far as Bully sticks go, the Bully Bacon Twist did not disappoint in its longevity. Charlie enjoyed a good 10 minutes of chew time with this before Mom decided that he had had enough for one sitting. Believe it or not, there was still at least 3/4 of it left!
Bully N Beef
Esophagus was another new protein for me, and after reading the package I saw that it is an excellent source of glucosamine and chondroitin. This is great news for a senior dog such as myself because these compounds have been shown to promote joint health.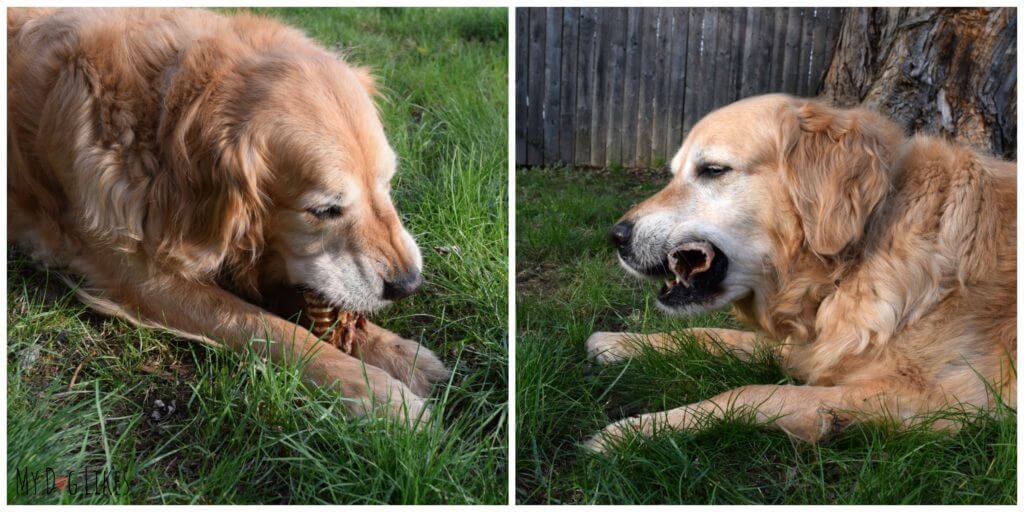 I think this was actually my favorite treat of the bunch. The esophagus really surprised me in its durability. I was able to enjoy it for more than 10 minutes of heavy chewing!
Why MyDogLikes Jones Natural Dog Chews
Just as we discovered in our previous Jones Natural Chews Review, everything we tried was top notch! We love that they source and process all of their natural dog chews right here in America. This is extremely important to us after so many recent scares with internationally produced dog treats.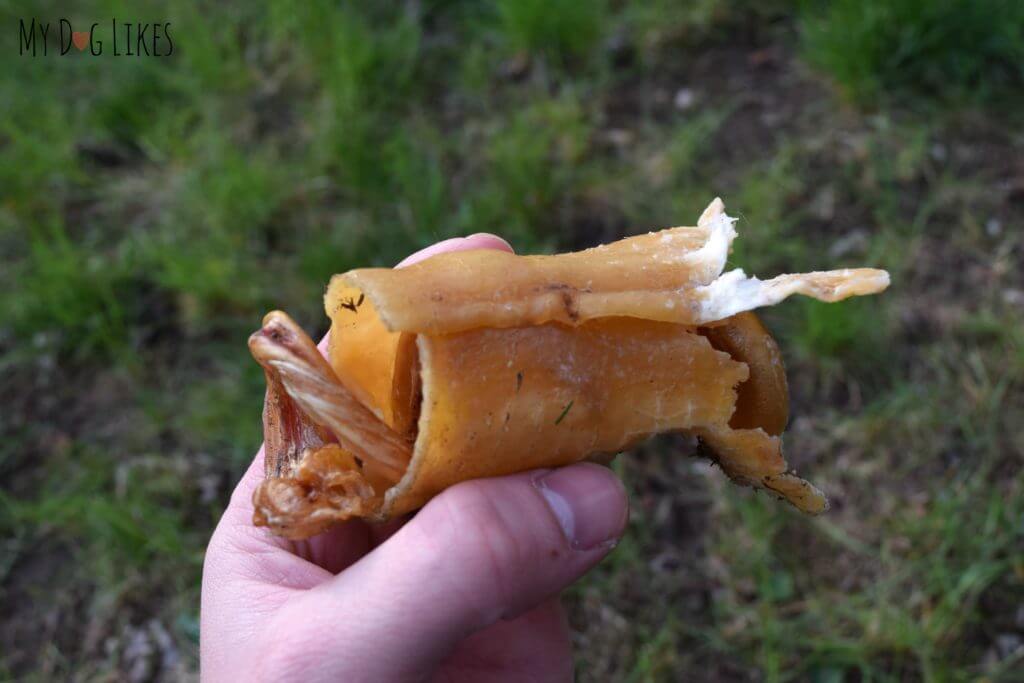 Another thing we love is that Jones is constantly innovating and finding ways to utilize all parts of farm raised animals. As animal lovers, we really appreciate this lack of waste and commitment to responsible farming practices.
How would you like to try out some of these tasty treats?