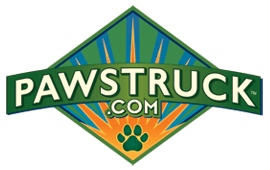 Several weeks ago we were contacted by Kyle, founder and CEO of Pawstruck.com, and asked to review some of their products. After scanning through the website and talking with Kyle directly, we were over the moon excited to take him up on his offer!
About the Company
Similar to our story at My Dog Likes, Kyle grew disenchanted with what the pet store had to offer for his dog. With ingredient lists that read more like a science experiment, Kyle decided to take matters into his own hands. He started by scouring the internet, hoping to find treats that were healthy, all natural, and reasonably priced. Though there were some healthy treats out there, they were out of reach financially. Pawstruck.com was born from this frustration and now is working on getting the word out about the high quality AND reasonably priced dog products they carry!
While the products at Pawstruck.com might look like the stuff you see at the big box stores, they couldn't be more different! Pawstruck.com has high standards, rigorously testing products to ensure that they are safe and healthy for your best friends. In addition, Pawstruck.com sources their products carefully, only buying from facilities that are USDA and FDA approved.  If you are like us and take effort to source your own food, rest assured-many of the dog treats and chews that are carried are sourced from free-range, grass-fed cattle!!!
Made in the USA
Several years ago, I came across a story online that talked about rawhide bones that we give to our dogs. This article warned that buying rawhides that were produced outside of the USA could be dangerous for your dog. The article's main argument was that foreign countries do not have the same rules and regulations as we do in the USA. What does this mean for your dog? Basically, that chemicals such as formaldehyde could be used to strip hair from the animal hyde. I was horrified and since then have agreed to only buy products from Canada and the United States. Pawstruck.com has an excellent selection of American/Canadian products that I feel safe feeding to my boys!!
One thing that you will not be able to find on Pawstruck.com is ANYTHING from China. After sharing my concerns about non-USA products, Kyle reached out and shared the following:
"Many of our items are made in America, but most of our Bully Stick products are actually produced in FDA and USDA inspected plants in South America (definitely nothing from China!)"

-Kyle, CEO Pawstruck.com
Phew…What a relief!
Customer Service-In short-friendly, quick, & awesome!
Every single one of our interactions with Kyle was wonderful. He professionally addressed any concerns we had and spoke passionately about his mission!! In addition, shipping was speedy, with products arriving within 2-3 business days!
Excellent customer service is available for all people who are browsing on Pawstruck.com with a customer service chat-featuring top dog, Tyson, as its friendly face. Here, they are available to answer any questions that you might have promptly and professionally. Their website also offers lots of great articles about dog behavior, treating, and health….A one stop shop for sure!
Finally, the taste test….
In our sampler package we received the following chews and treats:
Meaty Dog Bone (Small)

Peanut Butter Filled Dog Bone (Small)

Pig Snout

Beef Strap (Large)
When the package arrived, I quickly stuffed it in my work bag. Would you believe that these boys are starting to think that everything that comes in the mail is for them 😛 I was waiting for the perfect time to bring these treats out and the opportunity soon arose. One of my friends came over and we wanted to sit on the porch and chat. Harley is really good at staying close by doing his favorite activity, sitting. Charlie on the other hand thinks that every time we go outside it is to go for a walk and likes to let me know he is displeased otherwise!
Well I will tell you what, he wasn't unhappy for long when I showed them some tasty treats for being such good boys!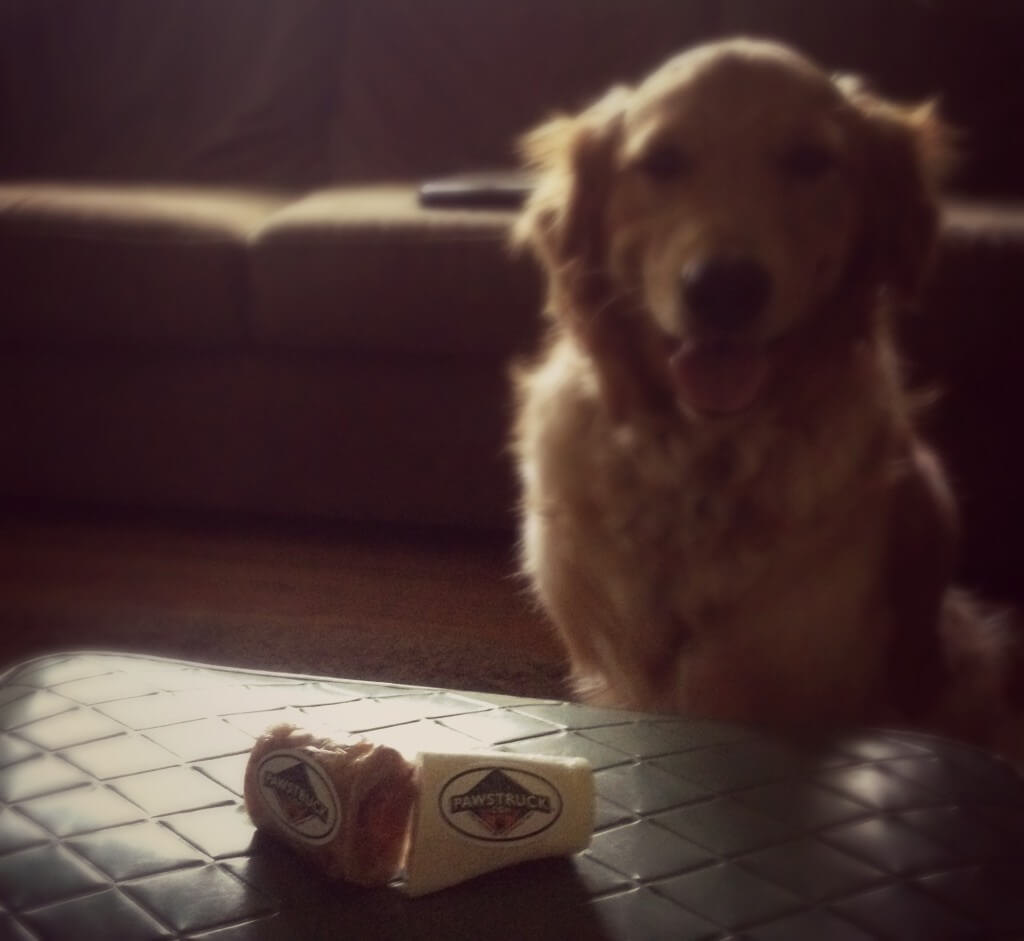 I decided to give them the bones inside to make sure I had their attention. Well, by the thievery displayed below, I had it!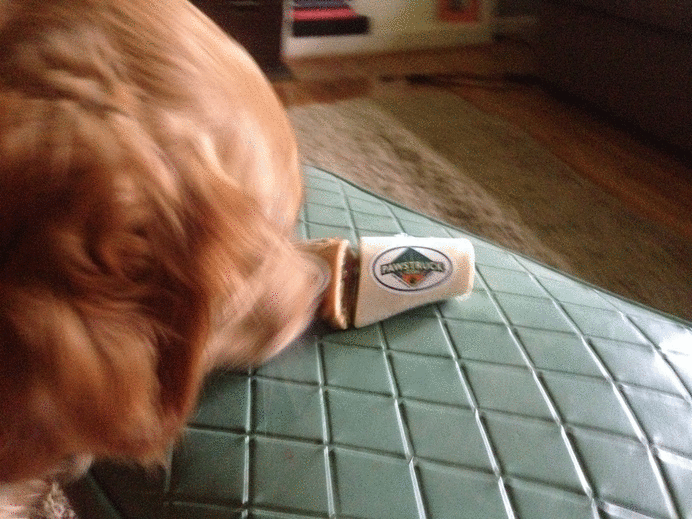 This looks good, I think I will help myself!
I took some photos inside before moving to the great outdoors!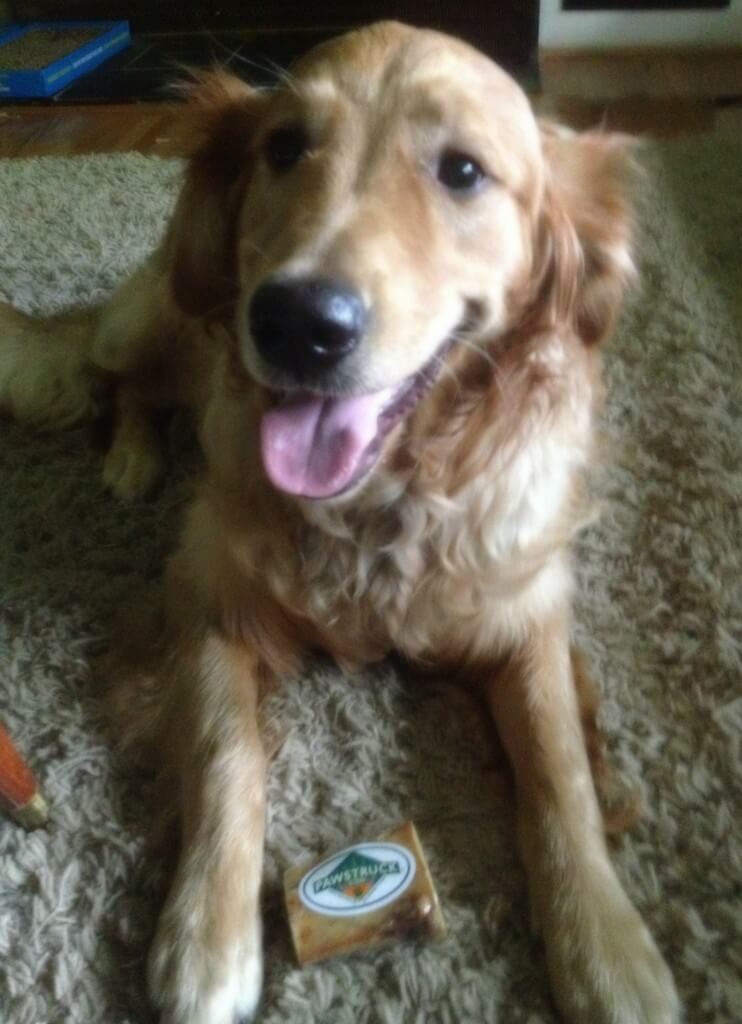 Mom, can I unwrap it already?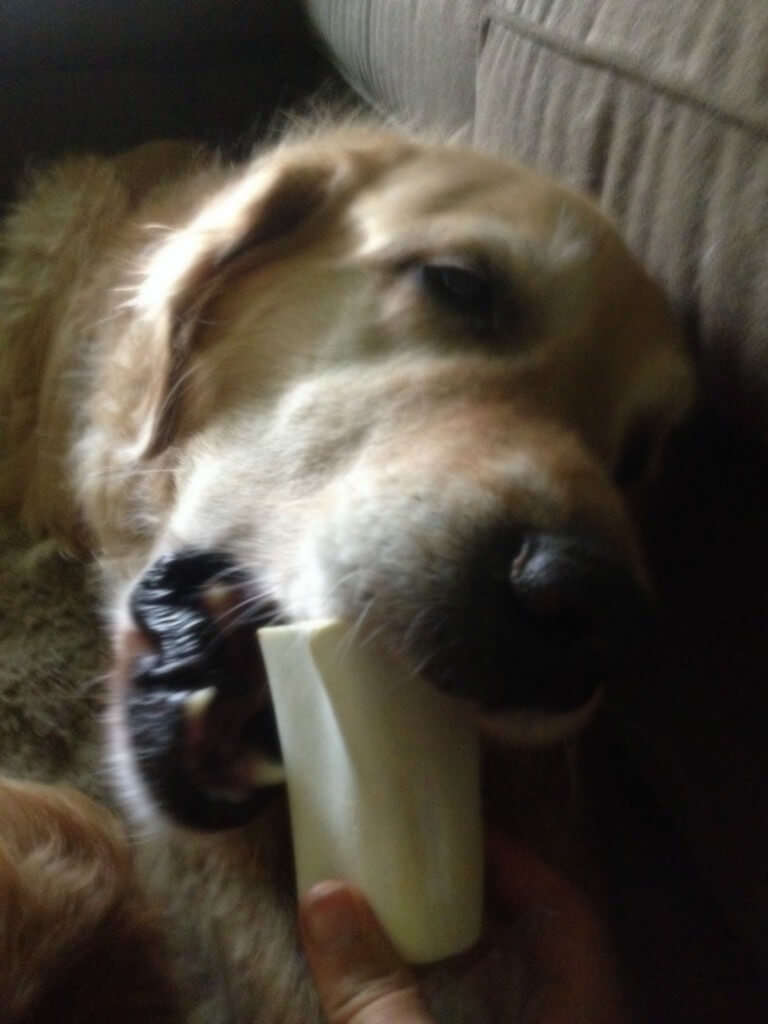 Mom, I'm tired…but not too tired for this!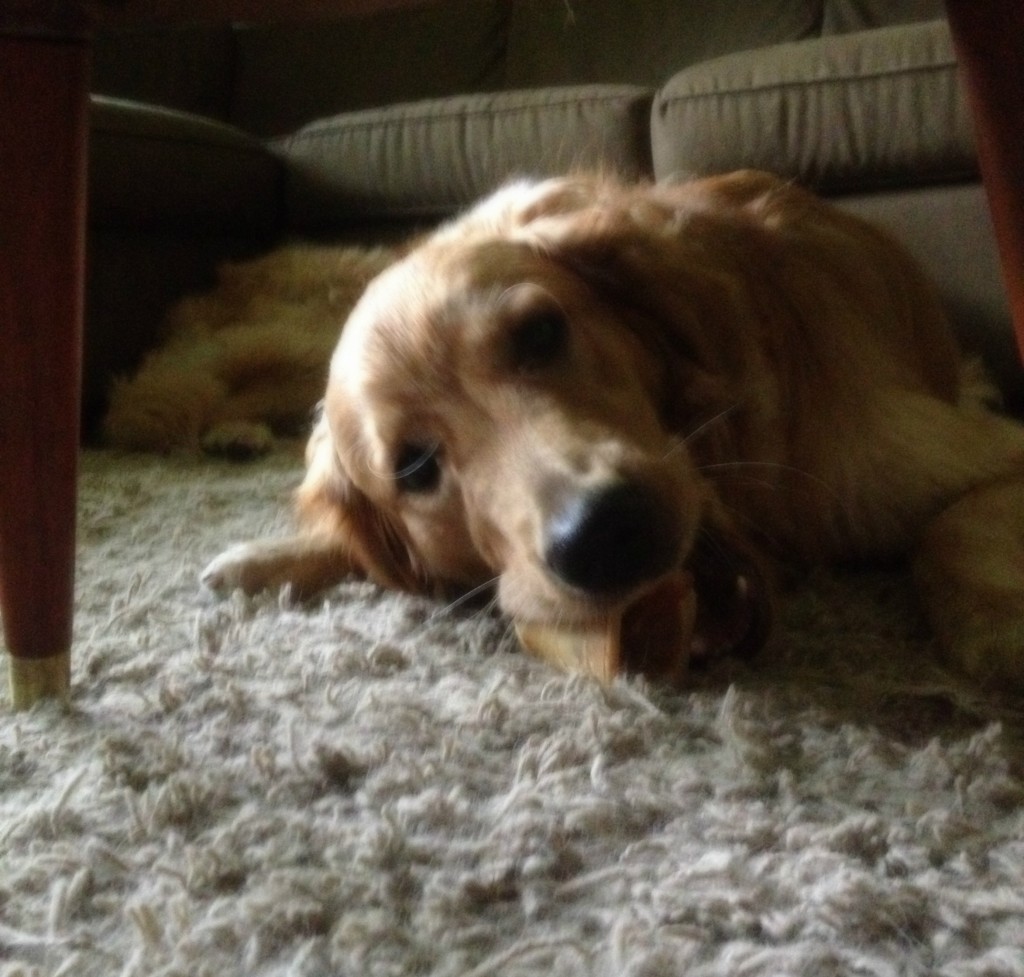 Nom, Nom, Nom…
Well, these bones did the trick, not only did they keep their attention for hours, but I felt good about giving them a high quality bone! As you can see in the photos, they take their job as Senior and Junior "Product Tester" seriously and subjected these bones to rigorous testing, switching back and forth, licking the insides out of stuffed bone and ripping shreds off of the meaty bone, to get a well-rounded review! After chewing for hours, the bones were clean, but the fun has not stopped. They continue to chew on these bones, and have been provided days of stimulation and excitement!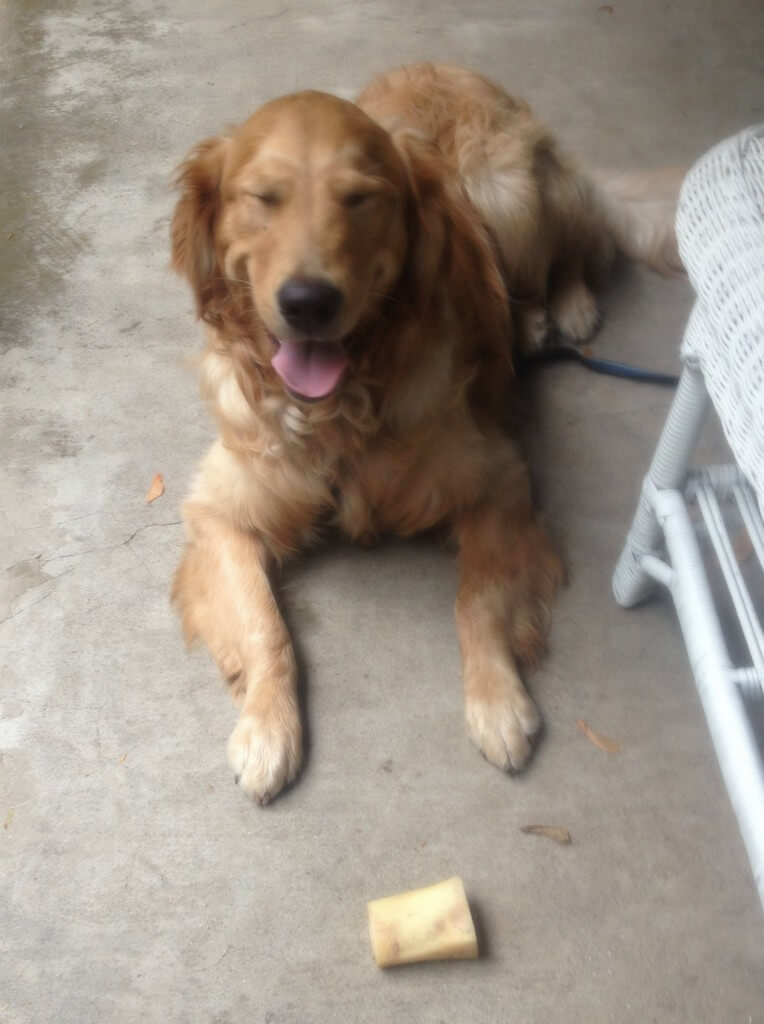 THIS is the BEST day of my life!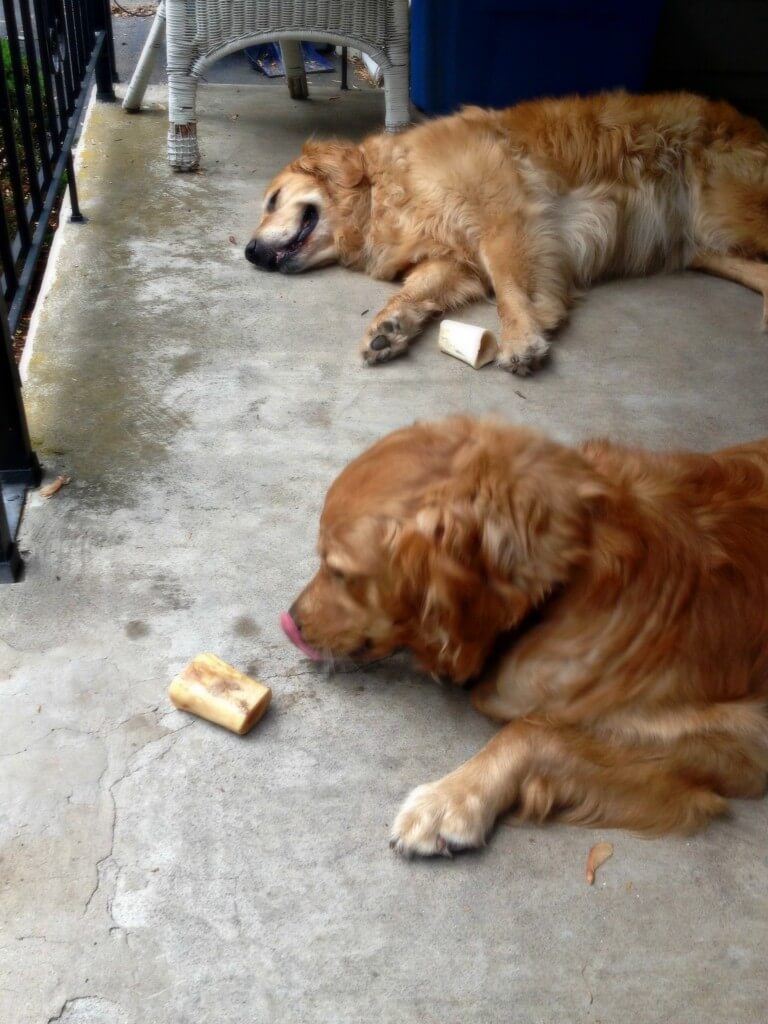 Exhausting but fulfilling job of product tester!
Treat time!
A couple of nights later, I decided that the boys could use a yummy snack and decided to break into the Pig Snout and Beef Strap!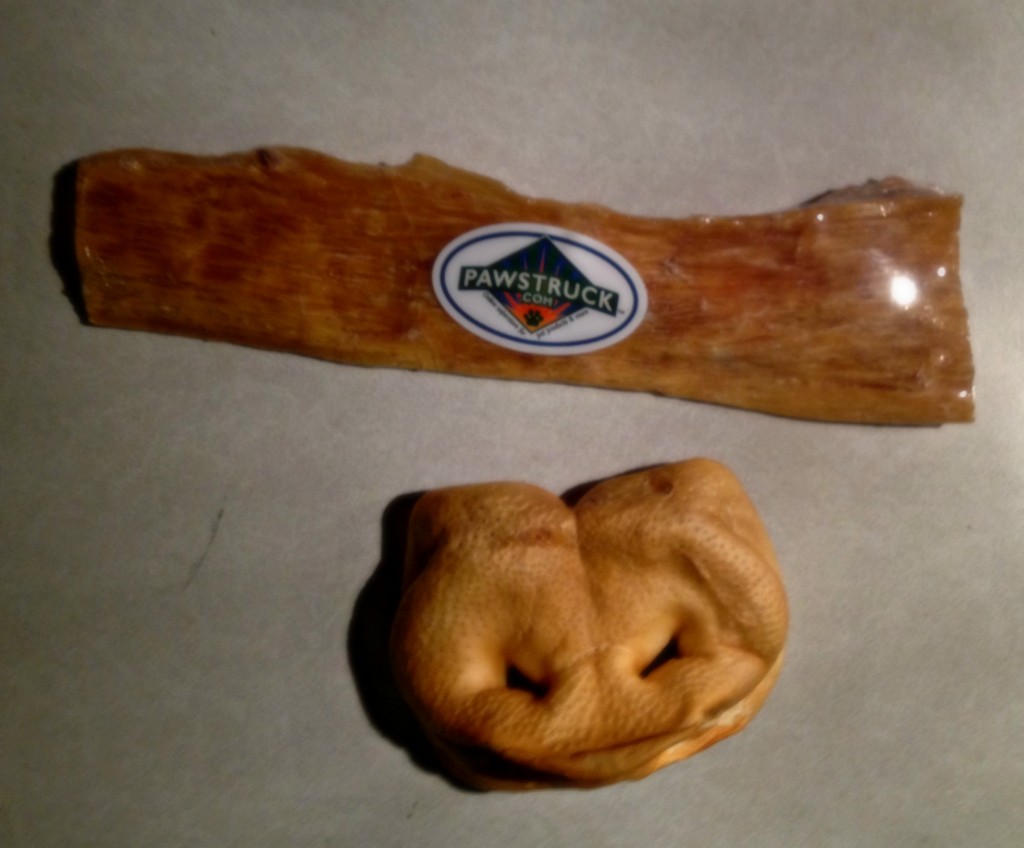 Snout and Beef Strap
Although it was slightly odd to see the snout in its true form, I also took comfort knowing that no part of the animal was wasted. The boys thought nothing of this and decided that they had to have these treats, NOW! Taking a picture with a Pig Snout covering their noses was next to impossible (thanks to a little imp named Charlie), but here is what I got!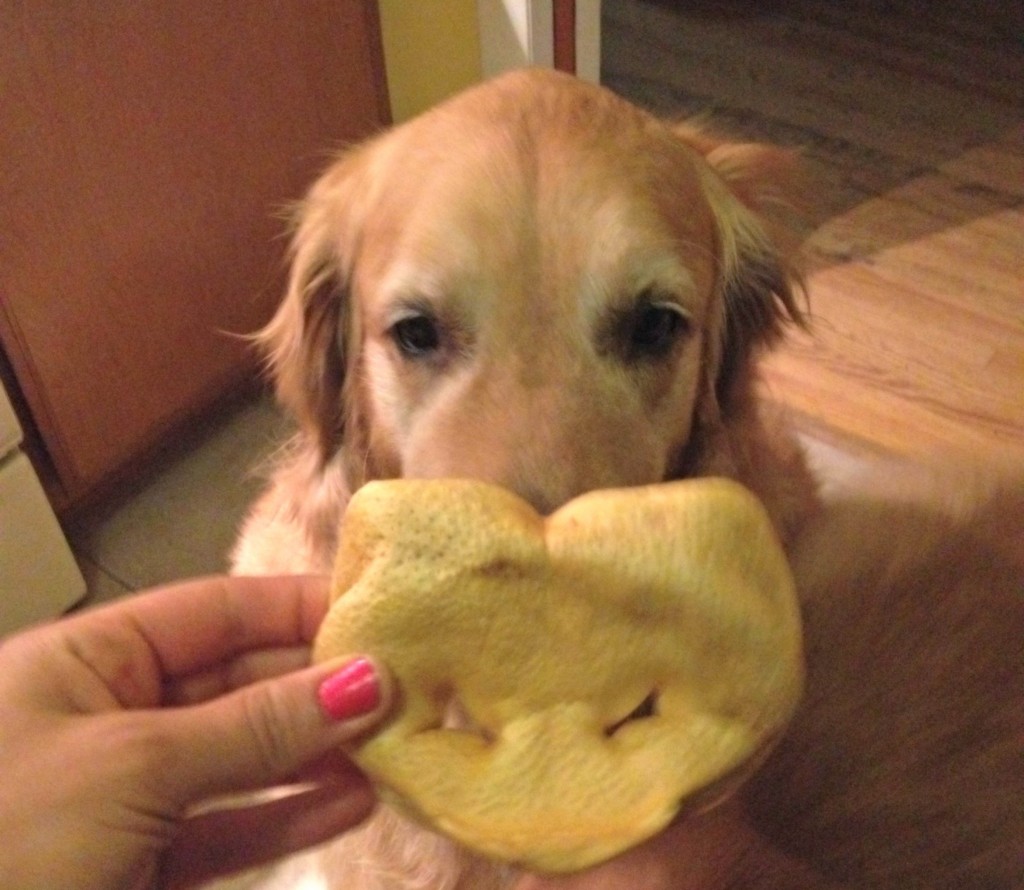 Mom, stop it! This is embarrassing!
I was worried that they would eat these treats so fast that I wouldn't be able to snap photos, but to my surprise, the treats lasted for about 10 minutes. Given the price point, I think this is a great amount of time for a special treat! Harley got to choose first this time and decided on the Beef Strap, quickly moving to the corner of the living room to protect his slobber inducing treat. As for Chuck, he was still pretty pleased getting second "choice".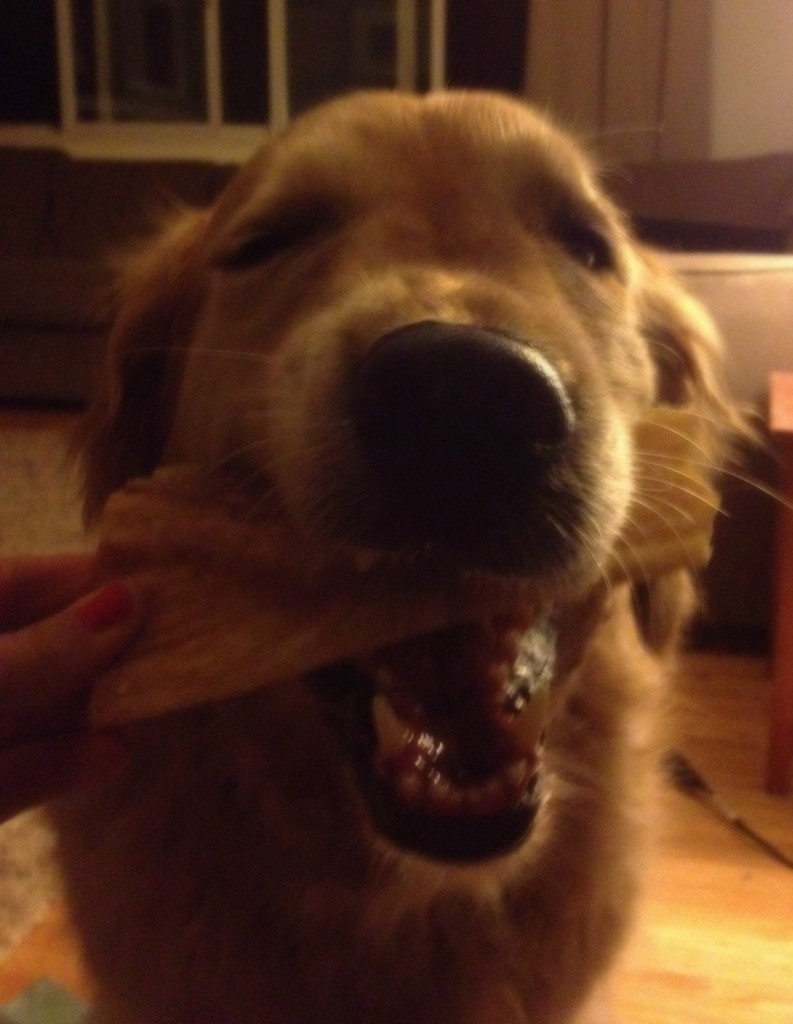 Yumm…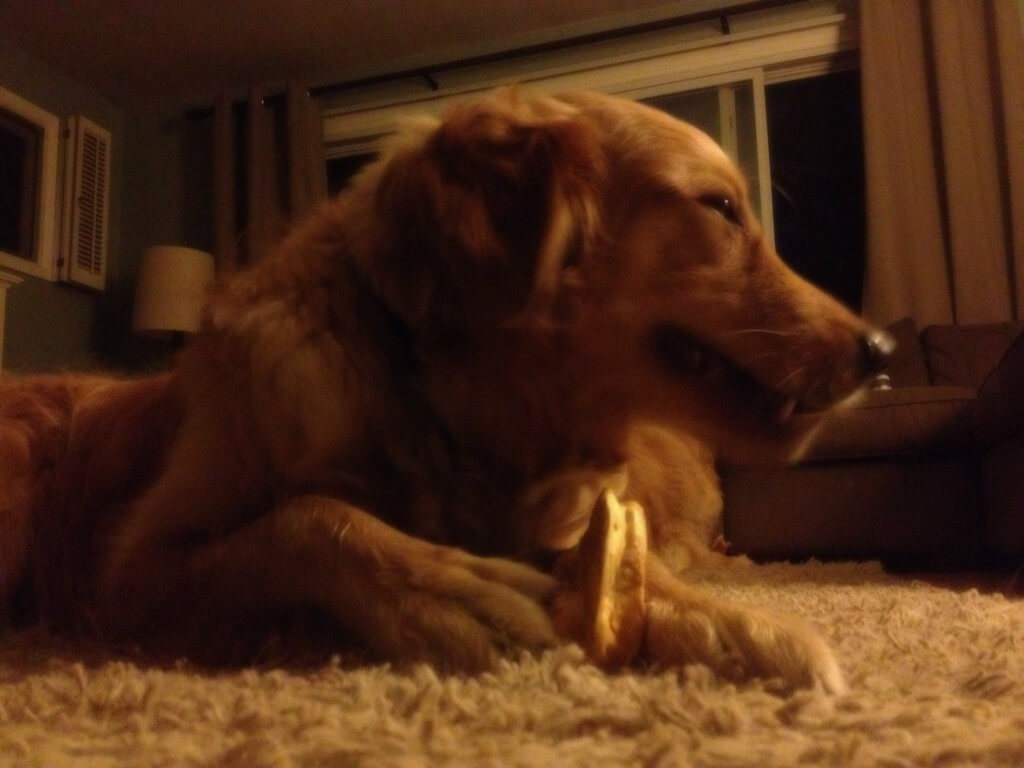 Is THIS the BEST Day?!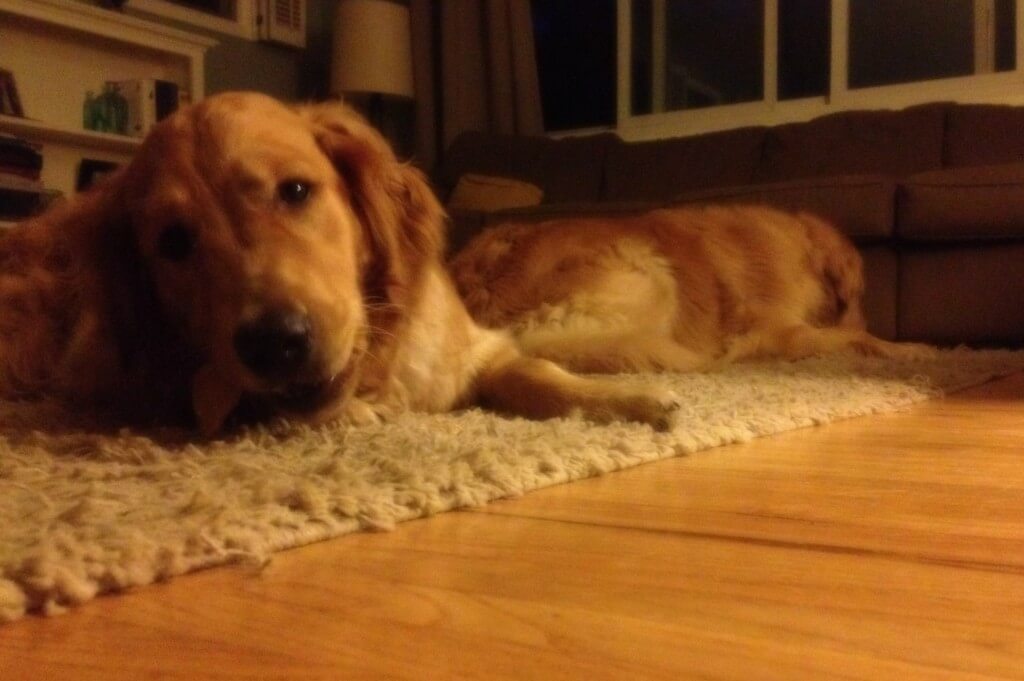 Separate Corners!
When they were all finished, they searched the high pile carpet for at least 30 minutes to make sure nothing was left behind! Harley even tried to see if he could poach anything from Charlie!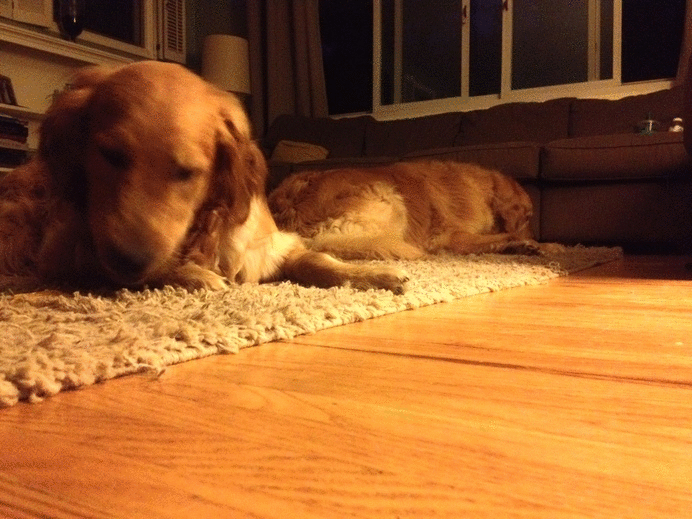 Let me just see if I can take anything from Chuckles!
Overall, I cannot say enough positive things about Pawstruck.com. Their philosophy and mission aligns so closely with our own, reviewing their products was a no-brainer. Though there are lots of good choices out there for pet products, I think consumers would have trouble finding a better balance of quality and affordability. In an age of poor customer service, Pawstruck.com once again shines as all of our questions were answered promptly and we received all products within a few business days. As for the quality, everything was as described, beautifully and simply packaged, and leaves you with the feeling that you are doing something good for your best friends. I comfortably would consider purchasing anything from the website knowing that the quality of the products is second to none. As for taste, I can't say for sure, but I think they were a big hit with the pups!
Interested in trying out some Pawstruck products for yourself?  
They are offering a 5% discount to all MyDogLikes Readers!
They are also offering a special Bully Stick Prize pack to one lucky MyDogLikes reader!  Enter Below!