When it comes to dog accessories, there is a lot of fluff on the market. While some of these items may be convenient or cool, they are not always necessary- especially as a new dog owner.
In our opinion, one of the key exceptions to this rule is picking up a quality dog car seat cover.
So, when Travelpaws recently asked us to take a look at their new seat cover we jumped at the chance. They were kind enough to send one for review and are also sponsoring a giveaway for our readers! Make sure to enter below!
Why you Need a Dog Car Seat Cover
Your vehicle is no doubt one of the largest assets you own. If you lease a car, the concern is even higher as any damage to your car can cost you big time at the end of your term. Wherever you fall on the car ownership continuum, a dog car seat cover will help to protect your seats from damage. While a quality car seat cover is a a bit of an investment it will likely pay for itself over time in saved car cleaning and repair bills.
Wondering what's the big deal?
Anyone who has owned  a dog before knows that there are many potential hazards that your seat will come into contact with. Among the most common are grass, mud, hair, slobber, and even pee (though hopefully not!). The most destructive culprits are their sharp nails that can puncture/ tear the leather or fabric of the seats!
After taking a good look at the potential consequences of going without, spending some money on a seat cover that will last for years seems awfully reasonable!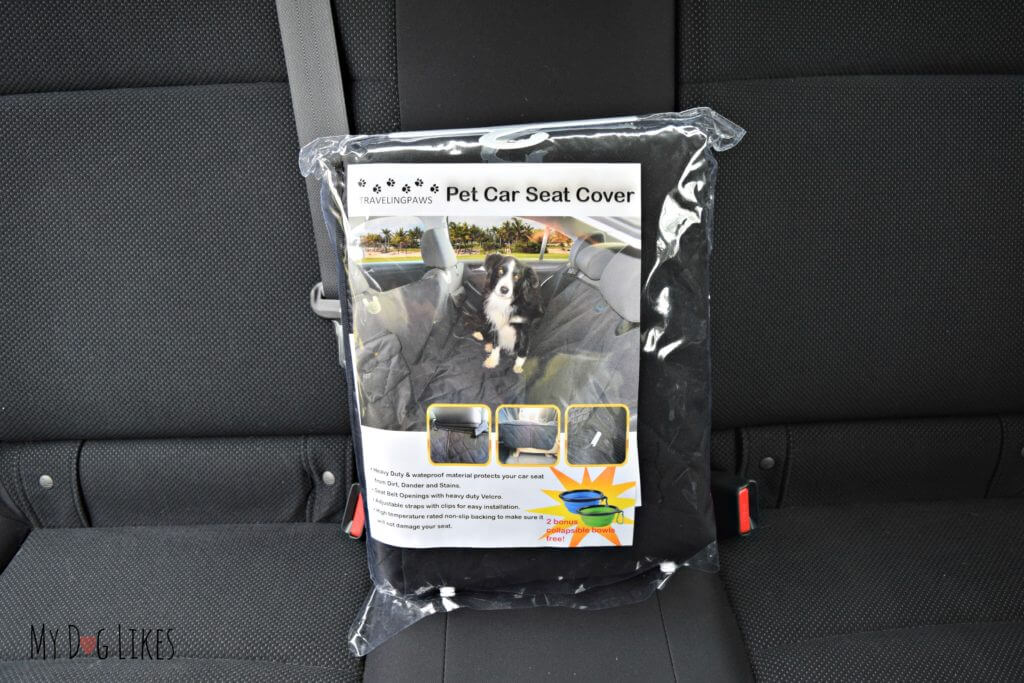 Travelingpaws Pet Car Seat Cover Review
The Travelingpaws seat cover retails for 129.99 but is currently on sale at a huge discount!
It is what's known as a hammock style seat cover, because it attaches to the front and rear headrests. We highly recommend these style covers because they create a barrier that will prevent your dog from falling into the leg area.
It is designed to fit any standard bench seat and comes in a black color.
So without further ado, let's take an in depth look at the Travelingpaws seat cover…
Breaking Down the Features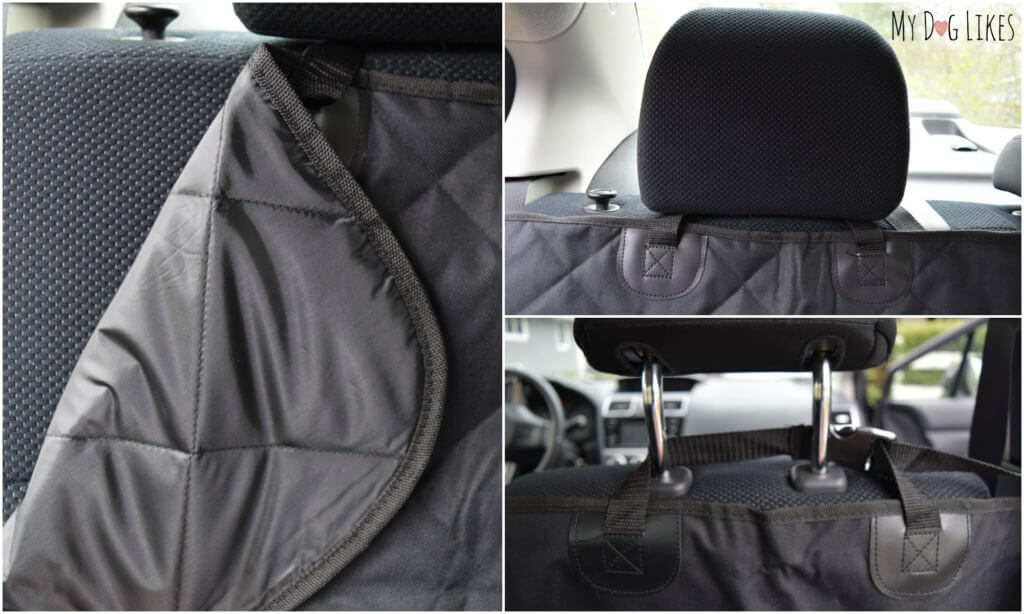 Heavy Duty, Waterproof Material – Constructed of a quilted, polyester with quality stitched velcro and seams.
Adjustable Straps – Allow for infinite adjustments and the perfect fit in any standard size vehicle.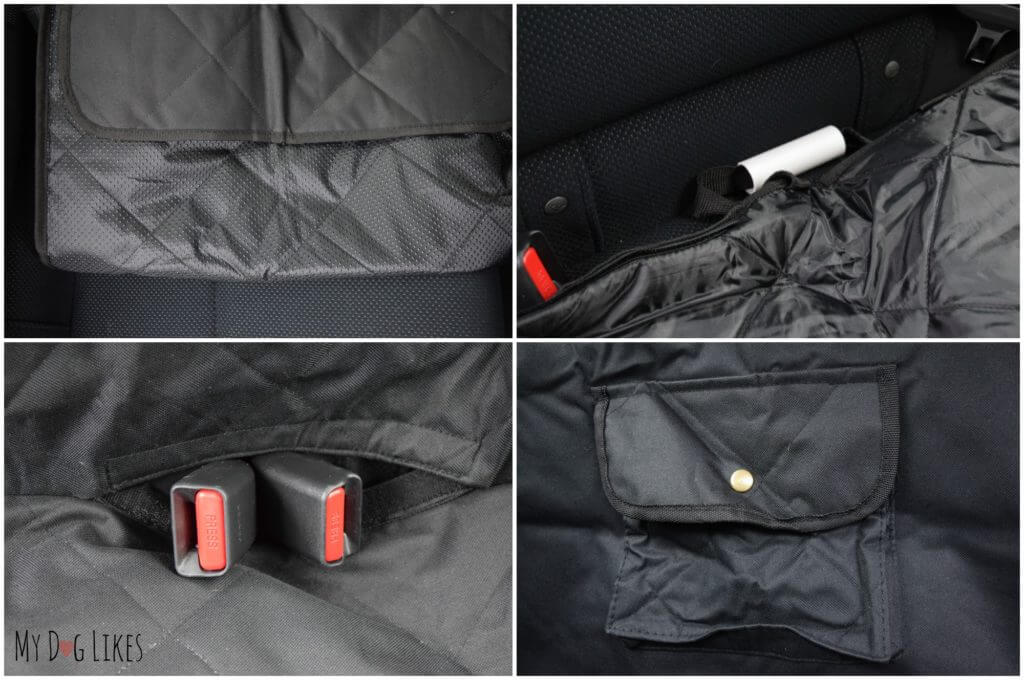 Non-slip Backing – Helps to ensure that the cover remains in place despite the sometimes erratic movement of your dog! This backing is also high temperature rated to ensure that it does not melt/ stick to your seat and cause damage!
Seat Anchors – Keeps the cover pressed firmly against the seat back and bottom.
Seat Belt Openings – This seat cover still allows complete access to seat belts and buckles. This means you do not have to remove the cover to transport passengers or even secure a car seat.
Built in Seatback Pockets – Large pockets on the back of the driver and passenger seats for convenient and accessible storage.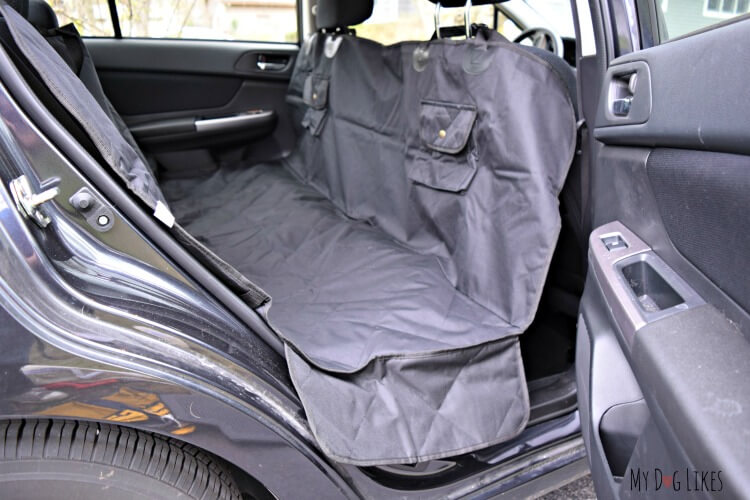 Side Flaps – Fold out flaps on either side of the seat cover help to protect the side of the seat. This is important as your dog will likely not always jump all the way onto the seat and instead use their back paws to push off the edge. These flaps may also help to protect the trim around the door from nail scratches and dings.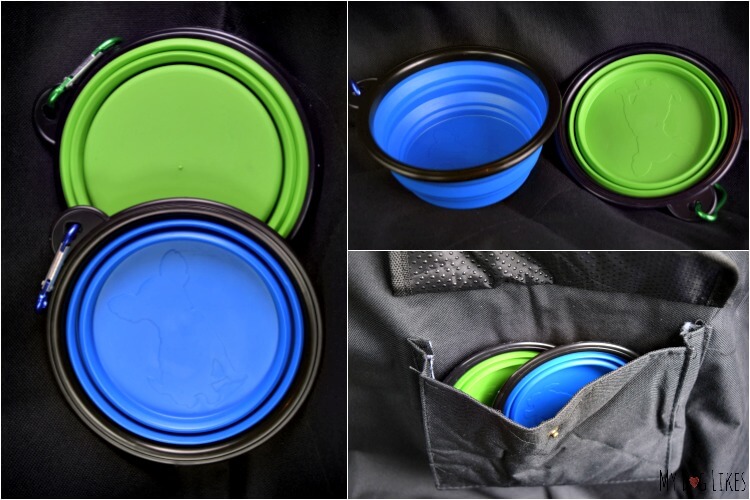 BONUS: 2 Collapsable Bowls – If you have ever traveled with dogs you know that space is always at a premium. For this reason, Travelingpaws has included 2 collapsible silicone bowls with each seat cover! Since they fit right into the seatback pocket, this makes for a wonderful addition. Never again will you be caught without a vessel for your dogs to grab a drink from!
Lifetime Manufacturer Guarantee – Travelingpaws is so sure that you will love their cover that they offer a no-hassle, money back guarantee. Simply send it back and you will be issued a full refund!
Installing the Travelingpaws Car Seat Cover
It only took about 2 minutes to have the Travelingpaws seat cover installed and ready for action.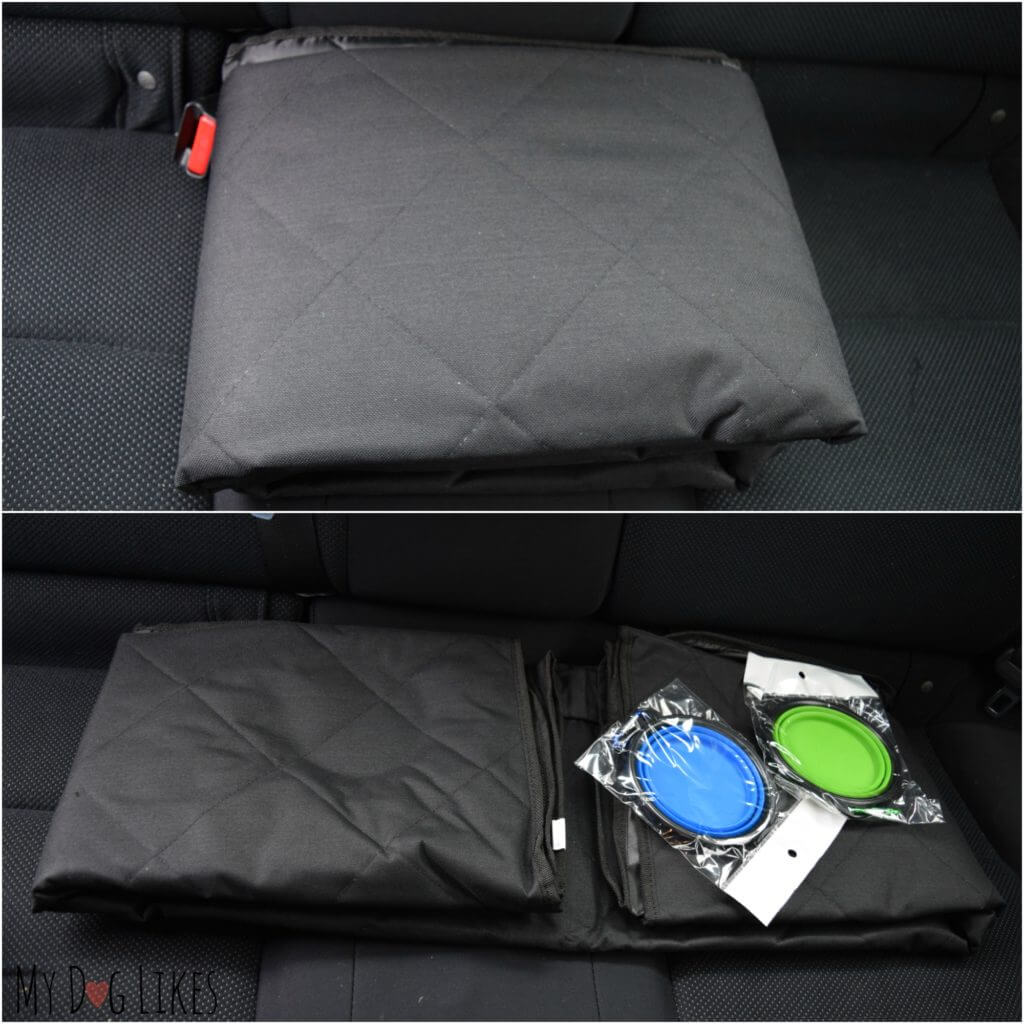 Just follow the simple steps below:
Slide the seat cover out of the plastic bag and unfold

Make sure to orient the cover so that the rubber side lays against the seat. This rubberized backing will help the cover to remain in place while your dog is moving around on it. Also, make sure that the pockets are on the side nearest the front of the car. This will place them in back of the driver and passenger seat for easy access.

Next, if possible, slide the white tubes between the bottom and back seat cushions. These are the anchors and help to keep the cover firmly in place.

Now, attach the straps on the opposite side around the headrests of the driver and passenger seat. Tighten to secure.

If you would like to use the seatbelts, simply open the velcro slots in the cover for easy access.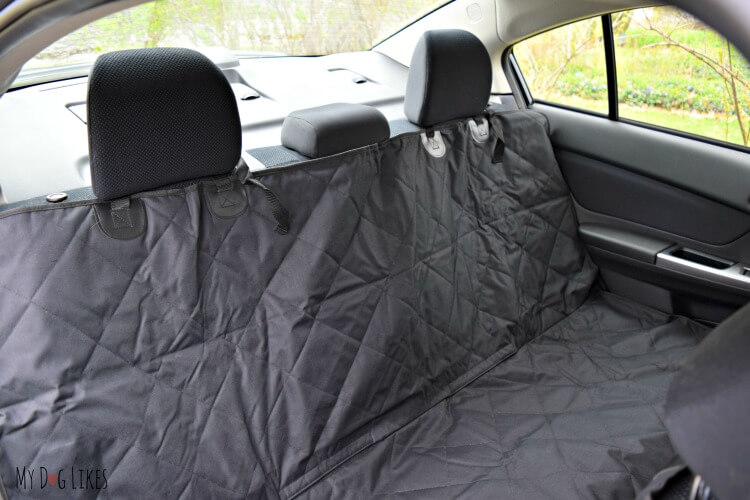 Appearance and Performance
When fully installed, we thought the Travelingpaws looked great along with the black interior. The quilted fabric gives an appearance of luxury and in no way takes away from the aesthetics of the interior.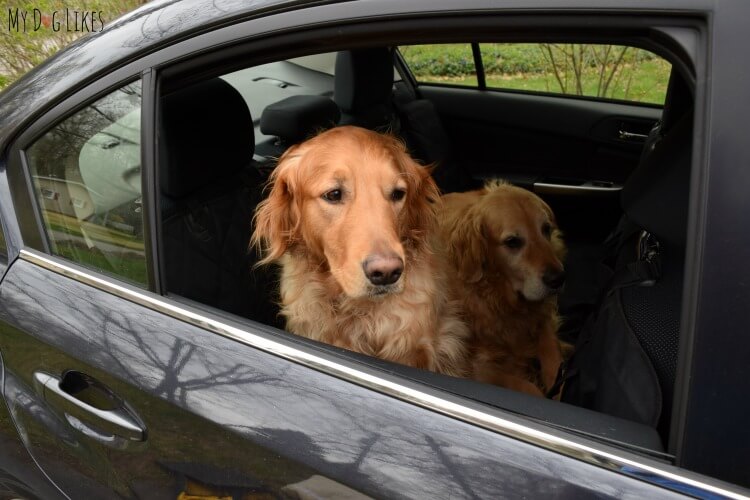 When it was time to head out on a test ride, Harley and Charlie jumped right in without hesitation. They seemed completely comfortable walking around on the cover and it did not show signs of movement due to their actions.
Finally, even though we had simply been out for a stroll on the park, look how much hair and debris was prevented from making its way onto our backseat! Imagine if we had been out in the rain or snow!

Cleaning
If a car seat cover is going to be protecting your car from dirt, it will be taking the abuse instead. For this reason, "cleanability" is a very important factor in a well made cover.
We found that this cover was very easy to clean with either a wet cloth or our favorite Be Furever Furless Brush!

Why MyDogLikes Travelingpaws Pet Car Seat Cover
After using a car seat cover for the last year, we can't imagine how we ever went without. This is one accessory that is absolutely worth the cost! The Travelingpaws car seat cover is an excellent option at an affordable price. Not only does it do a great job protecting our seats, but it looks great as well.  We would highly recommend this seat cover for anyone with pets or small children!
Want to pick up your own Travelingpaws seat cover?