There are few joys in a dog's life that can compare to settling in on something to chew. While they may not be picky about what that is, after losing a shoe or two, you surely will feel differently! Aside from being an inconvenience for you, when dogs chew the wrong things it can be very dangerous for them.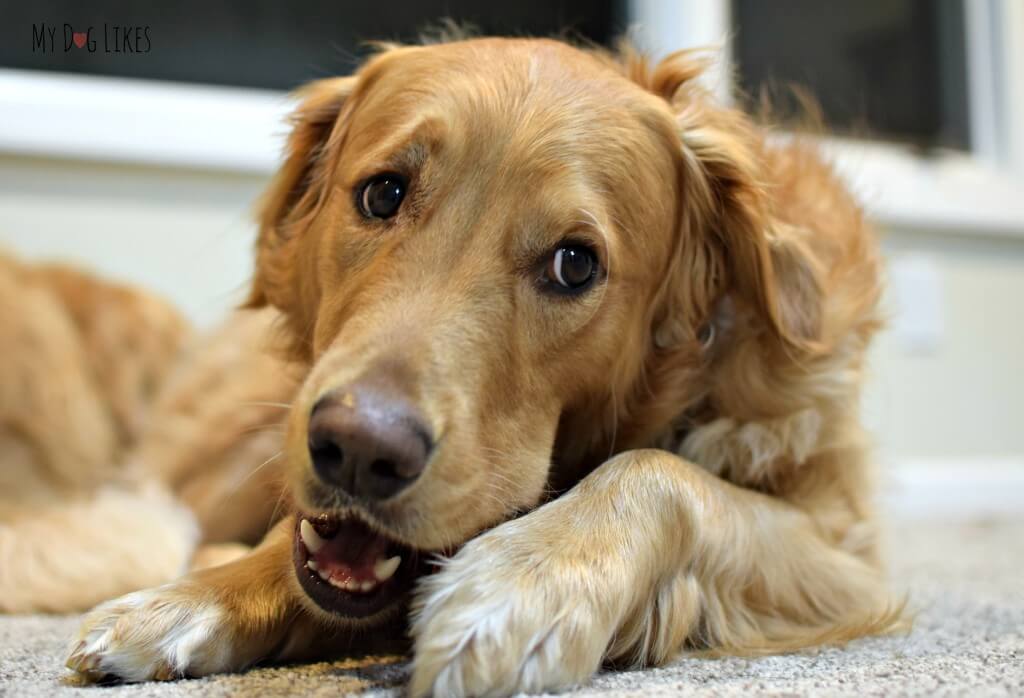 Unfortunately, many chews designed for and given to dogs can be harmful or dangerous. This is especially true of pet products sourced or processed overseas, where efficiency and saving money is often more important than the health and well-being of the animals who will enjoy the treats.
For the safety and well-being of your best fur-friend, it is so important that factors such as the type of chew as well as the origin and manufacturing process be considered before selecting a special treat. Finding a safe supplier of dog chews, food and treats can be difficult, which is why we are so excited to tell your about Raw Paws Pet Food.

Raw Paws Pet Food
We first learned of Raw Paws Pet Food at the BlogPaws conference last May. Founded in 2014, Raw Paws provides high quality, all natural, raw pet food, bones, organs, treats and chews to customers who demand the best for their pets.  All of their products are sourced and processed in the USA and Raw Paws works tirelessly to assure all vendors meet the highest quality standards.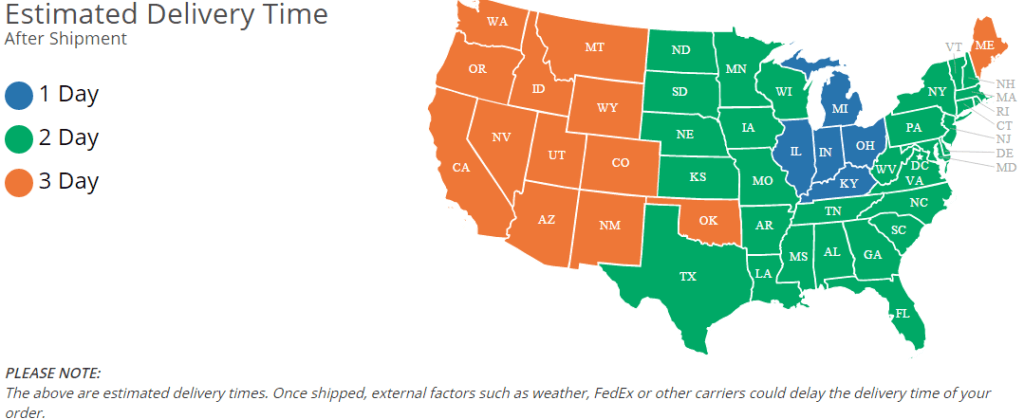 Their commitment to quality doesn't end there! Raw Paws Pet Food has streamlined their shipping and handling to get your order delivered to your front door quickly (often in 1-3 business days). Nervous about ordering raw/fresh food for your pet? Don't be! Not only is shipping speedy, but raw orders arrive in a recycled styrofoam shipper; packed with dry ice in order to maintain optimal freshness and quality.
Now this is the kind of oversight we appreciate from the brands we feed to our boys!
What's in the BOX?
Raw Paws Jumbo Bully Sticks
Raw Paws Pet Food was kind enough to send our resident taste testers a 5 pack bag of their 6" Jumbo Bully Sticks! These Bully Sticks, which are roughly .75" in diameter and 6" long, are sourced from grass fed, grain free, free range beef raised in the USA.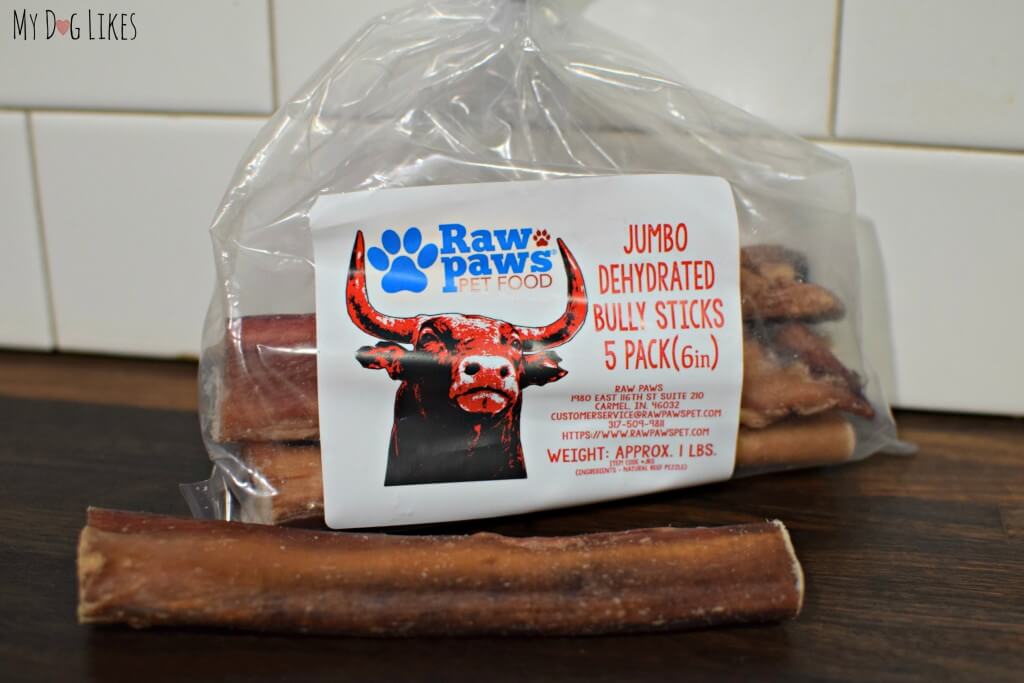 In addition, Raw Paws Bully Sticks are:
Low Odor
Free of Added Hormones
Antibiotic Free
Long Lasting Chews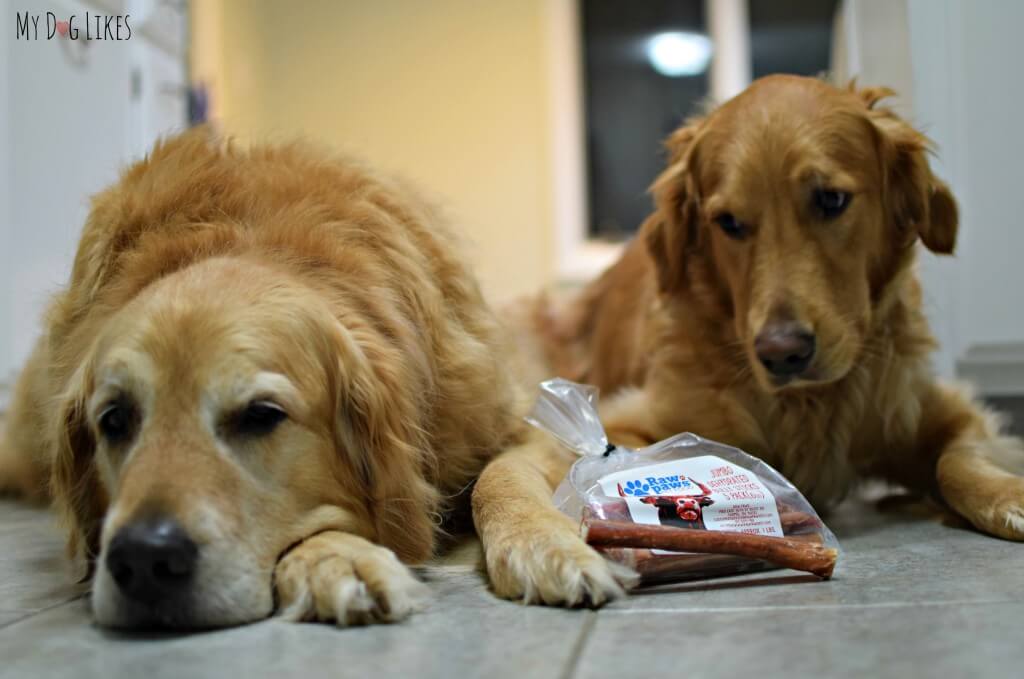 So, Why Do Dogs Chew in the First Place?
Chewing is an instinctual desire for dogs and it accomplishes several different purposes. For puppies, chewing can help relieve the pain and discomfort of teething. Older dogs may chew for fun, mental and physical stimulation or even to relieve anxiety. Chewing also helps to keep their jaws strong and their teeth clean.
Providing safe and appropriate things to chew can help to curb behavior problems commonly associated with chewing.
Not just any chew will do!
Many chews made for dogs (especially those sourced overseas) are treated in a way that would make you quite uneasy. During the manufacture of rawhides, for example, harsh chemicals can be used to remove the hair from the hide. Manufacturers sometimes use bleaching agents and hydrogen peroxide to give rawhides that clean white appearance. They are sometimes even painted for this same purpose! Finally, they are often loaded with artificial preservatives such as arsenic and formaldehyde!
If all of these chemicals haven't worried you enough there is another potential concern innate to rawhides: digestibility. If a large piece of rawhide is swallowed, it can cause choking or an intestinal blockage!

Bully Sticks – A Natural Alternative to Rawhide
Like Rawhide, Bully Sticks satisfy a dog's urge to chew, while at the same time reducing plaque and tartar build-up. However, unlike standard rawhide, Bully Sticks, or bull pizzle, are 100% digestible and as a dehydrated chew, avoid the nasty chemicals used in the rawhide manufacturing process.  
Time for a Chew!
Desperate for something to occupy the the dog's attention for a few minutes during holiday preparations and hoping for a few minutes of low-supervision, quiet time (without whining for walks and attention), I decided to give these Raw Paws Bully Sticks a try. As soon as I took the bully sticks out of the cupboard, the boys (cats included) seemed to know that something special was happening and within seconds had converged on the kitchen.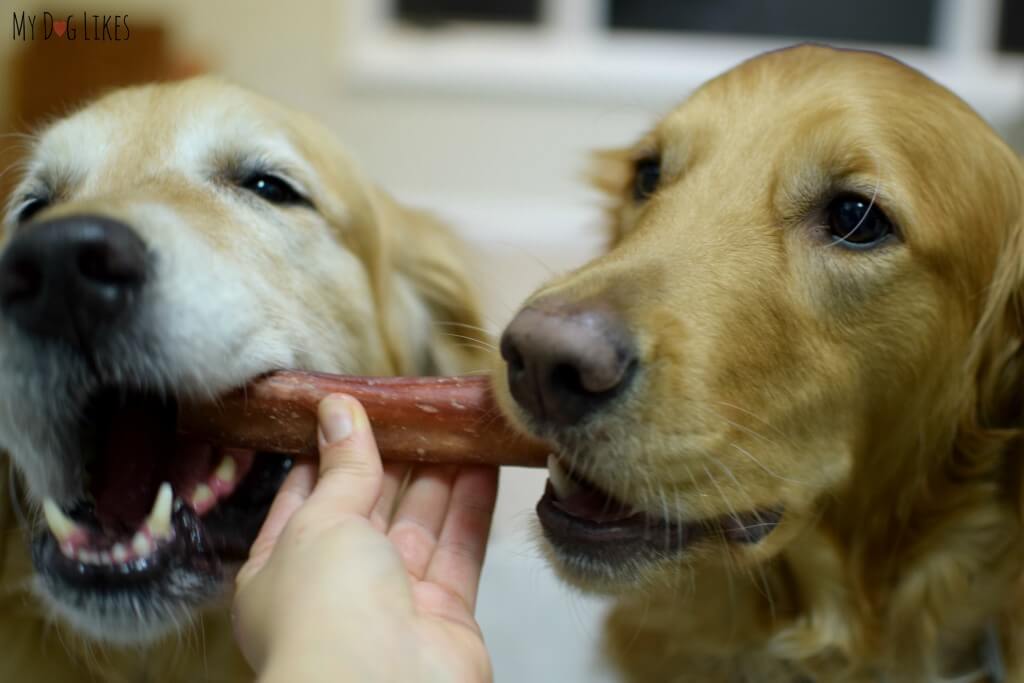 Smell Me Not
Not knowing what to expect, I opened the bag and took two bully sticks out for the boys. The sticks where all the same length and approximately the same thickness. I selected the two which looked the sturdiest and the most dense in hopes that it would buy me the most time!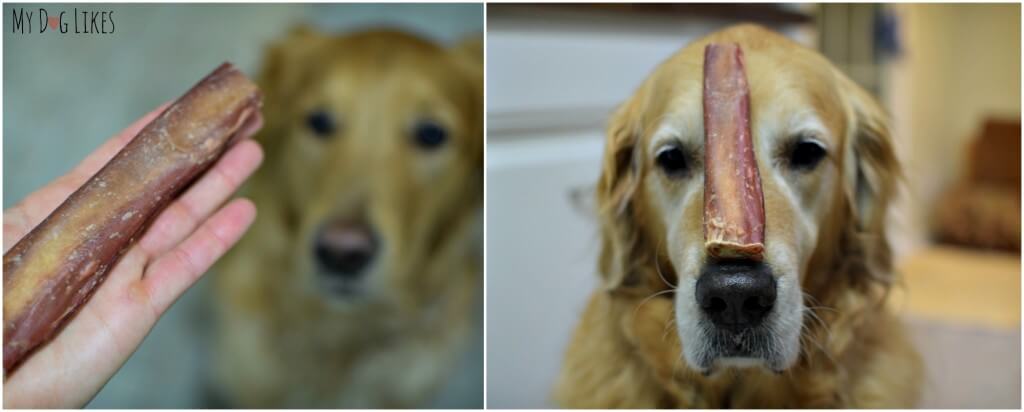 I was surprised to find that the sticks were not greasy, did not have a noticeable odor, and though lightweight, were densely formed. Despite the lack of smell (discernible to humans), the boys seemed to know that they were in for a special treat.  Hopeful that the density of these chews would keep our strong chewers occupied for more than a few minutes, we snapped a few pictures, then let the boys retreat to corners of the room with their special snacks!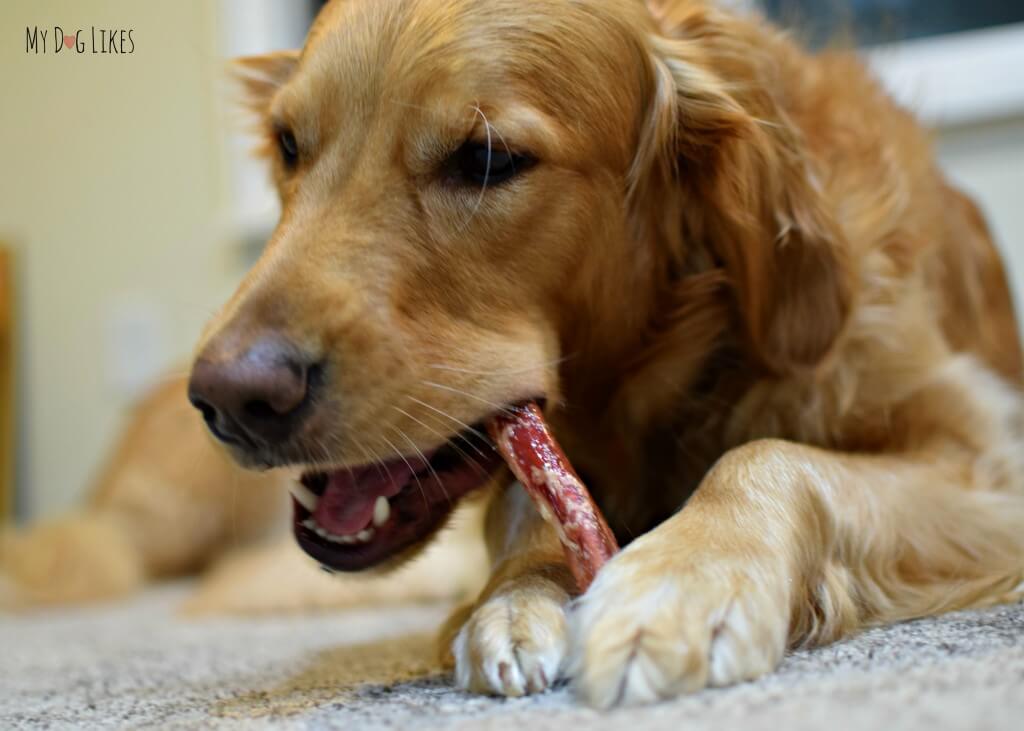 With hopeful optimism, I started to wrap presents as I watched the boys snack on their bully sticks. Though they made a cracking noise, they did not break apart under the pressure of their strong jaws. Over time, the boys appeared to loosen the hard and dense bully stick eventually, moistening it to the point that it could be torn and eaten. Feeling more confident that the bully sticks would not only stand up to their strong jaws, but a safe outlet for their desire to chew.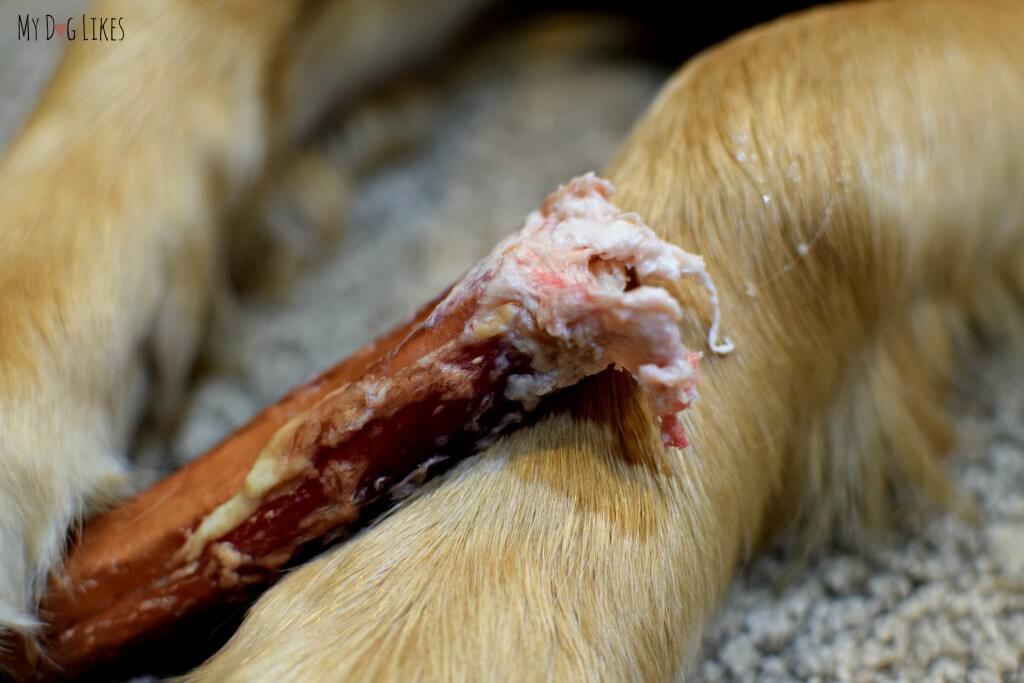 Chew Me Up!
More than 30 minutes later, the boys chewed on their last bits of the bully stick. Yes, you read that right, half an hour of peace! But that's not all! Exhausted from their mentally and physically stimulating chews, the boys were ready for a quiet snooze. Mission accomplished!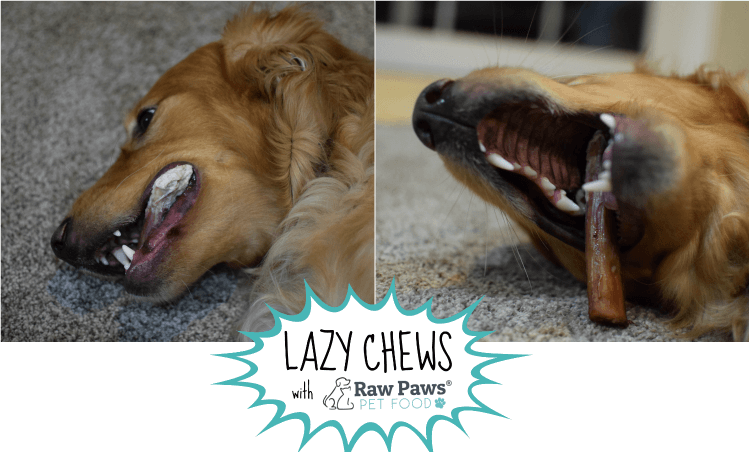 Since we received a 5 pack, I gave the boys another unexpected treat a few weeks later. Though these sticks were not quite as thick as the first two, they lasted for nearly as long with the same great, exhausted-dog results!

Why MyDogLikes Raw Paws Jumbo Bully Sticks
We are always on the lookout for safe and healthy dog chews – especially those that will last more that just a few minutes! As you have seen, these Jumbo Bully Sticks from Raw Paws really fit the bill!
Not only are they all-natural and free of preservatives, but they are even sourced from free range cows. This type of commitment to animal welfare is very important to us, and we love to support companies who are leading this movement.
Our dogs loved chewing on Raw Paws Jumbo Bully Sticks and we were very pleased with how long they lasted. Harley and Charlie had only one piece of feedback: please sell these in even numbers, so there are no fights over the odd man out, last stick!
Want to get your paws on some Raw Paws Bully Sticks?