"All natural, totally bitchin' paw wax!"
This is how Pawz is describing their latest product: Max Wax – All natural paw wax for dogs.
If you are a long time reader you know how much we love Pawz and their rubber dog boots. When they contacted us to see if we would like to test out Max Wax, we jumped at the chance – this company knows how to protect dog paws!

The Importance of Protecting your Dog's Paws
While your dog's paws may appear rough and tough, they are just as sensitive to temperature and irritants as our own skin.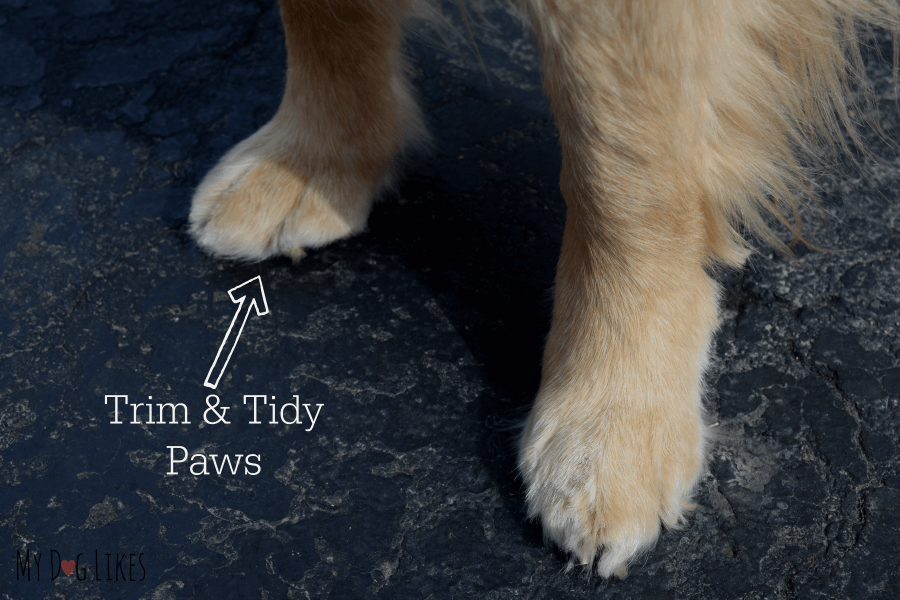 During the Summer months, sand and pavement can reach temperatures in excess of 140°F! A good rule of thumb is if a surface is too hot for the back of your hand, it is too hot for your dogs bare paw pads! On particularly hot days, always check the temperature of walking surfaces in this way just to be sure. With the summer heat also comes summer bugs and the application of pesticides. While you may be very careful about what is applied to your own yard, a walk through the neighborhood can expose your pups paws to all sorts of irritants and dangerous chemicals!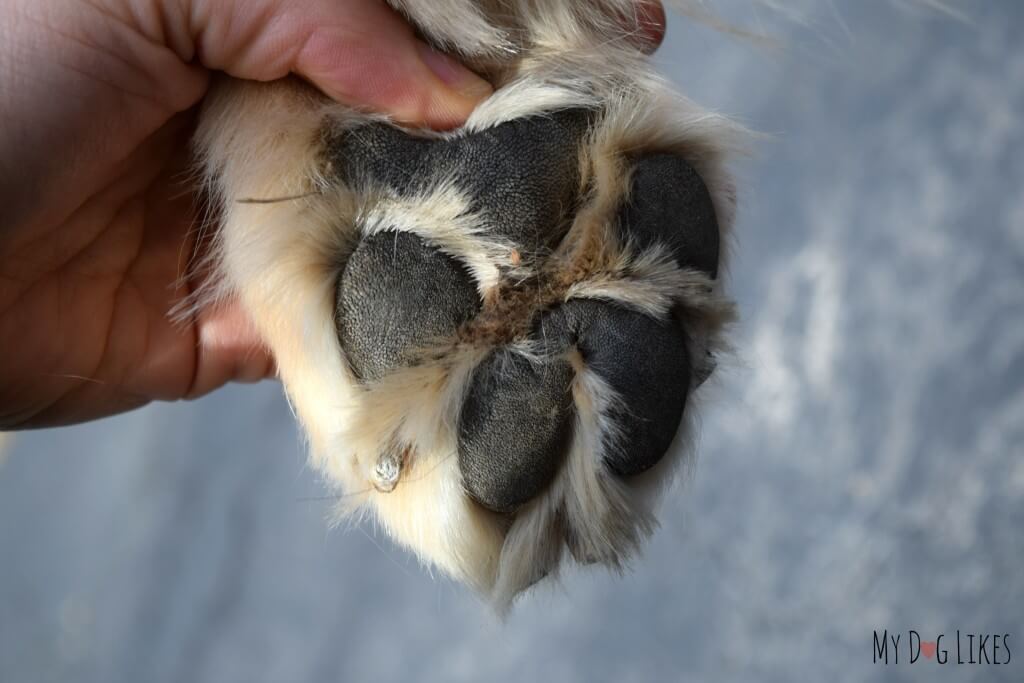 The winter months bring additional hazards including snow, ice, road salt and chemical ice melts. These can cause irritation to your dog's paws and even leave them cracked and bleeding.
So what can you do to help protect your dog from these conditions?
Pawz Max Wax
Max Wax is a 100% all natural, human grade paw wax. When applied to the paw pads before heading outdoors, it will form a protective barrier between your dog and the elements. More specifically, it is designed to protect against snow/ice build up, salt and ice-melt chemicals, pesticides and even burns from hot surfaces!
In case you are worried about your dog licking their paws after application, Max Wax is non-toxic, so you need not be concerned.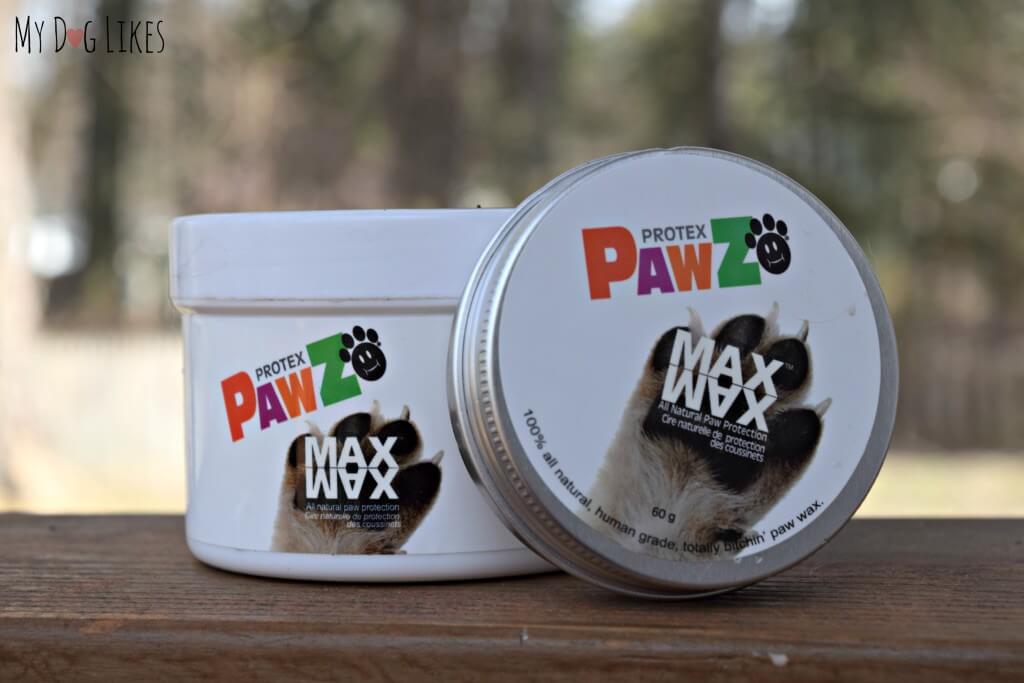 Max Wax is available in 60 gram tins and 200 gram plastic containers.
Pick up some Pawz Max Wax on Amazon!
Ingredients – What's Inside?
As with any new product for our dogs we like to check the ingredients first. With Max Wax this list is small (always a good sign), so we thought we would go through them one by one to let you know what they are and why they are there.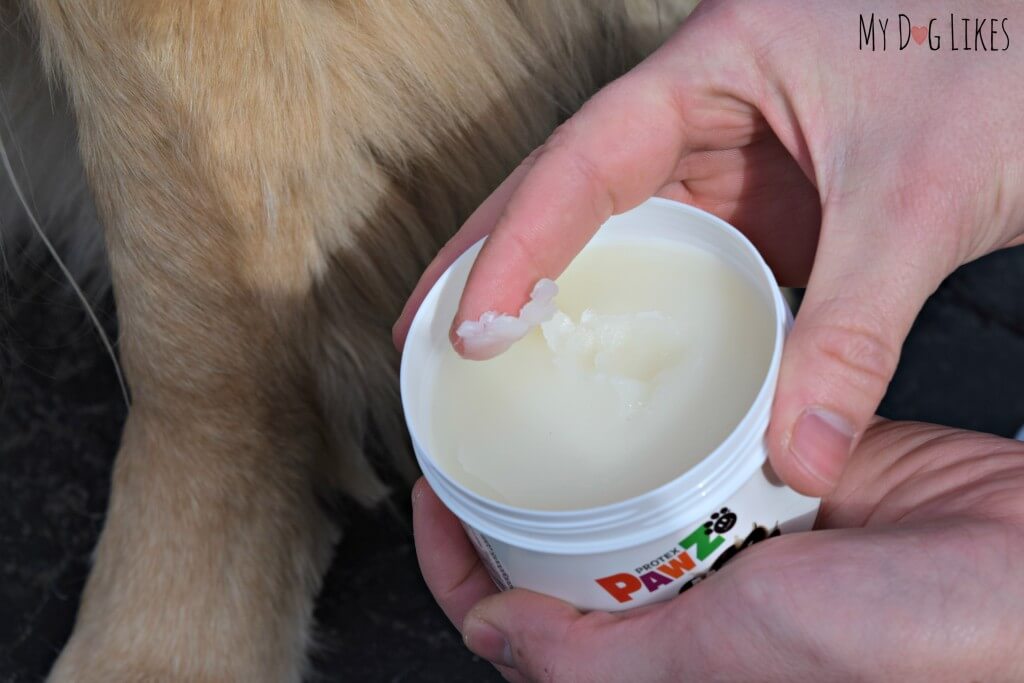 #1 Beeswax
When applied to the skin, beeswax forms a protective barrier against irritants and the environment. Unlike many other lubricating waxes/balms, beeswax allows the skin to breathe. Beeswax also helps to heal dry skin by drawing moisture in and keeping it hydrated. It has also been shown to have mild antibacterial and anti-inflammatory properties.
#2 Mineral Jelly
Also known as petroleum jelly, mineral Jelly has been used in skin care products for well over a century. It's primary purpose is to create a barrier between the skin and the environment.
#3 Lanolin
Lanolin is a wax secreted by glands in the skin of wool-bearing animals – particularly sheep. Just as it protects the wool and skin of the animals that secrete it, it can help protect human and animal skin as well. Lanolin is a natural water repellant, and also has anti-fungal and antibacterial properties.
Lanolin is harvested from sheep as part of the regular shearing process.  As the wool is washed to remove dirt and grease, this grease is separated and captured.
#4 Vitamin E
Vitamin E is an anti-oxidant that helps to neutralize the oxidant effect of free radicals. These are molecules that damage collagen and lead to skin dryness as well as lines and wrinkles.
How to Use Pawz Max Wax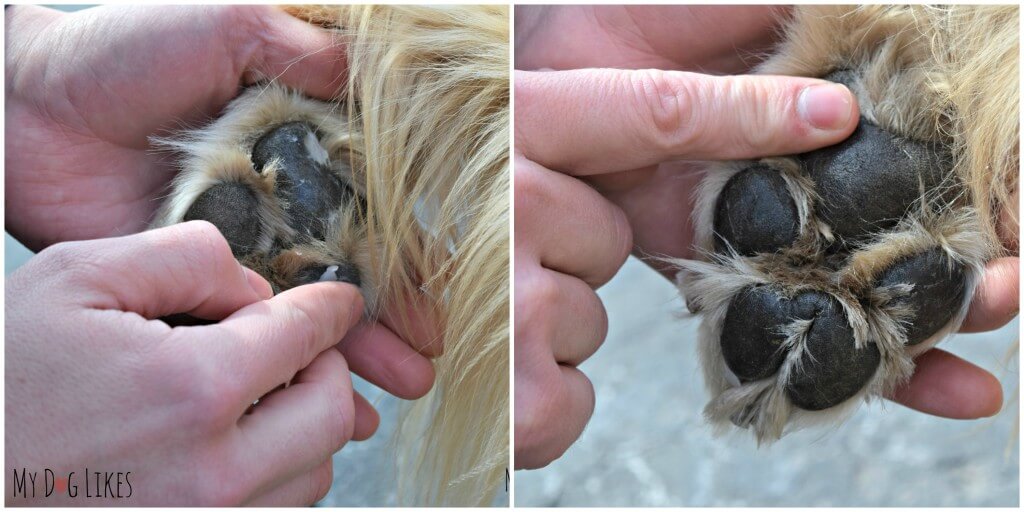 To get started, simply dip your finger in the jar and pull out a small amount. You will note that the consistency is firm but with a little bit of pressure it easily scoops out and has a creamy, easy to spread consistency. Next, gently massage the wax into the pads of your dog's feet and between the toes, applying liberally for optimal protection. As you apply take note of the sheen that covers your dogs paws and signals that a smooth barrier is being formed.
That's it! You are now ready to venture outside!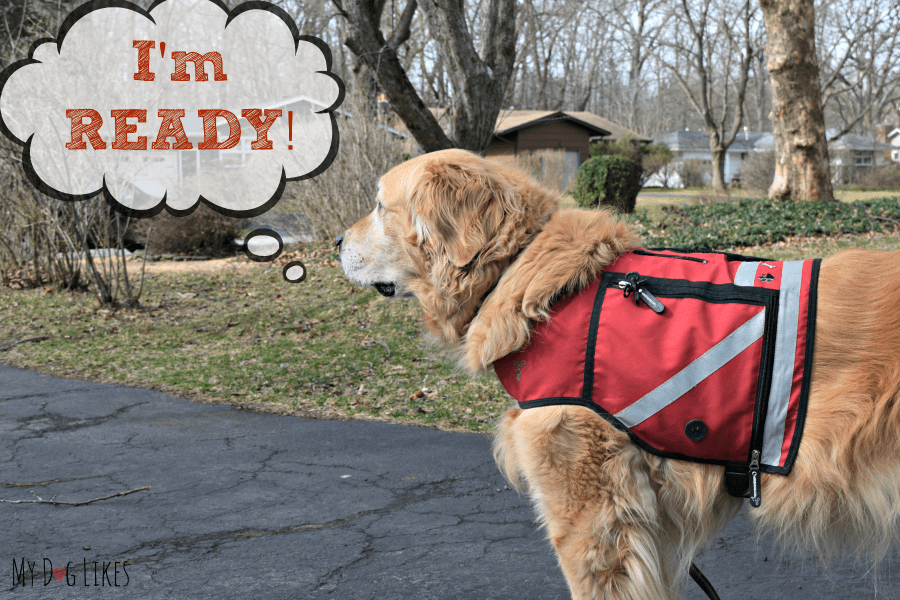 Pawz recommends that you apply once a week or more if your dog is particularly active outdoors. In the coldest days and harshest conditions, we would apply before going outside for daily walks. 
So How Did It Work? Our Paw Wax Review…
We had no trouble rubbing the wax into Harley or Charlie's paws – but they will put up with anything!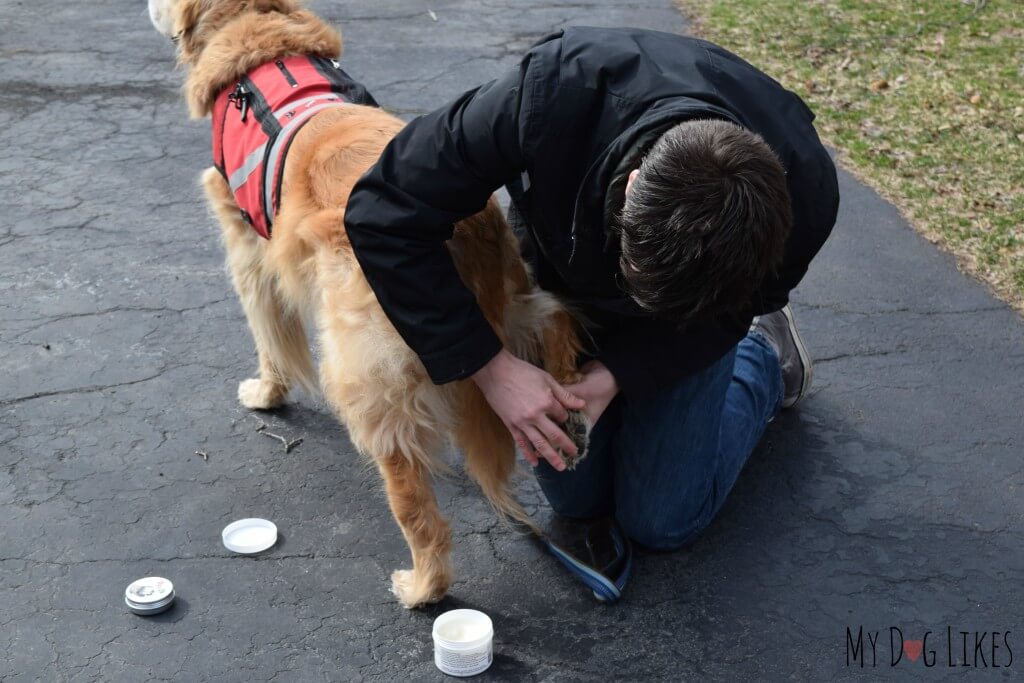 If your dog is not used to you handling their paws you may want to start slowly – massaging their paws for a few minutes a day over several days before trying to apply the wax. This will help them get used to the idea of someone messing around with their feet!
It also helps to keep the hair between their paw pads nice and trim. Not only does this make for easier application, but in Winter this hair can gather significant amounts of snow and ice and cause unnecessary irritation.
We were hoping that a bit of snow had held on to put Max Wax to a tougher test, but we were left with a relatively dry day. Still, we managed to find some dirt and mud to traipse through! We took a periodic glance at their paws and it was easy to see that wax remained even after several miles.
Cleaning Up
Pawz warns that the Max Wax could stain carpets or floors after a fresh application so we took care to rinse Harley's paws before heading back inside. We noticed that the wax seemed to hold onto dirt from our walk but this may have had something to do with the damp conditions and play at the park.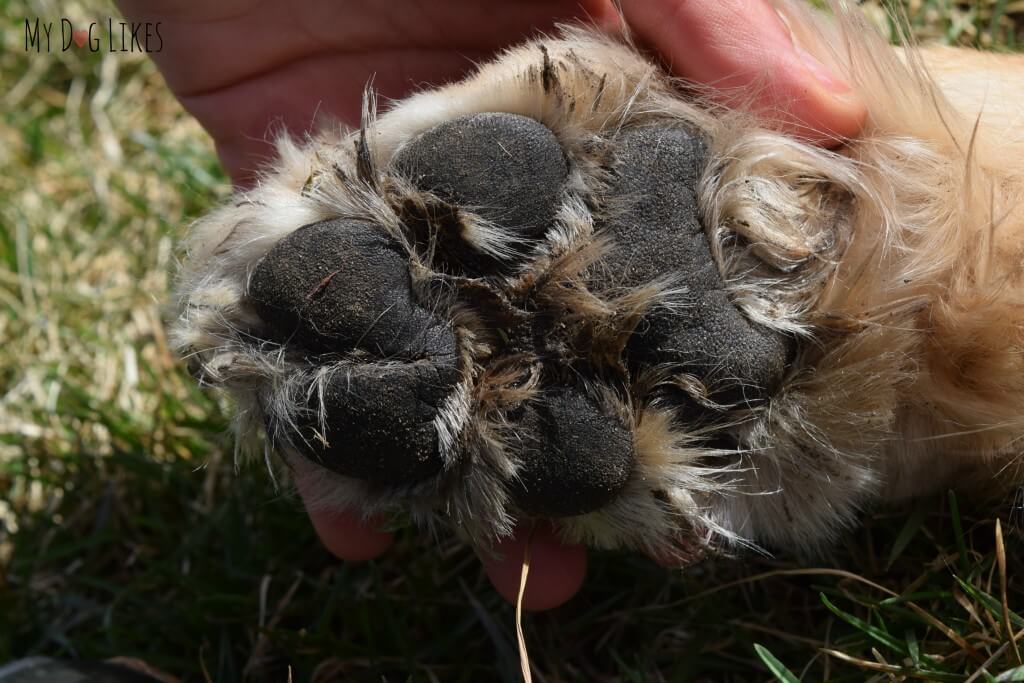 Either way, a quick rinse with warm water and a washcloth left Harley's paws clean without negating the benefits of the paw wax. They appeared softer and more hydrated than before.

While we don't use chemical pesticides on our property (preferring a natural approach to pest control), we do spend a fair bit of time at our local park which does. As pesticide season approaches, we love that their paws will have an additional barrier between the potentially dangerous chemicals.
Why MyDogLikes Max Wax All Natural Paw Wax
Unfortunately, many dog owners assume that their dog's paws are invincible. As we explained above, many hazards exist due to temperatures on both ends of the spectrum. Hot pavement or asphalt can cause serious burns to your dog's paws. In addition to extreme elements and heat, pesticides can pose a danger to your dog as they walk through their neighborhood. 
An added layer of protection is never a bad idea!
Max Wax is easy to apply and does a great job repelling water and creating an easy to clean barrier between the paw and anything else that your dog may walk through. Beyond simple protection, this formula is soothing and helps to heal rough, dry paws as well – therefore increasing your dog's natural defenses. 
Would you like to try Pawz Max Wax for yourself?