Depending on where you live, bugs can be a serious problem. Insects thrive in warm and humid climates, drinking the blood of the furry friends they hitch a ride on. Not only are insect bites uncomfortable for your dog, but they increase their exposure to parasites and can cause serious medical complications.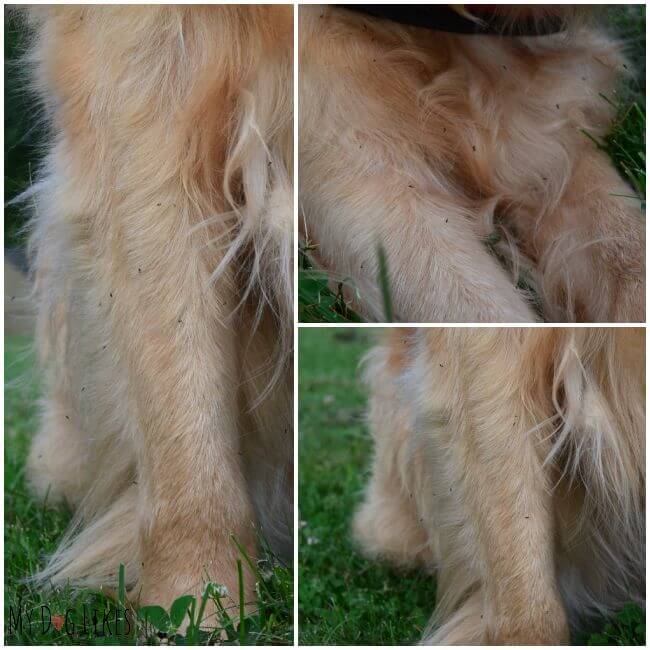 Fleas have the potential to cause a host of medical issues for your best friend. Dogs with sensitivities to flea saliva can suffer from dermatitis which causes intense itching, reddened skin, scabs, hot spots, and skin infections. In severe cases, anemia is also a risk, since the average flea can ingest up to 15x  its body weight in blood!
Similarly, ticks can cause skin irritations but bring the added risk of disease transmissions – most common of which are Lyme Disease, Ehrlichiosis and Rocky Mountain Spotted Fever. These are all serious and potentially fatal conditions which require medical treatment.
Mosquito's can be more than just a nuisance as well. They have been know to transmit heartworm parasites and West Nile Virus to dogs.
With the stakes so high, what is a pet parent to do?
No one wants the nuisance or the medical issues that are associated with flea, tick or mosquito infestations. Despite what people may think, pest control does not have to be "one size fits all"! No two dogs are the same and pest control solutions shouldn't be either!
Pet parents, there ARE alternatives to traditional chemical laden collars and spot-on drops! With the bug season quickly approaching, we wanted to make sure our readers know more about the natural pest control options that are out there!
Status Quo – Woah!
Maybe you are wondering "what's the big deal with traditional topicals"? Well, these spot-on treatments contain dangerous pesticide chemicals that don't fit into the natural lifestyle that so many pet parents strive to provide for their furry friends. If warnings such as "in case of contact, wash hands" or "toxic for cats" feel a bit unsettling, you certainly are not alone!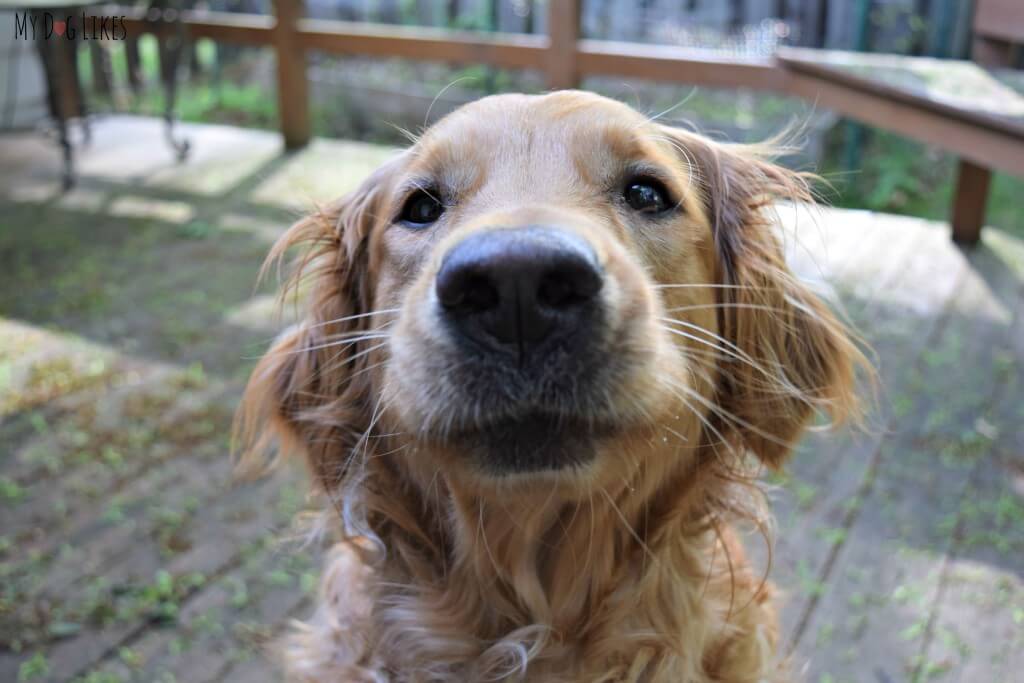 Scary, right!
Many believe that chemicals are the only/best way of treating fleas and ticks; we won't argue with their effectiveness, but we must not ignore the cost of that result. In exchange for "peace of mind," we apply pesticides to our dog's skin which enters their bloodstream, and remains at high enough levels to kill any flea or tick that bites him/her for over a month. Woah, that is a scary thought!  
There is an ongoing body of research suggesting that the active ingredients in these topical's can be linked to brain damage, heart attacks, seizures and more!
Regardless of where you fall in the chemical versus natural flea treatment debate, there are many options on the market that utilize the insect repellent properties of plants to offer added protection naturally. While spot-on treatments are convenient and sometimes necessary, there are many natural options that work one step ahead of chemical treatments and can be used to repel pests before they bite.   
Natural Pest Control – How Does it Work?
The most common natural alternatives come in the form of wipes and sprays that utilize essential oils to reduce the desirability of your pet as a snack to pests such as fleas, ticks and mosquitoes. One of the major benefits of natural solutions is that they work to reduce access to your pet. Simply put, natural sprays help to prevent bites before they happen!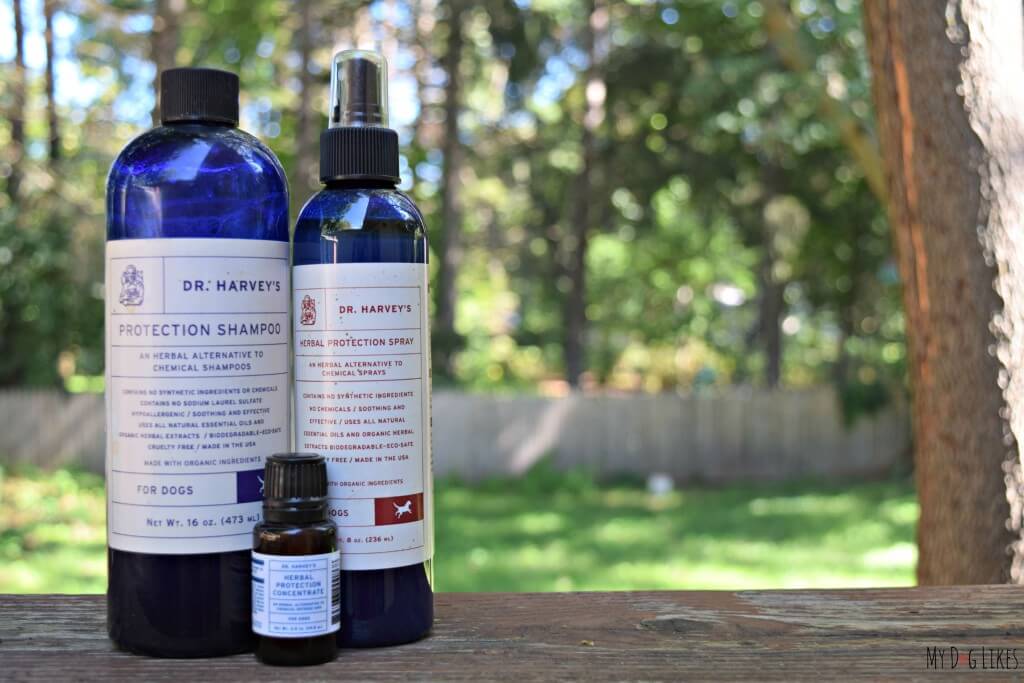 Natural Oils
The following are some of the most common oils used in all-natural pest control products. These have been used by indigenous tribes for hundreds or even thousands of years!
It is important to note that despite these ingredients being natural, it is not typically recommended that you mix them yourself since an incorrect amount of dilution could cause irritation to your dog's skin!
Lemongrass Oil
Extracted from the leaves of the Lemongrass plant, it has a fresh, lemony scent and is known for its insect repellent properties.
Catnip Oil
Extracted from the leaf of a perennial herb belonging to the mint family, catnip oil is up to 10 times more effective at repelling bugs that harmful chemicals like DEET.
Citronella Oil
Extracted from the leaves of grasses in the Lemongrass family, this plant is recognized by the Environmental Protection Agency (EPA) as a biopesticide. It works by making it difficult for pests such as mosquitoes and fleas to locate you/your pet.
Cedar Oil
Derived primarily from Juniper and Cypress trees, cedar oils have been shown to be toxic to fleas, ticks and mosquitoes. 
Natural Insect Repellent – What are my Options? 
Sprays
All-natural sprays can be shaken and misted on your dog's coat to provide a natural flea barrier. These products can be applied before outdoor activities, after swimming, or, if you've been out and about for a while, right in the middle of playtime. Sprays are great for covering large dogs with dense coats and are super convenient. Be sure to avoid delicate areas like your dog's eyes! Those are best done by soaking a rag and carefully wiping them down!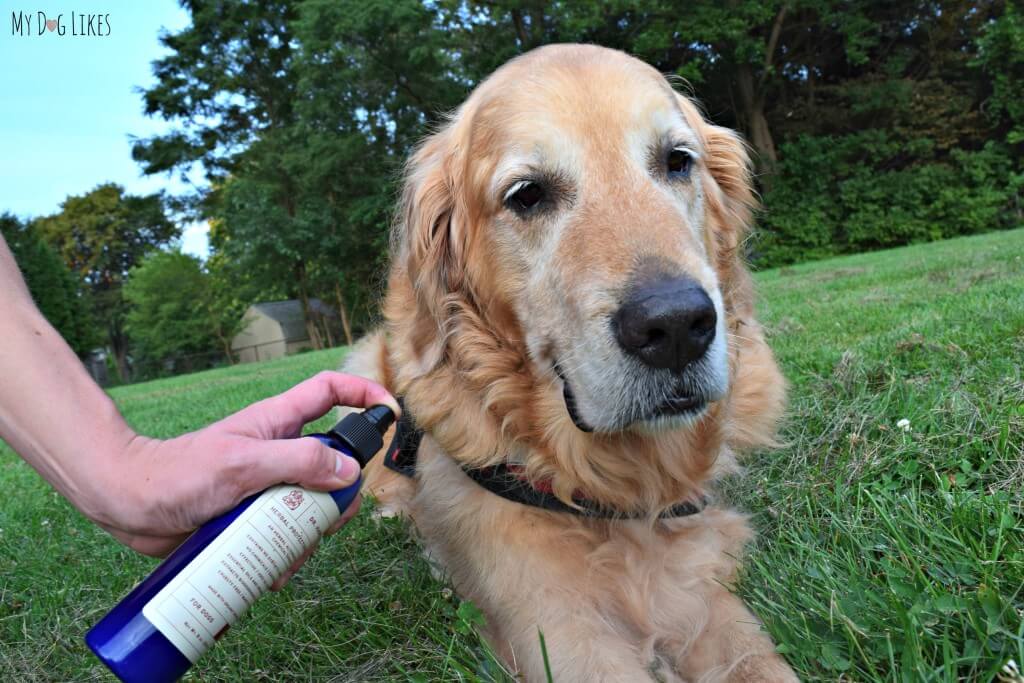 Dr. Harvey's Herbal Protection Spray has become our go-to natural bug repellent spray. Utilizing Catnip Oil, Citronella Oil, Erigeron Oil, Neem Oil, and Cedarwood Oil – not only does it work great, but it is extremely easy to apply. During the Spring and Summer we keep a bottle right by the door and give the boys (and ourselves) a quick daily spray as we head out on a walk!
Wipes
Wipes are a great way to conveniently protect delicate areas like faces. They can be used on both small and large dogs, but will be more cost effective for a smaller dog who has less surface area to cover.  Wipes contain all of the same pest repelling oils as sprays but without the worry of getting it in their eyes!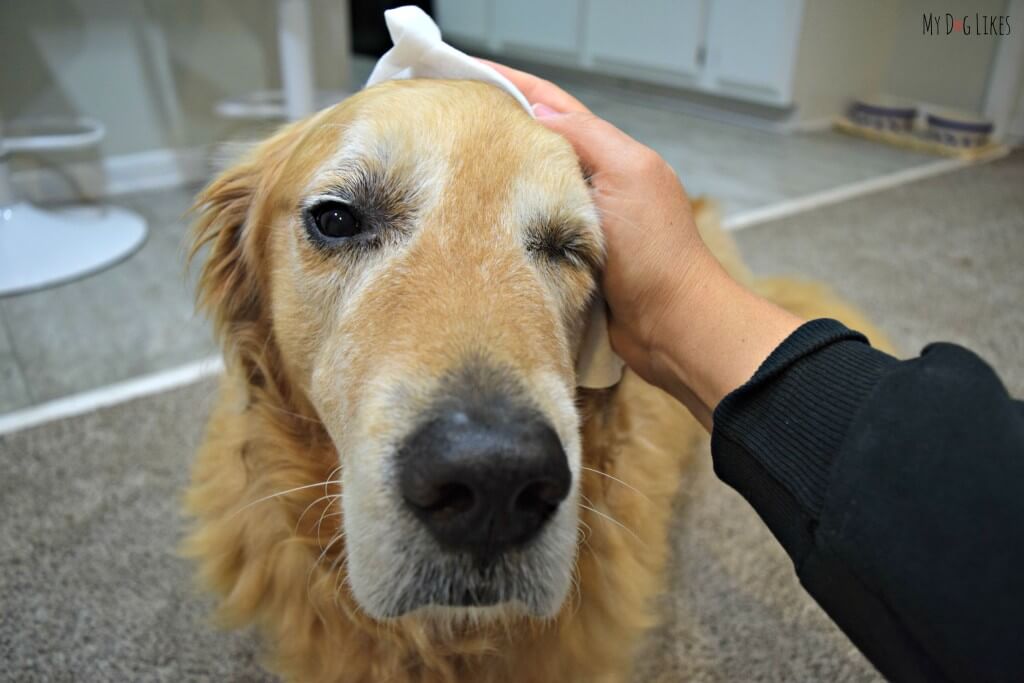 We have tested Pet Naturals of Vermont's repellent wipes and found them to be very effective at keeping bugs away!
Shampoos
Natural flea and tick shampoo's utilize the same essential oils as sprays and wipes, but they are embedded in a shampoo instead. This helps to get a great distribution of repellent oils over your pets entire body.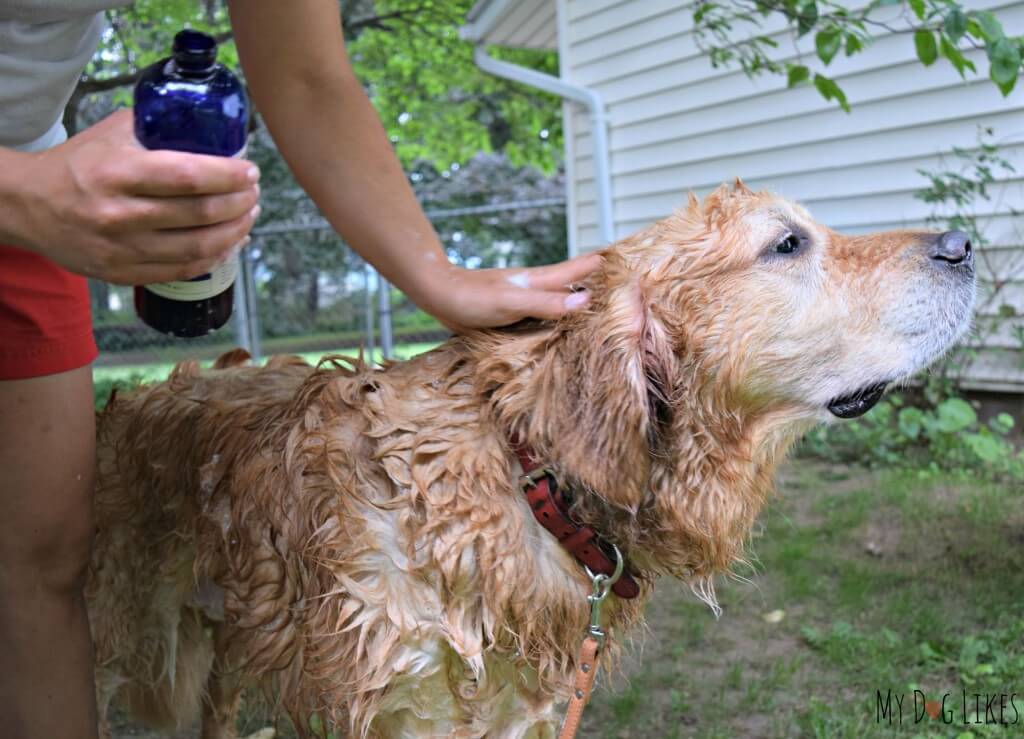 We make sure to use this flea and tick shampoo from Dr. Harvey's during the Spring and Summer for added protection against pests.
Lawn Treatments
If your pets spend a lot of time in your yard, perhaps it makes sense to be a bit proactive. Many natural pest repellents can be purchased in large concentrates for lawn application with a hose.

Want to take it a step further?
Perhaps you have seen the most recent episode of Shark Tank? A company called Wondercide just landed a deal for their all-natural pest control products which are safe for pets but actually kill pests on contact. Primarily utilizing the power of cedar oil, and not diluted with water, these products are much more powerful than other natural repellents.
You are likely wondering how they are still safe? According to the Wondercide website, cedar oil blocks the octopamine recepter that is crucial to life in pests such as fleas and ticks. Cedar oil repels pests from areas of application and actually kills them if they come into contact with it. Mammals, birds, fish, amphibians and beneficial insects do not have octopamine neurotransmitters and are thus unaffected by cedar oil.
We refuse to use chemical pesticides in and around our home so we can't wait to try out Wondercide's suite of products. Stay tuned for a comprehensive review later this Spring/Summer!

So what are our best tips for Natural Pest Control?
Use natural sprays/wipes before extended outside time or after swimming. There are many products out there that use the natural pest repellent properties of essential oils to keep bugs away year round!
Keep your dog healthy, clean, and comfortable with regular baths and grooming. Always be on the lookout for fleas or ticks on their skin. Notice a problem and seek help before it gets out of hand!
Keep their bedding, carpets, and other dark, cozy spots for fleas, clean, by vacuuming and washing regularly.
Keep your yard clean of debris and standing water. Natural sprays can also be purchased to treat your yard and reduce the number of fleas, mosquitoes, etc, that are present.
Use common sense. Talk to your Veterinarian about options, there are no right or wrong answers, just what is right for your dog.  Remember that what you put on your dog, goes in your dog. Don't use a product on them, that you don't feel comfortable putting in them!