After purchasing Merrick's Sarge Bone and not being completely satisfied with the fit for our pups, I contacted a representative from the company. She quickly and kindly addressed my concerns and was able to point me in the direction of some treat options which might be a better fit for our aggressive chewers. They were also kind enough to send a sampling of such treats for the boys to try out!
Our dogs have come to assume (correctly) that every package we bring through our doors is for them. They couldn't wait to see what was inside when the Merrick package arrived, and were overjoyed as we began to dig through!  We received several different types of items so will be breaking this product spotlight into multiple reviews!
Merrick Dental Chews
With February's Dog Dental Health Month just wrapping up we thought it was important to keep the conversation going and share our thoughts on Merrick Dental Chews! Just because Dog Dental Health month has ended, doesn't mean that we should get lax in our dental care routines!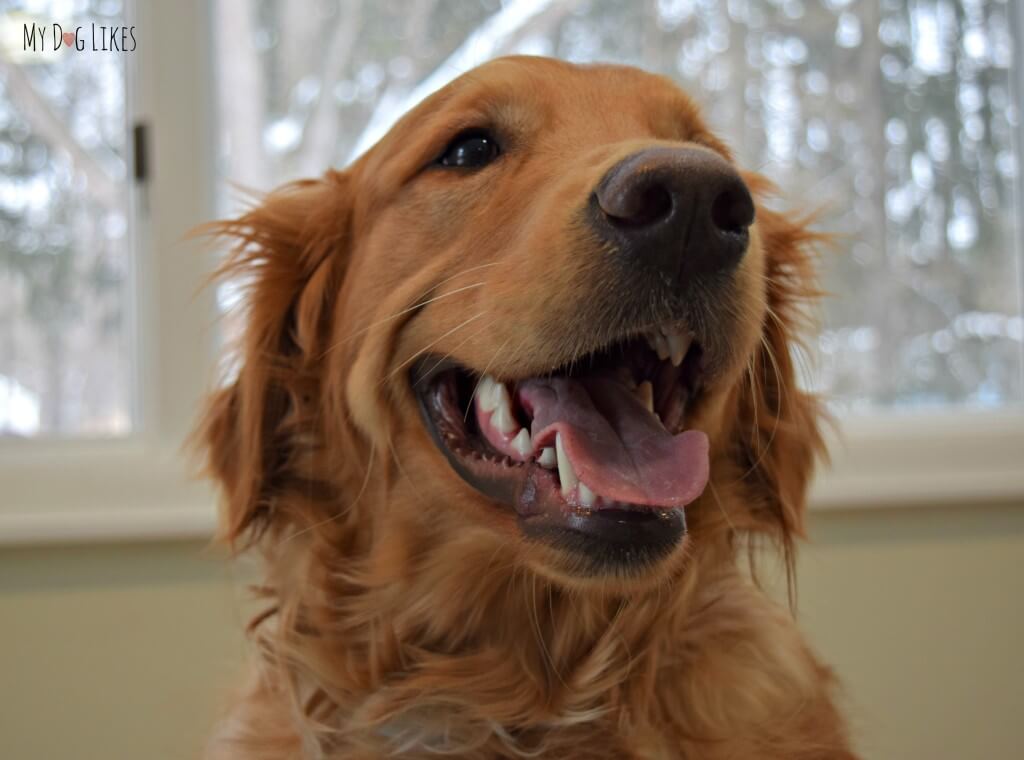 Keep your dog smiling!
Keeping those chompers healthy doesn't have to be hard. Being proactive and consistent with brushing your dog's teeth is an easy and effective way to support your dog's dental health. We brush our boys' teeth a couple of times per week (at minimum) and are working to incorporate it into our regular routine before bedtime. 
Dental health care can be fun too! Building on your dog's natural instinct to chew, there have never been so many retail options for promoting your dog's dental health as there are now. Products such as compressed dental chews, raw bones, and nylon bones are the perfect supplement to your dog's dental care regimen.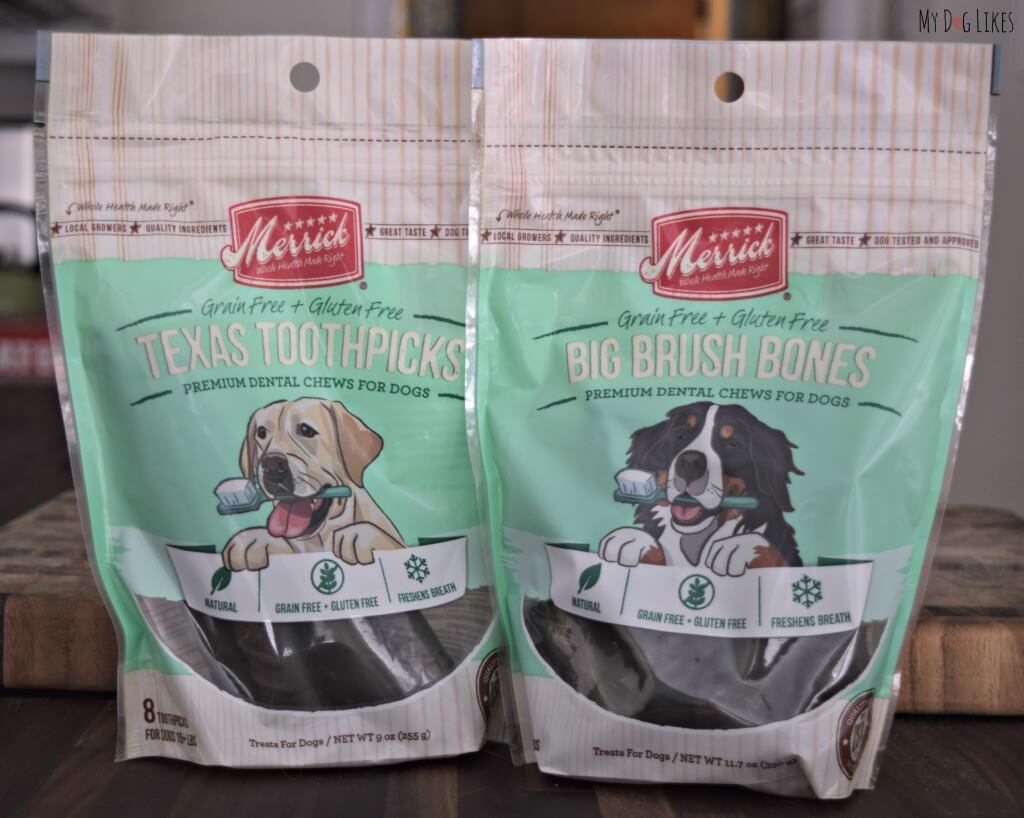 So, What Does Merrick Have To Offer?
Looking through our box of goodies, we came across two different dental offerings from Merrick Texas Toothpicks and Big Brush Bones!
We love Merrick and couldn't wait to see what these treats were all about..now if only we had two volunteers to offer their taste testing services! Ha!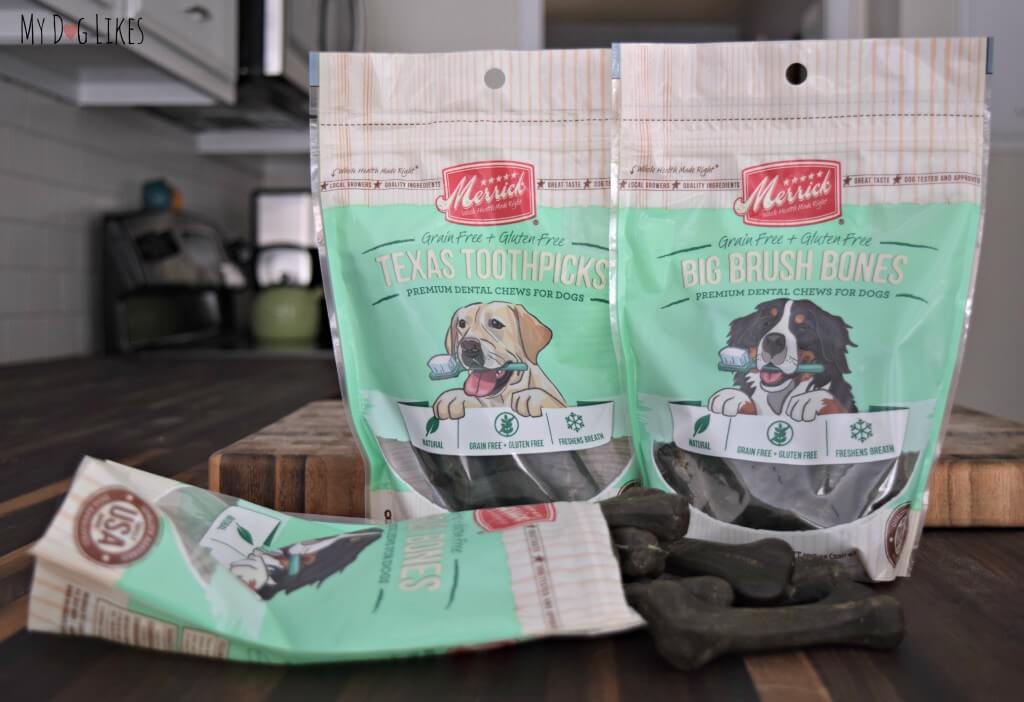 The Same and Different
The formula and ingredients of each of the dental chews are the same, their shapes and the fun that follows, totally different.
Each treat is all natural, grain and gluten free and made in the USA.  Interested to see how your favorite dental chew stacks up? Check out the Merrick comparison tool for more information! (http://www.merrickpetcare.com/treats) spoiler alert, Merrick Dental Chews rock!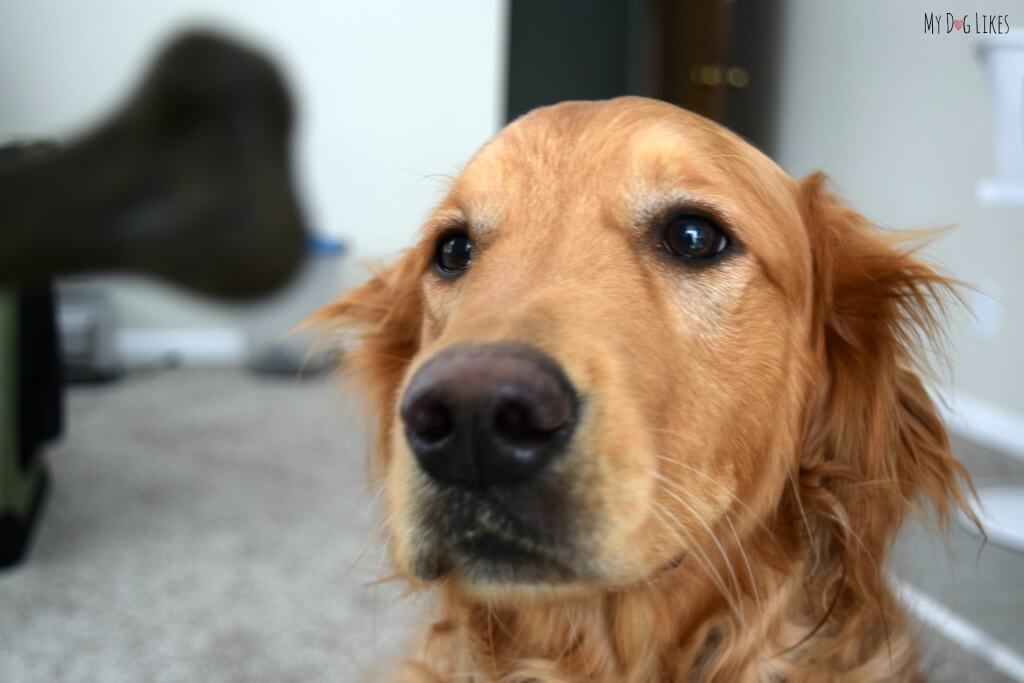 Let's get right to the good stuff! Time to give them a try!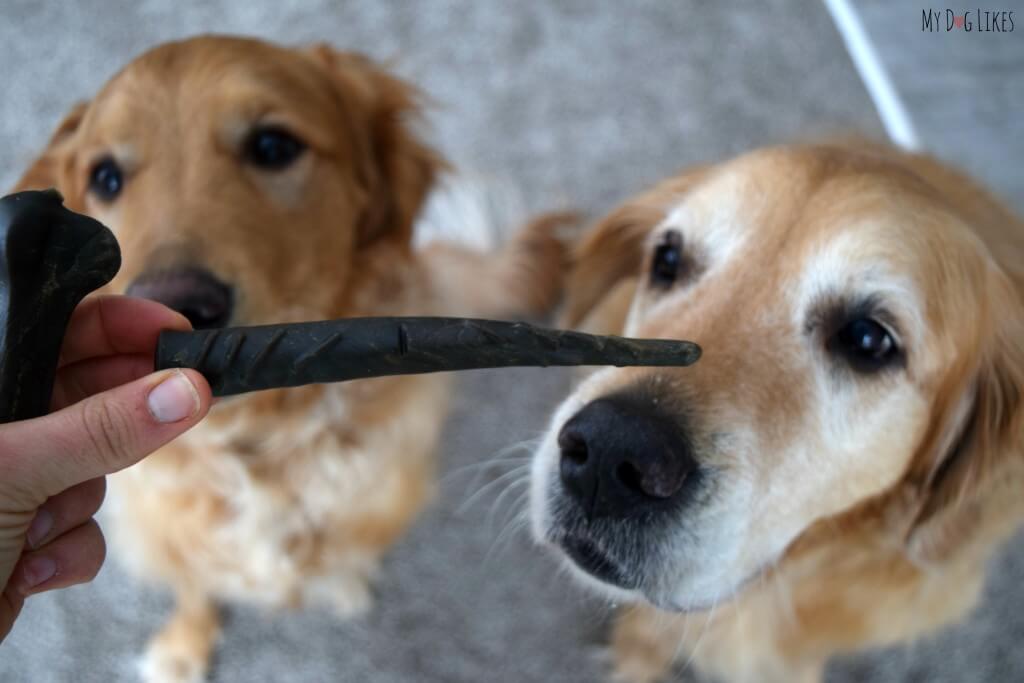 So what did we think?! (Our Merrick Dental Chews Review!)
Hardness – The boys take much longer to chew through these than some other dental chews we have tried.  That is a big plus in our book as more chewing leads to more teeth cleaning!
Size – The standard dental chew bones come in three different sizes: Mini, Lil', and Big, helping dog parents to find the perfect size.
While no dental chews are really considered a "low-calorie" treat, the size of the big bones and toothpicks are a little smaller than other dental chews we have tried (109k/Cal). Because these bones cannot be broken up for portion control the calories saved and perfect size goes a long way to helping your dog stay trim while cleaning their teeth.
Taste – Judging from the picture below, no complaints there!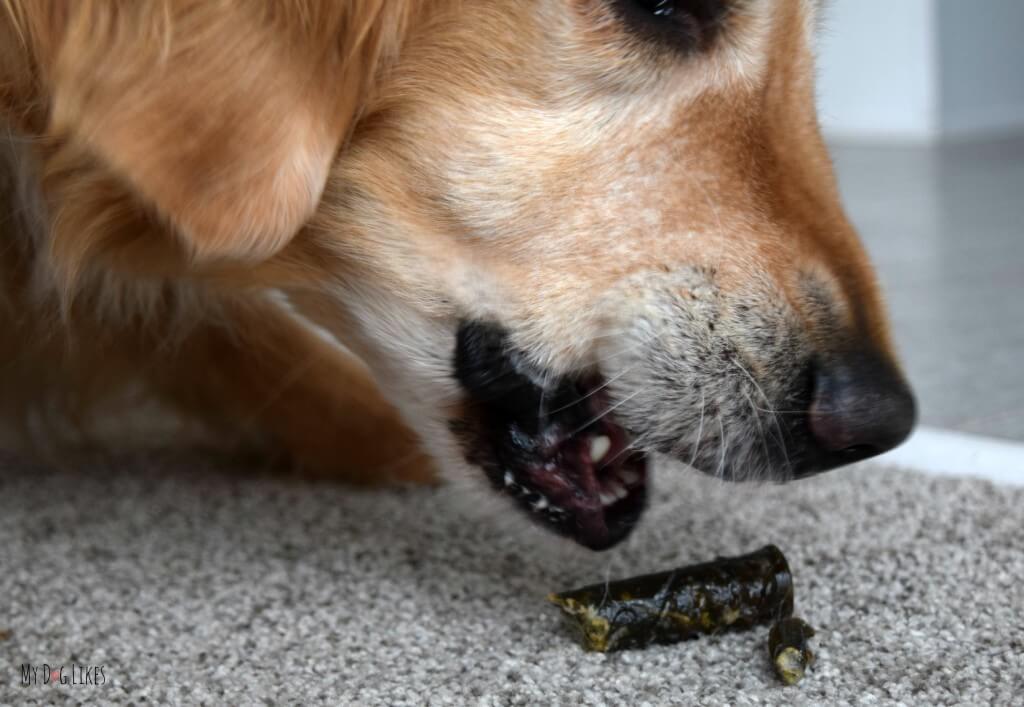 Key Benefits of Merrick Dental Chews
Cleans Teeth – You may think that the unique shapes are just for fun, but the forms and textures actually help to clean teeth of plaque and tartar while chewing!
Freshens Breath – Let's be real here – our dogs don't always have the freshest breath! By removing plaque and tartar, Merrick Dental Chews help to take care of nasty breath!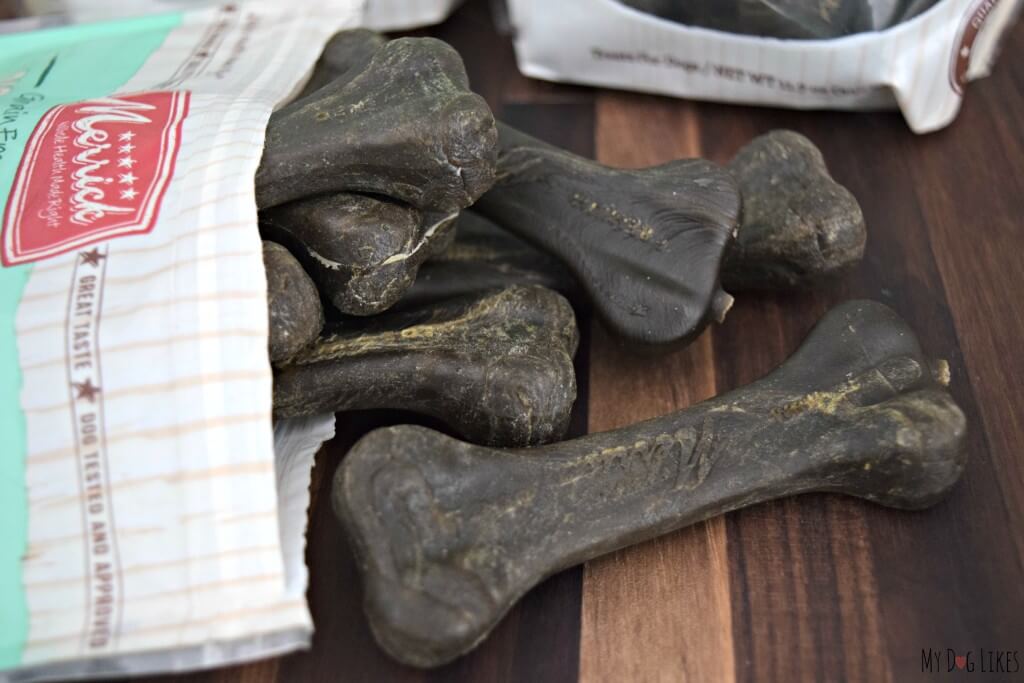 Why MyDogLikes Merrick Dental Chews
Merrick Dental Chews are all-natural and do a great job of cleaning dogs' teeth and freshening their breath. All in a tasty and digestible treat! They are an easy and fun way to incorporate dental health into your everyday routine!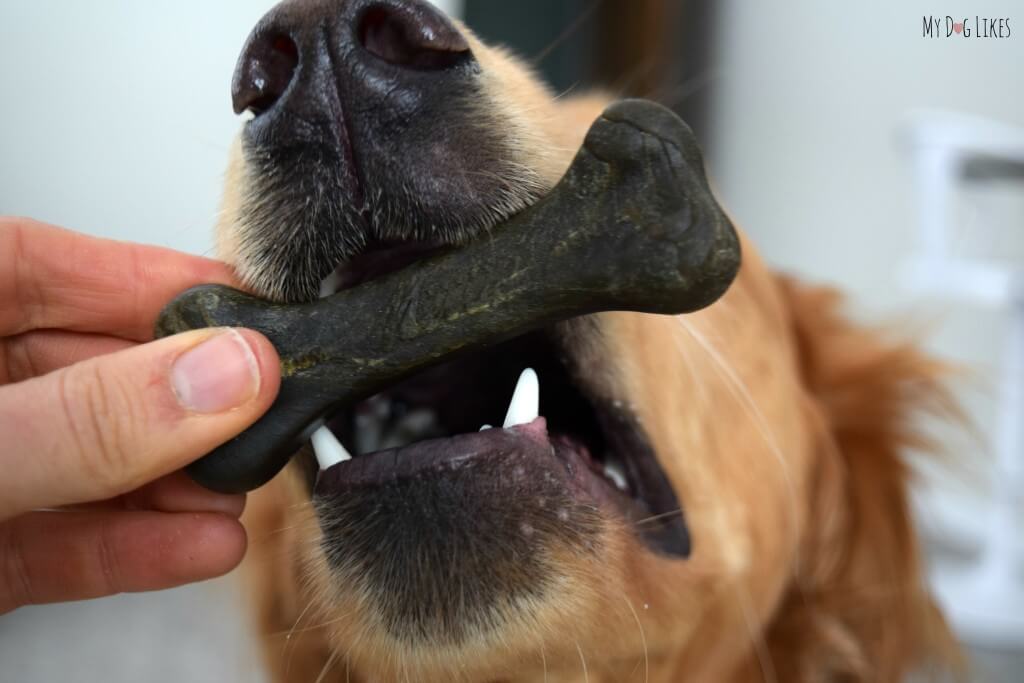 Shop Dental Chews on Amazon