Look at our Goldens, aren't they beautiful with their long luxurious golden hair?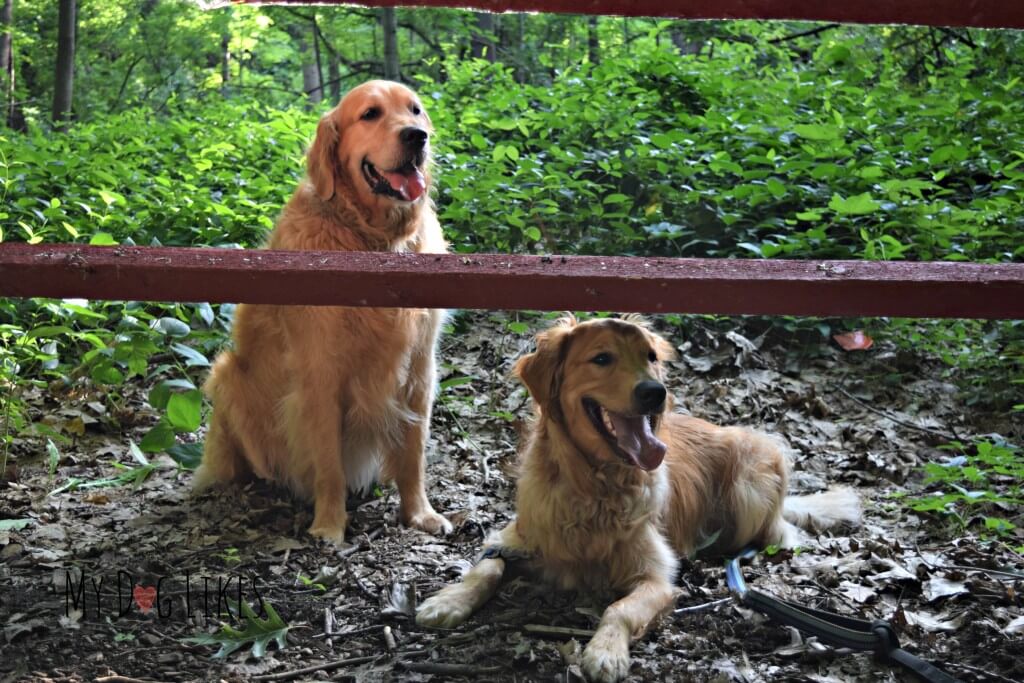 Beware! Appearances can be deceiving…behind every golden there is a darker side (in my case black yoga pants covered in golden hair)! We love our boys and although Kev and I (and everything in our home) is constantly covered in golden hair, we wouldn't trade it for the world!
One of the ways that we can show our boys just how much we love them is to engage in regular grooming. Not only does it help to keep ourselves and our home a little bit cleaner, but it is SO important for keeping our boys happy and healthy! With the winter coat on its way out, allergy irritants on their way in, and lots of things to get into (water, mud, and burdocks), we are reminded daily of just how important regular grooming is!

Establishing a regular routine of grooming helps to prevent issues like hot spots, irritations, and mats which can cause serious discomfort for your pup. We are always looking for better solutions to our meet our grooming needs so you can imagine how excited we where when Chewy.com offered to send us one of their favorites: the FURminator Dual Brush.
Click here to pick up your own FURminator Dual Brush!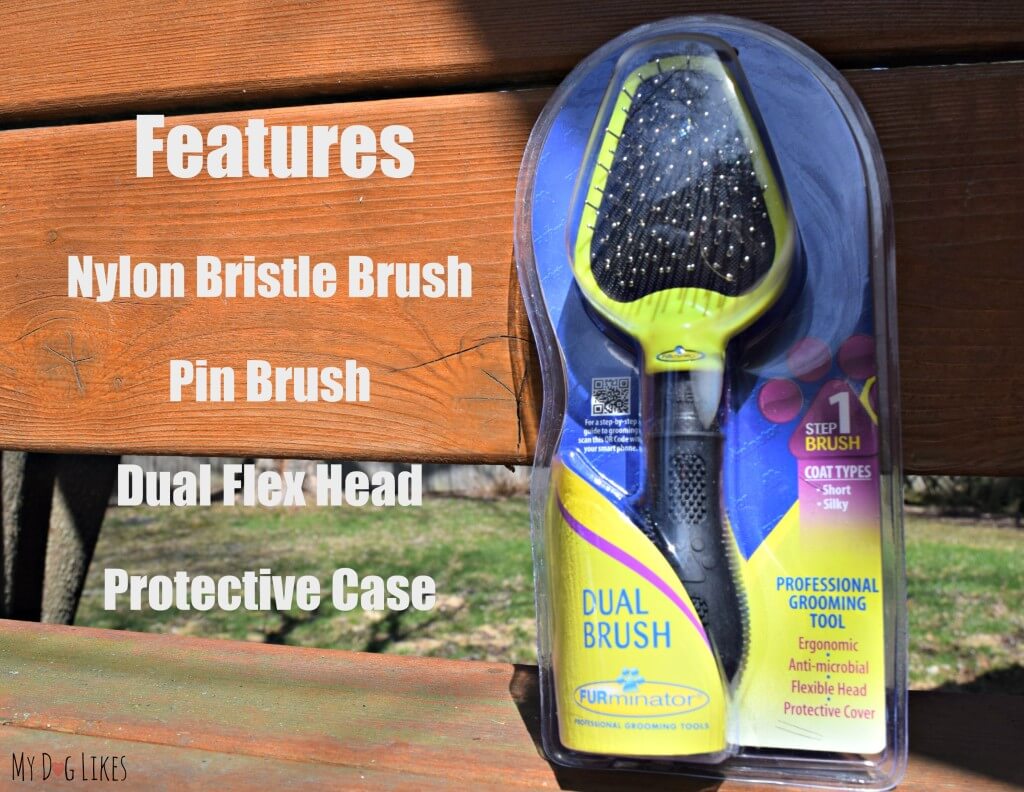 About Chewy.com
Chewy.com is one of our favorite go-to sites for all things pets! With 24/7/365 customer service and over 18,000 products in stock and ready to ship, making you and your pet happy is their number one prerogative.

A quick look around Chewy.com and you will be amazed with the great products that they carry! Not a planner? No worries, place your order before 4pm and it ships the same day!  Chewy.com also recognizes that every pet is unique and not every purchase is a home-run, so they offer 100% unconditional satisfaction guarantee.
What are you waiting for…check them out now!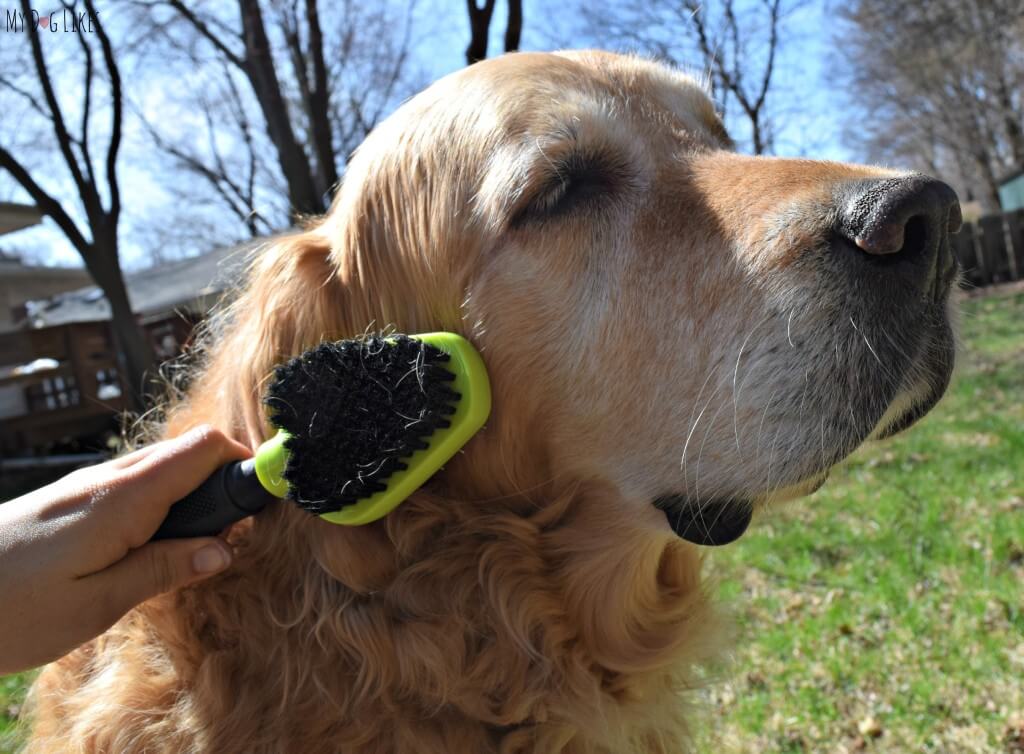 Chewy knows just what we need…
You are probably familiar with the classic FURminator deShedding tool. You know, the one that helps pet parents create small dogs made of fur.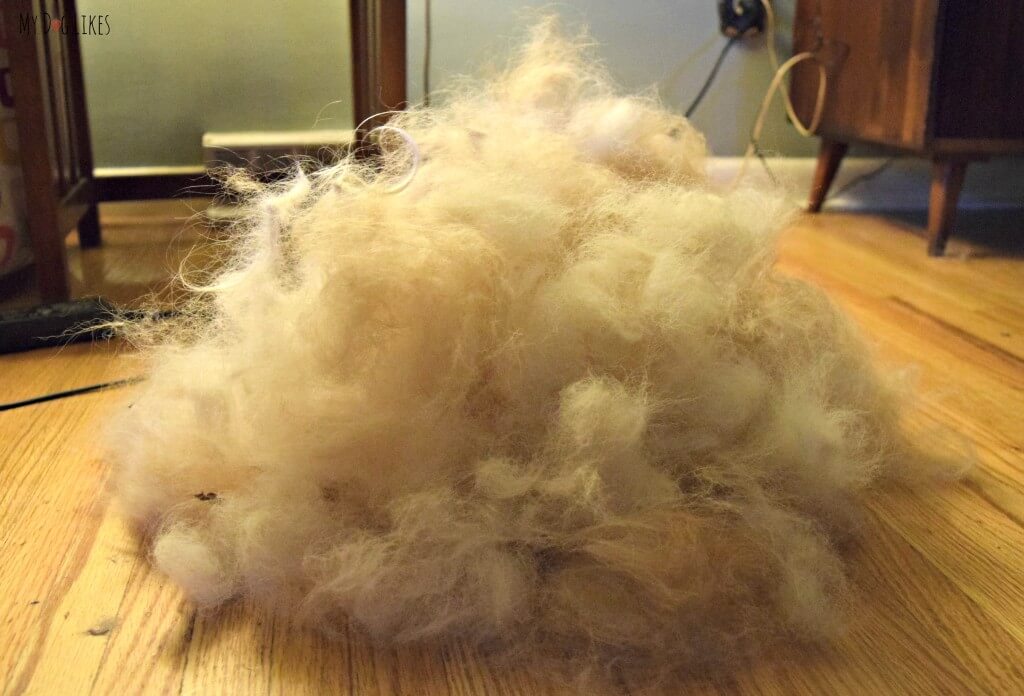 We love, love, love our FURminator deShedding tool, but it has some limitations. First, the deShedding tool is not designed to be used as a first line of defense. FURminator recommends that the coat is brushed to remove any tangles or mats before using the deShedding Tool. Additionally, the deShedding tool has a solid, non-flexible design that doesn't move with the contours of your dog, making areas like their head, legs, and tails, difficult to brush. Lastly, sometimes our boys' skin is too sensitive and requires a gentler approach on allergy prone areas.
Welcome to the family, new friend!
The FURminator Dual Brush is a great addition to our grooming routine! Paired with the classic deShedding tool this team is an unstoppable combination.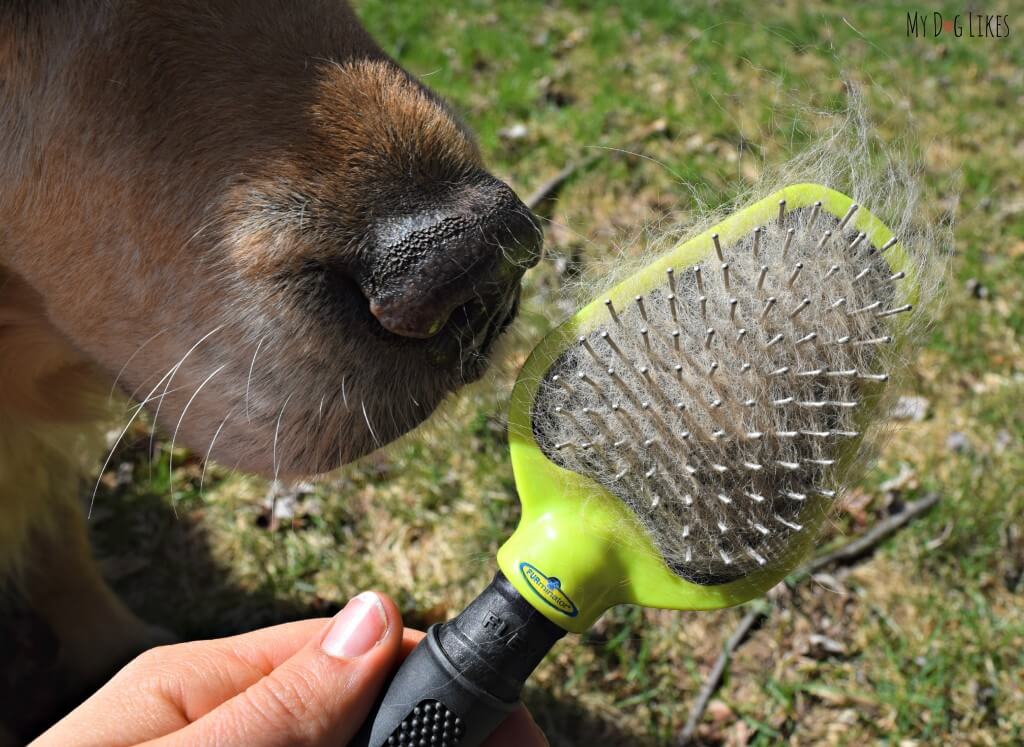 The FURminator Dual Brush consists of two unique sides, a pin and nylon bristle brush, designed to meet the needs of dogs with various coat types.
Pin Brush – This side works great on long coated dogs. It has flexible bristles and a padded base that flexes to follow the unique contours of tough-to-brush spots.  
Nylon Bristle Brush – This side is great for removing debris from short coated dogs. It also can be used on long coats to finish, helping to spread your dogs natural oils and create a beautiful shine.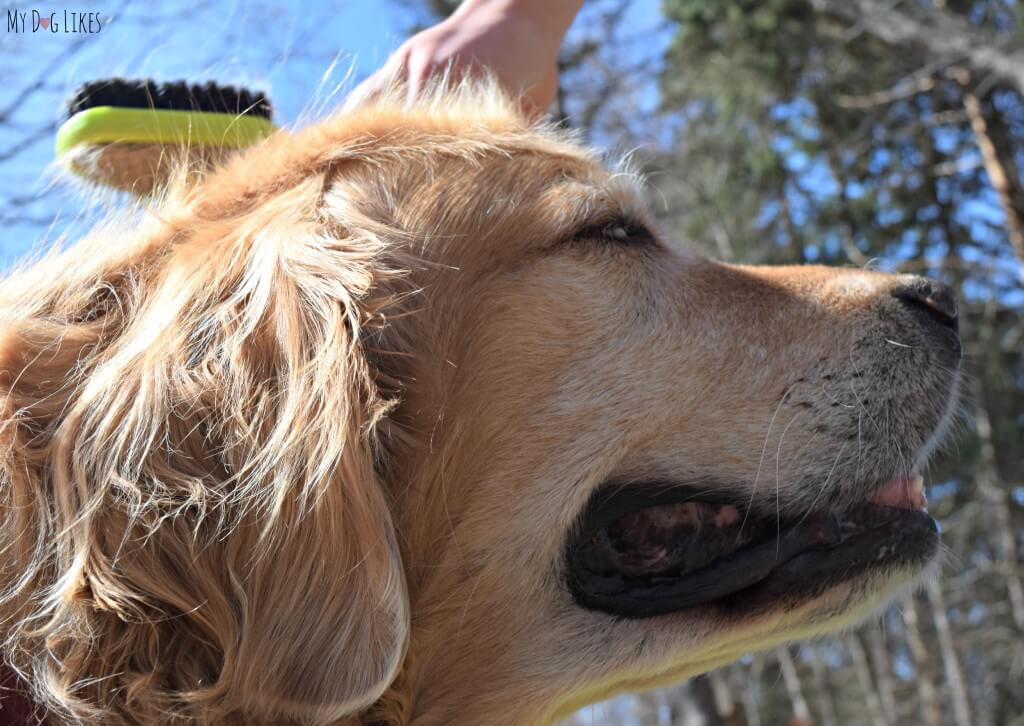 Not Your Standard Dog Brush
The great features don't stop there.
Cover case – The cover case protects the bristles preventing them from getting smashed or deformed when being stored between uses.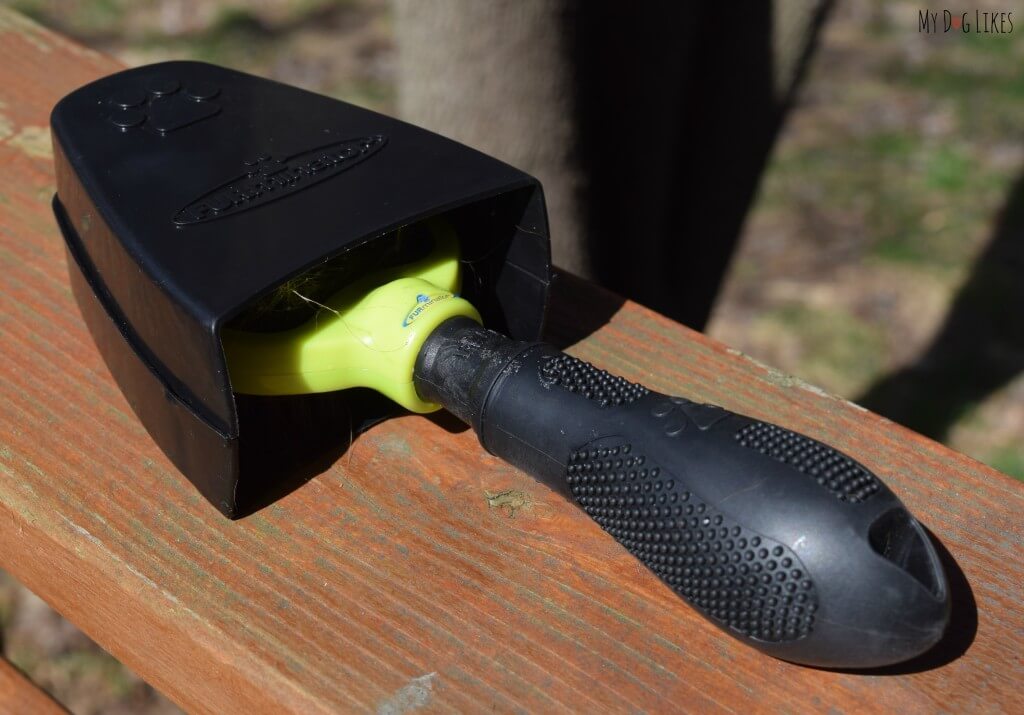 Why MyDogLikes the FURminator Dual Brush
Tough on Mats and Tangles, Easy on our boys
Our boys have sensitive skin. During peak allergy season when their skin is at its most sensitive point, brushing can sometimes be "too much" on them (even though it feels so good!). This also happens to correspond with the season that is full of the most adventures and requires the most brushes and baths! We love that this brush gently works through tangles, mats, and the all too frequent paraphernalia collected on walks through the woods. 
DeShedding
Not to be confused with its famous sister the classic deShedding tool, this brush is a star in its own right. This brush does an admirable job removing the loose hair that often forms in tumble weeds and floats across our hardwood floor. This brush also does the dirty work, removing debris like dirt, leaves, and burdocks than can get stuck in their luxurious hair.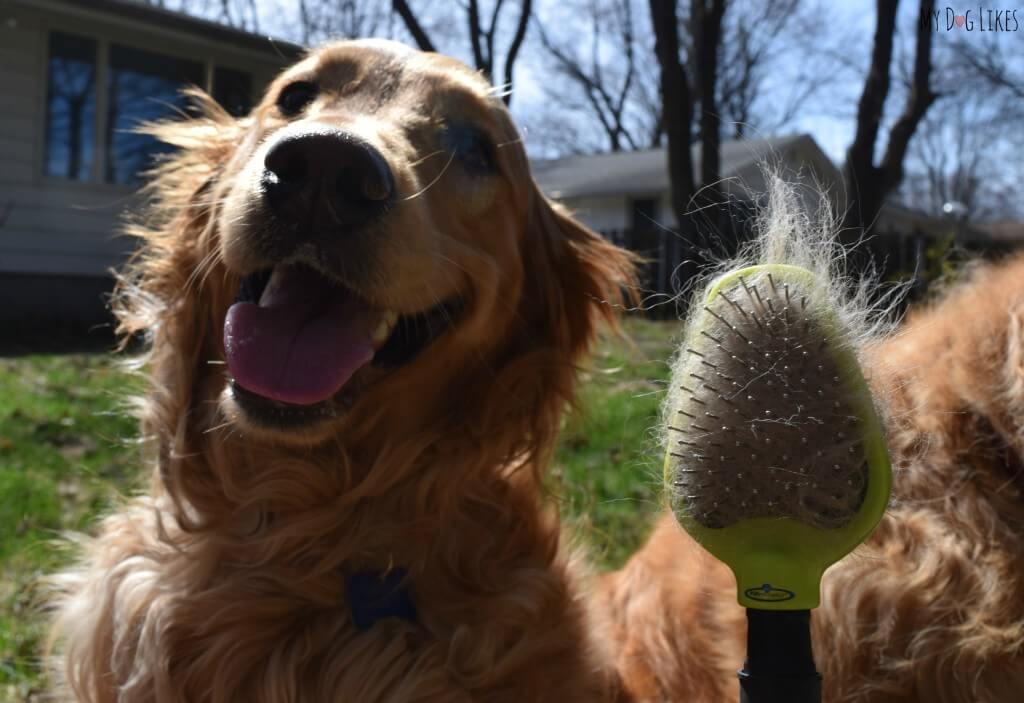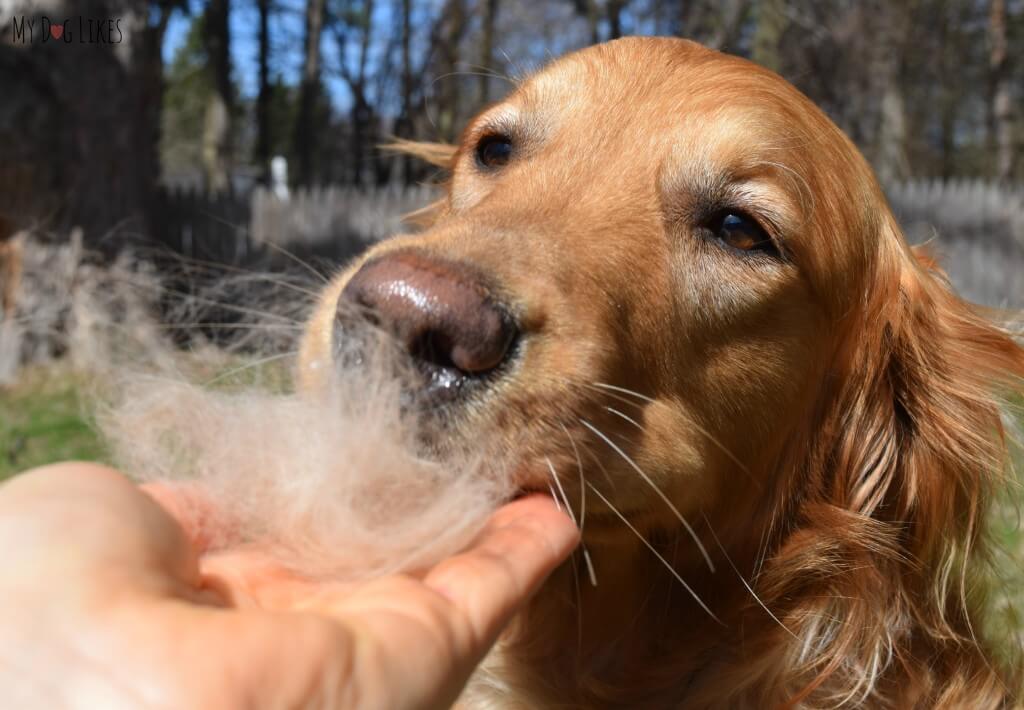 Contours
The flexing handle and padded bristled base make this brush particularly adept at maneuvering tricky areas like the head, legs and tails.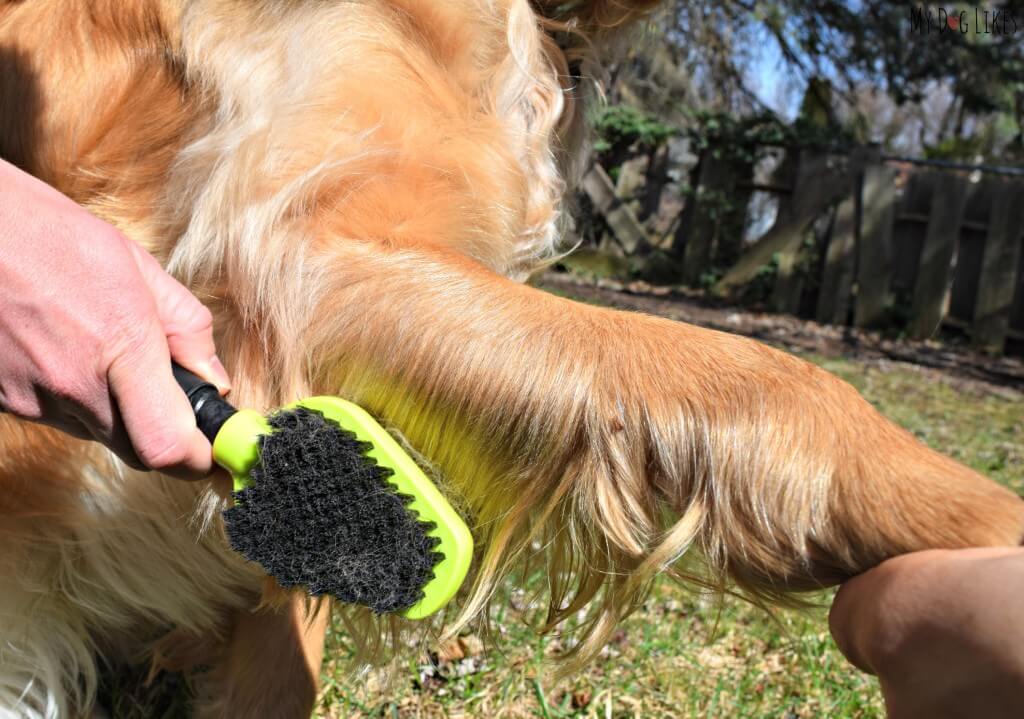 Something for Everyone
We love the pin bristles for removing and loosening mats, tangles and debris, while the nylon brush is great for smoothing out the coat and keeping it moisturized with their natural oils. Owners of short hair dogs would also find this soft side particularly useful for keeping their dogs coats clean and tidy. 
Charlie is not big on any kind of activity not of his choosing, he is still too curious and wiggly, but the gently nylon brush soothes him right away. This would be a great introduction to brushing with puppies, helping them to learn to tolerate regular grooming.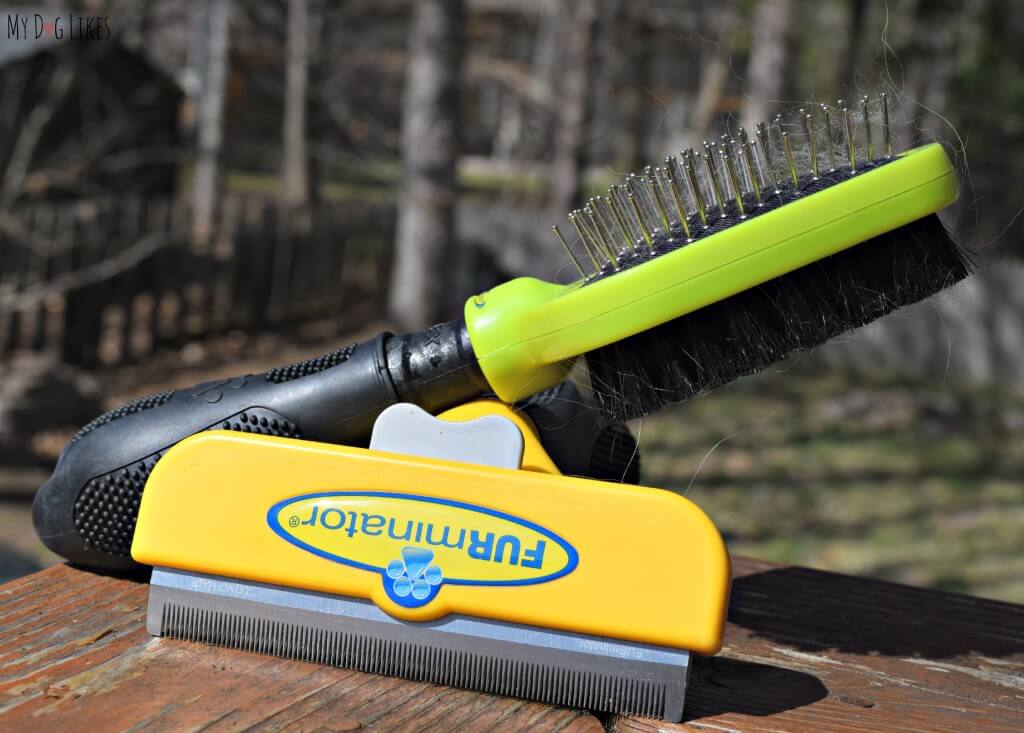 First line of defense… Great combo with the deShedding Tool
Using these tools together is some next level grooming action! The dual brush is great for everyday use or as a first step in a major grooming session. Throw in the deShedding tool and you can handle anything those beautiful coats try to throw at you!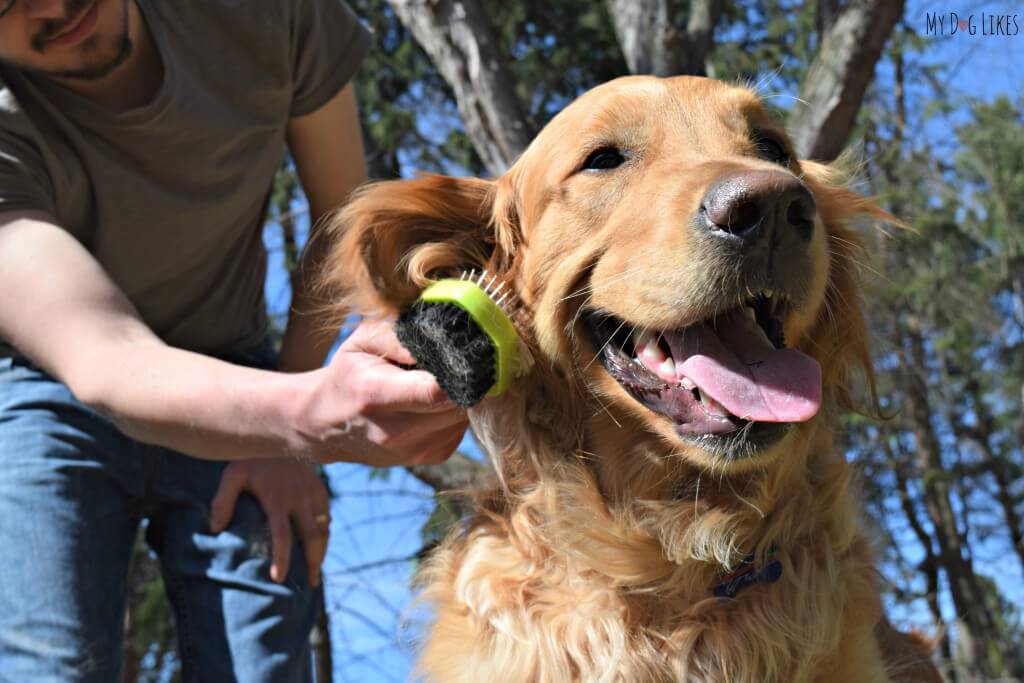 Overall, we love the versatility that this brush provides. Not only is the FURminator Dual brush great for regular use, but it helps for more serious deshedding sessions that are needed at the change of the season!
Interested in giving FURminator a try?