Enjoying our dog friendly travel series? Visit our road trip home page for all our daily recaps as we tour the USA with our Golden Retrievers in tow!
We were exhausted when we finally settled in last night at the Greybull Lodge in Central Wyoming. Tackling most of the Yellowstone Grand Loop in one day was certainly an ambitious plan. Since we had arrived so late so we weren't in a huge rush to head out in the morning. Plus, we didn't have a long drive to our destination for once! On the agenda for today was hiking at Bighorn National Forest and driving on toward Rapid City, South Dakota.
The Greybull Motel
Yesterday, as always, we were booking our room very last minute to keep our options open. Just before leaving Yellowstone, Rach ended up finding a room at the Greybull Motel in Greybull, Wyoming. The rooms were clean, the landscaping was beautiful, and the hospitality was top notch! The owner of the lodge was very welcoming and accommodating. Not only did she make special arrangements for our post midnight check-in, but she allowed us to take our time heading out in the morning.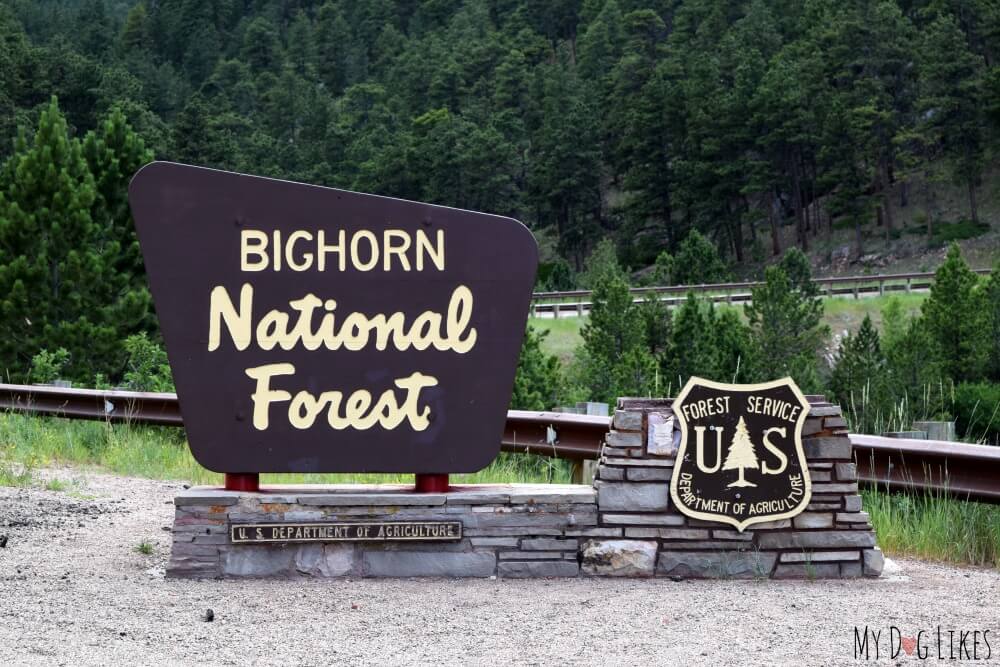 Bighorn National Forest
Forming the Eastern edge of the Bighorn Basin lies Bighorn National Forest and the Bighorn Range. We had not done much research about the park prior to our visit, but since passing through was directly on the way, we were excited to check it out.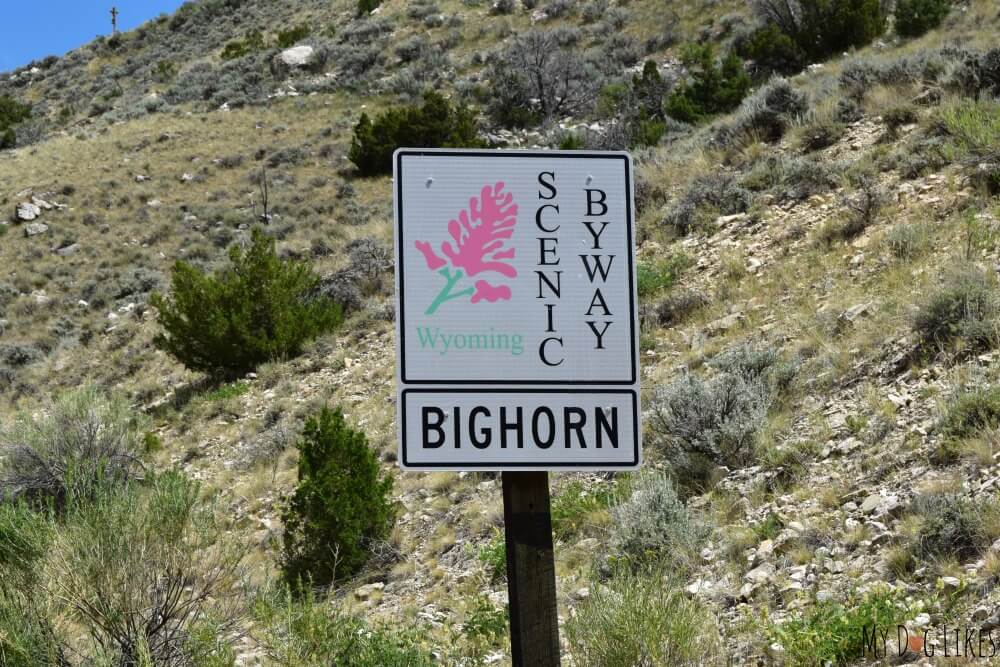 Swimming in Shell Creek
We entered the park on Rt. 15 (one of Bighorn's 3 scenic byways) and were immediately surrounded by gorgeous, rocky canyon walls. Right away, we noticed a refreshing looking river winding alongside the road. We took advantage of a early pull off to take a look and were happy to see several paths winding down toward the water.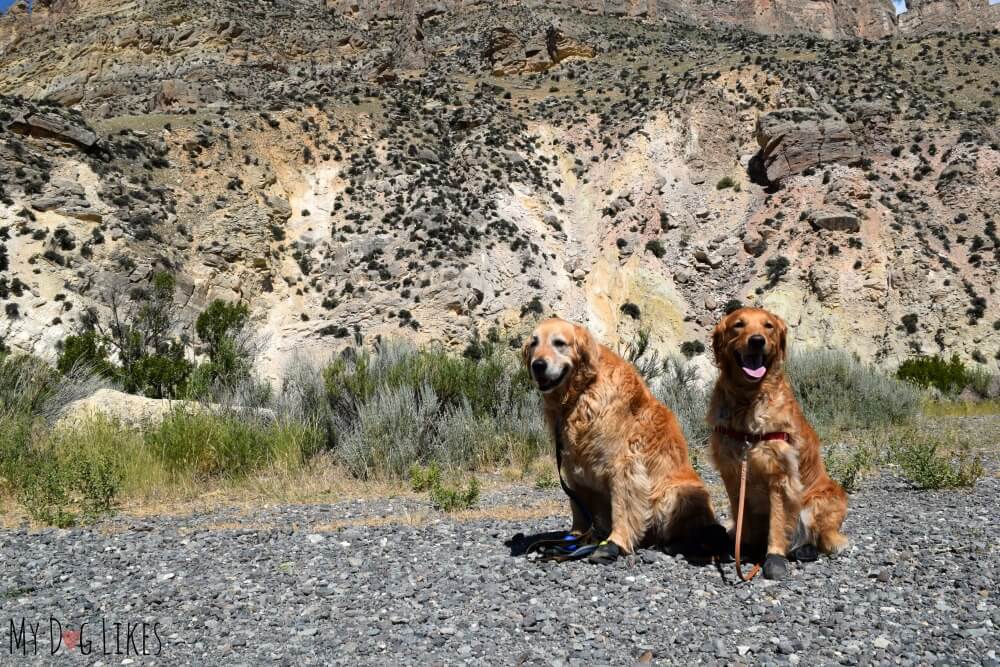 Not wanting to miss an opportunity to take a dip, we got the boys geared up and headed down!
Note that we have the dogs wearing Pawz dog boots for this excursion. Not only do these rubber boots help protect their paws from burning on the hot sand and stone, but they help to prevent cuts and scrapes on the rough and jagged rock. Last but not least, they actually help provide traction on slippery surfaces! These have been a lifesaver on our trip and we wouldn't travel without them.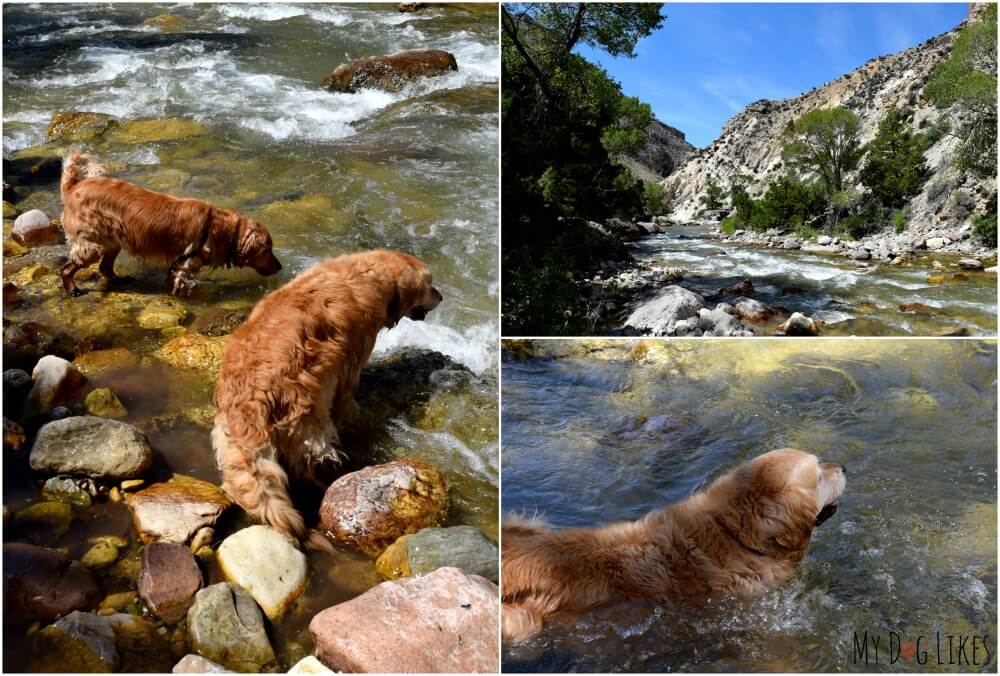 We enjoyed some quiet time down in Shell Creek – Charlie fetching sticks in the water and Harley lying down and relaxing.
Hiking the Beef Trail
After our stop in the creek, we were ready to find our main hike of the day. Looking for something a bit more official, we stopped at a visitors center near Shell Falls for some recommendations. The forest rangers we spoke to were very helpful and gave us a few trail recommendations that would be ideal for hiking with dogs.
We settled on what is known as the Beef Trail, which has been used for years to drive cattle and sheep from their Summer to Winter pastures. Apparently this trail is a great place to spot Bighorn sheep as well! We had to backtrack a bit to access the trail head, but no big deal. As it turned out this was just the sort of hike we were looking for!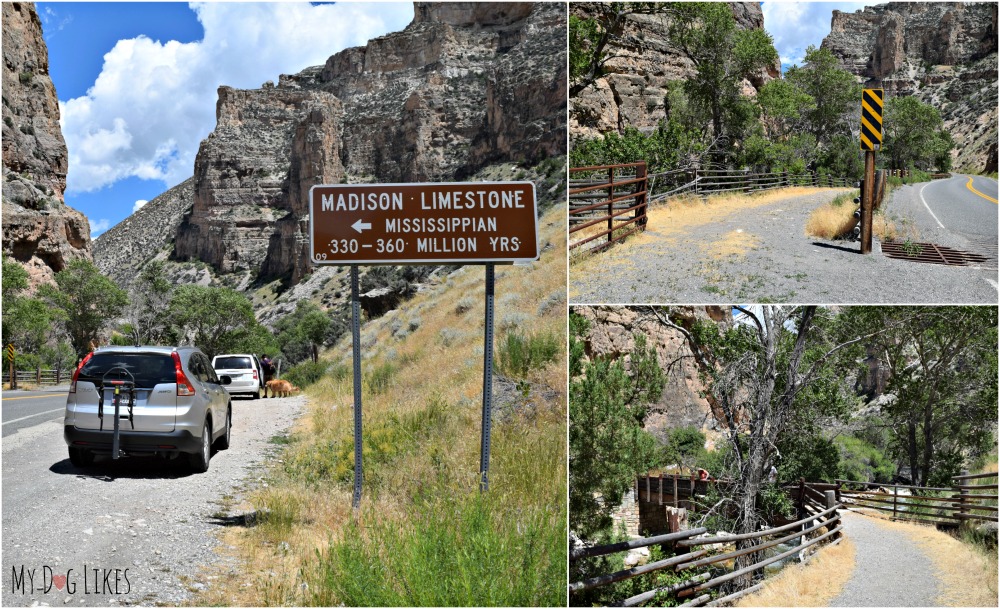 The photos above show the entrance point which is directly across from a small pull off. (Click here for the marker on a Google Map!)  Cross the small wooden bridge over Shell Creek and you will find yourself on the thin rocky path of the Beef Trail.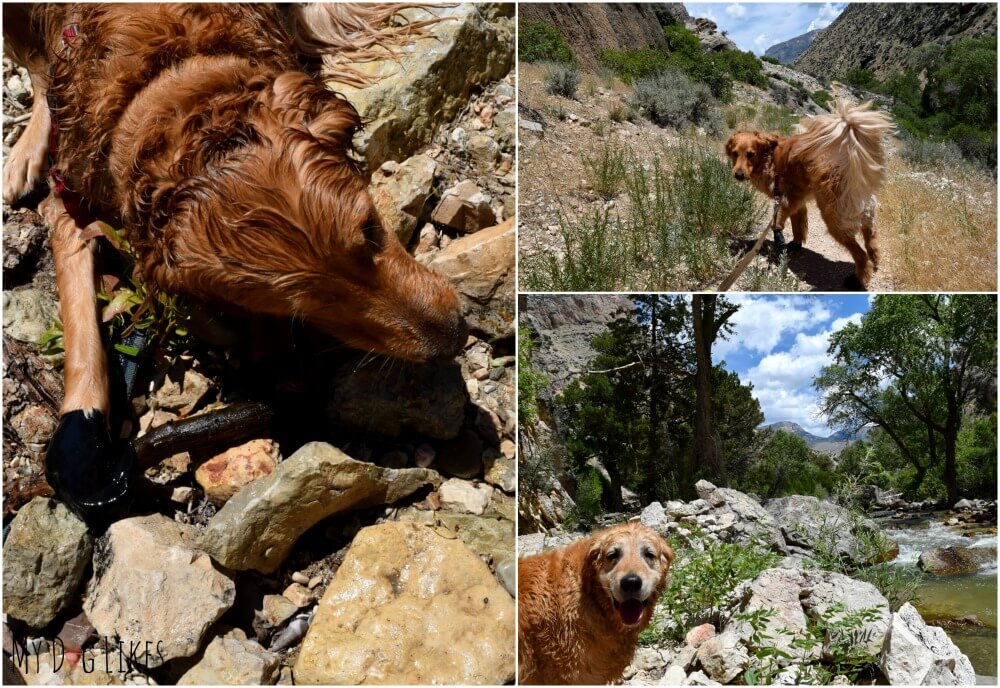 We hiked for about 2 miles, stopping several times for the dogs to take a dip in Shell Creek. We would have loved to continue further for an even higher view, but the terrain was getting to be a bit much for Harley. Plus, he had a bit of a wrist sprain from a few days before that we did not want to push.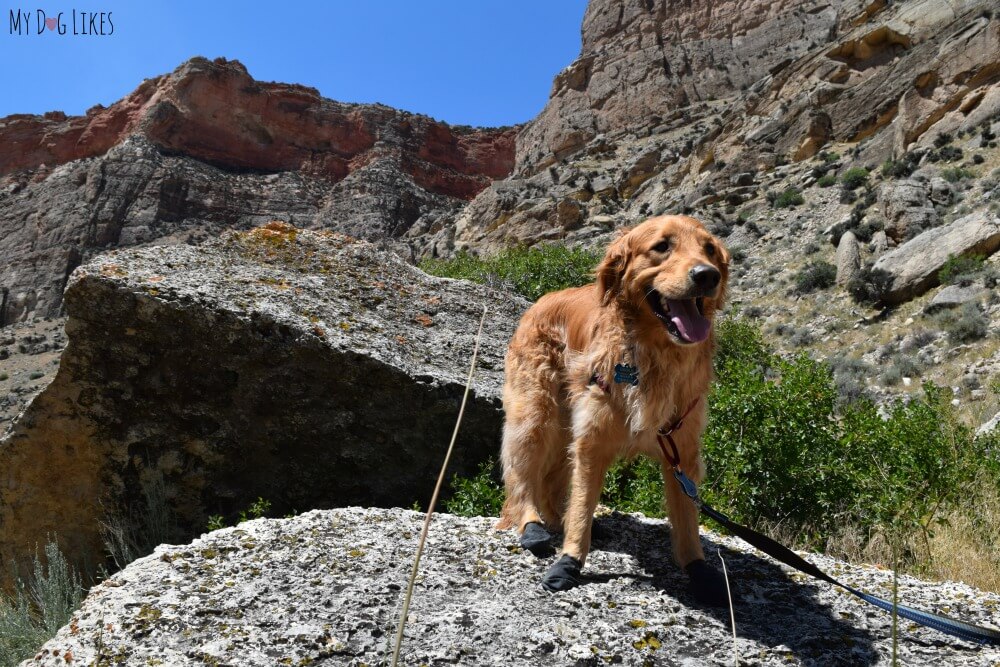 This was a very fun hike with moderate terrain, amazing views, and great water access. We did find a rabbit carcass along the trail so Rach was a bit nervous about mountain lions. Thankfully, we had bear bells on the dogs leashes to (hopefully) keep any predators away!
Steamboat Point
After thoroughly wearing out the dogs on our hike, we continued our drive on Rt. 14 across Bighorn National Forest. We climbed and climbed on the Byway switchbacks, admiring some amazing views of the Bighorn Range along the way.
When we were finally near the summit, we came across a large outcropping of rock known as Steamboat Point. There was a nice trail leading up to rock that looked to be an awesome hike. Harley was not up for the trip so I waited with him in the car while Rach and Charlie ventured ahead.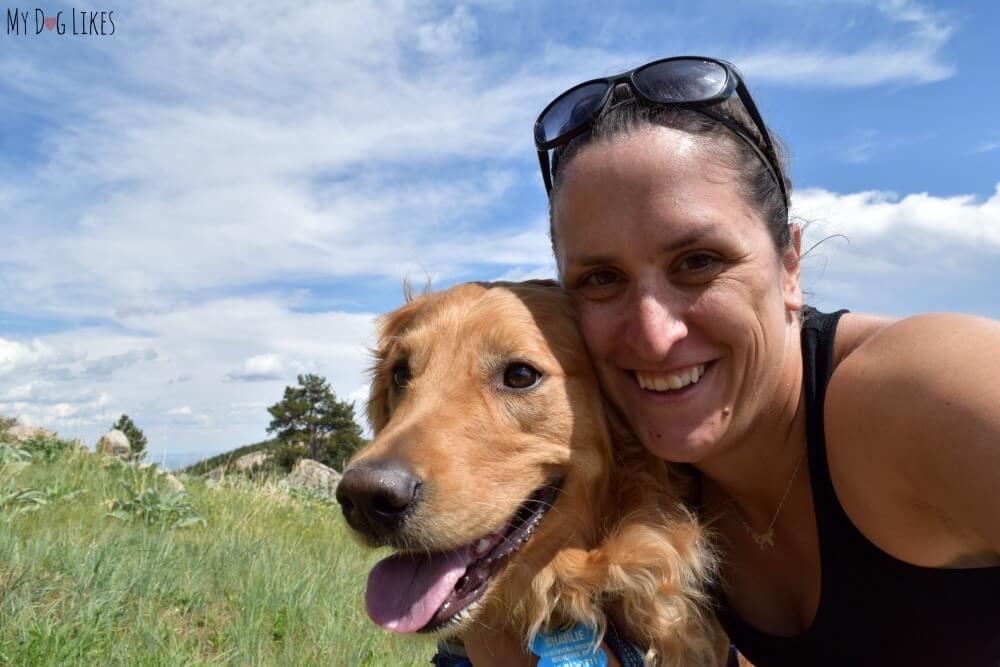 I am told that it was a fun little hike with a great view! Above is their selfie from along the trail!
Atop the Bighorn Range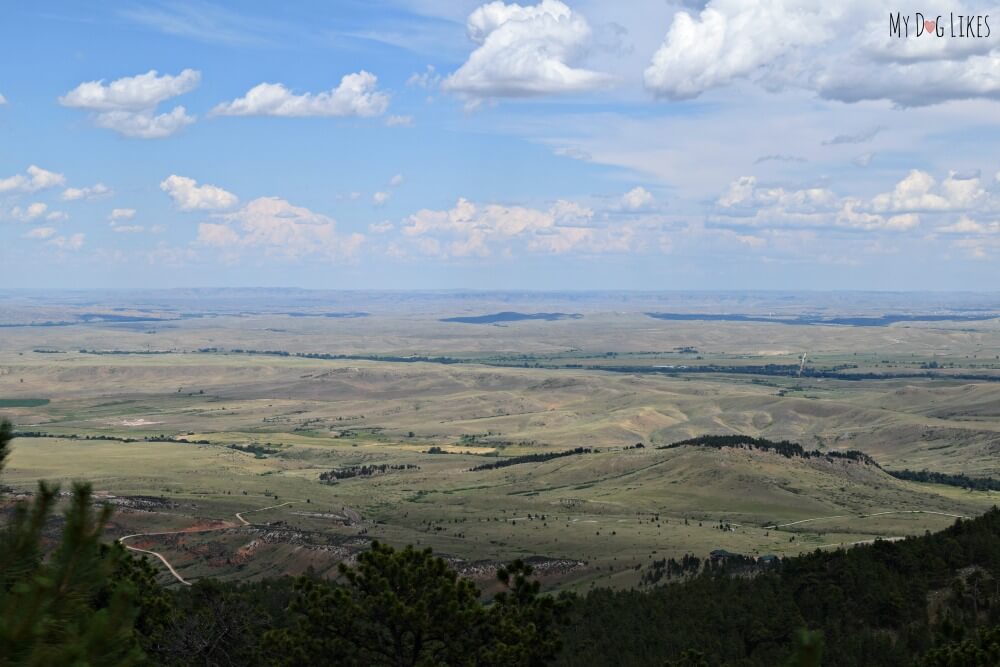 As we reached the eastern edge of the park, we encountered these stunning panoramic views where we could see for what seemed like forever. Next up was a several hour drive to Rapid City, South Dakota where we would rest for the night before hitting Custer State Park and Badlands the next day. 
While we came into the day without much expectation, this turned out to be some of the best hiking of our entire trip. We felt completely welcome with the dogs and there was so much gorgeous scenery to explore.
What we Learned on Day 10
We've said it before, we'll say it again: ASK THE LOCALS! There are too many trails to plan it all yourself. Ask the people who know to find the best trails!
Stop and Smell the Roses – If you see something cool along the road, stop. As the trip went on, we decided to enjoy the journey just as much as the destination. You never know what you will encounter, so if you see something that peaks your interest, just do it!
It never hurts to ask: We got in to our hotel late so I decided I would ask the motel owner if we could stay a little longer in the morning. We were happily surprised that our wish was granted! We didn't abuse the privilege, but just had the opportunity to take our time and it was wonderful!
Consult Google for Motels – Websites like Priceline are wonderful and have made our lives (and trip planning) so much easier but don't forget to consult good ole Google Maps. Typing in "hotel" will bring up lots of little red dots that just haven't linked up to Priceline or other trip websites. It only takes a second to call and check their pet policy. That is how we found the pet friendly Greybull Lodge!
Quick Stats
Miles traveled: 343
States passed through:  2 – Wyoming, South Dakota
Gas fill ups: 1
Stay tuned to see where we are visiting tomorrow!