Planning a road trip with your dog? Read up on our Dog Friendly Tour of America, for ideas on where to go and what to do while you are there!
This is a day that we were very much looking forward to. Yellowstone has to be the most famous of the natural parks and we were finally going to see it for ourselves! Plus, both Rach and I were very excited to see wild Buffalo for the first time and had high hopes!
First things first, waking up these lazy dogs…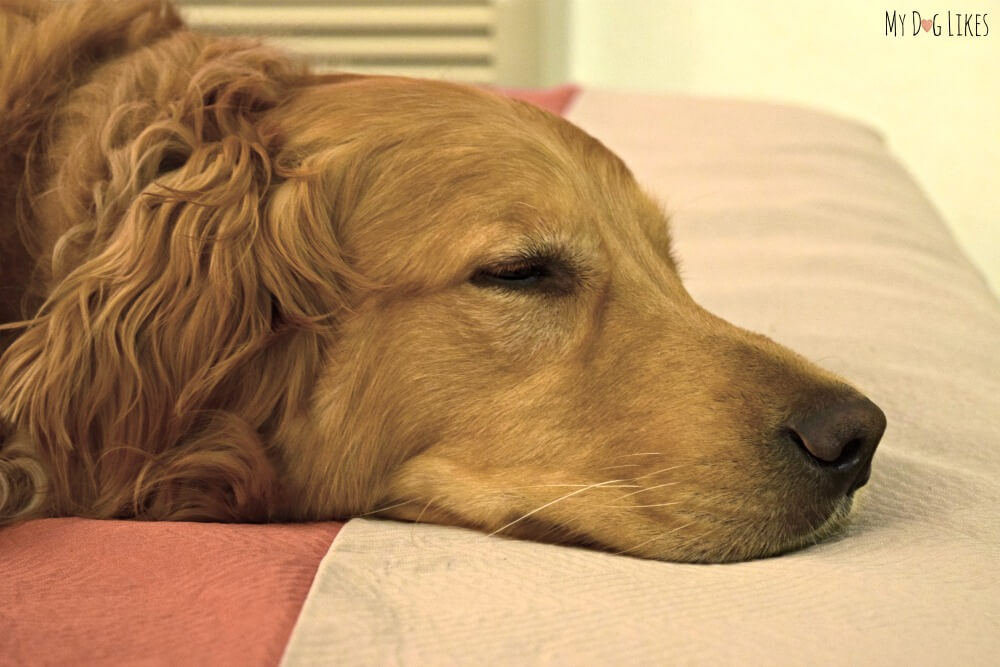 Jackson Hole, Wyoming
Jackson Hole is a small resort town of roughly 10,000 people. We wanted to grab a nice breakfast on our way out of town and hit up Yelp (as usual) to check out some reviews. It seems like there is a great food culture here that we would have loved to have had the time to explore.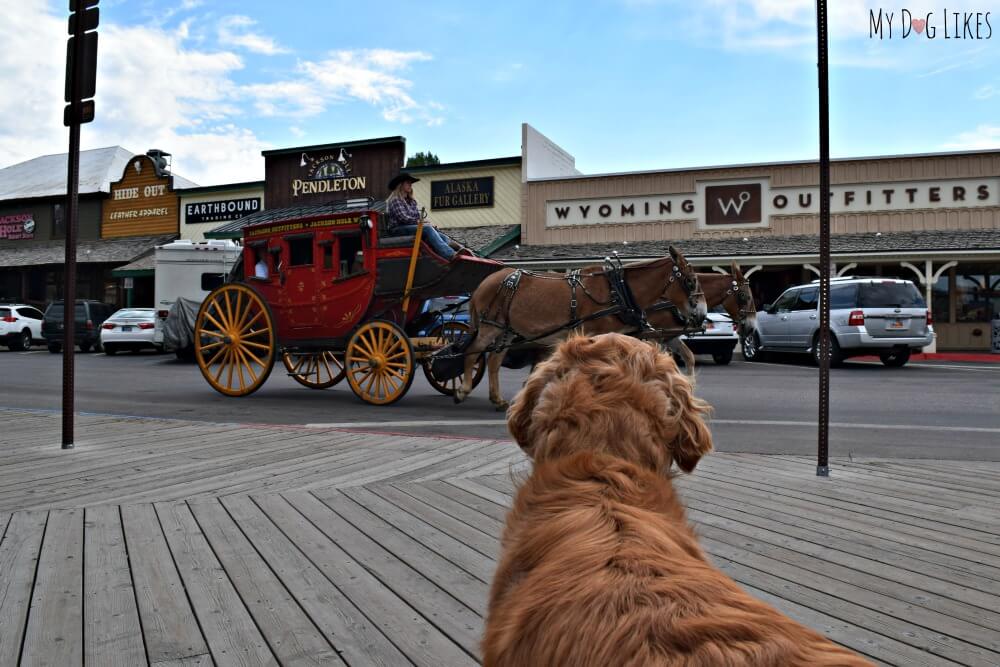 Breakfast at Persephone Bakery
We settled on picking up something to go at Persephone Bakery which turned out to be an awesome choice. I got a delicious egg sandwich and Rach a tasty and healthy omelette. We also got an iced coffee and muffin to enjoy during our drive up to Yellowstone. We were in a hurry so ate in the car, but it turns out that Persephone's actually has a huge courtyard that allows dogs! We will definitely take advantage of this next time!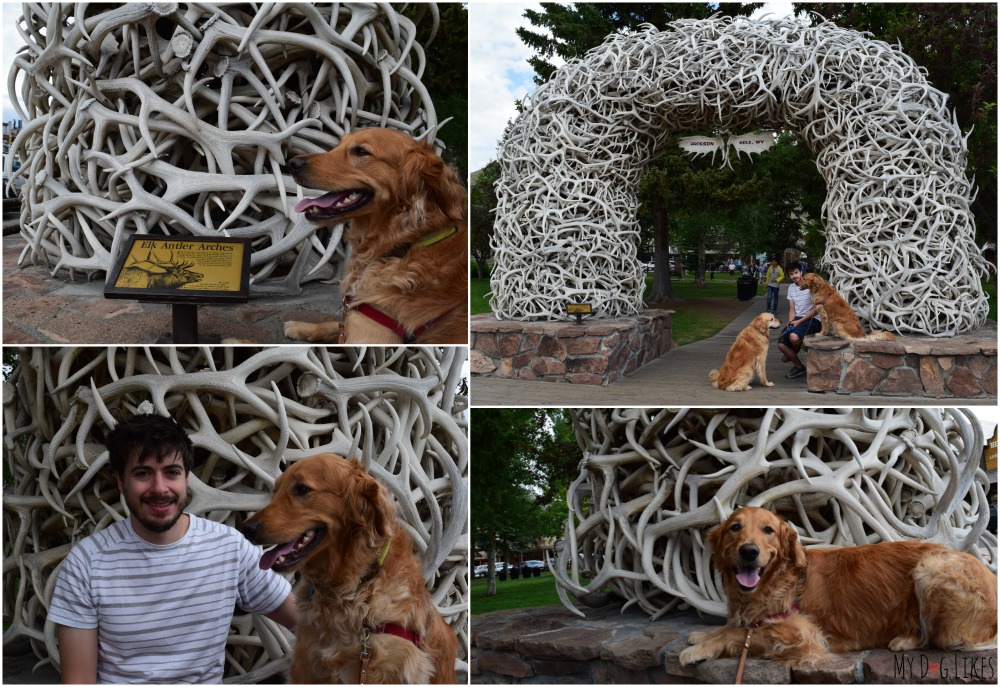 After breakfast we spent a few minutes in the town square checking out the grand Elk Arches that mark each corner. Talk about a dogs dream come true! These antlers are all naturally shed and collected yearly by the local scout groups.
Enjoying Grand Teton one Last Time
The road to Yellowstone from Jackson starts out the same as if you were visiting Grand Teton. Head North on Rt. 89 past the Teton Range. Shortly after reaching Moran, continue straight on Rt. 189 however, instead of making a left on Teton Park Road towards the mountains.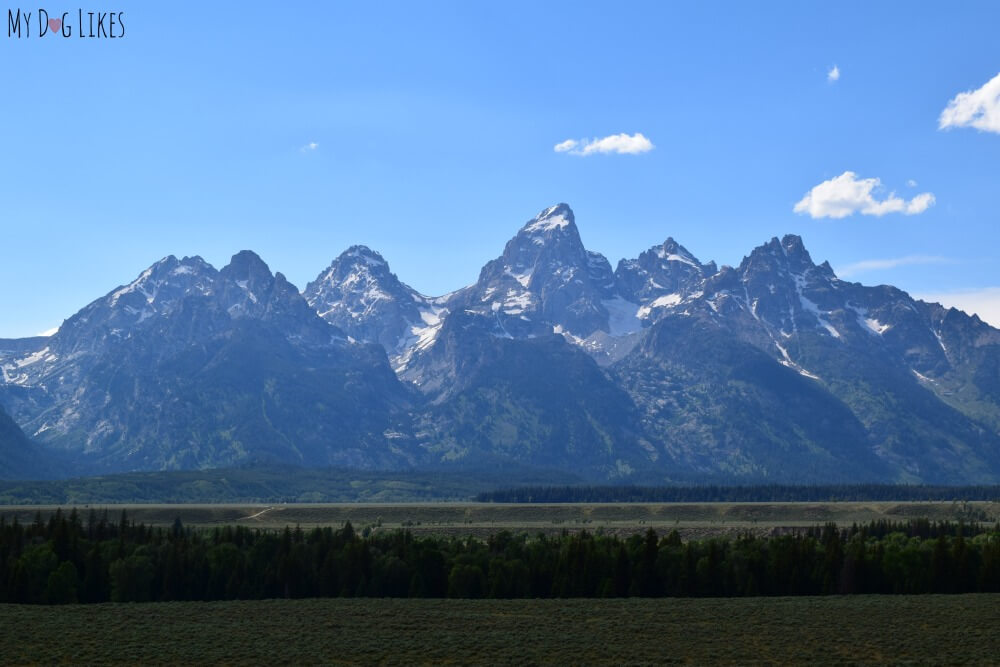 We were thrilled to be able to take in these breathtaking mountains one more time before leaving the area. I would LOVE to return to the Teton's one day and have some more time to relax and explore.
Next, you will drive for about 30 minutes before reaching the Southern entrance for Yellowstone National Park. The single car entrance fee is $30 but we were able to get a $10 discount with our receipt from Grand Teton the day before.
Yellowstone National Park with Dogs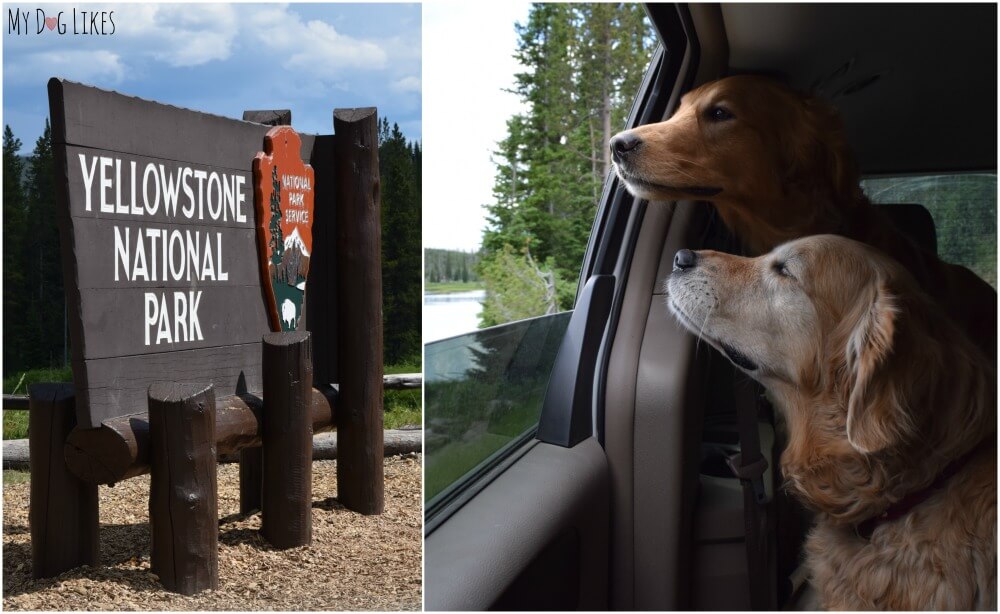 A dogs experience of Yellowstone is quite limited and we knew this going in. Dogs are not allowed on any hiking trails or boardwalks – Basically only within a few feet of any main roadway. This means we could get them out to stretch and use the bathroom, but we would not be doing any hiking today.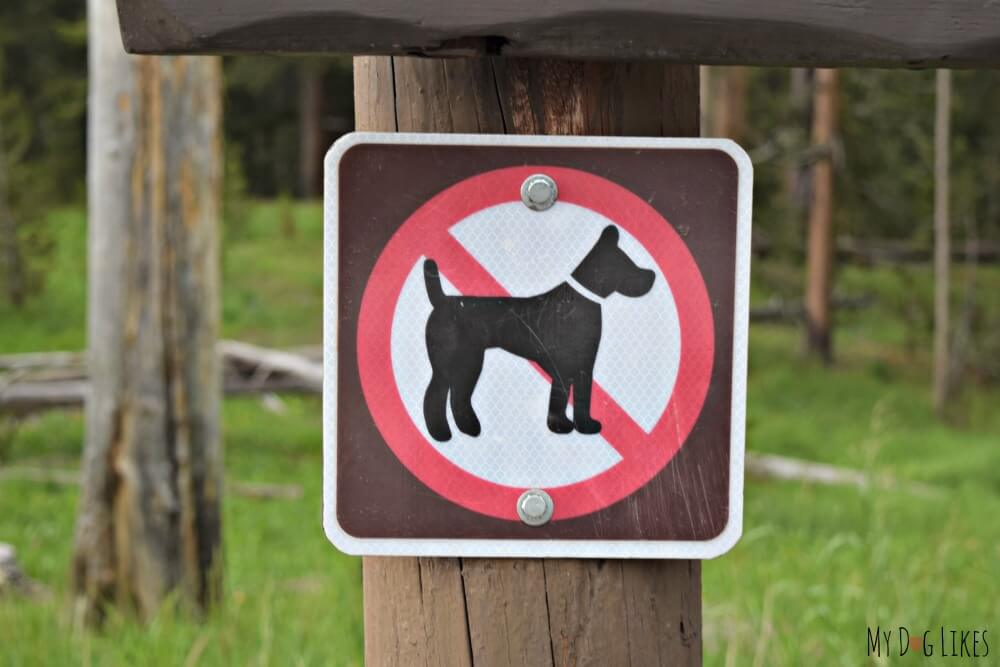 There are several reasons for this,  safety being the utmost concern.
Wildlife – Yellowstone is home to a wide variety of predatory species who would pose a huge danger to a loose or escaped dog. These include black bears, brown bears, wolves, mountain lions and more!
Thermal activity – Yellowstone sits atop some of the most geologically active land in the world. There are pools of hot bubbling water all over the place which are sometimes only covered with a thin crust of earth. These thermal areas have claimed many lives. (Both human and animal) and are extremely dangerous. Particularly so for animals who have never encountered something like this before.
It is still absolutely worth the trip however, so read on (and our upcoming post) to see how you can maximize your Yellowstone experience.
The Yellowstone Grand Loop Road
We decided to really go for it and tackle driving (almost) the entire Yellowstone Grand Loop in one day. No doubt, this was an aggressive goal at 142 miles and countless stopping points, but we knew we would be limited in our outside the car exploration anyways. Since our plan was to head eastward for a few hours drive after our visit, we opted for a clockwise route around the loop, thinking we would head out the East entrance.
We will go through our full visit in a separate post but below are a few highlights…
Old Faithful
We really didn't anticipate being able to see Old Faithful on this trip. From our prior research we learned that dogs were not allowed on the viewing Boardwalk so didn't think we would be able to watch the worlds most famous geyser explode. Since we were passing nearby I parked and let Rach run over to check it out while I waited with the boys in the car – one of us might as well see it, right? To my surprise she returned a few minutes later and said that the dogs could come all the way up to the boardwalk, and we could see the geyser well enough from there!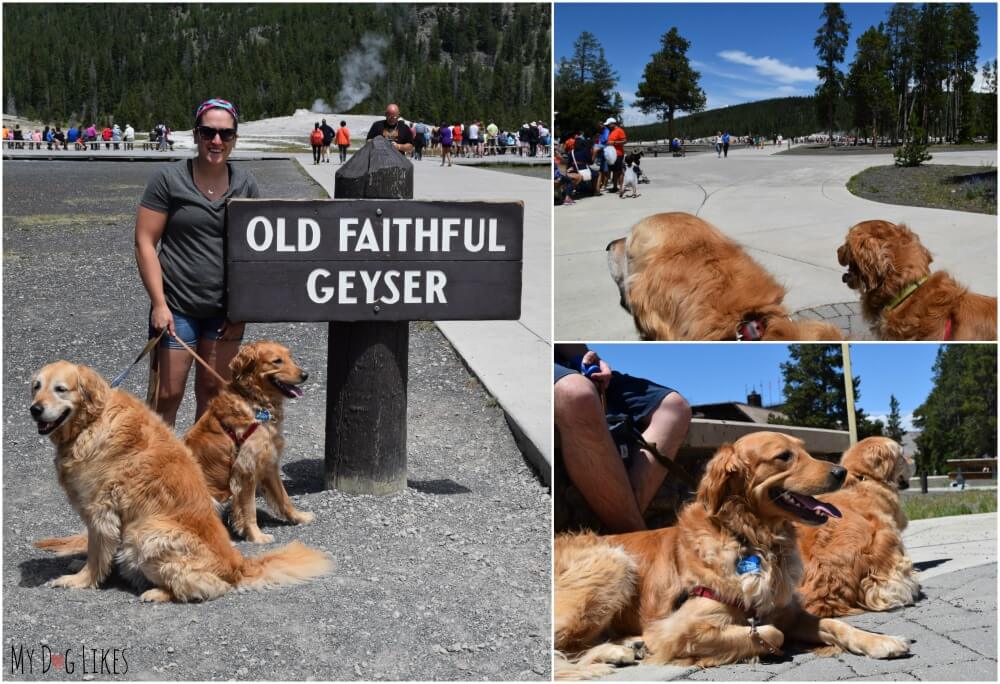 The sign in the photo above is as close as the dogs can go, but as you can see from the geyser steaming in the background, you still have a great view! Old Faithful erupts roughly every hour and twenty minutes and when we arrived there was still about an hour to wait. We settled on some benches near the visitors center and relaxed, while the boys drew TON's of attention from other travelers who were missing their own dogs!
Old Faithful was impressive to see and we enjoyed being able to have the dogs out and enjoying the beautiful weather.
Roaring Mountain

We will skip past most of the geothermal zones for this post, since we couldn't bring the dogs out. We did however stop and see them as Rach and I took turns checking them out individually.
A bit later down the loop, we stopped for a few minutes at Roaring Mountain. This mountain is loaded with steam emitting vents called fumaroles. In the 1800's the mountains "roaring" sound could be heard for miles, but nowadays it is more of a general hissing. There was a nice viewing area here, and also a large parking lot/ small grass area for the dogs to stretch and use the bathroom.
Gallatin and Washburn Mountain Ranges

Bunsen Peak Overlook
The Northern portion of the loop was very mountainous with spectacular views – We seemed to be hitting a completely new landscape every few miles from lush forests, to high plains, to rocky peaks and even mountain lakes. All of the winding roads however took a bit of time to tackle and by the time we reached the Eastern half of the loop we were running out of daylight! We had just enough time to explore the Grand Canyon of Yellowstone and the dramatic waterfalls of the Yellowstone River.
Wildlife of Yellowstone National Park

Without a doubt, the scenery of Yellowstone is dramatic, varied and beautiful. However, my favorite park was seeing the wildlife that is native to the land. Throughout the course of our drive we encountered many herds of Bison (some very much up close!), a black bear, a grizzly bear, and plenty of elk. Each animal draws quite a crowd and it is just fascinating to watch them going about their business as they always have.
Yellowstone East Entrance
By the time we reached the Eastern entrance of Yellowstone, it was dusk and getting dark quickly. Luckily, we were still able to catch glimpses of a few amazing sights on our way out of the park.
The enormity of Yellowstone lake
An area of extensive forest fire damage
The beautiful Absaroka Range
Shoshone National Forest
Onward to Cody and Greybull
During a brief moment of cell coverage, we booked a hotel for the night in the town of Greybull, Wyoming – roughly 130 miles east of Yellowstone. This turned out to be a very secluded drive in the dark as we only passed a handful of cars during a long drive through the eastern edge of the park. Things finally opened up a bit, and became more populated, when we reached Cody and the Bighorn Basin. We grabbed a late dinner and continued onward to our final destination at the quaint, and beautifully landscaped Greybull Motel. This turned out to be another great find that we will talk more about tomorrow!
What we Learned on Day 10
Opt for the National Park Annual Pass
Upon out entrance to Yellowstone, we found out that it was an additional $30 to enter the park. Since we had visited Grand Teton the day before, we were able to upgrade our pass for only $20 instead. We have since learned about the availability of National Park Annual Passes which allow unlimited entry at ALL national parks, forests and recreation areas (more than 2,000 sites!) for a period of 365 days. Better still, this pass is good for 2 people! In retrospect, this would have been the way to go as we have already paid $30 at the Grand Canyon and will no doubt have future entrance fees as well. These passes are available ahead of time online but also can be bought on site. Just inquire from a park ranger as we never saw this option on the standard pricing board.
Bring Binoculars!
This may seem obvious to more seasoned travelers, but we neglected to bring binoculars on our trip. We missed them particularly while at Yellowstone and we had to settle seeing some amazing wildlife from afar.
Quick Stats
Miles traveled: 330
States passed through:  1 – Wyoming
Gas fill ups: 1
Stay tuned for our visit to Bighorn National Forest tomorrow!